There are 19 active users currently online.
---
- Rush News Archive - 2006 -
Rush Lyric Randomizer - Refresh page for a new lyric or Click to see the song

Get the Latest Rush News on your mobile phone or device.
Just access this specially designed page (www.cygnus-x1.net/mobile.htm) for the latest news on the band.
---
December 19th, 2006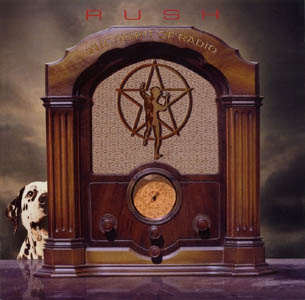 Spirit of Radio Goes Gold
The compilation album, "The Spirit of Radio: Greatest Hits 1974-1987" which was released back in February of 2003 and reached as high as position #62 on the Billboard charts has just reached "Gold" status. Gold status indicates that total album sales of 500,000 units has been reached. This is only the second Rush compilation album on CD to reach Gold status, the other being Chronicles. The compilation-like offering Archives also reached Gold status, but was never released on CD.

The official news story regarding the ranking of The Spirit of Radio can be read HERE.
---
December 15th, 2006
Update on the new Album from Neil Peart
Neil Peart has updated his News, Weather, and Sports page with details on the progress of the new Rush album.

The important thing is that all of that energy, excitement, and activity have sped the project along, and now it looks as though the recording will be finished by the end of the year - far ahead of schedule. We are planning on doing the final mixing early in the New Year, but have made no commitments beyond that. No doubt our manager, Ray, has plans of his own, but we simply haven't gotten to that yet. We all know by now that you can't take anything for granted, or be truly sure what's going to happen - in news, weather, or sports.

Read the complete "News" by clicking HERE.
---
December 14th, 2006
Ray Danniels inducted into Canadian Music Industry Hall of Fame
Ray Danniels, co-founder of Moon Records (Anthem) and the original agent and manager of Rush will be inducted into the Canadian Music Industry Hall of Fame.

Ray Danniels, President and C.E.O. of S.R.O. Management Inc. and Anthem Entertainment Group will be inducted into the Canadian Music Industry Hall of Fame... The honours will take place at the Canadian Music Industry Awards on March 8, 2007 during Rogers Wireless Canadian Music Week.

Danniels began his career in the music industry booking bands in Toronto. In 1971, he took on Canadian rock band Rush as their agent and manager. The band was turned down by every record company in Canada, so Ray launched Moon Records (later renamed Anthem) and released Rush's self-titled debut album with an initial pressing of just 1,500 units.

Today, Anthem Records' recent projects include releasing the Trailer Park Boys' movie soundtrack and in November 2006, Molly Johnson's major label debut Messin' Around.

You can read the complete press release by clicking HERE.
---
December 11th, 2006
RUSH eBay Auction for Charity
According to the official band site, Rush.Com, the band is auctioning off a Rush Replay X 3 drumhead signed by Geddy, Alex and Neil. The item comes with official Certificate of Authenticity.

Proceeds from the auction will benefit The Hospital for Sick Children in Toronto, Canada.

Check out the auction or place a bid by accessing this LINK or by clicking the drum-head image to the right.
---
December 6th, 2006
The Rush Tour 2007 Rumor Mill Begins
With a projected Spring release of their upcoming studio, rumor has it that the band will begin their next tour perhaps in late Spring. Now, accorinding to a Brazilian Metal Magazine called "Roadie Crew", Rush has been confirmed to play some Brazilian dates in 2007. Thanks to RushIsABand.Com, we have the loosely transated text behind this announcement.

AEROSMITH AND RUSH RETURN TO BRAZIL IN 2007 The bands Aerosmith and Rush will return to Brazil in 2007 for separate shows. CIE Brazil announced in an event this past Thursday that both bands were confirmed for stadium shows.

Aerosmith played Brazil in 1994 at the Hollywood Rock and Rush played Brazil in 2002, where they recorded the show for the DVD Rush In Rio.

The exact cities, places and dates for the shows have not yet been confirmed.

Not exactly an official confirmation of a possible show, let alone a tour, but it's interesting nonetheless, especially considering Rush's positive reception in Brazil back in 2002.
---
December 2nd, 2006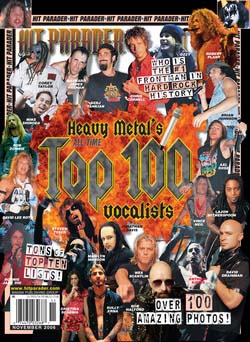 Geddy Lee Makes Rank on Hit Parader's Top 100 Vocalist List
The November 2006 edition of Hit Parader, a magazine that focuses on Hard Rock Heavy Metal contains a listing of their selection for "Heavy Metal's All-Time Top 100 Vocalists". As Rush fans know, Rush is seldom considered a "Heavy Metal" band though to the less informed, they are often lumped into this genre. Regardless, Geddy ranked #13 on the list of 100 - not a bad showing at all.

The Top 20 listing, courtesy of RushIsABand.Com, is provided below.

1. Robert Plant
2. Rob Halford
3. Steven Tyler
4. Chris Cornell
5. Bon Scott
6. Freddie Mercury
7. Bruce Dickinson
8. Ozzy Osbourne
9. Paul Rodgers
10. Ronnie James Dio
11. Axl Rose
12. Sammy Hagar
13. Geddy Lee
14. Geoff Tate
15. Mick Jagger
16. Jonathan Davis
17. Roger Daltry
18. Paul Stanley
19. David Lee Roth
20. Kurt Cobain

---
December 1st, 2006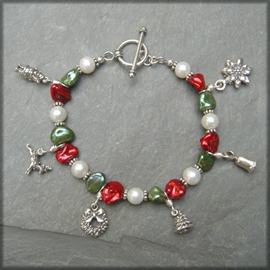 Holiday Gift Ideas for Rush Fans
Looking for holiday gift ideas for the female Rush fan in your life? Look no further than Between Sun & Moon, a site that contains Rush-inspired jewelry (hence the name of the site from the Counterparts song with the same name).



"Every piece of jewelry is made from only high quality beads and components. All jewelry is made of Sterling Silver, Gold-fill or Copper unless otherwise noted. All items come in a natural brown jewelry box with anti-tarnish cotton and an informational card about the piece of jewelry, all arranged in a hemp gift bag or basket. Perfect for gift giving. "
---
November 27th, 2006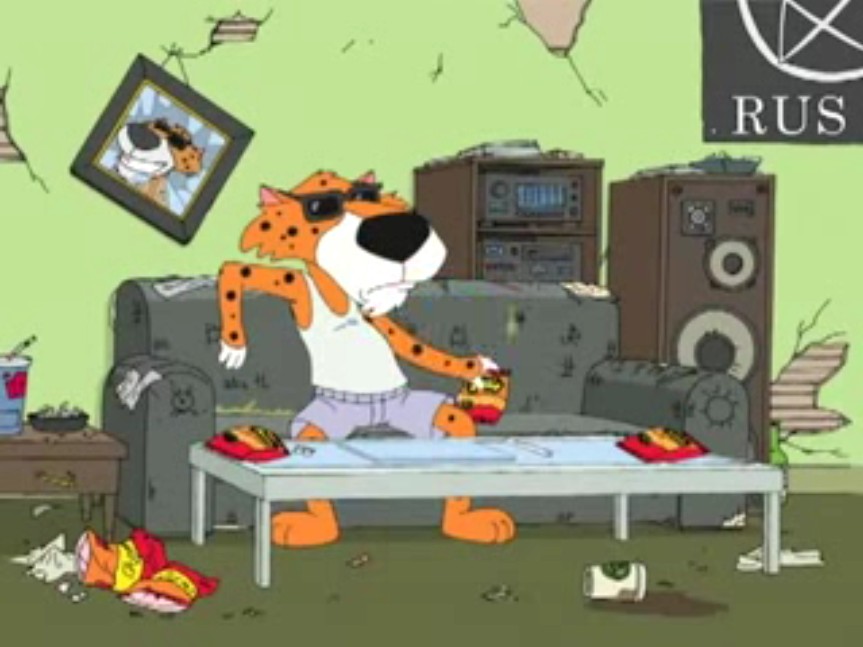 Rush Reference on Family Guy
The November 26th airing of Family Guy contained a great Rush reference. The reference begins after Stewie says he is "cooler than that cheetah from the commercials". The scene then cuts to Chester Cheetah sitting in a room with a Rush Starman Logo poster on the wall. While listening to Tom Sawyer, Chester opens up a bag of Cheetos, chops them up with a razor blade, snorts them and screams "Ah God there is no f(bleeped)ing drummer better than Neil Peart." Of course, Neil's last name was pronouced PERT. Click the image to the right to view the clip.

The clip is also available at YouTube by clicking HERE

Thanks for Power Windows and Doug Sheffer for the clip.


---
November 19th, 2006
Cygnus-X1.Net 2.0
Less "Rush" news and more "Site" news, frequent visitors to Cygnus-X1.Net: A Tribute to Rush will notice a fresh new interface adorning the site. The site enhancement is currently a work in progress. At this point in time, all album and lyric pages have been redressed with the new design (as well as this Latest News Page of course). The remaining pages will be converted within the next couple of weeks. Hope you enjoy the new look. Drop me a line and let me know what you think.
---
November 18th, 2006
Neil Peart on the Interview Trail
In a recent interview with ChartAttack.com, Neil Peart discusses his new book "Roadshow" and Rush's upcoming album.

"This book works on different levels," he says. "On the one hand, it became the logical culmination of so many desires to try and explain what it is really like to be a touring musician and the kinds of personal and artistic conflicts that exist in trying to survive and make a living doing something creatively satisfying. "At the same time, it is a travel diary of sorts, as I have a passion to communicate what I see and who I meet when I am out there on my bike."

Neil goes on to discuss the various "hats" he wears depending on the task at hand. And though it was relegated to the end of the interview, Peart does briefly discuss the new Rush album.

"I've just finished all the lyrics for the new album, which will be out next year, and so I'm back into the headspace of drumming and trying to challenge myself by experimenting with new set-ups and sounds. And, of course, the language of rhythm requires a completely different kind of hat."

Peart was also recently interviewed by Dream Theater Drummer Mike Portnoy for the UK's Rhythm Magazine. You can read Portnoy's short description of the interview at his website.
---
November 12th, 2006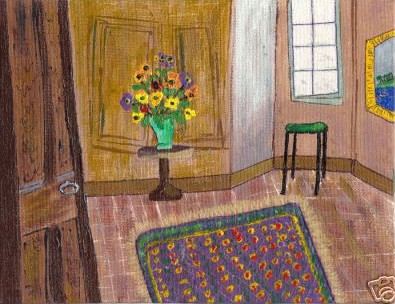 Alex Lifeson Artwork Fetches $2,705
The Alex Lifeson painting recently put up for auction on Ebay.ca (See the November 7th story below for the full details) brought in $2,705 for the "A Brush of Hope" benefit program. There were 59 bids in all (including several by yours truly) but in the end, user mcfdog won it all.






---
November 9th, 2006
The Drummer: 100 Years of Rhythmic Power and Invention
As reported at Modern Drummer, a new book has just been released highlighting the masters of drumming over the past century. Neil Peart is among the masters included in the book.

"The Drummer: 100 Years of Rhythmic Power and Invention is the first book to tell the complete tale of the modern drumset master. The book dissects a century of drumming, covering every major musical genre from early jazz to new metal. Twenty of the world's "drum gods" -- Buddy Rich, John Bonham, Keith Moon, Elvin Jones, Neil Peart, and others -- are featured in their own spreads. Celebrating the most vital musician onstage, "The Drummer" is filled with hundreds of color photos and candid quotes from the industry's heaviest hitters.

You can order the book via Amazon.Com through THIS link.
---
November 9th, 2006
Neil Peart on Rick Mercer Report Video Now Online
As reported a couple of days ago, Neil Peart recently appeared on the Rick Mercer Report to give the host a lesson in drumming. The 6-minute video clip is now available on YouTube.

Check out Rick's expression as he watches the professor effortlessly bang out a quick solo...great stuff!






---
November 7th, 2006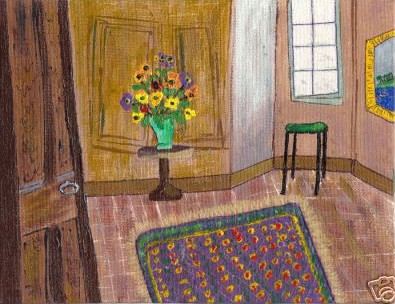 Alex Lifeson Artwork Now Up for Auction on Ebay.ca
As reported back in late September, Alex Lifeson recently created and donated an original artwork for "A Brush of Hope"; a benefit for the Kidney Foundation of Canada. Lifeson, along with 90 other Canadian celebrities, will have their work displayed at the Kidney Foundation's Funny Fall Gala this Friday, November 10th.

The auction for Alex's painting, which your's truly is currently bidding on (Jaguar2112) will end on November 12th.

For more information on the Funny Fall Gala, contact the Western Ontario Chapter of The Kidney Foundation of Canada at (519) 742-2023, or visit www.kidney.on.ca.



---
November 7th, 2006
Neil Peart to Appear on the Rick Mercer Report
According to Rick Mercer's website, Neil Peart is scheduled to appear on the November 7th edition of the show which airs on Canada's CBC. Apparently, Rick will be getting first-hand drumming lessons from the professor.

Special thanks to Sam Albidone of the Rush Tribute band 2112 for sending me an alert on this news story.
---
November 4th, 2006
Neil Peart Updates his "Bubba's Book Club" list
Fans who often visit Neil's official website (www.neilpeart.net) know of his on-going pick of "Quality Reads". In his sixth installment of this section, Neil discusses A Complicated Kindness by Miriam Toews, Too Close to the Falls by Catherine Gildiner, Hypocrite in a Pouffy White Dress by Susan Jane Gilman, and The Starter Wife by Gigi Levangier Grazer.

Neil's in-depth review of A Complicated Kindness reveals somewhat of a parallel between his analysis of the book which he describes as "...the idea of misery rendered into art, rather than simply rendered...", and how he goes about creating his own literary and lyrical works of art.
---
November 1st, 2006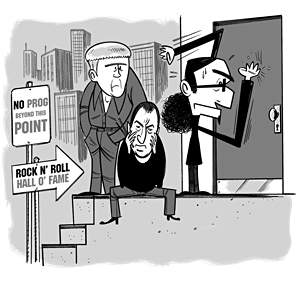 One More Year and Rush Still Isn't in the R&R Hall of Fame
It should come as little surprise to fans that the latest nominees for induction into the Rock and Roll Hall of Fame exclude Rush, though they've been eligible for induction for a number of years. This year, nominees include Van Halen, R.E.M., Grandmaster Flash, Chic, Patti Smith, The Dave Clark Five, The Ronettes, Joe Tex, and The Stooges. Some of those clearly deserve the distinction of being nominated. Others...well, let's just say they can't hold a candle to what Rush has accomplished over the past 4 decades.

If you're interested in signing the petition to help get Rush nominated, click on the image to the right.




---
October 20th, 2006
Neil Peart Discusses New Rush Album
Neil gave some insight regarding the new Rush album in an article at Macleans.Ca

"I tried hard to look at it as a subject - what's good about it - and tried to balance that against what I saw as not being a good thing," said Peart, noting his experience as a Canadian living in the United States for the past six years has given him a unique perspective on world events.

"All we're seeing, especially in the world today, is a very malevolent kind of faith, in fundamentalism of all kinds, on both sides. One of the lines I use in the new songs equates Middle East and Middle West, because this stuff is going on in both localities, although both would probably be insulted by the comparison."

This would seem to corroborate the earlier Billboard Magazine Article that headlined "Rush Wrestling With Faith On New Album".
---
October 19th, 2006
Rush Album 2112 Selected for Preservation
Recently, the Audio-Visual Preservation Trust selected 12 pieces of Canadian works that were to be preserved for future generations. Among the 12 selections was the break-through concept album 2112.

"The prog-rock experiments of the band Rush are among works that should be preserved for future generations, says a committee tasked with saving the best in Canadian television, radio, film and music.

The band's 1976 album "2112," a unique blend of classic rock and synthesizers that made Rush a sensation both in Canada and the United States, is one of 12 cultural pieces named Thursday as MasterWorks by the Audio-Visual Preservation Trust."

Read more about this news by clicking HERE. Another related article on this subject appeared MSN.com. Click HERE to read that article.
---
October 11th, 2006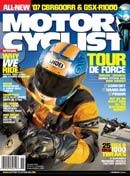 Neil Peart quoted in Motorcyclist Magazine
The November issue of Motorcyclist magazine has a section called "Why We Ride". Neil had the following to say about why he rides.

"We ride for joy - for freedom, weather, wildlife, curiosity, speed, escape, satisfaction, challenge and grinning out loud as we rail through a perfect curve. And when the bike is parked at the end of the day, there is another kind of joy: the elevated sense of accomplishment and survival, and the taste of that fine Scottish beverage..."

Neil Peart, author, drummer and lyricist for the legendary rock band Rush.

Thanks to my brother Mario who discovered this quote in his copy of the magazine.
---
October 10th, 2006
Rush in Rio Single Disc Edition Now Available
The single-disc edition of Rush in Rio is now available for order at Amazon.Com This version of the popular Brazilian Rush concert in support of Vapor Trails excludes most of the extras that appeared in the original 2-DVD disc set.
---
October 10th, 2006
Neil Peart Interview appears in the Christian Science Monitor
As reported at Power Windows, a recent interview with Neil Peart titled "Into It: Neil Peart" was just posted at the Christian Science Monitor website. The discussion asks Neil what he's currently reading and watching. Among other books, Neil discusses A Complicated Kindness by Miriam Toews

"She's a Canadian writer, and it's one of those novels that you just crawl inside and live in until you finish it. It's a novel about a young girl growing up in an old-order Mennonite community in Manitoba, near the US border. It's done with such humor, and a charming quirkiness, while being quite a harsh story at the same time. I really admired it."
---
October 9th, 2006
Trailer Park Boys: The Big Dirty Premieres
The Canadian premiere of Trailer Park Boys: The Big Dirty occurred on Friday, October 6th and, as expected, included a cameo by Alex Lifeson who portrayed a Police Officer in the movie. Rush references were apparently peppered throughout the film and, of course, the soundtrack to the film includes the Spirit of Radio.

As reported earlier, Alex also hosted a Canadian TV special titled "Trailer Park Boys 101". This special is now available online.

"From his unique perspective as not only a Trailer Park Boys fan but a guest star on one of its most popular episodes, Rush's Alex Lifeson guides the audience on an insider's tour of the world of Trailer Park Boys. Packed with hilarious clips from the first six seasons as well as producer interviews, this half-hour Showcase special is a must-see for not only fans of the hit series but for those who have been wondering what all the buzz is about."

Additional information on the film, including trailers and videos of "I Fought the Law" featuring Geddy and Alex can be found at the film's official myspace.com/bigdirtyband site.
---
October 2nd, 2006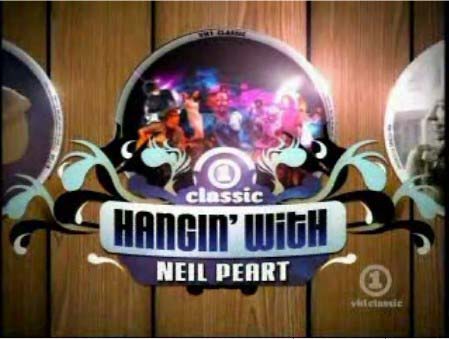 VH-1 Classics Hangin' With Neil Peart Now Online
Recently, Eddie Trunk interviewed Neil Peart for the VH1 Classics special "Hangin' With". The complete episode is now online at YouTube.Com in 3 parts. Click the links below to watch the interview.

Hangin' With Neil Peart - Part I

Hangin' With Neil Peart - Part II

Hangin' With Neil Peart - Part III

Airtimes for this special are (were):

Sunday, Oct. 1 at 9:30 p.m.
Monday, Oct. 2 at 2:30 p.m.
Monday, Oct. 2 at 12:00 a.m.
Tuesday, Oct. 3 at 5:00 p.m.
Thursday, Oct. 5 at 5:30 p.m.

---
October 2nd, 2006
Alex to host Trailer Park Boys 101
According to Canada's Showcase channel (Television Without Borders), Alex is set to host a 30 minute special detailing an insider's tour of the world of 'Trailer Park Boys'. "Packed with hilarious clips from the first six seasons as well as producer interviews, this half-hour Showcase special is a must-see for not only fans of the hit series but for those who have been wondering what all the buzz is about."

For more information and air-times, click HERE.
---
September 29th, 2006
Latest Development on the New Rush Album
An article at Jam! Showbiz Music has some new information regarding the new studio album from Rush.

Canadian rock legends Rush will be co-producing their new studio album for Anthem Records with Nick Raskulinecz (Foo Fighters). The American producer will be flying up to Toronto next week to meet with the band, which is in the demo phase right now.

"It's early stages. We have nine songs written so far," says guitarist Alex Lifeson. "We're going to continue until we have about 12 songs and finish up preproduction at the end of October, so we'll be really well prepared and then go in the studio in November and start recording."

Asked about the development of the new songs, Alex Lifeson reveals:

"...there's a quality about this record that's very expansive and musically lyrical. It's very melodic. I've written almost exclusively on acoustic guitar. When Geddy and I write, I'm playing acoustic and he's playing bass, so there's a different character to the way the writing is developing. "
---
September 29th, 2006
Alex Lifeson Painting Donated to Kidney Foundation of Canada
As reported at Power Windows, Alex Lifeson, along with 90 other celebrities have created a painting for "A Brush of Hope", a project of The Kidney Foundation of Canada, which will be sold on www.ebay.ca between Novemver 2nd and 12th. "Besides the Ebay auction," Power Windows goes on to say, "the paintings will be on display at Kitchener City Hall between Oct 11 and 13, and again at the Kidney Foundation's Funny Fall Gala on November 10th. For more information, contact the Western Ontario Chapter of The Kidney Foundation of Canada at (519) 742-2023, or visit www.kidney.on.ca for info on the Funny Fall Gala."
---
September 28th, 2006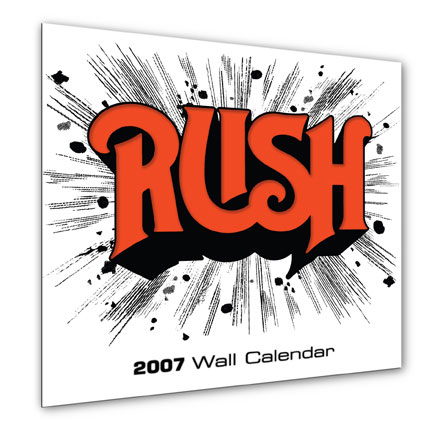 Rush News Bullets
Neil Peart's latest book, Roadshow : Landscape With Drums: A Concert Tour by Motorcycle is now on-sale.

In 'Roadshow: Landscape With Drums,' Peart writes about riding his motorcycle around North America as an alternative to the tour bus on Rush`s 30th anniversary tour in 2004. He considers it a travel book rather than a music tome.

'It was a careful line to walk of wanting this to be for general interest,' said Peart, who`s the band`s chief lyricist. 'I didn`t want it to be just a book for Rush fans. I was hoping from the writing of it that you don`t have to know anything about Rush or about motorcycles or about rock music, hopefully, to enjoy the story.'

The November issue of Guitar Player has the cover feature "Top Ten Rush Riffs Of All Time". Click HERE to read the introductory text to the article. According to Power Windows, the selected riffs were all from the pre-1982 period and included Working Man, Fly By Night, Closer to the Heart, Free Will and Broon's Bane among others.

The Rush Backstage Club now has the 2007 Rush Wall Calendar for sale. Look for it to make an appearance on the Cygnus-X1 Rush Image Database soon.

There's more information on the limited-edition Neil Peart Commerative Drum kit at Guitar Center. The DW Neil Peart Commemorative Drum Kit celebrates 30 years of the enduring legacy of Rush. Only 30 kits will be produced - each an instant collector's item. Available exclusively through Guitar Center, starting October 30th!
---
September 17th, 2006
Rush Drummer Peart Chronicles Life On The 'Road'
Neil Peart recently granted Billboard Magazine a rare interview where he discusses life on the Road when touring with Rush as well as his new book Roadshow: Landscape With Drums -- A Concert Tour by Motorcycle.

"When I'm traveling around in these small towns, I'm well out of the first class hotels and the private jets. I'm looking at people every day and their lives, and getting a perspective on my own life that way."

Read the complete interview HERE.
---
September 15th, 2006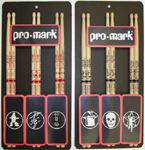 Pro-Mark Teams with Neil Peart
According to a recent email from Pro-Mark, "Pro-Mark has teamed with legendary RUSH drummer Neil Peart to create two very special pre-packs. This is a must for fans of Neil and the band. The sticks in these packages commemorate six of RUSH's tours over the past 30 years. Set 1 represents Test For Echo, Grace Under Pressure, and Counterparts. Set 2 represents Presto, Roll The Bones, and 2112. Each pack contains a set of limited edition stickers corresponding to the sticks in that pre-pack."

Click HERE to access Pro-Mark's website for ordering information.

Additional information and images on this, and other sets of Neil's sticks can be seen at www.neilpeartdrumsticks.com
---
September 14th, 2006
Trailer Park Boys Single Featuring Geddy & Alex Now Online.
Click the Trailer Park Boys logo to the right to access the film's official MySpace page for a listen of "I Fought the Law" featuring Geddy on Bass and Alex on Guitars. Alex is credited with forming the "Super" Group "The Big Dirty Band" which includes not only Geddy but Ian Thornley (Big Wreck/ Thornley), Adam Gontier (Three Days Grace), Jeff Burrows (The Tea Party) and Care Failure (Die Mannequin).

More on the band:

THE BIG DIRTY BAND is the brainchild of RUSH guitarist Alex Lifeson who appears in the upcoming TRAILER PARK BOYS THE MOVIE opening in theatres across Canada on Friday, October 6th. His appearance in a season three episode saw Alex being kidnapped and held hostage by Ricky, Julian and Bubbles in a true Canadian RAWK moment. For Alex and the Trailer Park Boys, it was love at first sight

Fast forward to the summer of 06 when Alex and the Trailer Park Boys are back together again and this time hes brought music AND guitars!!!!. Lots of them.

Alex chose to cover "I FOUGHT THE LAW" as the first single from the TRAILER PARK BOYS THE MOVIE soundtrack. The song, written by Sonny Curtis and recorded by The Bobby Fuller Four in 1965 is not only a great tune, it speaks to a recurring theme in Sunnyvale Trailer Park and, coincidently, to a subject close to Alexs heart.but thats another story. Alex then handpicked some of Canada's finest musicians and added a rising new talent to the roster to create THE BIG DIRTY BAND.

He started with his longtime pal and RUSH bandmate Geddy Lee who laid down a bass track that will not only leave fans scratching their heads in wonderment but one that bass aficionados will be analyzing for years to come. Just take a listen to the bass solo in the outro. It doesnt get better than this.

More information on the movie, the soundtrack and access to a trailer which features "Spirit of Radio" can be seen and heard at the movie's official website trailerparkboysmovie.com
---
September 12th, 2006
Rush Wrestling With Faith On New Album
Billboard Magazine Online has released an article detailing a recent interview with Neil Peart regarding Rush's upcoming new album. In it, Neil discusses his lyrical influences for the new album, his thoughts about the musical direction of Rush's latest offerings and, once again, his feelings on touring.



"I looked for the good side of faith," Peart says. "To me it ought to be your armor, something to protect you and something to console you in dark times. But it's more often being turned into a sword, and that's one big theme I'm messing with."

The music, Neil indicates, is "remarkably organic in a way that I haven't heard [from Rush] before. We spent a month together in May working on those songs and developing our individual instrument parts for them. It's early to characterize it, but it's definitely fresh and different and that's certainly satisfying."

Regarding touring, Neil shares "It is true that in 1989 I announced that I wasn't going to tour anymore, and have said that every time since and have gone back and decided [to do it] for all good reasons," he says. "One of the main ones to me is that a band plays live, so if I want to consider our band as a living, working thing then that's the case. I haven't in my own mind committed to [another tour] yet, but of course I haven't ruled it out, either."

Read the entire article HERE.
---
September 11th, 2006
Rush, Three Days Grace And Others Form Canadian Supergroup For Trailer Park Boys Movie
More news regarding the movie soundtrack that "Rush" (minus Neil) will be recording for the upcoming Trailer Park Boys Movie has been released. Read the complete article from ChartAttack.Com to learn more.
---
September 4th, 2006
Latest News on the New Rush Album
Things are beginning to get interesting concerning the latest studio album from Rush. According to multiple sources including Power Windows, Rush is hoping to have their latest offering released during the Spring of 2007.

Additionally, rumors surrounding a producer and engineer have been circulating. Nick Raskulinecz of Foo Fighters, Stone Sour and Velvet Revolver fame (among others) has apparently been hired as the producer of the album. Interestingly enough, during a June 2006 interview with EQ Magazine, Nick was asked if there were any artists that he'd like to produce. He responded "Rush. That would be my dream album to make. Nobody plays like those guys anymore."

Word also has it that Richard Chycki may be on as Engineer (see related story below). Richard is no stranger to Rush as he was part of the production team on the Rush R30 DVD package.
---
September 4th, 2006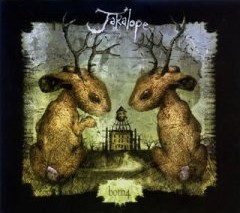 Alex Appears on Jackalope's forthcoming album
Alex remains busy as he's slated to appear in Jackalope's upcoming album "Born4". The Canadian band's second album is scheduled to be released on October 3rd in Canada but is available now for pre-order on Amazon.Com

According to Jackalope, Alex appears on the track 'Star 24 (No Apologies)'
---
September 4th, 2006
Geddy and Alex to record for Trailer Park Boys Soundtrack
As reported at multiple sources and first heard unofficially from Skid Row singer Sebastian Bach's guest spot in a Trailer Park Boy's episode "I heard that Alex and Geddy are doing a song for the movie soundtrack. That's amazing!". This has now been confirmed by Richard Chycki who may or may not be Rush's new engineer for their upcoming studio album. Richard stated in a post on his blog:

"Hi all,

My site was down for a bit as a result of a duluge of hits to my site via a number of Rush fan sites. There seems to be the notion that I am confirmed to record and/or mix a new Rush CD (!?) Where do these rumors start?! Please ease up on the repeated hits a bit, k? Thanks.

Now, moving on ....

Canadians all know the ubiquitous Trailer Park Boys, Finally, a movie is in the works. Al Lifeson of Rush fame produced an amazing version of 'I Fought The Law', which I had the opportunity of recording and mixing. The track features Al and Geddy, Adam from Three Days Grace, ex- Tea Party Jeff Burrows, Ian Thornley and a young promising talent from Die Mannequin named Care -- she really tore up her parts in the vocal track."
---
September 3rd, 2006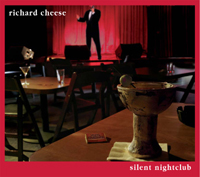 More Rush Covers Make the News
As reported back in July, Mike Portnoy of Dream Theater fame recently recorded a Rush tribute show appropriately named "Cygnus and the Sea Monsters - One Night in Chicago". The set, which featured Paul Gilbert, Sean Malone, Jason McMaster and Portnoy on a replica of Neil Peart's Candy Apple Red kit, is now available for order on both CD and DVD formats at Mike's site.

Click the following links to place an order ... CD ... DVD

...

Richard Cheese, known as "America's Loudest Lounge Singer" will have his latest release "Silent Nightclub" include a cover of Rush's "The Trees". A quote from his website proclaims:

"America's loudest lounge singer Richard Cheese performs swingin' Vegas versions of rock songs. Imagine Frank Sinatra crooning a Rush tune, and you've got Dick."

Click HERE to pre-order Richard's CD from Amazon or Click HERE to visit Richard's website.


---
August 24th, 2006
Rush Backstage Club 2.0
The Online Rush Merchandise store "Rush Backstage Club" has completed their site refresh and have added a lot more merchandise including Kids apparel. They're also running bi-weekly contests with the current one offering up the complete Tourbook collection coffee table book (sweet). As for me, I know what Santa will be bringing my three kids this Xmas - Rush shirts!

Check out their site today for more cool Rush stash.
---
August 23rd, 2006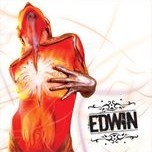 Alex Lifeson's cameo on Edwin's "Better Days" now Online.
Alex Lifeson lends his guitar skills on former I MOTHER EARTH frontman Edwin's latest album "Better Days". While the Canadian release date of the album has been pushed to October 3rd, you can now hear the track that Alex played on, "Never Over", online. Visit Edwin's website for more information.

Read the complete Jam! Showbiz article on Edwin's third solo album by clicking Here.
---
August 23rd, 2006
Neil Peart Addresses Fans in Modern Drummer
Back in June, we reported that a recent Modern Drummer Poll had named Neil Peart as the Top Drummer in three categories. Neil won Best Overall Rock Drummer, Best Recorded Performance for R30 and Best Instructional Video for Anatomy of a Drum Solo. In the October issue of Modern Drummer, Neil takes a moment to graciously thank his fans.

"When I first heard that the Modern Drummer Readers Poll had awarded me with triple honors for rock drummer, recorded performance, and educational DVD, I felt a heady mix of emotions. Pleasure, foremost, and certainly surprise, mixed with a little unworthiness. In time, that combination of reactions added up to a pure sense of gratitude at having my work be so appreciated by people, especially other drummers. 'The praise of the praiseworthy,' I call it.

If anyone thinks a person ever gets 'used to' being honored, or winning awards, and doesn't really care too much, I'm here to tell you that it's not so. There are few feelings in life that equal being appreciated, and you can never get enough of it. Plus, genuine appreciation has the quality to endure, and I still feel a warm glow when I think about those three honors.

To all those who voted for me, thank you most sincerely. -Neil Peart"
---
August 17th, 2006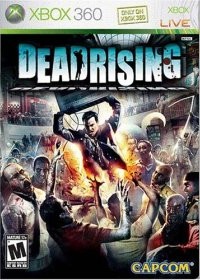 Rush News Bullets
Plenty of recent Rush-related news to read out on. Let's start with the recent XBox 360 Game Dead Rising. The main guitar riff from "A Passage to Bangkok" can be heard during one of the numerous soundtracks of the game. The riff is embedded in the song "Gone Guru" by the rap band Lifeseeker. This particular songs plays during the part of the game where you're fighting with prisoners on top of the jeep in the Leisure Park. To hear the full song, with the riff (which begins at time-stamp 1:07) click here.

Rush R30 picked up two DVD awards at "The 9th Annual DVD Awards" held August 8th in Los Angeles. The two awards were for authoring design and video presentation in the Independent Release catagory.

Ever wish you had a drum kit like Neil? Now you can. The following was recently reported from Power Windows:

DW Drums is producing thirty limited edition R30 tourkits, replicas of the kit Peart used during the R30 tour complete with gold plated hardware and custom album logos. Although the kit will include all three snares and complete set of Paragon cymbals, it will not include the Roland V drums. Only 30 will be made, and although the suggested retail price will be $53,000, they will be availalbe to order from Guitar Center for $30,000. The kits will not be available for order until on October 30th at 8am, and there will be no pre-orders. The R30 Drum Kit will be in Guitar Center's October catalog, and will also be available on NeilPeart.Net. For additional information, contact Bill Baird, store manager of Guitar Center Des Moines bbaird@guitarcenter.com, ph: 515-267-9501).

In addition, Pro-Mark has announced it will be producing limited edition R30 Neil Peart drum sticks to be available at Guitar Center and Musician's Friend stores on October 1st. Two sets will be available: one will include sticks for Test For Echo, Grace Under Pressure, and Counterparts, while another will include sticks for Presto, Roll The Bones, and 2112. Each set will include a chance to win a copy of Roadshow or Anatomy of a Drum Solo. For more information, visit neilpeartdrumsticks.com

Rush has now (apparently) launched an official presence on the Community Web site MySpace.Com Located at www.myspace.com/officialrush, the site is linked to from Neil's official page and contains a number of online songs and other tidbits. Check it out!

Thanks to Power Windows and RushIsABand.Com for breaking these stories.
---
August 9th, 2006
Judge tosses bandmates' claims over Rush guitarist's 2003 scuffle
An article at Bonita News indicated that the federal judge presiding over the Alex Lifeson Ritz-Carlton case has ruled that neither Geddy Lee nor Neil Peart can legally claim loss of revenue damages due to the injuries sustained by Alex during the 2003 New Year's Eve scuffle.

"The court doubts that there is a free-standing claim under Florida law for 'loss of business revenue,'" states a ruling by U.S. District Judge John E. Steele, issued Aug. 1. "Plaintiffs have not identified any legal basis for such a claim. Assuming, however, that such a cause of action exists, the court agrees these plaintiffs have not alleged any standing."

Alex's attorney, Michael McDonnel, still believes Alex has a strong case agains the Collier Sheriff's deputies and the Ritz-Carlton hotel.
---
August 8th, 2006
Moving Pictures picked as one of the greatest guitar albums of all time.
The October issue of Guitar World has an article detailing its picks for the "100 Greatest Guitar Albums of All Time." Fortunately, Rush made the grade, coming in at #27 with Moving Pictures. Unfortunately, that was the only showing for the band. Here's what Guitar World had to say about Moving Pictures:

A keyboard-heavy, new wave/hard rock amalgam, Moving Pictures contains no proggy sci-fi tunes about rebellious trees or Syrinx-dwelling priests. Instead, we get one song named after a Mark Twain character and another based on a short story about a freakin' car. The thing is, both songs - "Tom Sawyer" and "Red Barchetta," respectively - totally rule, as does the crunchy, crystalline "Limelight," which features a stellar wang bar-abusing solo by Alex Lifeson. Add the morse code cribbing instrumental "YYZ" and you have that rare beast that classic rock radio used to refer to as the Perfect Album Side.

The article also had a quick blurb from Alex Lifeson:

If we've influenced a generation of bands or musicians, it's because they look at Rush and think, Here's a band that wasn't popular in a mainstream way, yet they've been around for 30 years.

Thanks to RushIsABand.Com for breaking this story.
---
July 17th, 2006
Dream Theater's Drummer to Release Rush Tribute CD/DVD
As reported at RushIsABand.Com and his official website, Mike Portnoy issued the following update:

"I am just wrapping up work on the DVD of my Rush tribute show from last year... so in the coming weeks 'Cygnus & The Sea Monsters - One Night In Chicago' will be available on CD and DVD exclusively from the online store here at MikePortnoy.com.

Visit Mike's website for more details and ordering information by clicking HERE.
---
June 30th, 2006
The Latest News on Rush's New Album / Neil to perform on Vertical Horizon's Next Album
Straight from Neil Peart's Website, we have some really exciting news on the upcoming album from Rush. It seems that, though faced with some challenges, Neil is really enjoying his lyrical chores for this album:

The actual work has gone pretty well, though not without angst.

There was this one song . . .

As he often does, Geddy had gone through a set of lyrics with some music he and Alex had 'jammed out.' Along the way, he picked the lines that 'worked,' and left out a bunch of others. Fine enough, of course, and that method often gives the words a new twist, but then it's up to me to try to reshape the remains so it makes sense.

In this case, the song in question already had a scattered theme, and tenuous 'sense,' and as I tried to stitch together the 'new version,' I just couldn't get it to mean anything. Or even to seem to mean anything. A little obscurity is fine, of course, but there has to be some kind of inner logic there for me. Like I said to Lerxst, 'Even an abstract painting is supposed to be of something.'

So chipping away at that and getting nowhere was getting me down, and one day I found myself driving into work with a sense of dread, knowing I had to face that knotty mess again. I didn't remember ever feeling that way about writing before, and all at once I fell into this 'all washed up' state of mind, convinced I just couldn't do it anymore, and I should just give up. (I'm sure you know the feeling - all songwriters do!)

And wouldn't you know it? That day, I not only fixed up the problems with that song in a few minutes, but also started from scratch on another one that may well be the 'masterpiece' of this album.

When I showed it to the guys, they were so enthusiastic I could hardly believe it, and ever since they have been all fired up to get the other songs tidied up and put away so they can get to work on music for this one.

So that changed my world!


Neil also talks about his involvement in the next Vertical Horizon album:

Late in 2005, Matt and I started working on a song together, with lyrics I wrote especially for Matt's voice - literal and metaphorical. Matt suggested I might like to play drums on that song, and when I agreed to that, he started sending me demos of other songs he thought I might like to play on. (Trickster!)

So while I was in Toronto working on Rush songs, I was also 'moonlighting' on three of Matt's songs, playing to his demos and working out drum parts for them. A couple of nights a week Alex and I worked late recording sketches of drum parts for our new songs, so I could hear how they worked, and I started squeezing in a couple of takes of one of Matt's songs, too. Through the miracle of modern technology, I was able to e-mail those recorded sketches to Matt, and collect his comments as I went along.

Thus it came to pass . . . on June 14, 2006, at Capitol Records Studio B in Hollywood (Hollywood and Vine, in fact), I recorded three songs for Matt's upcoming Vertical Horizon album. Even the drumset I played that day has a rich back-story, starting about two months earlier.


Read Neil's complete "NEWS, WEATHER, and SPORTS" by clicking the image of his drum set to the right.
---
June 30th, 2006
Alex plays a round on Golf Channel's "Personal Lessons"
"Greensburg native Rocco Mediate and Rush guitarist Alex Lifeson will be featured in the debut of "Personal Lessons" Monday at 7:30 p.m. on The Golf Channel. They will play a round of golf, along with an amateur partner, at Tuscany Reserve in Naples, Fla. Mediate, who is friends with Lifeson, will provide on-course tips, advice and instruction."

Click HERE for the complete article.
---
June 26th, 2006
Rush News Bullets
Rush Replay X 3 enters the charts at #1: As reported on Billboard's Top Music Video/Comprehensive Music Video charts, Rush's Replay X 3 hit #1! Congratulations Boys!

Alex Graces the Cover of Ontario Golf Magazine: As reported at Power Windows, Alex Lifeson is featured on the cover of Ontario Golf Magazine. Click HERE to see a picture of the cover.

Geddy for CFL?: I think we all knew that Geddy is a serious baseball fan, but as witnessed in a spoof-like cartoon, apparently Geddy's also into the Canadian Football League. Words truly escape me. Click HERE to view the video. Don't say I didn't warn you.
---
June 26th, 2006
Neil Peart's Latest Book Now Available for Pre-Order
Neil Peart's new book, "Roadshow: Landscape With Drums, A Concert Tour By Motorcycle" which was written about the R30 Tour, is now availalbe for preorder at Amazon.com. The 380-page book has an anticipated release date of September 25th, 2006. Click HERE to pre-order.

Also, check out Neil's website for excerpts from the book.





---
June 13th, 2006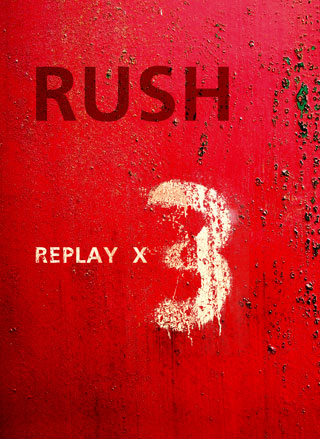 Rush Replay X 3 Released Today
The wait is over. The 4-disc DVD box set release of Exit...Stage Left, Grace Under Pressure and A Show of Hands Concert videos is now available. The fourth disc in the set is a CD soundtrack version of the Grace Under Pressure Tour which is available in print for the first time.

Special Note: As reported by Power Windows Best Buy apparently is selling a special version of the box set that contains four bonus audio tracks. The bonus tracks include "Limelight" (from the ESL video soundtrack), "Closer To The Heart" (also from the ESL video soundtrack), "The Spirit Of Radio" (from the ASOH video soundtrack) and "Tom Sawyer" (also from the ASOH video soundtrack).

In other related news, be sure to check out the official Rush Replay x 3 Home page at www.rush.net. A contest being held will give you the chance to win prizes including a Panasonic DVD player, autographed memorabilia and the Rush Replay Concert T-shirt.

The Rush Backstage Club has the new Replay X3 DVDs, as well as Replay X3 merchandise! Check out the new contest to win Replay X3 posters. Visit them at www.rushbackstage.com.
---
June 12th, 2006
Neil Peart tops the chart in Modern Drummer Poll
A recent poll by Modern Drummer readers selected Neil Peart as the Top Drummer in three categories. Neil won Best Overall Rock Drummer, Best Recorded Performance for R30 and Best Instructional Video for Anatomy of a Drum Solo. The results appeared in the July edition of MD. Congrats Neil!
---
June 8th, 2006
Geddy Lee Makes a Cameo Appearance in a Broken Social Scene Music Video
As reported at Power Windows, Geddy Lee recently made a cameo appearance in a Broken Social Scene Music video. The video for the song 'Fire Eye'd Boy' comes from the Toronto-based band's Juno Award-Winning self titled third album. In the video, which can be downloaded HERE, Geddy plays the part of an American Idol judge, presumably Simon Cowell ;)

Purchase Broken Social Scene's award-winning album from Amazon.Com by clicking the album cover to the right.
---
May 31st, 2006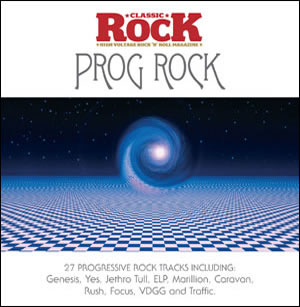 Rush Appears on Progressive Rock Compilation
Classic Rock Magazine is releasing a 2-CD Progressive Rock Anthem featuring 27 songs from a variety of Rock artists. Rush is represented on Disc 2 with "The Spirit of Radio". Other notable artists include Yes, ELP, Genesis, and Jethro Tull.

"Progressive Rock has been around since the late 1960s providing us with rock unheard and propelling a rocketing career for those involved in the making of the it. Big names like Genesis, Rush, Yes, ELP and many others have known stardom and congregated legions of classic rock fans around the world. Released by GUT Records on 12th June, Prog Rock 2-CD pack compile 27 of the very finest of the genre's anthems."

Click HERE to view the press release for this product.
---
May 23rd, 2006
Geddy Lee & Rush shooting to release the new album in Early 2007
As reported at MoreSugar.Com, Geddy Lee was quoted on the subject of Rush's next studio album: "With a bit of luck we will have an album out early in 2007 and then go out on the road maybe next spring if we are lucky. It's a little too early to tell yet what direction the new material is taking, but Alex and I are just having a blast. We are getting songs written so we are getting there. We kind of record while we write and we would say that we will write and record for the duration of this year. You just never know where it is going to go. I think that's what keeps it fun for us and I am glad that there are people out there that appreciate that."
---
May 10th, 2006
Alex Lifeson featured on Edwin's Third Solo Album
As reported at Jam! Showbiz, Alex Lifeson appears on several tracks of the new Edwin album "Try This At Home". The 13-song disc is slated for an August 15th release on Linus Entertainment/Universal Music Canada. Lifeson is cited as contributing on the track "Never Over" which should be a single. Edwin, who was the front man for I Mother Earth for most of the 1990's, began his association with Lifeson some ten years ago when Alex invited him to sing on his 1996 solo project "Victor". Alex also provided his private recording studio "Lerxst" for the guitar and bass pre-production efforts on Edwin's album.

Read the full article HERE.
---
May 5th, 2006
YYZ to be featured in a Play Station 2 Video Game
According to this Gamespot story, the follow-up to "Guitar Hero", the smash-hit video game on the PS2, "Guitar Hero II" will feature YYZ by Rush.

Though many peripheral games remain mired in obscurity, one onetime Kentia denizen has found both fame and fortune over the last year. Guitar Hero, the rock-rhythm game from RedOctane and Harmonix, was recognized at both the 2006 Interactive Achievement Awards and the 2006 Game Developers Choice Awards. The highly rated PlayStation 2 game has also seen solid sales, moving nearly 290,000 units in the US (according to NPD)--and generating over $20 million in the process.

With those sales, it's no wonder RedOctane recently announced it is working on Guitar Hero II. Today, the publisher revealed a partial song list for Guitar Hero II. Besides "Arterial Black," an original recording by Drist, it will include covers of: Black Sabbath's "War Pigs"; Butthole Surfers' "Who Was in My Room Last Night?"; KISS' "Strutter"; Rush's "YYZ"; Reverend Horton Heat's "Psychobilly Freakout"; and Van Halen's "You Really Got Me."
---
April 27th, 2006
Latest News from NeilPeart.Net - Cooking with "Papa Paisano"
Neil Peart has posted his latest "News, Weather and Sports" report on his website where he discusses getting together with Geddy and Alex in the Laurentian Mountains of Quebec as they prepare to dive deep into the work of creating their next studio album. Neil shares some insights on 5 songs that they have begun work on, as well as his culinary prowess in the kitchen.

We gathered before the fire in the living room and started listening. As the songs played out, the response we all shared was a sense of clarity - for Alex and Geddy, playing the songs for me that first time threw their strengths and weaknesses into sharp contrast, and they kept saying things like, 'I know what we have to do here.' Same for me, lyrically - I was very gratified to hear parts that worked, saying 'Yeah' when I heard Geddy sing a line just perfectly, while also knowing right away what I could improve upon.

There were five song sketches - guitar, vocals, and drum machine - and I liked them all. I also noticed those songs already seemed to have a sort of unity, a stylistic approach of chord structures, rhythms, and vocal delivery that I could only describe as -spiritual.' I'll say no more about that aspect until we get farther into it, but it was wonderful that after thirty years of working together, we could still find different paths to explore together.

Then it was time for dinner. Back in the kitchen, we nibbled on pâté de foie gras with a bottle of Sauterne that had been aging in my wine closet for many years - waiting for such an occasion - and a couple of fine Quebec cheeses. I prepared the appetizer: scallops sautéed in garlic and butter with avocado vinaigrette (my California influence brought north), then I dished out the main course: fillets of fresh pickerel baked with cherry tomatoes, asparagus tips, dill, and chopped onion; jasmine rice; grilled red, green, yellow, and orange peppers in olive oil; snow peas, baby carrots, and yellow beans.

It was all very colorful, that's for sure, and the secret for me is all in the timing. A few years ago, when I was first starting to learn how to cook, I said to Geddy that I couldn't believe I could actually do it, after years of thinking cooking was 'magic' or something.

Geddy replied, 'Of course you can cook - you can play drums!'

Read more at Neil's WEBSITE.
---
April 20th, 2006
Rush News Bullets
Geddy Lee is taking part in the second annual Pugly Awards. "The second annual online competition to recognize the [Toronto's] best known, most loved and least liked new developments launches May 1st with a media conference to be held at Toronto's Spoke Club." Read more about the article and other participants in this annual event by clicking HERE.

As reported at Power Windows, Comcast digital cable will be airing R-30 on INHD TV, Friday May 12th from 9pm to 11pm. This will be a full concert airing with a replay shown a few hours later at 1am on the 13th.

Also as reported at Power Windows, Alex Lifeson had a backstage visit with guitar legends Joe Satriani and Eric Johnson at their April 12th show in Toronto. Click HERE to see a picture of the 3 guitarists.

---
April 5th, 2006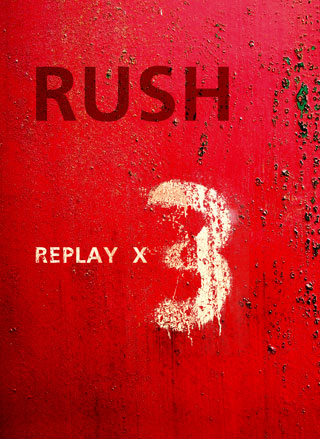 Rush DVD Box Set Announced - Rush Replay X 3
According to Billboard.Com, Rush plans to release a 3-DVD /1-CD Box Set of its live concerts on June 13th, 2006.

Three vintage Rush home videos will make their DVD debut as part of the boxed set "Rush Replay X 3," due June 13 via Mercury/UME. The collection will include 1982's "Exit ... Stage Left," 1985's "Grace Under Pressure" and 1991's "A Show of Hands," plus a previously unreleased audio CD version of "Grace Under Pressure."

Check out the official Rush.Com for some highlights of this DVD box set.

PRE-ORDER Rush Replay X 3 from Amazon by clicking HERE.
---
March 31st, 2006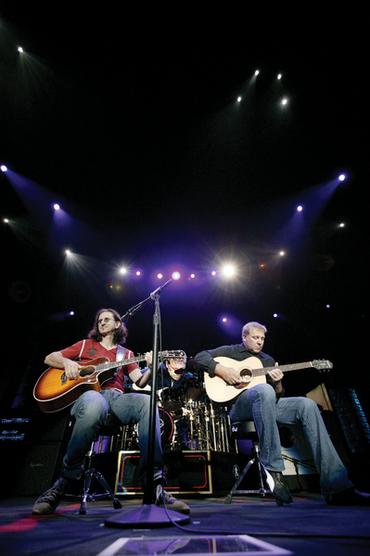 New Interview With Geddy & Alex appears in Frets Magazine.
The Spring edition of the online magazine Frets includes the article "Rush Beat On Different Strings" by Matt Blackett.


"The legendary power trio Rush has been making music for more than 30 years. Despite their reputation for loud arena rock dished out on electric guitar and bass, Rush stalwarts Alex Lifeson and Geddy Lee have created a lot of their classics on acoustic guitars. Here the two expound on the role of flat-tops in their career."

Read the complete article HERE
---
March 22nd, 2006
Metal: A Headbanger's Journey coming to DVD on May 23rd.
As reported at Amazon.Com, the History of Metal Documentary which includes an interview with Geddy Lee will be released on DVD this coming May. Click HERE to pre-order a copy directly from Amazon.Com.



Heavy Metal has long been a stigmatized musical genre characterized by aggressive rhythms, dark lyrics and satanic worship. 'Metal: A Headbanger's Journey' is a ground-breaking film that explores the history of how these stereotypes came to be and explains the motivation and truth behind the music through candid interviews with Metal icons including Rob Zombie, Iron Maiden's Bruce Dickison, Geddy Lee of Rush, Alice Cooper, Slayer, Slipknot, Tom Morello of Rage Against The Machine, Vince Neil of Mötley Crüe, Black Sabbath's Tony Iommi, Dee Snider of Twisted Sister, Ronnie James Dio, Motorhead frontman Lemmy Kilmister and many more. 'Metal: A Headbanger's Journey' 2-disc set will be released by Warner Home Video on May 23, just in time for Metal's most popular music festivals such as Ozzfest, Gigantour and Sounds Of Underground kick off.

Product Description and DVD Features:

Product Description
Sam Dunn, a 30-year old anthropologist, decided to study the plight of a different culture, one he has been a part of since he was a 12-year-old: the culture of heavy metal. Sam sets out on a global journey to find out why this music has been consistently stereotyped, dismissed and condemned and yet is loved so passionately by its millions of fans. Along the way, Sam explores metals obsession with some of life's most provocative subjects - sexuality, religion, violence and death - and discovers some things about the culture that even he can't defend. Shot on location in the UK, Germany, Norway, Canada and the US, this documentary is the first of its kind. It is both a defense of a long-misunderstood art form and a window for the outsider into the spectacle that is heavy metal.

DVD Features:
Additional Scenes:Over 87 minutes of special features including 17 extended interviews
Audio Commentary:Director's commentary
Documentary:20-minute mini-documentary on Norwegian Black Metal
Other:Footage with Lemmy from Motorhead at the Rainbow

---
March 15th, 2006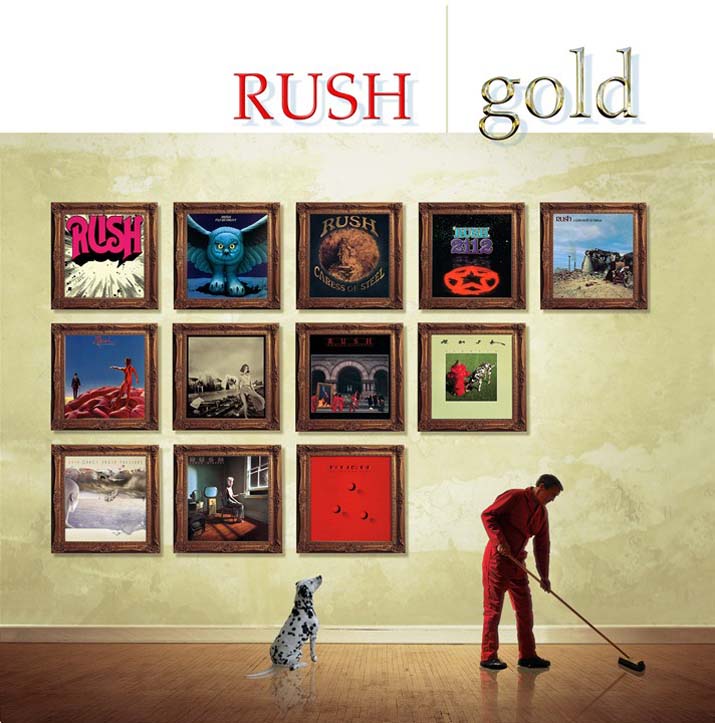 2-Disc Rush "Gold" Compilation to be released
According to Amazon.Com and Power Windows, Mercury Records will be releasing Rush "Gold" on April 25th. The 2-disc set is a repackaging of the 1997 Retrospective compilation offerings. Tracking listing will virtually mirror those on the earlier Retrospective discs, with the exception of "Something for Nothing" being replaced by "Working Man".

The cover art is reportedly a Hugh Syme original, based on the Retrospective covers.

Pre-order "Gold" by clicking HERE.
---
March 7th, 2006
Rush participates in a photo auction for Third World relief
According to an article at Canada.Com, "Rush, along with Avril Lavigne, Celine Dion, Alanis Morissette, Sum 41 and Bryan Adams are among the Canadian musicians lending their star power to a charity auction."

Money raised will go to families living with HIV/AIDS in Africa via World Vision Canada.
---
March 6th, 2006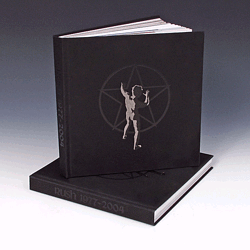 Rush Backstage Club Now Offering $150 Tour Book Compilation Package
As reported at the official Rush.Com website, The Rush Backstage Club has released the classic edition of, "Rush 1977-2004 The Complete Tour Books". This is a 400 page coffee table book with all of Rush's tour books to date, a total of 15 books. The books have been reproduced and bound together in a black, cloth-wrapped 12" X 12" book. The front cover is debossed in black and silver foil with the starman logo. There is a two-page introduction written by Neil Peart, detailing his involvement in the design and content of every Rush tour book going back to 1977.

Here is an excerpt from Neil's intro, 'Whatever it took, I wanted those tour books ready for the first show, because they were important to me - partly because they fell into my 'works on paper' department, but more than that, because I liked them. I had often bought tour books at other people's shows, and kept them as souvenirs, so I understood the value of them to the buyer, and it was (and is) satisfying to see that each of ours was nicer in every way than the one before.'
---
February 24th, 2006
Test for Echo Concert DVD / R30 re-release could happen in 2006
Exciting news from Power Windows. In the March issue of Aardschok, the Dutch Heavy Metal magazine, Geddy Lee suggested that a concert recorded during the Test for Echo tour, which was originally scheduled to be released as part of the Different Stages DVD, may actually see the light of day in 2006. Further, Geddy went on to suggest that a "complete" version of R30 DVD may be released as well.

"Alex Lifeson has made [the DVD reissues] his personal project. Some of it will be the recordings we just discussed, but we have other things in the vault as well, such as a concert that we recorded on the Test For Echo tour, with which we weren't satisfied at the time, but that's been replaced by its historical value...The lion's share will come out in 2006...Some of the songs were dropped from R30 due to technical reasons but also we didn't want to have too many similarities with Rush In Rio. Why not? Well, I think now that it was a dumb decision of ours. In fact I regret not having put the whole show on those disks. But I promise you, all those songs that were cut will eventually see the light of day, in some shape or form." - Geddy Lee
---
February 23rd, 2006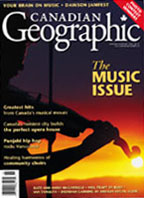 Neil Peart in the Jan/Feb 2006 edition of Canadian Geographic Magazine
As reported at Power Windows, the Jan/Feb 2006 edition of Canadian Geographic Magazine contains an article by Neil Peart titled "My Laurentian Soulscape". In the article, Neil discusses the songs that were inspired by and recorded at Le Studio which is situated on the Laurentian Plateau. Read the article at Power Windows by clicking on the magazine cover to the right.
---
February 22nd, 2006
Neil Peart on the Cover of the April Issue of Modern Drummer
The April 2006 edition of Modern Drummer magazine, which is on-sale now, features Neil Peart on the cover. Inside the magazine, there is an article discussing Neil's drum solos.

Read the article: Soloing In The Shadows Of Giants.
---
February 20th, 2006

Geddy graces the cover of Bass Player Magazine
As reported at Power Windows, the March edition of Bass Player Magazine has Geddy Lee on the cover as well as an article that discusses Rush's upcoming album. In addition, a full page ad for Fender on page 9 includes a picture of Geddy (Click the image to the right for a larger image).

Read the article: Living in the Limelight.
---
February 9th, 2006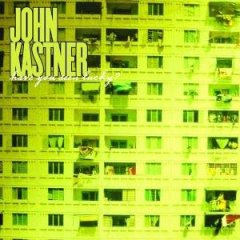 Alex contributes to guitarist John Kastner's solo debut album
An article at ChartAttack.Com - The Canadian Music Store - indicates that Alex Lifeson is part of an all-star line-up on guitarist John Kastner's solo debut.

"His solo debut, Have You Seen Lucky, combines elements from each period of his two-decade pop-punk career. The album, scheduled to be released in late spring, boasts contributions from an impressive cast of musicians, including Lee Ving (Fear), Alex Lifeson (Rush), Jim Cuddy (Blue Rodeo), Trevor McGregor (Treble Charger), Adam Franklin (Swervedriver), Michel Langevin (Voivod) and Jonathan Cummins (Bionic/Doughboys)."

Purchase the album at Amazon.Com by clicking HERE.

---
February 3rd, 2006
Alex Lifeson on the Cover of Guitar Player Magazine
The March 2006 edition of Guitar Player magazine, which is on-sale now, features Alex Lifeson on the cover. An article on Alex discusses "...progressive rock's transcendent guitarist riffs on 30 years of Rush, meeting Jimmy Page...and more."

Read the article, Today's Tom Sawyer from the magazine.
---
February 2nd, 2006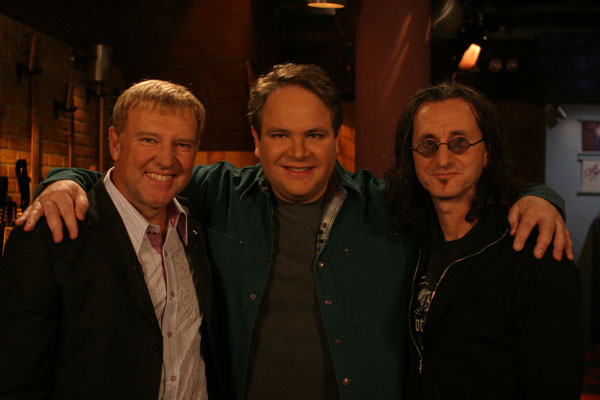 Eddie Trunk Interview with Geddy and Alex
Eddie Trunk, known for his rock interviews and DJ skills, recently interviewed Geddy Lee and Alex Lifeson after the taping of VH-1 Classic' "Hangin' With Rush". The interview, which runs 29 minutes, can be listened to by clicking HERE.

Pictures of Geddy, Alex and Eddie from the interview sessions can be viewed HERE.
---
January 30th, 2006
Rush EuCon'06 scheduled for September
EuCon '06 will celebrate the 10th anniversary of the first ever RUSH convention. The event will take place at the Limelight Club in Crew, UK on September 9th and tickets are expected to sell out quickly.

The event is supported by Anthem and SRO will have full support with merchandise and goodies to use as raffle and auction prizes. For more information, visit www.rusheucon.com.
---
January 30th, 2006
Neil's new book not expected to be published until September 2006.
According to Neil Peart via his website regarding his up-coming book "Roadshow: Landscape With Drums, A Concert Tour By Motorcycle", "I am planning to travel up to Canada later this month, to spend some time in Quebec working on the final revision of Roadshow: Landscape With Drums, A Concert Tour by Motorcycle (at the urging of my editor, Paul McCarthy, I am once again using both subtitles)...it looks like the book will have a September publication now, which means I will have to knuckle down and get it finished by the end of February. "
---
January 30th, 2006
Update on the New Rush Album
According to Alex Lifeson via Classic Rock, "We're planning to work on small groups of songs at a time, writing them, then recording them and starting again. It's a different way of working for us. We'd like to finish it by next summer , and hit the road again towards the years end."

Also, according to Neil Peart via his website, "First, on the Rush front, just this past week Alex and Geddy and I have started work on some new songs. Although we are 3000 miles apart, the two of them at home in Toronto and me in California, last week I received an e-mail from Geddy saying that he and Alex had spent the day in his home studio, and not only did they have fun, but they also thought they'd written something good.

A couple of weeks ago I had written to both of them that I had spent some time at my Quebec place in November, and decided to see if I had any lyrical 'muscles' built up. With the first snows of winter whipping around outside, the lake beginning to freeze over during the cold, still nights, I spent five days sitting on the floor in front of the fireplace. A pile of papers grew in an ever-widening circle around me, and in the end - after much forehead-wrinkling and gnashing of teeth - I felt that I had about six half-decent ideas under construction. I wasn't that confident they were any good, mind you, but I never am until the other guys respond to them. And anyway, those words won't come alive until after the 'little miracle' of hearing them sung for the first time.

So when Geddy told me that he and Alex were starting to work on some music, he also asked if I could send them some words to work with. I took a deep breath and sent off my 'babies,' and now I'm waiting (somewhat anxiously) to hear their responses.

Alex and Geddy and I plan to get together soon in person and make some serious plans for writing and recording this year. Hopefully we'll also get together soon with guitars and drums. It's increasingly difficult to work out a timetable that allows us to accomplish everything we want to do as a band, plus everything we want to do in our individual lives. But we've always managed to find a way, and surely will again. However we resolve that this time, the actual work is sure to take most of 2006 to accomplish, so although it's encouraging to know that some new Rush music is in the works, no one should hold their breath waiting to hear it.

Friends and strangers have informed me they have heard there are plans for a Rush tour this year, but I can only say, 'It's news to me.' In reality, any tour dates in 2006 are unlikely - maybe next year."
---
January 25th, 2006
L.A. Times Interviews Neil Peart About The "Drum Solo"
Dan Neil of the L.A. Times recently interviewed Neil Peart about the history of the drum solo and what, exactly, happened to it over the years.



The passing of rock drum solos was so unlamented that I might have missed it but for a new DVD by Neil Peart called "Anatomy of a Drum Solo." Peart is the drummer/percussionist for the arena rock institution Rush and is widely considered the greatest living rock drummer. By my calculation, Peart is also the most prolific drum soloist ever. In its astounding 31-year history with its original lineup, Rush has spent more time on the road than the Roman army, and there was always, always a drum solo in the show. At least there was the five times I saw them.So I called Neil Peart to ask: What happened to the drum solo?

"Rock drummers killed the solo themselves," Peart tells me when we meet at a coffee shop in Santa Monica. "It got to be so predictable and manipulative. They cheapened it by making it a clap-along or a boring ramble."

Oh yeah. Few things in music are so grating as a long, thrashing drum solo by some sweaty dude working his way around the trap kit (Tommy Lee, are you listening?). The trouble is, it was always so. One of the sacred texts of solo drumming is Ron Bushy's notoriously flatulent 2 1/2-minute tumble on Iron Butterfly's 1968 monster hit "In-A-Gadda-Da-Vida."

"Even as a kid I hated that song," says Peart. "It was the anti-drum solo. There was no technique, no musicality, no dynamics at all."

If you owned this album, that's not incense you're smelling, it's shame.

Peart's larger point is that the rock drum solo, which emerged out of an honorable tradition of showmanship set by big band players such as Gene Krupa and Buddy Rich, rapidly descended into musical cynicism. Partly at fault was the economics of the arena itself. When rock bands started selling out 10,000-seat coliseums in one town after another, any sense of intimacy-or rock's rebellion-was swallowed by the vacancy of the venue itself. The drum solo became part of a repertoire of arena-rock tricks to pull huge and disconnected audiences into the show.

"Asking the audience to clap along can be part of a really sincere desire to include the audience in the music or the performance," says Peart, "or it can be just like pressing a button. It can be a beautiful thing or an ugly thing."

So what started out as a virtuoso exploration of an instrument's solo potential became, almost immediately, rock's 7th-inning stretch.

The other big problem with drum solos? The audience. It became clear to me after watching Peart's explanatory DVD that civilians-which is to say non-drummers-don't really understand what they're hearing. In one section of Peart's "Der Trommler" solo, he keeps waltz time, 3/4 rhythm (PA-tah-tah, PA-tah-tah) with his feet, while playing lightning-fast 6/8 and 7/8 drum fills across his other drums. In terms of physical coordination, this is something like playing badminton with two rackets while typing with your feet. But if you hadn't been enlightened, you might think it just sounds like billiard balls in a dryer.

Peart amiably disagrees, wincing at the suggestion that the audience somehow just doesn't get it. "Drumming shouldn't be something you need an education to appreciate." After all, he says, "You can't blame the audience for everything."

---
January 23rd, 2006
Neil Peart to appear in an upcoming animated movie.
Aqua Teen Hunger Force, The Movie, due out later in 2006 will have a guest "appearance" by Neil Peart.

In a Recent Interview with creators Matt Maeillaro and Dave Willis, Maeillaro stated "we got Neil Peart to be in it. The drummer from Rush. No, we didn't get Geddy Lee. We didn't need him for this. We're waiting for the sequel for Geddy Lee" while Willis quipped "We're done with Geddy Lee. Geddy Lee missed his opportunity. Now we'll put everyone in the movie, but Geddy Lee."
---
January 23rd, 2006
Trailer Park Boys: The Movie includes Rush Soundtrack
As reported at Power Windows, the trailer for the upcoming film Trailer Park Boys: The Movie is now online and features Rush's "The Spirit of Radio". Click HERE to view the trailer of the movie. Visit this section of Power Window's site to learn more about the connection between Rush and the Trailer Park Boys.
---
January 23rd, 2006
February 2006 Bass Player Magazine Includes Freewill
The February 2006 edition of Bass Player Magazine includes a bass transcription of "Freewill" as well as some quotes from Geddy Lee.
---
January 16th, 2006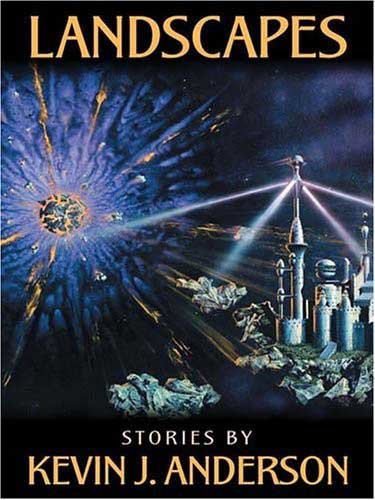 Science Fiction Anthology Book Includes Introduction by Neil Peart
Landscapes, by Kevin J. Anderson, is a collection of 22 short stories, one of which was inspired by Rush. "In "Music Played On the Strings Of Time", parallel timestream hoppers exploit slight differences in alternate timelines as they search for new music by established artists ("hoping to find a new Lennon, or a Jimi Hendrix. Or an alternate universe where the Beatles had never broken up.")

Neil Peart and the author have been friends since the publication of Anderson's first novel, Resurrection, Inc., in 1988, a novel co-dedicated "to Neil Peart, Geddy Lee, and Alex Lifeson of RUSH, whose haunting album Grace Under Pressure inspired much of this novel", and later collaborated on the short story "Drumbeats".
---
January 11th, 2006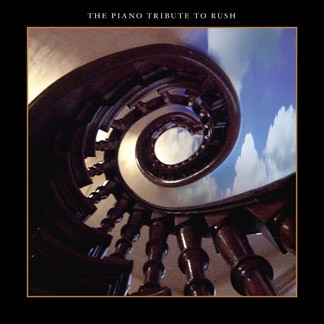 New Rush Tribute Album Now On Sale
The Piano Tribute to Rush is now available for sale at Amazon.Com and record-producer Vitamin Records.

From the Vitamin Records website: "Pulsing through the drum beats and guitar riffs of Rush's songs are undeniable melodies. These hooks are brought to the surface on The Piano Tribute to Rush. The elemental soul of such hits as 'The Spirit of Radio' and 'Tom Sawyer' is extracted from their complex arrangements with simple piano. A must-have release for any Rush fan, this album promises to appeal to anyone with an appreciation for great songs and incredible musicianship."

Tracklist: Limelight, New World Man, Closer to the Heart, Subdivisions, Red Barchetta, Freewill, Fly by Night, The Spirit of Radio, The Trees, Tom Sawyer, The Big Money, Syrinxian Moonlight (Original Composition).

Visit Vitamin Record's website for some MP3 samples of this CD or click HERE to order from Amazon.Com
---
January 11th, 2006
Sound & Vision Online Interviews Alex Lifeson
"Mike Mettler [of Sound & Vision Magazine Online] talks exclusively to the Rush guitarist about the challenges of live surround mixing and maybe - just maybe - remixing 2112 in 5.1"

"It's something that I think we [the band] will discuss. I really love the format now. Surround is a great, uplifiting experience, and I think we have some records that we'd consider doing that way. Again, we haven't spoken about any of this yet. But on my own, I'm thinking something like 2112 is pretty obvious. We're coming up on the 30th anniversary of 2112 in 2006, so that might be interesting. For example, "Discovery" [Part III of the title track], has running water, and you could be sitting right by that little stream, you know .... It would be quite dramatic and dynamic."

To read the entire interview, click HERE.
---
January 9th, 2006
VH-1 Classics to have a 'Rush' Weekend
A PR News Wire citing the official VH-1 website has announced a 'Rush Weekend' on VH-1 Classics which will include the world televised premier of the R30 concert from the DVD of the same name.

"Invisible airwaves will crackle with life" when VH1 Classic presents the world television premiere of "Rush R-30," a DVD concert performance from the band's $21 million grossing sell-out 30th Anniversary Tour. The concert will air as part of VH1 Classic's salute to Rush the weekend of Friday, January 13.

A schedule of airdate dates can be found HERE.
---
January 3rd, 2006
Exit...Stage Left Release Delayed Until March
As reported at Power Windows, the DVD re-issue of Exit...Stage Left has been delayed until March 7th, 2006. No other details are available at this time.
---
- Cygnus-X1.Net Rush News Archives -

|January-March 2011 Rush News Archive|
|October-December 2010 Rush News Archive|
|July-September 2010 Rush News Archive|
|April-June 2010 Rush News Archive|
|January-March 2010 Rush News Archive|
|October-December 2009 Rush News Archive|
|July-September 2009 Rush News Archive|
|April-June 2009 Rush News Archive|
|January-March 2009 Rush News Archive|
|October-December 2008 Rush News Archive|
|July-September 2008 Rush News Archive|
|April-June 2008 Rush News Archive|
|January-March 2008 Rush News Archive|
|September-December 2007 Rush News Archive|
|June-August 2007 Rush News Archive|
|April-May 2007 Rush News Archive|
|January-March 2007 Rush News Archive|
|2006 Rush News Archive|
|2004-2005 Rush News Archive|
---