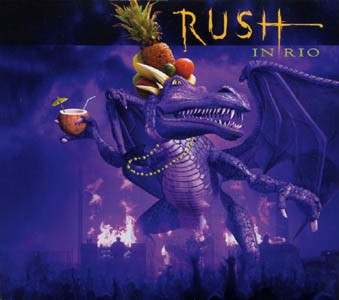 There are 5 active users currently online.
---
RUSH IN RIO (LIVE)
Album Review
---
---
All reviews are (c) Patuto Enterprises and originally appeared at Epinions.Com
---



Rush in Rio Triple Live CD - Masterful Musical Mecca



Pros: A magical, musical night captured for all time. Powerhouse performances. Electric crowd.

Cons: Some faded vocals at times.

The Bottom Line: Can the world handle another live album from Rush? Yes. Absolutely!
---
In combination with the release of their double-DVD Rush in Rio, which documents the final concert of their 2002 Vapor Trails tour, Rush has also released a Rush in Rio triple CD as an audio supplement to the DVD visuals. Or, as percussionist Neil Peart so eloquently stated, "...for some people (that) might prefer to listen to us without having to look at us..."

Well, after witnessing the DVD video on the big screen and having seen Rush live twice on their latest, and hopefully not final tour, I was really anxious to take in all the nuances of the triple-live CD.

Now I, like many other Rush fans, were a little surprised that the boys from the great white north were putting out another live album so soon after the last one. In fact, in their 30 year career, Rush followed the pattern of releasing four studio albums, then one live album. That pattern held true up until Rush in Rio which followed after only one studio album since their last live effort, 'Different Stages'. Regardless of this blip in their pattern, Rush in Rio is a very welcomed addition to an ever-growing and magnificent collection of work by these often misunderstood, grossly unappreciated and underrated masterful musicians. Man, say that fast five times! :-)

Another distinction between this live CD and others released by Rush in the past is the fact that all of the performances, save for two 'bonus' tracks, were all recorded from the single show held in Rio de Janeiro at a stadium packed with 40,000 amazing Brazilian fans. Previous live CDs understandably took the best performances from a variety of venues and dates, all combined to treat the listener to the very best of Rush live.

However the fact that the entire CD was recorded from a single show makes little difference as the Gods were clearly looking down on Rush that one magical evening in Brazil. Rush, without question, produced arguably one of their finest concerts ever. And what a treat it had to have been for the 40,000 fans to witness, especially since this was the first visit to South America for Rush in their 30+ year history.

The electricity of that evening translated well into the CD recording. At times, the deafening crowd is so powerful, so vibrant, that they wash over some of the music and vocals. Others complain about this type of 'distraction', but to me, this is a phenomenal way to truly feel like you're there, and not listening to a recording. If anything, I thought that the crowd energy wasn't fully represented on the CD as it was on the DVD. Part of that is certainly due to the visuals of the DVD focusing a lot of its attention on the crowd, where as the CD obviously would not have to live up to that aspect of the presentation. Still, the crowd interaction is quite vibrant and apparent throughout this triple CD, as they should be. After all, this is a LIVE CD. If you didn't want to hear the crowd, then go listen to the studio version :) That being said, I should point out that some songs suffer from washed out vocals more than others. Some adjustments to your system should improve the audio quality and separation, but at first listen, it may be difficult to pick up Geddy's vocals at a few select times.

As mentioned above, this final show of the 2002 Vapor Trails tour was unquestionably one of the finest performances Rush had ever put forth, but as with all shows, there are always highlights, always particular songs that rise even farther above the bar. There's no shortage of those 'special' songs on this triple CD, but I thought it proper to discuss a few of the very best out of the collection of 30 available tracks.

First, comes Tom Sawyer; the quintessential Rush song, and the one the boys chose to open up the concert on this tour. The anticipation of the crowd had piqued, so when Rush began playing the opening chords of this 20th century classic, the crowd absolutely erupted. Goose bumps? You bet. Turn this one up loud and become enveloped in the essence of the moment. Absolutely intense.

Another amazing track comes in the form of YYZ, the superb instrumental that came from the same studio album (Moving Pictures - 1981) as Tom Sawyer. Once again, the crowd exploded with cheers as soon as the first instantly recognizable series of notes echoed out from Neil Peart's drum set. What became even more amazing was the fact that the crowd actually began to sing along to the song. Singing...to an instrumental...! We all hum to songs, but imagine 40,000 fans humming in unison. Simply amazing!

One of Rush's staples at concerts throughout the years was the fan favorite Closer to the Heart. However for the Vapor Trails tour, Rush decided to retire this little ditty, that is until they went south of the border. They had heard that this was among the all-time favorite songs down south, so they decided to revive it for this special collection of fans. And upon Geddy Lee announcing this to the concert goers, they reacted with extreme appreciation. Having heard this song many times myself (live) and having had it appear on a couple of earlier live compilations, I wasn't expecting anything earth-shattering. But once again, Rush and the 40,000 other stars that night brought the song to new heights, instantly reaffirming what makes it such a popular song 25 years after it was first performed.

Driven, from Rush's 'Test for Echo' album is just a solid jam, with Geddy at the helm. His spiritual and spontaneous bass rifts drive the scores of people wild. The vocals are spot-on, Alex's powerful guitars are electric (well, duh!) and Neil's heart-pounding punishment of his skins all work perfectly together. What a treat to behold. Perhaps a true candidate for a song that's better in its live format on its studio counterpart.

O Baterista. Neil Peart. The Drum Solo. Words are completely inadequate in expressing the performance put forth here. Watching the impossible performance on the DVD was surreal. Hearing it again confirms my utter shock that one human being can have such a command over his percussion set up. Have you heard that Neil is regarded as one of the finest drummers of all time? Listen to this solo and hear exactly why.

All of Disc 3 - every track, including the two 'soundboard' bootlegs are just incredible. A non-stop jam of incredible hits that Rush launches into. The fans go wild, never given a chance to rest after one song before the next is hurled at them at warp speed. Non-stop Rush elation best describes it. And, if you'll pardon the pun (or even if you don't), it's quite a Rush.

Without question, Rush in Rio in both CD and DVD form should not be missed by any fan of this Canadian trio. And for those of you on the fence, have a listen. You'll be transported to a musical world unlike any other you've ever experienced.

Rush. Does it get any better than this?

Thanks, as always, for reading.

-John



---
|Back to Rush in Rio Album Info|
---
|Read More Reviews on Rush in Rio|
---