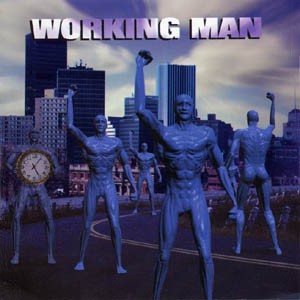 There are 23 active users currently online.
---
---
WORKING MAN
Released: August 2nd, 1996

Highest Billboard Chart Position: Did Not Chart
---
|Tracks| --- |Liner Notes| --- |Album Artwork| --- |Album Review| --- |Purchase| --- |

|
---
LINER NOTES

The Secret Clubhouse that Rush Built

What does Rush mean to you? The history of Rush parallels our own individual histories.I can remember late at night in 1975 in Chicago picking up a station ion Detroit and hearing Working Man and Fly By Night. Who are these guys? There were sort of a cult. Rush was a secret club- like the old clubhouse some of us had in the backyard or in the tree. We thought we were the only ones! It makes sense, the whole individual theme that permeated our minds from the outset of Rush's career. We found connection and we wanted to tell the world, "rush has arrived; hear them, see them, take them into your hearts, we did."

The critics roared, and it seemed at times, everyone was against them, coining them as copy-cats and saying they would not last. Ah, but we knew better!

Evolution is a fact of Rushology. Rush evolved, changed with the times - not because of record company pressure, but because Rush wanted to. In every cycle, every stop in their careers, Rush changed to grow and satisfy themselves. The fact that so many fans adored them was icing on the cake.

Rush fandom now has grown from a backyard members only (can you pass the Rush test?) clubhouse, to a full-fledged extended family. On the road you meet up with friends in every town. We are an organized group, perhaps as organized as any. The scary thing is; we have a long trip ahead of us. Well, perhaps it is not scary until you look back on at your own life and realize Rush has been a part of it for decades. In my case , I can look back some twenty years plus and just can't believe I still hang Rush photos at work along with a small Canadian flag. The more things change, the more they stay the same. Yet many of us owe our successes, indirectly, to Rush. The inspiration that drove us all to do what we wanted to do. To buck the system. We did it, with the help of Rush. Rush is always there, providing a unique life-force, breathing fresh new life into our own. Turning up the drive, feeding the machine, turning us upside-down again forcing us to constantly to look at the world around us - re-examine ourselves. And the music takes us away to places - oh, the places it takes us to. What we have become is a rush fan base with a very big clubhouse. We all have all a spot in it . And Rush is still our little secret.

Steve Streeter - "A Show of Fans"
...

From their beginnings in the early 70's Rush has followed their own ideals. They've done what they wanted to do and have not been led by the industry around them. Most people would not have believed that a band with this attitude would have survived, but as we know, Rush has survived with great success.

Because Alex, Neil and Geddy have gone down their own path and followed their own beliefs, their music has progressed in such a way that most people looking in from the outside may well believe that this music has been produced by entirely different bands. When they started, they had obviously been inspired by Led Zeppelin and bands of a similar style. Towards the end of the 70's, the music had evolved into 10-minute pieces of meandering textures, to the mid-80's where the guitar had been replaced with keyboards. Now in the present day the keyboards have all but gone, and the guitar has been brought right up to the front again, returning the band to a much rawer feel.

During all these times of change, Rush's fans have followed them relentlessly. Their fan base covers three generations, from kids in their early teens, to the more mature listener who could be described as being on "The wrong side of 40," with their eye glasses and receding hairlines. If you go to any Rush concert, you'll find someone who has been to every show that the band has played in their town. To put it another way, Rush fans are probably the most loyal you'll find anywhere in the world.

Because of the music has evolved so much over the years, it can be said that practically every fan can remember a song which is tied to a certain point in their past that means a lot to them. To borrow a quote from Neil Peart, "Our music has become a soundtrack of their lives."

Rush has released 20 records, including 3 live albums and a compilation record, and has toured continuously since they formed. These 3 Canadians who we look up to are definitely "Working Men."

Stewart J. Gilray, Co-Editor - "The Spirit of Rush"

---
Track Listing

1. Working Man (3:52)
--Brendt Allman - Rhythm Guitar
--Sebastian Bach - Vocals
--Jake E. Lee - Lead Guitar
--Mike Portnoy - Drums
--Billy Sheehan - Bass

2. By-Tor & The Snow Dog (4:12)
--Brendt Allman - Rhythm Guitar
--James LaBrie - Vocals
--Jake E. Lee - Lead Guitar
--Mike Portnoy - Drums
--Billy Sheehan - Bass

3. The Analog Kid (5:18)
--Brendt Allman - Rhythm Guitar
--Mike Pinnella - Keyboards
--Mike Portnoy - Drums
--Michael Romeo - Lead Guitar
--Jack Russell - Vocals
--Billy Sheehan - Bass

4. The Trees (4:32)
--Brendt Allman - Lead/Rhythm Guitar
--Mike Baker - Vocals
--Chris Ingles - Piano
--Mike Portnoy - Drums
--Billy Sheehan - Bass
--Gary Wehrkamp - Keyboards

5. La Villa Stangiato (9:26)
--Brendt Allman - Rhythm Guitar
--Steve Morse - Classical Guitar/Main Solo
--James Murphy - End Guitar Solo/Keyboards
--Mike Portnoy - Drums
--Billy Sheehan - Bass
--David Townson - Rhythm Guitar

6. Mission (5:34)
--Robert Berry - Guitar/Bass/Keyboards/Vocals
--Brad Kaiser - Drums
--Eric Martin - Lead Vocals

7. Anthem (4:14)
--Deen Castronovo - Drums
--Stu Hamm - Bass
--George Lynch - Lead Guitar
--James Murphy - Rhythm Guitar
--Mark Slaughter - Vocals

8. Jacob's Ladder (7:38)
--Brendt Allman - Rhythm Guitar
--Sebastian Bach - Vocals
--Matt Guillory - Keyboards
--John Petrucci - Lead Guitar
--Mike Portnoy - Drums
--Billy Sheehan - Bass

9. Closer To The Heart (3:00)
performed by Fates Warning
--Ray Alder - Lead Vocals
--Jim Matheos - Lead Guitars
--Mark Zonder - Drums
--Joey Vera - Bass

10. Natural Science (8:39)
--Deen Castronovo - Drums
--Matt Guillory - Keyboards
--Stu Hamm - Bass
--James Murphy - Rhythm/Lead Guitar
--Devin Townsend - Vocals
--David Towson - Ending Guitar Solo

11. YYZ (4:20)
--Deen Castronovo - Drums
--Matt Guillory - Keyboards
--Stu Hamm - Bass
--James Murphy - Lead/Rhythm Guitar

12. Red Barchetta (6:13)
--Richard Chycki - Rhythm Guitar
--James LaBrie - Vocals
--Sean Malone - Bass
--Steve Morse - Lead Guitar
--James Murphy - Rhythm Guitar/Keyboards
--Sean Reinert - Drums
--David Townson - Rhythm Guitar

13. Freewill (5:29)
Jeff Brockman - Drums
Carl Cadden-James - Bass
Marcel Coenen - Guitar
Trent Gardner - Keyboards
Gregoor van der Loo - Vocals

---