There are 22 active users currently online.
---
---
Rush: 3 Days in Ottawa
Govenor General's Peforming Arts Awards

Zoomer Magazine

October 2012

Photography: Paul Alexander

---
And, oh what a party is was! To celebrate the 20th anniversary of the Govenor General's Peforming Arts Awards - the
nation's most prestigious for culture - a who's who gathered to honor Canada's best
---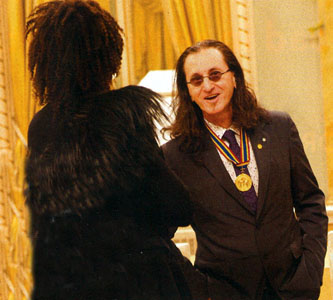 Zoomer editor-in-chief Suzanne Boyd congratulates Rush vocalist Geddy Lee (proudly rocking his medal)
at the Governor General's Performing Arts Awards in Ottawa

Click to Enlarge Any Image
---
Rush
2012 Lifetime Artistic Achievement (Popular Music)

Sourced from the GGPAA Website

Canadian power trio Rush is one of rock music's most influential and highly regarded bands, ranking third in the world (after The Beatles and The Rolling Stones) for most consecutive gold or platinum studio albums by a rock band. They have released 39 albums and over 70 singles, sold more than 40 million albums worldwide, and garnered 24 gold and 14 platinum records, and their benefit performances have raised more than $1 million for Canadian charities. Few groups in the history of popular music can approach Rush for longevity, creativity, body of work, and dedication to their art. Nearly 40 years after their arrival on the scene, they maintain a busy touring and recording schedule, to the delight of their loyal fans around the world.
Rush band members Geddy Lee (bass guitar, keyboard and lead vocals), Alex Lifeson (guitar) and Neil Peart (drums) are known for their musical virtuosity, innovation, complex compositions, and eclectic lyrics often inspired by science fiction, fantasy, and philosophy.
Rush's impressive discography started in 1974 with their self-titled debut album (featuring the hit single "Working Man"). Highlights include Fly by Night ("Fly by Night"), the breakthrough 2112 (a futuristic concept album with a 20-minute title track), Farewell to Kings ("Closer to the Heart"), Permanent Waves ("The Spirit of Radio," "Freewill"), Moving Pictures ("Tom Sawyer," "YYZ," "Limelight"), Signals ("New World Man"), Roll the Bones ("Roll the Bones"), and Snakes & Arrows ("Far Cry"). Their 20th studio album, Clockwork Angels, was released in spring 2012.
Messrs. Lee, Lifeson and Peart are Officers of the Order of Canada (appointed in 1996, the first band so honoured). Among other distinctions, the band has won eight JUNO awards and been nominated for seven Grammy Awards, been inducted into the Canadian Music Hall of Fame (1994), the Canadian Music Industry Hall of Fame (2003) and the Canadian Songwriters Hall of Fame (2010), and received a star on both Canada's Walk of Fame (1999) and Hollywood Walk of Fame (2010). Rush was profiled in the 2010 documentary Rush: Beyond the Lighted Stage, directed by Scot McFadyen and Sam Dunn, which won the coveted Tribeca Film Festival Audience Award and the JUNO for Best Music DVD.
---

The nation's capital isn't known for glamour, and Canadians like it that way. But when the occasion warrants, it has no problem shaking off its
utilitarian drab (and we mean that in the best possible military sense of the term) to put on the glitz. Each year, the event proves to be a highlight
of Ottawa's social calendar and on this the award's 20th anniversary, Canada truly laid claim to its status as an arts nation. After all, each recipient's
work has shaped and inspired our country's cultural landscape, and as you can tell from the 2012 inductees pictured here, with their Excellencies and
the people who helped make it all possible, their contributions are not overstated.


---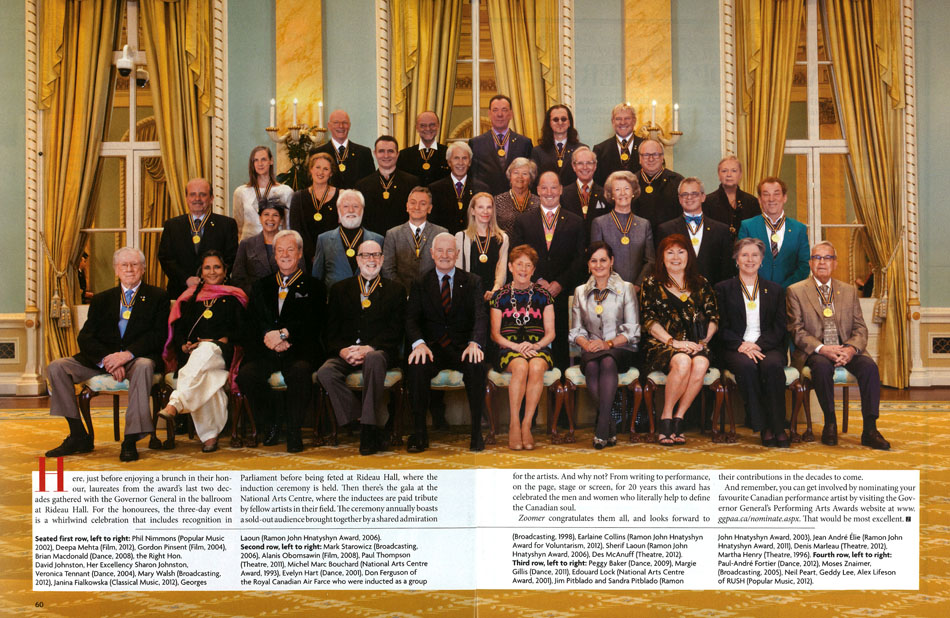 Here, just before enjoying a brunch in their honour, laureates from the award's last two decades gathered with the Governor General in the ballroom at
Rideau Hall. For the honourees, the three-day event is a whirlwind celebration that includes recognition in Parliament before being feted at Rideau Hall,
where the induction ceremony is held. Then there's the gala at the National Arts Centre, where the inductees are paid tribute by fellow artists in their field.
The ceremony annually boasts a sold-out audience brought together by a shared admiration for the artists. And why not? From writing to performance,
on the page, stage or screen, for 20 years this award has celebrated the men and women who literally help to define the Canadian soul.

Zoomer congratulates them all, and looks forward to their contributions in the decades to come.

And remember, you can get involved by nominating your favourite Canadian performance artist by visiting the Governor General's
Performing Arts Awards website at www.ggpaa.calnominate.aspx. That would be most excellent.


---

Geddy Lee, Neil Peart and Alex Lifeson proudly wear their medals.


---
Acceptance Speech

---
"Inner Rush"
---
---
---
-| Click HERE for more Rush Biographies and Articles |-
---