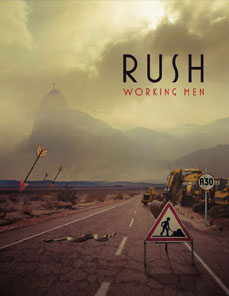 There are 25 active users currently online.
---
---
WORKING MEN


Released: November 17th, 2009


---
|Tracks| --- |Liner Notes| --- |Video Artwork| --- |Purchase|
---
Liner Notes

2112, Closer to the Heart, YYZ from the DVD "Rush in Rio" (2003)
Directed by Daniel E. Catullo III
Produced by Lawrence Jordan, Daniel E. Catullo III and Lionel Pasamonte

The Spirit of Radio, Dreamline, Subdivisions, One Little Victory (previously unreleased), Working Man from the DVD "R30" (2005)
Directed by Pierre Lamoureux
Produced by Pierre Lamoureux, Allan Weinrib

Limelight, Freewill, Far Cry, Tom Sawyer from the DVD "Snakes & Arrows Live" (2008)
Directed by Pierre & Francois Lamoureux
Produced by Allan Weinrib

Assembled by Andy VanDette
Mastered by Andy VanDette, Masterdisk, New York

Executive Producers: Pegi Cecconi/Ray Danniels/Allan Weinrib

Art Direction Illustration and Design by Hugh Syme

Management by Ray Danniels
SRO Management Inc, Toronto Canada

All songs written by Lee/Lifeson/Peart except "Closer To The Heart" (Lee/Lifeson/Peart/Talbot), "Tom Sawyer" (Lee/Lifeson/Peart/Dubois), "Working Man" (Lee/Lifeson), "YYZ" (Lee/Peart). All songs published by Core Music Publishing (SOCAN/SESAC).

© 2009 Anthem Film and Television. All Rights Reserved.

This compilation © 2009 Anthem Entertainment and Zoe Vision, a Rounder Records Group Company
All Rights Reserved. Made in the U.S.A. ZOE 01143-1135-9

---
Other Notes

• All videos, with the exception of One Little Victory were previously released on Rush in Rio, R30: 30th Anniversary World Tour and
Snakes & Arrows Live.
• A CD companion of Working Men was also released (See: Working Men CD).
---
Track Listing

1. Limelight
2. The Spirit of Radio
3. 2112
4. Freewill
5. Dreamline
6. Far Cry
7. Subdivisions
8. One Little Victory (previously unreleased)
9. Closer to the Heart
10. Tom Sawyer
11. Working Man
12. YYZ