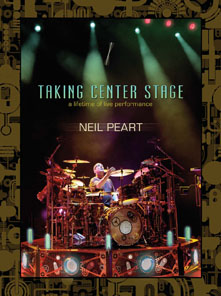 There are 14 active users currently online.
---
---
NEIL PEART: TAKING CENTER STAGE


a lifetime of live performance

Released: October 14th, 2011




---
|Tracks| --- |Liner Notes| --- |Video Trailer| --- |Video Artwork| --- |Tour Dates| --- |Purchase|
---
Liner Notes



Hudson Music® presents
NEIL PEART
TAKING CENTER STAGE:
A LIFETIME OF LIVE PERFORMANCE



Edited by Joe Bergamini
Transcriptions and Engraving by Willie Rose
Design & Layout by Joe Bergamini
Assisted by Willie Rose
Executive Producers: Paul Siegel and Rob Wallis

Photos by Clayton Call, Joe Bergamini, Rob Wallis, Paul Siegel, and Neil Peart
Cover Design by Hugh Syme
Cover Photo by Andrew MacNaughtan

Song transcriptions used by permission of Alfred Music Publishing Company
Special thanks to Aaron Stang
---
On this 3-disc DVD set Neil Peart examines the challenges of live performance. Drawing from over 30 years touring the world, Neil breaks down, demonstrates, and performs classic drum parts from songs spanning the entire Rush catalog, thereby giving the viewer the most in-depth insight into Neil's body of work ever documented.

Filmed in various locations over the course of a year, Neil takes you on a behind-the-scenes look at Rush's 2010-11 Time Machine Tour. Beginning with a visit to his personal pre·tour rehearsals, Neil shows the ways in which he prepares for the upcoming tour. The viewer is then transported backstage at a Rush concert to witness the setting up of the dnimset, the soundcheck, and an unprecedented backstage interview where Neil explains and runs through his warm-up routine, and discusses the upcoming concert.

Neil then presents a detailed look at every single song in the Time Machine set list (which includes the entire Moving Pictures album). For each song, key grooves and fills are analyzed by Neil in an interview setting with Hudson's Joe Bergamini. For each groove and fill discussed, both full-speed and slow-motion drums-only demonstrations are included, coupled with PDF icons that allow the viewer to analyze and practice the patterns using the included PDF eBook. At the end of each song discussion, the viewer is transported onstage to a Rush concert to see the actual live performance of the song from the perspective of the drum cameras only (with an exclusive, custom audio mix that features the drums heard slightly louder than a normal concert DVD mix).

With in-studio rehearsal footage, backstage scen.es, live concert performances, and breathtaking interview footage filmed in Death Valley National Park, California, this package documents not only Neil's approach to live performance, but of the very essence of his drum style, on all the classic Rush songs, including "Tom Sawyer," "Subdivisions," "YYZ," "The Spirit of Radio," "Free Will," "Limelight," "Far Cry," "Marathon,' "Time Stand Still," and many more. The DVD concludes with an extensive discussion, analysis, and performance of the newest Rush song, "Caravan."

Bonus features include two additional live performances (seen from the drum cameras only) from the 2008 Snakes and Arrows Tour, an additional educational segment on the song "Bravado," PDF eBook; photo gallery, and an interview with Neil's drum tech Lorne Wheaton.
---
Downloadable PDF eBook



Welcome to the companion eBook to Neil Peart and Hudson Music's Taking Center Stage: A Lifetime of Live Performance. This eBook contains transcribed examples of the demonstrations contained on the DVDs.

While watching the DVD, starting with the sections in which Neil talks about the songs in the Time Machine Tour set list, Neil plays selected drum parts from the songs without accompaniment, for demonstration purposes. During these demonstrations, you will see numbered PDF icons begin to appear on screen. The numbers in these icons correspond to the example numbers throughout this eBook.

We recommend that you print this eBook, or open it in a separate window on your computer or tablet device. This will allow you to follow along with the DVD and practice the examples. Most of the demonstrations on the DVD are shown in both real time and slow motion for clarity.

These transcriptions correspond with the demonstrated examples. A forthcoming companion book will contain note-for-note transcriptions of Neil's performances from the Saratoga Time Machine concert (also included on the DVD).

Please visit us at www.hudsonmusic.com and www.takingcenterstage.net for more information about this and other great educational products.
---
Produced by Rob Wallis and Paul Siegel
Co-Produced by Joe Bergamini
Directed by Gregory McKean
Edited by Phil Fallo
Mixed by Sean McClintock

Art direction and design by Hugh Syme

Cover photo by Andrew MacNaughtan

Back slipcase cover photo by Rob Wallis
(Neil on bike coming towards camera)

Front digipak photo by Neil Peart

Back digipak photo by Paul Siegel
(Neil and Joe Bergamini in canyon)

Back digipak inset photo by Clayton Call
(Neil and drums)

Digipack inside tray photo by Paul Siegel
(the whole crew on the ridge)

® © 2011 Hudson Music, LLC, All Rights Reserved. HD-DVD NP22 Plaase visit www.takingcenterstage.net

---
Trailer

---
Track Listing

Disc 1
Opening Titles
Introduction
Preparation For The Tour
Choosing The Set List
"The Spirit Of Radio" Drum Rehearsal
Creating A New Solo
Drum Rehearsal: Solo Improv
"Love For Sale" Performance
Explanation Of Big Band Section
Show Day
1 P.M. Drum Set-Up
5 P.M. Soundcheck
7 P.M. Pre-Warm-Up Discussion In Bubba Gump Room
7:30 P.M. Warm-Up
The Show
The Spirit Of Radio
Time Stand Still
Presto
Stick It Out
Workin' Them Angels
Leave That Thing Alone!
Faithless
BU2B
Free Will

Disc 2
Marathon
Subdivisions
Tom Sawyer
Red Barchetta
YYZ
Limelight
The Camera Eye
Witch Hunt
Vital Signs
Caravan
Moto Perpetuo (Drum Solo)
Closer To The Heart
2112: Overture / The Temples Of Syrinx
Far Cry
La Villa Strangiato
Working Man
Closing Remarks And Credits

Disc 3
The Story Of "Caravan"
"Bravado" Discussion And Performancs
Snakes & Arrows Tour: "Natural Science"
Snakes & Arrows Tour: "The Trees"
Interview With Lorne "Gump" Wheaton
Interview With Louie From DW
Photo Gallery
PDF eBook
About Hudson Music's Teacher Integration Program
About Hudson Music
Public Service Information

Downloadable Bonus Content from Guitar Center website
Snakes & Arrows Tour: "Digital Man"
In Studio Performance Of "Far Cry"
Interview
In Studio Performance Of "Subdivisions"
Snakes & Arrows Tour: "The Main Monkey Business"