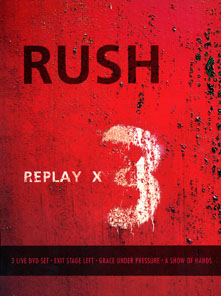 There are 11 active users currently online.
---
---
REPLAY X 3


Released: June 13, 2006



Certified 2X Multi-Platinum by RIAA: June 13th, 2006 - Highest Billboard Chart Position: 1
---
|Tracks| --- |Liner Notes| --- |Video Artwork| --- |Video Review| --- |Tour Dates| --- |Purchase|
---
Liner Notes

---
Geddy Lee - Bass guitar, vocals, synthesizers, bass pedal synthesizer, and occasional rhythm guitar
Alex Lifeson - Electric and acoustic guitars, bass pedal synthesizer
Neil Peart - Drums and percussion
---
Producer: Grant Lough
Post Production: Ivan Martin and Lex Balten
Audio Produced by: Terry Brown
5.1 and stereo mix by Mike Fraser and Alex Lifeson - Warehouse Studios, Vancouver
Assistant Engineer: Zach Blackstone
ATR Services: Andrew Gigham
Special thanks to the Montreal Forum and Len Epand

Management: Ray Danniels/SRO Productions
Executive Production: Geddy Lee, Rhonda Ross, Tom Berry
Universal Music Enterprises: Jeff Fura/Adam Abrams/Ramon Galbert

Art Direction and design: Hugh Syme

All songs written by Lee/Lifeson/Peart except "Tom Sawyer" by Lee/Lifeson/Peart/Dubois, "Closer to the Heart" by Lee/Lifeson/Peart/Talbot, "In the End" by Lee/Lifeson, "In The Mood" by Lee and "YYZ" by Lee/Peart

All songs published by Core Music Publishing (SOCAN)
© 2006 Anthem Entertainment/The Island Del Jam Music Group.

---
Additional Information Available at the Following Links

| Exit...Stage Left Concert Video |
| Grace Under Pressure: Tour 1984 Concert Video |
| A Show of Hands Concert Video |

---
Other Notes

• The Replay X 3 box set also includes a previously unreleased CD audio version of the Grace Under Pressure: Tour 1984 video.
• Rush Replay X 3 debuted at #1 on the Billboard Music Video charts.
• The audio on the DVDs was re-mastered in 5.1-channel Dolby Surround by Alex Lifeson who also co-produced the videos.
• Box sets purchased from Best Buy contain the following exclusive audio CD tracks: "Limelight" and "Closer to the Heart" from Exit...Stage Left
and "The Spirit of Radio" and "Tom Sawyer" from the A Show of Hands video soundtracks..
---
Track Listing

Disc 1: Exit...Stage Left DVD

Intro (Narration) (2:15)
1. Limelight (4:38)
2. Tom Sawyer (5:00)
3. The Trees (4:47)
4. Xanadu (12:32)
5. Red Barchetta (6:37)
6. Freewill (5:50)
7. Closer to the Heart (3:30)
8. YYZ (1:25)
9. Medley: By-Tor and The Snow Dog (4:13)
10.In the End, In the Mood, 2112 Finale (5:59)
11. YYZ (Credits) (2:20)

---
Disc 2: Grace Under Pressure DVD

Intro (Narration) (2:15)
1. Limelight (4:38)
2. Tom Sawyer (5:00)
3. The Trees (4:47)
4. Xanadu (12:32)
5. Red Barchetta (6:37)
6. Freewill (5:50)
7. Closer to the Heart (3:30)
8. YYZ (1:25)
9. Medley: By-Tor and The Snow Dog (4:13)
10.In the End, In the Mood, 2112 Finale (5:59)
11. YYZ (Credits) (2:20)

---
Disc 3: A Show of Hands DVD

1. Intro
2. The Big Money
3. Marathon
4. Turn the Page
5. Prime Mover
6. Manhattan Project
7. Closer to the Heart
8. Red Sector A
9. Force Ten
10. Lock and Key (laserdisc only)
11. Mission
12. Territories
13. YYZ
14. The Rhythm Method • Drum Solo
15. The Spirit of Radio
16. Tom Sawyer
17. 2112 Overture/The Temples of Syrinx/La Villa Strangiato/In The Mood
18. Credits

---
Disc 4: Grace Under Pressure CD
Intro (Narration) (2:15)
1. Limelight (4:38)
2. Tom Sawyer (5:00)
3. The Trees (4:47)
4. Xanadu (12:32)
5. Red Barchetta (6:37)
6. Freewill (5:50)
7. Closer to the Heart (3:30)
8. YYZ (1:25)
9. Medley: By-Tor and The Snow Dog (4:13)
10.In the End, In the Mood, 2112 Finale (5:59)
11. YYZ (Credits) (2:20)