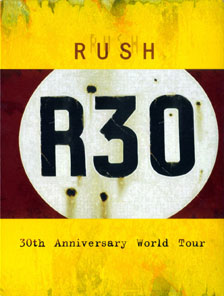 There are 12 active users currently online.
---
---
R30: 30th Anniversary World Tour


Released: November 22, 2005
(Recorded and filmed at the Festhalle in Frankfurt, Germany on September 24th, 2004)

Certified 5X Multi-Platinum by RIAA: September 1, 2010 - Highest Billboard Chart Position: 2

---
|Tracks| --- |Liner Notes| --- |Video Artwork| --- |Tour Dates| --- |Purchase|
---
Liner Notes

Directed by Pierre Lamoureux

Executive Producers
Pegi Cecconi
Ray Danniels
Allan Weinrib

Produced by
Pierre Lamoureux
Allan Weinrib

Co-Produced by
Franyois Lamoureux
Fogolabs

Director of Photography • Eugene O'Connor

Line Producer • Gavin Pigott

Assistant Director • Gavin Pigott

Editing by Mark Morton

Assistant Editor • Chris Thurston

Lighting Director/Designer • Howard Ungerleider

On-Site Audio Producer • Franyois Lamoureux

On-Site Audio Engineer • Denis Normandeau

Production Coordinator • Tanja Tschorn

Supervising Engineer • Ben Vaughn

Director's Assistant • David Rath

Cameras
Wim Verelst
Michael Reichert
Ivo Fuchs
Simon Stadler
Holger Radler
Christian Weber
Paul Eggerton
Sam Osborne

Jimmy JIB
Herman Heirstrate
Ronald Meyvisch

Camera Assistants
Karim Laout
Nikolai Kalg
Andreas Grindl
Mathias Diederich

Belgian & German Technical Crew

Project Co-ordinator • Timo Koch - Outside Broadcast, Belgium

Unit Manager • Ronald Meyvisch

Vision Engineers
Geert Helson
Werner Van Den Eede

Technical Assistants
Andre Verbesselt
Ivano De Notarpietro

Tape Operator • Joost Davidson

Hothead/JIM Technician • Dirk Vanderbemden

Vision Mixer • Miguel Rinckout

Sound Engineer • Bart Rommelaere

Drivers
Peter Van Dam
Joeri Donckers
Staf Moonen

Sound TruckSound Truck • B&R Medientechnik

Audio Technical Director • Bernd Kugler

Operating Engineer • Marc Lenz

Audio Engineer • Marcus Kotter

Audio Technicians
Timo Ostermann
Dirk Reuther

5.1 Audio Mix
by Richard Chycki and Alex Lifeson
Assisted by Adrian Lifeson

Engineering by Francois Lamoureux

Offline Editing Facilities
School, Toronto, Canada

Post Facility
Fogolabs, Montreal, Canada

Online Editor • Yannick Gamache
Title Design by Crush
Toronto, Canada

Audio Post Production
Mixland Music & DVD, Toronto
Lerxst Sound, Toronto

DVD Authoring
Fogolabs
Montreal
Broadness
New York

Tour Credits

Opening Animation
Spin Productions
Toronto, Canada

Starring Jerry Stiller

Darn that Dragon
CuppaCoffee
Toronto, Canada

Management
Ray Danniels
SRO Management, Toronto

European Touring Company
Neil Warnock
The Agency Group, London

Lighting Supplied by
Premier Global Productions
Nashville, TN

Audience Lighting Supplied by
Rock Service

Sound Supplied by
MD-Clair Brothers
Nashville, TN

Projection System Supplied by
BCC Video Inc., Westlake Village, CA

Lasers Supplied by
Production Design
Markham, ON

Pyrotechnics Supplied by
Pyrotek, Markham, ON

Video Equipment Provided by
Bexel Video

Rear Screen Photo Montage Edited by
Aaron Dark
Mark Morton
School, Toronto

---
RUSH R30 Tour Crew

Liam Birt • Tour Manager All Round Handsome Guy
Donovan Lundstrom • Road Manager
Craig Blazier • Production Manager
Shelley Nott • Artist Liaison/SRO Management
Keith Keller • Tour Accountant
Karin Blazier • Production Assistant
Brad Madix • Concert Sound Engineer
Howard Ungerleider • Lighting Director/ Designer
tony Geranios • Keyboard Tech
Lorne Wheaton • Drum Tech
Russ Ryan • Bass Tech
Rick Britton • Guitar Tech
Brent Carpenter • Stage Monitor Engineer
George Steinert • Carpenter
Bruce French• Nutritionist
Michael Mosbach • Security Director
Jo Ravitch • Sound Crew Chief
Beau Alexander • Audio Tech
Daniel Taake • Audio Tech
Rich Vinyard • Lighting Crew Chief
Norm Sliwa • Master Electrician
Keith Hoagland • Lighting Tech
Jamie Grossenkemper • Lighting Tech
David Davidian • Video Director
Bob Larkin • Video Engineer
Adrian Brister • LED Engineer
Greg Frederick • Camera Man
Brian Collins • Head Rigger
Frank Aguirre Jr. • Rigger
Marcus Heckmann • VJ
Scott Wilson • Laser Tech
Kevin Hughes • Pyrotechnic ian
Patrick McLoughlin • Merchandiser
Brutus • Scooter Trash
Heidi Varah • Caterer
Haydn Crowther • Caterer
Lauren Roberts • Caterer
Emma Scott • Caterer
---
Rear Screen Video Animation Supplied by
Derivative, Toronto, ON

Buses Supplied by
Beat The Street, Tirol, Austria

Trucking Supplied by
Stagestruck
Middlesex, England

Aircraft Charter Supplied by
Air Charter, W. Sussex , England

Customs Brokers
Barry Zeagman
B. Zee Brokerage
Mississauga, ON

Sound Moves UK Ltd.
Middlesex, England

Generators Provided by
G.E. Energy Rentals
Showpower

Television Truck Provided by
Outside Broadcast
Rotselaar, Belgium

Catering
Eat to the Beat
Hertfordshire, England

RUSH/Anthem Entertainment Consigliere
Robert A. Farmer

Venue
Festhalle
Frankfurt, Germany

Promoter
KBK Konzert
Klaus Boenisch
Rainer Weiss

Thanks to our Technical Suppliers

For Alex
Hughes & Kettner Amplification
Paul Reed Smith
Gibson Guitars
Dean Markley Strings
Dunlop Manufacturing

For Geddy
Saved by Technology
Fender
Tech 21j Sansamp
Rotosound Strings
Taylor Acoustic Guitars

For Neil
DW Drums
Sabian Cymbals
Promark Drumsticks
Remo Drumheads

Special Thanks to
A personal thank you from Rush to our long-neglected European fans, for their patience and dedication

At SRO/Anthem
Ray Danniels, Pegi Cecconi, Sheila Posner, Shelley Nott, Anna LeCoche, Cynthia Barry, Rayanne Lepieszo, Andy Curran, Bob Farmer, and Randy Rolfe

Art Direction, Illustration and Design
Hugh Syme

Photographers
Fin Costello
Andrew MacNaughtan
Deborah Samuel
Dimo Safari
Carrie Nuttall
Bruce Cole
MRossi


---
Other Notes

• Eight songs from the concert, "Bravado", "YYZ", "The Trees", "One Little Victory", "Secret Touch", "Red Sector A", "La Villa Strangiato",
and "By-Tor And The Snow Dog", were dropped from the DVD release but later included on the Blu-Ray release.
• The DVD was released in a standard and deluxe set. The deluxe version features two audio CDs of the DVD content as well as various
interviews and extra live footage.
• The Blu-Ray edition does not include the aforementioned bonus features previously released as the second disk of the DVD release.
• Bittersweet Bundle Of Misery, an instrumental piece which plays as the credits roll at the end of the R30 concert DVD, as well as in the
"The Anthem Vault" menu on the second DVD, was written and performed by Alex Lifeson.
• There are two Easter Eggs in the R30 DVD Release. Here are the instructions for accessing both:
Easter Egg #1: From disc 2's opening menu, hit the 'Right' arrow key on your remote three times. The menu will reload with a new item, Rush Hits St. John's. Select the item to view the clip.

Easter Egg #2: From disc 2's opening menu, go to the Interviews section. Once there, highlight the menu entry Interviews and Anthem Vault and then click the 'Right' arrow on your remote three times. The guy with the broom on the left of the screen will highlight yellow. Press the 'Enter' key on your remote and you will see Alex's Interview for Artist of the Decade.
---
TRACK LISTING

Disc 1
1. R30 Overture
Finding My Way
Anthem
Bastille Day
A Passage to Bangkok
Cygnus X-1 Book I: The Voyage
Cygnus X-1 Book II: Hemispheres
2. The Spirit of Radio
3. Force Ten
4. Animate
5. Subdivisions
6. Earthshine
7. Red Barchetta
8. Roll the Bones
9. The Seeker
10. Tom Sawyer
11. Dreamline
12. Between the Wheels
13. Mystic Rhythms
14. Der Trommler
15. Resist (the acoustic arrangement first heard on Rush in Rio)
16. Heart Full of Soul
17. 2112 (Overture/Temples of Syrinx/Grand Finale)
18. Xanadu (abbreviated version)
19. Working Man
20. Summertime Blues
21. Crossroads
22. Limelight

Disc 2
Interviews
1. 1979: Interview with Geddy Lee at Ivor Wynne Stadium ? Tour of the Hemispheres
2. 1981: Studio interview at Le Studio recording studio in Quebec featuring all three members
3. 1990: Artist of the Decade interviews (1980s) featuring all three members
4. 1994: CBC Television: Juno Awards news report - Rush induction into the Canadian Music Hall of Fame
5. 2002: Interview with Geddy Lee and Alex Lifeson for the release of the album Vapor Trails

The Anthem Vault
6. "Fly By Night" - Church Session Video (1975)
7. "Finding My Way" (MPEG1 from Rock Concert)
8. "In the Mood" (MPEG1 from Rock Concert)
9. "Circumstances"
10. "La Villa Strangiato"
11. "A Farewell to Kings" - Seneca College Theatre (1977)
12. "Xanadu" - Seneca College Theatre (1977)
13. Soundcheck: "The Spirit of Radio" - Ivor Wynne Stadium (1979)
14. "Freewill" - Toronto Rocks / Rolling Stones Concert (2003)
15. "Closer to the Heart" - Canadian Tsunami Disaster Fund charity telethon performance on CBC television, with Ed Robertson of the Barenaked Ladies and Bubbles of the Trailer Park Boys (2005)
16. Rush hits St. John's (1988) (Easter egg)
17. 1990: Alex's Interview for Artist of the Decade (1980s) (Easter egg)

Blu-Ray Disc
1. R30 Overture
Finding My Way
Anthem
Bastille Day
A Passage to Bangkok
Cygnus X-1 Book I: The Voyage
Cygnus X-1 Book II: Hemispheres
2. The Spirit of Radio
3. Force Ten
4. Animate
5. Subdivisions
6 Earthshine
7. Red Barchetta
8. Roll the Bones
9. Bravado
10. YYZ
11. The Trees
12. The Seeker
13. One Little Victory
14. Tom Sawyer
15. Dreamline
16. Secret Touch
17. Between the Wheels
18. Mystic Rhythms
19. Red Sector A
20. Der Trommler
21. Resist
22. Heart Full of Soul
23. 2112 (Overture/Temples of Syrinx/Grand Finale)
24. La Villa Strangiato
25. By-Tor and the Snow Dog
26. Xanadu (abbreviated version)
27. Working Man
28. Summertime Blues
29. Crossroads
30. Limelight

---