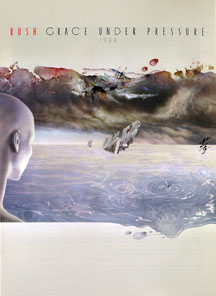 There are 26 active users currently online.
---
---
GRACE UNDER PRESSURE: TOUR 1984


Released: June 1985
(Recorded at Maple Leaf Gardens, Toronto, Canada September 21, 1984)

---
|Tracks| --- |Liner Notes| --- |Video Artwork| --- |Video Review| --- |Tour Dates| --- |Purchase|
---
Liner Notes

Geddy Lee - Vocals, Keyboards, Synthesizer, Bass
Alex Lifeson - Lead Guitars, Synthesizers
Neil Peart - Drums, Percussion

This live performance documents Rush's major North American tour of 1984. The Canadian band's successful concert blazes with the energy of their music and the intensity of their staging trademarks that make Rush one of rock's major concert attractions. It features powerful live versions of their hits "The Spirit Of Radio", "New World Man", and "Red Sector A". Experience the Rush!

A PolyGram MusicVideo Presentation

All songs by: Lee/Lifeson/Peart except "Closer To The Heart" by Lee/Lifeson/Peart/Talbot and "Tom Sawyer" by Lee/Lifeson/Peart/Dubois. "Finding My Way" by Lee/Lifeson and "In the Mood" by Lee. All songs published by Core Music Publishing (SOCAN)

Management: Ray Danniels for SRO Management
Representative: Val Azzoli
Director: David Mallet
Audio Director: Bill Baker

5.1 and stereo mix by Mike Fraser and Alex Lifeson, Warehouse Studios, Vancouver
Assistunt Engineer Zach Blackstone/ATR Services Andrew Bigham
Universal Music Enterprises: Jeff Fura/Adam Abrams/ Ramon Galbert
Filmed at Maple Leaf Gardens, Toronto, Canada

Mercury/UME (Replay X 3 Bonus Disk), June 13, 2006
© 2006 © 2009 Anthem Entertainment/The Island Def Jam Music Group

---
Other Notes

• The videocassette and laserdisc versions were the original formats of release, both in 1985 followed by a DVD release in 2006 as part of
the Rush Replay X 3 box set.
• The videocassette and laserdisc versions also included a full-length music video for "The Big Money".
• The audio on the DVD release was re-mastered in 5.1-channel Dolby Surround by Alex Lifeson.

---
Track Listing

1. Three Stooges Intro (Three Blind Mice)
2. The Spirit of Radio
3. The Enemy Within
4. The Weapon
5. Witch Hunt
6. New World Man
7. Distant Early Warning
8. Red Sector A
9. Closer to the Heart
10. Medley: YYZ/2112: The Temples of Syrinx/Tom Sawyer
11. Vital Signs
12. Medley: Finding My Way/In the Mood

13. The Big Money (Monopoly Board Video - Full Version, VHS & Laserdisc Only)