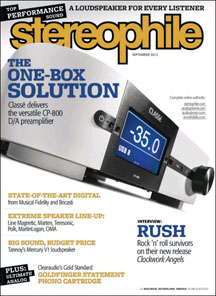 There are 10 active users currently online.
---
---
Working Men

Stereophile Magazine
September 2012

by Robert Baird


---
After more than 40 years together, the Canadian trio with their ornate lyrics, preposterous concept albums, and of course... drummer Neil Peart, are rock 'n' roll survivors whose latest album, Clockwork Angels, has a retro sound that harkens back to the band's past.
---

Click Any of the Following Images to Enlarge
---
Rush Celebrate More Than Four Decades of By-Tor, Geddy Lee's Voice, and the World's Biggest Drum Kit
---

"We tried to do some work between the legs of... Ummmm... that sounds weird."

Rock musicians - do they ever think about anything but sex?

Rush guitarist Alex Lifeson chuckles. He explains that what he meant to say was that he, singer-bassist Geddy Lee, and the exalted, formerly mustachioed object of Planet Earth's most fervent drummer cult, Neil Peart, were trying to write songs during a break in a recent tour.

Easily one of the music world's most polarizing acts, the objects of equal amounts of swooning and derision, Rush has become a rock institution. Those who love and hate the band inevitably cite the same factors: Lee's unforgettably high voice, Peart's grandiose fantasy/sci-fi Dungeons & Dragons lyrics, and the long, multi-part rock suites that appear on many of their studio records. Depending on the listener, all three can be either nauseating or awesome, dude! Other points of contention are Rush's constantly changing time signatures, their heady mix of metal, prog rock, and power-trio bombast, their instrumental virtuosity - and, of course, Peart's drumming on what, for many years, has been rock's most insanely tricked out 360 degree kit. Think multitudes of mount toms, glockenspiels, and dragon gongs, and you're there. The Peart cult is so fanatical that it's been enshrined in pop culture, thanks to Seth MacFarlane and a classic aside in his animated series Family Guy, starring Chester Cheetah, that's easily available on Youtube.com. The band also appeared onscreen, as their cartoonized selves, in an episode of South Park.


Whatever the merits of their music, lyrics like "Oh, I will dine on honeydew / And drink the milk of Paradise," (which is a near quote from Samuel Taylor Coleridge's poem "Kubla Khan") and costumes that once included elaborate, belted, Asian-style tunics that Lee, in a recent Mojo interview, called "absurdly prophetic robes," Rush has, by virtue of longevity, become one of the most productive acts in the increasingly long-in-the-tooth world of classic rock. They've sold over 40 million albums worldwide - and, in a statistic you may have to read twice to grok, according to the Recording Industry Association of America (RIAA), this trio of determined Canadians has earned the third-highest number of consecutive gold/platinum studio albums (24) released in the US by a rock band, trailing only the Rolling Stones and the Beatles. Their website sells 32 different men's T-shirt designs, six different patterns of Rush socks, and, yes, copies of Peart's copper-mercury-amalgamation, colored, autographed Pro Mark drumsticks, as currently featured on www.neilpeartdrumsticks.com - one of myriad websites devoted to the band's every move. Rush's new album, Clockwork Angels, is their 31st.

After the 14-month world tour supporting their last studio album, Snakes & Arrows (2007), Rush decided to take a year off to write Clockwork Angels, only their third studio album since 2000. But in that time they've made five live albums, and an eight-song EP of classic-rock covers. As so often happens, commerce - in this case, a tour based on the idea of time travel - superseded art, and after a break the band went back on the road, in the process recording Time Machine 2011: Live in Cleveland, their ninth live set. In the pantheon of live Rush records, Time Machine ranks in the middle of the pack, musically ahead of Exit... Stage Left (1981) and the synth-marred A Show of Hands (1989) and behind their two best, Different Stages: Live (1998), with its glorious "lost" show from 1978, and the band's first foray into concert recording, All the World's A Stage (1976), which, though not well recorded, still sounds convincingly raw and real. Prior to the start of the Time Machine tour; Rush recorded five songs in Nashville; two of these, "Caravan" and "BU2B," ended up on the Time Machine set list and became the anchor tracks of Clockwork Angels.


---
Click HERE to read the rest of the article.
---
---
-| Click HERE for more Rush Biographies and Articles |-
---