There are 17 active users currently online.
---
- Latest News on Rush -


Rush Lyric Randomizer - Reload this page for a randomly selected lyric

---

---
February 20th, 2007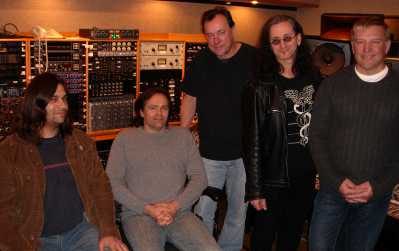 Rich Chycki Discusses New Rush Album
Rich Chycki, who is in charge of mixing the latest Rush album "Snakes & Arrows" recently updated his blog with some comments about the experience of working with Rush and producer Nick Raskulinecz.

Since the late fall, I've been in the studio recording and mixing a new CD for Rush with Nick Raskulinecz (Foo Fighters, Stone Sour) producing. Recording was completed at Allaire Studios in Shokan, New York during November/December 2006. I mixed the CD in the Neve 88R room (Studio D) at Ocean Way Studios in Los Angeles.

Experiencing their immense musical talent and personal integrity over the course of an entire CD was truly inspirational. And Nick is such an enthusiastic, focused talent as well -- a rocker through and through too. A small snippet of the first single 'Far Cry' is posted at rush.com .... enjoy the 'hemispheres chord' ... heh heh heh.

As a side note, Rush's R30 DVD has been nominated for a Juno Award for DVD of the Year...
||
---
February 14th, 2007
It's Official! The New Rush Album will be out May 1st - Clip from the first single now online
According to the only source that matters, Rush.Com, the new Rush album will be called Snakes amd Arrows and will be in the stores on May 1st.

In addition, a short clip from the first single, "Far Cry" is also available HERE. Though its only 10 seconds long, it's enough to get your blood pumping. Summer Tour details are forthcoming as well. Rejoice, Rush fans. The New Album is almost here!
||
---
February 13th, 2007
SESAC Signs Rush
SESAC, a performing rights organization, has recently signed Rush for U.S. Representation. The SESAC organization, and organizations like it, are businesses designed to represent songwriters and publishers and their right to be compensated for having their music performed in public.

Below is a reprint of the Press Release that appeared on the SESAC website.

SESAC SIGNS RUSH
Legendary Rock Icons In Studio Readying New CD for ?07 Release
February 12, 2007

NASHVILLE, TN ? SESAC, the nation?s fastest growing performing rights organization, has signed legendary rock group, RUSH for U.S. representation. One of the music world?s most successful and revered rock bands, RUSH has been a mainstay on rock stations for more than three decades accumulating multiple platinum and an astonishing 24 gold albums. The band has also dominated the radio airwaves with such smash singles as perennial favorites ?Tom Sawyer? and ?Closer To The Heart?. With a live show matched by few in the industry, RUSH has also established themselves as one of the most popular touring bands ever.

?SESAC couldn?t be more excited to sign RUSH to our incredible roster of affiliates,? says Pat Collins, President/COO, SESAC. ?RUSH is a truly iconic band that continues to create incredible music and entertain hundreds of thousands of fans at their live concert events so signing an act of their stature is a thrill. We are honored to have RUSH in the SESAC family.?

?Signing with SESAC was a natural for RUSH,? says SRO Management?s VP, Pegi Cecconi. ?SESAC represents some incredible artists so the band knew they would be in great hands and feel honored to be part of an amazing team.?

Among rock music?s most popular and celebrated acts, RUSH has been a recording and touring band for over 30 years. The group, which consists of bassist/vocalist Geddy Lee, guitarist Alex Lifeson and drummer Neil Peart, are currently in the studio working on a brand new project set for a Spring ?07 release.

||
---
February 12th, 2007
Tom Sawyer gets a Jazzy Treatment
Last Day In Paraside, an album by the Alex Skolnick Trio, will include a jazz version of Tom Sawyer. The band was formed by Testament guitarist Alex Skolnick.

The album, which contains seven original songs and three cover songs, is due out on March 15th. Click the album image to the right to pre-order from Amazon.Com. Click HERE for more information on the album and for an audio sample of Tom Sawyer.

"The new album also includes ... a live electronica inspired version of Rush classic 'Tom Sawyer.'
||
---
February 9th, 2007
Snakes and Arrows to hit the Stores on May 1st
According to an FMQB article, Rush's new album, tentatively titled "Snakes and Arrows" should hit the shelves on May 1st.

Once again, none of this has been officially confirmed by Rush, SRO/Anthem or Atlantic records.
||
---
February 9th, 2007
Far Cry, the new Rush Single, to air on March 19th-20th
According to FMQB, the new Rush single "Far Cry" will make its radio debut on or about March 19th-20th. Apparently, the album title will be "Snakes and Arrows" though no official confirmation of this has been made yet.

There's also a continuing rumor about the initial tour dates supporting Rush's latest album. Here's a tentative list of those dates. Again, nothing has been confirmed.

Jun. 13 - Nashville, TN @ Starwood Amphitheater
Jun. 15 - West Palm Beach, FL @ Sound Advice Amphitheater
Jun. 16 - Tampa, FL @ Ford Amphitheater @ Florida State Fairgrounds
Jun. 18 - Atlanta, GA @ HiFi Buys Amphitheater
Jun. 19 - Charlotte, NC @ Verizon Wireless Amphitheater
Jun. 27 - Mansfield, MA @ Tweeter Center
Jul. 02 - Wantaugh, NY @ Jones Beach Amphitheater
Jul. 04 - Darien Lake, NY @ Six Flags
Jul. 07 - Homdel, NJ @ PNC Arts Center

We'll have more news on the new Single and Album as it becomes available.
||
---
February 7th, 2007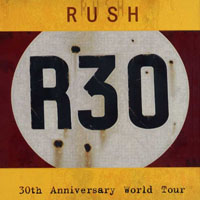 R30 Nominated for a Juno Award
According to the official Juno Awards site, Rush's R30 DVD has been nominated for the Music DVD of the Year. Below is the blurb from the Juno website.

Allan Weinrib - The executive producer/producer of the Rush R30 DVD is Rush singer/bassist Geddy Lee's brother. In 2004, Weinrib won Music DVD of the Year for Rush In Rio.

Pegi Cecconi - The one-of-a-kind Cecconi works at S.R.O. Management Inc., a management firm and part of Anthem Entertainment Group - an international recording, publishing and merchandising enterprise.

The president and C.E.O. of S.R.O. Management Inc., the management arm of Anthem Entertainment Group, will be inducted into the 2007 Canadian Music Industry Hall of Fame. He began his career in the music industry booking bands in Toronto. In 1971, he became Canadian rock band Rush's agent and manager and launched Moon Records (later renamed Anthem) to release Rush's self-titled debut.

Rush - The trio is working on its 18th original album since the trio formed in 1968 and released its eponymously-titled debut in 1974. The band has since sold more than 36 million albums worldwide and continues to be one of the top-grossing international touring acts. The last time Rush was in the studio to record original material was for 2002's Vapor Trails. R30 is a live 30th Anniversary World Tour DVD and CD set.

Pierre Lamoureux - Quebec's Lamoureux is the producer of Rush's R30, Killing Joke's XXV Gathering!, Stray Cats' Rumble In Brixton, The Who's Live In Boston, executive producer of Deep Purple's Perihelion - Live In Florida and The Who Live At The Royal Albert Hall.


Best of luck to Rush and all involved in the production of this fantastic DVD!
||
---
February 6th, 2007
More Rumors on the New Album and Tour
Rumors continue to spread regarding the new Rush album which now indicate that the first single will be called "Far Cry" or "Farcry" and will hit the radio waves on March 13th. No formal release date of the album has been indicated, other than "May" of this year. Finally, indications are that the tour in support of the new album will kick off on June 13th at the Starwood Amphitheater in Nashville, TN.

Thanks to Power Windows for the "news". :)
||
---
February 5th, 2007
Snakes Alive! - Rush in a rush over new studio album
Class Rock Magazine's March issue contains a small section on Rush and their upcoming new album. The included bonus CD also has a track from John Kastner (of The Doughboys and All Systems Go!) which features the talents of Alex Lifeson.



Long-running Canadian rockers Rush are adding the final touches to their 18th full-length studio album, which will be titled either Snakes and Arrows or Snakes and Ladders when it is released via Atlantic Records in late April/early May.

Co-produced with Nick Raskulinecz (who has previously worked with Foo Fighters, Tenacious D and Stone Sour), Rush recorded the album in 30 days flat - their speediest finish since A Farewell to Kings in 1977. A 'making of' DVD is also likely to be released.

Drummer Neil Peart said recently that the albums' lyrics were inspired by his motorbike trips across America, stories later captured in literary form in a book called Roadshow: Landscape With Drums.

The trio expect to spend most of the year on the road, and undertake a lengthy North American tour kicking off in mid-June; European and South American shows are pencilled in for early 2008.

Now into their 33rd year as recordind artists, Rush are once again overlooked by the Rock and Roll Hall Of Fame. "I couldn't care less. Look who's up for induction. It's a joke" guitarist Alex Lifeson said of the snub.

To hear a different side of Alex check out track 3 on our cover CD.

The blurb on Rush doesn't contain any new information and is largely based on Alex's earlier interview with Jeff Burrows.
||
---
January 31st, 2007
MSNBC Conducts Online "Overlooked Rock non-Hall of Famers" Poll
MSNBC.com is currently featuring an Online Poll that highlights the best musical acts which have been overlooked by the Rock and Roll Hall of Fame. Current front-runner is Rush. Let's keep it that way. Vote now!
||
---
January 31st, 2007
Through the Prism: The Classical Tribute to Rush
Vitamin Records, who have produced such Rush Tribute albums as Exit...Stage Right: The String Quartet Tribute to Rush, The String Quartet Tribute to Rush's 2112 and The Piano Tribute to Rush are now releasing a "Best of" album, due out April 3rd, 2007.

What can be said about Rush that hasn?t been said already? They have won more praise and awards for their work than can be catalogued here. One of the top-selling rock bands of all time, Rush has one of the largest and most dedicated fanbases in the world. And, they have been going non-stop for over thirty years. Yeah, that sums it up quite nicely.

Since Exit Stage Right: The String Quartet Tribute to Rush, Vitamin Records has raised the stakes for paying tribute to Canada?s favorite sons. The first album was a smash amongst fans and was soon followed by the ambitious tribute to Rush?s magnum opus, 2112. More hit tributes were to come and with each record Vitamin surprised the fans with their dedication to the craftsmanship of the godfathers of modern, progressive music. With this collection, Vitamin has highlighted 14 of the best tracks from these tributes. It is an essential collection for any Rush fan and any fan of Vitamin Records? captivating tributes.

You can PREORDER the album at Amazon.Com or you can check out more information at Vitamin Records' website.
||
---
January 30th, 2007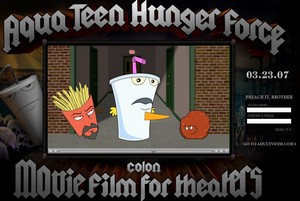 Aqua Teen Hunger Force Movie Trailer Now Online
The Aqua Teen Hunger Force movie wherein Neil Peart lends his vocal talents will be released on March 23rd of this year. The official movie trailer has now been uploaded to the movie's site. Click HERE to view the trailer (Quicktime plugin required). Unfortunately, Neil's voice-over doesn't appear in the trailer.

Thanks to RushIsABand.Com for spreading the news on the trailer.



||
---
January 29th, 2007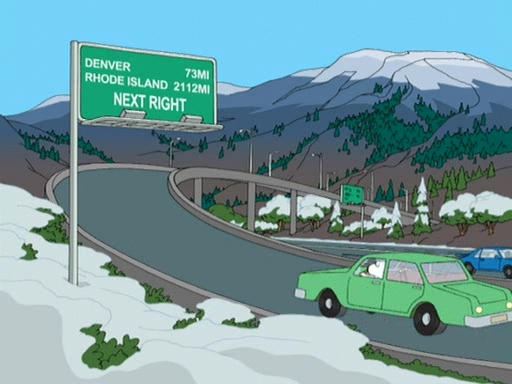 Rush Reference on Family Guy
Back on November 27th of last year (See: Rush News Archives - 2006), I reported a significant Rush "sighting" on the Fox animated show "Family Guy". There was another, albeit minor, Rush sighting during this past Sunday's airing of Family Guy. As Brian and Stewie are driving back to Rhode Island after a trip to Aspen, Colorado, a road sign indicates that it's 2112 miles to Rhode Island.

Interestingly enough, when checking Google Maps and putting in a route from Aspen, CO to Rhode Island, the total mileage listed is 2,116. Close enough for government work.
||
---
January 21st, 2007

Time Stand Still makes Q Magazine's Greatest Lost Tracks List
"The 500 Greatest Lost Tracks" is the primary subject covered in the current issue of Q Magazine. One of the features covered is a list of the "50 top lost Metal Tracks" which includes Time Stand Still from Hold Your Fire.

Rush has often been labeled by the misinformed as a "Metal" band; something we fans know not to be accurate. I find it humorous that of all of Rush's songs, Time Stand Still would be selected as part of a "Metal" list. It's a great song, don't get me wrong, but it's hardly "metal".
||
---
January 20th, 2007
Vintage 1982 Rush National Radio Special Now Online
Classic Rock Center, home to thousands of hours of historical interviews and radio shows from the greatest rock artists of all time has just uploaded a vintage Rush Radio Special from 1982.

They boldly go where no band has gone before. Rush. Master storytellers. Weavers of legends filled with swords, sorcery, and down to earth rock ?n roll. This exclusive special was distributed on radio stations throughout the U.S. in 1982. Hear Neil Peart, Alex Lifeson and Geddy Lee in interview segments as they retrace the events that helped establish Rush in the early days. Hear ?Working Man?, ?Fly By The Night?, ?The Spirit of the Radio?, Free Will?, ?Red Barchetta?, and more from their live album ?Exit?Stage Left?.

While this obviously isn't the latest news on Rush, it's still great to listen to a radio special such as this which celebrates Rush, especially on the eve of the band releasing their 19th studio album.

Many thanks to Andy Zipfel of Classic Rock Central for passing along the link.
||
---
January 19th, 2007
Jeff Burrows' Interview with Alex Lifeson Now Online
Jeff Burrows of Canda's Rock Station, The Rock 95.1 / 100.7 held an interview with Alex Lifeson earlier this week (as previously reported). Now that complete interview is available online at the station's website. From the site's homepage, click on the 'Rock Interviews' banner on the right to access the interview.

The interview is exciting to listen to as Alex discusses the process of recording the new album and the upcoming 2007 Rush Tour.
||
---
January 18th, 2007
Rush reportedly now in Los Angeles mixing the new Album
According to a Blog Entry from the Canandian Classic Rock Station Q107, Rush may now be in Los Angeles mixing the new album. The blog entry references Andy Curran of the Toronto-based 80s-era band Coney Hatch. Curran is now with Rush's management.
||
---
January 18th, 2007
"The Knights Of Prosperity" select Tom Sawyer as their theme song
The January 17th airing of the ABC comedy "The Knights of Prosperity" had Tom Sawyer selected as the groups theme song. The song is played during slow motion fight scenes, and is sung karaoke sytle by the Knights. The episode can be viewed at the show's official ABC website.

This week's episode features the gang still struggling to get past the layered croissant that is Mick Jagger?s home security system. But first, they have to choose an appropriate theme song for their criminal organization! After a quick back and forth, they choose -- what else? -- ?Tom Sawyer? by Rush. Karaoke is never funny on TV. For that matter, it?s rarely as funny in real life as it seems it should be. The opening scene of the Knights singing ?Tom Sawyer? was funnier than anything on American Idol tonight, and every bit as absurd.

Read more by clicking HERE.
||
---
January 18th, 2007
Alex Lifeson Discusses Wine with WineSpectator.Com
Recently, Wine Spectator had a Question & Answer session with Alex Lifeson about his interests in wine.



Alex Lifeson, 53, was born in British Columbia. Along with Geddy Lee and former drummer John Rutsey (he was replaced by Neil Peart in 1974), the trio formed rock band Rush in 1968. Lifeson has been the composer and guitarist for all 23 of the band's albums, including a 24th, yet to be named, due for release in April. Over the past four decades the band's sound has evolved with the times, and so has Lifeson's taste in wine. When Rush started out, the band drank cheap wine and malt liquor backstage; now they prefer Châteauneuf-du-Pape. Along with collecting, Lifeson also found that he enjoys pitching in and helping make wine. But what he likes most of all is sharing great wines with friends

While the full article is only avilable to subscribers of Wine Spectators, a complete reproduction of the Q&A session is available at THIS link.
||
---
January 15th, 2007
New Rush Album & Tour Information - Facts or Rumors?
Rumors have been circulating regarding the title of the upcoming 19th studio album from Rush. Word on the net-street is that "Snakes and Arrows" or possibly "Snakes and Ladders" could be the title, though nothing official has been announced - yet. For now, this is strictly a rumor.

And yes, that's a mock-up cover courtesy of Power Windows.

On the "more official news front", Alex Lifeson apparently called in to Jeff Burrows' radio show, "The Tea Party", on Canadian radio station 95.1 The Rock. According to various sources who heard the conversation, Alex confirmed that the album should be ready for a late April / Early May release. Additionally, studio video footage of the recording sessions were shot which may make their way onto DVD in the future. Finally, Alex confirmed that Rush would tour beginning in June and would cover North America and Europe with a stop in South America after the Christmas holiday break.
||
---
January 14th, 2007
Rush included in one of the strangest "Top" lists
Just when you think you've heard it all, IGN.Com has compiled a list of the Top Ten Songs About Trains" of all time. Making the list is Rush's "A Passage to Bangkok" off of the 2112 album.

While the song is more about a drug addled excursion through Indo-China, with stops in Colombia, Thailand, Morocco, and other infamous havens of ethereal experience searching hippies of old, this little ditty from the Canadian power trio of Alex Lifeson, Neil Peart, and Geddy Lee deliberately focuses on the mode of train transportation between the various areas of renown.

Were on the train to Bangkok/Aboard the Thailand Express/We'll hit the stops along the way/We only stop for the best?"

As to whether or not they actually convinced/inspired any listeners to embark on a similar journey is unknown, but the travel blueprint is there in the lyrics, my friend.
||
---
January 14th, 2007
Neil Peart's Bubba's Book Club Update #7 Now Online
Neil has updated his personal websiet with the latest Picks for Quality Reading. You can check out Neil's latest selections by clicking HERE.
||
---
January 11th, 2007
Neil Peart Lightens Up - Interview
The January 10th edition of the Toronto Metro Newspaper includes a lengthy article/interview with Neil Peart. In it, Peart discusses his voice-over appearance in the up-coming Aqua Teen Hunger Force Movie, his recent interviews and his Roadshow book.

The complete article/interview can be read HERE with select excerpts reflected below.

Geddy Lee proved he didn?t take himself too seriously appearing with SCTV?s fictional Bob and Doug McKenzie on the 1982 novelty hit Take Off. Same for Alex Lifeson with his hilarious guest cameo on Showcase?s Trailer Park Boys in 2003. Now the drummer/ lyricist for Canuck rock trio Rush wants a chance to showcase his lighter side.

Neil Peart will guest voice in a film version of Aqua Teen Hunger Force ? a U.S. Cartoon Network animated series ? scheduled for release in March. "I get to work with a meatball, a bag of fries and a milkshake," laughs Peart. "It?s quite a surreal departure."

Perhaps mindful of his serious-musician reputation, the 54-year-old seems to be putting more emphasis on lightening up. This past November, he appeared on CBC?s The Rick Mercer Report giving drum lessons to his amused host.

And his fourth book Roadshow: Landscape With Drums, A Concert Tour By Motorcycle, released in September, is laced with drummer jokes (What?s the difference between a drummer and a savings bond? One will mature and make money", "What do you call a drummer without a girlfriend? Homeless."), backstage anecdotes, long motorcycle journeys plus a bizarre on-stage cameo from obvious Rush fan Jack Black, who cited Peart in his 2003 flick The School Of Rock.
||
---
January 11th, 2007
Interview with Nick Raskulinecz, producer of the upcoming Rush Album
The January 11th edition of the Knoxville Metro Pulse (www.metropulse.com) has an article/interview with Nick Raskulinecz who was signed up to produce the latest Rush studio album. Nick discusses how he's been a fan of Rush since he was 10, which made this producing job a dream come true.

Below are some of the highlights of the article which can be read in full by clicking HERE.

Like so many other hesher kids of his era, former Beardenite Nick Raskulinecz was a Rush freak when he was playing bass and guitar in local Knox rock bands circa 1990. That?s right, Rush, those silly Canuck rockers famous for grandiose prog epics and utopian fantasies, science fiction and musings on Ayn Rand.

Say what you will about their goofy intellectual pretensions; the unvarnished truth of the matter is that Geddy Lee, Alex Lifeson, and drummer extraordinaire Neil Peart were responsible for some of the best and flat-out ass-kickingest proto-metal to emerge from the trough of ?70s moustache rock. Put aside your hipster prejudices and listen with fresh ears to the overture off 2112, Geddy screaming like a scalded banshee while guitarist Alex careens between post-modernism and heavy blooze, and Neil blows through mammoth drum rolls that run all the way across a trap set the size of a small forest?. It was heavy rock music for people who were serious about their heavy rock, virtuosic and heady and visceral and cathartic all at the same time.

Then imagine the excitement for Raskulinecz?now a well-regarded record producer living in L.A.?when the band?s management called last year and offered him the chance to produce the venerable outfit?s 19th studio album. Raskulinecz accepted, needless to say, and spent five weeks living and working with the trio in a remote woodland studio on a mountaintop in upstate New York. The resulting album, yet untitled, is set for release in April of this year.
||
---
January 9th, 2007
YYZ selected as Top Drumming Track of the 1980's
Modern Drummer Magazine has a feature called The Top 30 Drum Tracks of the '80s in their March 2007 issue. Rush scored twice on the list; Tom Sawyer came in at #11 and YYZ took the top honors at #1.

Thanks to RushIsABand.Com for the news.
||
---
January 7th, 2007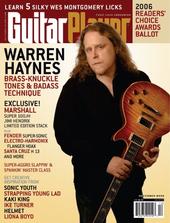 Alex Lifeson makes a Guitar Players Top 40 List
The February 2007 edition of Guitar Player magazine celebrates the periodical's 40th anniversary. As part of the celebration, the Top 40 Guitar Tones of all time were selected by the Guitar Player and Harmony Central forum members. Making the grade was Alex Lifeson for his work on the 1977 album A Farewell to Kings.

Some of the others who made the non-ordered list included Eddie Van Halen, Stevie Ray Vaughn, Eric Clapton and Jimmy Page.

Thanks to RushIsABand.Com for the news.


||
---
January 4th, 2007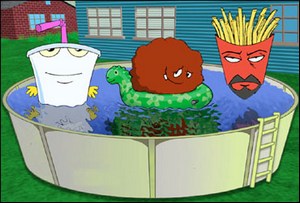 Aqua Teen Hunger Force: The Movie Scheduled for March release in the U.S.
According to Sci-Fi.Com, the Aqua Teen Hunger Force animated movie, which includes the voice of Neil Peart, is set for a March 2007 release.

Cartoon Network's animated series Aqua Teen Hunger Force will be the first original show of the channel's late-night Adult Swim programming block to be turned into a feature film, Variety reported. The 86-minute film was written, produced and directed by co-creators Matt Maiellaro and Dave Willis.

The film centers on the origins of Hunger Force characters Meatwad, Frylock and Master Shake and an immortal piece of exercise equipment threatening the balance of galactic peace, the trade paper reported. "It was too big a story to do in 11 minutes," Willis told Variety. "It's based on our fear of exercise equipment."

Maiellaro and Willis will be voicing several parts each, and several members of the TV cast will be reprising their roles. The film also features cameo voices provided by Bruce Campbell and Neil Peart of the band Rush. It is set for a March release date in 800 theaters.
||
---
January 3rd, 2007
Burning for Buddy Projects Now Available on DVD
The complete set of "Burning for Buddy (Rich)" Tributes that Neil Peart was a part of are now available on DVD for the first time. Previously only available on VHS, the complete Buddy Rich Memorial Scholarship Concerts includes Neil Peart performing three songs with the Buddy Rich Band at the Ritz Theater in New York City on April 8th, 1991. It was these concerts that eventually led to the "Burning for Buddy" albums whose recording sessions were documented on The Making Of Burning For Buddy.

Thanks to Power Windows for the update.
||
---
|View the 2006 Rush News Archive|
---
|View the 2004-2005 Rush News Archive|
---