There are 14 active users currently online.
---
- Rush News Archive - October through December 2010 -
Rush Lyric Randomizer - Refresh page for a new lyric or Click to see the song

---

---


---
December 29th, 2010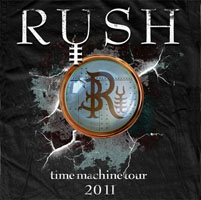 Rush To Make First Performance in Spain?
Update: Well, this turned out to be a rumor afterall. According to Rush's management, the band has no plans to play in Spain. Sorry everyone.

---

Though Rush has played numerous times in various European countries over their career, Spain is one country that the band has yet to perform in. That may be about to change.

According to a posting at Eventful.Com (a leading digital service connecting consumers with entertainment and live events), Rush will be performing at the Palau Sant Jordi Passeig Olimpic on June 4th, 2011.

As of this writing, Rush has not confirmed this date on their website or through any other announcement. We'll be sure to let you know if/when this date is confirmed.

Thanks to Alessandro Maiucchi for passing along the news.


||
---
December 29th, 2010
Moving Pictures 30th Anniversary 'In The Studio' Special
Rush's classic album Moving Pictures will be featured during an hour-long In The Studio with Redbeard radio show which is scheduled to air during the week of January 3rd, 2011.

It's unclear whether this special will contain new material and/or interviews with the band or if it will merely be a replaying of past interviews.

Thanks to Power Windows for the news.
||
---
December 28th, 2010
Free Neil Peart Master Class Lesson Online
DrumChannel.com has made one of Neil Peart's video drum lessons available to everyone. Lesson 9 of his 10-part Drum Channel Master Class, Frontiers of Composition and Articulation, is a 10 minute video which focuses on Neil's warm-up routine:

Neil has shaped the world of drumming for thousands of drummers and his Master Class is an amazing drum jam, a conversation with world-renowned teacher Freddie Gruber, and an introspective look into the creative concepts of one of the most iconic musicians of our time. His class will equip you with creative concepts and applications to expand your musical vocabulary. Neil shares what he has learned in the areas of composition and articulation in what may be one of the most entertaining, educational and articulate lessons you will ever take.

Check out the video via this LINK.

Thanks to Power Windows for the news.
||
---
December 24th, 2010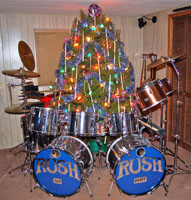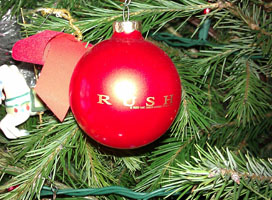 Happy Holidays!
I wanted to take a moment out to wish everyone a happy, safe and Rush-filled holiday season. 2010 was a fantastic year for Rush and fans alike, and 2011 is certainly looking to be another year to remember.

The Holiday Rush Contest has been a huge success and while I would normally close the the contest today, I'm letting it run for a few more days to allow everyone a chance to enter. Look for the winner to be announced early next week. Thanks to everyone who has entered thus far.

In other holiday related news, Andrew Olson from the AndyO Experience shared this great Rush inspired holiday picture of Neil Peart's original Slingerland drum kit; the kit used on All the World's a Stage, 2112, Caress of Steel, and Fly by Night.

Once again, happy holidays, all!
||
---
December 21st, 2010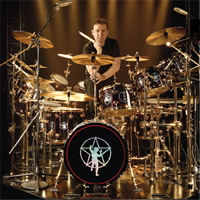 Neil Peart Wins Drummer of the Year / Will Enter New Hall of Fame
The ballots are in for Drum Magazine's year-end awards (the "Drummies") and, for the fourth year in a row, Rush's drumming legend has walked off with Drummer of the Year. In addition to bringing home his fourth "Drummie" award, Neil will be inducted into the "Drummie Hall of Fame":

Next year, Enter Music Publishing will have its 20th anniversary and, in celebration, will be launching a Drummies Hall Of Fame.

Neil Peart (Rush), Chad Smith (Chickenfoot, Red Hot Chili Peppers), Joey Jordison (Slipknot) and Josh Freese (A Perfect Circle, ex-Guns N? Roses) are among the ten famous drummers who have won five or more total Drummie awards and will be inducted in January of next year.

Glenn Noyes, national drum and percussion buyer for Guitar Center, told AllAboutJazz.com about Peart's continuing popularity:

"Neil was, is, and always will be an icon in the drum world. So many drummers (including myself) have spent countless hours practicing to Neil's licks; trying to nail the perfect feel, dynamic range and subtle nuances. Now the next generation is discovering Neil and there is a whole new excitement level being discovered and developed. His creative drum parts, patterns and fills, along with incredible lyric writing are what keep him on top of the polls year after year. He always leaves you wanting more."

For a complete list of the 2010 Drummie Award recipients, click HERE.

Thanks to readers Caleb Medd and Josh Moscov for passing along the news.
||
---
December 20th, 2010
Geddy Lee Makes List of 30 Greatest Lead Singers of All Time
MusicRadar has just posted a list of the 30 Greatest Lead Singers of All Time and, not surprisingly to Rush fans but perhaps a bit surprising to non-fans, Geddy Lee appears in the #19 spot on the list.

Here's what they had to say about Geddy:

The Rush frontman made a recent appearance at number two in our greatest bassists of all time poll - so it?s impressive that he?s turned up here too (Paul McCartney is the only other musician to appear in both lists!)

Known in Rush?s early days for his impressively high tenor, he is also a no stranger to a complex bassline and does fine line in keyboard solos too. Plus, along with his Rush bandmates, he?s been made an Officer of the Order Of Canada. No wonder he proves so popular with MusicRadar users?

As Pavement once sang, "What about the voice of Geddy Lee / How did it get so high? / I wonder if he speaks like an ordinary guy?" We've met him, and he does.

Click HERE to see Geddy's entry.

Curious about who took in the top honors? Axl Rose of Guns N' Roses did, followed by Freddie Mercury in the #2 spot and Robert Plant to round out the Top 3.
||
---
December 17th, 2010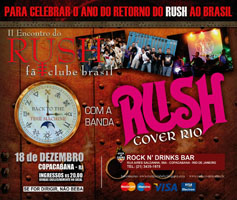 Rush Fan Club Brazil Fest 2010 Begins Tomorrow
Just a reminder for our friends in South America that the Brazilian Rush Fan Site Rush Fa-Clube Brasil, will be holding the Rush Brazil Fest at the Rock N' Drinks at the Copacabana in Rio de Janeiro, Brazil tomorrow, December 18, 2010.

Click HERE for more information on the event.

You can also view a full-size version of the event advertisement HERE.

For all those going, have a great time.

Thanks to Vagner for letting us know about this exciting event.



||
---
December 17th, 2010
Drink Bravely with Mark Oldman - Episode 25: Rush's Alex Lifeson on His and Geddy Lee's Wine 'Internships'
In an exclusive interview inside his home wine cellar, RUSH's legendary axeman Alex Lifeson tells Mark Oldman about the week-long winemaker internships he and bandmate Geddy Lee did at Joseph Phelps Winery and at Turley Wine Cellars. He fondly recalls how during crush he and Geddy were so covered in grape juice that they were mistaken for Napa locals at a nearby eatery.

---

---

Thanks to Laura Romain for passing along the news.
||
---
December 16th, 2010
'The Big Story Of Small Potatoes' featuring Neil Peart - Now Online
This time last year, filmmaker Paul Miil's documentary 'The Big Story of Small Potatoes: Niagara's Rock Music History 1964-1974' premiered in St. Catharines. From a write-up at the AndyO Experience:

The documentary focused on the dynamic Niagara music scene from the '60s and early '70s, when the region was known as the "Liverpool of Canada." At the time, Niagara had more bands per capita than any other city across the land. The Big Story of Small Potatoes is an in-depth portrait of the kids who made the music scene happen told from the perspective of many of the same teenagers 40 years later.

"I grew up in the area in the '70s and '80s and I even played in some garage bands, but I never knew that there was such a thriving music industry in the streets of Niagara," said Miil. "These guys toured from the east coast to Thunder Bay...and they were sixteen years old. I mean everyone knew that [Neil] Peart came from here, but none of us knew about the scene that he came from."

The entire documentary is now available on YouTube in four parts.

Part I
Part II
Part III
Part IV

Many thanks to reader RushFanForever for passing along the links.
||
---
December 15th, 2010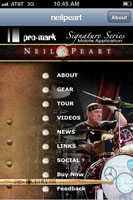 Neil Peart Mobile App -- FREE Download
The Neil Peart application and mobile website has been available to anyone who purchases a pair of his limited edition Time Machine Tour PW747W, but Pro-Mark in the Christmas spirit and wants EVERYONE to join in on the fun!

All you have to do is text RUSH to 247365 or scan the QR code on the label of any LIMITED EDITION PW747W and you'll get a link to the mobile site along with an opportunity to download the Pro-Mark Neil Peart mobile app! Of course, standard text message rates will apply, and if you're on a limited data plan, keep your eye on the amount of data you're transmitting!

More information on the app is available at this LINK.

Thanks to Pro-Mark for supplying this app to everyone!
||
---
December 14th, 2010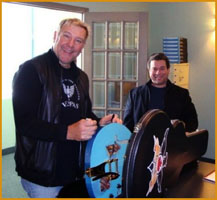 Alex Lifeson Signs Carparelli Guitars For Charity
Alex Lifeson has been busy on the charity front of late. He recently signed a Carparelli S3 guitar which was donated to Autism Speaks Canada for a future auction. Additionally, Alex signed the Jim Warren Freedom Guitar for Carparelli; the guitar has been signed by various artists including the Beach Boys and Kris Kristofferson and will receive additional artist's signatures before being auctioned off for charity in February of next year.

For more information about this story and the upcoming auctions, please click HERE.

Thanks to GeddyWannaBe for passing along the initial story and for Eric from Power Windows for filling in some of the blanks.
||
---
December 9th, 2010
Rush News Bullets
The holiday season is upon us, the Holiday Rush Contest is in full swing, and pre-sales for the 2011 leg of the Time Machine Tour are currently underway. So as you're all busily shopping for Rush paraphernalia to stuff into stockings this year, here are some of the latest news stories surrounding the band.

---

Rush on Glee?:
PJ Bloom, the music supervisor of the hit FOX television show Glee, recently told Vanity Fair that he would love to see an episode focus on the music of Rush:

"Personally, I'd also love to see the '80s hair-band episode, the punk-rock episode and, of course, the Rush episode - but then who wouldn't want to see the New Directions sing 'Tom Sawyer'?!"

. Seriously? As Eric from Power Windows commented when this story broke, "Hey, Don't Stop Believing, it can happen :-)"

Click HERE to read the entire article.

---

Geddy Lee on the Cover Of December Classic Rock Magazine:
Geddy Lee is pictured on the December 2010 edition of Classic Rock Magazine which also includes a four-page article/interview with Rush's frontman regarding their new album, their recent "Living Legends" award, and the Time Machine Tour. Below is an excerpt:

Q. Is there anyone Rush would like to dedicate it (the award) to?
A. Our fans. Our amazing fans, especially here in the UK. We haven't always been as attentive to them as we should, but I appreciate their loyalty and support.

Q. Rush have been playing new material at their shows in North America. Is the new album nearly finished?
A. No, it's a long way from finished. About half of it is written, hopefully it'll be done by the end of 2011.

Q. As a band, do you have any preference whether you play indoor or outdoor shows?
A. I like both. In May, I think we'll be playing indoors. In the future though doing some European festivals is something we would like to do.

Click HERE to purchase a copy of the edition. Thanks RushFanForever for passing along the news.

---

Geddy Lee Featured in Book about The Early Years of MTV:
A new book, titled MTV Ruled the World: The Early Years of Music Video and written by Rock journalist and author Greg Prato features interview segments with Geddy Lee as well as several other famous rock musicians. Geddy's quotes, which are largely based on MTV related topics, are reflected throughout the book and include passages on some of Rush's earliest videos (e.g. Tom Sawyer, Subdivisions, Distant Early Warning and The Big Money.)

The book is 427 pages long and can be ordered via this LINK. Thanks to Ed from RushIsABand for sharing the news.

---

Behind the Subdivisions Video:
As many Rush fans know, Jacob Moon's solo interpretation of Rush's classic song Subdivisions has been a hit with fans - and the band - for some time now. So much so that Jacob was invited to perform the song at Rush's induction into the Canadian Songwriter's Hall of Fame in 2010. Now, Ron Kebic of REK'd Productions has a new video online called Behind the Subdivisions, a behind the scenes glimpse at some of the technical challenges of, and inspiration for, "Subdivisions".

We also have one more video in post production - "Behind the Subdivisions...technically speaking" which we complete what we have dubbed the "Subdivisions Trilogy" ("Subdivisions by Jacob Moon", "Behind the Subdivisions" and "Behind the Subdivisions...technically speaking"). "Behind the Subdivisions...technically speaking" is geared more towards the audiophiles and musicians who are interested in the more technical nature of him performing it solo and in particular the methods Jacob used in "Subdivisions by Jacob Moon"

Many thanks to reader RushFanForever for passing along the news.

That's all for now. For everyone attempting to score some tickets to next year's tour, best of luck! I plan on attending either the Hershey Park, PA show, the MSG (NY) show or perhaps even the Cleveland show. Time will tell. :)
||
---
December 6th, 2010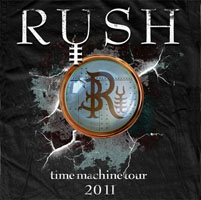 Rush To Film Cleveland Performance
Rush has just announced that they will be filming the April 15th, 2011 performance in Cleveland, Ohio for a full-length release. From Rush.Com:

As a tribute to the US city that first played their music, Rush confirms that the Cleveland performance of their Time Machine show on April 15th at the Quicken Loans Arena will be filmed for full-length release. Cleveland is remarkable for being one of the very first US cities where the band performed, in addition to being the first city to provide American airplay. This will be a must-see event for Rush fans in Cleveland - and for everyone able to make the road trip as it is will also mark the first live full-length filming on US soil.

Tickets for Cleveland go on sale on Saturday, December 11th with pre-sales for Rush fan-club and CITI cardmembers beginning December 7th.

In addition, we've learned that Rush "will donate a dollar from each ticket sold to several charities, including Doctors Without Borders, and the band also plans to donate a portion of its proceeds at the end of the tour. " (Thanks Eric from Power Windows).
||
---
December 5th, 2010

The 4th Annual Cygnus-X1.Net Holiday Rush Contest Is On!
In celebration of the holiday season and the amazing year that was 2010 for Rush fans the world over, Cygnus-X1.Net is holding its 4th Annual Holiday Rush Contest!

As in years past, we're giving away a great prize package filled with Rush goodies including:

The documentary Rush: Beyond the Lighted Stage

The other great video release Classic Albums: 2112 and Moving Pictures

A Time Machine Tour Tour Book

A 2011 Rush Wall Calendar

The CD-Single of Caravan and BU2B

And finally a custom, Cygnus-X1.Net "CX1" Logo Stein.

For more information on the contest and for full entry rules, please click HERE.

The contest will end on or about December 24th with a winner being announced shortly thereafter.

Good luck, everyone - and Happy Holidays from Cygnus-X1.Net.
||
---
December 2nd, 2010
Rush: Beyond the Lighted Stage Nominated for a Grammy Award
Nominees for the 53rd Annual Grammy Awards have been announced with the acclaimed documentary Rush: Beyond the Lighted Stage receiving a nod in the Best Long Form Music Video. category. Below is a list of all of the nominees in this category:

No Distance Left To Run
Blur
Will Lovelace, Dylan Southern & Giorgio Testi, video directors; Thomas Benski, Laura Collins & Lucas Ochoa, video producers
(Parlophone/EMI)

When You're Strange
(The Doors)
Tom Dicillo, video director; John Beug, Jeff Jampol, Peter Jankowski & Dick Wolf, video producers
(Eagle Vision)

The Greatest Ears In Town: The Arif Mardin Story
(Arif Mardin)
Doug Biro & Joe Mardin, video directors; Doug Biro & Joe Mardin, video producers
(Nunoise Records)

Rush: Beyond The Lighted Stage
Rush
Sam Dunn & Scot McFadyen, video directors; Sam Dunn & Scot McFadyen, video producers
(Zoe)

Under Great White Northern Lights
The White Stripes
Emmett Malloy, video director; Ian Montone & Mike Sarkissian, video producers
(Third Man/Warner Bros.)

For more information on the Grammy Awards, click HERE.

The awards ceremony will take place on February 13th, 2011 at 8:00PM and will be telecast on CBS.

Thanks to GeddyWannaBe for the heads-up.
||
---
December 1st, 2010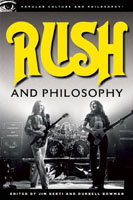 Rush and Philosophy Now Available for Pre-Order
It's been nearly 18 months since long time Rush and philosophy author Durrell Bowman, along with co-editor Jim Berti announced that they were creating an anthology of various information on the topic of Rush and Philosophy. The final product, a 288 page paperback book, is now available for pre-order via Amazon.Com.

Below is an excerpt from Amazon:

Fiercely independent of trends, Rush has maintained a clear mission and purpose throughout their career. With a unique sound, best described as the "Rush sound," the band has been able to blend thought-provoking lyrics and music for almost four decades. The Rush style of music can trigger the unusual combination of air-drumming, air-guitar, singing along, and fist-pumping, just as much as it can thoughtful reflection and deep thinking, making Rush "The Thinking Man's Band."

Rush and Philosophy does not set out to sway the public's opinion, nor is it an awkward gushing of how much the authors love Rush. Rush and Philosophy is a fascinating look at the music and lyrics of the band, setting out to address thought-provoking questions. For example, elements of philosophical thinking from the likes of Jean Paul-Sartre, Ayn Rand, and Plato can be found in Peart's lyrics; does this make Peart a disciple of philosophy' In what ways has technology influenced the band through the decades? Can there be too much technology for a power-trio? Can listening to Rush's music and lyrics lead listeners to think more clearly, responsibly, and happily? Is the band's music a "pleasant distraction" from the singing of Geddy Lee? In what ways is Rush Canadian? How can a band that has been referred to as "right-wing" also criticize big government, religion, and imperialism?

Rush and Philosophy is written by an assortment of philosophers and scholars with eclectic and diverse backgrounds who love Rush's music and who "get" the meaning and importance of it. They discuss Rush with the enthusiasm of fans and the seriousness of college professors. The book will be a must-read for the many fans who have long known that Rush deserves as much respect as the ideas, concepts, and puzzles about human existence they write and compose music about.

The book is scheduled to be released on May 1, 2011. You can pre-order your copy via Amazon.Com via this LINK. It is currently priced at $13.57.
||
---
November 29th, 2010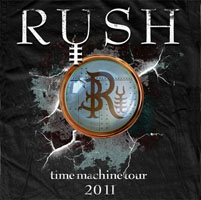 Rush Announces North American Dates for 2011 Time Machine Tour
Rush have just announced the North American dates for their 2011 leg of the Time Machine Tour:

Rush confirm The Time Machine Tour will visit new cities throughout North America and play a few return engagements beginning March 30th in Ft. Lauderdale and running through April 22nd in 2011 with dates in Greensboro, Nashville, Louisville, Toledo, Hershey, New York's esteemed Madison Square Garden, Chicago, Cleveland, Detroit, Hamilton, Montreal and Baltimore. The tour also returns to North America in June with performances in select markets that will include cities such as New Orleans, Austin, Vancouver and a very special return play in Los Angeles - more information on these dates and more soon!

Tickets for RUSH go on sale in select markets beginning December 6th at LiveNation.com

Tickets for the Rush performances will go on sale in Hershey (PA), Detroit and Baltimore beginning Monday, Dec. 6th, with additional on-sales to follow. To benefit the relief efforts in Haiti, one dollar of each ticket sold will be donated through several charities including "Doctors Without Borders". Rush will also contribute a portion of their proceeds at the culmination of the tour.

For Rush Fan Club tickets, as well as fan club exclusive merchandise offers, visit http://rush.musictoday.com

For Rush Time Machine packages, visit http://www.livenation.com/Rush-tickets/artist/807344

Rush have also confirmed that they will bring the Time Machine tour to Rotterdam, Holland on their European leg on May 27th, 2011. Tickets for the Rush show at the Ahoy Arena in Rotterdam, Holland will go on sale on Friday December 3rd via www.livenation.nl.

To see all of the dates from the 2011 Tour, click HERE.
||
---
November 28th, 2010
Alex Lifeson To Perform at Andy Kim Xmas Concert
Alex Lifeson has been tapped to perform at Andy Kim's Xmas Concert at the Mod Club in Toronto on December 15th.

Once again, legendary singer-songwriter Andy Kim has rounded up an impressive line-up of talent to join him at his annual charity concert in Toronto. This year's Andy Kim Christmas Show, at the Mod Club Dec. 15, will also feature Rush's Alex Lifeson, Ron Sexsmith and Platinum Blonde.

For more information on this event, please click HERE.

Thanks to Eric from Power Windows for the news.
||
---
November 24th, 2010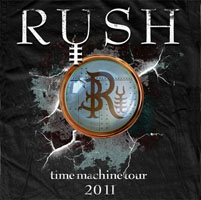 Rush Extends 2011 Time Machine Tour to Finland/Sweden
Rush have added three more dates to the 2011 European Leg of their Time Machine Tour. They'll now open the Euro leg on May 4th with a date in Helsinki Finland at the Hartwall Arena. They then travel to Sweden for a date at the Stockholm Globe Arena on May 6th and another show at the Malmo Arena in Malmo, Sweden on May 8th.

There will be a fan pre-sale that will commence on November 26th and the general on-sale will begin on November 30th. See www.rush.com for more details.

For a complete list of the 2011 Time Machine Tour Dates, click HERE.

In addition to the new dates, Rush announced some information on the fan pre-sale for the Dublin, Ireland show:

The fan pre-sale for the Dublin show will go live at 9AM GMT on Thursday, November 25th.

The link will be coming via ticketmaster on Wednesday, but we can tell you now the password will be "first". As in first time to Ireland!

We are aware the emails take a bit to get into each and every fan inbox on our list, so in the essence of time for this one, should the link comes in within 24hours of the 9AM on-sale, we will post it on rush.com in the news section. You'll still need the password "first" to access it, which you now already have.

There has still be no word on additional North American dates yet, but with all the activity surrounding the Rush camp of late, it's likely we'll hear something very soon.
||
---
November 23rd, 2010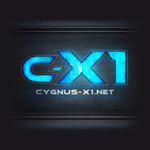 Cygnus-X1.Net: Reskinned
Welcome to Cygnus-X1.Net, Version 3.0!

After a number of years running this site using a quasi-Caress of Steel theme, I decided to change things up (quite) a bit. There are now five different, randomly selected banners that appear on the top of each page; all highlighting an aspect of each Rush studio album. Sub-banners and menu buttons have also been spruced up to align with the new theme. And there's also a very Rush-centric new flash opening at the root of the site (Click HERE to view it).

None of this would have been possible without the incredible work from graphic artist Carl McDonnell of McDonnell Creative Design Solutions. You may recall the exceptional Rush-inspired wallpaper that he shared with us back in October. After being so impressed with his work on that piece, I approached him about creating a new banner for this site.

Carl was thrilled at the aspect of creating a new banner, but as we both bounced ideas off of one another, we knew that a complete redesign of the entire site was in order (including the Star Trek side of the shop which will be going online within a week or so). In addition, Carl suggested focusing on the 'CX1' logo as a new identity for the site; one that will be embraced in many ways in the near future.

Carl's attention to detail coupled with his love of Rush really came through with all the new graphics that he created for the site.

I hope you enjoy the 'new look' of Cygnus-X1.Net and, of course, enormous thanks go out to Carl for his tireless work.
||
---
November 19th, 2010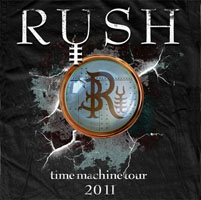 Rush Announces 2011 European Dates / Promises More North American Dates Soon
Update: Click HERE for a full page article on Rush that appeared in 'The Sun'; UK's biggest selling daily newspaper.

Additionally, though not announced by Rush, tickets for a May 29th show at the Festhalle in Frankfurt, Germany are already on sale. (Thanks Eric from Power Windows)

---

Rumor no more: In a news announcement posted last night, Rush formally announced a handful of Time Machine 2011 tour dates in Europe including their first stop ever in Ireland.

TIME MACHINE TOUR 2011

Rush has confirmed they will be extending the Time Machine Tour and coming to Europe this spring. The following dates are confirmed, including Rush performing in Ireland for the first time ever. More additional European announcements to come.

Thursday, May 12th Dublin O2 Saturday, May 14th Glasgow SECC Monday, May 16th Sheffield Motorpoint Arena Thursday, May 19th Manchester MEN Arena Saturday, May 21st Newcastle Metro Radio Arena Sunday, May 22nd Birmingham LG Arena Wednesday, May 25th London O2

Rush.com members will be receiving a pre-sale notification on Monday, November 22nd that begins on Tuesday, November 23rd.

Tickets for the Time Machine Tour in Ireland & UK general on sale will commence at 9AM GMT on Friday, November 26th, 2010. Ticket links and details will be posted shortly.

Additional European dates will be announced shortly!

Also confirmed today, the Time Machine tour will return to North America for a selection of dates between March and July, primarily with Rush performing in markets not played on the previous tour run this summer.

As indicated above, Rush will also be playing some dates in North America so the 'rumor' of a Madison Square Garden show seems more likely now.

We'll have more news as it becomes available.

Thanks to Carl McDonnell for the heads-up on the announcement.
||
---
November 18th, 2010
Rush Featured In AT&T Television Commercial
AT&T has launched a national ad campaign for their new low-price High-Speed Internet service. Part of the campaign includes a commercial which features a man wearing a t-shirt with the classic Rush logo from their debut album. The man is seen riding a computer mouse and visiting several stores and locations. He finally ends up at a music store where he locates a matching Rush logo "onesie" (an infant's shirt for those who don't have kids).

You can watch the complete ad via this LINK or via the embedded player below:

---

---

Interested in purchasing the same t-shirt or "onesie"? Head on over to the Rush Backstage Club for a replica of the very same shirt.

Thanks to Ed from RushIsABand for passing along the video/commercial.
||
---
November 18th, 2010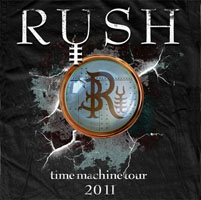 Rush 2011 Time Machine Tour - Let the Rumors Begin
Though the 2010 leg of the Rush Time Machine Tour ended just under a month ago, rumors surrounding a 2011 leg are in full force. Geddy Lee himself fueled the fire when he discussed the possibility of European dates when he appeared on UK's Planet Rock radio station last week to discuss the Living Legend award:

"We're in discussions right now trying to firm up some dates so I think we're gonna try to come over here in the late spring. If all goes well - we're supposed to be going right back into the studio and finish the work that we started before the last tour but there's something about the way the Time Machine Tour came together that we'd like as many Rush fans as possible to experience it. So I think we're gonna try and bring that tour to Europe."

Earlier this week, the Finnish television station SuomiTV reported that Rush would be playing at the Hartwall Arena in Helsinki, Finland sometime in early May.

However European dates aren't the only ones popping up in the rumor mill. DJ Terrie Carr of New Jersey's WDHA 105.5FM Rock of NJ radio station (right here in my back yard) reported that Rush would be playing a date at the famed Madison Square Garden in New York City sometime in either February or March. Further, a reliable source told me that Rush might also be playing at Hershey Park in Pennsylvania on April 13th.

Obviously, these are all rumors at this point but it does seem promising that Rush will, in fact, continue the Time Machine Tour in 2011. We'll post more information (hopefully, confirmed dates) as they become available.

Thanks to Eric from Power Windows and Ed from RushIsABand for the rumors :)
||
---
November 16th, 2010
Start Me Up: The Top 10 Riffs of the 1980s
Gibson.Com has posted a list of the Top 10 Guitar Riffs of the 1980's. "Somewhere deep in the primordial ooze of rock and roll there exists a phenomenon known as the "riff," with the power to make a decent song great, and a great song an all-time classic.".

Coming in at #10 on the list is Alex Lifeson for Limelight:

10. Rush, "Limelight"

You've got to love Alex Lifeson. Blessed (or cursed) with sharing trio space with one of the best bass players on the planet and probably the best drummer on Earth, Lifeson still manages to stand out with imaginative solos and, in the case of this Moving Pictures tour de force, major league riffage - his best since "Passage to Bangkok."

You can see the complete list via this LINK.
||
---
November 15th, 2010
Neil Peart in Modern Drummer Magazine
Modern Drummer Magazine has released a special collectors issue this month titled The Drummer: Classic Rock.

Inside Stories Of The Greatest Players In The History Of Drumming.

An educated, entertaining, essential addition to every drummer's library - and to the history of modern drumming - The Drummer: Classic Rock Collector's Edition magazine builds on content from Modern Drummer's Top-selling The Drummer book with expanded coverage of drumming royalty from the golden age of rock 'n' roll.

Featuring: John Bonham, Ginger Baker, Alex Van Halen, Neil Peart, Carl Palmer, Keith Moon, Ian Paice, Mitch Mitchell, Ringo Starr, Bill Bruford, Charlie Watts, Jim Keltner, Phil Collins, Russ Kunkel, John Densmore, Liberty DeVitto, Carter Beauford, Don Brewer, Robert Wyatt, Neal Smith, Clive Bunker, Danny Seraphine, Barriemore Barlow, Carmine Appice, and many more.

Click HERE for a sneak-peak of the section covering Neil Peart.

To order the special edition, click HERE.

Thanks to reader ArsenalFC for passing along the news.
||
---
November 10th, 2010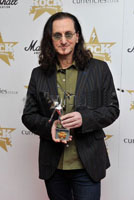 Rush Receive Classic Rock's "Living Legend" Award
Geddy Lee was on hand at the Classic Rock Roll Of Honour Awards ceremonies earlier this week where he accepted the Living Legend award for Rush. You can read more about the ceremony via this LINK.

In addition to the ceremony, Geddy was interviewed about the recent tour, plans for the new album and a potential extension of the Time Machine Tour in Europe next summer:

The band has just completed the Time Machine Tour across North and South America, which saw Moving Pictures played in its entirety.

"It's our most popular album and it's the one that seems to have passed the test of time most gracefully," observes Lee.

"I'm not sure we're quite ready to put that tour away," he adds.

"Now we're thinking we might come back in spring and play some shows in Britain."

The quote above was taken from a lengthy interview/article with Geddy Lee that appeared on BBC website. The article, titled Rush: Still Living in the Limelight also touches upon Rush's recent resurgence in popularity.

There's also an audio extract of the interview available HERE .

Finally, a few pictures of Geddy at the Classic Rock ceremonies can be viewed at the Getty Images website. Simply search for Geddy Lee Classic Rock to view them.

Thanks to reader RushFanForever for supplying some of the links.
||
---
November 8th, 2010
Rush Receive "Legend of Live" at Billboard Touring Awards
The Billboard Touring Awards were held last Thursday night where Rush were honored with the Legend of Live award. The complete story on the event can be read HERE. Additionally, there are three related articles/interviews about the event and Rush's honor that can be read at the links below:

Rush: Legend of Live

Neil Peart: A Life of Lighted Stages

Rush: Steady As They Go

Alex Lifeson was the only member of Rush in attendance during the award ceremony. You can see some pictures of Alex from the event by accessing the Getty Images website and searching for 'Alex Lifeson'.

Also make sure to check out the comments section of this news story for Rush-related videos from the ceremonies.

Many thanks to reader RushFanForever for passing along the links.
||
---
November 5th 2010
Neil Peart's News, Weather, and Sports Update
Neil Peart has posted a new update to the News, Weather, and Sports section of his website. In addition to the moving update, Neil also had a message - and request - for all visitors to his site:

Dear Readers,

The staff here at neilpeart.net-Our Eponymous Founder, plus Greg Russell, Minister of All Things Creative, and Brutus, the Manager over at Bubba's Bar 'n' Grill-want to try something new.

Brutus and Our Eponymous Founder recently toured South America (see attached story), and were moved by the amazing rescue of the trapped miners in Chile while they were there. During the more than two months that "Los 33" were trapped underground, the Chilean Red Cross administered "Camp Hope" on the surface, for the estimated 2,000 gathered family members and international media awaiting the rescue.

The resources of Chile's "La Cruz Roja" had already been strained by the terrible earthquake that rocked the country in February of this year-one of the strongest ever recorded, measuring 8.8 on the Richter scale, it caused massive destruction and killed nearly 500 people.

So we'd like to help-and ask for your help in doing it.

We're suggesting a donation of a mere $1.00-in return for the following story that all of us have worked so hard on (either by "living" it, writing it, photographing it, or making it look nice).

We thank you all.
There is a link on Neil's site that will allow you to make your donation via PayPal. The cause is obviously a worth one where a single dollar (or more) can make an enormous difference.
---
Neil's November entry is titled The Power of Magical Thinking which details his extensive motorcycle tour of South America.
We all have our own brands of magical thinking, and mine brought me to this "pass," as it were. While my supernatural beliefs do not include skygods or "visualization techniques," they do embrace the equally irrational pursuits of dreaming, daring, and hoping. Those are the very qualities that made me believe I could do a concert tour of Brazil, Argentina, and Chile, by motorcycle. When the South American tour was being planned, for October, 2010, I started to dream about riding it; then I dared to think it out loud, and from then on, it was a matter of hope.
In his typical detailed and image-based fashion, Neil brings the reader into his journeys south of the border, bringing to life his experiences - both positive and negative - during his epic 3,000 mile (5,000 km) ride. One particular passage stood out to me, highlighting the celebrity of Rush in South America...
They led us to the city limits, pulling over by a toll booth. The attendant leaned out and asked me, "Baterista?" I nodded as he pulled out his cell-phone camera to commemorate the event. A pair of Santiago officers on big BMW motorcycles took over from there, leading us through the nice-looking city, with the snow-frosted Andes still visible to the east.

Finally, we were pulling into the stadium, and parked in a tunnel inside. Brutus and I stepped off the muddy motorcycles and shared a strong hug of relief. We had survived 5,000 kilometers, 3,000 miles - and made it to all of the shows. Our work was done.

Well - not mine, exactly, because now, at last, we come to the final show . . .
Finally, Neil reveals just how moved he, and his bandmates were, surrounding the events about the trapped Chilean miners, hence his request for a donation to support the cause. Neil's final passage in this update sums up his feelings, the tour and perhaps the history of Rush fittingly.
When I talked with my bandmates at soundcheck, I learned that they had also been moved by watching the rescue of the Chilean miners. Geddy planned to dedicate that very song, "Stick It Out," to the miners, while a photo of them would appear on the giant screen behind us. Also, Alex's guitar would be decorated with the symbolic number of the rescue, "33."

So all of that is part of the "background" of this photo, the magic unseen but surely felt, in so many smiling faces among the 36,000 people, the flashing cameras, the Chilean flag in the middle, a hilarious sign to the right, and one to the left that I had Michael enlarge and enhance. It reads, touchingly, "All My Life/ For Rush."

("Me too, buddy - me too.")

At the end of forty-four shows for me, my bandmates, and our incredible crew, and at the end of 23,132 motorcycle miles for me and my riding partners, Michael and Brutus, Alex and Geddy and I stood (or sat, in my case) on that stage and looked out at that cheering, heaving, chanting crowd, and saw, heard, and felt . . . the power of magical thinking.
"All My Life/ For Rush." Indeed, me too...

Click HERE to read the entire entry and to make a donation. ||
---
November 4th, 2010
Nick Raskulinecz on Producing Rush
Rush producer Nick Raskulinecz was recently interviewed by MusicRadar about the state of the music business, his work with Rush, along with Foo Fighters, Alice In Chains and his thoughts about the upcoming Clockwork Angels album.

Obviously, Rush like what you do - you're working with them again on the upcoming Clockwork Angels. I've heard the first two tracks, Caravan and BU2B. Are they an indication of what we can expect on the rest of the record?

"Yep. There's going to be a lot of cool stuff. We've got six other songs ready to record, and they're probably going to want to write some more when they finish this tour. We'll sit down and figure out how to record everything else. I can already tell you that the title track is going to be one of the coolest things they've ever done. It's going to be epic.

"I told them, 'Don't try to write a single. Don't try to do anything conventional. Give me Rush from back in the day.' They don't need to write something for the sake of radio play. They're Rush! [laughs] So I think the record is going to be a little more bare bones, a little less produced. It's going to be more direct, with killer riffs, solos, pounding drums and Geddy singing up high the way he should. That, to me, is the sound of Rush."

You can read the entire interview, which is titled Nick Raskulinecz on producing Rush, Foo Fighters, Alice In Chains at this LINK.

Thanks to RushFanForever for passing along the link.
||
---
November 3rd, 2010
Drink Bravely with Mark Oldman - Episode 14: The "Lifeson Ledge"
The Alex Lifeson video with Mark Oldman that we mentioned back in mid-October is now online and can be viewed below.

Mark Oldman takes off to the Great White North to visit with Rush's Alex Lifeson, the legendary rock guitarist and one of the wine-passionate "Bravehearts" featured in Oldman's Brave New World of Wine. We learn how Alex's wife accidentally swipes one of his cherished bottles and how the musician devises a solution to prevent further incursions -- an ingenious idea Mark dubs a "Lifeson Ledge". This is cautionary tale for all drinkers interested in discouraging the unauthorized removal of their favorite vino.

---

---

Thanks to Laura Romain for passing along the news.
||
---
November 1st, 2010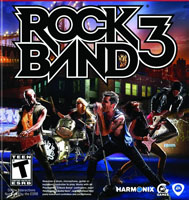 Subdivisions Available for Rock Band 3
Rush's classic 80's single Subdivisions will be available as a DLC for Rock Band 3 on November 2nd.

"Get your first taste of Rush Pro Mode-style next week when the single 'Subdivisions' comes to the Rock Band 3 Music Store! The song comes from Rush's 1982 album Signals and is one of five Rush songs inducted into the Canadian Songwriters Hall of Fame in March 2010. The track will be available on Xbox 360, PlayStation 3, and Wii on November 2 for $1.99. The Pro Guitar/Pro Bass upgrade expansion is $0.99."

In addition to playing guitars and drums, Rock Band 3 allows you to also play keyboards which plays nicely into Subdivision's heavy synth sound.

You can watch a RB3 trailer which includes Subdivisions at this LINK.
||
---
October 31st, 2010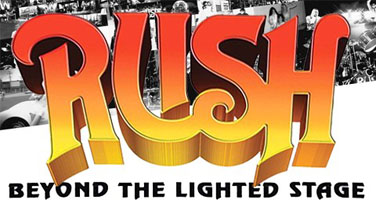 Rush: Beyond The Lighted Stage - London, UK - One Night Only!
The critically acclaimed documentary Rush: Beyond The Lighted Stage is being brought to Cineworld Haymarket, London by Arts Alliance Media, in association with Classic Rock magazine, Universal Music Group and Banger Films.

The documentary will be shown on Monday, November 8th at 6:00pm sharp. Tickets go on sale for £10 on November 1st, 2010 at 9am at www.cineworld.co.uk.

The film will be followed by a one-off exclusive Q & A session with Geddy Lee. Also answering questions will be the directors Scot McFadyen and Sam Dunn. The Q&A will be hosted by Philip Wilding.

Rumor has it that Geddy may reveal the band's plan for a European leg of the Time Machine Tour during the Q&A session.

Geddy Lee will also be accepting the Living Legend Award at the prestigious Classic Rock Awards at The Roundhouse, London on Wednesday, November 10th, 2010. It will be the first time the main award has been presented to a band, previous recipients include the likes of Iggy Pop, Ozzy Osbourne, Jimmy Page, Alice Cooper and Lemmy.
||
---
October 29th, 2010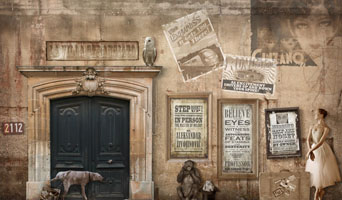 Rush News Bullets
Though the Time Machine Tour has been over for nearly two weeks now, and Rush are no doubt resting up at home and preparing for the holiday season, there is still plenty of Rush news to go around. In addition to the news, you may have noticed some subtle changes to the site. I've begun incorporating fonts from the Rush Font Project throughout the site. I hope you enjoy the new, enhanced look.

---

Rush-Themed Wallpaper:
Carl McDonnell of mcdonnellcreative.com asked me to share this impressive Rush-inspired wallpaper with everyone. Here's what Carl had to say:

"...My name is Carl McDonnell and I've been a Rush fan since 1982. I'm a graphic designer based in Dublin, Ireland and I just thought I'd send you this Rush themed wallpaper that you may want to share with people from your site. It's a multi-layered composition executed in Photoshop. None of the elements used are from original Rush artwork. I've dropped around ten (some are subtle) visual hints to both songs and albums, as well as the band members themselves. The attached .zip file contains widescreen, regular, iPad and iPod formats...."

You can download the collection in zip format via this LINK. Thanks again, Carl!

---

Rush Among the 150 Greatest Debut Albums:
The latest version of Classic Rock Magazine ran a feature listing the 150 Greatest Debut Albums of all time. Rush's self-titled debut album made the cut. The entire list can be seen HERE which calls out the track Working Man as the stand-out track.

You can order a copy of the UK Rock Magazine with the full list via this LINK.

Thanks to reader RushFanForever for passing along the news.

---

Geddy Lee Graces the Cover of the October 2010 Musicians Friend Catalog :
The Musicians Friend October 2010 Catalog has a great picture of Geddy Lee sporting his signature Fender Jazz Bass on the cover. Thanks to Eric from Power Windows for sending along the link.

---

A Brush Of Hope" 2010 Update:
As we reported back in early September, Alex Lifeson was expected to create another original painting which was to be donated to the "A Brush Of Hope" auction, benefiting the Kidney Foundation of Canada. Unfortunately, we've learned the following from founder Tim Fox:

"Unfortunately, [Alex Lifeson's] touring schedule prevented him from getting a painting in."

Even though Alex isn't participating this year, I still encourage everyone to visit the A Brush Of Hope Facebook page. Note that the auction is currently underway, and will run through October 31st.

I'll leave you with a quick anniversary note. It was on this day back in 1985 that Rush released Power Windows. Happy 25th, PoW!
||
---
October 25th, 2010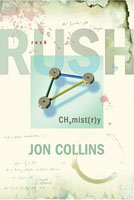 Rush Biography 'Chemistry' Available in Paperback
Jon Collins' 2005 biography on Rush titled "Chemistry" will be made available in paperback in North America on Monday, November 1. The book, which was released in the United Kingdom earlier this month, has been re-proofed to correct all of the typos, errors and inaccuracies that appeared in the original hard-cover version.

Acclaimed Marillion biographer Jon Collins draws on hundreds of hours of new interviews to tell the full in-depth story of the enduring Canadian trio who refused to compromise their music and avoided the typical rock and roll lifestyle. From early days in Canada to platinum albums, stadium shows, and the world's stage, taking in tragedy, triumphs, and a wealth of great music, this is the meticulous and definitive study of one of rock's great enigmas. From early triumphs such as the classic concept album 2112, on to their first hit single "Spirit of Radio" and beyond to Moving Pictures, "Tom Sawyer," and more pop-oriented 1990s material, Rush have continued to make groundbreaking and original music that has sold in the millions.

You can pre-order your copy via Amazon.Com at this LINK.

Many thanks to reader RushFanForever for the news who, in an unrelated story, also has confirmed for us that the version of Resist which is appears in the four-cd anthology The Rounder Records Story is from Rush In Rio. See the original news story on this anthology HERE.
||
---
October 22nd, 2010
Time Machine Tour Ranked #1 on Billboard's "Hot Tours" Chart
The North American leg of Rush's Time Machine Tour has been ranked as the #1 tour according to Billboard's Hot Tours Chart. The tour grossed $18,989,834 and sold 270,757 tickets against a maximum capacity of 319,077 (85% capacity on average).

Rush takes the No. 1 ranking on Hot Tours chart with totals reported from the Time Machine Tour that played North American venues from late June through early October. The tour schedule included concerts at outdoor amphitheaters and arenas along with appearances at state fairs in Minnesota (Aug. 27), New York (Sept. 2),and an Aug. 31 stop at the Great Allentown Fair in Allentown, Pa. which celebrated its 158th year of operation. The top gross among the reported concerts came from a two-performance engagement at Red Rocks Amphitheatre in Morrison, Colo. The Denver-area outdoor venue sold more than 16,000 tickets for both shows (Aug. 16, 18) grossing just over $1.5 million. The largest amphitheater crowd for a single performance came from the Houston market with 15,225 fans in attendance at the Cynthia Woods Mitchell Pavilion on Sept. 25. Among the arenas on the schedule, the MGM Grand Garden in Las Vegas produced the top gross with $993,351 in sold tickets for a concert on Aug. 14. The best attendance among the arenas was at Nationwide Arena in Columbus, Ohio. The 20,000-seat venue's Aug. 29 performance drew 11,402 fans.

You can check out the entire article at Billboard.Com via this LINK.
||
---
October 22nd, 2010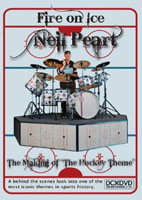 Neil Peart's Fire on Ice: Making of "The Hockey Theme"
A 90-minute documentary on the making of Neil Peart's drum-centric version of the new "Hockey Theme" is now available on DVD.

Product Details:

Neil Peart gives a behind the scenes tour of the making of "The Hockey Theme". Canada's TSN (The Sports Network) decided to recreate the hockey theme; they wanted to use iconic Canadians to help in the revisal. The Hockey theme is recognized as Canada's second national anthem so when they decided to recreate it, they wanted to use the best, and the first person that came to mind was Rush drummer, Neil Peart. Neil also discusses a custom drum kit made by DW Drums with all of the different hockey team logos on it.

You can order your copy via this LINK.
||
---
October 21st, 2010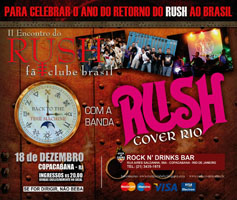 Rush Fan Club Brazil Fest 2010
Vagner Cruz, who runs the Brazil Rush Fan Site Rush Fa-Clube Brasil, wanted me to pass the word about a Rush Brazil Fest that will be taking place at the Rock N' Drinks at the Copacabana in Rio de Janeiro, Brazil on December 18, 2010.

Click HERE for more information on the event.

You can also view a full-size version of the event advertisement HERE.

Thanks to Vagner for letting us know about this exciting event.



||
---
October 15th, 2010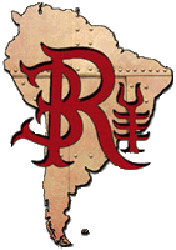 Time Machine Tour Update: Hola Argentina and Chile!
Update: Rush was met with great enthusiasm in Chile, as witnessed by the incredible fans that attended the show and the numerous, favorable reviews that followed. Below are several links to those reviews. Please use Google Translator to translate them to your native language:

Canal 13 Television station: LINK
Radio Cooperativa: LINK
La Tercera (online): LINK
La Tercera (printed article): LINK
La Tercera (Photo Album): LINK
El Mercurio Newspaper: LINK
El Mercurio (Photo Album): LINK
El Mercurio (HD Photo Album): LINK
La Nación Newspaper: LINK
Publimetro Newspaper: LINK

In addition, here's a a video where Geddy Lee dedicates Stick It Out to the 33 trapped miners who were finally rescued last week.

---


Many thanks to RushIsABand for sharing the links.

---

Rush is now entering the final weekend of their historic Time Machine Tour as they play the first dates ever in Argentina and Chile. Tonight, the band will take the stage at the Estadio G.E.B.A. in Buenos Aires, Argentina and then close out the tour on Sunday with a show at the Estadio Nacional in Santiago, Chile. Early ticket sales results from the date in Chile suggest that at least 35,000 seats have been sold so it's bound to be another great and energetic show.

Chile's Radio Futuro recently conducted an interview with Alex Lifeson where Alex discusses the tour and more about the upcoming Clockwork Angels album. Click HERE for the English Google translation of the article.

In other tour news, Pollstar recently released their list of the Top 100 Selling Tours of 2010. Click HERE for the PDF list. As of September 30th, Rush ranked #33 on the list with a total of 350,342 tickets sold or an average of 9,220 tickets per show (38 in total at that point). With their shows in South America, Rush will certainly shoot up the list.

Finally, as the tour winds down, I've been enhancing the historical Rush tour date listing on the site. Numerous additions, corrections and enhancements have been made, most notably the ability to download any tour in a Microsoft Excel or CSV file format. Each of Rush's past tours can be downloaded as an individual file, or you can download the entire Rush Tour Dates Archive in a single file.

Finally, many more pictures from the current Time Machine Tour have been added to the Image dB section of the site, with more on the way. Thanks to everyone who contributed them.

For all those attending the two final shows this weekend, have a great time!
||
---
October 15th, 2010
TSN's Hockey Montage Features Rush's Caravan
The Canadian Sports Network TSN debuted a new Hockey montage commercial featuring Rush's Caravan as the theme music. As hockey players are discussing the ultimate goal in hockey, the drive towards the Stanley Cup, the line from Caravan "I can't stop thinking big..." is played in the background. This marks the second time TSN collaborated with Rush. As most fans know, Neil Peart recorded a new, drum-heavy version of the Hockey theme earlier this year.

The new commericial can be viewed below.

---

---

Thanks to RushIsABand for the news.
||
---
October 14th, 2010
Interview with Mark Oldman: Wine Author and Rush Fan
Back in September, we let you know about a new book by Mark Oldman titled, OLDMAN'S BRAVE NEW WORLD OF WINE. In it, Alex Lifeson is one of the many celebrity wine lovers to be profiled.

Recently, Mark Oldman was interviewed about his love of wine - and Rush.

1WineDude: OK, I've got to ask this first: you're getting front-row seats to RUSH concerts in N.J. and hanging out with Alex Lifeson and Geddy Lee? How does that go down? That's so awesomely beyond awesome that "awesome" doesn't describe its awesomeness?

Mark Oldman: That show was electrifying - both for the audience and, it seemed, for the band. Rush is shredding it better than ever and experiencing more love than ever before. Last year I had the opportunity to interview Alex in his wine cellar, so stay tuned for a fun video of that launching on my site in a few weeks.

We'll post the link to the video once it becomes available. The complete interview can be read HERE.

Thanks to Laura Romain for passing along the news.
||
---
October 12th, 2010
Geddy Lee Interview on Brazil's TV UOL
Geddy Lee was recently interviewed by Brazil's TV UOL where he discussed the progress on the new album Clockwork Angels, whether the current tour will be filmed for a future DVD release and thoughts about the documentary Rush: Beyond the Lighted Stage. Here are some excerpts from the video interview:

On the next RUSH studio album:

Geddy: "The new album is still in production. We've recorded two songs so far, one of them called 'Caravan' and the other one called 'Brought Up To Believe' ['BU2B']. That's the beginning two songs of a whole kind of a concept album called 'Clockwork Angels'. We have about four other songs... five songs written, but not recorded yet. And we still have a couple of more songs that we want to write and then put the whole thing together. So I don't think the album will be ready for about a year."

On whether there will be a new DVD/CD documenting the current tour:

Geddy: "We record every night. We don't film every night but we have lots of cameras around. So invariably by the time this [tour] is finished we'll put together some sort of live representation of it. But what form that will take I'm not sure yet."

On the recent award-winning film "Rush: Beyond The Lighted Stage":

Geddy: "It's a weird experience to watch that for me. First of all, I don't like to watch myself talking about myself; it's strange [and] not normal. But I was very complimented to hear the nice things that the other musicians had to say. And I was very relieved that the people that made the film had a good sense of humor, and that the sense of humor that we have in the band came through in that film. So that made me happy. And so although it's not my favorite thing to do - to watch a movie about us - I'm glad that so many people seem to enjoy it."

You can view the entire interview via this LINK.

Thanks to Blabbermouth for the news and excerpts.
||
---
October 8th, 2010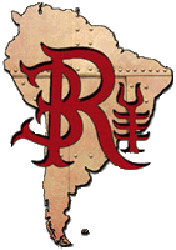 Rush Embark on South American Leg of Time Machine Tour
Update (10/11/2010): 130 photos from the two Brazilian shows are now online courtesy of Vagner Cruz of the Rush Fan Club Brazil website.

---

Update (10/09/2010): Below are links of two reviews and a photo gallery from the Sao Paulo, Brazil show last night.

Ao se auto-parodiar, o Rush constrói o próprio mito
English translated review: Rush Builds their own myth with self-parody.

Rush reúne 38 mil pessoas no Estádio do Morumbi
English translated review: Rush brings together 38,000 people at Morumbi Stadium.

Click HERE for a photo slideshow from the Sao Paulo show.

---

The four-date South American leg of Rush's Time Machine Tour launches tonight at the Estadio Morumbi in Sao Paulo, Brazil. This marks Rush's triumphant return to Brazil after an eight year absence. After tonight's performance, the band will head over to Rio de Janeiro to play a show at the Praca da Apoteose on Sunday.

After their stop in Brazil, Rush will make their way over to Buenos Aires, Argentina for a show on the 15th at the Estadio G.E.B.A.. This will mark the first time Rush has played in Argentina. Their final stop on the South American leg of the tour will be in Chile (another first for Rush). They'll be playing at the Estadio Nacional in Santiago, Chile on the 17th.

According to published reports from La Tercera, a Chilean newspaper, the seating capacity at the Estadio Nacional is 55,000 with about 70% of the tickets having been sold thus far (Thanks Claudio Vargas).

The Chilean newspaper El Mercurio also recently conducted a short phone interview with Geddy Lee. The rough English translation can be read here. In it, Geddy hints at the possibility of filming some aspect of the shows in South America.

For all our friends in South America seeing Rush, have fun and let us know how the shows are.
||
---
October 7th, 2010
A Pair of Neil Peart Interviews
There are a couple of interesting interviews that include segments with Neil Peart that were recently published. The first one, Mike Heppner and the Talking Man Project, is actually quite humorous. Here are a couple of excerpts from it:

State your name, your profession, and why you think Mike Heppner has asked you to participate in this survey.
Neil Peart: My name is Neil Peart, drummer and lyricist for the band Rush, and part-time author. I have published four books more-or-less in the travel genre, a number of magazine articles, and continue writing illustrated stories for my Web site, neilpeart.net. There I also review books I like, in a department called Bubba's Book Club. I once gave a nice review to Mike Heppner's second novel, Pike's Folly, and like most writers, Mike can't resist someone who appreciates his work, so we became friends.

Have you ever been in a fistfight? If so, did you win? If not, make something up.
Neil Peart: My last fistfight occurred at age eight, against another skinny little third-grader, David Carson. The epic battle took place after school, under the row of tall, spooky spruce trees filled with nesting grackles, a block from Gracefield School. The trees are gone now, but I like to imagine my old schoolmates staging annual reenactments at the site, gathering in a circle as one of them (they take turns) recreates my incredible 'windmill' attack, arms flailing at David for nearly twenty seconds, until I got tired and he pinned me down.

Why do you write? Would you still be happy writing if you knew your work had no hope of ever being published?
Neil Peart: I have been writing 'recreationally' since . . . around the time of that lost fistfight. Draw your own connections.

Click HERE to read the entire article/interview.

In celebration of National Poetry Day, a number of musicians were asked "...about the joys - and occasional tribulations - of setting verse to music...". This is what Neil had to say:

In 1975 I was trying to write a song inspired by the dark mood and subtle psychology of the film Citizen Kane, which features the opening lines of Kubla Khan by Samuel Taylor Coleridge. I looked up the poem and was overwhelmed by its imagery and emotional power. The song Xanadu was taken over by the poem in a way that has never happened since. I added the "adventure travel" aspect to the song's story before I'd travelled further than the rock clubs of North America. I portrayed Coleridge's idea of immortality as a grim curse. Citizen Kane is the opposite: mortality as a punishment. There's a joke that goes, "Rush is what happens when you let the drummer write the songs", which is funny, but of course I only write the lyrics. The line in the song Animate "daughter of a demon lover" pays homage to these powerful lines from Kubla Khan: "As e'er beneath a waning moon was haunted/ By woman wailing for her demon lover." Now that's rock.

Pretty insightful. You can check out the entire article and read how other musicians responded at this LINK.

Thanks to Ed from RushIsABand for passing along the news.
||
---
October 7th, 2010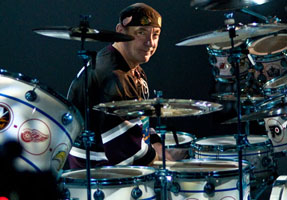 Neil Peart's Hockey-Theme Drum Kit Now On Display
Back on January 15th, a rock-laced version of the Hockey Theme performed by Neil Peart made its official debut prior to a Philadelphia Flyers and Toronto Maple Leafs game. The Hockey Hall of Fame website has just announced that the custom drum kit that Neil used for the recording of the theme is now on display.

Hockey Night in Canada" theme song drum kit The drum kit used by Neil Peart, famed drummer of Canada's legendary rock group RUSH is now on display inside the TSN/RDS Zone. The drum set was used by Peart to record TSN/RDS's updated "Hockey Night in Canada" theme song.

Click HERE for additional news on the new hockey theme along with a video of Neil's performance.

Thanks to RayM for passing along the news.
||
---
October 2nd, 2010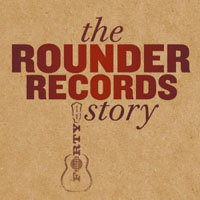 A Trio of Rush Related Releases
Two new books and a 4-disc CD box set will all include a taste of Rush.

A live version of Resist will appear in the four-cd anthology The Rounder Records Story which is being released on October 12th.

"For forty years, Rounder Records has been on a singular mission to record the magnificent range of American roots music styles-bluegrass, New Orleans R&B, old time fiddling, singer-songwriter, blues, country, rockabilly, roots rock, Cajun and a few that cross enough boundaries to be genres of their own. The 87 songs selected for this 4CD set show the true breadth of the label's catalog, from the old time folk music of Ola Belle Reed to the Grammy sweeping triumph of Robert Plant and Alison Krauss. The discs are arranged by decade, and it is fascinating to hear both the underlying consistencies and the ongoing evolution of the label's vision, while the list of musicians includes many of the defining names in roots music. Includes extensive notes by Washington Post journalist Geoff Himes."

It's unknown which of the two live versions of "Resist" which appeared on the Rounder Records label (Rush In Rio and R30) will appear on this anthology.

The Bob Mersereau book The Top 100 Canadian Singles was just released and contains, obviously enough, a listing of the Top 100 Canadian Singles (songs that is, not people) :) The entries were selected by around 800 musicians, broadcasters, members of the music industry and fans. Rush made a healthy showing with three entries on list: Tom Sawywer at position #12, The Spirit of Radio at #25, and Closer to the Heart at #35. The book also contains several interview snippets from musicians who made the list including Neil Peart.

Finally, a new progressive-rock inspirted book from Will Romano titled Mountains Come Out of the Sky: The Illustrated History of Prog Rock is now available.

From its artful beginnings (Syd Barrett-era Pink Floyd, the Mothers of Invention, and those progressive forebearers, the Sgt. Pepper-era Beatles), through the towering guitar solos, monumental synthesizer banks, and mind-boggling special effects of the Golden Age of Prog (Rush, Pink Floyd, Yes, ELP, Genesis, Jethro Tull, King Crimson, UK), through the radio-friendly "pop era" (Asia, the Phil Collins-led Genesis, and a reformed Yes), and right up to the present state of the art (Marillion, Spock's Beard, and Mars Volta), this is a wickedly incisive tour of rock music at its most spectacular. This is indeed the book prog rock fans have been waiting for, the only one of its kind, as fantastic as the subjects it covers.

A complete chapter in the book is dedicated to Rush (pages 166-179).

Thanks to Eric from Power Windows and Ed from RushIsABand for sharing the news on these releases.
||
---
October 1st, 2010
Rush Interviewed On Brazil's 'Hoje Em Dia' Program
During the September 18th, 2010 show at the Jiffy Lube Live venue in Bristow Virginia, both Geddy Lee and Alex Lifeson sat down with a reporter from the Brazilian TV program "Hoje em Dia" for an interview.

Before the actual interview, which can be viewed below, the video segment included a back-stage tour and conversations with several members of the tour crew. It also focused quite a bit on the 'Spider Lighting' that Rush is employing during this tour.

Though primarily in Portuguese, the actual interview segments with Geddy and Alex are in English and sub-titled in Portuguese.

---

---

You can also view the video via this link.
||
---
- Cygnus-X1.Net Rush News Archives -

|January-March 2011 Rush News Archive|
|October-December 2010 Rush News Archive|
|July-September 2010 Rush News Archive|
|April-June 2010 Rush News Archive|
|January-March 2010 Rush News Archive|
|October-December 2009 Rush News Archive|
|July-September 2009 Rush News Archive|
|April-June 2009 Rush News Archive|
|January-March 2009 Rush News Archive|
|October-December 2008 Rush News Archive|
|July-September 2008 Rush News Archive|
|April-June 2008 Rush News Archive|
|January-March 2008 Rush News Archive|
|September-December 2007 Rush News Archive|
|June-August 2007 Rush News Archive|
|April-May 2007 Rush News Archive|
|January-March 2007 Rush News Archive|
|2006 Rush News Archive|
|2004-2005 Rush News Archive|
---

---