There are 21 active users currently online.
---
- Rush News Archive - January through March 2010 -
Rush Lyric Randomizer - Refresh page for a new lyric or Click to see the song

---
---


---
March 31st, 2010
Geddy Lee Interview Confirms Summer Tour and New Album
Geddy Lee was gave a very brief interview to Sandra Miller of Akron's 97.5 WONE where he discussed the "two year plan" for Rush.

We're kind of looking at a kind of a 2 year plan. A little bit of writing now, getting a couple of tracks down. Playing some songs in the summertime on tour that people are not familiar with as well as bringing back a whole range of older songs. And getting quickly back into the studio again and finishing the album and see what the impact of that is.

"A whole range of olders songs..." I like the sound of that! Perhaps, finally, we'll hear the likes of The Camera Eye or, dare I say, Cygnus X-1 :)

You can listen to the interview via this LINK.

Thanks to RushIsABand for transcribing the interview.
||
---
March 29th, 2010
Rush Inducted Into the Songwriters Hall of Fame
Update (March 30th, 2010): Audio from the entire ceremony is now available via this LINK. The event was broken down into 27 separate segments so you can pick and choose what you want to listen to. Neil's acceptance speech, which runs just short of 13 minutes, is located in the 26th and 27th sections.

---

The induction into the Canadian Songwriters Hall of Fame took place last night with all three members of Rush on hand. Neil Peart wrote and delivered the acceptance speech which was humorous and humbling at the same time.

"First of all - songwriting award? Rush? There must be some mistake," joked Peart joined by Lee and Lifeson on stage as the band accepted their honor following a standing ovation and an introduction by Dave Bidini (Rheostatics).

Peart also made fun of the band's '70s stage outfits "of alarming bathrobes and kimonos."

More seriously, Peart said the band's most successful album, 1981's Moving Pictures, was an important one for the group.

"When we found our sound, we found our audience," he said as he delivered a speech in both English and French. (He has a house in the Laurentians).

"We were slowly channeling the trend toward becoming more concise, more driving and more direct while still retaining the stylistic quirks and indulgences that pleased us."

The entire ceremony will be rebroadcast via this LINK tonight (Monday, March 29th) at 7:00pm EST.

Additional information on the ceremonies can be read in this article.

We'll have further news on additional rebroadcasts and YouTube videoes (if any) as they are made available.

Thanks to reader ArsenalFC - Pete for passing along the rebroadcast information and link.
||
---
March 27th, 2010
Neil Peart Discusses New Album, Tour and More
With all the fanfare surrounding their inception into the Songwriter's Hall of Fame tomorrow night, all three members of Rush have been interviewed extensively of late. Jam! Showbiz has just released another interview with Neil Peart titled Rush-ing Into Songwriters Hall where discussions surround the band's acceptance speech, which Neil wrote, as well as a deeper look into Neil's appreciation for Subdivisions; one of the five songs being inducted.

"It's a very unusual song construction lyrically and musically that we managed to make work," he said. "It was written at a time when we weren't working, so to speak. We were mixing a live album and we just started playing around and wrote a song for fun. Although it's very serious in it's musical structure, one of the most complicated actually that we've had in terms of arrangement drum part alone, it's a really intricate drum part to play and consequently I still love playing it almost 30 years later and that's a good testament."

Neil also touched upon the new material the band has been working on and the thoughts behind their plan to tour this year.

"I stopped in Toronto a couple of weeks back and went over to Geddy's house and listened to what they've been working on from my lyrics and it's very exciting, we've got probably five very good songs there," Peart told QMI Agency. "So we were saying, 'Well, I kind of just want to keep working on this and finish the record.' But on the other hand we were thinking, 'Well, something we haven't done since the '80s is write new songs and go out and play them.' It's interesting to be so deeply involved in songwriting right now with this honour coming up. It kind of puts a fresh observation on it for me."

Click HERE to read the entire interview.

Thanks to Eric from Power Windows for sending along the news.
||
---
March 26th, 2010
Alex Lifeson Discusses 2010-11 Tour and New Rush Album
Yet another interview/article, this time with Alex Lifeson, has just been posted which gives even more specifics on the 2010-11 tour and new material. The article, titled Rush's Alex Lifeson On Doing What He Loves and conducted by James Bradshaw talks about the band's upcoming induction into the Canadian Songwriter's Hall of Fame, but the big news was when Alex was asked about the new album:

We were off for a year and a half, and now it's just pouring. Everything is totally crazy and there's not a minute left in the day. We've got these half-dozen songs, and we'll probably go in the studio and work on a couple of them and see how it goes, perhaps release something - and I say perhaps - and then we plan on being on the road in the middle of June. Ideally, we'd like to showcase a couple of these songs on the tour, come off tour in mid-October, go back in the studio and continue writing, then record through late this year and early next year, and then release the album in the spring of 2011 on a slightly more substantial tour. This [year's] tour will probably be about 45 dates. Most likely summer, 2011, would be more like 70.

So there you have it. A possible mini-tour in 2010, followed by a new album and extended tour in 2011.

Now that's the way to start off the weekend! Thanks to Ed from RushIsABand.Com for sending along the news.
||
---
March 25th, 2010
Rush Say Canadian Songwriters' Hall Induction Means More Than Rock Hall Snub
An article/phone interview with Neil Peart just appeared in the Canadian Press that discusses the band's induction into the Canadian Songwriter Hall of Fame and how this honor is more important, more meaningful, than an induction into that "other" Hall of Fame institution.

The Toronto trio is being inducted into the Canadian songwriters' hall of fame on Sunday, just the latest accolade for the acclaimed prog veterans.

But many fans still linger on the one honour that's eluded the band: an induction into the Rock & Roll Hall of Fame and Museum in Cleveland.

Drummer Neil Peart says the band really doesn't care about the perceived snub.

"No ... you know who it matters to, is the fans," Peart told The Canadian Press over the line from his California home.

"It would matter a lot to our fans for us to have that validation. It doesn't matter to me. I've got the success and respect that we've had, and the opportunity to do exactly what we wanted for 35 years, do we need them to make us feel better? No, not at all.

"Being in the Canadian Music Hall of Fame and the Canadian Songwriters Hall of Fame, that's 10 times - 100 times - more (important) than being in some critics' list."

Neil then goes on to hint about the new songs the band have been working on as well as the possible upcoming tour:

While their induction has to do with songs that Rush wrote more than a quarter-century ago, Peart is excited about their current output, too.

In fact, he says the band plans to do pre-production on two new songs in the coming weeks, with a tour possibly following.

"We're going to put those (songs) together and if they turn out well, we'll maybe even release them (on their own)," he said. "We're saying, what if we do a little songwriting and then a little touring to play those songs, and then get back to the songwriting again? It would be an interesting way to shake up our usual way.

"There's nothing I can confirm yet ... these things are immensely complicated and so much involved, all I can say is that we're considering that."

Click HERE to read the entire article.
||
---
March 24th, 2010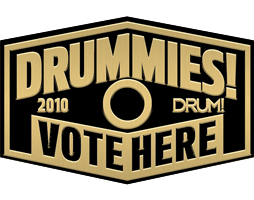 Voting for the 15th Annual Drummies Now Open
The 15th Annual Drummies, conducted by Enter Music Publishing, are now open for voting to drummers interested in participating in one of the most well-respected Award/Polling events. Voting is done online at www.drummagazine.com/drummies.

Enter Music Publishing, publishers of hip, drum/percussion magazines worldwide, has experienced tremendous growth of the Drummies over the last 15 years. Last year, more than 5000 ballots were cast in 40 categories, covering best drummers in various genres to most popular drums, cymbals and instructional videos.

For the last three years, Neil Peart has won drummer of the year and other awards. Prior to Peart's popular resurgence, other Drummers of the Year included Travis Barker, Tre Cool, Carter Beauford, and Chad Smith. And, last year, Sheila E returned to Drummie fame by winning "Best Percussionist."

"There are always lots of surprises every year," says Phil Hood, publisher and co-founder of Enter Music Publishing. "It's not uncommon for a drummer to win a category like "Rising Star" only to surface as "Rock Drummer" of the year a couple of years afterward."
||
---
March 23rd, 2010
Geddy Lee and Alex Lifeson Video Interview with CBC
A new hour-long video interview with Geddy Lee and Alex Lifeson, conducted by Laurie Brown, has just been posted at the CBC.ca website. Dubbed 'A Conversation With Rush', the interview focuses on the band's upcoming induction into the Canadian Songwriters Hall of Fame. While the majority of the interview is spent with Geddy and Alex discussing their approach to writing and performing the five songs that are linked to their induction into the Hall of Fame, both members do drop some interesting hints and factoids about what they've been up to with regards to the next tour and new material.

At approximately the 4:45 mark, Geddy indicates says:

... Just about a month and a half ago, we had no songs. And now we've been writing and now we've got about six songs that we just love...

Great news, indeed! Additionally, Geddy hints at the possibility of bringing back Closer to the Heart during the next tour now that the song has been sufficiently 'rested'.

Finally, near the end of the interview, around the 49 minute mark, Alex reconfirms that the band has been working on new material and that they are all collectively excited about working together again.

All in all, a great and lengthy interview. You can view the entire video interview via this link.

Thanks to Ed from RushIsABand.Com for passing along the news.
||
---
March 22nd, 2010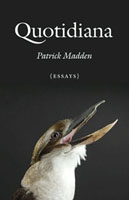 Influence of Rush Prevalent in 'Quotidiana'
A collection of personal essays have been published in a new booked titled Quotidiana, by Patrick Madden. Though the essays cover a wide variety of subjects and themes, one common thread throughout the book is the influence of Rush on the author. Lyrics from many Rush songs are quoted throughout the essays; so much so that Mr. Madden obtained the permission to reprint the lyrical segments from Neil Peart himself.

About the book:

Reflecting on Montaigne, Virginia Woolf remarked, "The most common actions-a walk, a talk, solitude in one's own orchard-can be enhanced and lit up by the association of the mind." In Quotidiana, Patrick Madden illuminates these common actions and seemingly commonplace moments, making connections that revise and reconfigure the overlooked and underappreciated.

Focusing on the search-for meaning, for approximate knowledge, for hints and intimations of the larger world-Madden ponders the finite by counting fruit at the local supermarket or estimating the number of grains of sand on the earth or celebrating linguistic and grammatical miscalculations. He muses on the origins of human language, the curative properties of laughter, and the joys and woes of fatherhood. Sparked by considerations of selling garlic, washing grapes, changing a diaper, or chipping a tooth, his essays are an antidote to the harried hullabaloo of talk-show and tabloid culture-and a reminder that we are surrounded by wonders that whisper to the curious and attentive.

Ingenuous and erudite, with a beguiling wit, Madden weaves an intricate tapestry of ordinary life in its extraordinary patterns. His book is a poetic and engaging exploration of the unexpectedly wide scope of our everyday existence.

Madden's original exposure to Rush is highlighted in the essay 'Remember Death' where he recalls being introduced to 'Tom Sawyer' on a summer day in 1981.

The book can be ordered via Amazon.Com.

Thanks to RushIsABand.Com for the news.
||
---
March 21st, 2010
Rush Songwriters Hall of Fame Induction News
A Rush Newsletter was sent out this weekend with additional information on the band's induction into the Canadian Songwriter's Hall of Fame later this month:

The Canadian Songwriting Hall of Fame honours and preserves Canada's rich songwriting heritage by honouring artists that have written songs that have entered into popular culture and been sustained for a significant period of time.

RUSH will be inducted into the Canadian Songwriters Hall of Fame on Sunday, March 28th, 2010 at the gala held at the Toronto Centre for the Arts.

The 5 RUSH songs entering the Hall of Fame are Tom Sawyer, The Spirit of Radio, Limelight, Closer to the Heart and Subdivisions. Which means Rush and their songs are joining the likes of Joni Mitchell "Big Yellow Taxi", Burton Cummings/Randy Bachman "American Woman", Leonard Cohen "Hallelujah". As part of the induction, bands influenced by Rush will be performing renditions of their hits. Alexisonfire will be taking on "Tom Sawyer", Primus frontman Les Claypool and his band will be playing "The Spirit Of Radio", and Jacob Moon will be performing "Subdivisions".

Needless to say, it's a great honour for the band and all 3 members of Rush will be in attendance on this special night.

As such, we'd like to ensure the Rush fans can join the band in being a part of this special occasion.

As an exclusive to Rush fans, a 20% discount will be accessible via a code through all Ticketmaster outlets as well as the Toronto Centre for the Arts box office.

Prices are $95 and $75 and the promo code is SONGS.

Date: Sunday, March 28th

Time: 8pm

Venue: Toronto Centre of the Arts

Rush Fan Special Offer Promo Code: SONGS

Tickets can be ordered via Ticketmaster.cn.
||
---
March 19th, 2010
Lorne Wheaton Hints at Summer Tour
Rumors of Rush going out on tour this summer have been flying around for months now, many of which came from all three band members. Now a short, simple post on Lorne Wheaton's MySpace Page hints that the tour is indeed on. Lorne, who is Neil Peart's drum tech, simply wrote:

Off to YYZ for sessions.....on the road this summer

Mood: pumped :-)

Short and sweet but definitely a positive sign that a Summer 2010 Rush Tour will happen. Now all we need is an official announcement from the band :)

Thanks to reader GeddyWannaBe for the news.
||
---
March 15th, 2010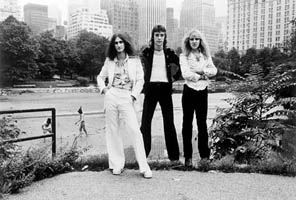 RUSH: Beyond the Lighted Stage -- Tribeca Film Festival Premiere Confirmed
The highly anticipated documentary on Rush, which now has an official title ("Rush: Beyond the Lighted Stage") will make its world premiere at this year's Tribeca Film Festival in New York City. From the festival's website:

Cast & Credits
Director: Scot McFadyen, Sam Dunn
Producer: Scot McFadyen, Sam Dunn
Editor: Mike Dunn
Executive Producer: Noah Segal, Peggi Cecconi, Shelly Nott
Writers: Scot McFadyen, Sam Dunn, Mike Dunn
Cinematographer: Martin Hawkes

Program Notes
For fans and newcomers to the legendary Canadian band Rush, this is the music documentary to experience. Directors Scot McFadyen and Sam Dunn embark on a comprehensive exploration of this extraordinary power trio, from their early days in Toronto, through each of their landmark albums, to the present day. Sit back and revel in the words, music, and wonder of Geddy Lee, Alex Lifeson, and Neil Peart.

The red carpet event is expected to occur on Saturday, April 24th with all three members of Rush on hand.

We'll have more information once it becomes available.
||
---
March 12th, 2010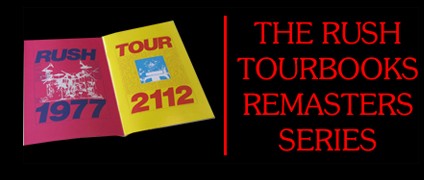 Rush Tourbook Remasters Series Now Available
The Rush Backstage Club has just annouced that they are now offering up reprints of all of the Rush tourbooks dating back to 2112.

Tourbooks dating back to 2112 have been brought back to all their glory (and then some) by modern printing technology and are all beautifully crafted with high-end laminated covers.

These individual books are slightly upgraded from the ones in The Complete Tourbooks, as we had more leeway with paper thickness etc. The covers are thicker, and laminated, for a beautiful finished look.

Each tourbook is priced at an amazing $14.99. Check them out todate at the Rush Backstage Club.

And, of course, to view a complete reproduction of each and every tourbook, simply head on over to the Rush Tour Information page.
||
---
March 11th, 2010
Rush: The Documentary Released Pushed Back to June / Tribeca Film Festival Premiere Rumor
The long-awaited documentary film on Rush has been delayed once again. According to Eric from Power Windows, the DVD release date for the documentary, which was originally scheduled for a May 18th date, has been delayed by a minimum of two weeks. An official announcement is expected to come in the next few days.

In addition to the DVD release of the documentary, there is speculation that the film will premiere at the Tribeca Film Festival. The complete list of entries for the film festival is expected to be posted on Monday, March 15th so we'll know for sure by then.

"Geddy had been in [Dunn and McFadyen's previous documentary] 'Metal: A Headbanger's Journey' and we were thinking about other bands we could work with," explains McFadyen. "We felt that RUSH had always been overlooked by the critics so we met them on tour and they liked what we said. We started working on it, then IRON MAIDEN came about so we took a break to do that and raised the financing for the RUSH film. We've started on it now and done a load of interviews so now we're editing with a load of archival footage."

"We've been lucky. Not only have we had access to [RUSH management] SRO's archives but also Geddy, Alex and Neil's own personal archives," enthuses director Dunn. "I was just at Geddy's house this week. Going through his personal collection of memorabilia. I dug up some gems I don't think RUSH fans have ever seen so we're hoping to offer something new."
Stay tuned... ||
---
March 9th, 2010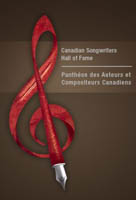 Alexisonfire, Les Claypool and Jacob Moon to honor Rush at Canadian Songwriters Hall of Fame
Back in January, we reported that Rush was to be inducted into the Canadian Songwriters Hall of Fame. Now, according to the official CSHF website, we've learned that Rush will be further honored during the March 28th gala celebration:

The 6th Annual CSHF Gala welcomes a diverse line-up of talent who will perform renditions of this year's inducted songs. Alexisonfire will perform 'Tom Sawyer' (Rush); Les Claypool performs 'The Spirit of Radio' (Rush), YouTube phenom Jacob Moon presents his rendition of 'Subdivisions' (Rush) and Quebec superstar Robert Charlebois will perform his classic song 'Ordinaire' (Robert Charlebois, Mouffe, Pierre Nadeau).

Here's another somewhat less positive article on the gala and the performers scheduled to appear.

To order tickets for the event, please go to Ticketmaster.Com or the CSHF website.
||
---
March 3rd, 2010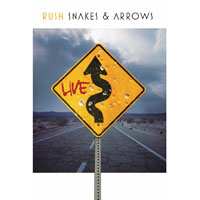 Snakes & Arrows Live DVD Nominated for Music DVD of the Year
The nominees of the 2010 Juno Awards (the Canadian equivalent of the U.S. Grammy Awards) has been announced. Rush's Snakes & Arrows Live DVD / Blu-ray was nominated for Music DVD of the Year. Below is the complete list of nominees in the Music DVD of the Year category:

Miroir Noir
Vincent Morisset, Vincent Morisset & Arcade Fire ARCADE FIRE
Merge*F>A>B

Snakes & Arrows Live
Pierre & François Lamoureaux Allan Weinrib, Pegi Cecconi, Ray Daniels RUSH
Anthem*Universal

Iron Maiden Flight 666
Sam Dunn, Scott McFadyen Ron Smallwood, Stefan Demetriou, Andy Taylor IRON MAIDEN
EMI

The Trews Acoustic - Friends & Total Strangers
Tim Martin, John-Angus MacDonald, Larry Wanagas THE TREWS
Bumstead*Universal

DRUM! Live
Aaron Young, Doris Mason, Colin Smeltzer, Daniel Brooker Brookes Diamond DRUM!
Independent*Fontana North

Fans may remember that Rush took home this award back in 2004 for Rush in Rio.

Winners will be announced at the Juno Gala Dinner & Awards on Saturday, April 17 at the St. John's Convention Centre, as well as at The 2010 Juno Awards broadcast on CTV on Sunday, April 18 at Mile One Centre in St. John's, Newfoundland and Labrador.

Thanks to RushIsABand for the news.
||
---
March 3rd, 2010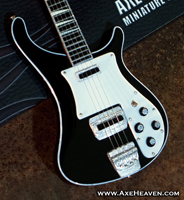 Geddy Lee Rickenbacker 4001 Miniature Replica Now Available
Axe Heaven, the company that has been bringing Rush fans miniature replicas of the band's gear has a new offering: Geddy Lee's classic Rickenbacker 4001. From a post at Power Windows:

You've asked for it, and now it's here: a precise recreation of Geddy Lee's Rickenbacker 4001 bass. His primary instrument of the 70's, first seen during RUSH's first tour in 1974, Geddy effectively retired this bass after the Signals tour until bringing it back on tour in 2007.

This 1:4-scale replica miniature bass collectible is made of solid mahogany wood, hand crafted and airbrushed with outstanding detail. As these guitars are hand made, please allow 3-4 weeks for delivery as supplies are limited.

This bass guitar sells for $24.99. Click here to order. For the complete RUSH miniature instruments collection, click here. Axeheaven is providing a special discount for Power Windows Website Users. To receive the discount, just enter the below coupon code while checking out at AxeHeaven.com:

* For free shipping for all domestic orders: coupon code
* For an overall 10% discount off of international orders: coupon code TEN2010

I've also included a picture of a collection of Rush miniatures including the Ric 4001, courtesy of reader ArsenalFC / Pete. Thanks Pete! and thanks to Eric from Power Windows for the news.
||
---
February 28th, 2010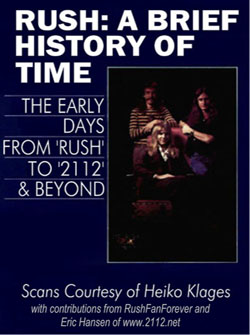 Rush: A Brief History of Time, Part IV
It's time once again for another installment Rush: A Brief History of Time, a collection of old Rush articles and interviews graciously donated by long-time site reader and contributor Heiko Klages. Additionally, Eric from Power Windows offered up a few gems for this segment as well.

This time around, there are 28 different articles to read through. So pull up a chair, open up a bottle of Cygnus X-1 Porter and let's get to it.

---

Let's travel back to March of 1977 for the first article to start off the fourth segment. Titled Rush & Foghat, by Richard Hogan, this Circus Magazine article discusses the touring duties of both bands as they travel across the United States. A rare, color reproduction with some great shots of the bands.



---


Up next is an interesting article/review of Rush's 2112. Titled Rush to Judgement, this Creem Magazine article from June 1977 was written by Darcy Diamond who, along with his/her sister, take in a Rush concert that neither seem to enjoy all that much. A nonetheless interesting and humorous read along with some nice color shots of the boys.



---


Up next is a triple-treat from a January 5th, 1978 edition of Circus Magazine. Though the magazine was scanned in black & white, it contains a brief review of 'A Farewell to Kings' by Michael Bloom, a nice article called 'Recognition is Only Half the Fun' by Max Thaler and a two-page Rush Tour Poster. There are also a few upcoming Rush tour dates listed. Of course, I included the cover of the magazine just to remind you all of the hairstyles that were mainstream back in the late 70's :-)



---


This next lengthy article appeared in the January 28th, 1978 edition of the French-Quebec magazine called 'Pop Rock'. The article, titled Rush A Chicago was written by Marie-France Remillard and includes an interesting painting of the band. The article is written in French so I'm not entirely sure of the content.



---


Continuing through 1978, the next article originally appeared in February 11th, 1978 edition of the UK music magazine 'Melody Maker'. Titled Heavy Side of Rush and written by Simon Kinnersley, this well written article has Simon slowly learning to appreciate Rush, to a degree. The article also touches upon Rush touring duties and the early history of the band.



---


Next we have a short but positive article from the March 4th, 1978 edition of the UK music magazine 'Music Week'. Titled Is The Canadian Rush On?, this article discusses the success of 'A Farewell to Kings' in the United Kingdom and the growing popularity of the band and Canadian music in general.



---


More from the UK, we have Power Pop?, a brief article written by Robin Smith who 'gets in amongst the faded denims and greatcoats to see Rush'. I particularly enjoyed the description of the band as 'an all Canadian earthquake band'. Apparently the boys played a song called 'Kanadu' though I can't imagine what that might have been :)



---


This next Netherlands article from the March 22, 1978 edition of 'Muziekkrant OOR' is called Rush Met Voetversnelling and features an interesting picture of Geddy that no doubt got him in hot water with his wife :) Written by Kees Baars with photos by Anton Corbijn, this lengthy article appears to discuss the early days of Rush and their touring prowess. If anyone can translate this article, please do let us know what else this article may reflect.



---


Up next is a nice tribute to the then fifth anniversary of SRO/Anthem; Rush's production and management company. Click HERE to view the entire publication which includes some nice write ups about Rush and Max Webster, a hand-written and signed congratulatory note from the band as well as a brief biography of the band.



---


Sticking to 1978, this next article, titled Rush'n Around, written by Peter Douglas, takes an in-depth look at the band's touring gear. This article originally appeared in the April 1978 edition of the UK magazine 'Beat Instrumental', hence the deep dive into the band's instruments.



---


Moving back to the states, this next color article came from the May 11th, 1978 edition of Circus Magazine. The article, titled Rush Relive Their Early Years was published in connection with the band's release of Archives. Also included are some nice candid and concert shots of the boys along with some upcoming tour dates.



---


Continuing along the 'Archives' theme, this next article also reviews the 3-album release. Titled Rush's Valuable Triple Echo, this short and fairly positive review was written by Michael Oldfield and originally appeared in the May 13th, 1978 edition of the UK's Melody Maker. Unfortunately, this next review of Archives, titled The Rush Problem was obviously less than positive. Written by Paul Morley, the author does seem to recognize the power (both musically and lyrically) of Rush.



---


Up next is a somewhat famous (or should that be infamous) article/review written by long-time Rush fan Geoff Barton. Up until the release of 'Hemispheres', Mr. Barton was a tremendous supporter of the band. But as this article, titled It Could Be A Meisterwerk (but it's more like a terrible mistake) reveals, Barton's appreciation for the band is fading. Barton seems torn in this review; both praising and condemning the band for their musical direction. He also seems to be confused about the order of the tracks, placing Cygnus X-1 Book II as the b-side to the album. To each his own I guess. The article originally appeared in the October 20th, 1978 edition of the UK 'Sound' magazine.



---


This next article, from the December 1978 edition of the Canadian magazine 'The New Music', is a feature and interview with Geddy Lee. The color article, titled Rush: Canadian Rock 'n' Roll Success Story was written by Kirk LaPointe and contains a nice color photo of Geddy and his cat. It's also a nice, albeit somewhat short, look into Rush from Geddy's personal perspective.



---


Up next is one of my favorite early articles about Rush. Coming from the December 5th, 1978 edition of 'Circus Weekly' and titled Rush's Music of the Spheres, this article/interview with Geddy lee, which written by David Fricke, discusses Geddy's growing frustration with the critics view of the band. 'If an album is good", Geddy says, "people will find out about it on their own." An enjoyable read with some nice color and black & white images of the band.



---


Still holding to 1978, we have a brief, meandering and largely positive review of 'Hemispheres'. The review, which appeared in the December 9th, 1978 edition of the UK's 'New Musical Express' periodical, was written by Ian Penman who attempts to decipher the meaning behind the lyrics from the album. You be the judge if Ian was on point or not.



---


Continuing with another review of 'Hemispheres' is the article/review titled Rush: Into the Global Village which was written by J.J. Linden and appeared in the December 9th, 1978 edition of 'RPM Weekly', a Canadian Music magazine. More than just a review of 'Hemispheres', this article takes a look back and the progression of Rush and their music. A nice read indeed.



---


Closing out 1978 is one final, largely unfavorable review of Hemispheres which appeared in the December 12th, 1978 edition of 'Circus Magazine'. Written by Bart Testa, this review does point out some positive aspects of the album, its message and the band in general, but then again Testa also believes there may be some internal turmoil with the band due to the sub-title of La Villa Strangiato (an exercise in self-indulgence). I disagree with that assertion , but it is an interesting observation nonetheless.



---


Moving on to 1979, this January 27th, 1979 'RPM Weekly' article titled Anthem's Rush Receive Gold, Platinum, Plaque talks about Rush's 'Hemispheres' going Gold in the U.S. In addition, Rush was awarded a plaque from the Canadian Consulate in Chicago in recognition of their contribution to music on an international basis. Some grainy but nice images of Rush (and the awarded plaque) are included.



---


Up next is a nice, lengthy article titled Rushing Around by the late Maurice Rotheroe. I'm not certain where this article originally appeared, but it seems to have been written after Rush completed touring in support of 'Hemispheres'. Maurice talks to the band about their gear and their musical direction in this well-written four-page article. Make sure you read the last few closing paragraphs of the article which are rather enlightening.



---


Let's time-warp to the 1980's with this next article/interview, simply titled Alex Lifeson. This originally appeared in the June 1984 edition of 'Free Music' magazine and was penned by long-time Rush photographer Andrew MacNaughtan. The discussion centers around the release of 'Grace Under Pressure' and the upcoming tour in support of the band's album.



---


It's unclear where this next item originated, but it appears to be a legitimate list of '20 Questions with Geddy Lee' and was put together back in June 3rd, 1996.



---


Shooting into the 21st century, this next article came from the now-defunct www.themusician.ca. The article/interview with Alex Lifeson, titled Rush: R30 and Beyond was written by Ken Kucharic back in mid-2004 after Rush completed their R30 tour and began work on releasing the concert on DVD.



---


Moving closer to the era of 'Snakes and Arrows' is this next short interview with Geddy Lee from 'More Sugar' and written by Christopher Alo.



---


In a bit of a change of pace, this next article take from the June 2006 edition of 'Ontario Golf' magazine focuses on Alex Lifeson's love of the game as well as his hand in developing a new golf course called Coppinwood in Uxbridge located in Toronto. The article, titled What A Rush was written by Robert Thompson with photos by Chris Gallow.



---


Continuing on the Alex Lifeson theme is this next article/interview which originally appeared in the July 2006 edition of 'Guitar World'. Click HERE to read about what songs had the most impact on Alex's life, both in the past and today.



---


Finally, we end this lengthy entry with a 'Dear Superstar' segment out of the April 2009 edition of 'Blender Magazine'. Titled simply Geddy Lee and written by Rob Tannenbaum, this humorous and often interesting question session with Geddy is actually quite revealing.

---

That's it for now, everyone. Again, many thanks to Heiko and Eric for supplying this great information. And don't forget to check out the rest of the articles on the Rush: A Brief History of Time page.
||
---
February 26th, 2010
Rush Sighting in Superbowl Ad Spoof
There was a somewhat controversial (and from a male's point of view, humorous) commercial during the Superbowl for the Dodge Charger. The ad, called Man's Last Stand depicted a series of men and the stuggles they must endure in everyday life so they can, ultimately, choose the car THEY want to drive.

In the spoof ad, titled Woman's Last Stand, Rush is mentioned along with a series of other "endurances" made by women for their men. Funny stuff :-)

Thanks to Eric from Power Windows for the head's up.
||
---
February 25th, 2010
Rush: The Documentary Tentatively Scheduled for May 18th Release
The wait is almost over. The long-awaited documentary on Rush is tentatively scheduled to be released on May 18th. The documentary, which is being produced by Scot McFadyen and Sam Dunn of Toronto, Ontario, Canada's Banger Films Inc, has been in production for nearly two years.

Dunn and McFadyen were recently interviewed by Classic Rock magazine's Jerry Ewing about the first-ever feature film documentary on Geddy Lee, Alex Lifeson and Neil Peart.

"Geddy had been in [Dunn and McFadyen's previous documentary] 'Metal: A Headbanger's Journey' and we were thinking about other bands we could work with," explains McFadyen. "We felt that RUSH had always been overlooked by the critics so we met them on tour and they liked what we said. We started working on it, then IRON MAIDEN came about so we took a break to do that and raised the financing for the RUSH film. We've started on it now and done a load of interviews so now we're editing with a load of archival footage."

"We've been lucky. Not only have we had access to [RUSH management] SRO's archives but also Geddy, Alex and Neil's own personal archives," enthuses director Dunn. "I was just at Geddy's house this week. Going through his personal collection of memorabilia. I dug up some gems I don't think RUSH fans have ever seen so we're hoping to offer something new."
We'll provide ordering information for the documentary once it becomes available. ||
---
February 15th, 2010
Confusion Continues Regarding Rush and the 2010 Winter Olympics
It's been a couple of days since the Opening Ceremonies of the 2010 Winter Olympics were held, and there is still plenty of confusion surrounding the issue of whether or not Rush was supposed to perform that night. Articles and rumors stating that Rush was supposed to be part of the opening ceremonies had been floating around for several days prior to the opening ceremonies. Then with the death of Georgia luger Nodar Kumaritashvili during a trial run on the day of the opening ceremonies, many thought that perhaps the segment with Rush was scrapped as it may have been deemed "too upbeat" considering the tragedy earlier in the day.

Now we get two conflicting reports about Rush being part of the closing ceremonies and/or the victory celebrations that are being held daily.

In this article, it clearly states that Rush will be among the many Canadian groups to perform in the 'The Victory Concert Series.'

However that seems to be contradicted by this official news story coming from the Olympics site that lists all of the headline performers for nightly Vancouver Victory Ceremonies. Rush, unfortunately, is not listed among the artists.

The only thing left that Rush could be a part of are the closing ceremonies at this point. We'll let you know if/when we hear more.
||
---
February 12th, 2010
Rush among Artists Expected At Opening Ceremonies for the 2010 Winter Olympics
Update: February 13th, 2010 (12:05am EST) - Well, unfortunately it appears that the rumor of Rush performing during the opening ceremonies of the 2010 Winter Olympics was just that; a rumor. The impressive opening ceremonies featured several Canadian-born artists, but Rush was not among them. Ultimately, it's a shame as the ceremonies did an admirable job of showcasing the natural beauty - and talent - of Canada; a fitting tribute that Rush would have fit into nicely. I guess we can always hope for a superbowl halftime show appearance. If 'The Who' can do it, why not Rush? :-)

---

Based on this new article, it now seems fairly certain that Rush will, in fact, perform during the opening ceremonies for the 2010 Winter Olympics which will air on NBC this Friday night at 9:00pm.

Meanwhile, Rush and 16-year-old Montreal jazz singer Nikki Yanofsky also seem to be involved. A publicist for the veteran Toronto rock trio and Yanofsky herself both responded to questions from The Canadian Press with no-comments, citing non-disclosure agreements.

"NDA, non-disclosure, we're not allowed to say anything," Yanofsky said when asked if she would perform.

This has been a hotly debated topic with many not certain that the Olympic ceremonies/organization is the proper venue for Rush. Wheather you agree with the arguments or not, I hope every fan takes the opportunity to watch the opening ceremonies if for nothing else but to see Rush perform live again for the first time since 2008.

We'll have video footage of the ceremony online once it becomes available.
||
---
February 8th, 2010
Neil Peart's News, Weather, and Sports Update
Neil Peart has posted an update to the News, Weather, and Sports section of his website. In this entry, titled Fire on Ice, Neil reflects back on his admiration and connection with hockey as he grew up in Canada which led to not only connections with his future band mates, but more...

In adult life, music took precedence over sports, but my bandmates liked to watch hockey games on motel and studio lounge televisions, for example, so I did not escape observing and even getting involved-feeling the pain of becoming emotionally invested in something you were powerless to affect-like watching "your" team struggle and fail (that would be Toronto's Maple Leafs). Alex and Geddy had grown up in Toronto with longtime Montreal Canadiens forward Steve Shutt, and we would sometimes meet up with "Shuttie" in cities where we were both playing. (Further ironic that throughout our career, the band played in all of the NHL arenas, sharing the same "office space" as the hockey players.)

In the early '80s, touring with another Canadian band, Max Webster, we rented small hockey arenas after shows, suited up in skates and pads, and-in the middle of the night-played outrageously inept hockey for a couple of hours. (My ankles were stronger by then, and skates were better-but I still basically shuffled around the ice. Fun, though.)

Neil then goes on to discuss his involvement in the recording of the new drum-inspired hockey theme.

The timing for the "Hockey Theme" proposal was perfect. The band had been off that year, after three years of writing, recording, and touring, so I was eager for a new musical challenge. This one would be especially demanding, but I would have the time and energy to devote to it. And with the Blessed Event of Olivia Louise's arrival that summer, it was great to be able to work close to home.

The entry has a number of great pictures of Neil with his special drum kit that was used in the recording of the hockey theme. You can check out the entire entry via this LINK.

Thanks to reader Charles Eckhardt for the heads up on the entry.
||
---
February 5th, 2010
Rush May Be Performing During the Opening Ceremonies of the 2010 Winter Olympics
Several leaked reports are now suggesting that Rush may be performing during the opening ceremonies of the 2010 Winter Olympics in Vancouver, British Columbia, Canada, on February 12th. At this time, nothing official has been announced, however according to this article, it seems clear that the governing members of the Olympics and Vancouver are looking for prime examples of what Canada and Canadians can offer.

"The Opening Ceremony is our biggest chance to speak to a global audience and tell the story of a contemporary Canada that will inspire the world. So many talented Canadians have shared their thoughts and hopes for the ceremonies over the past six weeks and we are most grateful," said John Furlong, Chief Executive Officer of the Vancouver Organizing Committee for the 2010 Olympic and Paralympic Winter Games (VANOC). We'd like to thank the Government of Canada for its generous contribution and their tremendous support in putting on spectacular ceremonies of which all Canadians can be proud."

The opening ceremony will air on NBC beginning at 9PM EST on Friday, February 12th. That said, one would expect that any involvement by Rush should be formally announced sometime this week. We'll let you know when we get the official word.
||
---
February 5th, 2010
Back In The Limelight - An Interview with Neil Peart
Update: The original link to the article was disabled for some reason, but I located an alternate link to the entire article. Click HERE to access it.

Canadian news site The Intelligencer has just posted an interview with Neil Peart where the discussion once again surrounds the future of Rush and his thoughts about the band's recording direction. This time around, however, Neil hints at the possibility of a much longer piece of music after he met with Porcupine Tree singer-guitarist Steven Wilson.

Anything's possible now; we can record a couple of songs and put them out and then go on tour if we want. So at this point, we're just embarking on writing, but keeping ourselves open to all those other possibilities. One of our early titles for this year was Research and Development. That's where we're at.

Q. So you might start making music in smaller increments?

Or larger. I went to see a band called Porcupine Tree not long ago. And I was talking with (singer-guitarist) Steven Wilson. They just put out a 55- minute piece. That's a finger to the whole iTunes shuffle thing, and he intended it as such. And I thought, 'Yeah, that's another way of rebelling against it -- by just saying no.' There's too much lost in giving up the integrity of an album -- what it represents to you as a musician, and as a human being, for that matter. So I like that approach. That's very possible for a band like us. So there are no limitations; we might go big or we might go small.
You can read the entire interview via this LINK.

Many thanks to reader RushFanForever for passing along the news. ||
---
February 4th, 2010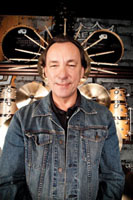 Guitar Center Interview with Neil Peart
The new Guitar Center Magazine features Neil Peart on the cover and includes a interview with the Professor where he discusses his performing techniques, provides tips for other drummers and touches upon the recent, heavily debated subject about the the state of the recording industry and the impact it will have on Rush moving forward.

"I know that the mechanism that brought us up doesn't exist anymore," he says. "For instance, a perfect example of how reversed it is, in those days we made no money touring for a long time, even into the successful years. You counted on record sales and songwriting to make your living. And touring was a way to publicize that. Suddenly, in the last 10, 15 years all that turned around and our income is entirely from touring, and recording is an indulgence. In a band like Rush, no one's going to pay us to make a record. It's going to be an indulgence. Even Snakes and Arrows basically paid for itself and that's it, and if we want to make a living beyond that we have to go on the road and tour."
The entire article is available at the Guitar Center website. ||
---
February 1st, 2010
A Trio of Rush Articles
Over the last couple of days, three separate articles on Rush appeared in various publications, including a lengthy and very interesting one which appeared in Walrus Magazine.

Beginning with the Walrus article, which is titled Living on a Lighted Stage: Are we finally ready to take Rush seriously?, writer Jason Anderson discusses the upcoming documentary on Rush which is being developed by Sam Dunn and Scot McFadyen. Interesting enough, the article indicates that the filmmakers have uncovered what is likely the oldest moving picture of a Rush performance; one that features John Rutsey on the drums:

The St. Catharines footage was discovered during research for the latest entry in this body of celebratory work, a new documentary by Toronto's Banger Films. Creators Sam Dunn and Scot McFadyen, the team behind such hard-rocking docs as Metal: A Headbanger's Journey and Iron Maiden: Flight 666, began the project in 2007 and may release it as early as this spring. Tentatively titled Rush: The Documentary, it is the first in-depth film about the group and its history. Besides never-before-seen footage like the Laura Secord show and photographs culled from the members' personal collections, the movie will include testimonials about Rush's greatness from members of Nirvana, Smashing Pumpkins, Metallica, and others inspired by the band over the past four decades.

To read the entire article, click HERE. Thanks to Ed from RushIsABand.Com for passing along the article.

The second article, titled 'Subdivisions': Listening Room Chief Learns Rush Holds The Key To Life takes an analytical, partially philosophical and sometimes meandering approach at discussing the impact of Rush on the music scene throughout their career.

My literary buddy Chuck Klosterman once wrote: "Somehow, Rush has purposefully or accidentally put themselves in a position where virtually anybody can make an oblique argument about what they represent. This is a common problem for hard rock bands, and especially for Rush; everyone wants to categorize them, but no one wants to claim them."

Klosterman goes on to quote Rush bassist and singer Geddy Lee: "It's funny. When you talk to metal people about Rush, eight out of 10 will tell you we're not a metal band. But if you talk to anyone outside of metal, eight out of 10 will tell you we are a metal band."

The entire article can be read via this HERE.

Finally, we are left with the following article: Rocker Joan Jett Bashes Rush. The title says it all so I'll let you read it to make your own determination on its merits. Thanks to Eric from Power Windows for passing along the article.
||
---
January 26th, 2010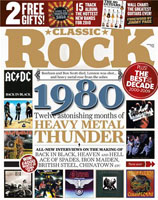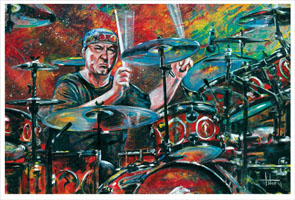 Rush News Bullets
Before I get into some of the latest news stories related to Rush, I wanted to extend my congratulations to Beverley Wintjes of Ontario who was last month's big winner of the Holiday Rush Contest.

Some of you have been asking me about the mystery gift that was part of the larger prize package. Actually, there were two added mystery gifts; a guitar pick adorned with the classic Rush logo (from their debut album) as well as a mint-condition copy of the Roll The Bones tour book. Congratulations again, Bev, and thanks to everyone who entered the contest.

So with that said, let's get to some of the latest news stories...

---

Geddy Lee Appearance on the 'Canadians For Haiti' Telethon:
With the recent devastation in Haiti following a series of earthquakes, a number of Canadian celebrities organized the Canadians For Haiti Telethon which has raised over $9.4 million thus far. While Geddy Lee did not perform at the event, which aired last Friday night, he did make an appearance and spoke about the cause. You can view the video segment with Geddy via this LINK.

For additional information on the event, please click HERE.



---

Permanent Waves Featured in the Current Issue of "Classic Rock":
The new issue of Classic Rock Magazine time warps back 30 years to 1980 to "celebrate a pivotal 12 months in rock history". Among the albums and bands discussed is Rush's pivotal Permanent Waves

"'Permanent Waves was the step,' drummer Neil Peart recalls. 'It changed how we made records; it taught us to breathe, with Spirit...and Freewill. We were learning to be more concise too. A lot of lessons were learnt. Not least to step back from it all."

Thanks to RushFanForever for the head's up.



---

Neil Peart 'Soulscape' Art Print:
International artist Tom Noll, who is renowned for painting various musicians, is now making his original oil painting of Neil Peart, titled 'Soulscape', available for sale as a giclee art print. The print is 27" x 18" (68.6 cm x 45.7 cm) in size, is printed on 100 lb. cover stock using fade resistant UV inks.

Neil Peart provides unending energy that sparked this colorful and moving painting of him playing. I've pictured him here with his "Neil's Personal Model" sticks and the Drum Workshop set of red-painted DW maple shells with black hardware and gold "Snakes & Arrows" logos as featured on the Snakes & Arrows Tour.

Limited to a run of just 500 units, this extraordinary print sells for $350 plus shipping. Please click HERE for more information and a close-up view of the print. Thanks to Eric from Power Windows for the head's up.



---

RushPetition.com Is Back:
Skip Daly, webmaster of RushPetition.com, wanted me to let everyone know that his site has been re-launched in preparation for the possible 2010 Rush Tour. Skip's site takes your votes for the top five songs you would like Rush to play on the next tour. This time around, the song selections are those which have not been played in the last 20 years (i.e. the Presto tour). Worry not, there are still 85 songs to choose from. Cast your vote HERE.



---

Caress Of Steel, A Record To Die For:
Caress of Steel is one of my favorite Rush albums, as witnessed by the color schema of this site. Brian Damkroge, a writer for Stereophile recently listed CoS in his "Records To Die For" feature.

"Caress of Steel, Rush's third album narrowly edges out their fourth, 2112, as my R2D4. The sparse arrangements showcase their playing; in particular, Alex Lifeson's chord-based guitar style is shown off far better here than on their later, more complex albums. With Caress and 2112, Rush exploited the album format with longer, more developed operettas than were possible with their later focus on radio-friendly singles. Yes, 'I think Im going bald' is woefully out of place, the lyrics a little pretentious, and Geddy Lee's vocals are an acquired taste, but the music and sound are incredible. Rush at their very best."

Thanks to GeddyWannaBe for passing along the news.

That's all for now, folks.
||
---
January 19th, 2010
Rush Headed To The Songwriter's Hall of Fame
While it may not be that "other" Hall of Fame, it's still exciting to hear that Rush will be inducted into the Canadian Songwriters Hall Of Fame on March 28th, according to this news article from Jam! Showbiz.

Toronto veteran progressive rock trio Rush lead the 2010 Canadian Songwriters Hall Of Fame inductees.

The group, made up of Geddy Lee, Alex Lifeson and Neil Peart, will join fellow inductee Robert Charlebois at the March 28 sixth annual gala at the Toronto Centre For The Arts' George Weston Recital Hall.

In total 11 songwriters, 16 songs - including the Rush classics Tom Sawyer, Limelight, The Spirit of Radio, Subdivisions and Closer to the Heart - and two Legacy Award recipients will be inducted.

Among the six classic Canadian songs being inducted this year are The Hockey Theme by Dolores Claman.

Please join me in congratulating the band on this honor.
||
---
January 18th, 2010
Sonic Reality Announces Neil Peart Drums Volume I: The Kit
At last week's NAMM show, Sonic Reality previewed their new Neil Peart Drums Volume I: The Kit sample library.

For the Winter NAMM show of 2010, Sonic Reality sound development company is proud to announce "Neil Peart Drums Vol. 1: The Kit", a sample library for BFD2 and Infinite Player, powered by Kontakt, as part of the Drum Masters series. Neil Peart, legendary drummer of the band "Rush", has collaborated with Sonic Reality and producer/engineer Nick Raskulinecz (Rush, Foo Fighters, Alice In Chains) to bring the authentic sound of Neil's "Snakes and Arrows' Custom DW® Drum Kit into the digital domain. With advanced features such as deep level dynamics, humanized random alternating hits, discrete multiple mic mixing and more, this deluxe sampled kit is an ultra-realistic recreation of Neil's actual acoustic set as used live on tour and in the studio.

Now, for the first time, e-drummers, keyboardists and composers can play rock drum samples with the iconic signature sound of drum legend - Neil Peart and have a world-class, hard-hitting drum kit suitable for many styles of music from Progressive Rock to Heavy Metal! Producer Nick Raskulinecz engineered the sample sessions with over 20 channels of Neve® mic preamps, deluxe vintage tube mics and multiple room positions for one of the most elaborate sampled drum kits ever. With the assistance of Don Lombardi and DrumChannel.com, every detail of "The Kit" was captured both in high-resolution audio and documented on video with a thorough explanation by Dave Kerzner of Sonic Reality on how the drums were sampled.

The kit is expected to go on sale later in Q1 of 2010. To read more about the product, click HERE.
||
---
January 15th, 2010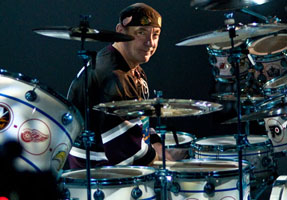 Drum Roll, Please! Neil Peart's Version of the Hockey Theme Makes It Debut
Neil Peart's rock-laced version of the Hockey Theme made its official debut last night prior to the Philadelphia Flyers and Toronto Maple Leafs game. Two video versions of the theme are available online via this LINK.

After legendary Rush drummer Neil Peart recorded a new rock version of The Hockey Theme last month, the percussion-inspired rendition of ''Canada's second national anthem'' made its NHL on TSN debut Thursday night prior to the Philadelphia Flyers and Toronto Maple Leafs game.

Peart's unique rock version of The Hockey Theme will be used during select NHL on TSN broadcasts throughout the remainder of the NHL season. It will also be available for digital download on iTunes on Tuesday, January 19th.

The new version of The Hockey Theme showcases Peart on a custom drum kit by DW Drums featuring the logos of all 30 NHL teams. Peart and DW Drums are donating the custom kit to the Hockey Hall of Fame in Toronto, where it will be on display for hockey and music fans alike to enjoy.

The first section of the video has Neil performance interlaced with various hockey scenes. The second section replays the entire theme but all of the video reflects Neil's percussion prowess.

The new theme is already making waves and is garnering positive reviews, such as this one.
||
---
January 13th, 2010
Neil Peart Indicates That Next Rush Project May Not Be An Album
Some exciting, and yet ultimately controversial news surrounding Rush's next project was discussed by Neil Peart as reflected in this article from the Canadian Press. In it, Neil indicates that he has already begun writing lyrics for the next Rush project, while Geddy and Alex are preparing their Toronto studio, but the real shock, which has been hinted at in the past, is that Rush may not release the music in the traditional album format.

"We feel very much liberated from the album format in a way right now, because in the three years since our last album (2007's 'Snakes & Arrows'), suddenly albums don't mean anything," Peart told The Canadian Press in a telephone interview from his home in California.

"We're thinking of writing and recording a few songs and maybe releasing them, and playing them live, and then going back and doing some more later. We just feel really free (in terms) of what we might do right now.

"Anything is possible in the nicest way and we like the fact of shaking it all up."

Neil also discussed his new version of "The Hockey Theme," the iconic song that has opened broadcasts of "Hockey Night in Canada" for 40 years and which Neil Peart recorded late last year.

After being "blown away" by the invitation to recreate the classic tune, Peart decided on his approach: a "drum solo with horns."

Drawing on every trick in his drumming arsenal - and it's an understatement to say the famed percussionist has many - Peart tried to cram as many spectacular flourishes into the one-minute clip as he could.

He imbued a bit of a Latin flavour to the beat, included a breakneck snare fill and his classic double kick-drum fills, played with a tempo and phrasing that Peart says were unique for him.

He's hopeful that Canadians are willing to give his version a chance.

"I can only hope that it's received with the spirit and sincerity with which I offer it," he said.

Obviously, it's great to get some real confirmation that the band is working on new material but I'm sure more than one fan will take exception with the possibility that the material may not be released in the traditional album format.

Please share your thoughts in the comment section below. I'm sure this will be an ongoing conversation/debate/discussion for months to come.

Thanks to Ed from RushIsABand.Com for forwarding along the news.
||
---
January 12th, 2010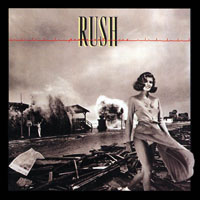 Permanent Waves 30th Anniversary Radio Special
In The Studio with Redbeard will be airing a special hour-long rockumentary radio show highlighting the 30th Anniversary of Rush's Permanent Waves during the course of the week. The special is expected to include interview segments with all three members of Rush, presumably from earlier "In The Studio" interviews.

From the website:

There is no more democratic band in rock than Rush. They have always divided up various responsibilities equally among the three members, including doing interviews. Therefore, album after album and tour after tour it would be one bandmember's turn to "meet the press." While Rush has always been graciously accessible, I must confess that never was more than one member ever made available.

By the time this session occurred I had already interviewed Rush bass guitarist/singer Geddy Lee twice, so I was reasonably confident on what to expect. Imagine my shock when Lee (family name Weinrib) matter-of-factly answered my first question ,regarding his earliest recollections of music while growing up, by replying," I came from a family of immigrants, basically. My parents survived the Holocaust in Poland, and then married after the war and moved to Canada. I was basically brought up in a household that had survived turbulent times, to say the least, so there was a total rebuilding in a new country, in a new culture, & trying to adapt. Music wasn't a prevalent and over-riding thing in our family."

I was stunned. There was nothing in any rock reference book or band biography to prepare me for this revelation. The enormity of what Geddy was saying, in a measured but sober tone, left me speechless for several minutes, although it felt like an eternity before I regained my composure. Everything I had prepared to ask Lee about Rush's breakthrough 1980 album Permanent Waves suddenly seemed so trivial, so shallow and inconsequential. Since then I have tried to keep some perspective on the relative importance of this rock'n'roll game in the search for real truth, real meaning in life.

Click HERE for a list of radio stations that will be carrying the segment. The In The Studio website will likely also re-air the segment directly on their website sometime next week.

Thanks to RushIsABand.Com for the heads up.
||
---
January 12th, 2010
Neil Peart Talks About Paragon Brilliant Cymbals
Sabian.Com recently posted a short article/interview with Neil Peart where the Professor discusses the new Paragon Brilliant Cymbals:

The evolution of Paragon Brilliant is about more than spit and polish. It began with the pursuit of the openness and responsiveness of an older cymbal, right "out of the bag."

I have always found that brand-new cymbals have a certain "tightness," both in their physical response and in their sound, and it takes a few shows to play them in. Then they loosen up and start to "dance" on the stand, and the swell of sound from attack to decay would become smooth and open.

When I was talking about that quality to the dedicated cymbal-makers at SABIAN, they took it as a kind of challenge: how can we build that "played-in" quality into the cymbals?

Read more via this LINK.

Thanks to Eric from Power Windows for the news.
||
---
January 11th, 2010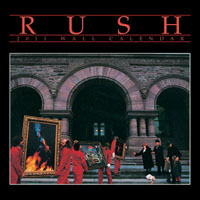 Rush 2011 Wall Calendar Announcement Hints At New Album and Tour This Year
Following along the lines of the 2010 Rush Wall Calendar theme, which celebrated the 30th Anniversary of the release of Permanent Waves, the 2011 Rush Wall Calendar will celebrate the 30th anniversary of the release of Moving Pictures, as witnessed by this official announcement from NMR Distribution.

However the real news stems from the footnote on the page that indicates a "New LP due out in 2010 supported by a tour."

Granted, this isn't as reassuring as an official announcement from the band, but given all the recent news about Geddy, Alex and Neil getting together to discuss their future, it is certainly encouraging.

Thanks to reader GeddyWannaBe for the heads up.

||
---
January 10th, 2010
Alex Lifeson Calls Led Zeppelin I Essential
A recent article in MovieEntertainment.Ca titled Essential Music Library Items asked some notable musicians about essential items for anyone's music library. Alex Lifeson was tapped for the survey and had this to say about Led Zeppelin I, among others:

"Certainly, that first Led Zeppelin album (1969) was pretty spectacular, and the more I hear that album lately the more I appreciate it. We don't have records like that anymore, where a record comes out and everybody just goes crazy over it, and it seems to change things and creates a whole new direction. Maybe it was because I was 15 years old and that's the kind of music that I always wanted to hear. It just really left a huge mark on me. For me personally, Electric Ladyland (1968) was a real turnaround record. (Jimi) Hendrix was incredible, but that record just had a feel to it and a character that can't be missed."

You can read the entire article via this LINK.

Thanks to Eric from Power Windows for sharing the news.
||
---
January 1st, 2010
Rush News Bullets
First and foremost, I'd like to wish everyone a Happy New Year! Welcome to 2010 (or in Rush terms, 102 years away from 2112). I took a small sabbatical from the site over the past week or so to celebrate the holidays with friends and family. I hope you all had a nice holiday season as well. With that in mind, let's get to the latest Rush news.

---

The 3rd Annual Cygnus-X1.Net Holiday Rush Contest Is Over:
This year's Holiday Rush Contest is now over. Nearly 1,000 entries were submitted this year so thanks to everyone who participated. The winning entry has been selected at random and the winner has been contacted. I'll post more about the winner once I get a response. As for the poll, click HERE to see the final results. Also, thanks to many of you who sent in some great comments regarding your 'favorite' decade :)



---

Guitar Aficionado Interview With Alex Lifeson:
The current issue of Guitar Aficionado, with John McEnroe on the cover, includes the interview "Golfing With Alex Lifeson of Rush". There are a number of pictures of Alex in action, including this one. Thanks to RushFanForever for the article and to Eric from Power Windows for the news.



---

Trailer Park Boys 2: Countdown To Liquor Day Now On DVD:
Trailer Park Boys 2: Countdown To Liquor Day, the second Canadian comedy film featuring the bad boys from the trailer park, is now available on DVD. Once again, Alex Lifeson makes a cameo appearance, this time as a cross-dressing undercover policeman:

"Of course, there's the de rigueur appearance by Rush guitarist Alex Lifeson, here playing a drunken, undercover cop posing as a transvestite in a gay-prostitute alley (centered around a Chip Wagon that serves alcohol -- man, Halifax is one weird town). The character may indeed be the same cop Lifeson played in the previous Trailer Park Boys movie, showing his true colours."

Click HERE to order the DVD from Amazon.Com.



---

Lifeson makes VH1's 100 Most Shocking Music Moments:
It was six years ago when Alex Lifeson and his son Justin were arrested in Naples, FL at the Ritz-Carlton hotel in Naples, Florida after an altercation with the local police. The incident was #62 on VH1's list of the 100 Most Shocking Music Moments. The list also aired on the music station this past Monday night. Thanks to RushIsABand.Com for the heads up.

That's all for now. Again, I wish everyone a happy, healthy and Rush-filled 2010.
||
---
- Cygnus-X1.Net Rush News Archives -

|January-March 2011 Rush News Archive|
|October-December 2010 Rush News Archive|
|July-September 2010 Rush News Archive|
|April-June 2010 Rush News Archive|
|January-March 2010 Rush News Archive|
|October-December 2009 Rush News Archive|
|July-September 2009 Rush News Archive|
|April-June 2009 Rush News Archive|
|January-March 2009 Rush News Archive|
|October-December 2008 Rush News Archive|
|July-September 2008 Rush News Archive|
|April-June 2008 Rush News Archive|
|January-March 2008 Rush News Archive|
|September-December 2007 Rush News Archive|
|June-August 2007 Rush News Archive|
|April-May 2007 Rush News Archive|
|January-March 2007 Rush News Archive|
|2006 Rush News Archive|
|2004-2005 Rush News Archive|
---