There are 17 active users currently online.
---
- Rush News Archive - October through December 2009 -
Rush Lyric Randomizer - Refresh page for a new lyric or Click to see the song

---
---


---
December 17th, 2009

DarkStar Interactive Video Game Update and Survey
DarkStar, the interactive sci-fi epic video game which has been in development for nearly a decade now and intertwines nearly two dozen Rush songs into the game play, is now completely finished and expected to be released in 2010. Eric from Power Windows has been conversing with DarkStar director and producer J. Allen Williams who provided the following update on the game:

We are now negotiating with Universal and Atlantic to include the following songs to be featured in the feature length scifi film that serves as back-story to the project: Anthem, Bastille Day, The Twilight Zone, Cygnus X-1, Cygnus X-1 Book II, Tom Sawyer, YYZ, The Camera Eye, Witch Hunt, Vital Signs, Subdivisions, Red Sector A, The Enemy Within, Red Lenses, Mystic Rhythms, Manhattan Project, Time Stand Still, Test for Echo, Time and Motion, Limbo, One Little Victory and Nocturne. The band and their management has approved the use of all of these songs, but final negotiations must be completed with Universal and Atlantic before we can announce the final songlist. We're hoping we can include this entire list.
The producers are also requesting Rush fans to take a brief survey which will aid in getting the video game out to the market. The producers of DarkStar have also indicated that "A substantial level of interest from RUSH fans in this survey will bolster the studio's ability to show it's publisher (and also Universal and Atlantic) that the fans would like to see the band represented in such a project, and that they would be interested in purchasing it as well.

The band and their management team have always stood behind this project. Now we, the fans, can add our voice to it as well. So please take a couple of minutes to take the survey via this LINK.

Thanks to Eric from Power Windows for sharing the news. ||
---
December 17th, 2009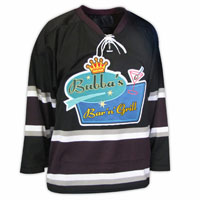 New Merchandise Now Available at Neil Peart's Bubba's Bar -n- Grill
Bubba's Bar -n- Grill, the section of Neil Peart's website that showcases some of his own personal recipes, has some new merchandise for sale including a replica of the hockey jersey Neil wore when recording the new hockey theme earlier this month.

Also available are items such as a black and white bowling shirt, a pink bowling shirt, men's and women's t-shirts, tote bags, aprons and more.

You can see all that Neil is offering through the Bubbawares Official Store.

And don't forget to check out all the content at the Bubba's Bar -n- Grill website.
||
---
December 10th, 2009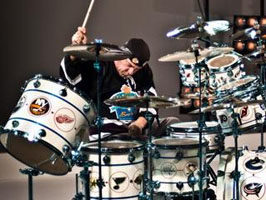 Inside The Recording Of The Hockey Theme With Neil Peart
Late last month we let you know that Neil Peart was tapped to record an updated rock-inspired version of the Hockey Theme. Neil, along with with seventeen other musicians recorded the theme on Tuesday and a sneak-peak video of part of the recording session is now available online.

Armed with a team of top recording engineers and musicians, legendary Canadian drummer Neil Peart of Rush recorded a new rock version of The Hockey Theme on Tuesday for TSN. Peart recorded his percussion-focused rendition of ''Canada's second national anthem'' at the iconic Ocean Way Studios in Hollywood on Monday and Canada's Sports Leader was there to capture every moment.

Read the entire article plus view the short video via this LINK.

And make sure you check out Neil's jersey, properly adorned with the number '3' and name 'RUSH' on the back. :-)
||
---
December 9th, 2009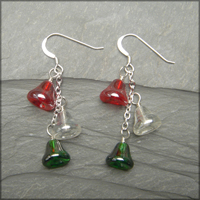 Between Sun and Moon Rush Inspired Jewelry
Stumped over what to get your girlfriend/wife/significant other for the upcoming holidays? How about a nice piece of custom designed jewelry that was inspired by Rush? Katy Bransfield of Between Sun and Moon Jewelry has a new selection of holiday/Rush themed items for sale, like the pair of earrings aptly named "The Bell Tolls For Thee" pictured to the right.

Katy is also offering up a special shipping discount for Cygnus-X1.Net visitors. Simply use the code word 'CYGNUS' when ordering and you'll receive Free US Priority Mail with a $30.00 purchase.

The order deadline to insure a Christmas delivery is Thursday 12/17/09.

Thanks to Katy for providing this discount to our visitors.
||
---
December 8th, 2009
Rush's R30 "Complete Edition" Now Available on Blu-Ray
The Blu-Ray edition of Rush R30 is now available. Aside from the new high-definition format, the Blu-Ray version of this classic Rush video concert also restores the following tracks which were omitted from the originally released DVD version:

Bravado, YYZ, The Trees, One Little Victory, Secret Touch, Red Sector A, La Villa Strangiato and By-Tor and the Snow Dog.

"Some of the songs were dropped from R30 due to technical reasons but also we didn't want to have too many similarities with Rush In Rio. Why not? Well, I think now that it was a dumb decision of ours. In fact I regret not having put the whole show on those disks. But I promise you, all those songs that were cut will eventually see the light of day, in some shape or form." - Geddy Lee, Aardschok Magazine, March 2006

The only downside to the Blu-Ray version is that it does not include the bonus disk which contained over 90 minutes of interviews and additional bonus features that was included with the DVD release.

You can order your copy of the the Blu-Ray R30 via Amazon.Com.
||
---
December 7th, 2009
Neil Peart & John Good Discuss The Finer Points Of DW's Shell Technology - Video Now Online
Last month we let you know about the latest issue of "The Edge" magazine, which comes from the DW Drum Workshop's, that included an article titled "Neil Peart & John Good discuss The Finer Points Of DW's Shell Technology".

The complete video interview for Neil and John is now online via YouTube (See Below).

---





---


To read the article associated with the video, see page 9 on this PDF File or check out more information on the magazine via this LINK.

Thanks to reader RayM for passing along the news.
||
---
December 4th, 2009
Rush To Return in 2010?
As we reported earlier this week, Geddy Lee took part in the 25th Anniversary of CIBC's Miracle Day. According to some fan reports who attended the event, Geddy indicated that he expects the band to enter the studio "very, very soon" and that they are "hoping to then tour this summer (2010)".

Given that Alex has made some similar statements in recent interviews, it would seem that the possibilities of some fresh Rush material in 2010 may actually be realistic.

Thanks to Ed from RushIsABand.Com for the headsup!
||
---
December 3rd, 2009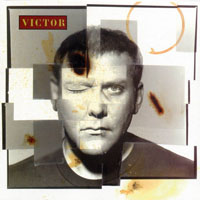 Alex Lifeson's Solo Project Victor To Be ReIssued
According to Power Windows, Alex Lifeson's 1996 solo project Victor is expected to be re-issued by Wounded Bird Records some time in the near future.

Wounded Bird Records specializes in the reissue of albums from the 60's, 70's and early 80's on CD, and all of their releases are properly licensed from the owner of the original masters.

The exact release date is not yet known but for those of you who still don't have this exceptional solo effort, you can still pick up a copy via Amazon.Com.

Thanks to Eric from Power Windows for the news.
||
---
December 3rd, 2009
The 3rd Annual Holiday Rush Contest Is On!
As we enter the final month of 2009, Cygnus-X1.Net is once again holding a year-end Holiday Rush Contest with another great prize package. This year, the prizes center around the recent release of Rush's Live Compilation CD/DVD "Working Men" but there are some other great prizes as well.

To see the complete prize package and to submit your entry form, please click HERE. The winner will be selected at random on or around December 24th.

Good luck, everyone and happy holidays!
||
---
December 2nd, 2009
Geddy Lee Participating in CIBC's Miracle Day 25th Anniversary
CIBC Miracle Day is held on the first Wednesday in December during which CIBC's wholesale banking sales and trading staff and CIBC Wood Gundy Investment Advisers donate their fees and commissions to children's charities. CIBC Miracle Day is one of Canada's largest one-day corporate fundraising events devoted to children's charities. All funds raised are donated to over 400 children's charities in communities across Canada.

The fundraising event has raised over $50 million for more than 1,000 children's charities across Canada since its inception in 1984. Today from 10AM until Noon the CIBC will be hosting the media for a celebration of the 25th anniversary of Miracle Day. Among the special guests will be Rush's Geddy Lee.

For more information, click HERE.

Thanks to RushIsABand.Com for the news.
||
---
December 2nd, 2009
Neil Peart Filming Classic Rush Albums Special for VH1
According to Drum Channel's Twitter Page, Neil Peart has been filming a special on Classic Rush Albums for VH-1. From the Twitter Site:

"Neil Peart was in the DC Studios again yesterday filming a special on Classic Rush albums for VH1... look for it soon!"

Thanks to RushIsABand.Com for the news.
||
---
December 1st, 2009

Rush's Show Don't Tell Included On Atlantic Records Time Capsule Box Set
Rush, along with Led Zeppelin, Ratt, Twisted Sister, Cream, Bad Company, Stone Temple Pilots and others are among the artists featured on "Atlantic Records Time Capsule", which celebrates the iconic label's past and present through music, images, and words. The most comprehensive project ever devoted to the Atlantic story, this numbered, limited edition collection spans the label's entire history, from its inception in 1947 to the present day. "Time Capsule" is housed in a custom-designed metallic box featuring:

Nine CDs containing 165 tracks from 141 artists spanning more than six decades

DVD of the acclaimed PBS "American Masters" documentary, "Atlantic Records: The House That Ahmet Built"

140-page book featuring over 200 rare and/or previously unseen photographs from the Atlantic archives; reflections and stories from artists and other key players in the company's history; and a complete Atlantic timeline

Boxed set exclusive 45 rpm vinyl single reissue of Atlantic's first hit, "Drinkin' Wine, Spo-Dee-O-Dee" by "Stick" McGhee and His Buddies (1949)

Reproductions of memorabilia and vintage swag, including posters, handbills, ticket stubs, lyrics, backstage passes, and more

Individually numbered certificate of authenticity

You can order the boxset via Amazon.Com at this LINK.
||
---
December 1st, 2009
Peter Criss of KISS Discusses Rush on VH-1's "That Metal Show"
Peter Criss of KISS fame was a special guest during the season finalale of VH1 Classic's That Metal Show this past Saturday. The episode's "Throwdown" segment was geared towards the best rock instrumental with Rush's YYZ going up against Led Zeppelin's Moby Dick. YYZ won the competition which led Criss to discuss his memories of touring with Rush back in 1974-75.

"I consider them brothers. They were like brothers to me. More so than Gene and Ace and Paul. I hung with them personally. Like, after every night we would go out - true story ... and we were in Holiday Inns then, not Ritz Carlton's or Four Seasons ... - and we would get on the balcony in a snowstorm, get all the blankets from everybody's room, cover ourselves with them like Eskimos and share a bottle of Johnnie Walker red. We got along so great. We talked about our wives - how we missed them, and our kids and how we missed them, and our moms and dads. We got to be really good friends. I love those guys. Those guys could never do wrong in my book."

You can view the episode via this LINK.

Thanks to Eric from Power Windows for the news and photo.
||
---
December 1st, 2009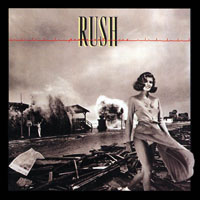 Geddy Lee & Alex Lifeson To Appear on "In The Studio" To Discuss The 30th Anniversary Of Permanent Waves
Dateline: Tuesday, January 1st, 1980. Rush releases Permanent Waves to open up the 80's decade and the rest, as they say, was history. Now, thirty years later, both Geddy Lee and Alex Lifeson will celebrate the anniversary of that album with an appearance on In The Studio - The Stories Behind History's Greatest Rock Bands.

The special is expected to air during the week of January 11th, 2010. Please click HERE for more information.

And speaking of Permanent Waves, those interested in learning the story behind the cover art should check out this fascinating write-up put together by Eric over at Power Windows.
||
---
November 24th, 2009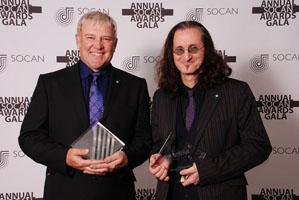 Rush Takes Homes the SOCAN International Achievement Award
Update: Both Geddy Lee and Alex Lifeson were in attendance at the ceremony last night. Photos of the event, which include several of Geddy and Alex are available HERE. Thanks to RushIsABand.Com for the headsup on the photos.

SOCAN (The Society of Composers, Authors and Music Publishers of Canada), the copyright collective for musical works, gives annual awards for Canada's top acts and recognizes songs and artists who get the most airplay. At Monday night's award ceremony, Rush was honored with the International Achievement Award.

Rush is coming off a year of successful international touring and the release of its album Snakes & Arrows Live. The band, which first toured in 1974, is also wooing a new generation by releasing its classic songs for download on the game Rock Band.

Other winners as well as additional information on SOCAN and the award ceremony can be read via this LINK.
||
---
November 23rd, 2009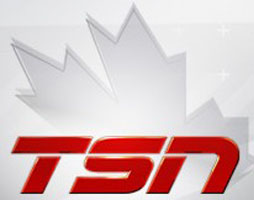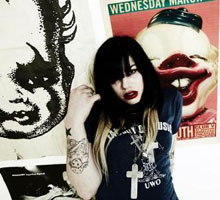 A Trio of News Stories
Over the last few days, each of the members of Rush have been in the news for non-Rush related topics.

Starting off with Neil, the Professor has been tapped to record a new version of "The Hockey Theme".

To most Canadians, ice hockey is _the_ sport to play (although their national sport is lacrosse). Almost every child in the great white north dreams of becoming a professional hockey player. Neil Peart of the legendary Canadian band Rush was no exception. Thankfully for a great number of us, Neil decided to take on another passion instead - drumming. His dreams of playing hockey never died, and although he's not going to be suiting up for any NHL team anytime soon, he's going to be re-doing their anthem. According to TSN, Neil has been asked to record a special rendition of "The Hockey Theme" to be used for all TSN and RDS broadcasts throughout the year.

Some additional details on this announcement can be found HERE.

Moving on to Alex; his time spent in 2006 while recording a song for the soundtrack of Trailer Park Boys: The Movie led to a generous gift that helped to change the life on a fellow guitarist.

Die Mannequin singer-guitarist Care Failure (aka Caroline Kawa) cites Alex as one of the factors for turning her life around:

Another dedicated non-wanker who's had a big effect on Failure is Alex Lifeson. In one of those 'Here ya go, kid' moments, the legendary Rush guitarist presented her with one of his Paul Reed Smith guitars, just when she needed it most.

'There was like a six-month period where if I didn't have that guitar I don't know what I would have been doing,' she says. 'He gave me that guitar and a bag of pedals, and more importantly some real nice messages that trip through your head.'

The helpful advice and colossal freebies from good samaritans like Lifeson, her 'musical sugar daddy', have helped Failure turn her once-troubled life around to the point where you question the validity of her stage name. But she has no regrets about choosing that moniker or anything else.

You can read more about Die Mannequin and their lead-singer Care Failure HERE.

Finally on to Mr. Lee. He was quoted in a recent article on Garret Herman; a local collector of rare Charles Darwin and related books.

Mr. Herman owns more than 5,000 volumes of Darwin's works and gives speeches on the scientist to groups such as the New York Academy of Medicine. His house, which also contains a scale model of the HMS Beagle as well as countless letters and ephemera, has become a nesting spot for many species of Darwin specialists.

At the same time, he was cultivating a reputation around town as a major book hound. 'Every rare book store seems to know Garrett,' mused musician Geddy Lee, another book lover who knows Mr. Herman from the Toronto chapter of Grapes for Humanity, a charity of oenophiles that raises money for land-mine victims. 'I was once at David Mason, hoping to buy this book, but it was already on hold for Garrett,' the Rush singer said, bemused. 'Everything was on hold for Garrett!'

You can read more about Mr. Garrett's collection via this LINK.

And finally, one for you iTunes fans, check out this Rush-laced article on the Complete Guide to Album Tagging, Art and Playlists in iTunes.
||
---
November 19th, 2009
New Canadian Music History DVDs Feature RUSH Among Others
According to a recent posting at Bravewords.com, a pair of Canadian Music Documentaries which include segments on Rush and interviews with Geddy Lee are now available on DVD.

This Beat Goes On: Canadian Pop Music In The 1970's and Rise Up: Canadian Pop Music In The 1980's are truly unique visual documentations of the history of Canadian music and the artists that helped define these eras. Both affectionately explore the music scene here with great detail, maximizing incredible archival footage and interviews. Following their recent preview airing on CBC Television, the DVD's will be available on December 8, 2009, making for a perfect addition to all music lovers' collections. A portion of the proceeds from the sales of this DVD will go to support MusiCounts, Canada's music education charity associated with The Canadian Academy of Recording Arts and Sciences, which helps to keep music alive in schools across the country.

'This Beat Goes On' tells the story of Canadian music in the 1970's, a ground-breaking era of great sounds, from glam and progressive rock to punk and reggae. Set in the formative years of Canada's music industry This Beat Goes On features a jukebox of chart-topping songs along with archival footage and candid interviews from the who's who in the Canadian music scene during that time, including bonus segments/artists interviews (not previously aired) with DAN HILL, JOE KEITHLEY, BOB AND DANIEL LANOIS, STEVEN LECKIE, MURRAY MCLAUCHLAN, CAROLE POPE, NASH THE SLASH and VALDY.

'Rise Up' looks at the digital age of Canadian music in the 1980's, a visual era of big hair and shoulder pads, when music videos helped propel homegrown artists to the international stage. Blending illuminating interviews with thrilling concert footage and video's, Rise Up takes viewers on a thrilling ride into the decade's pop stratosphere. From hip-hop to pop to country and new wave, the DVD documents the global rise of Canadian music with a treasure trove of classic hits and cult classics. Also included are bonus segment/artist interviews (not previously aired) with BRUCE COCKBURN, TOM COCHRANE, GOWAN, RUSH's GEDDY LEE, MAESTRO, MITSOU and ROBBIE ROBERTSON.

Both DVD's: written by Nicholas Jennings; directed by Gary McGroarty; and produced by Nick Orchard, Randolph Eustace-Walden and Pierre L. Touchette. This is a Soapbox /Amérimage-Spectra co-production with executive producer Luc Châtelain.

These two volumes follow in the footsteps of the critically heralded Shakin' All Over: Canadian Pop Music In The 1960's' and continue where the story there left off - introducing fans to the next era of iconic artists that help shape the country we are today!

You can pre-order the DVD's from Amazon below:

Beat Goes On: Canadian Pop Music in the 70's

Rise Up: Canadian Pop Music in the 1980's

A preview clip of 'This Beat Goes On' is available HERE.

A list of the songs featured in the documentaries is available HERE.

Many thanks to reader RushFanForever for passing along the news.
||
---
November 18th, 2009
RUSH Documentary Makers Interviewed At Windsor International Film Festival
During the recent Windsor International Film Festival, Tom Lucier had the opportunity to interview Scot McFadyen and Sam Dunn who are the filmmakers behind the upcoming Rush: The Documentary project.

The 5-minute interview, which sheds some exciting light into the project, can be listed to via this link from Blabbermouth.Net.
||
---
November 18th, 2009
Neil Peart & John Good discuss The Finer Points Of DW's Shell Technology
The new issue of "The Edge" magazine, which comes from the DW Drum Workshop's, includes an article titled "Neil Peart & John Good discuss The Finer Points Of DW's Shell Technology".

Hello. Neil Peart here. I'm with Professor John Good and he is going to explain to us a very complicated subject. I'm just going to be the chief device for exposition. I'm the student, as I always like to say here at Drum Workshop. I'm the student and resident, always glad to learn from all of the great drummers that come through and John about the nuances of drum construction. He's going to tell us today about something called 'Specialized Shell Construction' and everything that covers and as we've applied it between the two of us in instruments and as John is going to make available to all drummers, a truly individual choice in each shell and its note and response that you can combine together as you wish, really, in the creation of your own custom DW drum set.

To read the entire article, see page 9 on this PDF File or check out more information on the magazine via this LINK.

Thanks to reader RayM for passing along the news.
||
---
November 17th, 2009
Early Footage of Neil Peart to Appear in Niagara Music Scene Documentary
The Big Story of Small Potatoes is a new documentary about Niagara's (New York/Canada) music scene which is expected to be released later this month. The documentary "explores the roots of the lost music scene of Niagara, circa 1964-1974," and includes Neil Peart along with one of his early bands JR Flood performing the song "Giant Killer".

This may be the earliest recorded footable of Neil available anywhere so it's certainly creating a buzz around the Rush community.

For more information, please check out http://miil.ca/.

Thanks to Eric from Power Windows for sharing the news.
||
---
November 17th, 2009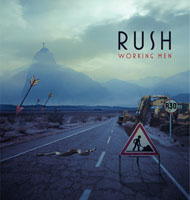 Working Men "Best of Live" CD and DVD Released Today
Working Men, the first "Best of Live" offering from Rush, has been released today and is available for order via Amazon.Com

Anthem Entertainment has announced the release of "WORKING MEN," the first 'best of' live performance compilation from renowned rock trio Rush. Due in stores and online November 17th, the collection will be released on DVD in partnership with Rounder and on CD via Atlantic Records outside of Canada.

Culled from Anthem Entertainment and Z Vision's three other Rush DVD releases - Rush in Rio, R30 & Snakes & Arrows Live - "WORKING MEN" features live recordings of the band's greatest hits as well as one previously unreleased track , "One Little Victory" (see attached track listing).

Rush - Geddy Lee, Alex Lifeson, and Neil Peart - is without question one of the most inventive and compelling groups in rock history, equally famed for both its virtuoso musicianship and provocative songwriting. Just last year, a career-chronicling Rolling Stone feature praised the band for its continuing artistic vitality, noting that "It's true that Rush doesn't mean today what it did in '76 or even '96. It may mean more." The sentiment was echoed in subsequent pieces published earlier this year in Entertainment Weekly and Spin. Rush's enduring pop culture relevance is perhaps best evidenced by a pair of high profile appearances - a rare national television performance and interview on Comedy Central's "The Colbert Report" in 2008 (the band's first TV appearance since 1975), and a pivotal role in the storyline of the hit comedy, I Love You, Man. Released this past spring, the band also made a memorable cameo in the! film, which starred Paul Rudd and Jason Segal.

Since releasing their self-titled debut album in 1974, Rush has achieved worldwide sales exceeding 35 million units, including such acclaimed works as 1976's "2112," 1981's "MOVING PICTURES," 1996's "TEST FOR ECHO," and 2002's "VAPOR TRAILS." The band's most recent studio collection, 2007's "SNAKES & ARROWS," made a triumphant debut on the Billboard 200 upon its initial release, entering the chart in the #3 spot. The album's success marked Rush's highest chart debut since 1993, as well as the group's eleventh top ten album in the U.S.

For more information, please visit www.rush.com.

"WORKING MEN" Track Listing:

Limelight
The Spirit of Radio
2112;
Freewill;
Dreamline
Far Cry
Subdivisions
One Little Victory (previously unreleased)
Closer to the Heart
Tom Sawyer
Working Man
YYZ

Click HERE for the official Press Release (PDF File, 1.5mb).

Also look for internal image scans and complete liner notes to be uploaded to the site within the next couple of days.
||
---
November 13th, 2009
Alex Lifeson Appearing in New "Trailer Park Boys" TV Series
The Boys Are Back (Yes, Those Boys). The Drunk and on Drugs Happy Funtime Hour, a narrative sketch comedy show starring Mike Smith, Robb Wells and JP Tremblay, also known as Bubbles, Ricky, and Julian from the hit Showcase series Trailer Park Boys has been greenlit for production and is expected to debut in Fall 2010.

According to several news reports, Alex Lifeson, who has appeared in previous Trailer Park Boy ventures, will appear in the new show.

The storyline goes like this: Three grown men are working on a children's show called The Happy Funtime Hour in the sleepy town of Port Cockerton (of course). The guitarist from the rock band Rush, Alex Lifeson - a friend of the boys since starring as himself in the third season - shows up as a scientist to teach children about nutrition, but somehow creates an addictive hallucinogen from local berries. The cast then unknowingly eats the drug and begins to believe they are the characters they are playing on the show - including soldiers, police, pirates, playboys from a 1980s television show and a group of not-very-super superheroes.

"The idea (to get Lifeson to play) the kid's scientist that more accidentally than on purpose gets the cast addicted to these things, it seems like a good fit," said Smith. "He's always done this thing where he'll do a crazy German accent and pop in some fake teeth and when we were writing this character, it seemed perfect for him."

For more information, please click HERE.

Thanks to reader ArsenalFC for the headsup.
||
---
November 12th, 2009
Backstage Secrets: On the Road with the Rock Band RUSH
The 5-part, 4+ hour documentary "Rush Road Crew" documentary, which originally aired on HD TV in Canada last year, is now available for sale via Amazon.Com for $24.99.

"Go behind the scenes to get a backstage look at what it takes to present the legendary band Rush during the 2008 Snakes & Arrows Concert Tour. It may appear to be one of the most exciting and glamorous jobs in the world - but being a roadie with a top-rated world-famous rock and roll band can be a grueling marathon of 18 hour work days, on an easy day. A bad is actually a couple of days, 40 hours spent hauling gear, assembling huge stacks of speakers, lifting them a hundred feet in the air, tuning instruments for demanding musicians and being cut off from every lover, friend and relative you have. This series takes you to the show you never see when you take your seat for a concert by the legendary band Rush. All the backstage secrets are revealed."

The documentary was filmed in High Definition and Dolby 5.1 surround audio during the Canadian leg of the 2007 Snakes and Arrows tour.

Thanks to RushIsABand.Com for the news.
||
---
November 10th, 2009
Alex Lifeson Among Presenters At 24th Annual Gemini Awards
Alex Lifeson will be one of the presenters at the 24th annual Gemini Awards, which will be televised this Saturday, November 14 at 9 p.m. ET/PT on Global and Showcase (check local listings).

"The Gemini Awards will salute "Corner Gas", "Royal Canadian Air Farce" and "Trailer Park Boys" for their outstanding and enduring contributions to the Canadian television industry. Having recently wrapped their final seasons, these influential comedies will be honored by the Academy with a special look back at their funniest moments on air. Cast members from each show will be on hand to accept their award. "

Click HERE to read the complete press release.
||
---
November 9th, 2009
Geddy Lee to be a Guest Judge for Canadian Chef Cook-Off
According to the National Post, Geddy Lee will appear as a guest judge at the great Canadian chef cook-off known as the Gold Medal Plates happening on Thursday, November 19 at the Metro Toronto Convention Centre in Toronto, Ontario.

Gold Medal Plates is the ultimate celebration of Canadian excellence in cuisine, wine, entertainment and athletic achievement. Celebrating in six cities across Canada in 2009, Gold Medal Plates will feature superb wines and the premier chefs in each city, paired with Canadian Olympic and Paralympic athletes, in a competition to crown a gold, silver and bronze medal culinary team in each city, and subsequently nationwide.

Founded in 2003, the goal of Gold Medal Plates is to raise substantial funds for Canada's high-performance athletes, while celebrating Canadian excellence. Since 2004, this event has received tremendous support and accolades all across Canada, and generated a combined net total of CAD $2.8 million for Canada's Olympic and Paralympic athletes.

For more information, visit GoldMedalPlates.com.
||
---
November 8th, 2009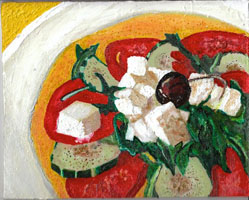 Rush News Bullets
The recent news from Neil Peart about the members of the band meeting this month in Los Angeles to discuss the "future" is still creating quite a buzz in the Rush community. Hopefully we'll get some tidbits of information after the meeting takes place. In the mean time, here are some additional news stories from the world of Rush...

---

Kidney Foundation of Canada's Brush of Hope Auction Underway:
As we reported last month, Alex Lifeson has donated another one of his original paintings to this year's A Brush of Hope Project. The auction is now underway and you can bid directly on Alex's painting via this LINK. The auction ends on November 15th.

---

Paul Northfield Interview Now Online:
A new interview with long-time Rush engineer and producer Paul Northfield is now online at RecordingHacks.com. In the interview, Paul discusses his work on such Rush classics as Permanent Waves, Moving Pictures and Vapor Trails along with other great albums that he's had a hand in over the years.

Thanks to Eric from Power Windows for the news.

---

Ari Gold of "Adventures Of Power" Interviews Neil Peart:
The producer and star of the hit rock movie "Adventures of Power" Ari Gold interviews Neil Pearts in a new video which is currently being shown at DrumChannel.Com. Click HERE to view the clip.



Adventures Of Power is a comedy film about one man's quest to win an "air-drumming" competition, has finally made it to theaters in a limited capacity.The film, which premiered at the Sundance Film Festival in January 2008, includes a cameo by Neil Peart. In addition, "Tom Sawyer" is heard during the film's trailer, which includes a glimpse of a Rush poster.

In honor of the film's release, check out the all new "Power Versus Peart" live video: "Neil Peart on drums. Power on air drums. In honor of ADVENTURES OF POWER 'The best rock movie in many a year!' - Neil Peart".



Thanks (once again) to Eric from Power Windows for the news.

---

Rush Sightings:
There have been a couple of Rush sightings on network television of late. The first occurred during the October 23rd airing of ABC's Jimmy Kimmel Live. During a Balloon-Boy related skit, a man appears wearing a Rush Star-Man t-shirt. Thanks to Bigbeeks for the heads up on that sighting.

On the November 4th airing of CBS's sitcom "Gary Unmarried" starring Jay Mohr, Rush was mentioned on the show by Jay Mohr's character "Gary". He made a comment saying "There should be Rush or AC/DC playing.". Thanks to reader Dave Daron for the info on this sighting.

Finally, I've been receiving a large amount of classic articles from Heiko Klages so I'll be updating the Rush: A Brief History of Time page within the next week.

That's it for now, all.
||
---
November 3rd, 2009
Update from Neil Peart - Rush to Meet This Month to Discuss the Band's Future
Neil Peart has updated the News, Weather, and Sports section of his website with an entry titled Autumn Serenade. In it, Neil discusses his passion for drumming, his lack of a 'home studio' and how he had the opportunity to play a "beautiful practice kit" in the Drum Channel's studio. Several pictures, including the one to the right, were taken of Neil playing "aimlessly" on the "autumnal harmony" finished kit.

But the real news in this entry is the fact that the Geddy and Alex will be meeting with Neil this month to discuss the band's future. From Neil's entry:

In this autumn of 2009, the three of us are poised on another kind of 'reinvention'. We have agreed to meet in Los Angeles in November, and discuss our future. We learned many years ago that when we finish one long project, like a two-year tour following a year or so of writing and recording for Snakes and Arrows, we don't make any further plans for a while. It's good to feel truly free for a time, and to clear your mind to focus on what you'd really like to do next.

Of course, these are parlous times in the music business, so our time-honored pattern of touring, recording, and touring is no longer the obvious way to do things. The music world, or at least the business of it, is very different now, even since 2006, when we began work on Snakes and Arrows. The importance of 'the album' is not what it was, and there is currently a reversion to a musical climate rather like the 1950s, when only 'the song' matters. Radio, downloads, and 'shuffle' settings are inimical to collected works. Because of that reality, record company advances that used to pay for album projects are a thing of the past, so if that was what we wanted to do, we'd be on our own.

To this point, the three of us haven't even discussed what we might discuss, so to speak, so our ideas and shared enthusiasm for the entity of Rush will be fresh, spontaneous, and quite likely exciting. For myself, I'm open to anything we can all agree on (I've pointed out before that in a three-piece band, we need consensus, not democracy, it's no good having one outvoted and unhappy member). My favorite group activity is always songwriting and recording, and I've got some lyrical ideas and those new drumming frontiers to explore. However, those rhythmic concepts would also be inspiring for a new drum solo, if we decided to do a tour of some kind, maybe with an orchestra. We could write and record just a few songs, and release them some way. Or there were a couple of film-and-music projects we had discussed in the past. In any case, there are enough possibilities for future collaboration, and I am curious to see what we'll come up with.

Exciting, interesting news to be sure. It seems that truly anything is possible for the band moving forward.

To read the entire entry from Neil, click HERE.
||
---
October 29th, 2009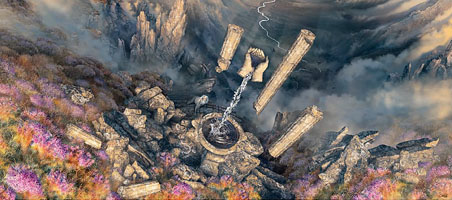 Rush Inspired Fine Art
It should come as no surprise to any frequent visitor to this site that I have a deep appreciation for the artwork and visual imagery of Rush. To that end, I'm thrilled to let every know about this next news entry. United Kingdom digital artist Graham Whieldon is creating limited edition digital fine art prints which are directly inspired by Rush.

Rush were a constant unconditional companion, lighting my way through the confusing labyrinth of early adulthood. Somehow they always knew the right path to take, and as I now venture into my second half of life, still their music matches my step and lights the way.

Creative inspiration is often hard to come by, but Rush as a catalogue of reference is a strangely untapped motherlode. Songs are stories, they provoke images with their lyrics as any written or spoken story does. Stories have been illustrated for millenia, so why not songs?

His first completed piece is based on one of my personal favorites - The Fountain of Lamneth.

Please visit Graham's website for more information and ordering details for his prints. Thanks to Ed from RushIsABand.Com for the headsup.
||
---
October 28th, 2009
Alex Lifeson Appearance on the Rick Mercer Report Now Online
Alex Lifeson's Man Date with Rick Mercer is now available online in two different locations. Below is a link to the 6-minute video segment on YouTube.

---

---

In the event that video is removed, the segment is also available at the official CBC site via this LINK.
||
---
October 27th, 2009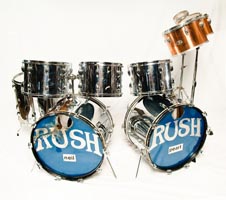 Additional Information on Neil Peart's Classic Slingerland Drum Kit
Michael from NeilPeartDrumsticks.Com has provided additional information regarding the public display of Neil Peart's Classic "Chrome" Slingerland Drum Kit that we first reported last week.

Hello All,

Well, the time has come. Some of you have caught word with the News sites announcing the upcoming PASIC show in Indianapolis, Indiana.

Myself and the newest owner of Neil Peart's 1974 Chrome Slingerland Drum Kit are going to PASIC within the next couple weeks. The exciting part is that we are going to let people play the actual kit. It will be in Indy the week of 11-14 November at the downtown Indiana Convention Center at PASIC 2009.

Daily admission to the exhibition hall for non-PAS members is $15. You need not be a member to come to PASIC and see the kit we have simply named "Chromey".

Chromey is being used to raise money for the American Cancer Society. We are going to allow people at the venue to play Chromey for $10 a minute and 100% goes to charity.

Yes, you can play the 1974 Chrome Slingerland Kit that Neil Peart used from 1974-1977 to record "Fly By Night", "Caress Of Steel", "2112", "All The World's A Stage", and was used on five consecutive US-Canadian Tours in support of those albums. The very same kit seen on the cover of ATWAS and used to record one of the most duplicated drum solos ever.

People who show up and wish to do the "Pay To Play" option will have the opportunity to play the kit in it's restored condition. We have made every attempt to replace every single part with an original vintage piece from that time or its modern replacement until we can find that vintage piece. It will all be there. The kit will be a bit of a "Frankenstein" in some sense as it will have all the pieces available that have been pictured on the kit from 1974-1977 when it was retired. So the kit is not one year specific but that should be fine as Neil really kept all the pieces as he added more on the kit. You will have the chance to choose which snare to play, either an original era Rogers Dynasonic or the 100% matched replica of the copper Slingerland Artist that Neil named "Number One", expertly replicated by Kevin Stroud of Illinois.

Not that we are being butts about this, butt if you choose to step into the booth to participate with the kit we ask that you please make a donation to ACS. Every penny is going to ACS. The kit owner has put a lot of money into this restoration project, and I have put a lot of hours into the restoration and we are not asking for you to pay us, we simply ask that you donate to the American Cancer Society, please.

What I mean is, if you are just wanting a photo and you wish to stand in front of the kit, please donate $3 per shot, to stand inside the kit only is $5 per shot, and to play the kit is $10 a minute. If you don't have a camera don't worry as we will have one to take your picture with as long as you have email for us to send it to you. If your outside our booth in the aisle it won't cost you a thing but I cannot guarantee you'll get the good shot you might be hoping for. This whole event is about raising money for the American Cancer Society so I am trying to get them everything we possibly can ... know what I mean.

So please, if you have the means and way to get there, come on down. We'd love to see you and of course meet you. At the moment we are in Booth #1254 which should be easy to find. Also while there drop by and check out the Guitar Center Booth which will have the Snakes & Arrow drum kit ... but you don't get to play it.

If all goes well as planned the kit will then travel around the block to the Percussive Arts Society Museum for a short term loan to be on display for all to see. More about that later.

If you don't plan on attending and would still like to donate, please drop by my website front page at www.neilpeartdrumsticks.com where you will find a link on the American Cancer Society logo to donate ... it will be greatly appreciated!

For those of you who don't already know the winners/owners of the kit and have really gotta know ... drop by as they too will be there to meet everyone along with myself.

Thanks for taking the time to read all of this!

RUSH ON!
-Michael

PS ... If you live in Indy and would like to volunteer to assist in our booth ... drop an email at michael747@neilpeartdrumsticks.com.
Thanks to Michael for sharing the news! Anyone else up for a roadtrip to Indy? :-) ||
---
October 27th, 2009
Alex Lifeson to Appear on Rick Mercer Tonight
Last week, we reported that Alex Lifeson and Rick Mercer were spotted at the Niagara Freefall Indoor Skydiving, as reported from an article in the Niagara Falls Review.

The episode which features Alex is scheduled to go on air tonight on the Canadian CBC network.

For more information on the show, click HERE. Additionally, there are more pictures from the 'Freefallin' event located at the Rick Mercer Facebook page.

Thanks to reader ArsenalFC 'Pete' for the head's up on tonight's episode airing.
||
---
October 23rd, 2009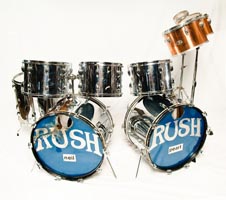 A Chance of a Lifetime - Play Neil Peart's Classic Slingerland Drum Kit
Back in August, Neil Peart's classic 1974 Chrome Slingerland Drum Kit, which was used in the recording of Fly By Night, Caress of Steel, 2112 and All The World's A Stage and played on five consecutive tours from the Summer of 1974 through the Spring of 1977, was sold at auction for over $25,000!

Michael from Neil Peart Drumsticks has been working with the new owner to restore the drum kit and have it put on public display with the chance for some people to actually play it (for charity).

Please visit Michael's website for all the latest information on this exciting news.

Of course, many thanks go out to Michael for making this happen and sharing the news.
||
---
October 21st, 2009
'Louder Than God': Neil Peart Remembers Blue Cheer's Dickie Peterson
Neil Peart, who is a self-proclaimed fan of Blue Cheer, recently wrote an article for Rolling Stone Magazine in memory of singer/bassist Dickie Peterson, who died after a battle with liver cancer on October 12.

I loved those first two Blue Cheer albums, and even the third, New! Improved!, though it was a major departure (not as loud). In 2004, my bandmates and I celebrated our thirtieth anniversary by recording an album of covers, Feedback, to pay tribute to our early influences. We combined the Who's and Blue Cheer's versions of 'Summertime Blues,' and ended with me playing the innovative drum pattern from Blue Cheer's 'Just a Little Bit,' from Outsideinside, which I had never forgotten.

So Blue Cheer made an enduring impression on this once-young drummer, and definitely played their part in shaping Rush's beginnings as 'a loud power trio with a fortress of amps, cannonades of drums, and a bass player's high voice trying to pierce the darkness.' That would be my bandmate Geddy, who remarked that Blue Cheer might well have been the first heavy metal band.

You can read the entire article via this LINK.

Thanks to Eric from Power Windows for passing along the news.
||
---
October 21st, 2009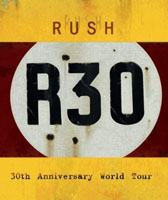 Rush News Bullets
It's been a somewhat slow Rush News week but there are a few notable items to discuss...

---

R30 Blu-Ray Update:
The re-issue of the classic Rush concert R30 on Blu-Ray has been delayed until December 8th. Further, though it was previously believed that the full concert would be released on DVD as well, we've now learned from Rush's management that this will be a Blu-Ray only re-release.

Eight additional songs will be available on the Blu-Ray version; all of which were dropped when R30 was originally released on DVD back in 2006. You can pre-order the R30 Blu-Ray via this link.

Thanks to Ed from RushIsABand.Com for the confirmation.

---

Rush's Anthem to be included on Sacrifice's Latest Album:
According to a posting at Power Windows, Anthem will be included as a bonus track on the upcoming Canadian version of the latest album from the thrash metal band Sacrifice:

"Canadian thrash metal legends SACRIFICE will release their first new album in more than fifteen years in November on Sonic Unyon in Canada. Entitled The Ones I Condemn, the album was recorded at Toronto's Rouge Valley Studios last winter by the band and Darius Szczepaniak...Released by the Brazilian-based Marquee Records this summer, Sonic Unyon will release a domestic Canadian version of the album, ensuring that it will be available in retails stores nationwide in their home country...After reuniting for a sold out performance at Toronto's Opera House in 2007, the band decided to reconvene and record a new studio album. Containing ten new original songs, the Canadian version of the album will also contain an exclusive bonus track of the band's cover of the Rush classic 'Anthem.'"

Thanks to Eric from Power Windows for sharing the news.

---

Bubba's Bar & Grill Update:
There's been a change in management over at Bubba's Bar & Grill; the section of Neil Peart's website where he discusses he appreciation for cooking and shares some of his own personal recipes. Brutus, a long-time friend of Neil's, has now taken over the shop and has even added a store front where you can purchase Bubba-specific merchandise. Additionally, you can sign up for updates from the Bar & Grill and Neil's news site.

---

Classic Rock PROG Article on Rush - Now Online:
For those of you who didn't already notice this update, I've transcribed the recent Rush-related article that appeared in the August 2009 edition of "PROG" magazine (from the UK). You can read the entire article, which has scans of all the Rush-related images HERE. Enjoy.

That's all for this time, everyone.
||
---
October 15th, 2009
What a Rush: Rick Mercer, Alex Lifeson go freefallin'
In connection with an upcoming appearance on the Rick Mercer Report, Alex Lifeson and Rick Mercer were recently spotted filming a segment at Niagara Freefall Indoor Skydiving, as reported from an article in the Niagara Falls Review.

From the article:

When it came time for their 'man date,' Canadian comic Rick Mercer and rock legend Alex Lifeson went straight to the Honeymoon Capital.

The odd couple were in town Wednesday filming a segment for The Rick Mercer Report, donning flappy flight gear to tackle the Niagara Freefall Indoor Skydiving.

With cameras rolling, the duo floated atop 140 mp/h winds generated by a jet engine at the Stanley Avenue attraction.

"All we've been told is that it's harder than it looks," said Lifeson, who co-founded Rush more than 40 years ago with bassist Geddy Lee (drummer Neil Peart joined in the mid '70s). "It's the string that's over the jet engine that's disconcerting."

"I just find standing over a jet engine disconcerting," added Mercer.

The segment finds Mercer and Lifeson hitting the town for a guys night out. Mercer had heard about the Niagara attraction from a coworker, and decided to freefall with the guy who riffed on "Freewill."

"Alex is apparently up for anything or crazy, I haven't determined yet."

The crew arrived in town just before noon and quickly shot the segment before either Rush or Mercer fans got wind.

At this time, we have no information on when the episode will air though it is expected to hit the airwaves in the very near future.
||
---
October 13th, 2009
Neil Peart's Top-Ten Books from Atlantic Canada
In Atlantic Canada's 100 Greatest Books, Trevor J. Adams and Stephen Patrick Clare review the top one hundred Atlantic Canadian books-both fiction and nonfiction-ever published, as chosen by a panel of local readers and literary luminaries.

The editors of the book are running a contest to see if anyone can guess the top five books. Neil Peart posted his personal top ten:

Barometer Rising by Hugh MacLennan
The Colony of Unrequited Dreams by Wayne Johnston
The Custodian of Paradise by Wayne Johnston
Fall on Your Knees by Ann-Marie Macdonald
The Way the Crow Flies by Ann-Marie Macdonald
The Republic of Nothing by Lesley Choyce
An Avalanche of Ocean by Lesley Choyce
The Shipping News by Annie Proulx
The Architects are Here by Michael Winter
The Wreckage by Michael Crummey


Illustrated in full colour with book covers and photos of the authors, and accompanied by personal selections from celebrities in the literary community and beyond, Atlantic Canada's 100 Greatest Books is a requisite companion for fans of Canadian literature.

Thanks to Eric from Power Windows for the news.
||
---
October 12th, 2009
Working Men DVD Now Available for Pre-Order
Amazon.Com is now taking pre-orders for the new Rush "Live" Compilation DVD Working Man. The DVD, which is currently selling for $10.49, will include all the same tracks as its CD counterpart.

Both versions will be officially released on Tuesday, November 17th.

Click HERE for the official Press Release (PDF File, 1.5mb).



||
---
October 9th, 2009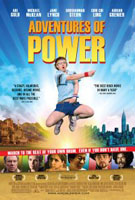 Adventures of Power Makes Theatrical Debut Today
The air-drumming adventure film, which includes a cameo by none other than Neil Peart as well as numerous other Rush references, will make it's theatrical debut throughout this weekend after making the film festival rounds since 2008. Ari Gold, who wrote, directed and stars in the film, has an article in the Huffington Post which discusses the genesis of the film:

...I could never have spent four years of my life making a movie about this strange human activity if I didn't also think that a person trying to play drums, but having none, is a beautiful symbol for the futility of all human endeavors. What I didn't know when I began to make "Adventures of Power" was that the journey of my drumless protagonist would end up so closely mirroring my own reality, and the reality of my country.

When I was eight and heard the band Rush, I tried to drum along. After my mother's death twelve years later, while I was living in my aunt's basement in a mining town in the Southwest, I began to take notes about an air-drumming character. Though I was lonely and lost, I loved this broken little white/Hispanic/Native town, with its mix of cowboys, copper-miners, and curmudgeonly hippies, and I wondered how an air-drummer would fit in if he grew up here. Probably not very well.

The film will make its theatrical debut tonight in New York City at the AMC Loews Village 7. Additionally, there is a New York City film release party this evening at the Knitting Factory in Brooklyn that is open to the public.

Thanks to RushIsABand.Com for the news.
||
---
October 9th, 2009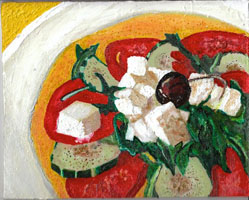 Alex Lifeson Donates Painting for A Brush of Hope Project
As he has done over the past three years, Alex Lifeson has donated one of his personal paintings to the Kidney Foundation of Canada's A Brush of Hope project. Lifeson's painting, along with artwork from many other Canadian artists will be auctioned off to raise money for the charity.

The auction is set to take place on Ebay.Ca from November 5th through the 15th. From the official website:

After three years of being based in Ontario, A Brush of Hope is now coming to New Brunswick!

Alex Lifeson (RUSH), Red Green (Steve Smith), Jessica Holmes, Rita MacNeil and Stompin' Tom Connors are just a few of the celebrities who have taken up brushes and paints to create small masterpieces to help the nearly 2 million Canadians who either have kidney disease or are at risk.

To own these one-of-a-kind, hand crafted works:


Go to Ebay.Ca on November 5th

Type in kidney foundation into the search field

Bid away!

Visit our page on Facebook and invite your friends to join in the bidding!

"It is through the support by all of us that the Kidney Foundation of Canada can continue to provide hope for those who are not so fortunate and must live with this debilitating condition. I urge you to take the time to help in any way you can, whether by donation or some other method to realize the dream of a cure. Even a little goes a long way..." - Alex Lifeson

Thanks to reader GeddyWannaBe and RayM for the heads up.
||
---
October 8th, 2009
Metallica Guitarist Kirk Hammett Wants Rush in the HOF -- Again
Earlier this year, during Metallica's induction ceremony for the Rock & Roll Hall of Fame, Guitarist Kirk Hammett indicated how he felt that Rush should be in the hall. Hammett echoed that sentiment in a conversation with Cleveland.Com:

Q: Which artists would you like to see get into the Rock Hall?

A: Man, I would love to see Rush in the Hall of Fame, as well as Motorhead and Deep Purple. Those are three that come to mind, only because I'm a hard-rock guy, and those bands had a lot to contribute to the genre.

Those bands have been around a lot longer than we have. It's almost embarrassing that we're in the Hall of Fame and they're not. But everyone has their opinions. There's a bit of a bureaucracy and there's a bit of politics that come along with it.

You can read the entire conversation via this LINK.
||
---
October 5th, 2009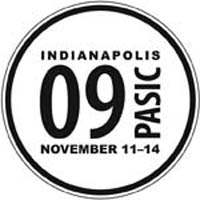 Neil Peart's Snakes & Arrows Tour Kit Featured at November PASIC Show
The drum kit that Neil Peart used during the 2007-08 Snakes & Arrows tour is scheduled to be on display in Guitar Center's booth at this year's Percussion Arts Society (PASIC) show in Indianapolis, IN.

The show will run from November 11th through the 14th in Indianapolis. Complete details on the show and PASIC in general can be found online at www.pasic.org.

Thanks to Power Windows for the news!


||
---
- Cygnus-X1.Net Rush News Archives -

|January-March 2011 Rush News Archive|
|October-December 2010 Rush News Archive|
|July-September 2010 Rush News Archive|
|April-June 2010 Rush News Archive|
|January-March 2010 Rush News Archive|
|October-December 2009 Rush News Archive|
|July-September 2009 Rush News Archive|
|April-June 2009 Rush News Archive|
|January-March 2009 Rush News Archive|
|October-December 2008 Rush News Archive|
|July-September 2008 Rush News Archive|
|April-June 2008 Rush News Archive|
|January-March 2008 Rush News Archive|
|September-December 2007 Rush News Archive|
|June-August 2007 Rush News Archive|
|April-May 2007 Rush News Archive|
|January-March 2007 Rush News Archive|
|2006 Rush News Archive|
|2004-2005 Rush News Archive|
---