There are 14 active users currently online.
---
- Rush News Archive - July through September 2009 -
Rush Lyric Randomizer - Refresh page for a new lyric or Click to see the song

---
Order Snakes & Arrows today!


---
---


---
September 30th, 2009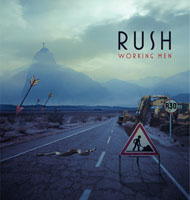 Rush News Bullets
The end of September is upon us which means we are heading into the holiday season for 2009 (already). And it looks like there will be plenty of Rush items available this season, most notably the new "Best of Live" compilation simply called Working Men which we now have more information on. But first things first...

---

Hall of Fame Debate Rages On:
Last week, we reported that Rush was, once again, left off the nomination ballet for this year's round of inductions into the Rock & Roll Hall of Fame. Time.Com recently posted an article detailing ten Rock acts that seem to suffer the same fate as Rush. Titled Top 10 Rock Hall of Fame Snubs, they had this to say about Rush:

Rolling Stone has called Rush fans the "Trekkies" of rock - they defend their Canadian rock heroes vehemently. The band certainly has carved out a place in rock history. With 24 consecutive gold or platinum albums, they trail only The Beatles, Rolling Stones and Aerosmith. But commercial success belies a career that took the occasional wrong turn. Critics cite the band's over-fascination with synthesizers in the 1980s, but fans say the period is simply proof that Rush doesn't care about convention. That independent streak might keep Rush from the Hall, but it doesn't seem to bother them in the slightest - guitarist Alex Lifeson called the Hall selection process a "joke."

That's the first time I've read that Rush's 1980's synth-era is the cause of the band's exclusion from the Hall...

---

Rush Working Men Cover Art / Track List Revealed:
Rush.Com formally announced the impending release of the band's next compilation CD/DVD offering Working Men. Included in the release was a preview of the cover image for both the CD and DVD (Click CD-Cover or DVD-Cover for a shot of both covers). The track listing for the CD was also revealed:

Anthem Entertainment has announced the release of "WORKING MEN," the first 'best of' live performance compilation from renowned rock trio Rush. Due in stores and online November 17th, the collection will be released on DVD in partnership with Rounder and on CD via Atlantic Records outside of Canada.

Culled from Anthem Entertainment and Z Vision's three other Rush DVD releases - Rush in Rio, R30 & Snakes & Arrows Live - "WORKING MEN" features live recordings of the band's greatest hits as well as one previously unreleased track , "One Little Victory" (see attached track listing).

Rush - Geddy Lee, Alex Lifeson, and Neil Peart - is without question one of the most inventive and compelling groups in rock history, equally famed for both its virtuoso musicianship and provocative songwriting. Just last year, a career-chronicling Rolling Stone feature praised the band for its continuing artistic vitality, noting that "It's true that Rush doesn't mean today what it did in '76 or even '96. It may mean more." The sentiment was echoed in subsequent pieces published earlier this year in Entertainment Weekly and Spin. Rush's enduring pop culture relevance is perhaps best evidenced by a pair of high profile appearances - a rare national television performance and interview on Comedy Central's "The Colbert Report" in 2008 (the band's first TV appearance since 1975), and a pivotal role in the storyline of the hit comedy, I Love You, Man. Released this past spring, the band also made a memorable cameo in the! film, which starred Paul Rudd and Jason Segal.

Since releasing their self-titled debut album in 1974, Rush has achieved worldwide sales exceeding 35 million units, including such acclaimed works as 1976's "2112," 1981's "MOVING PICTURES," 1996's "TEST FOR ECHO," and 2002's "VAPOR TRAILS." The band's most recent studio collection, 2007's "SNAKES & ARROWS," made a triumphant debut on the Billboard 200 upon its initial release, entering the chart in the #3 spot. The album's success marked Rush's highest chart debut since 1993, as well as the group's eleventh top ten album in the U.S.

For more information, please visit www.rush.com.

"WORKING MEN" Track Listing:

Limelight
The Spirit of Radio
2112;
Freewill;
Dreamline
Far Cry
Subdivisions
One Little Victory (previously unreleased)
Closer to the Heart
Tom Sawyer
Working Man
YYZ

Click HERE for the official Press Release (PDF File, 1.5mb).

Both the CD/DVD packages are set for release on November 17th. You can pre-order your copy today via this LINK.

In related news, Rounder Records release of Rush's R30 on Blu-Ray has been pushed back to sometime in December. Hopefully it'll be available in time for the holidays.

---

Virtual Rush Cover:
Long-time Cygnus-X1.Net reader and site contributor Claudio C-08 sent me a link to a music video he recently created which covers Rush's New World Man. From Claudio:

I`m writing just to let you know about a virtual cover that I`ve done recently with a Canadian drummer from Toronto ( Albert Slark ) and an American bassist from West Virginia ( Steve Walker ). My brother also participated as a special guest. If you watch it, you`ll realized that the sync was out as it was our first attempt to do something like this. However I`m proud of it cause we were able to achieve something important even if we were far away from each other, and most of all because it happened thanks to our mutual love for Rush. We`ll try to improve the difficulties for future covers.

You can watch the video via YouTube at this LINK. Thanks Claudio!

---

That's it for this time around. Look for a couple of more additions to the Rush: A Brief History of Time page in the next couple of days.
||
---
September 25th, 2009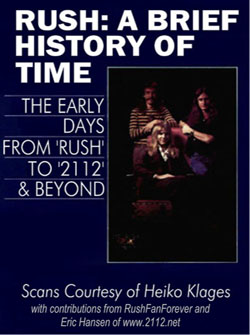 Rush: A Brief History of Time, Part III
Earlier this year, I put together a two-part Rush News segment which contained numerous old articles, reviews and advertisements of Rush. The items were sent to me by German reader Heiko Klages who painstakingly scanned the material from his own collection. I've now created a special segment in the Biographies & Articles section of the site called Rush: A Brief History of Time. That section includes all the previously presented articles as well as a bunch of new ones which are also reflected below.

Once again I want to thank Heiko for his generous donation to this site. Enjoy the latest batch of classic Rush articles.

---

Georgia Straight, Vancouver's Weekly News Magazine, did a cover feature on Rush back in September of 1977. Titled Rush: Canada's Most Successful (and least recognized) Rock Band and written by Tom Harrison, the article discusses Rush's fifth studio album A Farewell to Kings as well the fact that the band, even within Canada, isn't as well known as it should be. There's also a full page advertisement for all of Rush's albums at that point.



---


The February 14th-20th, 1980 edition of Scene Entertainment Weekly (of Northeast Ohio), included a two-page, front cover article on Rush called Rush: Something Special for Everyone. You can read this article via the following two links: Cover / Page 1 --- Page 2.



---


This next multi-page article/review comes from the January 1976 edition of the Ontario Entertainment Magazine Cheap Thrills. The article, titled A Solid Gold Rush discusses the bands first four studio albums along with their first live offering. The reviewer seems to enjoy Rush's music but had no appreciation for 2112 at all.

"I hate this one. Non-Rush fans have told me how much they like 2112, so maybe that's the point. Me? I think it's wretched..." Nice.



---


The June 11th, 1977 edition of New Musical Express from the UK contained a dual/dueling article on the band called The Rush Phenomenon by Paul Morley and Paul Rambali. This one's an interesting take on the rise of popularity of Rush during the late seventies.



---


This next article focuses more on the creation of Anthem Records than it does Rush, but it's an interesting read nonetheless. Titled Anthem Records - Success Spawns New Label, it originally appeared in the June 4th, 1977 edition of RPM Magazine.



---


Up next is an interesting advertisement for 2112. Anyone else tired of seeing this particular image of the band? :-) Check it out HERE.



---


This next one is for our French (and French-Canadian audience). The article, called Heavy Metal En Serie B - RUSH La Surprise is written in French by Alain Pons and originally appeared in the September 1977 edition of Best - #110. If anyone cares to translate the text I'm sure many of us would be appreciative.



---


This next article, which appeared in the July 23rd, 1977 edition of Melody Maker, a UK publication, focuses on Neil Peart. It's titled Drums & Percussion - Rush Hour and was penned by Chris Welch.



---


Up next is a great article by famed Rush fan/author Geoff Barton which originally appeared in the February 5th, 1977 edition of Sounds, another UK publication. Titled Caress Of Steel - Poor Man's Zeppelin? - Or underrated scions of sword and sorcery rock?, Barton "states the case for Rush" in this in-depth look at Rush's career through that point in time. And yes, we're treated once again to that 'image' of the band that always seems to pop up :-)



---


Continuing along the Geoff Barton line, this next article, which also appeared in Sounds in July of 1977 is called Rush Judgement - Neil Peart Talks to Geoff Barton. This article, which is sub-titled Tired of the Stress of the city, the Canadian power trio take to the wilds of Wales was written as Rush were in the writing and recording process for their fifth studio album A Farewell to Kings. Of interest is the fact that, according to this article, the album was originally thought to be called Closer to the Heart.



---


This next article appeared in the September 17th, 1977 edition of RPM Weekly; a Canadian publication. Called Rush - an International Happening, it discusses, rather briefly, the history of the band from their debut album through All The World's a Stage.



---


Up next is a short but very positive review of Caress of Steel which originally appeared in the February 12th, 1977 edition of the Record Mirror; a UK publication. The review, which is simply titled Rush: 'Caress Of Steel' was written by David Brown.



---


Finally, we're left with a nice multi-page article from the December 1977 edition of Stagelife. Called Rush: Are They Afraid of Heavy Metal? and sub-titled Rush Reiteration, this article was written by Jymn Parrett who discusses his initial impressions of the band dating back to 'Rush' and continuing through 'A Farewell to Kings'. A very interesting read with a nice picture of Geddy & Alex in action.



---


That's it for this edition of Rush: A Brief History of Time. I hope you enjoyed the look back.
||
---
September 23rd, 2009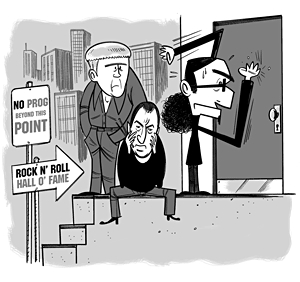 Rock & Roll Hall of Fame Nominations Are In ... Without Rush Once Again
It's that time of the year again when the Rock & Roll Hall of Fame announces their annual nominations for induction into the institution. It should come as no surprise to anyone that, once again, Rush failed to make the cut. This time, however, there are some encouraging signs that perhaps Rush may be considered in the future.

Two bands, who have also been snubbed for years, are on the ballet this time around: Kiss and Genesis.

The other nominees this year are: Abba, Donna Summer, the Stooges, the Hollies, Jimmy Cliff, Darlene Love, Laura Nyro, the Chantels and, in the first year in which they qualify, LL Cool J and the Red Hot Chili Peppers.

Five inductees will be announced in January with the formal induction ceremony to take place on March 15th, 2010 at the Waldorf-Astoria in Manhattan.
||
---
September 22nd, 2009
Alex Lifeson 'Garage Band' Instructional Videos Now Available
If you have GarageBand '09 on your Mac and you have always wanted to learn how to play guitar like Alex, well now's your chance. Apple just released another GarageBand Learn To Play Artist Lesson, this time featuring Alex teaching how to play Tom Sawyer and Limelight. In Limelight, after teaching you the classic opening riff of this song, he shows you the distinctive open chord voicings and arpeggios for the verse and chorus, and finishes with a close look at his haunting solo.

In Tom Sawyer, he first shows you a simple way to play the intro riff, then breaks down the entire song, explaining his innovative chord voicings and solo techniques. Once you are ready, jam right along with the original backing tracks! You can purchase and download each of these lessons directly from the Lesson Store in GarageBand '09. Check it out.
||
---
September 22nd, 2009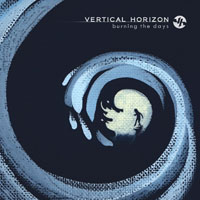 Vertical Horizon's Burning the Days Featuring Neil Peart Now Available
After several delays and three years in the making, Vertical Horizon's first new album in six years, which features Neil Peart on several tracks, is now available. From the Press Release:

Burning the Days, represents a renewed sense of creativity for the band. The CD features 12 new tracks, including 'Save Me From Myself,' their first single in nearly three years, on which legendary Rush drummer Neil Peart appears. Peart also plays on 'Even Now' and 'Welcome to the Bottom,' while Grammy Award-winner Richard Marx plays piano on 'Here' and produces two of Scannell's lead vocal tracks.

The single Save Me From Myself can be heard at the band's MySpace Page.

You can order the album from Amazon.com via this LINK.

Here's an early review of the album from the LA Times which is, unfortunately, not a very positive one.
||
---
September 21st, 2009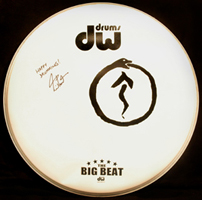 The Five-Star Big Beat Contest Includes a Signed Snakes & Arrows Drum Head
The sound of drums will rumble across North America once again on Sunday, November 1 as 11 Five-Star member drum shops participate in The Big Beat and raise money for worth-while causes. Billed as the world's largest multi-city drum set event, last year's Big Beat drew 1286 drummers and about 4000 spectators in nine cities, raised more than $45,000 for music and other charities and collected 7000 pounds of food.

DRUM VENDORS COME UP HUGE AGAIN FOR 'THE BIG BEAT' AND FIVE-STAR SNARES A NEIL PEART AUTOGRAPHED HEAD FOR NATIONAL GIVEAWAY!

Twenty-four of the top percussion vendors in the industry have donated merchandise totalling more than $180,000 in retail value for the Five-Star Big Beat that will occur in 11 cities in North America on Sunday, November 1, 2009.

Each participating store will be giving away about $16,000 worth of drum gear to participants in this exciting charity event that will benefit the Mr. Holland's Opus Foundation and in some cities, the addition of a local charity as well.

Plus, one lucky winner in one of the 11 cities will get a bass drum head with the Rush "Snakes & Arrows" artwork, autographed especially for this occasion by iconic drummer Neil Peart!

Thanks to Power Windows for the news.
||
---
September 21st, 2009
Alex Lifeson's Cameo in Trailer Park Boys 2: Countdown To Liquor Day
Alex Lifeson's recent cameo appearance in the Rock & Roll Vampire movie 'Suck' isn't the only acting he's done of late. As a follow-up to his cameo role in the first 'Trailer Park Boys' movie, Alex will reprise his roll as a Police Officer in Trailer Park Boys: Countdown To Liquor Day. The film will hits theaters on September 25th. Thanks to reader RayM for the news.
||
---
September 18th, 2009
Working Men CD/DVD Compilation Coming in November
Just when you think that this might be a quiet holiday season for Rush, the band has just annouced that they will be releasing a new CD/DVD compilation on November 17th which will include tracks from their last three concert DVDs: Rush in Rio, R30 and Snakes & Arrows Live.

The compilation is also expected to be offered as a standalone CD.

The CD/DVD combo is available for pre-order at Amazon.

In addition to Working Men, a Blu-ray version of R30, which will include eight additional tracks, is also schedule for relese on or about November 17th. The eight additional tracks means that the Blu-Ray version will represent the full concert! No pre-ordering information is available at this time.

We'll have more information as it becomes available. Many thanks to RushIsABand.Com for the news.
||
---
September 17th, 2009
Rush Members Auctioning Items For Charity
According to a recent posting at Rush.Com, Geddy Lee and Alex Lifeson are launching an auction of rock memorabilia on eBay as part of their Grapes Under Pressure initiative in support of Grapes for Humanity, an organization that helps to raise funds to benefit humanitarian causes around the world with the assistance of the international wine community.

Included in this auction will be:

A Geddy Lee Signature Fender Jazz bass AND a rare Garrison G-50E Custom Acoustic guitar used by Alex on the Snakes & Arrows tour. They have both been signed by Geddy and Alex as well as by members of Depeche Mode, TOOL,The Fray, Pearl Jam, Judas Priest and many more in Support of Grapes for Humanity.

A Gibson Les Paul Axcess "Custom Shop" guitar which was used by Alex Lifeson in a recent secret session. The guitar will be autographed and will be accompanied by a signed photo of Alex with the Guitar.

A Sabian Paragon Diamondback Chinese 20" Cymbal, from Neil Peart's personal kit, with Neil's signature

A rare limited edition Airstream Epiphone Trailer Park Boys "The Movie" guitar signed by Ricky, Julian, Bubbles, Geddy and Alex.

A Jane's Addiction prize pack which includes a signed cymbal and poster from their most recent tour with NIN.

To check out these items online, please follow this link: (http://myworld.ebay.ca/grapes4humanity).

All proceeds will be directed to Grapes for Humanity.
||
---
September 17th, 2009
A Talk with Ian Grandy - Rush's First Roadie
Skip Daly, who runs the Rush fan site RushPetition.com recently tracked down Ian Grandy who has the distinction of being one of Rush's original (if not the first) Roadie. Skip and Ian began a friendship and, through that friendship, Skip wrote an article detailing Ian's recollection of the early days of Rush.

When Ian and I first began talking, he would share old war stories of his road dog days with the band. But, over time our conversations became more like one between two friends. Our talks would weave stories about our families and kids, about as often as we talked "Rush."

Around Christmas time 2008, a package arrived in the mail at my home. I was touched to see that he'd sent me his old tour pass from the Moving Pictures tour, along with a medallion commemorating a sold-out four night stand in Chicago. I admit that the nod to our friendship might not excite most people. Even my own wife teased me with, "What could you get for them on Ebay?" But, we're talking about a priceless treasure for a longtime fan like me.

Ian had a front-row seat and an all-access pass to Rush's meteoric rise to fame, from playing weaty high school gyms to selling out massive arenas. I hope you enjoy his inside stories from those early days in the band's careeer.

You can read the entire article, which appears at Guitar International via this LINK. Also be sure to check out the hand-drawn by Neil Peart Rush Hotel Room Rotation Schedule!

Thanks to reader GeddyWannaBe for the news!
||
---
September 16th, 2009
Win a Signed R30 Lithograph!
The Rush Backstage Club is holding another contest for Rush fans. This time around, you can win a 16" X 22" R30 Lithograph that's been autographed by each member of Rush.

The contest closes on September 28th, 2009 so make sure you fill out your entries today.

Good luck, all.



||
---
September 15th, 2009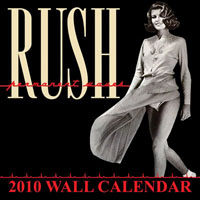 The Rush 2010 Wall Calendar - Images Online
The new Rush 2010 Wall Calendar, which is a celebration of the 30th anniversary of Permanent Waves, is now shipping from Amazon.Com.

Was it really 30 years ago that Rush conquered the world with the classic "Permanent Waves"? The album's masterful combination of cerebral epics and radio-friendly rockers ignited one of the most devoted fan bases in all of rock. You won't be able to get enough of this amazing anniversary tribute featuring behind-the-scenes studio shots and insightful nuggets from the band's own archives!

The images and text from the calendar are now online.
||
---
September 14th, 2009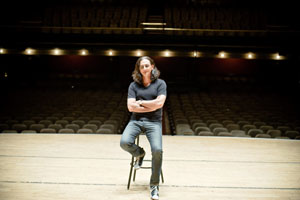 Geddy Lee Talks About Playing Toronto's Massey Hall
Toronto is a city of neighbourhood pockets, and City Sonic is an impressive series of short films, each one devoted to a Toronto musician telling stories of how she or he developed an affinity for one of those pockets. The series is part of the Toronto International Film Festival's lineup of free films at Yonge-Dundas Square which runs all week.

In June 1976, Canadian rock trio RUSH ended its "2112" tour with three sold-out concerts at Massey Hall in Toronto, Ontario, Canada, a historic event at a historic venue. These shows were recorded for the double-live album "All The World's A Stage" - an effort that broke the band in the U.S., becoming the group's first Top 40 Billboard hit and paving the way for a string of famous RUSH live albums. It was a first for RUSH, but not the first time singer/bassist Geddy Lee felt magic on the stage at Massey.

In the clip below, Geddy takes City Sonic on a tour inside the legendary concert hall and back to the 1970s to reminisce on how getting to watch CREAM and GENESIS rock Massey Hall as a star-struck teen set the stage for him to make rock music history there himself.

---

---

For those who would like to download the high-definition clip, you can do so via this LINK.

And to see a reproduction of the concert program for the three 2112 shows at Massey Hall, click HERE.
||
---
September 12th, 2009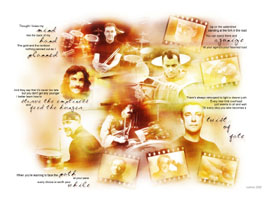 Neil Peart Turns 57
Today marks the 57th birthday of Rush Drummer and Lyricist Extraordinaire Neil Peart. Neil (born Neil Ellwood Peart) came into the world on September 12th in 1952 Hamilton, Ontario.

He grew up in Port Dalhousie, Ontario, Canada (now part of St. Catharines) working the occasional odd job including, as we learned last year, a Parts Manager for his father Tractor Supply company. His true ambition, however, was to become a professional musician. During adolescence, he floated from regional band to regional band and dropped out of high school to pursue a career as a full-time drummer. After a discouraging stint in England to concentrate on his music, Peart returned home, where he joined local Toronto band Rush in the summer of 1974. And the rest, as they say, is history.

Of course this birthday must be especially rewarding for Neil as he celebrates it with his wife, Carrie, and their new-born daughter Olivia Louise.

Happy Birthday, Neil. Many happy returns.

Neil Peart image collage courtesy of Panacea Rush Art.
||
---
September 10th, 2009
Alex Lifeson Discusses His Appearance In 'Suck' Movie
Alex Lifeson and director/writer Rob Stefaniuk were guests on "The Dean Blundell Show" on the 102.1 The Edge radio station in Toronto, Ontario, Canada this morning to talk about the new film "Suck", which features a cameo by Lifeson, and its premier at the Toronto International Film Festival.

The podcast of Lifeson and Stefaniuk's appearance on "The Dean Blundell Show" is available for download at this location.

"Suck" will make its world premiere at the Toronto International Film Festival, which runs from September 10 to September 19. The film will be part of TIFF's prestigious Contemporary World Cinema program on Friday, September 11 at 9:00 p.m.

"Suck" is a "rock and roll vampire flick" which also features cameos by Alice Cooper, Iggy Pop, Henry Rollins, Moby and Carole Pope (ex-ROUGH TRADE).

A trailer for the film can be viewed below.

---

---

According to a press release, "Suck" follows a group of rock 'n' roll wannabes in search of immortality and a record deal. Seemingly doomed to roadtrip doldrums and dives, the band THE WINNERS break their slump when their female bass player disappears one night with a studly, stylin' vampire. She returns charged with sexual charisma that creates audience frenzy and eventually ensnares the rest of the band. Their "hook" launches them to fame. But fame turns out to be a different kind of hell than AC/DC promised.

Lifeson plays the border guard who gives THE WINNERS a hard time at the border until he discovers that, like himself, they are musicians.
||
---
September 9th, 2009
Neil Peart's News, Weather, and Sports Update
On the heels of the arrival of Neil Peart's new daughter, Olivia Louise, the proud new father has posted an update to his "News, Weather, and Sports" section on his website. Titled The Ballad of Larry and Suzy, Neil discusses his observation of a family of hummingbirds over the course of several months, leading up to his wife Carrie giving birth to Olivia. Neil also snaps of several impressive pictures of the birds, their nest and hatchlings. But the real story, of course, is the arrival of Olivia and Neil's understandable anxiety over the situation.

Within a minute after Olivia's birth, I was touching and holding her while the medicos cleared her breathing passages, dried her skin, and swaddled her. Then I carried the tiny bundle over to introduce her to her mother. A few minutes later, I accompanied Olivia on her first journey, down a long hallway to the nursery, where she was weighed (seven pounds twelve ounces) and checked over by the pediatrician.

While she lay there in the clear plastic bassinet, I tried to soothe her (the naked weighing had especially outraged her delicate sensibilities, yet I had smiled to hear her strong cry of protest). I reached my finger into her fist, and felt her tiny fingers close tightly around it.

I whispered, "Hold on, baby, hold on."

I was talking to her, and to myself.

You can read the entire entry via this LINK.
||
---
September 9th, 2009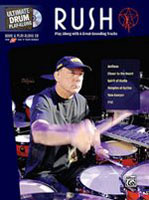 Ultimate Drum Play-Along Book/CD
Amazon.com is now taking pre-orders on a new Rush-inspired Drum Play-Along book.

Learn to play your favorite Rush songs with these terrific transcriptions and play-along tracks. The CD contains two version of each song: a complete version for demonstration and a play-along version without drums so you can play with the rhythm tracks. Plus the CD contains embedded software that allows you to slow down, loop and even transpose keys! Plus, there are matching guitar and bass editions available!

Titles:

* Anthem * Closer to the Heart * Spirit of Radio * Temples of Syrinx * Tom Sawyer * YYZ

This Book/CD combo is expected to be released later this month.
||
---
September 9th, 2009
Autographed Bass Auctioned To Help DEFTONES Member
A bass guitar autographed by members of RUSH, DEFTONES, GREEN DAY and others is being auctioned to raise money for DEFTONES bassist Chi Cheng, who remains in a semi-conscious state 10 months after being gravely injured in a car crash in Northern California. The 2001 Fender Precision bass has been signed by GREEN DAY's Mike Dirnt, RUSH's Geddy Lee and Cheng himself, as well as notable session players Reggie Hamilton, Stu Hamm, Victor Bailey, Marcus Miller and others.

The bass, produced for Fender's 50th anniversary celebration, can be seen on page 16 of the September issue of Bass Player magazine, on sale now.

For more information on Chi Cheng's condition or how to bid on the bass guitar, go to www.oneloveforchi.com
||
---
September 3rd, 2009
Rush Might Return in 2010
A short article/interview with Alex Lifeson was just posted on Noise Creep, a site that tracks and reports out on Rock and Metal videos and music news. The article, titled Rush Might Return in 2010 suggests that Rush may be at the end of their "vacation" and ready to return to the studio.

Lifeson, lead singer-bassist Geddy Lee and drummer/lyricist Neil Peart played 120 shows behind 'Snakes & Arrows' and "were pretty beat by the end of it," says Lifeson. "We'd been working constantly for the last eight years or so, and really needed a break, and decided to take a year off. We're sort of coming to the end of that period.

However considering that Neil Peart's wife just gave birth to their first daughter, the chances of the band returning to the studio anytime soon is a bit of a reach. But time will tell.

Thanks to Eric from Power Windows for passing along the news story.
||
---
September 1st, 2009
Guitar Hero 5 Released
Update: It now appears that the version of "The Spirit of Radio" which appears on GH5 is not from 2008's Snakes & Arrows Live. Several YouTube Videos have surfaced with the GH5 track which has many speculating on the origins of the live rendition of the Rush classic. Of interest is the fact that the piano sample is missing from the final seconds of the song while the guitar solo appears to include some effects that were not heard during the most recent tours.

...

Guitar Hero 5 was officially released today and features the live rendition of Rush's The Spirit of Radio from 2008's Snakes & Arrows Live.

Guitar Hero 5 also includes 85 songs by 83 artists. Click HERE for a list of the 85 tracks.

Some of the included features of Guitar Hero 5 are:

In the all-new Party Play mode, players can now jump in or drop out of gameplay seamlessly, without interrupting their jam session

Play with any in-game instrument combination in any game mode - multiple vocalists, guitarists, bassists and drummers

Features new in-game artists and rock legends

The entire set list is available from the beginning

Software compatible with Guitar Hero World Tour peripherals

Guitar Bundle includes Guitar Hero World Tour compatible software and guitar controller

You can now order Guitar Hero 5 at Amazon.Com via this LINK.
||
---
September 1st, 2009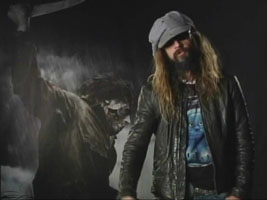 Rob Zombie and Rush
In celebration of the 2-year anniversary of the theatrical release of Rob Zombie's version of Halloween; a film (and soundtrack) which included "Tom Sawyer", the cable station AMC (American Movie Classics) aired John Carpenter's original Halloween last week.

During the airing, Rob Zombie talked about the film and his own revisions, all while wearing a Fly By Night t-shirt.

Thanks to Power Windows for the news.

||
---
August 31st, 2009
Remembering MuchMusic's Birth Days
It was twenty-five years ago today when the "MTV of the Great White North" launched. Canada's "MuchMusic" music television channel began with Rush's own "The Enemy Within" video and was followed by a interview with Geddy Lee.

Yes, it's been nearly 25 years since MuchMusic launched with Rush's "The Enemy Within," followed by an interview with singer Geddy Lee and a Day 1 playlist that also included the Fixx, Frankie Goes to Hollywood, Yes and Slade.

Those moments - created spontaneously, with no scripts to speak of - have left an indelible mark on those who grew up basking in Much's glow, the fans who curated VHS cassette compilations and scribbled down the names of tunes played during the station's countdown of top videos.

An article from the Toronto Star called Remembering MusicMusic's Birth Days commemorates the "birth" of the station a quarter of a century ago.
||
---
August 28th, 2009
Rush: Rock Music and the Middle Class
Update (09/01/2009): There's an in-depth article discussing this book which just appeared on www.exclaim.ca. The article, titled New Book Puts Rush Under the Academic Microscope to Explore How They Were The "Voice of the Suburban Middle Class", talks to the author about his view on the band, the fans and the merits of the nature of this book.

...

A new book on Rush is scheduled for release in late October. Written by Dr. Christopher J. McDonald, PhD, the book explores the impact of Rush's music on the middle class and suburban life.

Canadian progressive rock band RUSH was the voice of the suburban middle class. In the new book "Rush, Rock Music, and the Middle Class: Dreaming in Middletown", Chris McDonald assesses the band's impact on popular music and its legacy for legions of fans. McDonald explores the ways in which RUSH's critique of suburban life - and its strategies for escape - reflected middle-class aspirations and anxieties, while its performances manifested the dialectic in prog rock between discipline and austerity, and the desire for spectacle and excess. The band's reception reflected the internal struggles of the middle class over cultural status. Critics cavalierly dismissed, or apologetically praised, RUSH's music for its middlebrow leanings. McDonald's wide-ranging musical and cultural analysis sheds light on one of the most successful and enduring rock bands of the 1970s and 1980s.

The 272-page book is due on October 28th via Indiana University Press. It can be pre-ordered from Amazon via this LINK.
||
---
August 27th, 2009
Happy Birthday, Alex!
On this date in 1953, Rush Guitarist Alex Lifeson (born Aleksandar Zivojinovich) came into the world in Fernie, British Columbia. As Rush fans know, Lifeson founded the band in the summer of 1968 and was also responsible for bringing front-man Geddy Lee into the mix.

Though Alex is obviously best known for being the guitarist for Rush, he's also the part owner of the Toronto restaurant The Orbit Room, and is a licensed aircraft pilot, motorcycle rider, a gourmet cook and an artist.

Happy Birthday, Alex! Many happy returns!

Alex Lifeson image collage courtesy of Panacea Rush Art.
||
---
August 26th, 2009
Rush News Bullets
Hello again, everyone. Apologies for the lack of Rush News updates over the past week. I was away on an extended (and I think well deserved) vacation. But I'm back now and there's plenty to discuss in the ever evolving world of Rush. Most of the news centers around Neil this time around starting with...

---

Welcome Olivia Louise Peart:
We reported back in late June that Neil and his wife Carrie were expecting their first child together. According to an official posting on the band's website, Carrie gave birth to their "healthy, beautiful daughter Olivia Louise Peart" on Monday (or perhaps over the weekend). Congratulations go out to Neil and Carrie on their new bundle of joy!

---

Neil Peart News, Weather, and Sports Update:
Neil has posted another update in his News, Weather, and Sports column. In this edition, titled A Little Yellow Cabin on Yellowstone Lake, Neil discuses a recent motorcycle adventure to Yellowstone National Park.

I had tried to visit the Yellowstone area on my Ghost Rider travels in October 1998, but was turned back by early snow in Utah, and headed south instead. Since then, I had just never made it that way. Motorcycling on Rush tours had taken me all over the country several times, but Yellowstone was far from any cities with sizable concert venues (the only possible scenario would be a day off between Salt Lake City and, say, Boise, but that rare combination had never occurred).

So yes, I wanted to go to Yellowstone all right. I looked up its distance by road from my Southern California home, and frowned when I saw that it was over 1,000 miles. Hmm. That's far. With only five days to get there and back, and wanting to spend some time in the park, it was a bit much, really. But . . . I had ridden 1,000 miles in a day before, and anything close to that would make a good start on the first day. Maybe I could do it.

Neil includes plenty of photos of his adventure. You can read the entire, extensive, entry via this LINK.

Many thanks to reader MrSatyre for the head's up.

---

The Devil and Ginger Baker:
The August 20th edition of Rolling Stone Magazine contains an article featuring Cream drummer Ginger Baker titled "The Devil and Ginger Baker". In it, Neil Peart offers praise of the Cream drummer:

"His playing was revolutionary- extrovert, primal, and inventive," says Rush drummer Neil Peart. "He set the bar for what rock drumming could be. I certainly emulated Ginger's approaches to rhythm- his hard, flat, percussive sound was very innovative. Everyone who came after built on that foundation. Every rock drummer since has been influenced in some way by Ginger- even if they don't know it."

---

Rush: The Documentary" Update:
The special issues of Prog Magazine, which contains the multiple Rush covers that we mentioned last month, contain an update on the forthcoming Rush Documentary:

"'We've been lucky, not only have we had access to [Rush management] SRO's archives but also Geddy, Alex and Neil's own personal archives,' enthuses director Dunn. 'I was just at Geddy's house this week. Going through his personal collection of memorabilia. I dug up some gems I don't think Rush fans have ever seen so we're hoping to offer something new.'...The as-yet untitled film will also feature contributions from a host of musicians who have toured with or been inspired by Rush, including Billy Corgan, Trent Reznor, Tool, Foo Fighters, Kiss, Uriah Heep and Primus. Dunn and McMadyen look to complete filming at the end of this year, so a theatrical release is slated for early next summer. Watch out for exclusive footage of the three members interacting with each other in the band's unique way. 'We got some rare backstage footage in Europe,' Says Dunn. 'And the camaraderie between the three really comes across. They're almost telepathic and I think that's what's been behind their great success. They have such a deep understanding of each other's personalities and of each other's strengths. That's something that's pretty amazing to see and what we want to convey in the film.'"

Thanks to everyone who wrote in to tell me about this news.

---

My Other Car is a Red Barchetta:
For those of us who are fans of not on the song Red Barchetta but the classic Ferrari car of the same name, have a look at this.

Autoblog.com has an extensive photo gallery featuring a collection of Ferrari 166MM Barchetta's at this week's Pebble Beach Concours d'Elegance. - Thanks to Power Windows for the heads up on this!

---

That's it for now, everyone. Look for some significant content updates to the site within the next couple of weeks.
||
---
August 16th, 2009
Neil Peart Featured in the American Motorcyclist
The September 2009 issue of the American Motorcyclist magazine features an extensive cover story on Neil Peart who recently was awarded an Honorary Life Membership in the Association.

The article, which is titled Rocker & Roller: Rush Drummer Neil Peart Lives For Motorcycles. He's Also One Incredibly Thoughtful Guy, focuses on Neil's love for riding, his thoughts on different motorcycles and the features he looks for in a ride, along with his own riding style.

On the award, Neil had the following to say:

I once read an interview with my fellow drummer Nick Mason, from Pink Floyd, and he remarked that of all the gold records and awards he had received for his musical success, he was most proud of his election to the British Racing Drivers Club. That's how I feel about receiving this Honorary Life Membership to the AMA - both proud and humble at being so honored by the motorcycling community. My gratitude and pride are tremendous and sincere. Thank you.

Scans of the article, courtesy of RushIsABand.Com, are available via the thumbnail images below.

---

---

Special thanks go out to Ed from RushIsABand.Com for the news and the article scans.
||
---
August 15th, 2009
Dream Theater Covers Rush's The Camera Eye
Dream Theater, the progressive metal band who has often cited Rush as one of their major influences, played a show at the Molson Amphitheater in Toronto on Friday night. During the encore of the concert, the band covered Rush's The Camera Eye while displaying an image of the Moving Pictures album on the backdrop. Below is a bootleg video of the performance.

---

---

Many thanks to Ed from RushIsABand.Com for the news.
||
---
August 15th, 2009
Fantasy Book "The Edge of the World" Dedicated to Neil Peart
Kevin J. Anderson, an established Science Fiction author and long-time friend of Neil Peart, has dedicated his latest novel, The Edge of the World, to Neil. Anderson also indicates that the book was influenced by progressive rock, especially, of course, the music of Rush.

Neil also wrote the introduction for Anderson's Landscapes which was released in 2006.

Rush fan site Power Windows has the transcription of the introduction. You can check it out HERE.

Thanks to Eric from Power Windows for the head's up on this new book.
||
---
August 11th, 2009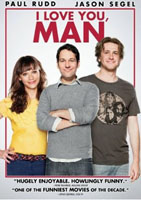 "I Love You, Man" Released
The "Bromantic" Comedy I Love You, Man, which featured a cameo by the members of Rush, is now available from Amazon on DVD and Blu-Ray.

The DVD is currently priced at $15.99 (USD) with the Blu-Ray disc coming in at $25.99 (USD).

Amazon also offers up a Video On Demand option for just $3.99 (USD).


||
---
August 11th, 2009
Geddy Lee Supports The Walrus
The Walrus is a Canadian general interest magazine which publishes long form journalism on Canadian and international affairs, along with fiction and poetry by Canadian writers. It launched in September 2003, as an attempt to create a Canadian equivalent to American magazines such as Harper's, The Atlantic Monthly or The New Yorker. The magazine's mandate is to "be a Canadian general-interest magazine with an international outlook.

Recently, Geddy Lee along with other notable Canadians, put together a video/commercial citing the importance for keeping the Walrus "...to keep us informed about our own ideas [and] achievements and what's happening around the world and in our own backyards..."

You can watch the video via this LINK.

To help support The Walrus, please click HERE.
||
---
August 10th, 2009
Snakes & Arrows Drum Kit Replica Now Available From Axe Heaven
Axe Heaven, the makers of several miniature replica Alex Lifeson guitars, have annouced their latest Rush-relatd item; a miniature replica of Neil Peart's Snakes & Arrows Drumkit (See: image).

The complete kit includes 12 drums, 9 cymbals, sticks, stands and stool ... all for only $59.99.

"This beautifully handcrafted miniature drum set is made from solid wood and metal parts. The detail is stunning from the hollow bass drum to the mini drum sticks. A great gift and collectible for any music fan! All stands included."

Click HERE to place your order. With thanks to Power Windows for the news.
||
---
August 10th, 2009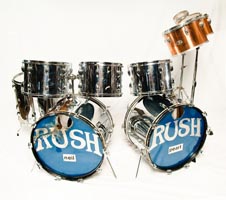 Neil Peart's Drum Kit Sells For $25,100
The auction for Neil Peart's Slingerland Drum Kit is over with the ending bid coming in at an impressive $25,100.00.

There were 53 bids in all during the auction (several from your's truly) with the bidding war seemingly ending at around the $18,400 mark. But with less than 5 minutes to go in the auction, bids starting to come in again which eventually pushed the price over the $25K mark.

Congratulations to the winner. If you happen to be a visitor of this site, we'd love to see a picture of you behind the kit!
||
---
August 6th, 2009
Rush is on Twitter
Rush now has an official presence on the social network site Twitter. To check out their Twitter page and follow their "Tweets", go to twitter.com/rushtheband.

Thanks to Ed from RushIsABand.Com for the news.
||
---
August 6th, 2009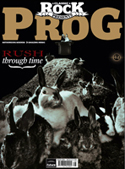 Classic Rock Prog Rush Issues
Classic Rock Magazine's new quaterly magazine Prog, which is dedicated to Progressive Rock, has a special edition which featuring Rush. Four special cover images were created for this edition. From the Classic Rock website:

The latest issue of Classic Rock Presents...Prog is out now and is finally available to US readers!
Issue 3 of the sell-out Classic Rock Presents Prog magazine is on sale from August 5. This month's cover stars Rush grace the magazine's lavish wallet and there's an extra special treat for Rush fans, as the magazine housed within the wallet will this issue feature four separate Rush covers for fans to collect. Each one will feature an iconic image from various stages of the Canadian superstars career - a must have for every Rush fan.

And there's great news for our US readers too. As of issue 3 you will now be able to order copies of the magazine online at www.myfavouritemagazines.co.uk, as can UK and European readers. Please bear in mind however that they do not have unlimited stock and once their allocation of copies has gone, then they're gone.

Issue 3 of ...Prog looks at the world of prog metal, featuring such genre stars as Dream Theater, Queensryche, Opeth, Porcupine Tree, Voivod and Finnish siren Tarja, and an intriguing interview with the man who launched the legendary Vertigo label.

There are also brand new interviews with ex-Genesis guitarists Steve Hackett and Anthony Phillips, Marillion, The Gathering, War Of The World's maestro Jeff Wayne, It Bites and even Captain Sensible. Plus there's the usual round-up on the latest prog news and an even bigger reviews section than ever before.

All this plus a free CD featuring an hour's worth of the finest new progressive music being made today.

You can see some larger scans of the covers via this LINK.
||
---
August 4th, 2009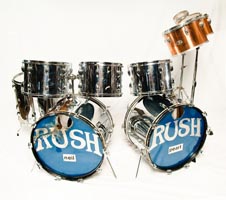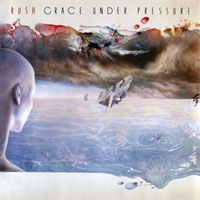 Rush News Bullets
Drums, Wax Figures and p/g Live...oh my. Here's some of the latest news on the band.

---

Auction for Neil's Classic Drum Kit Underway:
As we reported last week, Main Drag Music of Brooklyn, New York is now auctioning off Neil Peart's Classic Drum Kit from the early days of Rush. The auction, which was originally scheduled to be held by the world-famous Sotheby's Auction House is now being handled by Ebay. The auction ends on August 9th so get your bids in today. Below is a description of the kit for sale:

Up for bidding is Neil Peart's first Slingerland drum set purchased shortly after he joined Rush in late 1974 and used through the recording of 2112. It's featured on the subsequent live album, All the World's a Stage, both as a photographic centerpiece on the cover and sonically on the tracks. Peart's solo on Working Man/Finding My Way from All the World's a Stage is one of the most well known Drum solos in the world of Rock Drumming, and was introduced by Geddy Lee saying, "The Professor on the drum kit!" This set was also used to record Fly by Night, Caress of Steel, and as mentioned, their commercial breakthrough 2112. This is one of the most iconic drum sets from the world of Rock music and was highly influential--following the release of All the World's a Stage drummers everywhere studied the cover photo and copied the setup, not to mention Peart's style. Again, this is the very same drum set that was used on the record and is shown on the cover. It was played at first without the four concert toms, which were added later, circa 1975.

There are a total of 11 drums and this set DOES NOT INCLUDE THE SNARE. The sizes are as follows: 6, 8, 10, 12" Concert Toms in Copper Wrap, (2)9x13, 10x14, 16x16, (2)14x22 and a 13" Timbale all in Chrome Wrap. There are tom holders on the bass drums; a Slingerland Set-O-Matic on the Stage Right drum and a Ludwig Rail-Consolette mount on the Stage Left drum.

The heads, with the exception of the 10x14, are all-original and in the same tuning as the set was received. They consist of Evans Rocks on the toms (Mirror Glass batters, clear blue, like Hydraulics on resonant side), Ludwig Silver Dots on the concert toms, and Remo CS's on the Batter side of the bass drums. The bass drum resonant heads are one of the more interesting features of the set in that they have the original silver foil appliqué saying "RUSH" on each head as well as "Neil" on Stage Right and "Peart" on Stage Left.

Prior to this auction, we debated whether or not to restore this set, and the decision was to tidy it up without making any changes to its condition, e.g. replacing heads, hardware, etc.. If theauction winner wishes to have it restored it is their decision solely as this cannot be undone. The set is exactly as it was last used by Mr. Peart; there have been no modifications, head changes (except as noted), etc.. The condition of the drums varies, but all are quite used. They've obviously been cased in transport as the scratches and rash are all from contact with each other or adjacent hardware while set up and being played, not from abuse. There is surprisingly little pitting on the chrome finish and they polished up nicely. The shells appear to be round and healthy, though we decided to leave the drums assembled so as to maintain their character as played by Mr. Peart; we can't say much about the condition internally. The heads are all worn, but intact and still in tune! The Stage Right bass drum resonant head was badly torn and repair attempted presumably by Mr. Peart and crew. The mic holes at 12 o'clock on each bass drum resonant head were framed with silver duct tape, which is now quite brittle and frayed.

There are no stands included in this auction; it is for the shells only, and the spurs are not original Slingerlands, though the brackets are. The floor tom legs appear to be original, as do all of the mounts, lugs, tension rods, and heads, except where noted on the 10x14"

This kit was won in 1987 in a Modern Drummer Magazine drum solo contest as judged by Neil Peart. The winner of the contest is keeping the original copy of the letter Mr. Peart sent him along with the set, but a photocopy will be provided to the winner of this auction.

---

Grace Under Pressure Tour CD:
Available for the first time as a stand-alone release, the Grace Under Pressure Tour Soundtrack is coming to CD on August 11th. This soundtrack is based on the Grace Under Pressure Tour video and was previously only available as a bonus CD within the Rush Replay X3 DVD Box Set. The stereo mix was created in 2006 by Alex Lifeson and Mike Fraser from the original concert multi-tracks.

Tracklist:

Intro (The Three Stooges) (0:57)
The Spirit Of Radio (4:54)
The Enemy Within (4:48)
The Weapon (7:42)
Witch Hunt (4:41)
New World Man (3:59)
Distant Early Warning (6:11)
Red Sector "A" (5:22)
Closer To The Heart (3:35)
YYZ/Temples Of Syrinx/Tom Sawyer (9:41)
Finding My Way/In The Mood (3:35)

You can pre-order the CD from Amazon via this LINK.

Thanks to Power Windows for the head's up.

---

Geddy Lee Wax Figure:
Geddy Lee is the newest addition to the Rock Legends Wax Museum in Niagara Falls, New York along with Guns N Roses guitarist Slash. If anyone has the opportunity to "see" Geddy in this form, please send a picture over!

Update: Here are two pictures of Geddy's Wax Replica, courtesy of reader Bill and Ed from RushIsABand.Com.


---

The Top 10 Songs the Web Brought Back:
CNET recently posted an article called The top 10 songs the Web brought back which discusses how the Web and Video games such as Guitar Hero and Rock band have injected new life into old, classic songs. Among the 10 songs listed, Rush's YYZ came in at #5.

This instrumental track, originally released in 1981, is one of the most difficult songs to play in "Guitar Hero" and now "Rock Band," so it's become a sort of a geek milestone. That was only enhanced when a video of a really, really, really enthusiastic guy nailing the song in "expert" mode became a huge hit on YouTube.

---

That's it for now. Good luck to all those who are actively bidding on Neil's Classic Kit. And I think I speak for all of us when I address the future winner in saying "Congratulations you lucky son of a ... " :)
||
---
July 29th, 2009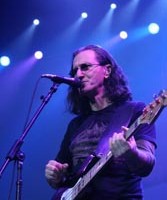 Happy Birthday Geddy Lee
On this date in 1953, in the small Toronto village of Willowdale, Gary Lee Weinrib was born. So, accordingly, let's all wish "Geddy" Lee - the voice and ferocious bass behind Rush - a rousing Happy 56th Birthday! Happy Birthday, Geddy -- and many happy returns.

Coincidentally, this date also marks the anniversary of when Neil Peart joined the band (July 29th, 1974). Now that's one heck of a birthday present to receive.

Thanks to Today in Rush History for the news.

||
---
July 28th, 2009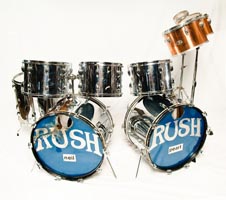 Neil Peart's Drum Kit to be Auctioned Off
Michael from Neil Peart Drumsticks contacted me this morning to let me know that Main Drag Music, a music shop in Brooklyn, New York, would be auctioning off one of Neil Peart's oldest Drum Kits.

I spoke with a representative of Main Drag Music who confirmed this story. He also indicated that, while they originally planned to hold the auction on Ebay, due to popular demand and overwhelming interest, they would now be allowing the world-famous Sotheby's Auction House to handle the transaction.

More news about the timing of the auction will appear on the Main Drag Music website once it's available - and, of course, it'll be available here as well.

Thanks to Michael and the folks at Main Drag Music for the information.
||
---
July 24th, 2009
Rush News Bullets
One year ago today, Rush completed their incredible Snakes & Arrows World Tour playing their 114th show at the Verizon Amphitheatre in Indianapolis, IN. How time does fly. It's somewhat fitting then that two Rush related events kick off on this anniversary of the S&A Tour.

---

RushCon9 Launches Today:
The ninth annual convention for Rush fans, RushCon gets underway today in the band's home town of Toronto. The 3-day convention will include special appearances by Michael Mosbach, head of Rush's security and Neil Peart's motorcycle riding partner, Martin Popoff, author of Contents Under Pressure, and the Rush tribute band, Limelight.

For more information, visit the convention's official website.

---

Rush Tribute Show In Minneapolis/St. Paul Tonight:
The Rush tribute band "Exit Stage Right" will be performing a special show tonight at the Lowry Theater in downtown St. Paul. Rob from the band contacted me to let me know that the show will start at 9pm and is expected to run for 2 hours as the band plays songs that span's Rush's catalogue.

For more information, visit http://www.myspace.com/tribute2rush and http://www.facebook.com/tributetorush.

---

Vertical Horizon's Burning the Days Delayed Until September:
We've now learned that the upcoming Vertical Horizon album Burning the Days, which features Neil Peart on several tracks, will be released on September 22nd.

Pre-ordering for the album is now available via Amazon.Com

---

Guitar Hero 5 Official Annoucement:
We've known for some time now that Rush's The Spirit of Radio would be among the 85 tracks to appear on the upcoming Guitar Hero 5 video game. The official annoucement, which comes from Rolling Stone Magazine now confirms that the track is, in fact, the live rendition of the song from Snakes & Arrows Live.

The RS article even includes a picture of Geddy. Will wonders never cease.

For those of you attending RushCon9, have a blast. For the rest of us, enjoy the final weekend of July.
||
---
July 22nd, 2009
ESPY Awards and Rush
During Sunday night's broadcast of the 2009 ESPY Awards, Rush's Tom Sawyer was used as the soundtrack for the "Best Male Athlete Nominees" video montage. Swimmer Michael Phelps took home the award.

The ESPY Awards is an annual sports awards event created and broadcast by the American cable television network ESPN.

Click HERE (or below) to watch the video segment. Tom Sawyer begins at approximately the 1 minute, 30 second mark.

Thanks to Eric from Power Windows for the news.
||
---
July 21st, 2009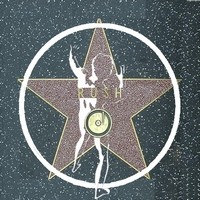 Update: Rush Star on the Hollywood Walk of Fame
It was last year when we first announced that Rush was going to be honored with their own star on the famed Hollywood Walk of Fame; one of 25 recipients chosen by the Hollywood Chamber of Commerce's Walk of Fame Committee to receive the honor in 2009.

Eric from Power Windows recently learned from a source close to the band that "they have already received the honour...the ceremony will likely take place the next time the band plays L.A.".

The next time the band plays L.A.. Like music to my ears :)

To commemorate the Walk Of Fame induction, Knucklebonz has created a special limited edition of their Rush Starman Statuette. This gold trimmed figure comes imprinted with the signatures of all three band members and is limited to a run of just 500 units. According to a representative from Knucklebonz, the figure will only be available from the Rush Backstage Club.

For those of you attending this year's RushCon9, you'll also have a chance to bid on this great statuette. For the rest of us, we'll have to wait until the Rush Backstage Club begins to sell them.
||
---
July 20th, 2009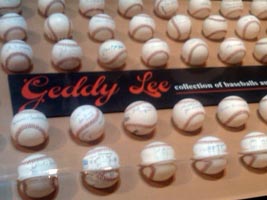 The Geddy Lee Collection: Negro League Baseball Museum
It was back in early June of last year when we first learned that Geddy had donated close to 200 baseballs to the Negro League Baseball Museum of Kansas City. The museum has now displayed Geddy's contributions calling the exhibit simply The Geddy Lee Collection.

There was an interesting article recently published discussing Geddy's contribution and the exhibit. You can read it here:

The Incredible Tale of Geddy Lee and the Negro Leagues Baseball Museum.

Thanks to reader GeddyWannaBe for passing along the article.
||
---
July 16th, 2009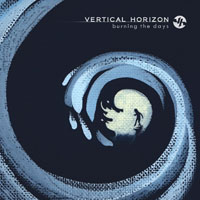 Neil Peart Featured on Vertical Horizon's Burning the Days
It's been almost three years to the day when we first reported that Neil Peart would be working on a project with his friend Matt Scannell from the band Vertical Horizon. Now, finally, Vertical Horizon's first new album in four years is about to see the light of day. From the Press Release:

Burning the Days, represents a renewed sense of creativity for the band. The CD features 12 new tracks, including 'Save Me From Myself,' their first single in nearly three years, on which legendary Rush drummer Neil Peart appears. Peart also plays on 'Even Now' and 'Welcome to the Bottom,' while Grammy Award-winner Richard Marx plays piano on 'Here' and produces two of Scannell's lead vocal tracks.

The single Save Me From Myself can be heard at the band's MySpace Page.

Scheduled for release on August 25th, pre-order links on Amazon.Com should be available soon.
||
---
July 14th, 2009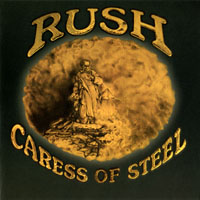 Happy Bastille Day
On this date in 1789, the middle and lower classes in France had had enough of the corrupt monarchy and decided to do something about it. The masses stormed the Bastille - the hellish French prison - and freed the prisoners; and thus began a 10 year period of political and social upheaval.

Of course, history aside, Bastille Day is well known around the world of Rush as the opening song from the band's third album Caress of Steel.

Caress of Steel has long been one of my favorite albums by Rush thanks to its complex and meandering sound. A story in the Examiner seems to agree with me. It's called Best Albums Ever: Rush - 'Caress of Steel' and it too is a celebration of Bastille Day (the holiday) and the album.

Happy Bastille's Day, all...
||
---
July 13th, 2009
Get Ready to Play Rush's "The Spirit of Radio" on Guitar Hero 5
If you haven't heard yet, the next incarnation of the Guitar Hero franchise, dubbed Guitar Hero 5 will feature the live rendition of Rush's The Spirit of Radio from 2008's Snakes & Arrows Live.

Guitar Hero 5 is expected to include 85 songs by 83 artists, and will hit store shelves on September 1st. Click HERE for a preliminary list of the 85 tracks.

Some of the included features of Guitar Hero 5 are:

In the all-new Party Play mode, players can now jump in or drop out of gameplay seamlessly, without interrupting their jam session

Play with any in-game instrument combination in any game mode - multiple vocalists, guitarists, bassists and drummers

Features new in-game artists and rock legends

The entire set list is available from the beginning

Software compatible with Guitar Hero World Tour peripherals

Guitar Bundle includes Guitar Hero World Tour compatible software and guitar controller

You can now pre-order Guitar Hero 5 at Amazon.Com via this LINK.
||
---
July 12th, 2009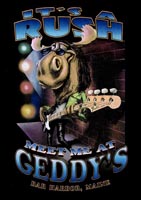 It's A Rush...Meet Me At Geddy's
Eric from Rush Fan Site Power Windows let me know about a great Rush/Geddy related t-shirt and pub in Bar Harbor, Maine. From PW:

Located in the tourist town of Bar Harbor, Maine, just outside of Acadia National Park, one will find the friendly establishment dubbed "Geddy's Pub". Established in 1974 (of course), the pub was founded by Gerald "Geddy" (pronounced "jeddy") Mitchell.

The pub sells a clever t-shirt available online which reads "It's A Rush...Meet Me At Geddy's" featuring the pub's moose mascot, wearing Geddy's hair and glasses while playing Geddy Lee's signature Jazz Bass! They also have an online "Geddy's Hall Of Fame" which consists of photos of people wearing Geddy's t-shirts, etc. Geddy's web site manager Gary Schide would love to get more photos of Rush fans (or maybe Geddy Lee himself) wearing this t-shirt, especially at Rush shows!

Thanks, of course, go out to Eric for sharing this news.
||
---
July 3rd, 2009
Rush News Bullets
Neil Peart dominates the recent news this week as we peak into a new section of his website, check out how Neil fared in this year's Drummie awards and witness how Rush is viewed in light of this year's celebration of Canada Day.

---

Bubba's Bar 'n' Grill:
Neil Peart will be launching a new section on this website this weekend called Bubba's Bar 'n' Grill.

The motto at Bubba's place is 'Good Simple Food,' and Neil's kitchen alter-ego, Bubba, offers helpful cooking tips and easy recipes 'a modest variety at first, to grow over time' presented through stories that aim to illuminate, instruct, and entertain.

Check out more about the launch of this "kitchen", which happens on July 4th, via this LINK

---

Neil Peart Wins DRUM! Magazine's "Drummer Of The Year":
Back in April, I let you know that DRUM! Magazine was taking votes for this year's Drummie Awards. And while fellow Rush webmaster Michael from NeilPeartDrumsticks.Com didn't get the award for best Drum Website of the Year, Neil did take hope top honors in both the "Drummer of the Year" and "Progressive Rock Drummer". Congratulations to Neil!

---

The 10 Most Influential Canadian Musicians":
In connection with the celebration of Canada Day on July 1st, there have been several articles about influential Canadians of late. ZME Music posted a recent list of the 10 Most Influential Canadian Musicians where Rush placed 3rd:

Alongside Genesis, Yes, Jethro Tull, Yes or Van Der Graaf Generator, the Torontonians of Rush were part of the progressive rock apex from the '70s, to mid '80s. Like many progressive bands from their time, Rush tackled many genres, from heavy metal to hard rock to synth pop, and they rocked the house regardless of what they played.

Only poet/singer/songwriter Leonard Cohen and Neil Young bested Rush in this article.

---

America's 50 Favorite Canadians!:
Also in connection with Canada Day, The Insider posted a list of America's 50 Favorite Canadians! where Rush came in at position #20. Unfortunately they described Rush as a "progressive rock / heavy metal group". Well, they got it half right. Pamela Anderson took top honors behind William Shatner in this poll.

---

Snakes Alive! The S&V Interview with Alex Lifeson of Rush:
Mike Mettler from Sound and Vision Magazine recently posted and article/interview with Alex Lifeson about how he and his co-mixer Richard Chycki worked the 5.1 mix for the legendary Canadian trio's "Snakes & Arrows Live" Blu-ray Disc.

So there are other things in the works?
Yeah, I hope so! I mean, I've got some time off [chuckles]. I've been a little bit unmotivated lately, since we've been working so much over the last 7 or 8 years. But the things that we've done physically in the studio have been inspiring, so we're planning to do a bunch of things. Rich has a number of projects, including some Rush stuff, that he'll be continuing to work on at the studio. [Just what some of those projects might be will be covered in an interview I did with Chycki that will post in the fall.]

You can read the entire interview via this LINK.

---

I'm still working on the the third edition of Rush: A Brief History of Time which I hope to have online sometime this weekend.

I hope everyone enjoys their weekend - especially those of us in the United States who will be celebrating our country's Independence Day. Warm weather, backyard barbecues, fireworks and Rush -- nothing more American than that :) Enjoy all!
||
---
- Cygnus-X1.Net Rush News Archives -

|January-March 2011 Rush News Archive|
|October-December 2010 Rush News Archive|
|July-September 2010 Rush News Archive|
|April-June 2010 Rush News Archive|
|January-March 2010 Rush News Archive|
|October-December 2009 Rush News Archive|
|July-September 2009 Rush News Archive|
|April-June 2009 Rush News Archive|
|January-March 2009 Rush News Archive|
|October-December 2008 Rush News Archive|
|July-September 2008 Rush News Archive|
|April-June 2008 Rush News Archive|
|January-March 2008 Rush News Archive|
|September-December 2007 Rush News Archive|
|June-August 2007 Rush News Archive|
|April-May 2007 Rush News Archive|
|January-March 2007 Rush News Archive|
|2006 Rush News Archive|
|2004-2005 Rush News Archive|
---