There are 15 active users currently online.
---
- Rush News Archive - July through September 2008 -
Rush Lyric Randomizer - Refresh page for a new lyric or Click to see the song

---
Order Snakes & Arrows today!


---


---
September 26th, 2008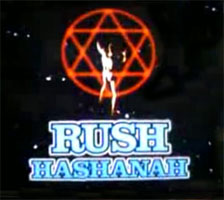 VH-1 Classic Presents Rush Hashanah
Here are some further details regarding the upcoming "Rush Hashanah" special on VH-1 Classic. The 24 hours of Rush celebrating the Jewish holiday Rosh Hashanah will begin on Monday, September 29th at 7PM EST. The complete schedule is as follows:

Monday 9/29
7-10pm: VH1 Classic in Concert- Rush, Rush in Rio
10-10:30pm: Hangin' With Rush
10:30pm-1:30am: VH1 Classic in Concert- Rush, R30
1:30-2:30am: Rush Videos
2:30-3am: Hangin' With Rush
3-6am: VH1 Classic in Concert- Rush, Rush in Rio

Tuesday 9/30
6-7am: Rush Videos
7-10am: VH1 Classic in Concert- Rush, R30
10-11am: Rush Videos
11-11:30am: Hangin' With Rush
11:30-2:30pm: VH1 Classic in Concert- Rush, Rush in Rio
2:30-3:30pm: Rush Videos
3:30-4pm: Hangin' With Rush
4-7pm: VH1 Classic in Concert- Rush, R30

Below is the commericial promo that VH-1 Classic has been airing:

---

---
||
---
September 24th, 2008
Moving Pictures Now Available for Rock Band
The wait is over for Rock Band fans: Moving Pictures, the seminal Rush album, is now available after a lengthy 4-week delay. The full album download is selling for $10.99 (880 Microsoft Points) or $1.99 (160 Microsoft Points) for each individual track. Unlike some other albums and tracks made available for Rock Band, the Moving Pictures download is made up of the original studio recordings.

Check out the official Rock Band Website for more information.
||
---
September 23rd, 2008
Rush 2009 Wall Calendar Images Now Online
I recently received my copy of the 2009 Rush "Live" Wall Calendar, which you can now purchase at Amazon.com via this LINK. As promised, I've scanned all of the internal images and posted them online in the Image Database section of the site. Or simply click HERE to access the images directly.

The "Live" images of the band which make up the calendar were taken from the Test For Echo, Vapor Trails and R30 Tours. See the Tour Info section of the site for more details on those tours.

Overall, the quality and lay-out of the calendar is top-notch and well worth the purchase price. So if you haven't ordered your copy yet, what are you waiting for? Enjoy the images-
||
---
September 23rd, 2008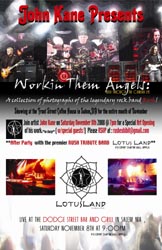 Rush Photo Exhibition Coming to Salem Massachusetts
Professional photographer and fellow Rush fan John Kane recently contacted me about an exhibit he will be holding in Salem, MA at the Front Street Coffee House on November 8th. The exhibit, which John dubs Workin' Them Angels: Rush through the Camera Eye, will contain photos John snapped off during several shows the band performed in the Boston area during the Snakes & Arrows tour.

Donna Halper, the women credited with discovering Rush, is also expected to stop by and speak at the exhibit.

After the exhibit, Rush Tribute Band Lotus Land will be performing across the street at the Dodge Street Bar & Grill.

If you are interested in attending the exhibit, send your RSVP to rushexhibit@gmail.com.

To learn more about John, you can read several recent articles (article | article) on him or check out some of his other photos at Flickr. Finally, click the promotional poster to the right for a full-size version.
||
---
September 22nd, 2008
Snakes & Arrows Live DVD Press Release
Rush.Com has just issued a press release with official details regarding the upcoming release of the Snakes & Arrows Live DVD. Here are the details:

---

RUSH will be releasing the Snakes and Arrows LIVE DVD on November 25th 2008 in both standard DVD format and Blu-ray disc!


ZOË VISION/ANTHEM ENTERTAINMENT TO RELEASE RUSH DVD SNAKES & ARROWS LIVE ON NOVEMBER 25 MUSICIANSHIP HIGHLIGHTED, EXTRAS ABUNDANT

"Thanks to epic songs, fantastical lyrics and extravagant drum solos, [Rush] rocks on through the 21st century...the scope of [their] achievements is undeniable..." Rolling Stone

September 22, 2008 o Burlington, MA - Zoë Vision/Anthem Entertainment is pleased to announce the release of the Snakes & Arrows Live DVD on November 25 from the legendary rock trio RUSH. This 3 disc DVD set, also available as a Blu-ray Disc, follows their Zoë Vision DVD releases Rush-R30 (2005) and Rush in Rio (2003).

The Snakes & Arrows Live DVD (full track listing below) was filmed with 21 High Definition cameras in 16x9 widescreen format, over two nights in October 2007 at the Netherlands' Ahoy Rotterdam arena during the renowned rock trio's lengthy world tour. Additional SD footage was filmed in Atlanta this past July. The five month trek supporting Rush's critically acclaimed 2007 studio release, Snakes & Arrows, which includes the Grammy® Award-nominated track, "Malignant Narcissism," topped Pollstar's Top 100 2007 Tours list at #12.

While previous DVD releases showcase different sides of the band , this DVD offers fans a rare and close up look at the prodigious musicianship for which the band is renown. Cameras follow bassist and vocalist Geddy Lee, guitarist Alex Lifeson and drummer Neil Peart, closely, capturing not only their playing, note for note, but also the intimacy they share on stage. The diverse track list includes many new songs from Snakes &amp Arrows as well as old favorites like "Tom Sawyer" and "Freewill" plus an explosive rendition of "Between the Wheels."" Among the hidden gems and numerous special tour moments included as extras is the fan coveted "What's That Smell" vignette and outtakes, a skit used to intro the second set, which capitalizes on the still emerging comedic talents of both Alex and Geddy who excel (and revel) in their roles as wild characters. Featuring collector's quality packaging and a choice of Dolby Digital 5.1 Surround Sound or PCM Stereo for a superior audio experience, the DVD was mixed by frequent collaborator Richard Chycki (Aerosmith, Mick Jagger). Total running time is 221 minutes.

Snakes & Arrows made a triumphant debut on the Billboard 200 upon its release May 2007, entering the chart in the #3 spot. The album's popular success marked Rush's highest chart debut since 1993, as well as the group's eleventh top ten album in the U.S. Snakes & Arrows also debuted at #3 in the band's native Canada and at #13 in the UK - the band's highest British chart ranking in 16 years. In addition, the album premiered in the top ten in Sweden and Finland, and in the top twenty in Norway, the Netherlands, and Japan.

Since releasing their self-titled debut album in 1974, Rush has been universally regarded as one of the most inventive and compelling groups in rock, famed for virtuoso musicianship. Celebrated, critically acclaimed and respected worldwide, Rush is the most successful Canadian rock band of all time and they remain one of the biggest grossing arena rock bands ever. Their extraordinary body of work - which includes such acclaimed works as 1976's 2112, 1981's Moving Pictures, 1996's Test for Echo, and 2002's Vapor Trails - has achieved worldwide sales exceeding 35 million units.

Track Listing:

Limelight
Digital Man
Entre Nous
Mission
Freewill
The Main Monkey Business
The Larger Bowl
Secret Touch
Circumstances
Between the Wheels
Dreamline

Extras:

What's Thats Smell (DVD Content)
2007 Tour Outtakes
What's That Smell Outtakes
FarCry (Alternate cut featuring rear screen footage)
The Way the Wind Blows (Alternate cut featuring rear screen footage)
Red Sector A from the R30 Tour

Disk 2:

FarCry
Workin' Them Angels
Armour and Sword
Spindrift
The Way the Wind Blows
Subdivisions
Natural Science
Witch Hunt
Malignant Narcissism - De Slagwerker
Hope
Distant Early Warning
The Spirit of Radio
Tom Sawyer
Encore:
One Little Passage
A Passage to Bangkok
YYZ

Disk 3:

Oh, Atlanta - The Authorized Bootlegs

Ghost of a Chance
Red Barchette
The Trees
2112/The Temples of Syrinx

---

Pre-Ordering through Amazon.Com will be available at this link within the next few days.
||
---
September 22nd, 2008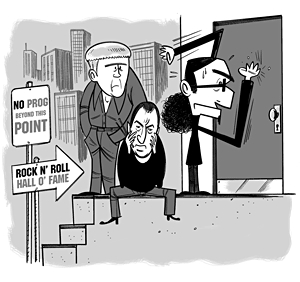 Rush Snubbed Again from the Rock & Roll Hall of Fame
The list of nominees for induction into the Rock & Roll Hall of Fame are in and, not surprisingly, Rush was excluded yet again. This year, the list of hopefuls includes:

Metallica
Jeff Beck
RUN DMC
Chic
Wanda Jackson
the Stooges
Little Anthony and the Imperials
War
Bobby Womack

Eric from Power Windows has a great running history of Rush's exclusion from the hall. You can check it out HERE.
||
---
September 22nd, 2008
Special News Announcement Coming from Rush.Com
The latest Rush News Letter has the following message:

There will be a special news announcement on RUSH.COM in the next couple of days. Please check www.rush.com for updates.

Will this announcement have something to do with the upcoming Snakes & Arrows Live DVD? Perhaps the new Retrospective III compilation CD/DVD? Or maybe the boys are starting early on their next studio album (wishful thinking). Whatever the news, we'll know soon enough.
||
---
September 19th, 2008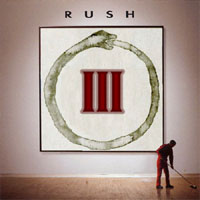 Rush: Retrospective III Due out December 9th
Update: Amazon.Com is now listing a CD/DVD version of Retrospective III. It's not clear at this time what the Bonus DVD content will contain though it may be a collection of Rush videos from their Atlantic albums.

Back in August we reported that, after 20 years together, Rush might be leaving Atlantic Records concluding their long relationship with a "Greatest Hits" album. Today, Amazon.Com has released some information on the album which is tentatively titled Retrospective 3.

Amazon lists the release date as December 9th, though no additional information including a track-list or artwork was made available as of this writing. It was previously suggested that, along with hits from Rush's Atlantic years, Retrospective 3 would also include some previously unreleased live tracks as well.

Pre-ordering of Retrospective 3 is available via Amazon.com at this LINK. By the way, the artwork to the right is my own creation and not representative of the actual artwork for the upcoming album.
||
---
September 19th, 2008
Snakes & Arrows Live DVD Release Date News
Rush.Com has been hinting at the fact that the new Live DVD would be released in the "Late Fall" of 2008. The DVD finally showed up on Amazon.Com which lists the release date as Tuesday, November 18th.

Amazon isn't taking pre-orders on the DVD yet, though that should change in the very near future. You can, however, sign up for an alert at Snakes & Arrows Live DVD page at Amazon which will advise you when the DVD is available.

The contents of the DVD were filmed during two shows in Rotterdam, Netherlands back in October of 2007. Additional content was also filmed during the band's July 22nd, 2008 Atlanta show.
||
---
September 18th, 2008
Rush News Bullets
Here's a quick review of some of the latest happenings in the world of Rush...and beyond.

- Rock Band 2 Now Available: From the makers of the smash-hit video game Rock Band comes Rock Band 2 featuring The Trees from Rush's Hemispheres album. According to RushIsABand.Com, the version of The Trees included in Rock Band 2 is another 'vault' edition, similar to Working Man and was taken from a live promotional video recorded back in 1978.

Rock Band 2 is now available at Amazon.com.

- Jazzy Available Light: Last year we reported that Rush's Available Light from their Presto album would be included in a new Jazz CD by Wave Mechanics Union; a recording project band with nearly 30 contributing musicians. The album, Second Season is now scheduled for release on October 1st and is available for pre-order at Amazon.Com.

You can listen to an excerpt of Available Light and the other tracks included in this CD at www.progjazz.com.

- Neil Peart Way?: Y108, a Hamilton Ontario Rock Station has started a petition they're dubbing OPERATION RUSH-HOUR: THE DRIVE TO HONOUR HAMILTONIAN NEIL PEART!. As Neil was born in Hamilton, the station is pushing to have a stretch of Red Hill Expressway in Hamilton renamed to Neil Peart Way. Click HERE to read the details of the petition and/or add your name to the list. Thanks to RushIsABand.Com for the head's up on this initiative.
||
---
September 17th, 2008
2009 Rush Wall Calendar Now Available at Rush Backstage Club
Though it's still available for pre-order at Amazon.Com, the 2009 Rush Wall Calendar is now available directly at the Rush Backstage Club.

According to a Rush News Letter, last year's calendar sold out before Christmas so if you're planning on getting a copy of the 2009 edition, you may want to place your order sooner rather than later.

This marks the fifth Rush Wall Calendar in the series which began back in 2004. As with all the past calendars, I plan on scanning the contents and uploading them to the Image Database section of the site as soon as my copy arrives.
||
---
September 12th, 2008
"Rush Hashanah" Welcomes Jewish New Year on VH1 Classic
"In a victory for both Canadian prog rock and awesomely clever puns, VH1 Classic will ring in Rosh Hashanah (the Jewish New Year) with "Rush Hashanah". The channel will air 24 hours of Rush on September 29th. The marathon will feature two of the band's concert films, Rush In Rio and R30, plus music videos from the band's past and present. "Rush Hashanah" isn't all just pun and games, however: singer/bassist Geddy Lee, born Gary Weinrib, is the son of two Holocaust survivors. Lee's parents actually met when they were interred at a labor camp in Poland and ultimately got married after they were liberated. So celebrate Rush Hashanah this year with Geddy and the gang on VH1 Classic." - Rolling Stone Magazine
||
---
September 12th, 2008
Neil Peart Turns 56
Today marks the 56th birthday of Rush Drummer and Lyricist Extraordinaire Neil Peart. Neil (born Neil Ellwood Peart) came into the world on September 12th in 1952 Hamilton, Ontario.

He grew up in Port Dalhousie, Ontario, Canada (now part of St. Catharines) working the occasional odd job including, as we learned a while back, a Parts Manager for his father Tractor Supply company. His true ambition, however, was to become a professional musician. During adolescence, he floated from regional band to regional band and dropped out of high school to pursue a career as a full-time drummer. After a discouraging stint in England to concentrate on his music, Peart returned home, where he joined local Toronto band Rush in the summer of 1974. And the rest, as they say, is history.

Happy Birthday, Neil. Many happy returns.
||
---
September 9th, 2008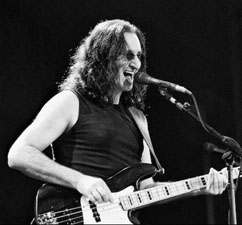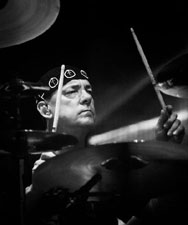 The Monochromes
During the Snakes & Arrows Tour of 2007-08, tour photographer John Arrowsmith chronicled each show/venue with a series of photographs which appear on Rush.Com within the Multimedia / Rush on the Road section. Recently, John added a number of striking monochrome (black & white) images taken from one of the final shows.

You can check all of the Rush on the Road images HERE.

Thanks to RushIsABand.Com and John Arrowsmith for sharing the news.
||
---
September 4th, 2008
Rush News Bullets
I spent the last few days of the Summer down at the Jersey shore where I ran into a number of fellow Rush fans (it helps to wear Rush t-shirts when walking the boards). But now that Summer is officially over, at least here in the U.S., it's time to get back to the business of Rush.

- Moving Pictures Album Download Delayed: According to numerous news sources including the official Rush newsletter, the full-album download of Moving Pictures for the video game Rock Band? has been delayed.

"Unfortunately, due to unforeseen technical difficulties, we won't be able to release Rush's "Moving Pictures" this week. We'll be working on it as hard as we can, but it looks like it could be a couple of weeks to fix. In the meantime we will be moving around our schedule so we still have DLC coming out each week (including this week, info to follow in another announcement)."

- Snakes & Arrows Live DVD Due Out This Fall: Rush.Com also announced that the upcoming DVD of Snakes & Arrows Live will be out in the late fall of 2008. Since the fall season officially extends into late December, it's unclear just when the DVD will be released, but we'll have more news as it is released.

- Rush Not Leaving Atlantic Records...Yet: Back in mid-August we reported that Rush might be leaving Atlantic Records after the release of a Greatest Hits album. Apparently, that news story was premature according to a news blog posting from Classic Rock Magazine.

A spokesperson for Rush has contacted Classic Rock to deny web reports that the band are quitting Atlantic Records for the independent Canadian company Rounder. In fact, Rush are still contracted to Atlantic for one more album. Rounder - whose roster includes George Thorogood & The Destroyers, Alison Krauss, The Tragically Hip and Bruce Cockburn - will be issuing the trio's upcoming Snakes & Arrows Live DVD, but that's as far as the arrangement goes."

- The Spirit of Radio to be included on Rock Revolution Video Game: Rock Revolution from Konami is an upcoming video game which is similar to the very popular Guitar Hero and Rock Band games. According to some early leaks of the tracks included on this game, Rush's The Spirit of Radio will be included in the initial release of the game. More information can be read HERE.

- An Unlikely Rush Fan: This picture says it all. Carmen Electra a Rush Fan? Who would have thunk it? :)
||
---
August 27th, 2008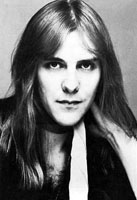 Alex Lifeson Turns 55
On this date in 1953, Rush Guitarist Alex Lifeson (born Aleksandar Zivojinovicin) came into the world in Fernie, British Columbia. As Rush fans know, Lifeson founded the band in the summer of 1968 and was also responsible for bringing front-man Geddy Lee into the mix.

Though Alex is obviously best known for being the guitarist for Rush, he's also the part owner of the Toronto restaurant The Orbit Room, and is a licensed aircraft pilot, motorcycle rider, and gourmet cook.

Happy Birthday, Alex! Many happy returns!

||
---
August 22nd, 2008
Rock Band? Fans Can Be Modern Day Warriors With Complete Rush Album Moving Pictures
Harmonix and MTV Games announced today the addition of the fourth complete album to the Rock Band? Music Store catalog of downloadable content. Available August 26, Rush's biggest selling album, Moving Pictures, will be added to the Rock Band DLC catalog giving rock fans the opportunity to build a complete setlist to take on their virtual world tour.

Moving Pictures joins the five other Rush tracks in the catalog including the recent release of the Rush Masters Vault selections which includes exclusive Rock Band versions of "Closer To The Heart" and "Working Man (Vault Edition)" and cover versions of "Tom Sawyer," "Limelight" and "Working Man." Moving Pictures, Rush's eighth studio album, released in 1981 has sold more than five million copies. One of the most successful rock bands in music history, Canada's Rush has sold more than 40 million albums worldwide and continue to sell out arenas worldwide.

Click HERE to read the entire press release.

The complete Moving Pictures album will sell for for $10.99 or 880 Microsoft Points, or $1.99 (160 Microsoft Points) per track, which indludes the following master tracks:

Tom Sawyer; Red Barchetta; YYZ; Limelight; The Camera Eye; Witch Hunt; Vital Signs

The Rock Band website has also posted a new video interview with Geddy and Alex where they discuss the making of Moving Pictures.
||
---
August 21st, 2008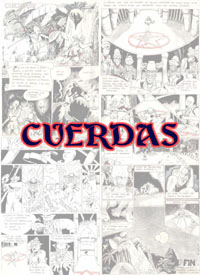 Rush News Bullets
From Comics to Tractor Parts to Drummer Jokes, here's a little taste of some recent Rush related news.

- Neil Peart: Parts Manager: Before Neil joined the band in the early 70's, and after returning home to St. Catharines, Ontario after spending a year and half in England, the soon-to-be drum star took up a more down-to-earth job as the Parts Manager at a Farm Equipment dealership. Neil worked alongside his father Glen Peart in those days at Dalziel Equipment. Ed from RushIsABand.Com just posted some scans of a Dalziel Equipment newsletter from 1973 which includes pictures of both Neil and his father. Definitely worth checking out . Thanks to Ed for sharing.

- Cuerdas Uncovered: Update: Special thanks go out to Steve Fletcher, Claudio D. Rodrėguez ( aka: C-08 ) and Carlos Perez for their work in translating the comic itself. The English version is now online.

I recently came across a very interesting Spanish comic based on 2112 titled Cuerdas or 'Strings'. With some help from some fellow readers, I'm in the process of translating this comic into English. In the mean time, you can check out the original Spanish version HERE.

- How many drummers does it take to change a lightbulb?: Five: One to screw the bulb in, and four to talk about how much better Neil Peart could've done it. This is but one of the 23 Best Drummer Jokes Ever recently posted at MusicRadar.Com. Why 23 jokes? Read the article to find out :)
||
---
August 18th, 2008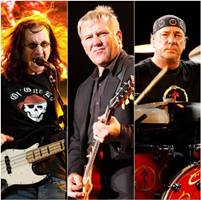 Fabulous and 50
MSN.Com recently ran an online news feature called Fabulous and 50 which focused on "some of Hollywood's most talented, forward-thinking, and, yes, hot celebs who are turning 50 or are already in their 50s. And still quite fabulous..."Among the Fab50 were all three members of Rush. Here's what they had to say about the band:

The Rush boys -- Geddy Lee, 55, Alex Lifeson, 54, and Neil Peart, 55: This trio has rocked North America (they're Canadian) for 40 years, including their successful, just-concluded 2008 tour. Lee was just 15 when he joined the band in '68, at the behest of lifelong pal Lifeson. The hard-rocking Rush members have influenced bands like Iron Maiden, Metallica and Primus, and show no signs of slowing down themselves. Not so fly by night after all.

You can read the entire article at this link. Thanks to reader Jeff Johnston for the head's up.
||
---
August 17th, 2008
Metal Band 'Atheist' to Record Cover of YYZ
According to a posting at their official website, Atheist will be recording a cover of 'YYZ' on their upcoming reunion album scheduled for release in 2009. From their site:

"On the new ATHEIST record we are going to record a blazing cover of the brilliant 'YYZ' from RUSH. As you all know, we have long been fans of RUSH, and we know this cover is a bit outside the box of what most metal bands do, but then again as a band we are very outside the box of what most metal bands do. And I can confirm that it will fucking destroy, and when people hear [Steve] Flynn's [drums] version of this tune. He renders me speechless. He has always claimed Neil Peart as a major influence, and so it makes perfect sense to cover this amazing piece of music."
Atheist are a technical death metal band from Florida, founded in 1984, whose music combined brutal riffs with subtle latin music arrangements and elements of jazz. Their second album, Unquestionable Presence, released in 1991, has been regarded by some critics as one of the most influential technical death metal albums of all time.

Thanks to Power Windows for the news. ||
---
August 15th, 2008
Rush to Sever Ties with Atlantic Records?
According to Ed over at RushIsABand.Com, Rush may be ending their nearly 20-year relationship with Atlantic Records after the release of a Greatest Hits album sometime next year. Rush has been under the Atlantic Records labels since 1989, marking the beginning of their long relationship with the release of Presto. Overall, the band has released 11 albums under Atlantic (7 studio albums and 4 live albums).

The aforementioned Greatest Hits album is tentatively being titled Rush: 1989-2009 and is likely to include some previously unreleased live tracks during the band's tenure with Atlantic.

Though nothing official has been announced, Rush is apparently now in negotiations with Rounder Records, one of the largest Independent records labels in the U.S.

Thanks, as always, to Ed for the news.
||
---
August 13th, 2008
Bubba's Book Club Update from Neil Peart
Neil Peart recently updated the Bubba's Book Club section of his website. As an avid reader, Neil periodically recommends and reviews some of the books he has read in this section of his site. In this 10th issue of the "Club", Neil recommends the following books:

The Colony of Unrequited Dreams by Wayne Johnston
The Custodian of Paradise also by Wayne Johnston
The Alexandria Quartet by Lawrence Durrell
Zen and Now: On the Trail of Robert Pirsig and the Art of Motorcycle Maintenance by Mark Richardson
A Voyage Long and Strange: Rediscovering the New World by Tony Horwitz

Thanks to reader Ray M for the head's up on Neils update.
||
---
August 5th, 2008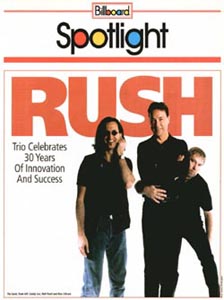 Rush News Bullets
The tour may be over but there's still plenty to talk about in the world of Rush. Here are some notable news stories from the past couple of days, plus a site update I'm sure you'll enjoy-

- The Rock & Roll Hall of Fame Debate Continues: A recent blog from Wired.com has opened up the unending debate regarding Rush's exclusion from the Rock & Roll Hall of Fame. This time, however, fans - and non fans alike - can add their voice to the issue which may reach the eyes and ears of those involved with the institution.

"You are yet to be inducted," Stephen Colbert asked the Canadian power trio on his show in June. "Is there any chance that your next album will be titled That's Bullsh*t?"

A fair, and hilarious, question, and one with legs. In honor of Listening Post's recent Rush tangent, I decided to ask my contact at the Rock and Roll Hall of Fame in Cleveland if the institution would field some questions on the matter. They agreed, so here I am, Rush fans and haters, asking for your help.

If you could ask the Rock and Roll Hall of Fame about a Rush candidacy, what would you ask? Tell us below and we'll sift through the queries and lob the best three at Cleveland and see what comes up.


You can read the entire blog and post your own comments on the subject via this LINK.

- Progressive Metal Book to Feature Rush: According to Blabbermouth.Net, the first definitive book of Progressive Metal, which will be released by Bazillion Points Publishing in the Fall of 2009, will feature content on Rush. Penned by music writer Jeff Wagner, the book "explores the shared lineage of prog rock and metal".

Beginning with the hugely influential mid-1970s efforts of Canadian band RUSH, Wagner's book explores the shared lineage of prog rock and metal. He unfurls the huge tapestry and examines the sounds and styles created during the genre's 40-year history, including: the "Big Three" - QUEENSR'CHE, FATES WARNING, and DREAM THEATER; extreme prog pioneers VOIVOD and CELTIC FROST; Norway's post-black metal avant garde; and of course the huge global movement of Big Three-worshippers in the 1990s. The vastness of what can be considered "progressive metal" has proven to be one of the most viable, malleable forms in all of modern music.

Many thanks to RushIsABand.Com for passing along the news.

- A Look Back at Rush's 30th Anniversary: After the recent attention Rush received in Rolling Stone magazine and the division among fans on whether or not the article 'Rush Never Sleeps' was a favorable one or not, I decided to revisit the amazing tribute Billboard Magazine did on Rush back in May 2004 in celebration of their 30th Anniversary.

The collection of articles and tributes that appeared in that issue were heart-warming and inspirational to read and further solidified the amazing and influential career that Rush has been blessed with. So, with that in mind, I've transcribed all of the Rush-related articles that appeared in that edition of Billboard magazine. Additionally, I've scanned all the images that accompanied those articles as well as all of the tributes and advertisements for Rush that were listed.

You can check them all out HERE. One final note: As many of you may recall, fans were allowed to 'donate' to the tribute which gave us the unique pleasure of having our names appear in the magazine (See this IMAGE). If your name appears on this image, drop me a line and let me know so I can highlight it on the image. Enjoy-
||
---
July 31st, 2008
News, Weather, and Sports Update from Neil Peart
As has been the case throughout most of the 2007-08 Snakes & Arrows Tour, every time the band broke for an extended break, Neil would have a timely update in the News, Weather, and Sports section of his website. And so, with the tour over, we have another (and final for the tour) update from Neil. In this edition, titled Independence Day, Neil discusses the band's (and his personal) trip to the Fourth of July show in Atlantic City, NJ -- the last show I personally attended on this final leg of the tour.

This dirt and gravel track (sometimes sandy, too-a particular hazard to us on our heavy bikes) framed in pinewoods ran through the Wharton State Forest in the southern part of the state. The area, known as the Pine Barrens, is officially designated the Pinelands National Reserve, a million acres of pitch pines and other vegetation adapted to the sandy, acidic soil and frequent fires. It is one of New Jersey's more attractive areas, and Michael and I also traveled many pretty little roads in Western Jersey, passing verdant farms, luxurious rural homes, and lush woodlands.
As I'm a residence of Western New Jersey, I suspect Neil was too far off from my humble abode.

Neil went on to share his continued appreciation - and amazement - at the celebrity he and Rush have achieved over the years.
Several nights this summer, during the opening song, "Limelight" ("Living on a lighted stage, approaches the unreal"-still so true!), especially when we were playing outdoors and I could see everybody, I couldn't help shaking my head in disbelief at the sheer numbers of people out there. "Unbelievable," I thought, "All of those people spent their money and their time, on this night in this place, to come and see us."

That realization is somehow humbling-you feel you have to try to earn that, because it's obvious that those people deserve the best you can give them.
Neil then proceeds to discuss many aspects of his 20,000 miles of riding, including the hazzards of his select mode of travel before wrapping up his update with some thoughts he and his bandmates had on the tour in general.
The forty-nine shows (added to the sixty-four last year) were exhausting, all right (and some of the rides, too), but satisfying, on the whole. Alex and Geddy and I were talking before the Atlanta show, one of the final ones, and agreed that the overall quality of our performances this summer has been better than ever before-that's something to be able to share, after all these years. The audiences, as I wrote last summer, were "wonderfully large and unbelievably appreciative (adjectives interchangeable)", and-crucially-we remained mostly healthy.

For now, I look forward to a long, slow recovery, and to a whole series of Independence Days. They will be sweeter for being so hard-won.
As usual, it's a very entertaining, informative and insightful read. I highly recommend you check it out (Link). Enjoy. ||
---
July 31st, 2008

Snakes & Arrows Live Tour Ranked #8
According to Rolling Stone's Midyear Music Biz Report Card, the 2008 leg of the Snakes & Arrows Live tour ranked #8 among all Rock/Pop concerts this year with earnings of $18.3 million. The initial leg back in 2007 came in at position #6 with $21 million in earnings. (See: Summer Concerts Rocked).

Bon Jovi, some guy from New Jersey and Van Halen took the top 3 spots during the first half of the year.

Thanks to Eric from Power Windows for the news update.
||
---
July 31st, 2008
2009 Rush Wall Calendar Now Available for Pre-Order
Amazon.Com now has the upcoming 2009 Rush Wall Calendar available for pre-order. The calendar is expected to ship sometime in August. At this time, it is not available at the Rush Backstage Club but I'm sure it'll be there relatively soon.

This marks the fifth Rush Wall Calendar in the series which began back in 2004. As with all the past calendars, I plan on scanning the contents and uploading them to the Image Database section of the site as soon as my copy arrives.

Pre-order the calendar via this LINK or if you prefer a store front other than Amazon.Com, you can pre-order it HERE.
||
---
July 30th, 2008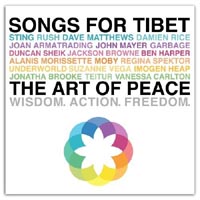 Songs for Tibet Track List Revealed
Update: We've now learned that the version of Hope included on this benefit album is not from Snakes & Arrows Live but, instead, was taken from the May 25th, 2008 show at the Brandt Center in Regina, SK.

Update: Audio samples of each track can be listed to HERE. Thanks to Eric from Power Windows for the link.

Amazon.Com has just posted the entire tracklist for the double-CD "Songs for Tibet" and, as many had expected, Rush's Hope will be the acoustic track that appears on the benefit album.

Disc: 1

1. Hide & Seek 2 (Imogen Heap)
2. Send Your Love - Art of Peace Remix (Sting)
3. Versions of Violence - Recorded in dressing room in Cologne, Germany (Alanis Morissette)
4. Belief (John Mayer)
5. Better (Regina Spektor)
6. We Are All Made of Stars - 2008 (Moby)
7. Making Noise (Damien Rice & The Cheshire Project)
8. More Than This - Campfire Take (Vanessa Carlton)
9. Nothing Fades- Kosen Rufu Version (Duncan Sheik)
10. Where Are You Going - Live in Barcelona (Dave Matthews & Tim Reynolds)

Disc: 2

1. Song Of Sand - Great City Version (Suzanne Vega)
2. All The Good In This Life (Garbage)
3. Hope - Live for The Art of Peace (Rush)
4. Madonna On The Curb - Peace Mix (Jonatha Brooke)
5. In These Times - the Concord Mix (Joan Armatrading)
6. All My Mistakes - Featuring Tarira (Teitur )
7. Alive In The World (Jackson Browne)
8. Better Way - Live in Six Fours les Plage (Ben Harper)
9. The Heart Of The Matter Underlying Mix (Rupert Hine)
10. To Heal - and Restore Broken Bodies (Underworld)

Interestingly enough, it appears that the live rendition of "Hope" from Snakes & Arrows Live will be the version included on the album. You can pre-order the CD from Amazon.Com via this link. Thanks to Ed from RushIsABand for passing along the update.
||
---
July 29th, 2008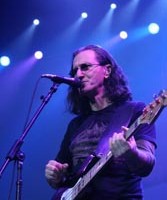 Geddy Lee Turns 55
On this date in 1953, in the small Toronto village of Willowdale, Gary Lee Weinrib was born. So, accordingly, let's all wish "Geddy" Lee - the voice and ferocious bass behind Rush - a rousing Happy 55th Birthday! Happy Birthday, Geddy -- and many happy returns.

Coincidentally, this date also marks the anniversary of when Neil Peart joined the band (July 29th, 1974). Now that's one heck of a birthday present to receive.

Thanks to Today in Rush History for the news.

||
---
July 28th, 2008
New Multimedia Content at Rush.Com
The band's official website Rush.Com has added some new content to the Multimedia section. First up is Part III of the ongoing saga 'The Biggest Fans' which focuses on the Barbie dolls that adorn Alex's equipment on stage. It's, well, bizarre but certainly worth a viewing. There are also pictures from the last two concerts in Atlanta and Indy.

Finally, an interview video with Geddy and Alex has been included where the discussion centers around Rock Band: The Video Game and the release of the alternate version of "Working Man".
||
---
July 28th, 2008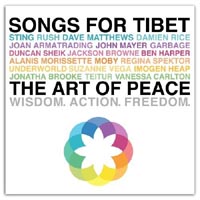 Songs for Tibet Scheduled for August 5th Release
As reported earlier this month, Rush will have an acoustic song appear on the upcoming Songs for Tibet benefit album. That album is now available for Pre-Order at Amazon.Com and is scheduled to be released on August 5th.

As a show of solidarity with the Dalai Lama and Tibet, twenty musicians have come together to release an album on the eve of the Beijing Olympics. The CD is entitled Songs for Tibet The Art of Peace. Legendary producer Rupert Hine has brought together some of the world s top artists, including Sting, John Mayer, Dave Matthews, Alanis Morissette, Ben Harper, Imogen Heap, Damien Rice and many others. These acoustic recordings - some original for the project and some acoustic recordings of previously released songs - express our common vulnerabilities and experiences in pursuing happiness, peace and freedom.

A track list still hasn't been published so the debate continues as to which Rush track will make the cut. Also note-worthy: As you can see on the album cover image, Rush takes the top billing behind Sting; nice to see considering the caliber of artists that also appear. Thanks to Power Windows for the head's up.
||
---
July 28th, 2008
Snakes & Arrows DVD Scheduled for November Release
According to FogoLabs, who are the production and filming house behind the upcoming Snakes & Arrows Live DVD, the tentative release date for the DVD has been set as November 4th of this year. As previously reported, the Rush concert in Atlanta was filmed in HD so as to capture some additional footage which could make its way into the bonus material for the DVD.

Now that the tour has ended, Geddy Lee and Alex Lifeson are expected to take several weeks off before before spending some time putting the finishing touches on the DVD set. Neil Peart is reportedly working on the packaging - and hopefully some commentary - of the set.

Though the release data is only a few months off, there are no pre-order links online - yet. Once they're available, we'll be sure to post about them here.
||
---
July 24th, 2008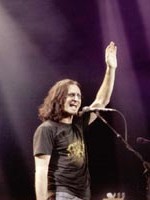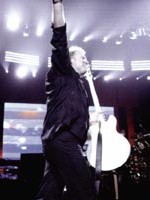 Snakes & Arrows Tour Wraps Tonight
It all began on a warm, muggy night in Atlanta back on June 13th of 2007. Rush took the stage at the HiFi Buys Amphitheater for the first show in support of their latest album Snakes & Arrows. It was the first time in nearly 3 years that the band had taken the stage after completing their R30 (30th Anniversary) tour.

Now, over a year later, Rush will take the stage at the Verizon Amphitheatre in Indianapolis, IN for their 114th* and final show of this tour.

Interestingly enough, their last show in Atlanta was apparently filmed in HD as potential bonus material for their upcoming Snakes & Arrows Live DVD; the companion to the live CD. Beyond the Live DVD, which is slated to be released in time for the holidays later this year, the band has no immediate plans to return to the studio for their next album. However it's been clear that Geddy, Alex and Neil were extremely pleased with Snakes & Arrows as well as the tour so we can only hope that their creative juices will begin to flow in the very near future.

Regardless, this past year has been an exciting one for all Rush fans, myself in particular. I was fortunate enough to see the boys play four times during the 2007-08 tour including the phenomenal performance last September at Madison Square Garden in New York City as well as their very first performance in Atlantic City, NJ on the 4th of July.

Yet, Now it's come to this... the end of the tour. Thank you, Rush!
||
---
July 23rd, 2008
Rush play Rush on Rock Band
Prior to Rush's appearance on The Colbert Report last week, the band spent some time back-stage testing their skills on Rock Band. Their song of choice? Well Tom Sawyer of course. A behind-the-scenes video was taken of the band playing themselves on the little screen and was posted online by the Colbert Nation Fansite.

The video can been seen via this link as well as below. Will Rush pass the video game test? Check out the video and find out! Thanks to RushIsABand.Com for the head's up.

---

---
||
---
July 22nd, 2008
Rush News Bullets
The Snakes & Arrows Live Tour of 2008 is winding down. Rush will play in Atlanta tonight at the Verizon Wireless Amphitheatre at Encore Park before closing out the tour in Indianapolis, IN on Thursday the 24th. In the mean time, there's been plenty of exciting Rush related news over the past couple of days, so let's get to it.

- Rush release alternate version of Working Man: Due to the popular demand which stemmed from its release on the video game Rock Band, Rush has now released the "Vault" version of Working Man on iTunes.

"The version features a never before heard guitar solo that Alex Lifeson did during the original recordings back in the 70's. The song was re-mixed by Rich Chycki who is known for his work on R30 and Snakes & Arrows. A great addition to the Rush song library!"

- Rush's Old Stage Costumes Unearthed: This is a news story only a die-hard Rush fan can appreciate -- originally from Classic Rock Magazine:

Ever wondered where Rush's fondly remembered satin kimono costumes (link) ended up? Be honest now - you have, haven't you?

Well, now it can be revealed. Jap band Onmyo-Za have Geddy, Alex and Neil's old duds in their possession and are wearing them with pride!

(Alright, so we know these sorta outfits are de rigeur in Japan's Visual Kei scene, but give us a break, will ya?!)

Onmyo-Za have been described as a Japanese thrash-pop answer to Nightwish, and you can check them out playing their fine opus Kasha No Wadachi here.

- The House that Rush Built: Earlier this year we reported that Rush had donated $100,000 from the profits of their show in New Orleans to the efforts that are being made to revitalize the area since the Katrina Hurricane disaster. Today, Rush.Com reported that fans can also contribute to the Make It Right campaign which is being driven by Brad Pitt. For more information on this effort and for a donation link, please click here. To track how donations related to the Rush initiative are doing relative to other causes in the program, click here. Now you can have a hand in erecting the House That Rush Built.
||
---
July 16th, 2008
Update: Rush Perform on The Colbert Report
Update: The YouTube videos have been taken down (no real surprise there), so I've replaced them with the official video feed from Comedy Central (see below). The entire episode is also available online on The Colbert Report's website.

The Rush performance on the Colbert Report last night was fantastic. Not only did the band perform an interrupted version of Tom Sawyer, but host Stephen Colbert also interviewed the entire band prior to the song. With such questions as "What's Your Favorite Color" directed at Neil Peart to wondering if their next album will be titled "That's Bullshit" in response to the band's exclusion from the Rock & Roll Hall of Fame, the entire segment was extremely entertaining - and the studio audience was cheering and laughing throughout.

Videos of the performance/interview as well as other Rush-related moments during the show are already available on YouTube (see links below).





Because Colbert asked the band if their stop on his show would appear on the back of their concert t-shirts, to which the band responded "sure", I've added the stop to the Tour Dates section of the site :)

Other "official" links to the show are available at The Colbert Report Website.
||
---
July 15th, 2008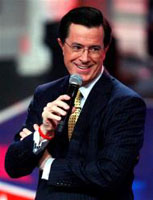 Rush to Appear on The Colbert Report
For the first time in over 30 years, Rush will be making an appearance - and playing - on American television. As indicated from an AP News Story, Rush will make their appearance on Wednesday night (July 16th):

The Canadian band Rush, which hasn't performed on U.S. television in more than three decades, will play their classic "Tom Sawyer" on the Comedy Central show Wednesday (11:30 p.m. EST). The Geddy Lee-led trio, which is currently on tour, hasn't played on U.S. television since 1975.

What a great way to wrap up the tour! I'll post video links to the actual appearance and performance once they become available. For more information on the Colbert Report, click HERE.

Thanks to readers Mike M., Jeff J. and GeddyWannaBe for the head's up on this news.
||
---
July 15th, 2008
Songs for Tibet - The Art of Peace will include track by Rush
According to an article posted on Sting's (of the Police) website, Rush will appear on the upcoming Songs for Tibet - The Art of Peace album.

Sting, Dave Matthews, John Mayer & other Top Artists send a musical message of support to Tibet and the Dalai Lama - 'Songs for Tibet' set for release August 5, 2008 in time for the Olympics...

The Art of Peace Foundation announced today that over a dozen of the world's top musical artists, including Sting, Dave Matthews, John Mayer, Suzanne Vega, Rush and Duncan Sheik are coming together for an album entitled, "Songs for Tibet - The Art of Peace." The project is the artists' expression of peace and support for Tibet and the Dalai Lama.

The album features acoustic songs recorded by the artists that are proactive celebrations of our shared humanity and common search for happiness. The songs themselves reflect the sublime beauty and vulnerabilities experienced in pursuit of happiness, peace and freedom.

The album will release August 5th, three days before the opening of the Summer Olympics.

At this time, it's unclear which Rush track will be included and if it will re-recorded by the band for this album, or lifted from an exisiting album. Possibilities include Hope from Snakes & Arrows as well as the live rendition of Resist from R30 and Rush in Rio.

Thanks to Power Windows for the news.
||
---
July 9th, 2008
Rush News Bullets
Rolling Stone Magazine is at it again while a British magazine has a few things to say about Rush. Plus some exciting news for Rock Band fans...

- Rolling Stone Magazine Responds to Rush Fans -- Sort Of: After last week's Rolling Stone Magazine's 4-page article Rush Never Sleeps hit the stands, Rush fans were quick to jump on the magazine for painting fans - and Rush - in less than a stellar light. Many fans, however, also thought the article was well done -- and long overdue of course. Now, Rolling Stone as countered with a mini-article which is available online.

In Rush vs. Rolling Stone: A Qualitative Analysis, RS reveals that, perhaps, they aren't as anti-Rush as we fans claim them to be. You be the judge -- I'm not quite convinced. A quick excerpt from the article follows. The full article can be read HERE.

A meme has developed in certain fan circles over the past few decades: Rolling Stone hates Rush. Ever since RS ran its review of Hemispheres in 1979, we've gotten more letters from Rush fans than perhaps anyone else. Most input runs along the lines of: "RS obviously hates Rush" or "Why hasn't Rush been inducted into the Rock and Roll Hall of Fame?" to "You suck!" So let's examine: Does Rolling Stone really hate Rush? Our scientific qualitative analysis follows.

More articles on Rush from RS Magazine:
Rush: Power From The People - from 1981
Rush: The Complete Album-by-Album Guide

- Classic Rock's "Buyer's Guide To Rush": The UK's Classic Rock Magazine, which has been fairly appreciative of Rush over the years, has a new segment in its latest issue available online. The article, titled Buyer's Guide To Rush discusses many of Rush's albums over the years and places them in categories from "Essential: Classics" to "Superior" right on down to "Avoid".

From Led Zep copyists and the sword-and-sorcery 70s, to prog rock giants and virtuoso instrumentalists, theirs has been an epic journey
Check out the entire article HERE. Thanks to Eric from Power Windows for the news.

- Rock Band: The Video Games Rocks to Rush The popular video game Rock Band, which came pre-loaded with a cover version of Rush's Tom Sawyer and later had versions of Limelight and Working Man available for download, is now slated to have the complete Moving Pictures album available as well. Additionally, master track versions of Working Man and Closer to the Heart are scheduled to be released for the game. Further, The Trees is rumored to be a feature track in the game's sequel Rock Band 2, which is due out this September.

Now, over at Rush.Com, a new video has been posted in the Multimedia section of the site which has Geddy and Alex discussing the game with Rock Band representative Brett Milano. The video touches upon the upcoming release of the alternate-master track version of Working Man, one which contains an alternate solo, for the game as well as a look back at the early days of Rush.

Finally, there are two "Rush & Rock Band" sweepstakes presently being held. You can read all the details and enter them both at the following LINK | LINK. With thanks to Ed from RushIsABand for the news. ||
---
July 5th, 2008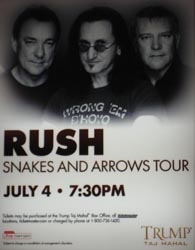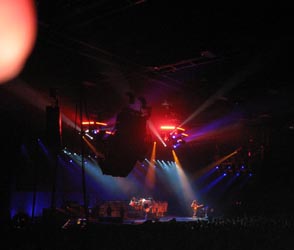 Rush Rock the Jersey Shore
The July 4th show in Atlantic City was everything you would expect from a Rush concert. A great, capacity crowd whose energy kept building throughout the show, flawless execution of the set list by the band, and a subtle but nice tribute to America's birthday by this Canadian trio. The show started off about 15 minutes late as people were still filing in at 7:30; the original starting time of the show. The first set was great, though you could sense the crowd wasn't fully into it...yet.

As the second set exploded (literally) with Far Cry, the crowd jumped to life and were going absolutely nuts by the time the second set ended. Neil's solo was, once again, outstanding and mesmerizing as witnessed by the entire crowd who were collectively fixated on the center stage and 2112 was a treat to behold.

As the band returned to the stage for the final encore, Neil replaced his usual Snakes & Arrows branded skull-cap with a "Stars & Stripes" version. Very fitting for the Fourth of July show. Some 60 odd pictures from the show can be seen via this link. Enjoy-
||
---
July 3rd, 2008
Rush Head to Atlantic City, NJ
I can't imagine a better way to spend the July 4th holiday weekend than seeing Rush ... especially in a new venue. Rush is heading towards 'Sin City East' to play a date at Trump's Taj Mahal in the Marc Etess Arena. This will be the first time the band has ever made a stop in historic Atlantic City, NJ and yours truly will be in attendance. This will be the first time I've seen Rush during the 2008 leg of the tour. I'll have a camera ready to snap off some, hopefully, decent shots of the band which will, of course, be posted here over the weekend.

A number of fans will be congregating at the Trump's Plaza Beach Bar for pre-concert festivities (i.e. eating and drinking). I'll be there as well adorning a custom Cygnus-X1.Net t-shirt. If you see me, be sure to stop by and say 'Hi'. It would be great to meet up with fellow fans.

I hope everyone enjoys the show - and for those not attending, have a great and safe holiday weekend.
||
---
July 2nd, 2008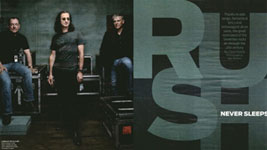 Rush Never Sleeps Article - Now Online
Update: Check out this article ("Rolling Stone" Finally Embraces Rush) ABOUT the RS article on Rush. Another fine read.

The article "Rush Never Sleeps", which appeared in the July 10-24 issue of Rolling Stone Magazine, has now been transcribed and is available here. Here's an excerpt:

It's true that Rush doesn't mean today what it did in '76 or even '96. It may mean more. Back when Peart was lost in America, Lee remembers knowing that his friend's path back would be through music. "Because that's who he was," Lee says. "The quickest way to health is to be who you are and do that thing that you love to do." And if today's Rush stands for anything besides dazzling chops and heady abstractions, it may be that simple, oddly courageous conviction: doing what you love - whether it gets you called a nerd, spurned by your label or turned into an icon.

High-resolution images from the article as also included. For a magazine that regularly scorns or outright ignores Rush, this is actually a very well written and positively spun article. Enjoy!
||
---
July 1st, 2008
Neil Peart Wins Drum! Magazine's Drummer of the Year Award
For the second consecutive year, Neil Peart has won Drum! Magazine's Drummer of the Year award based on their 2008 Reader's Poll. In addition to the top spot, Neil also won the Best Live Drummer award as well as the Best Mainstream Pop Drummer award. In the category of Best Progressive Rock Drummer, Neil was the runner-up to Dream Theater's Mike Portnoy.

The entire results are to be published in the magazine's August 2008 issue. With thanks to RushIsABand.Com for the news.
||
---
- Cygnus-X1.Net Rush News Archives -

|January-March 2011 Rush News Archive|
|October-December 2010 Rush News Archive|
|July-September 2010 Rush News Archive|
|April-June 2010 Rush News Archive|
|January-March 2010 Rush News Archive|
|October-December 2009 Rush News Archive|
|July-September 2009 Rush News Archive|
|April-June 2009 Rush News Archive|
|January-March 2009 Rush News Archive|
|October-December 2008 Rush News Archive|
|July-September 2008 Rush News Archive|
|April-June 2008 Rush News Archive|
|January-March 2008 Rush News Archive|
|September-December 2007 Rush News Archive|
|June-August 2007 Rush News Archive|
|April-May 2007 Rush News Archive|
|January-March 2007 Rush News Archive|
|2006 Rush News Archive|
|2004-2005 Rush News Archive|
---