There are 13 active users currently online.
---
- Rush News Archive - September through December 2007 -
Rush Lyric Randomizer - Refresh page for a new lyric or Click to see the song

---
Order Snakes & Arrows today!


---


---
December 30th, 2007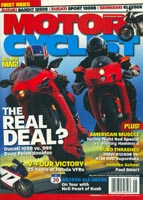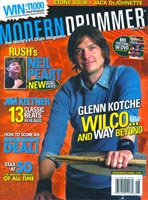 New Magazine Articles at NeilPeart.Net
As previously reported throughout the year, Neil Peart appeared in numerous magazine articles and interviews during 2007. Now, Neil has uploaded three of the more prominent articles on to his official website.

The article from Motor Cyclist Magazine contains excerpts from Neil's "Roadshow" book while the Modern Drummer articles focuses on the "Drums" of Snakes & Arrows. Finally, the article from DrumHead contains some nice retrospective photographs of Neil.

All in all, some interesting reads. Thanks to GeddyWannaBe for pointing out the updates on Neil's site.
||
---
December 26th, 2007
More Rush News Bullets
First and foremost, I hope everyone had (and is having) a great holiday season. I've taken some time off to spend with family and friends, hence the lack of updates over the past week. But there is some news to report so let's get to it.

- PLSN Interviews Howard Ungerleidger: Rush's tour lighting director Howard Ungerleider was recently interviewed by Projection, Light and Staging News. In the interview, Howard discusses his work on the Snakes & Arrows tour along with his history with the Rush.

- Rockers Rush Returning to Road in 2008: Since the announcement of the extension of the Snakes & Arrows tour into 2008, many news magazines and stations have been reporting out on the news. One of the more prominent announcements came from ABC News via this article.

The trek will include rare stops in such locales as Austin, Texas; Orlando, Fla.; New Orleans; Jacksonville, Fla.; and Winnipeg, Manitoba. Rush will also return to Chicago, Detroit, Detroit, Philadelphia and Seattle. The full itinerary will be unveiled next month.

Though only a few dates have been confirmed, rumor and speculation from many sources allowed the creation of this Google Map display of the possible tour locations for the '08 leg.

- HD Rush Documentary Being Filmed: WhistleStop Productions is developing a 5-part documentary series called Backstage Secrets, which focuses on the various members of the Rush road crew during a typical day out on the road with the band. Filmed in High Definition and with 5.1 surround audio, the series will air this Febraury on RUSH HD in Canada as well as RAVE HD and/or VOOM HD here in the U.S. There's also news that Anthem may release the documentary in some form (box-set?) for fans to purchase at a latest date. For more information on the series, click HERE.

- YouTube Rush - 1987 Style: Finally, 20 years ago this week, a television special on Rush aired (presumably in Canada). It came out during the Hold Your Fire period and is now availble, in 6 parts, from YouTube. Enjoy!
||
---
December 18th, 2007
Rush News Bullets
- Snakes & Arrows Tour Makes Billboard Top 25: According to an article from Billboard magazine, the 2007 leg of the Snakes & Arrows tour ranked among the top 25 concert tours in North America for 2007. According to the article, the S&A tour ranked #25, netted $29,659,721 in ticket sales with a total attendance of 517,211 out of a 720,497 capacity. For a complete list of the top 25 tours of 2007, click here.

- Neil Peart's Motorcycle on Tour:The Motorcycle Hall of Fame in Pickerington, Ohio has announced a new exhibit called "MOTOSTARS: CELEBRITIES + MOTORCYCLES". Among the celebrity motorcycles to be included in the exhibit will be one from Neil himself.

Notable celebrities offering personal motorcycles and memorabilia to the exhibit are auto racing legend and Alligator motorcycle inventor and manufacturer, Dan Gurney; General Motors Vice Chairman Bob Lutz; "King of the Kustomizers" George Barris; and rock legend, "Rush" drummer and lyricist, Neil Peart.

Click here for more information.

- Rush and Snakes & Arrows Among the Best: With the year coming to a close, there are many "Best of" lists published throughout the net. Two interesting ones, both coming from The Buffalo News caught my attention. The first list is Jeff Miers' Top 25 albums from Canada. Not restricted to 2007, this list includes Snakes & Arrows at #4 (Groundbreaking, forward-looking rock from Toronto's finest)and Moving Pictures at #24 (Progressive rock played with pop economy.)

In another article titled Choosing the best music of Canada: The sound of a nation, Rush was described as:

"Certainly an institution. The band has a huge following that has been with it forever.

In Canada, we feel like Rush is our progressive rock. The band is made up of survivors, of serious musicians who have both a sense of humor about it all, and a high-minded approach to what they do. In Neil Peart, you've got such an extremely literary, agile mind. It doesn't hurt, either, that Rush steadfastly avoided the pitfalls all bands face, and many succumb to. They're the real deal. "

I thought that summed it up nicely :)
||
---
December 17th, 2007
And The Winner Is...
Well, the first annual (that's right, it'll be back) Holiday Rush Contest at Cygnus-X1.Net is over. The winner was selected at random from the nearly 1,500 entries that were received since the contest launched at the beginning of the month.

The winner of the contest is Barry Moll of New Lisbon, WI.

Barry will receive the Snakes & Arrows CD, MVI, Tour Book and Key Chain along with a deck of Rush playing cards, the tribute album "Lush", a custom one-of-a-kind Cygnus-X1.Net t-shirt and the mystery prize - a limited edition Snakes & Arrows lithograph.

Congratulations Barry!

Many thanks to all of you for spreading the word about the contest, especially Eric from Power Windows and Ed from RushIsABand.Com. Thanks all!
||
---
December 13th, 2007

It's Official: Rush to Continue Snakes & Arrows Tour in 2008
The news Rush fans the world over have been waiting for: Rush will continue to tour in support of Snakes & Arrows in 2008. The band's official website reported today that the band will be playing 40+ dates next year. From the press release:

RUSH

RUSH EXTEND WORLD TOUR INTO 2008

TORONTO, ON - December 12, 2007:

After a hugely successful 2007 run, Rush are pleased to announce they will extend their Snakes & Arrows World Tour into 2008. The band will begin rehearsals in March to revamp the set list before kicking off the tour with their first ever appearance in San Juan, Puerto Rico in April.

2008 will see Rush tour in over 40 cities throughout the United States and Canada making stops in many where they haven't performed in well over a decade including: Orlando, Oklahoma City, New Orleans, Austin, Jacksonville and Winnipeg to name a few. Along the way, Rush will play new venues in Chicago, Detroit, Philadelphia and Seattle and will revisit some familiar ones in Boston, Washington and Charlotte amongst others. Rush fans can look forward to a complete tour announcement in mid January. As details develop more information will be made available at www.rush.com and www.livenation.com.

We'll report the official tour dates (and new set list) once they become available.
||
---
December 12th, 2007
Coming in January: School of Rock Rush Tribute Shows
Coming this January, the Paul Green School Of Rock in Washington D.C. will be performing a couple of Rush tribute shows at The Santa Fe Cafe in College Park, MD. The shows are scheduled for Friday January 4th and Saturday January 5th from 7-9pm.

"The future of the legacy of RUSH is now in the hands of the younger generation. The cast members of the show are professional, tight and are all now huge Rush fans themselves!" -Steve Kilgallon, Music Director

For additional information about the shows and how to RSVP, click through to their myspace page or call the School of Rock's Steve Kilgallon at 301-589-ROCK.

Thanks to Eric from PowerWindows for the news story.
||
---
December 11th, 2007
Just In Time for the Holidays: Rush Inspired Jewelry
Having trouble finding just the right gift for the Rush fan in your life? Perhaps hand-crafted jewelry inspired by Rush might be the ticket. Visit Between Sun & Moon to view numerous items for both men and women.

Every piece of jewelry is made from only high quality beads and components. All jewelry is made of Sterling Silver, Gold-fill or Copper unless otherwise noted. All items come in a natural brown jewelry box with anti-tarnish cotton and an informational card about the piece of jewelry, all arranged in a hemp gift bag or basket. Add a hand-poured palm wax candle for a complete gift arrangement.

And for a limited time, you can get FREE Priority Mail Shipping on orders of $30.00 or more when you use the promotional code "CYGNUS".

Thanks to owner and designer Katy Bransfield for offering this special promotion to Cygnus-X1.Net visitors.
||
---
December 6th, 2007
Rush Nominated for a Grammy Award
Nominations for the 50th Annual Grammy Awards were announced this morning and for the fifth time in their career, Rush has garnered a nomination! In the category of Best Rock Instrumental Performance, Rush's Malignant Narcissism from Snakes & Arrows was nominated along with:

"The Ecstasy Of Gold" by Metallica from We All Love Ennio Morricone

"Always With Me, Always With You" by Joe Satriani from Satriani Live!

"Once Upon A Time In The West" by Bruce Springsteen from We All Love Ennio Morricone
[Sony Classical]

"The Attitude Song" by Steve Vai from Sound Theories Vol. I & II


It's going to be a close race for this award considering the competition, but it's still great to see Rush recognized for the musical prowess.
||
---
December 4th, 2007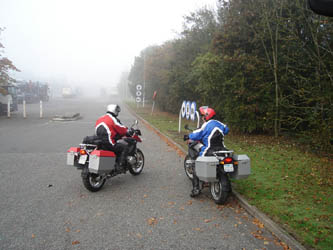 Updates from Neil Peart and Rush.Com
Neil Peart has updated the "News, Weather, and Sports" section of his website with a segment titled The Hour of Arriving. In it, Neil discusses his various riding adventures in Europe, reflecting on places he has stayed and the experience of the journey.

In my years of traveling to places both exotic and ordinary, I have had many bad journeys to great destinations, and plenty of great journeys to bad destinations. The latter occurs more often in North America, which is far too large and scattered to have the concentration of sophisticated accommodations that Europe can offer. But of course the journeys can be monumentally grand, especially in the West.

At the end of the North American part of the tour, my American riding partner Michael and I had a T-shirt printed up that listed ten American motels we had stayed at for less than $100 (some of them much less, but still nice enough, and I do love being able to park right in front of my room). The column of motels, towns, and prices appeared above the slogan, "That's The Way We Roll." While Brutus and I swanned around between luxurious hotels in Europe, we joked about making a T-shirt with a list of all the fantastic-and fantastically expensive-places we stayed there, followed by the slogan, "That's The Way WE Roll."
Later in the entry, Neil discusses the notion that drumming is his life. It was great to read, and none to surprising, that Neil views all of his experiences as his life, and not just one segment of it.
...I often refer to playing the drums, with deliberate disrespect, as "the job"-hitting things with sticks. Obviously it means much more to me than that, and has been a central focus in my life. But still, it seems rather sad to hear anyone say that their work is their life.

Not family and friends? Not reading and writing? Not hiking or cross-country skiing or birdwatching or motorcycle riding or swimming?

Just work?

I don't think so.

Earlier in the tour, when we played in Portland, Oregon, someone in the audience had apparently seen that interview, and ventured to disagree publicly with my opinion on the subject of my life. Far back on the stage-left side of the house I saw a large sign, in big block letters, "NP-THIS IS YOUR LIFE."

Well, thanks, but no thanks.

Of course it's just my opinion, but to me, my life is not dedicated to the place, but to the journey, and to the hour of arriving.

All the while knowing that, all too soon, there will come the hour of departing.
Well said, Mr. Peart. Well said.

In other official site news, Rush.Com has added some new content to their Multimedia section. Rush Radio finally launched, albeit with some limited content at the moment, and a new, rather bizarre, video featuring Alex Lifeson is online as well. It has to be seen to be appreciated. :) ||
---
November 30th, 2007
The 1st Annual Cygnus-X1.Net Rush Holiday Contest Is On!
Just in time for the holiday season, I've decided to hold a contest for all visitors to this site. The winner will receive a "Snakes & Arrows Prize Kit" that's loaded with Rush-related goodies.

For more details on the contest and instructions on how to enter, simply click HERE.

Please help spread the word about this contest - and good luck to all! Happy Holidays.
||
---
November 30th, 2007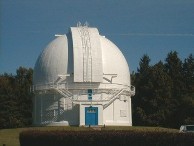 Observatory Credited with Discovering the Black Hole of Cygnus-X1 Needs Help
While this isn't really a Rush-related news story, it's a worthy cause for Rush fans and non fans alike to rally behind and considering the name of this site, it seemed fitting to include it here. I recently learned that Matthew Calaminici, who represents an organization called Savetheddo.org is currently working on an issue that may be of interest to Rush Fans.

In the 1970's Tom Bolton, professor of astronomy from the University of Toronto, was doing reseach at a place called the David Dunlap Observatory north of Toronto. This is one of the oldest observatries in North America and at the time of its construction in 1935 it was the second largest in the world. While working at the Dunlap Prof. Bolton discovered the first observable scientific evidence of a black hole. The name of the star within which he made this discovery was called Cygnus X-1. Sound Familiar?

This discovery was the inspiration for the Rush song of the same name.

Recently, the University of Toronto decided to sell the Observatory property to the highest bidder and a number of people, Prof.Bolton amoung them, are working against the clock to have this historic landmark preserved. Basically, we need people to care and we need people to show it!

All I was wondering was if you could post a short article on your blog and help spread the word or direct any interested Rush fans to our website www.savetheddo.org.

I would appreciate any help you can give.

Cheers,

Matthew Calaminici
(Like all good Canadians, I also consider myself a Rush fan)

Click HERE for more information on the cause and to sign the Online Petition.

Thanks to Ed from RushIsABand.Com for passing me the email from Matthew.
||
---
November 29th, 2007

Playboy's 2007 Music Poll
The December issue of Playboy magazine is running a poll on the best music and music acts for 2007. Included in the 12 categories are Best Rock Album, Best Live Act and Hall of Fame. While Rush and/or Snakes & Arrows don't appear as one of the choices for any category, voters have the ability to write-in their choices. From the website:

Rock and roll ebbs and flows, but one thing is sure about 2007: This year witnessed a high-water mark for the genre. Hell, except for Kanye, 50 and T.I., it felt as if hip-hop were barely even there. Instead, indie heroes like Spoon planted their flag in the mainstream, dinosaurs such as Van Halen and Led Zeppelin reunited for shows, old-school R&B belters resurfaced and were reborn, and the singer-songwriter tradition of country was renewed by albums from Miranda Lambert and Gretchen Wilson. And with left-field breakout artists like Gym Class Heroes and Justice, as well as the now usual list of Internet geniuses, there was no shortage of wizardry and wonder for the sonic adventurer.

Here's the official ballot. Make your picks, then click submit. (You can tick off boxes, or if you think you're so damn smart, write in your own favorite artist.)

To cast your vote, click on this link. Let's show Playboy magazine the power of being a Rush fan :)

Many thanks to reader Richard R. for pointing me to the Playboy article and link.
||
---
November 28th, 2007
Richard Chycki Working on New Rush DVD
Richard Chycki, the engineer behind Snakes & Arrows, has updated his blog where he indicated that he'll also be working on the new Rush DVD which will chronicle the Snakes & Arrows tour:

As mentioned by Neil Peart and reiterated by countless Rush-fan blogs, a new Rush DVD is in the works chronicling the latest Snakes & Arrows tour. I'm excited to be part of the team once again and hope you all enjoy the final result!

Click here to read Richard's complete blog. Richard also discussed his upcoming work on the DVD via this interview from Brave Words & Bloody Knuckles.
||
---
November 26th, 2007
DarkStar Video Game Update
DarkStar, the first-person video/role-playing/interactive-movie video game, which has been in development for over 7 years and whose soundtrack will contain over 20 songs by Rush, has posted some recent updates on their official website.

The first three years of Darkstar production was predominantly spent making the movie. Over 40 shoots in soundstages from Los Angeles to Missouri and an arduous post editing and special effects schedule completed that process in mid-2005, including surround sound editing, sound effects, and implementation of the RUSH music. Between mid '05 and the present day, Parallax has been producing the interactive side of the project which allows the viewer to explore the damaged Westwick spacecraft first hand, and unlock chapters of the movie in the process. The top level of the ship represents about 3/4 of the work required to animate the entire experience, and we are pleased to announce that other than Burk's quarters, Level one is finished.
Click here to access the game's official website and to learn more about the game and the inclusion of the music of Rush. ||
---
November 25th, 2007
Alex Lifeson Interview & Video in Guitarist Magazine
The November 2007 edition of the U.K. magazine Guitarist contains an interview with Alex Lifeson conducted during the band's stop in the U.K. during the Snakes & Arrows tour.

Also included in this edition is backstage video of Alex and the rest of the band during the Birmingham show back on October 11th. In the video, Alex proceeds to show off all of his gear as he discusses the tour up to that point.

Thanks to readers GeddyWannaBe and Ray M. for passing me the news.


||
---
November 21st, 2007

Laser Rush comes to Milwaukee
The Daniel M. Soref Planetarium at the Milwaukee Public Museum in Wisconsin will be showcasing "Rock Hall of Fame", an updated take on Laser Rock shows. Included in the 45 minute program will be Tom Sawyer by Rush. From the website:

The Planetarium has become a gateway to a far-out dimension with the addition of revolutionary light show Rock Hall of Fame. Space scenes and bright organic patterns evoke the trippy heydey of the laser-light show, while the auditorium resounds with the power chords of Rush's Tom Sawyer, the frenzy of the Doors hit Break on Through or the roots rock twang of Creedence Clearwater Revival's Bad Moon Rising.
The show opens on November 23rd and runs through next September. Click HERE for ticket ordering information as well as a complete setlist of the show.

Many thanks to reader Mike A. for sending me the link. ||
---
November 20th, 2007
Rock Band: The Video Game Set Now Available
Rock Band: The Video Game, which includes a cover of Tom Sawyer among the 26 available songs, is now available and can be ordered HERE via Amazon.com.

Rock Band is the follow-up to Harmonix/Electronic Arts' Guitar Hero II which featured YYZ as one of the available tracks.

The object of Guitar Hero II was to have the player master the lead guitar. Rock Band takes it one step further by allowing the player to master not only the lead guitar, but also bass guitar, drums and vocals.




||
---
November 19th, 2007
Rush News Bullets
- The Larger Bowl Charting News: Week 14: After fourteen weeks since being released, "The Larger Bowl" is still hanging in the Top 30 on several charts. It's now down to position #29 on this chart while dropping to position #27 on this chart. A pretty decent showing for an exceptional track from Snakes & Arrows.

- Alex Lifeson Artwork Sells for Thousands: The Brush for Hope Charity Auction is over and Alex Lifeson's donated painting fetched $5,700, easily leading the pack of donated artwork. The auction pulled in 60 bids (several by yours truly) and was finally won in the last remaining minutes by Ebay user Winterreifen273. Congratulations Winterreifer273 - you lucky so-n-so :)

- Updates to NeilPeart.Net and Rush.Com:As hinted by the image to the right, Neil Peart has updated his personal website, www.neilpeart.net with a new Flash introduction and homepage image. Rush.Com also received some new content as it now has photo galleries from the European leg of the tour in the Rush on the Road area within the Multimedia section of the site.

- Kids Rock to Rush:A recent article from the Washington Post discusses how trained musicians and "aging rockers" are finding new life by teaching kids how to play Rock music. From the article:

At the Silver Spring School of Rock, a charmingly disheveled space across from the AFI Silver Theatre, a teenage drummer, guitarist, bassist, keyboardist and vocalist are playing on a makeshift stage under fluorescent black light, rocking a muscular version of "Tom Sawyer," the 1981 anthem by Canadian math-rock trio Rush.

The song, like many in the Rush catalogue, is among the harder songs a rock band can attempt. There is no three-chord simplicity here. "Tom Sawyer" showcases Neil Peart's uncanny polyrhythmic percussion.

There's a video included with the article showing a group of kids playing a fairly decent rendition of Stevie Wonder's Superstitious. I guess their Tom Sawyer wasn't up to snuff...yet.
||
---
November 13th, 2007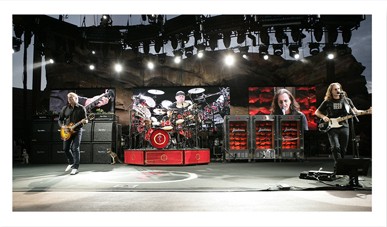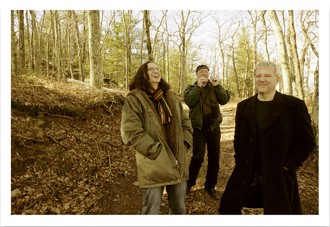 New Rush Prints from Andrew MacNaughtan
Official Rush photographer Andrew MacNaughtan has two new prints for sale on his website. From an email he sent to me:

Every year around the first of October I start receiving requests from many of you asking if I'll be adding new prints for the Holiday Season and this year was no exception. So by popular demand I've added the two most requested items another Snakes and Arrows Studio Print and Rush Live At Red Rocks!

I think you're going to love the new forest shot of the boys being boys and Neil has signed two new prints that are just to die for.

The address is the same, so come by and visit us at: http://www.andrewmacnaughtan.net

And as always if you're no longer interested in getting my newsletters drop by the art store and change your contact preferences at:

http://www.andrewmacnaughtan.net/catalog/

Cheers,

Andrew MacNaughtan.
Click HERE to access Andrew's website and/or to place an order. ||
---
November 13th, 2007
Jazz Tribute to Rush's Available Light
Progressive Rock Reimagined is the tagline at this website whose members are currently working on a Jazz Tribute to various Rock songs, one of which is Rush's Available Light from Presto. From the band's website:

The music of Yes, Rush, Pink Floyd, Frank Zappa, Led Zeppelin, Queen. We love it. But we hear jazz in it, too. Welcome! This is a recording project founded by composers Ryan Fraley & Ralph Johnson and vocalist Lydia McAdams. We're currently hard at work on our debut CD which will be in your hands in 2008. Now please sign up, and we'll send you an email when our CD is available.

The website has contains a sample of many of the songs including Available Light. It's definitely worth a listen. Thanks to Eric at Power Windows for the head's up on this tribute effort.
||
---
November 12th, 2007
Rush: The Documentary Update and Data Request
Last week, I reported that a new documentary focusing on Rush was being developed. The creators of the documentary are reaching out to Rush fans everywhere for some help on the documentary:

"RUSH: THE DOCUMENTARY will be the first in-depth look at the history and influence of Rush. It will trace the band's fascinating musical evolution, from their science fiction-inspired progressive rock of the 70s to their current heavy rock style. Combining new exclusive interviews and performance footage from the 2007 Snakes and Arrows tour as well as material from the band's massive visual archive, the film will offer Geddy, Alex and Neil's own perspective on their spectacular achievements. It will also present interviews with musicians influenced by Rush's music, including members of Metallica, Iron Maiden, Tool, Nirvana, and many others. The documentary is in pre-production with an anticipated release in late 2008.

The documentary will be directed and produced by Scot McFadyen and Sam Dunn, creators of Metal: A Headbanger's Journey, which featured interviews with metal icons including Geddy Lee. "Metal" premiered at the Toronto International Film Festival in 2005 and has been released in over 25 countries with DVD sales reaching 200,000 copies. "Metal" has received widespread praise from metal fans and musicians and has garnered rave reviews from press and film festival audiences around the world. Sam and Scot's follow-up film "Global Metal" will be released in Spring 2008 and explores the globalization of metal music in Japan, China, Indonesia, Israel, Dubai, India and Brazil.

We are reaching out to Rush fans around the world to collect rare, good quality video/film footage of:

(A) the band performing live (concerts, TV shows etc.)
(B) rare interviews with TV stations etc.

We are especially looking for stuff from the early period of the band's career (70s and early 80s), and from outside of North America. At this time, we are NOT looking for photographs, ticket stubs, tour books, audio recordings etc. ONLY footage and interviews. Do you have anything that could help us? You can be part of telling the definitive Rush story!

If you have any of this material, please contact researcher Liisa at rush@metalhistory.com. Of course, any material that we request will be safely stored and returned. Let's see a show of hands!"
This is a great way for fans to contribute to what will likely be a great documentary on Rush. ||
---
November 9th, 2007
Rush News Bullets
- Rush Guitar Legends: This December, Guitar World Magazine will be releasing a special Guitar Legends edition that focuses entirely on Rush. Dubbed the "The Definitive History of Rock's Legendary Prog-Rock Power Trio", the special issue will include stories behind the band's biggest hits, rare photos, an retrospective interview with Neil Peart, private lessons from Alex Lifeson, transcriptions of 5 Rush hits and more. Click the image to the right for a high-resolution version of the cover.

- The Larger Bowl Charting News: Week 13: In its thirteenth week after being released, "The Larger Bowl" is still showing signs of life. After weeks of dropping through the charts, the third single from Snakes & Arrows actually increased two spots on one chart while holding steady at position #25 on another chart.

- 2112 Tops the List: Over 30 years after its release, it's nice to see 2112 top someone's list; this time for the Best Song Intro

1. "2112" (Rush): Alex Lifeson, Neil Peart, and Geddy Lee's talents all unfurl during the overture to this powerful song where the gifts of life and our imagination are held by Rush. Great song to hear live!

- Brush For Hope Auction Update: With just over two days left in the Kidney Foundation of Canada's Brush for Hope Auction, Alex Lifeson's original artwork is leading the pack with bids up to $3,100 (US) thus far. No other artwork participating in this auction has broken the $300 mark.
||
---
November 8th, 2007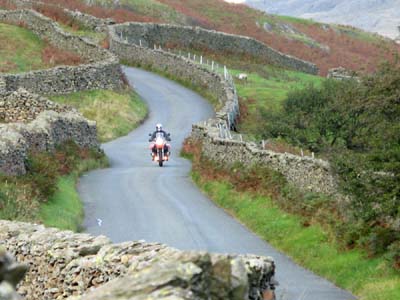 Update from Neil Peart: "Haste Ye Back"
Neil Peart has updated the NEWS, WEATHER, and SPORTS section of his website with an entry called "Haste Ye Back". As is typical of his entries, which he posted somewhat regularly during the 2007 leg of the Snakes & Arrows tour, Neil discusses his motorcycle travels between venues as was particularly taken by the Scottish countryside:

Like country roads and drivers most everywhere, our travels and encounters on the Scottish lanes were pleasant, and sometimes charming. After one stretch of roadworks and detours, a sign politely apologized, "Sorry For Any Delay," and somehow it seemed sincere, like the sign outside the little villages in Ayrshire, Robbie Burns country, "Haste Ye Back." You had to smile at that, and hope that you might indeed haste back there one day.
Sadly, however, Neil took exception to his recent inclusion in a list of "Worst Rock Lyricists".
I was checking my e-mails, and saw a story on AOL titled "Worst Rock Lyricists." Curious, I opened it and read that some "hip" magazine had declared Sting the all-time worst rock lyricist, which seemed kind of dumb. Then, in second place, I was startled to see-gulp-my name. Ouch!

I felt my face burning with shame and anger, to be so publicly declared "the second worst rock lyricist of all time," and to read my work described in words like "an awful mix of science and fantasy." Though obviously written about songs from thirty years ago, and by someone whose choice for "great" lyricists would probably be, oh, Joey Ramone or Morrissey, it still stung.
I purposely didn't post about this "list" back when it was published, but I truly hope Neil puts it behind him and chalks it up to "yet another" outfit that simply doesn't get Rush.

Finally, after discussing other interesting sight-seeing adventures including a stop at the Vimy Ridge Memorial which commemorates the 66,000 Canadian soldiers who were killed in World War I, Neil mentions the two Rotterdam shows which were filmed for the upcoming DVD:
After the final British show, on October 14 in Manchester (which I felt was particularly good, especially the lively and responsive audience), we had a day off before a pair of shows at the Ahoy arena in Rotterdam, in the Netherlands. Those performances would be filmed and recorded for an upcoming concert DVD, and having seventeen cameras and a recording truck present is always a little unsettling. You just never know if the added pressure is going to be inspiring, or nerve-racking. On that occasion, Alex and Geddy and I were fairly ecstatic to feel that we played really well on those two nights. All things considered, they may have represented the true climax of the tour. Sure, there were many satisfying shows among those sixty-four performances, I am glad to report, but those two are permanent.
Great reading (and pictures) as usual from The Professor. ||
---
November 7th, 2007

2008 Snakes & Arrows Tour News
Rumors continue to surface regarding the 2008 leg of Rush's Snakes & Arrows tour. The latest information, courtesy of RushIsABand.Com, indicates the following:

The 2008 leg of the tour will begin in Eastern (Atlantic) Canada before moving south into the U.S. The tentative date in Atlantic City, NJ has been moved to the new Prudential Center in Newark, NJ; a venue where Bon Jovi recently played a number of inaugural shows for the venue. Dates are still scheduled for New Orleans, New Mexico, Tennessee, Kentucky, Mississippi and other locations in between, as well as a dozen or so shows in the Western United States.

South America will get another taste of Rush as the band plans to spend about 2 weeks south of the border. Potential dates include Brazil, Argentina, Peru, and Chile with plans on recording at least one of these shows for a possible future CD and/or DVD release, perhaps in conjunction with the recently recorder Rotterdam shows.

An additional 48 shows are expected for the 2008 leg of the tour which should end back in Canada at the 400th anniversary celebration in Quebec City on July 4th. The crowd expected at that show could top half a million which would make it the largest audience, by far, that Rush plays a full-length show for.

Look for the official announcement from Rush.Com shortly after the new year with ticket sales beginning at the end of January or beginning of February. Once again, thanks to Ed from RushIsABand.Com for sharing the news. On to 2008!
||
---
November 2nd, 2007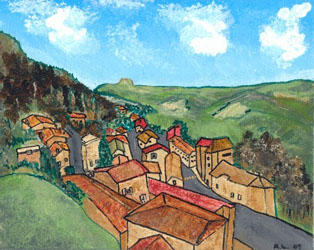 Rush News Bullets
- The Larger Bowl Charting News: Week 12: The Larger Bowl slipped a few more spots since last week and is now sitting at position #25 on two separate charts | charts.

- The Neil Peart Commemorative Snakes & Arrows Snare Drum: Power Windows recently learned that the November Guitar Center catalog contains a rather interesting new item: A Neil Peart Signature Snakes and Arrows Snare Drum, which will sell for $899.99

"This stunning 6"x14" snare features an Aztec Red finish with handpainted gold leaf and metallic gray Snakes and Arrows graphics. The finish is done by DW master craftsman Louie Garcia, who paints Neil Peart's own drums. DW's unique Black Diamond hardware is made of nickle, but it's as hard and durable as chrome. The all-maple shell utilized DW's propietary VLT (Vertical Low Timbre) design, with a vertical grain pattern that allows for a lower overall tone without sacrificing resonance and attack. The special batter head features a printed Neil Peart signature. Everything about this drum was designed in accordance with Neil Peart. This is the same snare Neil is currently using on the Snakes and Arrows tour. See it first at Guitar Center."

- "For The Love of Rush": Last week I reported that the Canadian version of the cable channel E! would be airing a 4-part series on Rock Tribute Bands with the 2nd installment focusing in on Rush Tribute Bands. The Rush segment, titled "For The Love of Rush" aired this past week and is available online via this LINK. Unfortunately, folks in the United States are restricted from viewing the video while most others outside the U.S. should have full access to the episode.

- Brush for Hope Auction Underway: The "Brush of Hope" Auction of original artwork from various Canadian Artists is underway. The benefit auction, which supports the Kidney Foundation of Canada, includes an original painting by Alex Lifeson. Click HERE to view and/or participate in the auction for Alex's painting. Click HERE to view all the works of art up for auction.
||
---
October 30th, 2007
Rush: The Documentary
The creative team behind 2005's Metal: A Headbanger's Journey are now working on a documentary centering around Rush (and it's about time!).

Boutique Toronto distributor Grindstone Media is hoping to have a hit on its hands with Rush: The Documentary. The $1.5 million feature doc about the famed rock band is produced and directed by Scot McFadyen and Sam Dunn -- the creative team behind 2005's Metal: A Headbanger's Journey -- and executive produced by Grindstone president Paul Zimic.

McFadyen -- currently in Helsinki, Finland with Rush's Snakes and Arrows tour -- finds it ironic that despite the band's influence on groups as diverse as The Red Hot Chili Peppers and Metallica, that this will be the first in-depth look at its history and influence.

"Most Canadians are aware of Rush, but I don't think that the degree of their success or influence on the international music scene is recognized or respected. We're talking about a group that is ranked fifth in the world for most consecutive gold and platinum albums, behind groups like The Beatles and the Stones," he says.


Read more about this exciting project via this LINK.
||
---
October 29th, 2007
That's A Wrap: The 2007 Leg of the Snakes & Arrows Tour Has Ended
It all began on a warm Summer (well, technically Spring) night in Atlanta, Georgia where Rush took the stage in support of their first studio album in 5 years; Snakes & Arrows. 64 concert dates later and Rush had ended the 2007 leg of the tour with their first show ever in Helsinki, Finland at the Hartwell Arena.

Not surprisingly, the tour was a tremendous success, ranking #6 in the U.S. for Summer concert tours. Through 46 dates (or the Madison Square Garden show in New York City), Rush had performed to over 489,000 fans which equated to an average attendance capacity of 70.6%. Gross revenue from the first 46 shows was $27.109M. Data for the final shows in Canada and the European Leg are not available yet, but once they are, I'll have a full analytical view of the tour.

Rumors still abound for a 2008 leg of the tour, which has been mentioned by both Alex and Geddy in the past (See: 2008 Tour Rumors) however nothing official has yet been announced. Hopefully that will change in the very near future.
||
---
October 26th, 2007
The Larger Bowl Charting News: Week 11
After a sizeable drop in the charts last week, the latest single from Snakes & Arrows has slowed its decline. In its 11th week on the chart, "The Larger Bowl" is now sitting at position #24 on this chart and position #21 on this chart.

It's still unclear if Rush will release "Workin' Them Angels" as the next single off the album, though it was hinted in late September that this would be the case. We'll have to wait and see.
||
---
October 25th, 2007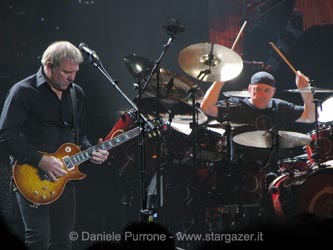 Rush Rocks Europe
The 2007-leg of the Snakes & Arrows tour is now winding down as Rush moves on to Norway, Sweden and Finland over the next week. The band recently played in Mannheim, Germany which netted this favorable review (Original German Review | Translated to English). Nice to see that the Germans think of Rush as Gods of Progressive Rock. :)

There's also a very impressive photo gallery coming from the Milan, Italy show. Check out the great pictures via this LINK.

Finally, Geddy and Alex dinned with James Suckling of Wine Spectator while they were in Milan. From James' blog:

I went last night to the Bulgari Hotel in Milan with my children, Jack and Isabel, for dinner with Geddy Lee and Charlene and Alex Lifeson, and their friend Andy (whose surname I didn't catch). The band Rush is in Milan, doing a concert as they are near the end of a successful tour in Europe. (It's my children's first rock concert!) A lot of the show will be from their new album, Snakes and Arrows, which I think may be their best ever. The band gets better with age, like great bottles of Bordeaux or Barolo.

We actually had a number of old bottles of Barolo with dinner, as Luca Currado joined us, bringing a vertical of his Vietti Barolo Villero Riserva, including 1982, 1985, 1989, 1990, 1996, 1997, 2001 and 2004. (If you get the chance to go, the food at the Bulgari is excellent, super-refined Italian and the venue itself is one of my favorites on earth -- ≠super chic modern Milanese.) Anyway, I noticed in our database that we don't have notes for many of the Vietti Villero wines. Check out my mini-video of the evening. Sorry it's a little dark, but there wasn't much light in the dining room at the Bulgari.

If I remember correctly, Villero's land used for Barolo equals about 15 acres in total, and the Vietti winery has about one third of that. Vietti's Villeros are always a "riserva," so they are well-structured and long-lived. They come out on the market a couple of years after most Barolos.

What was really interesting was that we tasted the eight wines in flights of four. Luca Currado produced the first flight ≠(2004, 2001, 1997, and 1996), and his father made the second flight. I have to say that Luca's flight was superior. They were cleaner, more refined, and better, but not by that much

"It not fair to compare them," said Luca. "They are a different world. They were made in a different way."

Alex and Geddy preferred Luca's wines on a whole, but they also loved the 1989, which was super clean, rich and fresh, with layers of beautiful strawberry fruit and ripe tannins. What a wine.


Thanks to RushIsABand.Com for providing a sampling of the blog text.
||
---
October 24th, 2007
Tribute Bands - "For The Love Of Rush"
The Canadian version of the cable channel E! will be airing a 4-part series on Rock Tribute Bands with the 2nd installment focusing in on Rush Tribute Bands.

The episode, called "For The Love of Rush" will focus on "...the obsessive Dave Cornwall (a.k.a. Spageddy Lee) who fronts an Arizona-based Rush tribute band called Freewill. Tribute Bands also connects with other groups trying to emulate one of the most technically proficient bands in the world.".

For more information on the press-release of this series, click HERE.
||
---
October 20th, 2007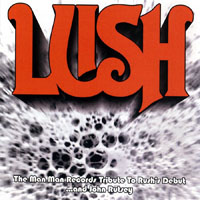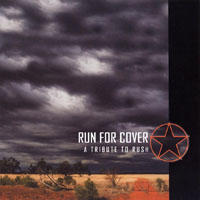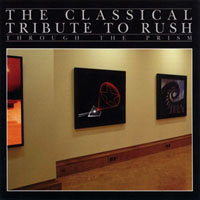 The Rush Tribute Albums
Along with all of the activity surrounding the release of and tour supporting Snakes & Arrows this year, there were three Tribute Albums to Rush also released. I finally got around to producing the album pages and scanning the images from each of these tribute offerings.

The Classical Tribute to Rush: Through the Prism is a collection of tunes from previously released Classical Rush Tribute albums from Vitamin Records. If you enjoy a classical spin on Rush music, then this is a great album to pick up. [Order from Amazon]

Run For Cover: A Tribute to Rush is along the same vein as the earlier tribute albums Subdivisions and Working Man. The key difference here is that the musicians that perform on this tribute album are all members of existing Rush Tribute bands (Archives, Hemispheres and Limelight). So, not surprisingly, the songs that appear on Run For Cover are very true to the original counterparts. [Order from Amazon]

Lush: A Tribute to Rush's Debut ... And John Rutsey comes from Indy Label Main Man Records and is dubbed as "A loving recreation of Rush's first album... back when John Rutsey was the drummer and they had greasy hair." There are three bonus tracks on this disc. Two are the original Rush singles "Not Fade Away" and "Can't Fight It" with the third representing a Spanish version of "Here Again". If you're a fan of early Rush, you'll get a kick out of this impressive tribute offering. [Order from Main Man Records]

You can view the additional details and images behind each of these albums by clicking on the covers images above, or through the usual site navigation via the Albums and Image Database sections of the site. Enjoy.
||
---
October 19th, 2007
Rush News Bullets
- The Larger Bowl Charting News: Week 10: The Larger Bowl is now beginning to show some signs of slowing on the charts. This week, it slipped 6 points to #22 on this chart while slipping two spots to position #20 on this chart.

- Lorne Wheaton Interview Now Online: Rush.Com has posted another video interview in the Multimedia section of the site. This time around, Neil's long-time drum tech Lorne Wheaton, affectionately known as Bubba Gump, takes the stage for a 5-minute long interview. Most of the interview focuses on the set up of Neil's drum kit. Also, be warned if playing this interview around kids or in the office; Lorne takes pleasure in dropping f-bombs throughout the interview :)

- Q&A with Howard Ungerleider: A while back, The Canadian Music Scene took questions from fans for Howard Ungerleider; Rush's tour lighting director. The questions, along with Howard's responses are now available online via this LINK.

- Snakes & Arrows Tour Wrapping Up: Having just completed two shows at the legendary Ahoy Rotterdam arena in the Netherlands, where Rush filmed the shows for an upcoming live DVD, the band now heads south for two gigs in Germany. After Germany, there are only 4 shows left on the Snakes & Arrows tour; Italy, Norway, Sweden and finally Finland. There are still rumors circulating that the tour will continue next April, as indicated by Alex Lifeson in a recent interview and echoed, unofficially, by Geddy back-stage at the MSG show, however there haven't been any formal announcements. Yet.
||
---
October 18th, 2007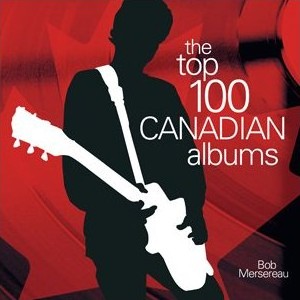 Top 100 Canadian Albums of All Time
Update: A review of the book was just posted at The Record of Ontario where all 100 albums were listed. Rush only placed one more album on the list: A Farewell to Kings which came in at position #99.

Jam! Showbiz just reported that a new coffee table book that covers the Top 100 Canadian Albums of all time will be released this Thursday.

Author and music lover Bob Mersereau polled nearly 600 musicians, critics, DJs and retailers to come up with a ranking of the country's best-loved discs for his book, "The Top 100 Canadian Albums" (Goose Lane Editions).

Rush has at least two albums on the list. Moving Pictures came in at #9 while 2112 landed at position #17.

Here's a review of the Top 20 albums on the list:

1. "Harvest," Neil Young (Reprise, 1972)
2. "Blue," Joni Mitchell (Reprise, 1970)
3. "After the Gold Rush," Neil Young (Reprise, 1970)
4. "Music From Big Pink," The Band (Capitol, 1968)
5. "Fully Completely," The Tragically Hip (MCA, 1992)
6. "Jagged Little Pill," Alanis Morisette (Maverick, 1995)
7. "The Band," The Band (Capitol, 1969)
8. "Funeral," Arcade Fire (Merge, 2004)
9. "Moving Pictures," Rush (Anthem, 1981)
10. "American Woman," The Guess Who (RCA, 1970)
11. "Songs of Leonard Cohen," Leonard Cohen (Columbia, 1967)
12. "Reckless," Bryan Adams (A&M, 1984)
13. "Five Days in July," Blue Rodeo (Warner, 1993)
14. "Twice Removed," Sloan (Geffen, 1994)
15. "Up To Here," The Tragically Hip (MCA, 1989)
16. "Everybody Knows This is Nowhere," Neil Young with Crazy Horse (Reprise, 1969)
17. "2112," Rush (Mercury 1976)
18. "Court and Spark," Joni Mitchell (Asylum, 1974)
19. "Whale Music," Rheostatics (Sire, 1992)
20. "Acadie," Daniel Lanois (Opal, 1989)

The book can be pre-ordered from Amazon via this LINK.
||
---
October 16th, 2007
Rush.Com Announcements - Live Snakes & Arrows DVD and More
There's some exciting news coming out of Rush.Com. As the band continues to tour through Europe in support of Snakes & Arrows, they are now preparing to film the two Rotterdam, Netherlands shows for an upcoming live DVD. The shows will take place tonight, October 16th and tomorrow night at the Ahoy Rotterdam arena.

In other news, the band will be taking questions from fans over the next couple of days. From the Rush Newsletter:

Is there something that you have always wanted to ask RUSH? Well, here is your opportunity! Fans may now submit questions that they would like the band to answer from Monday, October 15th through Thursday October 18th. Please be creative, because the band will only be choosing the BEST questions to answer. Visit http://www.rush.com/fanquestions to submit your question.

Finally, for those of you who are planning on attending one of the remaining shows in Europe, Rush is still holding a contest where you can win a pair of tickets or Meet and Greets for a select few dates remaining on the tour. Click HERE for more information.
||
---
October 14th, 2007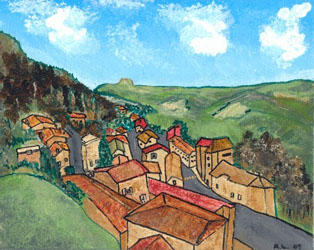 Alex Lifeson Charity Artwork Revealed
As reported earlier in the week, Alex Lifeson has once again donated one of his original paintings to The Kidney Foundation of Canada for participation in their A Brush of Hope project. Alex's painting for this year's event was revealed at Rush.Com (Click the image to the right for a slightly larger view). From the Kidney Foundation's website:

A Rare Opportunity! 10 days only!

Beginning November 2nd for 10 days only, YOU will have the chance of a lifetime to buy original paintings by some of Canada's most recognized stars. That's right, you could have an original "Brent Butt" hanging from you living room wall, or an "Alex Lifeson" over your bed. Perhaps you'd prefer a "Chris Jericho" in the recreation room or a "Jesse Cook" in the music room.

Dozens of Canadian celebrities have generously donated their time and talent to help fight kidney disease. Check out the paintings here, then go to www.ebay.ca on November 2nd and type "Kidney Foundation" into the search field and start bidding!

With the holiday season right around the bend, why not get that special person who has everything something that they definitely won't have!

But remember, this is for 10 days only, beginning November 2nd, so mark it in your calendar and don't miss this priceless opportunity!

All funds raised from the sale of the paintings will go toward kidney research in Canada.

Click HERE for more information on the project and a view of other artwork that will be up for auction.
||
---
October 12th, 2007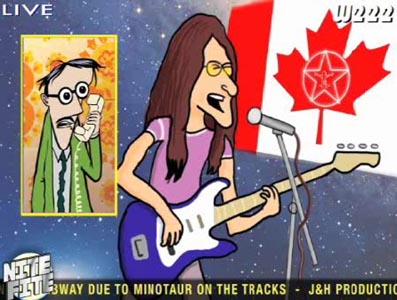 Is Rush Heavy Metal? Cartoon Finally Answers the Question...Or Does It?
As long as there have been Rush fans, the age-old argument has persisted: Is Rush Heavy Metal? Now, at long last, the question has been answered. Or, well, at least I think it has. Actually, I think Rush is R&B. Check out this hilarious online cartoon called Nite Fite which takes on this heated topic.

"Nite Fite" is the 3rd episode of The Meth Minute 39 original cartoon series. Dan Meth and Mark Vitelli created, wrote, and performed the characters Penalty and Lloyd, two talk show hosts who debate hot button issues.

In this episode, Penalty and LLoyd ask the question to beat up all other questions.



Is RUSH Heavy Metal?

Find out the answer by watching the episode online via this LINK

Many thanks to Jeaux Janovsky from Channel Frederator for sharing this information.
||
---
October 12th, 2007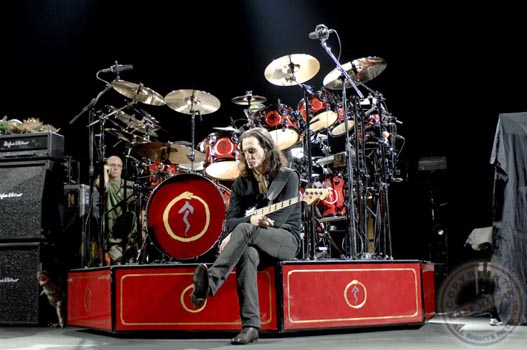 Rush News Bullets
There's plenty of news to get to as Rush continues the European Leg of the Snakes & Arrows Tour. First, some charting news:

- The Larger Bowl Charting News: Week 9: The Larger Bowl still has legs as it creeped up another notch to position #16 on this chart while slipping a spot to position #18 on this chart.

- Ross Halfin Shoots London Show: Long-time Rush and famed photographer Ross Halfin snapped off a number of great photos of the band at the first London show. You can see samples of those images by clicking HERE as well as read about Ross' experience of photographing the band via his blog at this HERE.

You can also see past photos that Ross has taken from the following LINKS | LINKS | LINKS.

- Summer Tour Ranks 6th: According to a USA Today article, Rush ranked 6th among all summer tours, grossing $21M over 38 shows with an attendance figure just shy of 400,000.

- Permanent Waves Goes Vinyl: Mobile Fidelity has announced that they will be releasing their Permanent Waves Ultradisc II? 24 KT Gold CD on 180 Gram Vinyl as well. Pre-ordering instructions can be found HERE.

- UK Reviews: Finally, here are a couple of great reviews from earlier UK shows.

Rush Hour at the Arena

Rush, SECC, Glasgow
||
---
October 7th, 2007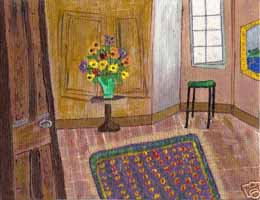 Alex Lifeson to Auction More Artwork for Charity
Last year, Alex Lifeson donated one of his original paintings, pictured to the right, for the "A Brush of Hope"; a benefit for the Kidney Foundation of Canada. Lifeson, along with 90 other Canadian celebrities, had their works displayed at the Kidney Foundation's Funny Fall Gala last November. The painting was later auctioned off on Ebay and fetched $2,705 for the cause.

Now, according to a post at Rush.Com, Alex will be auctioning off another one of his original paintings for the Kidney Foundation of Canada later this year.

We'll have more news on the item and the auction location once it becomes available.
||
---
October 7th, 2007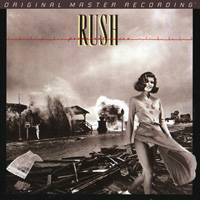 Permanent Waves Ultradisc II? 24 KT Gold CD Now Available for Pre-Order
Update (10/11/2007): Mobile Fidelity has now announced that a 180 Gram Vinyl edition Permanent Waves will also be released. Click HERE for pre-ordering instructions.

Back in early August I reported that Mobile Fidelity Sound Labs would be releasing the Permanent Waves Ultradisc II? 24 KT Gold CD; the fourth Rush album to get the "Gold" treatment. Mobile Fidelity's Limited Edition 24k Gold Audiophile CDs are pressed directly from the original studio master session tapes and engineered to produce the finest CD sound quality available.

They've just announced the release date for the album as November 6th and it is now available for pre-order via Amazon.com.

Click here for more information about this version from the Mobile Fidelity Sound Labs website.
||
---
October 5th, 2007
Rush News Bullets
- The Larger Bowl Charting News: Week 8: The Larger Bowl continues to chart well, creeping up a spot to position 17 on this chart while holding on to position 17 on this chart.

- After 27 Years, We're Ready for Rush Hour: Rush will be playing the Newcastle Metro Radio Arena in Newcastle, UK tonight; the band's first return to Newcastle in 27 years! Alex recently conducted an interview with David Whetstone of The Journal where he discusses the band's absense from Newcastle.

"We've felt a great deal of guilt over the years for not coming over to the UK sooner and more often," confessed Lifeson. "But we used to do these long tours of North America and we'd be exhausted and in no shape to do the same show anywhere else.
- Terry Brown Takes Questions from Fans: Did you ever want to ask famed Rush producer Terry Brown a question? Now's your chance. You can submit a question to Terry via this link.
RUSH fans owe a special thank you to Canada's Dr Music, Doug Riley who convinced Terry to move to Canada. Terry and I pass on our best wishes to the Riley family on the recent passing of Doug... We will select questions for Terry from those submitted, Terry will be answering them at EUCON, the European RUSH fan convention, after which we will publish the questions and answers on our site.
- Heavy Metal Box Set Now Available: The 4-disc Heavy Metal Box Set, which includes Rush's Working Man is now available for order from Amazon.Com.
Rhino's 4-disc HEAVY METAL box is the most comprehensive anthology of the influential genre ever. Featuring legendary stars from multiple labels, the box's size lives up its thundering sound arranged chronologically, it collects 70 classic tracks tracing the evolution of metal through its first golden age, 1968-1991.
||
---
October 4th, 2007
Alex Lifeson Confirms Snakes & Arrows Tour Will Extend into 2008
According to a recent interview with Alex Lifeson from The Herald (UK) titled Round-the-world Rush are a band in a hurry..., we now have confirmation that the Snakes & Arrows tour will extend into 2008 with an additional 40+ shows occurring during the new year. From the interview:

"We're enjoying the tour," he says. "We're playing really well and the response has been great so far. The set includes nine new songs, which is more than we have ever included. That shows just how much we like the album."

Lifeson is keen to avoid the "nostalgia tour" tag. "The Police and bands like that are doing their greatest-hits thing now and we really covered that three years ago on our R30 tour. We want to move forward and we'll be touring this album until next summer, when I think we'll have done 110 shows."
As reported earlier, some of the expected 2008 dates include stops at Atlantic City, NJ, New England, Canada, New Orleans, New Mexico, Tennessee, Kentucky, and Mississippi. We'll have more news and specific dates as they are announced. ||
---
October 3rd, 2007
European Leg of the Snakes & Arrows Tour Launches Tonight
Update (10/4/2007): Here's a great review of the Glasgow show from last?fm

Rush takes the stage tonight at the SECC Arena in Glasgow, Scotland (UK) to kick off the European Leg of the Snakes & Arrows Tour. The band will play 7 dates throughout the United Kingdom before heading over to the Netherlands, Germany, Italy, Norway, Sweden and finally ending the tour in Finland.

As they did while touring North America, the band is offering up a Meet 'N' Greet contest for each of the European Dates. The winner can select to meet the band or upgrade his or her seats to the front row. Click through to this page to enter the contest. Good luck to all our readers from across the pond.
||
---
October 3rd, 2007

Rush Mobile Introduces First Ever Drum Tones
The Rush Mobile Store which offers up unique Rush content for mobile phones has now partnered with g8wave to offer up the first ever Drum Tones for Mobile Phones. From the official press release:

g8wave Holdings, Inc., an integrated mobile media company with offices in Boston and London, today announced that progressive rock band Rush and g8wave have released what is believed to be the first-ever 'drum tones' for downloading onto mobile phones.

Available first on the Rush.com website under the 'Mobile' section, these are tones created by iconic drummer and Rush band member Neil Peart and can be downloaded onto fans' phones via g8wave's integrated mobile technology.

"Working with Rush is an exciting new venture for us," said Habib Khoury, President and Chief Executive Officer of g8wave. "Together we are launching something that we believe is 'first ever' in the mobile world and different from any of the 'regular' ring tones you can get for your phone."

"This is a perfect example of using mobile to bring dynamic content to fans of a specific band and artist," said Brad Mindich, g8wave's Chairman and Chief Strategy Officer. "To be able to work with Neil and Rush is an amazing experience. These guys really get it and are very forward thinking and creative. No surprise there, of course."

Andy Curran, from Rush's management company SRO-Anthem, added, "To have one of the world's greatest rock drummers playing a ring tone on his own is excellent! If I'm not mistaken I think we've invented the drum tone! It will drive parents crazy, kids at school will get detentions, some marriages will be on rocky ground once drummers and RUSH fans get a hold of this...I can't wait."


You can check out all available content at the store from this Link.
||
---
October 1st, 2007
Rush to Appear on Bruce Dickinson's Friday Rock Show
According to the Metal Hall Blog/Ezine, Bruce Dickinson, the frontman of Iron Maiden, will be interviewing Rush on his "Bruce Dickinson Friday Rock Show" on October 12th. The interview can be heard live via the net at this link. At this time, it's not known if all 3 members of the band will join in the on the interview, or if it will only be the usual Geddy / Alex combination.
||
---
September 28th, 2007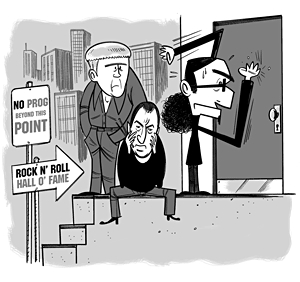 Snubbed Again: Rock and Roll Hall of Fame Excludes Rush
The Rock and Roll Hall of Fame and Rolling Stone Magazine have announced the nominees for the March 2008 induction into the Hall. It should be of no surprise to any Rush fan that, once again, the band was excluded from the list. Nominees for the 2008 inductions include Madonna, the Beastie Boys, John Mellencamp, Leonard Cohen, Afrika Bambaataa, Chic, the Ventures, Donna Summer and the Dave Clark Five.

"Rock and Roll" indeed.

Though we, the fans, continue to cry foul at the omission of Rush from this institution, it becomes more and more apparent that the credibility of the Hall continues to depreciate with each passing year. In fact the band themselves apparently couldn't care less about being excluded from the list. Earlier this year, Alex Lifeson was asked about the issue and responded "I couldn't care less, look who's up for induction, its a joke".

When you look at the storied career of Rush, the successes they have achieved that no one can dispute, and they're on-going and growing fan base, it's clear that Rush epitomize the true meaning of the Rock and Roll Hall of Fame...and they always will.
||
---
September 28th, 2007
The Larger Bowl Charting News: Week 7
In its 7th week since being released as a single, The Larger Bowl continues to slowly move up in the charts. It's now sitting at position 18 and 17 on several rock charts | charts.
||
---
September 26th, 2007
Neil Peart Updates His "News, Weather & Sports"
Neil Peart has just posted another update to his website under his "News, Weather & Sports" section. The article, titled "Shunpikin' it Old Skool" focuses on Neil's motorcycle travels between tour dates and the growing strains of the tour.

As a general thing, in the one-stoplight towns you won't find first-class luxury, but chances are you will find a clean room or cabin in a quiet, slowed-down world that offers open friendliness, a bag of ice for your end-of-day beverage, a plain and hearty meal, and maybe a little peace.

A moment's peace is a necessary way-point on our days off between shows, because while it's nice that I can commute to work by shunpiking from job to job on my motorcycle, it should be remembered that when I wake up on the bus and wheel that motorcycle out of the trailer, there's only one destination I really want to set my GPS for:

Home.

Quickest Way.

You can read the entire article via this LINK.
||
---
September 26th, 2007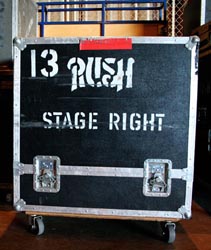 Rush.Com Updates Includes Pro-Shot Concert Photos
With Rush on a short hiatus before resuming the Snakes & Arrows tour in Europe next month, the band's official website has been refreshed with some new content. Under the Multimedia section, a few new videos interviews with the crew have been uploaded including one with the band's production/stage manager Craig "CB".

In addition to the interviews, the site has included numerous professionally-shot photos from the tour. Photos appear for the following cities: Raleigh NC, Scranton PA, Phoenix AZ, Wantagh NY, Sacramento CA, San Francisco CA and St. Louis MO.

The photos can also be accessed in the Multimedia section of the site under the heading of "Rush On The Road".

||
---
September 25th, 2007
Neil Peart Wins Drummer of the Year Award
DRUM! Magazine has posted the results of their annual "Drummie! Awards" in the November 2007 edition of the magazine where, among other honors, Neil Peart was selected as Drummer of the Year. Neil was also ranked #1 in the following categories: Progressive Rock Drummer, Live Performer, Drumming DVD for his Anatomy Of A Drum Solo, and Drumming Performance on an Album for his work on Snakes & Arrows. Neil's website, NeilPeart.Net also placed second in the category of best Drum Website where, not surprisingly, Drummerworld.Com was ranked at the top. Thanks to Neil Peart Drumsticks for the news.
||
---
September 24th, 2007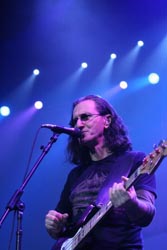 Rush Closes Out the North American Leg of the Snakes & Arrows Tour
Over the weekend, Rush played sold-out shows in Toronto and Ottawa Ontario which were the final dates in North America for the Snakes & Arrows tour. The band will now take a well-deserved 2-week break before resuming the tour in Europe. Rush will play 7 dates in the United Kingdom before heading over to the Netherlands, Germany, Italy, Norway, Sweden and finally Finland where the tour will end on October 29th. Rumors are still circulating about the possibility of more shows being added in 2008, but nothing official has been announced. Yet.

Below are several reviews of the Ontario shows.

Old Masters Rush Present a Quality Show

Jam! Music Review: Scotiabank Place, Ottawa

Rush Rocks Canada's Capital

Rush Stays True To Form For Hometown Crowd.
||
---
September 21st, 2007
Rush News Bullets
- Rush Con 7 Launches Tonight: Rush Con 7, the annual North American-based Rush convention that is held in Toronto, kick's off tonight and will run through Sunday. For more information on the convention, please visit their official site at www.rushcon.totem-media.com.

- The Larger Bowl Charting News: Week 6: After six weeks on the charts, The Larger Bowl is holding around position #20 on several charts | charts. In addition, rumor has it that the fourth single to be released from Snakes & Arrows will be Workin' Them Angels. We'll see if that pans out over the next couple of weeks.

- Toronto Loves Rush: A couple of very favorable reviews were recently posted about the Toronto show. Rush Saves The Best For Last comes from the Toronto Star while Oh, what a Rush!, sub-titled "Hometown heroes give fans their money's worth with marathon show" comes from the Toronto Sun.
||
---
September 19th, 2007
New York Times Review of Madison Square Garden Show
A review of the Madison Square Garden show appeared in the New York Times yesterday. The review, called Arena Rock With a Worldview and All the Flash Trimmings focused more on the appeal and background of Rush than it did the show itself, but it was still an interesting read.

Here's a quick excerpt from the review:

In two hours of music Rush touched on the grandiosity of Genesis, on garage psychedelia and even, for a few moments in "Digital Man," the reggae backbeat of the Police. Rush improves as its music grows more elaborate. The trio plays with unrelenting muscle, pounding out the intricacies of its songs, but rarely letting them breathe. Its shorter tunes can get stuck in a continuous churn, but multipart extravaganzas like "Natural Science" hurtled through their contrasts.
The full review can be read at this LINK. ||
---
September 18th, 2007
Rush Closes U.S. Leg of Snakes & Arrows Tour at Madison Square Garden
Last night, Rush played to legions of fans at the famed Madison Square Garden in New York City, thus closing the U.S. leg of the Snakes & Arrows Tour. The show was absolutely electric from the beginning as Geddy hid from Alex during the opening chord of Limelight to Geddy taunting Neil with his bass guitar until the stoic percussionist finally broke a smile to the amazing New York crowd.

Sitting 9 rows back from the action, the energy of the band was clearly evident throughout the show. Some minor technical difficulties with Alex's electric guitar occurred during a few songs, but the crowd barely noticed and Alex, the consummate professional, continued to play as if nothing was wrong.

There were no changes in the set list, save for the usual substitution (see: Set Lists) which was met to roars of approval. Neil's solo was extended several minutes and changed significantly from earlier shows in the tour. The crowd was absolutely mesmerized by Neil's intricate drum work and absolutely exploded once the 9-minute solo reached its climax. Clearly, turning 55 a few days back has not impacted Neil's stamina or creativity.

More so than the previous shows I have seen on this tour, the new songs from Snakes & Arrows were met with tremendous approval. The crowd sang along with many of the songs from the latest album and Far Cry felt like an old classic. Simply amazing. The show ended as it began, on a very strong and spontaneous note as Neil created a 15-second drum introduction to YYZ.

For one night in New York City, as fans of this Canadian Trio filled the streets of the city that never sleeps, Rush was king and all was right with the world.

Tremendous thanks go to reader Randy B who, just hours before show time, offered me a chance to see the boys from the 9th row. It was a great way to meet up with fellow Rush fans and a night that none of us will soon forget. Pictures that I snapped off from the show are available at this LINK. Enjoy-
||
---
September 17th, 2007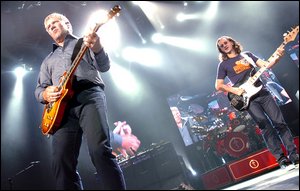 Rush Rocks Canada
Rush played Quebec City and Montreal this weekend to some rave reviews. Canoe.Ca posted two reviews, both in French, about both shows. The first review was titled Performance Incroyable! which translates into Incredible Performance!. The second review was titled Un rush pour le coeur et la tÍte which translates roughly into A Rush for the Heart and the Head.

There was another French review for the Quebec City show called Rush n'a pas pris une ride which humorously translates into Rush Did Not Take a Wrinkle. Finally, there was one English review from Canada.Com called Rush Takes Crowd for a Ride.

The crowd came along for the ride, cheering for the second-set opener Far Cry like it was an old favourite. Though it has changed its presentation to suit the times over its career, Rush hasn't changed its formula. The recent songs fit comfortably alongside the old, and fans seemed to delight in hearing them all.
||
---
September 15th, 2007
Rush News Bullets
- Rush Returns to their Homeland: The Snakes & Arrows tour has returned Rush to their homeland Canada for a series of dates which will then lead them into Europe. A couple days back, the band played the John Labatt Centre in London, Ontario which spawned a very favorable review from the London Free Press. The review, titled Rush Still Rocks indicated that Geddy led the crowd in a "Take off, eh?" cheer.

"He took some time in the second set to lead everybody in a "Take off, eh?" cheer, a nod to Rush's role in TV's Great White North."

Rush played Quebec City last night, will play Montreal tonight before returning south of the border for the final U.S. show in New York City at Madison Square Garden. Rumor has it that the band may record this show for a future DVD.

- The Larger Bowl Moves Up: In its fifth week since being released as the 3rd single off of Snakes & Arrows, The Larger Bowl has broken into the Top 20 on two different charts | charts.

- Geddy on EQ Magazine: The latest issue of EQ Magazine features Geddy Lee on the cover and includes a 10-page article which takes an in-depth look at Rush in the studio for the recording of Snakes and Arrows.
||
---
September 12th, 2007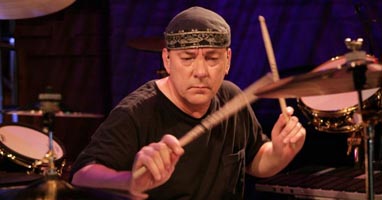 Happy Birthday Neil Peart
Neil Peart is celebrating his 55th birthday today. Born Neil Ellwood Peart on September 12th, 1952 in Hamilton, Ontario, he grew up in Port Dalhousie, Ontario, Canada (which is now part of St. Catharines). Though he worked the occasional odd job, his true ambition was to become a professional musician. At the age of 13, Neil received a pair of drumsticks, a rubber practice pad, and drum lessons with the promise that if he stuck with the lessons for one year his parents would buy him a drum kit. As promised, he received his first drumkit at 14 and soon began rigorously practicing. The rest, as they say, is history.

Happy Birthday Mr. Peart, and many happy returns.
||
---
September 11th, 2007
Pre-Ordering for "Lush" Now Open
The upcoming Rush Tribute Album "Lush", from Main Man Records is now available for pre-order via this LINK. The tribute album, will represent a "loving recreation of Rush's debut album... back when John Rutsey was the drummer and they had greasy hair."

As previously reported, the tracklist for the tribute album will be:

1. Finding My Way - 3 Legged Rabbit
2. Need Some Love - Rutsey
3. Take A Friend - Snagglepuss
4. Here Again - Joe Harvard Band
5. What You're Doing - Ed Mundell
6. In The Mood - FourYearBeard
7. Before And After - Frankenstein 3000
8. Working Man - Murder 1
9. Not Fade Away - A Farewell To Bling
10. Can't Fight It - Worro Pilkinson

The official release date for the album is next Tuesday the 18th, assuming any copies remain after the pre-order. Thanks to Clint from Main Man Records for the news update and allowing the Cygnus-X1 readers access to the pre-order event.
||
---
September 11th, 2007
Planet Rock posts Audio Interviews with Neil Peart and Alex Lifeson
The U.K. digital radio station "Planet Rock" has posted audio interviews with Neil Peart and Alex Lifeson which were conducted earlier this year in San Francisco. An interview with Geddy Lee is also expected at a later date.

You can listen to the interviews at the following two links: Neil Peart -- Alex Lifeson
||
---
September 11th, 2007
Rush Rocks the Mid-West
Over the past week, Rush has been playing dates in the mid-west to near-capacity crowds which has generated a number of extremely positive reviews. Rush now heads to Canada to complete the North-American leg of the Snakes & Arrows tour before heading over to Europe in October. Below are some of the reviews that have come out of the recent mid-west shows. Thanks to reader Mike for passing them along.

Time Doesn't Stand Still for Rush Fans - from the Minneapolis/St. Paul Star Tribune.

Despite Ffamiliar Sights, Rush Doesn't Linger in Past - from the Chicago Tribune.

Oldies, Goodies and More: Rush Doesn't Disappoint - from the Chicago Sun Times.

Rush Still Roars With Rugged Appeal - from the Milwaukee Journal Sentinel.
||
---
September 8th, 2007
Extended Snakes & Arrow Tour Rumors Abound
While nothing official has been announced, rumor has it that Rush will continue the Snakes & Arrows tour well into 2008. According to sources via RushIsABand.Com, Rush will play a day in Atlantic City, NJ in March/April of next year and then move on to dates in New England, Canada, and then south to New Orleans, New Mexico, Tennessee, Kentucky, and Mississippi. Again, this is just rumor right now.

Another exciting tour rumor centers around the celebration of the 400th anniversary of Quebec City. A multi-band, multi-day benefit concert is scheduled to take place some time in July. Once again, rumor has it that Rush will be the headlining act on the closing day of the concerts, potentially playing to a crowd in excess of 500,000 people.

At this time, there has been no official announcement from the band regarding either of these two potential tour developments. Thanks to RushIsABand for the information.
||
---
September 8th, 2007
Rock Band: The Video Game Set for Release This November
Rock Band: The Video Game, which will include a cover of Tom Sawyer among the 26 available songs, is now available for pre-order via Amazon.com and will officially be released on November 20th.

Rock Band is the follow-up to Harmonix/Electronic Arts' Guitar Hero II which featured YYZ as one of the available tracks.
||
---
September 6th, 2007
Rush "Big Apple Fly Away" Contest Winner Revealed
The Big Apple Fly Away contest held by SESAC and Rush is over and the winner is Toby Hale from Falls Church, VA.

The prize package included Two roundtrip airline tickets to New York City, Hotel accommodations courtesy of the Kimberly Hotel, Two tickets to the RUSH concert at Madison Square Garden and Two Meet & Greet Passes to meet RUSH.

Congratulations Toby you lucky so-n-so. :)
||
---
September 6th, 2007
The Larger Bowl Charting News
After 4 weeks on the chart, the third single from Snakes & Arrows, "The Larger Bowl" is sitting at position #18 on the Radio & Records Rock charts, which is up 4 positions since last week. In contrast, it's sitting at position #25 on the Mediabase Mainstream Rock chart, which is down 4 spots from last week.
||
---
September 6th, 2007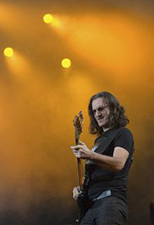 Rush's Engine Still Running Strong
Rush recently played a show in Columbus, Ohio which was met with a fairly positive review from the Columbus Dispatch. The review, called Rush's Engine Still Running Strong focused on how well the new material, as well as the old, meshed together.

While performances of favorites such as "Spirit Of Radio" and "Tom Sawyer" brought down the comfortably-filled house last night, the many selections from the new "Snakes And Arrows" were not only welcomed but fit the back catalogue like a glove.

You can read the entire article via this LINK.

||
---
September 5th, 2007
Rush EuCon'07
The Rush EuCon'07 Convention is slated for this August and rumor has it that former Rush producer Terry Brown will be a guest speaker at the event. From a Rush EuCon email:

As you may know EuCon'07 is being held on Sunday October 14th at Manchester Academy 2, which is part of Manchester University Student Union building on Oxford Rd.

The event starts at 11am and finishes at 6pm, bearing in mind this year, like 2004, we have Rush themselves as the evenings entertainment.

Tickets are priced at £20.00 and can be purchased from http://www.rusheucon.com website.

We've also got a limit of 1200 attendees this year, which will make it the largest ever Rush Convention, beating our own 2004 record of 650 attendees, we even managed to turn 400 people away that day.

You'll also find more details about the event at the website too.

Thanks for your time and we hope to see you there.
||
---
- Cygnus-X1.Net Rush News Archives -

|January-March 2011 Rush News Archive|
|October-December 2010 Rush News Archive|
|July-September 2010 Rush News Archive|
|April-June 2010 Rush News Archive|
|January-March 2010 Rush News Archive|
|October-December 2009 Rush News Archive|
|July-September 2009 Rush News Archive|
|April-June 2009 Rush News Archive|
|January-March 2009 Rush News Archive|
|October-December 2008 Rush News Archive|
|July-September 2008 Rush News Archive|
|April-June 2008 Rush News Archive|
|January-March 2008 Rush News Archive|
|September-December 2007 Rush News Archive|
|June-August 2007 Rush News Archive|
|April-May 2007 Rush News Archive|
|January-March 2007 Rush News Archive|
|2006 Rush News Archive|
|2004-2005 Rush News Archive|
---