There are 21 active users currently online.
---
- Rush News Archive - January through March 2007 -
Rush Lyric Randomizer - Refresh page for a new lyric or Click to see the song

---
Order Snakes & Arrows today!


---


---
March 31st, 2007
Animated Music Video Featuring Neil Peart Now Online
As reported earlier, Neil Peart will be lending his vocal talents to the upcoming Comedy Central animated movie "Aqua Teen Hunger Force Colon Movie" which is due out in the theaters on April 13th. The movie's official website just posted an animated music video including all the key members of the Aqua Teen Hunger Force along with Neil Peart on drums.

Click HERE to watch the video online.





||
---
March 31st, 2007
Eddie Trunk to Interview Geddy and Alex
According to a post at RushisaBand.Com, Eddie Trunk mentioned on his Eddie Trunk Rocks show that he'll be interviewing Geddy and Alex some time this week. There's no work on when the interview will air at this time. Trunk has conducted numerous interviews with Geddy and Alex in the past and also interview Neil Peart for the first time last fall.
||
---
March 31st, 2007
Snakes & Arrows Special Edition DVD Delayed
According to a source at Warner Entertainment, the release date for the DVD-Album version of Snakes & Arrows has been pushed back to May 22nd due to production delays. This likely explains why Amazon.Com's page for the DVD version disappeared late last week. Fortunately, you can still pre-order the album at Circuit City. Thanks to Power Windows for the information.
||
---
March 29th, 2007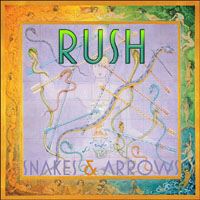 Snakes & Arrows Cover Art Update
If you read Neil Peart's essay, The Game of Snakes & Arrows: Prize Every Time, you undoubtedly picked up on the fact that the infamous "Leela" game board imagery would, in fact, become the artwork used for the cover of Snakes & Arrows (much to my dismay). Now, a possible final cover artwork has been revealed. MusicToday's Rush store front just revealed a limited edition sticker that would accompany any orders of the Snakes & Arrows T-Shirt along with either the CD or Limited Edition DVD. The sticker is the image to the right (Click on the image for a high-resolution view).

So, is this THE album cover? Hard to say, but the color scheme and perfect square shape seems to fit the bill a little better than THIS version of the "Leela" cover. The debate over the cover image continues. Post a comment below to share you feelings on this subject.
||
---
March 29th, 2007
Snakes & Arrows World Premiere Radio Event
FMQB Productions & Atlantic Records present Inside Rush: Snakes & Arrows; A World Premiere Event. The one-hour radio special will premiere in the week prior to the release of Snakes & Arrows. Here are the details behind the event:

"It's big, it's bold, and I think it's some of the best work we've done in years. I'm really pleased with the quality of the songs, and there's lots of playing on it," Geddy Lee recently told Revolver magazine. Of course, he was speaking of Rush's 18th studio album, Snakes & Arrows, due out on May 1.

In anticipation of the first new Rush music since 2002's Vapour Trails, FMQB Productions and Atlantic Records present Inside Rush: Snakes & Arrows. In this one-hour world premiere radio special, Geddy Lee and Alex Lifeson sit down with host Lou Brutus to discuss working with producer Nick Raskulinecz (Foo Fighters, Stone Sour, Shadows Fall), as the band spent five weeks recording in a remote woodland studio on a mountaintop in upstate New York. Inside Rush: Snakes & Arrows will take your listeners behind the scenes of those sessions, give insight to the band's new release and possibly offer up some details of what fans can expect on the upcoming world tour.

With over 40 million records sold, Rush boasts 23 gold, 14 platinum and 3 multi-platinum records, making them one of the best-selling rock bands in history. Only The Beatles, The Rolling Stones, KISS and Aerosmith have more consecutive gold and platinum albums by a rock band.

Inside Rush: Snakes & Arrows is available to run from April 27 - May 1. Your CD copy will arrive by Friday, April 27. Inside Rush: Snakes & Arrows will contain 10 minutes for local avails in order to fit into an hour of block programming. This program is not market exclusive and contains no national spots.


Click HERE to access the FMQB website.
||
---
March 27th, 2007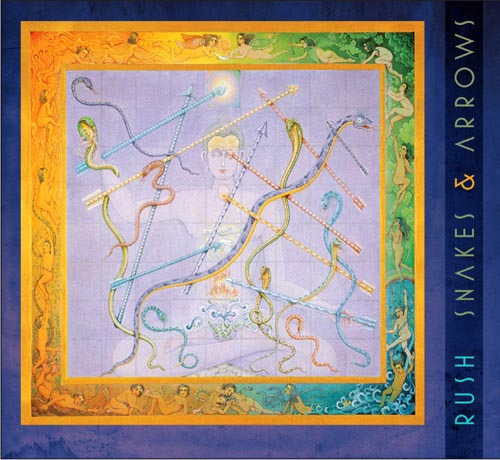 Special Edition Snakes & Arrows DVD Now Available for Pre-Order
As was reported earlier, Snakes & Arrows will be released in CD format and the new DVD Album Format. This special-edition of Snakes & Arrows, which may be limited to a pressing of just 25,000 units, can now be Pre-Ordered via Amazon.Com.

Click the album image to the right or this LINK to pre-order this special format.

||
---
March 27th, 2007

UK Press Release Includes Album Bio
A recent UK Press Release for Snakes & Arrows included a PDF version of the Bio that Neil Peart wrote in connection with the album. Neil recently discussed the bio, which is titled "The Game of Snakes & Arrows: Prize Every Time" at his site, as was reported earlier. You can view the PDF version of the bio by clicking HERE.
||
---
March 26th, 2007
New Review of Snakes & Arrows Now Online
Pete Feenstra of GetReadytoRock.Com has posted a new, in-depth review of Snakes & Arrows. In the review, Pete discusses the depths of each track, the maturity of Geddy's vocals and the sheer power behind Alex's playing and Neil's lyrics. Here's an excerpt from the review which definitely deserves a read.

Nothing concentrates the mind better than having to review a new Rush album after just one solitary play. And after this playback at Atlantic Records HQ in Kensington I was left breathless, if not stunned by the sheer power of an album that stylistically throws in the proverbial kitchen sink.

I suppose after such an enduring and varied musical career, it's not surprising that Rush have gone back to their Proggy musical roots. And with former Foo Fighters Alex Raskulinecz at the controls, the band are given a free reign to indulge their musical excesses, as they stretch out and jam in a post Zeppelin heavy duty deluge that manifests itself in a stunning wall of sound.

The complete review can be read HERE.
||
---
March 26th, 2007

Rush Announces 2007 Tour Dates
The Snakes & Arrows Tour Dates have been announced at Rush.Com A complete listing of all dates is available in the Tour Dates section of Cygnus-X1.Net. The pre-sale for most dates begins on March 27th at 10:00am and will continue through until Thursday, March 29th at 12:00pm. Visit Rush.Com for more information on the pre-sale.

The official Press Release is now available as well. The 62-date tour will kick off on June 13th in Atlanta, Georgia and run all the way through the end of October with the tour tentatively ending at the Hartwell Arena in Helsinki, Finland.
||
---
March 24th, 2007
Rush to Announce Snakes & Arrows Tour Dates This Monday
According to an announcement at Rush.Com, Tour Dates for the upcoming Snakes & Arrows tour will be announced this Monday, March 26th. Speculation suggests that a pre-sale for select cities will begin on Tuesday, March 27th.
||
---
March 23rd, 2007
Snakes & Arrows To Debut Warner Music's New "DVD Album" Format
Although this has yet to be officially announced, rumor has it that Snakes & Arrows will be released not only on a standard CD format, but will also be the first album released on Warner Music's new "DVD Album" format. Click HERE for an article on this exciting new medium. The "DVD Album" format of Snakes & Arrows will be offered as a limited copy edition of just 25,000 units, and it will include a special 26 page booklet.

"Not to be confused with the DualDisc format, this will be a fully interactive DVD, and will include the album in 5.1 surround sound, as well as a ~43 minute "making of" video, cel-phone ringtones, wallpapers, text, and other digital extras that can only be accessed via computer, including the ability to extract the album tracks onto the users computer for use in mp3 players, etc. The limited edition will retail in the area of $24, while the cd version will be around $12."

An apparent downside relates to the release date of the special edition disc which, as it stands now, will be released two weeks after the release of the cd-version of Snakes & Arrows (due in stores May 1st). We'll bring you more news as it breaks.

With great thanks to Power Windows for sharing this exciting news!
||
---
March 23rd, 2007
First Online Review of Snakes & Arrows
U.K. Based music journalist Dave Ling has posted a review of Snakes & Arrows on his official website. Below is an excerpt from the review:

Yesterday afternoon was occupied by a playback of Rush's new album...'Snakes & Arrows' is a vast improvement upon the Canadian trio's last album. I'll be frank, 2002's 'Vapor Trails' did very little for me. This time the band have gone heavier (very heavy in places!), with guitarist Alex Lifeson being let off the leash. Opening track (and first single) 'Far Cry' is probably the best song, being reminiscent of the band's 'Permanent Waves' album. But generally speaking, it's extremely strong throughout...The album, too, is heavy, but falls short of being one dimensional. You're gonna like it, I'm sure.

You can read the full review by clicking HERE.
||
---
March 23rd, 2007

Rush Tour Site Now Online
The Rush Tour Site, which will give fans the ability to pre-order tickets, is now online. In addition to ticket sales, registering on the site will provide fans with "email updates of upcoming plans...contests, giveaways and merchandise specials."
||
---
March 22nd, 2007
Rush News Bullets
A couple of Rush News tidbits surfaced today. First, the on-going debate regarding the Album Cover Art has gained some new steam after a link to the German Press Release for Snakes & Arrows was posted across several Rush-related sites. The press release offers up several high-resolution images including the old "Leela Game Board" image that was originally thought to be the album's cover art. I'm still fairly confident that this image will NOT be the album cover, but actually appear under the CD liner. If nothing else, the German Press Release does include a new promo shot of the band.

In other news, another German website has an updated listing of the 13 tracks that are to appear on Snakes & Arrows. Along with the track titles are track times and an indication as to which 3 tracks are the instrumentals, as was earlier reported. I've included the updated track listing on the site's Snakes & Arrows page.






||
---
March 22nd, 2007
Geddy Lee Donates Bass Guitar to Hoffman Tribute
As reported at jam! showbiz, Geddy Lee donated his signature Fender Jazz Bass that he autographed with the band to the The Steven Hoffman Tribute Concert for Lung Cancer Research. Hoffman, who died of Lung Cancer three years ago, was the music mananger for several acts including Rush.

The Steven Hoffman Tribute Concert for Lung Cancer Research, in memory of the music manager who worked with such artists as The Tea Party, Rush, Extreme and Wilson Phillips throughout his career, will be staged in New York City on May 18 at the 450-capacity Canal Room.

According to the article, the members of Rush have been invited to the event, though they aren't expected to attend as they'll be gearing up for their North American Tour at that time.
||
---
March 19th, 2007
Update from NeilPeart.Net
Neil Peart has just posted an update to the "NEWS, WEATHER, and SPORTS" section of his official website where he discusses the writing process of the essay which will accompany the Snakes & Arrows CD (and up-coming tour book) as well as an up-coming article for Modern Drummer...

When I did finally sign off on the Snakes and Arrows piece this week (it will appear over on the band site when the CD is released), I immediately started working on a story for Modern Drooler (oh, those drummer jokes!).

Editor Bill Miller and I discussed a 'drummer's point-of-view? kind of story about the making of Snakes and Arrows, looking at each of the tracks in terms of composing and creating the drum parts, as well as the technical overview of hardware and recording. So I started working on that, and it's looking like that story will turn out to be about 5,000 words.


his MySpace web-presence...

My friend Michael has created another kind of 'Web presence' for me over on MySpace, and I wanted to explain about that. Michael was largely responsible for motivating me to launch this here 'official' site (along with Greg Russell, who had registered the domain name long before we met, and long before he designed the site). Apart from being my security consultant and riding partner, Michael is a professional computer forensics investigator, and keeps an eye on internet issues for me. He told me there were many 'impostors' masquerading as me on fake MySpace pages, and that made me bristle. I'm sure anyone would understand whyMichael showed me one note from an embarrassed lady who had been corresponding with someone she thought was me for weeks, and she felt humiliated and duped. I can only imagine what those liars might be saying to others while pretending to be me. Ick.

So, in an effort to combat that, Michael suggested we put up an 'authentic' MySpace page, so at least we would have grounds to have the others taken down. Fair enough, and he did a nice job of it - though I confess I rarely go there myself. Michael keeps trying to show me the list of 'friends,' and make me read the comments, but I get too embarrassed. All that fuss about me? No way.

and his feelings on the upcoming tour...
Anyone who knows much about this reporter will understand that I am not entirely thrilled about embarking on another long concert tour-but I am looking forward to preparing for it.

I really do love rehearsing-getting in good drumming condition, playing the songs again and again until I'm strong and accurate, working out a new solo, meshing with Alex and Geddy as a band, and playing those songs until we're strong and accurate. All that is challenging and satisfying.

I remain grateful to be able to make my living doing something I love.
Well written, Neil. And may I say that we fans remain thankful that you, Geddy and Alex have persevered through the decades to provide us with a vibrant source of amazing music.

By the way, that's a secret photo of Neil's new drum kit that's being built for the Snakes & Arrows tour. Click on the image to get a high-resolution view. ||
---
March 19th, 2007
Far Cry Debuts at #13
According to Mediabase, one of the primary music monitoring services that tracks radio airplay, Rush's first single off of Snakes & Arrows has debuted at #13 on the Mainstream Rock Charts. To see how Far Cry is charting, click HERE. When compared to new spins and new stations, Far Cry is far and away leading the pack.

Thanks to RushisaBand.Com for the news.
||
---
March 17th, 2007
Rush.Com Offers Mobile Alerts
The official band website, Rush.Com has indicated that mobile Rush alerts are now available. Simply text 'RUSH' to 50505 to receive the alerts. In more news related to Rush.Com, the first single 'Far Cry' is available for purchase at iTunes. Purchasing the track is a great way to show your support for the band.
||
---
March 14th, 2007
Celebrity Lounge: Geddy Lee (ESPN Interview)
As reported earlier this month, Geddy Lee recently spent some time with ESPN regarding Fantasy Baseball. There's now an in-depth interview online that discusses Geddy's love of baseball as well as the up coming Snakes & Arrows album and tour.

Lee is ready to hit the road again this year in support of Rush's newest album, "Snakes & Arrows" set for release on May 1. The band's newest single, "Far Cry" can be heard at www.rush.com. Lee said that the album was strengthened by producer Nick Raskulinecz after he and guitarist Alex Lifeson laid the groundwork.

"Alex and I wrote some of the songs in my home studio and, along with Neil, things started coming together," Lee said. "The songs on this album are very powerful and very positive. I think it's the best work we have ever done. And that says a lot to still be excited about what I am doing after more than 30 years. This material is really classic Rush."

Lee is excited to get back on the road because of the band's great relationship with its fanbase. Rush has long been known for having a very loyal following. "Our fans are amazing," Lee said. Rush's music has often taken different directions over the years, yet their popularity has not waned. "We have a certain repertoire with our fans that I really appreciate. They have given us the freedom to follow our creative urges, and when we kept experimenting, they were there for us at every turn. That is rare."

Of course, Lee is looking forward to the 2007 tour for other reasons as well. "It will give me a chance to hit ballparks all over the country this season," he said.


Read the full interview here.
||
---
March 12th, 2007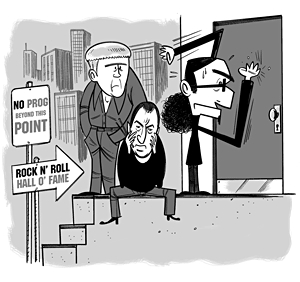 Dispute Rocks the Hall of Fame
Today, the induction ceremonies for the Rock and Roll Hall of Fame took place in New York which sparked the continued debate over the validity of an institution that applauds mediocrity and dismisses genuine, influential, long-standing talent. A USA Today article discusses the on-going dispute which included the omission of Rush, among others, from the Hall.

"Who on earth are the Furious Five?" says David Hogg, one of many furious fans of Rush, lobbying for the band's passage since it became eligible in 1998. "How about some Canadian rock?"

While not a fan of pioneering prog and glam acts snubbed by the hall, New York writer Roger Wade considers their importance and influence undeniable "to all but the most hard-headed music history revisionists."

He's referring to the hall's nominating committee members, "who are finally able to right the wrongs made by the buying public," he suggests with undisguised sarcasm.

"They reflect rock history through their own prism of 'how it should have been.' I've never owned a Rush album, and I've long harbored an actual dislike for both Kiss and its army. As both a musician and an avid record buyer starting in the early '80s, my allegiances were firmly in the punk, new wave, and alternative camps and against the 'dinosaur rock' of Rush and Kiss, but even I'm willing to admit both were wildly popular and hugely influential among fans as well as my fellow musicians."

The Kiss-off and other examples of the hall's snobbery hurt rather than enhance its credibility, he says.

"This is supposed to be a hall of fame, and denying both the fame and influence of Rush and Kiss makes the institution look ridiculous," says Wade, 42. "If they renamed the place Rock and Roll Hall of Artists You Should Have Liked More Than the Ones You Actually Did, I would not begrudge them these exclusions."


I think that last statement says it all.
||
---
March 12th, 2007
Rock Memorabilia Auction to Benefit Kids
The following was just reported at the Pittsburgh Tribute Review.

An online auction will be held March 16 and 17 to benefit the children of Paula Lanz, of Scott, who was found in a burning minivan in Nashville last month, after being shot and killed. Lanz had two daughters, ages 5 and 2.

Mark Petrocelli, a classmate of Lanz's at Chartiers Valley High School and formerly the drummer with Triple X, is organizing the auction, along with Kristin Minneci, another classmate. Currently a salesman with Pro-Mark, a Texas-based drumstick manufacturer, Petrocelli has collected items from Alex Van Halen, the Deftones, David Lee Roth, Styx, KISS, Megadeth, Puddle of Mudd, the Vandals, ZZ Top, Bon Jovi, Neil Peart, Lenny Kravitz and Alan Jackson.

The auction can be accessed by logging onto www.ebay.com., clicking on "advanced search" and typing SMPMUSIC04 in the "Find by Seller" field.

Donations also can be made via the Lanz Children Fun, c/o PNC Bank, U.S. Steel Tower, 600 Grant St. Pittsburgh, PA 15219, or at any PNC branch office.

-- Rege Behe

Updated: May 14th, 2007: I heard directly from Mark Petrocelli, organizer of the auction, who indicated that the article cited the incorrect dates for the auction. According to Mark, the auction will be held from Friday 3/16 and will run through 3/26. Finally, Mark asked that I pass this exciting news along regarding the auction:

I will be putting a prototype pair of the black sparkle, R30 kit owners sticks up for auction. There were only 30 pairs of these that were officially given to those that bought one of the R30 replica drumsets. Because these are prototypes, the finish is NOT perfect on them. But with that being said, they are PRETTY COOL and not to mention VERY RARE!

Thanks for the information, Mark!

||
---
March 12th, 2007
Count Them - THREE - Instrumentals on Snakes & Arrows
The Rock Report from Q107 posted the following information which indicates that Snakes & Arrowa has three Instrumentals, one of which is Malignant Narcissism.

Here you go - the new album "Snakes and Arrows" hits stores May 1st.

1. "Far Cry"
2. "Armor and Sword"
3. "Workin' Them Angels"
4. "The Larger Bowl"
5. "Spindrift"
6. "The Main Monkey Business"
7. "The Way The Wind Blows"
8. "Hope"
9. "Faithless"
10. "Bravest Face"
11. "Good News First"
12. "Malignant Narcissism"
13. "We Hold On"

I've taken down the original picture I had up here because it wasn't the actual cover. I had a chance to see it this weekend at the World Premier Listening Party for "Snakes & Arrows" - as soon as I get a copy of the cover I'll put it up.

In the meantime, I heard six tracks from the new album. The room was kind of noisy so I can't tell you too much, though I've been able to spend some time with new single "Far Cry", which has an excellent chorus, chords that remind me of classic 70's Rush, and a solid groove, with enough drums to keep me in air percussion heaven. My favourite line - "one day I feel like I'm ahead of the wheel, and the next it's rolling over me" - brilliant.

The other song that really stood out was "Malignant Narcissim", one of three instrumentals on the album and one that makes Alex's head spin just thinking about it. I believe this one ran for under 5 minutes, so it's not a "La Villa"-length epic, more line with a "YYZ" or "Where's My Thing?".

Tour dates are coming soon. In the meantime, the Mighty Q is spinning "Far Cry" and we'd love to know what you think of the tune. Here's a link to Rush.com where it's being streamed as we speak. Go there, take a listen, and then come back and give us your opinion.


It's great to hear that three instrumentals made it onto Snakes & Arrows, especially after Vapor Trails lacked any.
||
---
March 12th, 2007
Far Cry Hits the Airwaves - Rush.Com Gets a Makeover
For the first time in nearly 5 years, there's a new Rush song hitting the airwaves. Far Cry made its complete debut across the country - and on the web - this morning and the early buzz is extremely positive.

To celebrate the release, Rush.Com has posted the complete single online and, to coincide with the event, has completely refreshed the look of the band's official website.

And according to the website, the official tour dates will be "coming sssssoon!"

||
---
March 10th, 2007
German Site Reveals Potential Snakes & Arrows Cover Art
A German Music site recently announced the release of Snakes & Arrows and provided what could be the authentic cover artwork for the album.

While this is far more representative of Hugh Syme's artistic style, I still find it far to literal for a Rush cover (i.e. Snakes and Arrows shown in the imagery). What do you think?

By the way, the rough translation of the text on the German site is:

The release date for the new Rush album for our degree of latitude has been revealed. Recorded last fall and produced by Nick Raskulinecz (Foo Fighters, Velvet Revolver), the album is due out on the 27th of April. The planned cover is already online (see right).

Thanks to multiple sources and contacts for the news scoop!


||
---
March 10th, 2007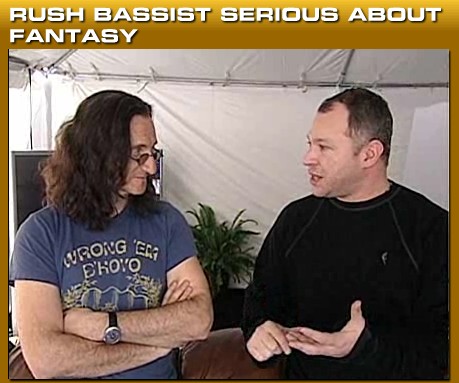 Geddy Lee on ESPN
Geddy Lee certainly has been making the rounds of late. Not only did he recently appear on ESPN to discuss Fantasy Baseball (Click HERE to view the video link) with Matthew Berry, but he also had a small singing role in an ESPN Fantasy Baseball commercial.

You can check out the ESPN commercial at YouTube.

Update (3/12/2007): The "band" that was formed for the ESPN commercial is called Iron Diamond. They now have a MySpace page worth checking out (once).
||
---
March 9th, 2007
Full Page Snakes & Arrows / Far Cry Advertisement Now Online
This link speaks for itself. This was sent to radio stations along with the snippet of Far Cry. How F&*%ing Cool is Geddy Lee? Classic!
||
---
March 9th, 2007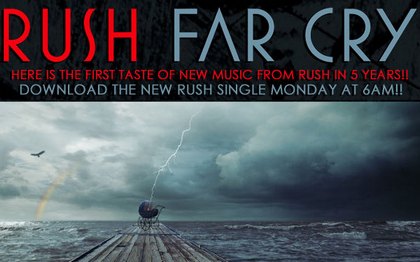 Far Cry Audio Sample Now Available
Rush Forum user Cygnus the God of Balance recently uploaded a 45-second sample of the first Rush Snakes & Arrows single Far Cry which he obtained through his work as a programming director at a rock station in Michigan.

The image to the right was part of the Far Cry promo packet. Now THAT'S more like the artistic vision of a Rush album that I expected :)

Click HERE for the audio sample. Sounds great!





||
---
March 9th, 2007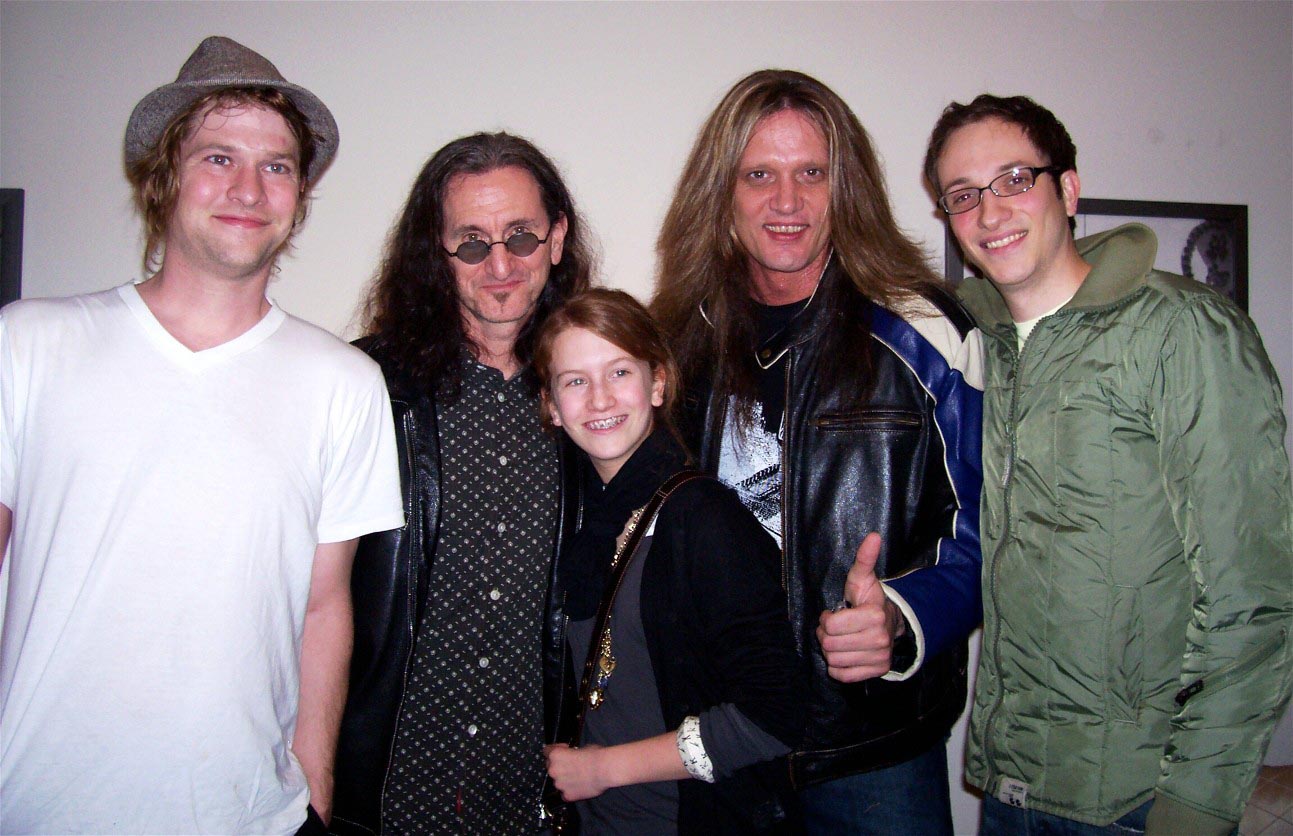 Geddy Lee and Daughter Kyla appear on Gilmore Girls
As reported at various sources including the website of Skid Row frontman Sebastian Bach, Geddy Lee and his daughter Kyla recently appeared on the set of the WB televsion show "Gilmore Girls" and actually ended up making a brief cameo appearances on the episode "Will You Be My Lorelai, Gilmore?" which aired February 27th. Below is a posting of the experience that was supplied by Sebastian Bach.

"What an incredible experience it was filming the latest episode, 'Will You Be My Lorelai, Gilmore?', of the CW network show 'Gilmore Girls'. As I was getting ready to leave the hotel for the Warner Brothers lot, my phone rang and it was my stand-in on the show and good buddy Kerry Tobin. He said, 'Dude, you are not gonna beleive who is hanging out on the set today - Geddy Lee from RUSH!!' I said, 'He is not!!' But I knew to expect the unexpected on the show.

"During my five seasons on the 'Gilmore Girls', I have met and filmed episodes with Carole King, SONIC YOUTH, Madeline Albright, Sally Struthers, Micheal York, Grant Lee Philips, and many more eclectic musicians and actors from all across the spectrum of the entertainment industry.

"But Geddy Lee? My favorite singer/bass player ever in the history of the planet? Hanging out on the set, checking us out filming our scene? Could it be?!?

"Sure enough, when I get to the production office to rehearse the song we perform in the episode, there in the flesh is Mr. Geddy Lee and his beautiful daughter Kyla! Turns out Kyla has impeccable taste and never misses an episode of her favorite show, 'Gilmore Girls', right beside Dad who watches every one with her! Geddy told us that he was in L.A. listening to mixes of the new RUSH CD, and set up a tour of the WB lot with Kyla, who had a great time meeting the cast and watching us work. I said to Geddy, 'Well, hey ..... why don't you guys BE IN THE SHOW???' The opportunity of filming a scene with Geddy and Kyla was just too great for this RUSH fan to pass up! Geddy chuckled and said, 'Well, I don't know... we'll see.' I then proceeded to badger the producer of the show Helen Pai (whose name is the anagram HEP ALIEN is based upon), 'Hey can Geddy and Kyla be in our scene?' Helen, in all her awesome-ness, said, 'Sure I don't see why not!' Unbelievable!!! This was around 7 pm or so. We were not on call to shoot the scene for at least a couple of hours. Which meant that Geddy and Kyla would have to make the commitment to stay on the set until 2 or 3 in the morning, by the time the shot was lit and filmed from all angles of coverage. What troopers they were! We got to hang out and rap about anything and everything, all night, and for me the chance to 'pick Geddy's brain' for four or five hours or so was a night I will never forget!

"Coming from Canada and growing up in the 1970s, a truly surreal moment occured that evening. I got to introduce Sally Struthers to Geddy Lee! For me being a little kid who grew up on 'All In The Family' and RUSH, to somehow be the guy who introduces these two icons of Seventies culture was really quite mind-blowing! Geddy was very excited to meet Sally and even did a short Archie Bunker impersonation on the spot! He told me he was a huge fan of 'All in the Family' and you could tell that he truly dug meeting 'Gloria Bunker'!

"Some heroes you meet and you wish you never did. Then there are those that exceed your every expectation, set you at ease in their company, understand that you are freaking out in their presence but still are cool answering questions etc., that they have probably answered a thousand times! Geddy Lee was definitely the most coolest, humble and down-to-earth rock god I ever shot a drama/comedy with! Click over to www.myspace.com/hepalien for pics and video of this momenteous rock/pop/tv occasion! And look for Geddy and Kyla's cameo on the show.. but don't blink, you might miss it!"

A short video is also available at Sebastian's Website. Click HERE for a screen-capture from the episode.
||
---
March 8th, 2007
Snakes & Arrows Cover Art NOT confirmed
Eric from Power Windows reached out to Anthem regarding the cover art for Snakes & Arrows. He received the following response:

Q: "Is that the actual cover?"
A: "My lips are sealed. Like all Rush albums - but even more so on this one - the band is holding everything very close to their chests. There will not be advance copies except for a few watermarked ones that are 'personalized' - and if they get leaked, we know who leaked them. However those are only going to the major territories (like UK, Germany, etc.) and some very top shelf journalists."

There you have it. Thanks to Eric for sharing this news.
||
---
March 8th, 2007
Snakes & Arrows Cover Art and Track Listing Confirmed
The official Anthem Sales Sheet for Snakes & Arrows has been released and it confirms the album cover artwork as well as the track listing which appears in the news story below. Click the thumbnail image to get a high-resolution version of the sheet.

Click HERE for a PDF version of the sales sheet.

The sheet also verifies that Far Cry will be released as the first single and that it will hit the airwaves on March 19th. It further discusses a 48-city amphitheater tour which begins in mid-June.

Regarding the cover art; apparently, this is the game board for "Leela", the Snakes & Arrows version of the ancient game of Karma. Click this link for some additional information on the game. Despite the overwhelming evidence, I still don't quite accept that the game board would be used as the cover image of the album. But until I hear/read/see otherwise, I'll treat this as official.
||
---
March 8th, 2007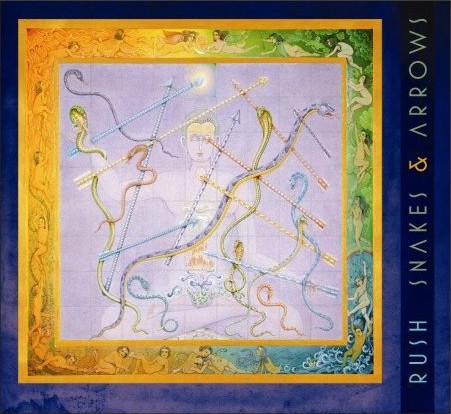 More Snakes & Arrows Album Art Revealed
The image to the right appeared along side the partial track listing of Snakes & Arrows at HMV.co.uk. It is very similar to THIS image which suggests that it may not be the cover art for the album but merely an internal image. Note also that the "Rush Snakes & Arrows" font used is very similar to that used on Grace Under Pressure.

I also find the artwork to be far too literal (Snakes and Arrows throughout) to be representative of a Rush album cover, but perhaps that's just me.





||
---
March 7th, 2007
Unconfirmed Complete Track Listing of Snakes & Arrows
Below is an unconfirmed, complete track listing for Snakes & Arrows which originally appeared, in part, at HMV.co.uk

1. Far Cry
2. Armor and Sword
3. Workin' Them Angels
4. The Larger Bowl
5. Spindrift
6. The Main Monkey Business
7. The Way The Wind Blows
8. Hope
9. Faithless
10. Bravest Face
11. Good News First
12. Malignant Narcissism
13. We Hold On


This list has been updated since the posting of the partial list yesterday. It remains unconfirmed but, as some have pointed out, seems to be legitimate for two reasons. First, the confirmed first single "Far Cry" is included and, second, "Workin' Them Angels" is taken directly from Neil Peart's latest book Traveling Music.
||
---
March 7th, 2007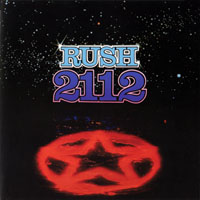 2112 Included in the "Definitive 200" List
As reported at Yahoo News, "NARM, the National Association of Recording Merchandisers, and the Rock and Roll Hall of Fame have announced they will co-host, along with EMI Music Marketing, a special press conference to introduce the "Definitive 200;" a list of 200 classic albums and soundtracks selected by music retailers that should be in every music collection."

Rush's classic 2112 made the list, coming in at #198. To view the entire list, which include some interesting choices, click this LINK.
||
---
March 6th, 2007
Possible Snakes & Arrows Album Cover Image
The image to the right may be an official teaser image that represents the cover image (or internal images) of Snakes & Arrows. The image was posted in several forum threads over at Rush Chronicles and Counterparts Forum.

Until reflected at Rush.Com, we'll have to treat this one as a rumor, but an interesting one nonetheless.
||
---
March 6th, 2007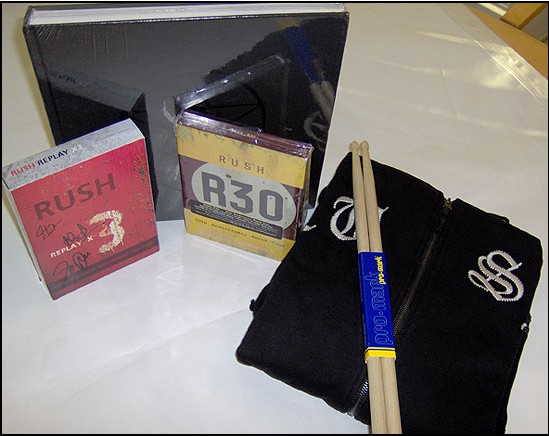 Ebay Rush Auction to Support T.J. Martell Foundation
As reported at Rush.Com, an auction is currently underway at Ebay which contains a package of Rush goodies. The auction is in support of the T.J. Martell foundation. Click the image to the right to view the auction or to place a bid.

Click HERE to read the press release from Rush.Com on this auction.



||
---
March 4th, 2007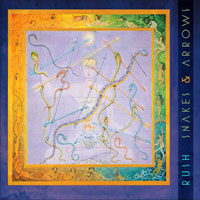 Snakes & Arrows Now Available for Pre-Order
At long last, Rush's Snakes & Arrows, due out May 1st, is now available for Pre-Order at Amazon.Com. The current price is listed as $12.99 with a release date of May 1st (as expected and confirmed by Rush.Com).

No additional information (i.e. track listing) is available via Amazon.Com at this time.

Ordering Snakes & Arrows via the link above helps to support this site so, thank you in advance for your support.


||
---
March 4th, 2007
Complete Geddy Lee Interview with Revolver Magazine
As reported last month, an interview with Geddy Lee appeared in the latest edition of Revolver Magazine. Below is the transcription of the complete article.

"It's hard to describe," said Lee. "It's big, it's bold, and I think it's some of the best work we've done in years. I'm really pleased with the quality of the songs, and there's lots of playing on it."

The upcoming CD promises to be the most organic-sounding RUSH effort in decades, having been influenced by their experience of making "Feedback", the band's 2004 EP of classic-rock covers.

"Playing those songs that we loved and grew up on, I think it helped us remember how sometimes it's the simplicity or the directness of an arrangement that really makes a great song," said Lee. "And the other thing is, we played all together in the studio for a lot of the 'Feedback' stuff. That's something that a lot of producers had been pushing us to do for a while but which we hadn't done in years. It was great to turn off the click and just play - you know, not worry so much about being so, quote, metronomic - and that definitely carried over into this record."

"... We wanted the bed tracks to have that sort of live attitude to them, and that totally went with Nick's thinking, as well".

In Rasculinecz, the band found not only an enthusiastic collaborator but also a serious taskmaster who wasn't at all intimidated by the musician's formidable chops. "Nick really pushed us-he was constantly saying things like, 'Make it more complicated!' Lee laughs.

"There's no point in hiring a producer who's not going to speak his mind, but it's a tall order to find someone who can hear Neil's playing, amazing as it is, and still say, 'Maybe you should try going in this direction...' It was a pleasure to be challenged. That's really what a band like us needs."

Rush and Rasulinecz are currently mixing the new album at L.A.'s Ocean Way Studios, but most of the tracking was done at Allaire Studios in New York's Catskill Mountains.

"It's an old manor house that was originally built by the Pitcairn family, who owned the Pittsburgh Plate Glass Company," Lee explains. "It's on the top of this mountain with just breathtaking views of the Hudson Valley. Our original intention was only to spend about 12 days there, doing drums. But it's so beautiful there, and the rooms sounded so great, and they didn't have anyone coming in after us, so Nick was like, 'Hey, let's keep goin'!'"

Though Rush recorded at a number of residential studios during the Seventies and Eighties, these were the first "sleepover sessions" for the band in nearly two decades, and Lee admits he initially wasn't entirely keen on the idea. In fact, "I approached it with great trepidation," he laughs. "I love those guys dearly, but 24 hours a day with anybody is a bit much. But to be honest, we had a blast. We got so much accomplished in our five and a half weeks there, and I have to say that I can't remember a recording session that's been as enjoyable and as refreshingly creative as these sessions. There was just a vibe with this record were everyone wanted to be there all the time."

Thanks to MiTA for the transcription.
||
---
March 3rd, 2007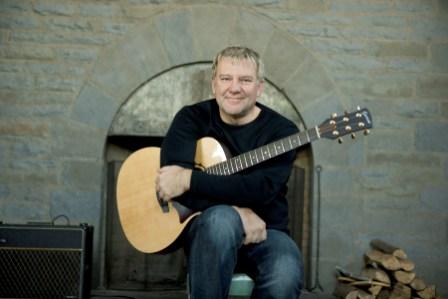 RUSH's Alex Lifeson Joins Garrison Players Roster
Garrison Guitars, manufacturers of acoustic guitars, has announced the addition of Alex Lifeson to their Players Roster.

Alex Lifeson, internationally recognized guitar wizard from the band RUSH has officially joined Garrison's growing list of artists. RUSH's new album, Snakes and Arrows is due out on May 1st! According to Alex, Garrison Guitars and or Octave Manolins are on 85% of the album and will be joining him on their international summer tour.

Alex comments, "It's been a year since I began using my Garrisons and I absolutely love these guitars. Beautiful workmanship, tight low end and smooth, silky top end, very clear tonality, dynamic response and comfortable to play, these instruments are at the forefront of my acoustic work both on record and stage."

For more information on Alex's Garrisons, visit our player section. For more information on RUSH and the new single "Far Cry", visit www.RUSH.com.

There's even talk of an Alex Lifeson Signature Series Garrison but you didn't here that from me. That's HUSH, HUSH and we don't want to start any rumours.

||
---
March 2nd, 2007
Upcoming Rush Tour is NOT a Farewell Tour
I'm happy to report that Anthem Records has announced that the rumor of the upcoming Snakes & Arrows tour being billed as a Rush Farewell tour is unfounded and untrue. I think we can all breathe a collective sigh of relief. The news that tickets for the tour will go on sale later this month has been neither confirmed nor denied.
||
---
March 1st, 2007
Rush Tour Rumor - Billed as the "Farewell Tour"
This should be treated strictly as a rumor but according to a posting by Power Windows at the Counterparts Forum, Rush tickets will go on sale March 24th and the tour is being billed as the "Farewell Tour".

If the ticket sales date is accurate, a complete listing of tour dates should be available very soon. If the "Farewell" billing is accurate, well...what can you say. It's been an incredible ride...

Stay tuned for more news as it becomes available.
||
---
February 28th, 2007
Snakes & Arrows Release Date Pushed Back - CORRECTION
According to a direct quote from Anthem records, the news that Snakes & Arrows has been pushed back a week is false. Snakes & Arrows is still scheduled to be released on May 1st.

According to Blabbermouth.Net via Atlantic Records, the release date for Rush's upcoming Snakes & Arrows album has been pushed back to May 8th. No other news or indications as to the cause for the one-week delay was available.
||
---
February 27th, 2007
Geddy Lee Discusses New Album with Revolver Magazine
Geddy Lee recently spoke with Revolver Magazine regarding the new album, Snakes & Arrows.

"It's hard to describe," said Lee. "It's big, it's bold, and I think it's some of the best work we've done in years. I'm really pleased with the quality of the songs, and there's lots of playing on it."

And as it was reported here last year, the tribute album Feedback had a big influence on the style and direction of the new album.

"Playing those songs that we loved and grew up on, I think it helped us remember how sometimes it's the simplicity or the directness of an arrangement that really makes a great song," said Lee. "And the other thing is, we played all together in the studio for a lot of the 'Feedback' stuff. That's something that a lot of producers had been pushing us to do for a while but which we hadn't done in years. It was great to turn off the click and just play - you know, not worry so much about being so, quote, metronomic - and that definitely carried over into this record."

Thanks to Blabbermouth.Net for the news.
||
---
February 24th, 2007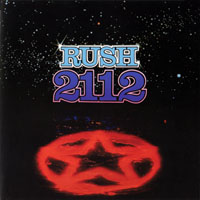 Rush's 2112 Makes Top Progressive Rock Album List
The Internet "Magazine" IGN.Com recently posted an article that listed the Top 25 Progressive Rock Albums of all time. Rush's 2112 came in at #10 on the list. Here's the blurb that was included with the listing.

Undeniably the Canadian Godfathers of Prog, Rush evolved from a bare bones barroom rock band into a full-fledged Prog trio before shifting off into more streamlined synth enhanced fare by the late '80s. This album showcases Geddy Lee, Alex Lifeson, and Neal Pert in fine form as they delivered a conceptual album based on the writings of Ayn Rand. While tracks like "A Passage To Bangkok" may not be exactly Prog, the first side of the album, a whopping 20-minute, 33-second suite broken into seven sections, more than qualifies as a benchmark of the genre.

Rounding out the Top 3 were: #3 - Aphrodite's Child - 666: The Apocalypse Of Saint John, #2 - King Crimson - In The Court Of The Crimson King and #1 - Genesis - The Lamb Lies Down On Broadway.
||
---
February 22nd, 2007
Trailer Park Boys: The Movie Now Available on DVD
Trailer Park Boys: The Movie, which was only released in Canadian theaters last year, is now available on DVD. The movie includes a cameo by Alex Lifeson as a police officer and contains numerous Rush references throughout. Alex Lifeson and Geddy Lee also performed on the soundtrack.

Ricky, Julian and Bubbles come up with a scheme to steal large amounts of untraceable coins. Set in a separate storyline not related to the "Trailer Park Boys" Television show, but with the same lovable characters. The boys get arrested for robbing an ATM machine and spend 18 months in jail. When the get out, they decide to pull off "The Big Dirty" which is to steal a large amount of coins because they are untraceable and quit their life of crime forever.
||
---
February 20th, 2007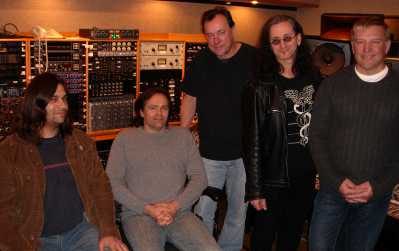 Rich Chycki Discusses New Rush Album
Rich Chycki, who is in charge of mixing the latest Rush album "Snakes & Arrows" recently updated his blog with some comments about the experience of working with Rush and producer Nick Raskulinecz.

Since the late fall, I've been in the studio recording and mixing a new CD for Rush with Nick Raskulinecz (Foo Fighters, Stone Sour) producing. Recording was completed at Allaire Studios in Shokan, New York during November/December 2006. I mixed the CD in the Neve 88R room (Studio D) at Ocean Way Studios in Los Angeles.

Experiencing their immense musical talent and personal integrity over the course of an entire CD was truly inspirational. And Nick is such an enthusiastic, focused talent as well -- a rocker through and through too. A small snippet of the first single 'Far Cry' is posted at rush.com .... enjoy the 'hemispheres chord' ... heh heh heh.

As a side note, Rush's R30 DVD has been nominated for a Juno Award for DVD of the Year...
||
---
February 14th, 2007
It's Official! The New Rush Album will be out May 1st - Clip from the first single now online
According to the only source that matters, Rush.Com, the new Rush album will be called Snakes amd Arrows and will be in the stores on May 1st.

In addition, a short clip from the first single, "Far Cry" is also available HERE. Though its only 10 seconds long, it's enough to get your blood pumping. Summer Tour details are forthcoming as well. Rejoice, Rush fans. The New Album is almost here!
||
---
February 13th, 2007
SESAC Signs Rush
SESAC, a performing rights organization, has recently signed Rush for U.S. Representation. The SESAC organization, and organizations like it, are businesses designed to represent songwriters and publishers and their right to be compensated for having their music performed in public.

Below is a reprint of the Press Release that appeared on the SESAC website.

SESAC SIGNS RUSH
Legendary Rock Icons In Studio Readying New CD for '07 Release
February 12, 2007

NASHVILLE, TN - SESAC, the nation's fastest growing performing rights organization, has signed legendary rock group, RUSH for U.S. representation. One of the music world's most successful and revered rock bands, RUSH has been a mainstay on rock stations for more than three decades accumulating multiple platinum and an astonishing 24 gold albums. The band has also dominated the radio airwaves with such smash singles as perennial favorites "Tom Sawyer" and "Closer To The Heart". With a live show matched by few in the industry, RUSH has also established themselves as one of the most popular touring bands ever.

"SESAC couldn't be more excited to sign RUSH to our incredible roster of affiliates," says Pat Collins, President/COO, SESAC. "RUSH is a truly iconic band that continues to create incredible music and entertain hundreds of thousands of fans at their live concert events so signing an act of their stature is a thrill. We are honored to have RUSH in the SESAC family."

"Signing with SESAC was a natural for RUSH," says SRO Management's VP, Pegi Cecconi. "SESAC represents some incredible artists so the band knew they would be in great hands and feel honored to be part of an amazing team."

Among rock music's most popular and celebrated acts, RUSH has been a recording and touring band for over 30 years. The group, which consists of bassist/vocalist Geddy Lee, guitarist Alex Lifeson and drummer Neil Peart, are currently in the studio working on a brand new project set for a Spring '07 release.

||
---
February 12th, 2007
Tom Sawyer gets a Jazzy Treatment
Last Day In Paraside, an album by the Alex Skolnick Trio, will include a jazz version of Tom Sawyer. The band was formed by Testament guitarist Alex Skolnick.

The album, which contains seven original songs and three cover songs, is due out on March 15th. Click the album image to the right to pre-order from Amazon.Com. Click HERE for more information on the album and for an audio sample of Tom Sawyer.

"The new album also includes ... a live electronica inspired version of Rush classic 'Tom Sawyer.'
||
---
February 9th, 2007
Snakes and Arrows to hit the Stores on May 1st
According to an FMQB article, Rush's new album, tentatively titled "Snakes and Arrows" should hit the shelves on May 1st.

Once again, none of this has been officially confirmed by Rush, SRO/Anthem or Atlantic records.
||
---
February 9th, 2007
Far Cry, the new Rush Single, to air on March 19th-20th
According to FMQB, the new Rush single "Far Cry" will make its radio debut on or about March 19th-20th. Apparently, the album title will be "Snakes and Arrows" though no official confirmation of this has been made yet.

There's also a continuing rumor about the initial tour dates supporting Rush's latest album. Here's a tentative list of those dates. Again, nothing has been confirmed.

Jun. 13 - Nashville, TN @ Starwood Amphitheater
Jun. 15 - West Palm Beach, FL @ Sound Advice Amphitheater
Jun. 16 - Tampa, FL @ Ford Amphitheater @ Florida State Fairgrounds
Jun. 18 - Atlanta, GA @ HiFi Buys Amphitheater
Jun. 19 - Charlotte, NC @ Verizon Wireless Amphitheater
Jun. 27 - Mansfield, MA @ Tweeter Center
Jul. 02 - Wantaugh, NY @ Jones Beach Amphitheater
Jul. 04 - Darien Lake, NY @ Six Flags
Jul. 07 - Homdel, NJ @ PNC Arts Center

We'll have more news on the new Single and Album as it becomes available.
||
---
February 7th, 2007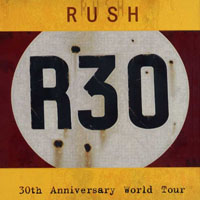 R30 Nominated for a Juno Award
According to the official Juno Awards site, Rush's R30 DVD has been nominated for the Music DVD of the Year. Below is the blurb from the Juno website.

Allan Weinrib - The executive producer/producer of the Rush R30 DVD is Rush singer/bassist Geddy Lee's brother. In 2004, Weinrib won Music DVD of the Year for Rush In Rio.

Pegi Cecconi - The one-of-a-kind Cecconi works at S.R.O. Management Inc., a management firm and part of Anthem Entertainment Group - an international recording, publishing and merchandising enterprise.

The president and C.E.O. of S.R.O. Management Inc., the management arm of Anthem Entertainment Group, will be inducted into the 2007 Canadian Music Industry Hall of Fame. He began his career in the music industry booking bands in Toronto. In 1971, he became Canadian rock band Rush's agent and manager and launched Moon Records (later renamed Anthem) to release Rush's self-titled debut.

Rush - The trio is working on its 18th original album since the trio formed in 1968 and released its eponymously-titled debut in 1974. The band has since sold more than 36 million albums worldwide and continues to be one of the top-grossing international touring acts. The last time Rush was in the studio to record original material was for 2002's Vapor Trails. R30 is a live 30th Anniversary World Tour DVD and CD set.

Pierre Lamoureux - Quebec's Lamoureux is the producer of Rush's R30, Killing Joke's XXV Gathering!, Stray Cats' Rumble In Brixton, The Who's Live In Boston, executive producer of Deep Purple's Perihelion - Live In Florida and The Who Live At The Royal Albert Hall.


Best of luck to Rush and all involved in the production of this fantastic DVD!
||
---
February 6th, 2007
More Rumors on the New Album and Tour
Rumors continue to spread regarding the new Rush album which now indicate that the first single will be called "Far Cry" or "Farcry" and will hit the radio waves on March 13th. No formal release date of the album has been indicated, other than "May" of this year. Finally, indications are that the tour in support of the new album will kick off on June 13th at the Starwood Amphitheater in Nashville, TN.

Thanks to Power Windows for the "news". :)
||
---
February 5th, 2007
Snakes Alive! - Rush in a rush over new studio album
Class Rock Magazine's March issue contains a small section on Rush and their upcoming new album. The included bonus CD also has a track from John Kastner (of The Doughboys and All Systems Go!) which features the talents of Alex Lifeson.



Long-running Canadian rockers Rush are adding the final touches to their 18th full-length studio album, which will be titled either Snakes and Arrows or Snakes and Ladders when it is released via Atlantic Records in late April/early May.

Co-produced with Nick Raskulinecz (who has previously worked with Foo Fighters, Tenacious D and Stone Sour), Rush recorded the album in 30 days flat - their speediest finish since A Farewell to Kings in 1977. A 'making of' DVD is also likely to be released.

Drummer Neil Peart said recently that the albums' lyrics were inspired by his motorbike trips across America, stories later captured in literary form in a book called Roadshow: Landscape With Drums.

The trio expect to spend most of the year on the road, and undertake a lengthy North American tour kicking off in mid-June; European and South American shows are pencilled in for early 2008.

Now into their 33rd year as recordind artists, Rush are once again overlooked by the Rock and Roll Hall Of Fame. "I couldn't care less. Look who's up for induction. It's a joke" guitarist Alex Lifeson said of the snub.

To hear a different side of Alex check out track 3 on our cover CD.

The blurb on Rush doesn't contain any new information and is largely based on Alex's earlier interview with Jeff Burrows.
||
---
January 31st, 2007
MSNBC Conducts Online "Overlooked Rock non-Hall of Famers" Poll
MSNBC.com is currently featuring an Online Poll that highlights the best musical acts which have been overlooked by the Rock and Roll Hall of Fame. Current front-runner is Rush. Let's keep it that way. Vote now!
||
---
January 31st, 2007
Through the Prism: The Classical Tribute to Rush
Vitamin Records, who have produced such Rush Tribute albums as Exit...Stage Right: The String Quartet Tribute to Rush, The String Quartet Tribute to Rush's 2112 and The Piano Tribute to Rush are now releasing a "Best of" album, due out April 3rd, 2007.

What can be said about Rush that hasn't been said already? They have won more praise and awards for their work than can be catalogued here. One of the top-selling rock bands of all time, Rush has one of the largest and most dedicated fanbases in the world. And, they have been going non-stop for over thirty years. Yeah, that sums it up quite nicely.

Since Exit Stage Right: The String Quartet Tribute to Rush, Vitamin Records has raised the stakes for paying tribute to Canada's favorite sons. The first album was a smash amongst fans and was soon followed by the ambitious tribute to Rush's magnum opus, 2112. More hit tributes were to come and with each record Vitamin surprised the fans with their dedication to the craftsmanship of the godfathers of modern, progressive music. With this collection, Vitamin has highlighted 14 of the best tracks from these tributes. It is an essential collection for any Rush fan and any fan of Vitamin Records' captivating tributes.

You can PREORDER the album at Amazon.Com or you can check out more information at Vitamin Records' website.
||
---
January 30th, 2007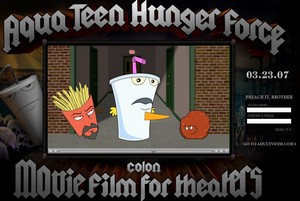 Aqua Teen Hunger Force Movie Trailer Now Online
The Aqua Teen Hunger Force movie wherein Neil Peart lends his vocal talents will be released on March 23rd of this year. The official movie trailer has now been uploaded to the movie's site. Click HERE to view the trailer (Quicktime plugin required). Unfortunately, Neil's voice-over doesn't appear in the trailer.

Thanks to RushIsABand.Com for spreading the news on the trailer.



||
---
January 29th, 2007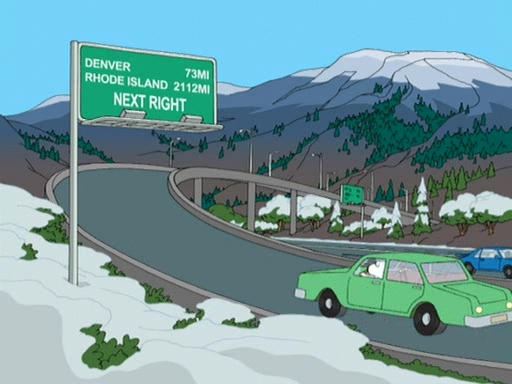 Rush Reference on Family Guy
Back on November 27th of last year (See: Rush News Archives - 2006), I reported a significant Rush "sighting" on the Fox animated show "Family Guy". There was another, albeit minor, Rush sighting during this past Sunday's airing of Family Guy. As Brian and Stewie are driving back to Rhode Island after a trip to Aspen, Colorado, a road sign indicates that it's 2112 miles to Rhode Island.

Interestingly enough, when checking Google Maps and putting in a route from Aspen, CO to Rhode Island, the total mileage listed is 2,116. Close enough for government work.
||
---
January 21st, 2007

Time Stand Still makes Q Magazine's Greatest Lost Tracks List
"The 500 Greatest Lost Tracks" is the primary subject covered in the current issue of Q Magazine. One of the features covered is a list of the "50 top lost Metal Tracks" which includes Time Stand Still from Hold Your Fire.

Rush has often been labeled by the misinformed as a "Metal" band; something we fans know not to be accurate. I find it humorous that of all of Rush's songs, Time Stand Still would be selected as part of a "Metal" list. It's a great song, don't get me wrong, but it's hardly "metal".
||
---
January 20th, 2007
Vintage 1982 Rush National Radio Special Now Online
Classic Rock Center, home to thousands of hours of historical interviews and radio shows from the greatest rock artists of all time has just uploaded a vintage Rush Radio Special from 1982.

They boldly go where no band has gone before. Rush. Master storytellers. Weavers of legends filled with swords, sorcery, and down to earth rock 'n roll. This exclusive special was distributed on radio stations throughout the U.S. in 1982. Hear Neil Peart, Alex Lifeson and Geddy Lee in interview segments as they retrace the events that helped establish Rush in the early days. Hear "Working Man", "Fly By The Night", "The Spirit of the Radio", Free Will", "Red Barchetta", and more from their live album "Exit...Stage Left".

While this obviously isn't the latest news on Rush, it's still great to listen to a radio special such as this which celebrates Rush, especially on the eve of the band releasing their 19th studio album.

Many thanks to Andy Zipfel of Classic Rock Central for passing along the link.
||
---
January 19th, 2007
Jeff Burrows' Interview with Alex Lifeson Now Online
Jeff Burrows of Canda's Rock Station, The Rock 95.1 / 100.7 held an interview with Alex Lifeson earlier this week (as previously reported). Now that complete interview is available online at the station's website. From the site's homepage, click on the 'Rock Interviews' banner on the right to access the interview.

The interview is exciting to listen to as Alex discusses the process of recording the new album and the upcoming 2007 Rush Tour.
||
---
January 18th, 2007
Rush reportedly now in Los Angeles mixing the new Album
According to a Blog Entry from the Canandian Classic Rock Station Q107, Rush may now be in Los Angeles mixing the new album. The blog entry references Andy Curran of the Toronto-based 80s-era band Coney Hatch. Curran is now with Rush's management.
||
---
January 18th, 2007
"The Knights Of Prosperity" select Tom Sawyer as their theme song
The January 17th airing of the ABC comedy "The Knights of Prosperity" had Tom Sawyer selected as the groups theme song. The song is played during slow motion fight scenes, and is sung karaoke sytle by the Knights. The episode can be viewed at the show's official ABC website.

This week's episode features the gang still struggling to get past the layered croissant that is Mick Jagger's home security system. But first, they have to choose an appropriate theme song for their criminal organization! After a quick back and forth, they choose -- what else? -- "Tom Sawyer" by Rush. Karaoke is never funny on TV. For that matter, it's rarely as funny in real life as it seems it should be. The opening scene of the Knights singing "Tom Sawyer" was funnier than anything on American Idol tonight, and every bit as absurd.

Read more by clicking HERE.
||
---
January 18th, 2007
Alex Lifeson Discusses Wine with WineSpectator.Com
Recently, Wine Spectator had a Question & Answer session with Alex Lifeson about his interests in wine.



Alex Lifeson, 53, was born in British Columbia. Along with Geddy Lee and former drummer John Rutsey (he was replaced by Neil Peart in 1974), the trio formed rock band Rush in 1968. Lifeson has been the composer and guitarist for all 23 of the band's albums, including a 24th, yet to be named, due for release in April. Over the past four decades the band's sound has evolved with the times, and so has Lifeson's taste in wine. When Rush started out, the band drank cheap wine and malt liquor backstage; now they prefer Châteauneuf-du-Pape. Along with collecting, Lifeson also found that he enjoys pitching in and helping make wine. But what he likes most of all is sharing great wines with friends

While the full article is only avilable to subscribers of Wine Spectators, a complete reproduction of the Q&A session is available at THIS link.
||
---
January 15th, 2007
New Rush Album & Tour Information - Facts or Rumors?
Rumors have been circulating regarding the title of the upcoming 19th studio album from Rush. Word on the net-street is that "Snakes and Arrows" or possibly "Snakes and Ladders" could be the title, though nothing official has been announced - yet. For now, this is strictly a rumor.

And yes, that's a mock-up cover courtesy of Power Windows.

On the "more official news front", Alex Lifeson apparently called in to Jeff Burrows' radio show, "The Tea Party", on Canadian radio station 95.1 The Rock. According to various sources who heard the conversation, Alex confirmed that the album should be ready for a late April / Early May release. Additionally, studio video footage of the recording sessions were shot which may make their way onto DVD in the future. Finally, Alex confirmed that Rush would tour beginning in June and would cover North America and Europe with a stop in South America after the Christmas holiday break.
||
---
January 14th, 2007
Rush included in one of the strangest "Top" lists
Just when you think you've heard it all, IGN.Com has compiled a list of the Top Ten Songs About Trains" of all time. Making the list is Rush's "A Passage to Bangkok" off of the 2112 album.

While the song is more about a drug addled excursion through Indo-China, with stops in Colombia, Thailand, Morocco, and other infamous havens of ethereal experience searching hippies of old, this little ditty from the Canadian power trio of Alex Lifeson, Neil Peart, and Geddy Lee deliberately focuses on the mode of train transportation between the various areas of renown.

Were on the train to Bangkok/Aboard the Thailand Express/We'll hit the stops along the way/We only stop for the best?"

As to whether or not they actually convinced/inspired any listeners to embark on a similar journey is unknown, but the travel blueprint is there in the lyrics, my friend.
||
---
January 14th, 2007
Neil Peart's Bubba's Book Club Update #7 Now Online
Neil has updated his personal websiet with the latest Picks for Quality Reading. You can check out Neil's latest selections by clicking HERE.
||
---
January 11th, 2007
Neil Peart Lightens Up - Interview
The January 10th edition of the Toronto Metro Newspaper includes a lengthy article/interview with Neil Peart. In it, Peart discusses his voice-over appearance in the up-coming Aqua Teen Hunger Force Movie, his recent interviews and his Roadshow book.

The complete article/interview can be read HERE on page 29 with select excerpts reflected below.

Geddy Lee proved he didn't take himself too seriously appearing with SCTV's fictional Bob and Doug McKenzie on the 1982 novelty hit Take Off. Same for Alex Lifeson with his hilarious guest cameo on Showcase's Trailer Park Boys in 2003. Now the drummer/ lyricist for Canuck rock trio Rush wants a chance to showcase his lighter side.

Neil Peart will guest voice in a film version of Aqua Teen Hunger Force - a U.S. Cartoon Network animated series - scheduled for release in March. "I get to work with a meatball, a bag of fries and a milkshake," laughs Peart. "It's quite a surreal departure."

Perhaps mindful of his serious-musician reputation, the 54-year-old seems to be putting more emphasis on lightening up. This past November, he appeared on CBC's The Rick Mercer Report giving drum lessons to his amused host.

And his fourth book Roadshow: Landscape With Drums, A Concert Tour By Motorcycle, released in September, is laced with drummer jokes (What's the difference between a drummer and a savings bond? One will mature and make money", "What do you call a drummer without a girlfriend? Homeless."), backstage anecdotes, long motorcycle journeys plus a bizarre on-stage cameo from obvious Rush fan Jack Black, who cited Peart in his 2003 flick The School Of Rock.
||
---
January 11th, 2007
Interview with Nick Raskulinecz, producer of the upcoming Rush Album
The January 11th edition of the Knoxville Metro Pulse (www.metropulse.com) has an article/interview with Nick Raskulinecz who was signed up to produce the latest Rush studio album. Nick discusses how he's been a fan of Rush since he was 10, which made this producing job a dream come true.

Below are some of the highlights of the article which can be read in full by clicking HERE.

Like so many other hesher kids of his era, former Beardenite Nick Raskulinecz was a Rush freak when he was playing bass and guitar in local Knox rock bands circa 1990. That's right, Rush, those silly Canuck rockers famous for grandiose prog epics and utopian fantasies, science fiction and musings on Ayn Rand.

Say what you will about their goofy intellectual pretensions; the unvarnished truth of the matter is that Geddy Lee, Alex Lifeson, and drummer extraordinaire Neil Peart were responsible for some of the best and flat-out ass-kickingest proto-metal to emerge from the trough of '70s moustache rock. Put aside your hipster prejudices and listen with fresh ears to the overture off 2112, Geddy screaming like a scalded banshee while guitarist Alex careens between post-modernism and heavy blooze, and Neil blows through mammoth drum rolls that run all the way across a trap set the size of a small forest?. It was heavy rock music for people who were serious about their heavy rock, virtuosic and heady and visceral and cathartic all at the same time.

Then imagine the excitement for Raskulinecz-now a well-regarded record producer living in L.A.-when the band's management called last year and offered him the chance to produce the venerable outfit's 19th studio album. Raskulinecz accepted, needless to say, and spent five weeks living and working with the trio in a remote woodland studio on a mountaintop in upstate New York. The resulting album, yet untitled, is set for release in April of this year.
||
---
January 9th, 2007
YYZ selected as Top Drumming Track of the 1980's
Modern Drummer Magazine has a feature called The Top 30 Drum Tracks of the '80s in their March 2007 issue. Rush scored twice on the list; Tom Sawyer came in at #11 and YYZ took the top honors at #1.

Thanks to RushIsABand.Com for the news.
||
---
January 7th, 2007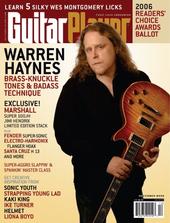 Alex Lifeson makes a Guitar Players Top 40 List
The February 2007 edition of Guitar Player magazine celebrates the periodical's 40th anniversary. As part of the celebration, the Top 40 Guitar Tones of all time were selected by the Guitar Player and Harmony Central forum members. Making the grade was Alex Lifeson for his work on the 1977 album A Farewell to Kings.

Some of the others who made the non-ordered list included Eddie Van Halen, Stevie Ray Vaughn, Eric Clapton and Jimmy Page.

Thanks to RushIsABand.Com for the news.


||
---
January 4th, 2007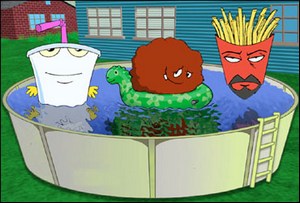 Aqua Teen Hunger Force: The Movie Scheduled for March release in the U.S.
According to Sci-Fi.Com, the Aqua Teen Hunger Force animated movie, which includes the voice of Neil Peart, is set for a March 2007 release.

Cartoon Network's animated series Aqua Teen Hunger Force will be the first original show of the channel's late-night Adult Swim programming block to be turned into a feature film, Variety reported. The 86-minute film was written, produced and directed by co-creators Matt Maiellaro and Dave Willis.

The film centers on the origins of Hunger Force characters Meatwad, Frylock and Master Shake and an immortal piece of exercise equipment threatening the balance of galactic peace, the trade paper reported. "It was too big a story to do in 11 minutes," Willis told Variety. "It's based on our fear of exercise equipment."

Maiellaro and Willis will be voicing several parts each, and several members of the TV cast will be reprising their roles. The film also features cameo voices provided by Bruce Campbell and Neil Peart of the band Rush. It is set for a March release date in 800 theaters.
||
---
January 3rd, 2007
Burning for Buddy Projects Now Available on DVD
The complete set of "Burning for Buddy (Rich)" Tributes that Neil Peart was a part of are now available on DVD for the first time. Previously only available on VHS, the complete Buddy Rich Memorial Scholarship Concerts includes Neil Peart performing three songs with the Buddy Rich Band at the Ritz Theater in New York City on April 8th, 1991. It was these concerts that eventually led to the "Burning for Buddy" albums whose recording sessions were documented on The Making Of Burning For Buddy.

Thanks to Power Windows for the update.
||
---
- Cygnus-X1.Net Rush News Archives -

|January-March 2011 Rush News Archive|
|October-December 2010 Rush News Archive|
|July-September 2010 Rush News Archive|
|April-June 2010 Rush News Archive|
|January-March 2010 Rush News Archive|
|October-December 2009 Rush News Archive|
|July-September 2009 Rush News Archive|
|April-June 2009 Rush News Archive|
|January-March 2009 Rush News Archive|
|October-December 2008 Rush News Archive|
|July-September 2008 Rush News Archive|
|April-June 2008 Rush News Archive|
|January-March 2008 Rush News Archive|
|September-December 2007 Rush News Archive|
|June-August 2007 Rush News Archive|
|April-May 2007 Rush News Archive|
|January-March 2007 Rush News Archive|
|2006 Rush News Archive|
|2004-2005 Rush News Archive|
---