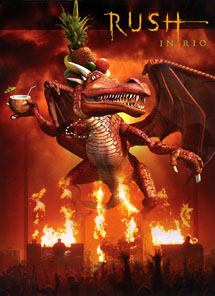 There are 17 active users currently online.
---
Video Review: RUSH IN RIO CONCERT VIDEO

---
---
All reviews are (c) Patuto Enterprises and originally appeared at Epinions.Com





Rush in Rio DVD - And the Crowd Went WILD!



Pros: Incredible performances. Excellent camera work. The energy of the crowd. Not JUST for Rush fans.

Cons: Trivial concerns over the audio quality, but 40,000 fans can't easily be silenced.

The Bottom Line: See what makes Rush a musical legend. See why unquestionably these guys are put on a show like no other. Enter the mystical world of Rush.

---
For over 30 years now, Rush has produced 17 studio albums (almost all of them Gold or multi-platinum - more than any other group .... ever).

They've also, prior to Rush in Rio, produced 4 live albums, sometimes with an accompanying live video.

But this time around, at the tale-end of their 2002 Vapor Trails tour, Rush decided to do something different. In all their years of touring North America and Europe, Rush never ventured 'South of the Border'. Word had it that their fan base in Latin and South America was enormous, but for one reason or another, each tour always had them failing to play for some of their most dedicated fans.

This oversight was remedied when they decided to close their Vapor Trails tour with a show in Rio de Janeiro, Brazil at a soccer stadium capable of holding 40,000 fans.

And the seats were packed. The fans were chanting and singing before the show even opened.

Shots of the crowd showed concert goers seemingly praying to the heavens, perhaps thanking God that Rush finally decided to play in their little corner of the world.

And when the show finally began, the crowd went absolutely wild at the opening chords of Tom Sawyer.

In their 30 years of touring, Rush has become accustomed to playing to sold out crowds, many of which sing along to each of their songs.

Crowds with enthusiasm for this Canadian trio. Crowds with energy that propel these nearly 50-something musicians to push the envelope of musical mastery.

But after witnessing the reaction Rush received from the crowd at Rio, and having seen Rush live more than a dozen times, there is no question at all that Rush gave the performance of their careers in Brazil, and were greeted like never before by thousands upon thousands of screaming, singing, clapping, praying, smiling fans.

I was fortunate enough to premiere the release of the Rush in Rio DVD on the big screen. Across the country, a handful of theaters were premiering this DVD one time only on the release date - Oct. 21st - which corresponds with the release date of the live triple-CD that mirrors the music on the DVD (more on that later).

Seeing Rush on the big screen, with popcorn and coke in hand, in a theater packed to the gills with other Rush fans was an event I'll remember for all of my days.

But witnessing the spectacle of Rush as presented on this DVD reaffirmed why I treasure this musical group as much as I do.

It's their energy.
It's their drive.
It's their music.
It's their message.
It's their life.

Rush has long been knowing as the 'Thinking Man's' rock group, largely because of the intelligent, thought-provoking lyrics penned by percussionist extraordinaire Neil Peart. But also because Rush never chased after the limelight that rock acts often strive for.

No, instead Rush made music for two groups - their fans and themselves. And critics be damned, they've become as successful these past 3 decades as any act in history.

Now witness the culmination of all of their talents. All of their skills. Witness the intense, magical, inspiration performance of three Canadian men, performing their hearts and souls for 40,000 fans.

From the intense guitar solos by Alex Lifeson who mesmerized the crowd with his lightning fast licks, to the effortless and flawless bass work by lead singer Geddy Lee to the professor on the skins, Neil Peart, who without question put forth the best drum solo of his career, Rush proved once again that they are at the top of their game, and that time has had little effect on these masters of Rock and Roll.

And there there was the crowd. Jumping up and down in unison to most of the songs, bowing down in awe to Mr. Peart at the end of his impossible solo. Singing the lyrics of every song, even though most may know even speak English as their primary language. And the smiles. And the joy. And the sheer elation that was easily apparent on the faces of each and every fan.

As overwhelming as this concert was for them, being their live, seeing Rush for the first time, it was equally overwhelming for me and fellow movie-goers to see that we truly are not alone. That Rush truly does reach deeper to their fan base. Something other shallow bands fail to accomplish. This isn't just music, this is almost a philosophy. One that legions are thrilled to follow and adore.

This 2-disc DVD not only contains the 3 hour concert, which contains 28 songs in all, but goes on to explore the men behind the music in a thoughtful and revealing documentary. There are also some hidden Easter eggs providing additional goodies for you to find, including a cartoon that was shown at each concert.

Presented in a widescreen anamorphic format, and in Dolby Digital 5.1 format, this DVD does a superb job of capturing the energy of that magical night.

Visually, the DVD is very impressive as it utilizes 22 roaming cameras and contains some masterful editing.

Sonically, the crowd is so loud that they do tend to drown out Geddy's vocals from time to time, but not to the point of becoming mindless noise. It's the sound of energy, and it's a thrill to listen to.

Rush has many critics, may nay-sayers in the world. Many who think they just can't cut it in the music industry, despite selling nearly 40 millions records worldwide.

A challenge to all of them - and you as well perhaps; Rent this DVD. Watch it. Be amazed, and realize, once and for all, why Rush is clearly one of the finest rock and roll bands to ever grace this Earth.

Rush in Rio DVD and the accompanying triple live CD are without question the crowning jewel in their illustrious career.

Rush fans will salivate over this compilation.

Non Rush fans may just get converted.

Either way, this concert DVD is one not to be missed by anyone who calls themselves a fan of Rock and Roll.

This is what the music is all about.

This is what a concert should be like.

This is Rush.

Thank you, as always, for reading...


---
|Back to Rush Reviews Menu|
---
|Read More Reviews on the Rush in Rio Concert Video|
---