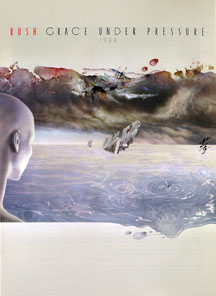 There are 14 active users currently online.
---
Video Review: GRACE UNDER PRESSURE TOUR

---
---
All reviews are (c) Patuto Enterprises and originally appeared at Epinions.Com





Pardon the pun but...What a Rush!



Pros: Magical performances. Great lighting, camera and audio effects. Great selection of songs.

Cons: Only 70 minutes long - about half the length of the original concert.

The Bottom Line: Rush may never tour again. This is a fact. But you can still experience the thrill of one of their concerts by watching this video.
---
It's hard to believe it, but it's been almost 22 years since I first watched Rush take the stage live - before my eyes - in the then-called Brendan Byrne Arena in East Rutherford, New Jersey.

I was a growing fan of Rush at the time, and they were a growing force in the Rock world. Coming off two mega-hit albums, 'Moving Pictures' and 'Signals'with their second live compilation thrown in the middle - 'Exit...Stage Left', Rush was riding their wave of success and not showing any signs of slowing down.

That being the case, the night of the concert was one that captured, but never contained, an immense amount of energy, synergy and magic. It was intense. It was mind-boggling. It certainly didn't last long enough. It made a complete fan out of me.

Simply put, it was...a Rush.

And while the energy and memory of that night will never escape me, I'm able to revisit it from time to time thanks to the official tour video release of the Grace Under Pressure Tour - a 70 minute video extravaganza that's certain to turn any non-believer into a bona fide Rush fan. And there's one problem - it's only 70 minutes long or roughly half the length of the actual concert. But I'll take it :)

And while no video could ever capture the true essence of actually witnessing a Rush concert in person, this video actually performs a decent job in revealing some of the intricacies and musical expertise that Rush is renowned for.

The video set list, while incomplete as indicated earlier, does offer a solid sampling of the favorite Rush tunes of the day. If you'd like to see my specific comments on these songs and their lyrics, please visit my other Rush-related opinions for the particular albums in question.

1. The Spirit of Radio
Not only a staple at any Rush concert, up until the later 80's, it was the quintessential opening song of choice by the Canadian Power Trio. What better was to open up a concert. As powerful and energetic as always, this is the reason to experience Rush live.

2. Red Sector A
The first of 3 songs taken from their 'Grace Under Pressure' album, Red Sector A is one of those haunting songs by Rush that certainly makes you think. Exploding guns in the middle of the track will get your heart pounding, and the overall performance is superb.

3. The Enemy Within - part I of the Fear Trilogy
The second track from the 'Grace Under Pressure' album, this song has a jazzy beat to it that has the crowd jumping for joy while air-guitaring and air-drumming. Great fun, great lighting effects, and just plan rocking. A great song performed to perfection.

4. The Weapon - part II of the Fear Trilogy
Adding a little humor to the mix, Rush continues their self-proclaimed trilogy, which spanned over three albums, with The Weapon - a tight guitar and bass specific song that builds to a climax and chills you to the bone.

5. Witch Hunt - part III of the Fear Trilogy
Dark and brooding, this song is an excellent example of Rush's ability to play non-mainstream sounding songs that somehow transform into a work of art. Intense lyrics, powerful mood-setting lighting, and great camera work, this is a great way to end the Fear Trilogy - even if it did actually start it (Rush fans know what I mean).

6. Overture/Temples of Syrinx
They're just the opening sequences to the 2112 masterpiece, and they certainly leave you wanting for more, but as stand alone songs, they're performed with the same energy and passion that you know was present when the original was recorded some eight years prior.

7. Tom Sawyer
At this phase in their career, Tom Sawyer was their bread-and-butter song, and it shows more so in this video than in other Rush releases. The crowd goes wild, and Rush just has some fun with this classic song. It's amazing to watch Geddy wail away at the bass with Neil pounding on his drums in the background. It gives you a true sense of their musical abilities and lends credence to some calling them musical Gods.

8. Vital Signs
A personal favorite, this jazzy, fantastic guitar-heavy song definitely shows how dynamic Rush can be in their sounds and their performance. More beautiful lighting and camera work really adds to the special nature of this song.

9. New World Man
Another fan favorite from 'Signals', this is one of those songs that Rush just has a lot of fun playing with and performing, and it shows here. Perfectly reproduced with crowd-mania in the background, this is as good a rendition as the original. Perhaps even more so.

10. Distant Early Warning
What a great, extended introduction to this already powerful opening track from the 'Grace Under Pressure' album. The crowd erupts, and I did as well when I witnessed this song for the first time. A great tune that garnered a lot of attention in its day, but deserves far more now. A great spectacle to behold.

11. Closer to the Heart
Fire up those lighters, no other Rush song quite captures the imagination and singing abilities of the crowd like Closer to the Heart. This rendition, which is heavily influenced by the crooning arena, is another magical moment to behold. There's a reason why this song still sounds fresh 24 years after it was originally released, and this live version reflects those reasons perfectly.

12. Y.Y.Z.
The instrumental and drum solo extraordinaire. Pure, dynamic, explosive and precise Rush at their absolute finest. Just try not to air-guitar to this song. Phenomenal. Absolutely phenomenal!

13. In the Mood
Closing the show with one of their earliest works, In the Mood certainly won't go down in the annals of Rock and Roll history as one of Rush's finest songs, but it does translate well live - and Rush knows how to drive it even farther with their added, and often comical, lyrics. A great way to end a concert, especially one that you don't want to end.

And there you have it. Yes, many other powerful songs were left off this video/tour compilation from the Grace Under Pressure Tour of 1984, but the sampling of songs here are enough to transport you back in time when you were entering the arena for the first time- about to witness a 3-man group that could create sounds and magic and moods like no other.

It was and is a Rush indeed.

Thanks for reading...



---
|Back to Rush Reviews Menu|
---
|Read More Reviews on the Grace Under Pressure Tour Video|
---