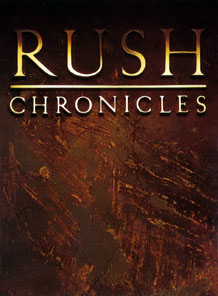 There are 20 active users currently online.
---
Video Review: CHRONICLES VIDEO

---
---
All reviews are (c) Patuto Enterprises and originally appeared at Epinions.Com





Rush Chronicles: A Video Collection: It's About the Music...



Pros: Great sampling of old classic Rush songs along with more modern choices.

Cons: Some duplication from earlier Video collection releases.

The Bottom Line: It may be about the music, but clearly Rush's video skills improved with each new album...
---
Someone once wrote "It's about the music, man..." and in many respects, that can sum up the overall feeling about your typical Rush-related videos. It's not about the imagery. It's not about how Geddy, Alex and Neil appear on screen.

It's about the music. Man.

But, short of seeing Rush live (which may be impossible these days as they may be done touring for good), it's always nice, interesting and often instructional to see them perform in either studio-created or live-captured videos.

Once, when M-TV was young, Rush videos would and could be seen often. But as the times changed, and M-TV shot off into different tangents, the video scene became less and less important for Rush.

But at the end of the 80's, while Rush was preparing to move to a different recording label for the first time in their careers, a compilation or greatest hits double-CD was released from Mercury records. Chronicles, see my review on it, gave us a smackering of Rush through the years. In concert with the CD release, a VHS video compilation also entitled Chronicles was also released. This would be the second, and since last, video-collection release by Rush, following their successful Through the Camera Eye which was introduced some 7 years prior.

With Chronicles - The Video Collection, we get a taste of the old, classic Rush, a taste of the new, and some great concert footage. Some of the videos contained in this collection are also available on the aforementioned Through the Camera Eye. When that is the case, I will make appropriate mention of this and relay my 'review' of that particular video from my original opinion.

Note: With the recent release of the Chronicles DVD, I've amended this review to reflect the changes the DVD has over the VHS and LaserDisc copies.

So, let's take a look at the video aspects of these musical geniuses.

Chronicles - The Video Collection - (c) 1991. Running Time: 70 minutes. Hi-Fi and Digitally Mastered.

1. Closer to the Heart - Album: 'A Farewell to Kings'
It's fitting that one of Rush's most popular and beloved songs should have a video associated with it. Recorded in the late 70's on the Don Krishner's Rock and Roll Show (exact name and spelling escapes me), this is a simple recording of a pseudo-concert which has the three performing (lip-synching) to the original recording. The most striking thing about this video is the garb the three are adorned in. Long, flowing robes..the hair...Striking. Fortunately, the 70's were drawing to a close, and Rush would (thankfully) leave behind their wardrobe as well. Aside from that, this is a straight-forward video that gives you a small example of the technical abilities of this band.

2. The Trees - Album: 'Hemispheres'
This is an absolute treat for Rush fans. The setting of this video is identical to that of Closer to the Heart - in fact, the same wardrobe and stage is used. But what makes this special is that they actually perform the song - they don't lip-synch. The version is stellar and the complexities of the song are revealed, especially with the shots of Neil Peart flying around his drum kit setting off all sorts of sounds. Beautifully done, great to listen to and a wonder to experience.

3. Limelight - Album: 'Moving Pictures'
This is a studio video in the true sense of the word. Beginning with a snowy scene where a German Sheppard runs away at the first guitar chords, the action moves inside Le Studio where Rush crafted their masterpiece album. It's interesting to see the 3 guys jamming together in a room during the actual recording of Limelight. Additionally, a lot of split screens are used to show Alex playing different versus on his guitar, and Geddy vocalizing and playing bass in others. The video is further compelling with intercuts of the band from several years past - when the three adorned long(er) hair and the early flowing - robe look to how they appeared during their Moving Pictures phase - clean cut, short air (except for Geddy) and simple, yet stylish 80's garb. A good video behind a great song.

4. Tom Sawyer - Album: 'Exit...Stage Left' (VHS Version)
Originally taken from the Exit...Stage Left Concert Video and Through the Camera Eye Video Collection
This was taken from the earlier released concert video Exit...Stage Left. The video has a dark, red feel to it due to the lighting effects used. Concentration on Alex Lifeson wailing on the guitar highlight this video. Additionally, there are some interesting shots taken from behind Neil Peart and his drum kit which reveal just how precise and controlled his percussion playing is. He isn't considered the best rock-drummer of all time for nothing. This video takes a glimpse into his magical realm. Geddy Lee, handling both the bass guitar and synthesizers, in addition to the vocals, doesn't move much from his 'assigned' area, but that's also understandable. Not quite as exciting as their later concert videos, Tom Sawyer at least reveals Rush in a major format for the first time.

4. Tom Sawyer - Album: 'Moving Pictures' (DVD Version)
The DVD version of Chronicles offers a different video for this classic Rush tune. Instead of a live version, we're treated to the original studio version of the song, coupled with the in-studio video akin to Limelight and Vital Signs, which appears on Rush's first video collection Through the Camera Eye. As with those two videos, we see Rush performing in their studio with some great close up shots of all three members, especially Neil Peart. This was a nice bonus to get on the DVD as I haven't seen this video version in nearly 20 years.

5. Red Barchetta - Album: 'Exit...Stage Left'
As with Tom Sawyer, Red Barchetta is taken from the live album and concert video entitled Exit...Stage Left. More special effects and lighting are used on this version, and the crowd reaction is far more obvious. Great shots of Neil, especially flipping (and catching) his drum stick high in the air make for a great viewing. Also of note is the quality of the performed song. It was flawless... Another fantastic song that shows the powerhouse performers that this trio is. Great, great stuff.

6. Subdivisions - Album: 'Signals'
Originally taken from the Through the Camera Eye Video Collection.
As mentioned earlier, (referencing my original review) this is likely the most popular Rush video in their entire collection. Certainly, it was played more than any other Rush video. Another story-telling video with few shots of the band performing, this video captures the essence of the lyrics exceptionally well. It follows the path of a loner boy from his home life in suburban Toronto, living in a subdivision community, to his loner existence at school. Be cool or be cast out, the intense chorus from the song is the basis of the video. 5 minutes is scarcely enough time to tell a story, but it was ample time to reflect the life of this boy. Side note: Watch for a scene in the high school halls for another student wearing a Rush t-shirt.

7. Distant Early Warnings - Album: 'Grace Under Pressure'
Originally taken from Through the Camera Eye Video Collection
This is one of Rush's finest videos with excellent production values. As the title track from the GUP album, Rush clearly wanted to make a video statement, and they did. The video cuts between shots of the band playing on a pentagon-shaped stage in what appears to be a control/war room and a video paying homage to the 60's movie 'Dr. Strangelove'. Specifically, a small child is 'riding a missile' across the world while government personnel are tracking him on radar. The cuts between these video scenes, scenes of areas across the world, and shots of the band all work very well. Fortunately, the video doesn't end as the movie did. A great song that's married well with a great video.

8. Red Sector A - Album: 'Grace Under Pressure'
Taken from the Grace Under Pressure Tour Video (live), Red Sector A is a power-house of a song that only Rush (and perhaps U2) could write and / or perform. Sparkling lasers, tight video shots, incredible musical performances, explosions...this one has it all. And this one really makes you feel like you're experiencing this group live and in person. A great performance of a great song from a magical tour. This one shouldn't be missed...

9. The Big Money - Album: 'Power Windows'
One of the biggest videos of the early 80's (you know, the time when MTV was actually good) was Dire Straight's Money For Nothing. Their use of incredible (for the time) computer generated graphics really set the video apart from all others during the time. Shortly thereafter, Rush released Power Windows and with it, their first video release - The Big Money. Not to be outdone by Dire Straights (or banking on their success), Rush put together a masterfully created, visually impressive computer generated world where the band played high atop of building on a stage shaped like a Monopoly board. The flying helicopter is especially well done (again, for the time). This is a fun video to watch, but it should be noted that the song is somewhat chopped up (shortened). A full-length video and song version is also available, but only separately on a Video - CD.

10. Mystic Rhythms - Album: 'Power Windows'
One of Rush's most surreal videos to date, which makes sense since its to one of their most surreal songs ever, Mystic Rhythms takes solemn close-ups of Geddy and Neil intercut between shots of machinery and strange imagery. Some impressive video layering is used to essentially 'float' one member of the band over the other. The ending of the video, which shows a macabre wooden skeleton with a diner in its stomach (there's no other way of describing it, you just have to see it) is as bizarre yet strangely compelling as the rest of the video. One of the groups better efforts without a doubt.

11. Time Stand Still - Album: 'Hold Your Fire'
At the offset, this video looks like its going to be a low-budget affair, what with the group and Aimee Mann (who lends some high-pitched vocals to the song) mulling around what appears to be an empty warehouse. But then immediately, you notice that Neil and his drum kit are floating away, Geddy is flying all over the place, and Alex is drifting by as well. In a visually impressive video sequence, we have the band and Aimee Mann floating in all sorts of directions with various backdrops. The video has nothing to do with the song or the lyrics, but its still a blast to watch and enjoy.

12. Lock and Key - Album: 'Hold Your Fire'
I really like this video as its like nothing else Rush really has done. The song has some strong lyrics which are nicely married with the imagery used here. The video is a mixture of shots of the band playing in a dark room with a video cube in the background. Old-time footage is shown behind them with intercuts of a red balloon (the recognizable icon of Rush during their Hold Your Fire days. The video then cuts to actual concert footage from this tour and the bouncing ball continues. It's hard to put into words, but understanding the concept behind the song, witnessing the footage and imagery Rush uses, and then seeing the live concert footage all works very well. It's a great video to have, and a great way to end this collection.

DVD Bonus Tracks

The DVD version of Chronicles contains two hidden bonus tracks which originally appeared on Through the Camera Eye. To uncover these tracks, you simply click on the 'Chronicles' icon on the menu page.

13. The Body Electric - Album: 'Grace Under Pressure'
Here, the lyrics of the song tell a fascinating story which Rush attempted to reflect in a 5-minute video. For the most part, they succeed as a human attempts to escape from an android infested nuclear reactor. Some interesting action is intermixed with minimal shots of the band. B-type to be sure, the real appeal to this video is actually the song. Neither good or bad, it's a reflection of the times - bands were experimenting with videos and trying to figure out what worked and what didn't. For Rush, they hit somewhere in between with The Body Electric.

14. Afterimage - Album: 'Grace Under Pressure'
This video was never aired on MTV or ever seen before the release of this video compilation. The song is about the death of a friend to the band. The video is somewhat abstract and surreal, but interesting to behold. It begins with extreme close ups of Neil Peart and then Geddy Lee. It then cuts to a scene from the late 1800's with men in overcoats and stove-pipe hats looking upon a young girl, laying motionless on the road, presumably struck by a passing horse-drawn cart. The video then cuts back to the band, revealing Alex Lifeson, and then back to a funeral scene for the girl. It's interesting how the band shots clearly have a 1980's feel to it, due in large to their attire and hair styles, while the video scenes have an 1880's feel. Intentional? Only Rush knows for sure. The video reflects the intensity of the three band members and ends solemnly with Neil Peart hitting the last beat on his drums and lowering his head in silence; perhaps paying a final respect to their lost friend.

And there you have it. 12 Rush videos that documents their work through the end of the eighties. Since that time, Rush has produced many more videos - unfortunately they have yet to be released in a collection such as this one. We can only hope they will be some day soon as some of them were actually quite good.

Thanks, as always, for reading...





---
|Back to Rush Reviews Menu|
---
|Read More Reviews on the Chronicles Video Collection|
---