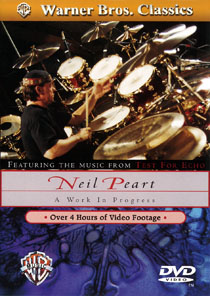 There are 23 active users currently online.
---
Video Review: NEIL PEART: A WORK IN PROGRESS VIDEO

---
---
All reviews are (c) Patuto Enterprises and originally appeared at Epinions.Com





Neil Peart's A Work in Progress - Percussion Mastery from the Legendary Drummer of Rush



Pros: Incredible insight into rock's most admired percussionist. Great 'instructional' video.

Cons: None.

The Bottom Line: Beyond excellent, this video tutorial on drumming shows why, deservingly, Neil Peart is considered one of the finest drummers of all time.
---
Rush, the Canadian Rock Power-trio whose 30+ year career has produced the longest consecutive string of gold and platinum rated albums - by any band - have impacted more than their worldwide legion of fans. Check some of today's hottest groups, and you'll see that many of them reference Rush as a inspiration to their own entry into the frenzied and competitive music world. Long scorned by critics, Rush has persevered through the years to continually produce quality albums that are, in and of themselves, showcases for this power trio's musical talent - largely considered second to none.

Along those lines, anytime the topic of 'best rock drummer' floats to the surface, Neil Peart will always be at or near the top of the list. You need only witness one of his unearthly drum solos to realize that this man must, somehow, be physically, mentally and spiritually linked to his extensive drum kit. No other explanation could satisfy those trying to comprehend just how Mr. Peart accomplishes his percussionary feats while pounding away at the skins.

He is that good.

So to the delight of Rush fans and, more importantly, drummers the world over, Neil decided to shed his normally reclusive life style to produce a magnificent drumming video to help explain his own philosophies towards drumming.

Neil Peart - A Work in Progress is a limited edition 2-tape VHS box set (now also a DVD!) that contains over 3 1/2 hours of sheer drumming excitement. This isn't an exercise in self indulgence with clips from old concert dates and studio records (even though that would have been incredible to see). Instead, Peart puts his nickname as the Professor to good work.

Neil takes the time to speak about his feelings about the importance of a drummer to a rock group, and the philosophical approach he usually takes when either playing live or writing music to accompany the lyrics that he normally pens for Rush.

He then takes an exhaustive look at the detailed process needed to set up his drum kit. Now keep in mind, we're talking about a professional drummer who likes to have control over every percussion sound that's emitted. That being said, Neil Peart's drum kit isn't a 5, 10, 15 or 20 piece set. It has, in the past, contained as many as 40 separate sound-generating items. Scaling it back a bit, the set up he meticulously goes through, contains some 30+ pieces.

As the video was released in 1997, Peart examines the songs of Rush's then latest studio album 'Test For Echo'. He dives a little bit into his own creative process of developing the lyrics, since at the same time, he also begins to formulate an idea or two as to how and where he wants the percussions to go with each song.

But the joy of the video isn't just the discussions Peart has about his set up, his philosophies, he skills. No, this video also has him putting drum sticks to the test. As he discusses each song, he then plays his set-up kit through the entire recorded song. In essence, we're treated to a Neil Peart only music video for each track on Test for Echo. Interestingly enough, some of the tracks differ slightly from the final released CD - but not enough to detract from the energy and sheer magic that Peart produces on screen.

Drumming enthusiasts will watch this video and truly be amazed since they can truly appreciate the complexity of Peart's playing. Air-drummers will discover that it takes more than 2 arms to fully utilize a drum kit of Peart's standards.

Regardless if you're a drummer, dreamer, Rush fan or not, this is an entertaining, informative, jaw-dropping video collection that examines the inner workings of one of rock's most prolific, successful and more admired drummer of all time.

And if his 30+ year career is any guide, Mr. Peart drumming mastery should be a sight (sound) to see/hear when Rush release their long awaited new studio album Vapor Trails on May 14th, 2002. It's been over 5 years since the world has had new Rush material. I'm sure the extended wait will be very much worth it.

Thank you, as always, for reading.


---
|Back to Rush Reviews Menu|
---
|Read More Reviews on A Work In Progress|
---