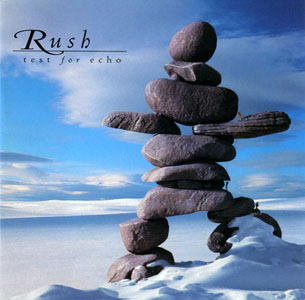 There are 27 active users currently online.
---
---
Test For Echo
Album Review
---
All reviews are (c) Patuto Enterprises and originally appeared at Epinions.Com
---



Truly an album that's hard to Resist



Pros: The perfect blend of lyrics and music with some powerfully deep tracks.

Cons: 'Time and Motion' just doesn't sound right.

The Bottom Line: Rush exits the 90's with style behind one of their best efforts yet.
---
Test for Echo marks a sweet sixteen of sorts for Rush. This is the 16th original studio album that they have released, their final studio album released in the 90's, and some thought, until very recently, that it was their final album - period. Thankfully, Rush is currently (as of July 2001) hard at work on their 17th studio album due out in early 2002.

But had this been Rush's curtain call, then they would have left the music world as they entered it - full of fire, full of passion and full of some great music. While it's not quite as raw as their previous 'back to basics' album 'Counterparts, it is an interesting evolution in the continuing musical saga of this Canadian Power Trio.

1. Test for Echo
The title track sets the stage for the album with some lightning-fast guitar licks and energetic percussions. More of a 'spoken-song' that Rush and Geddy Lee are known for including on some of their albums, this song feels very much like Show Don't Tell from their Presto release. Topical lyrics, common among later-day Neil Peart works of art, are abound here. The combination of them with the music makes for an enjoyable listen.

2. Driven
If you like bass, and few play it better than Geddy Lee, then you'll love this song. Driven is the perfect combination of dark, yet interesting lyrics along side powerful bass, guitar and percussion interludes. A fantastic song played live, nothing is lost on the studio version. Vocally, Geddy Lee proves that he has only improved - immensely - with time.

"Driven day and night in circles
Spinning like a whirlwind of leaves
Stealing in and out back alleys
Driven to another den of thieves"

3. Half the World
I was convinced that this track would be released as a single when the album came out in 1997. Half the World is a beautifully sung and performed song that smacks of their older classic Closer to the Heart. Not a love song to be sure, the simple yet intricate lyrics secure Rush as a thinking man's band.

"Half the world cries
Half the world laughs
Half the world tries
To be the other half

Half of us divided
Like a torn-up photograph
Half of us are trying
To reach the other half"

4. The Color of Right
Over time, Rush has improved at something few would have ever thought they'd even do in the first place. They've improved upon their love/relationship songs. Not always ballads, Rush has the ability of linking together moving and thought-provoking lyrics with some, for lack of a better term, gentle-sounding rock music. Such is the case with The Color of Right which is an exceptional track that garnered far to little attention.

"It's a hopeless situation
Lie awake for half the night
You're not sure what's going on here
But you're sure it isn't right

Make it easy on yourself
There's nothing more you can do
You're so full of what is right
You can't see what is true

A quality of justice
A quantity of light
A particle of mercy
Makes the color of right"

5. Time and Motion
Well, there's a first time for everything. And Rush has produced a song that I simply do not enjoy. Time and Motion has its merits, but for some reason, it truly stands out - and not in a good way. Reading the lyrics, I know what Neil Peart and Rush were shooting for. But listening to the song makes me feel like they missed the mark somehow. Others like this song, but this one just isn't my cup of tea.

6. Totem
Religious overtones have sparkled in some of the lyrics of Neil Peart for many albums. Such is the case with Totem which has a nicely paced musical score behind it. Great time changes - made famous by Rush - along with more stellar vocals gives you a little bit of everything on this track. Great music.

"I've got celestial mechanics
To synchronize my stars
Seasonal migrations, daily variations
World of the unlikely and bizarre

I've got idols and icons, unspoken holy vows
Thoughts to keep well-hidden
Sacred and forbidden
Free to browse among the holy cows

That's why I believe"


7. Dog Years
According to Neil Peart, this was the first song he wrote for the album. Written the morning after the three members decided to 'tie one on'. I love this song, but musically and lyrically. You can tell that Neil was being just a tad bit silly, yet serious, in his own way. The time change, or mini-song, right in the middle of this track is a treat to behold. This is the perfect example of Rush making music for Rush and their fans. Make no mistake, you're never likely to hear this song on the radio, but that doesn't diminish its enjoyability. This is what Rush is all about.

"In a dog's life
A year is really more like seven
And all too soon a canine
Will be chasing cars in doggie heaven

It seems to me
As we make our own few circles 'round the sun
We get it backwards
And our seven years go by like one"


8. Virtuality
Never a fan of the Internet age, Neil Peart did something no one expected. He wrote an 'Internet-related' song - and a damn good one too. Virtuality, put out as the second single on the album, takes an interesting look at the growing fad that is the internet and how its affected the lives of people. When reality is questioned, what's left These lyrics say it all...

"Astronauts in the weightlessness of pixellated space
Exchange graffiti with a disembodied race
I can save the universe in a grain of sand
I can hold the future in my virtual hand

Let's dance tonight
To a virtual song
Press this key
And you can play along

Let's fly tonight
On our virtual wings
Press this key
To see amazing things"


9. Resist
And while Rush has been improving their love/relationship songs, they've also quietly started slipping in some ballads as well. Few songs, by any artists, are more powerful or moving than Resist. Instantly enjoyable, Rush and Geddy Lee push the limit of their talents through simplicity. Geddy has never sounded better nor has their music ever captured the absolute nuances of Neil's lyrics any better. This is an absolute gem, and rightly so. This song alone is reason enough to purchase this album. It's that good.

"I can learn to resist
Anything but temptation
I can learn to co-exist
With anything but pain

I can learn to compromise
Anything but my desires
I can learn to get along
With all the things I can't explain"

10. Limbo
As they did with their last two studio releases, Rush once again includes an instrumental track. An exercise in self indulgence with a dash of humor is the perfect way to describe this track. If there's any question about the musical abilities of these three Canadians, this track alone will quiet those concerns.

11. Carve Away the Stone
The final track on the album has some interesting lyrics that, quite honestly, I'm still trying to piece together and comprehend. Solid, if not simplistic by Rush standards, musical playing mix nicely with the lyrics. All in all, a good way to end their album and end their reign of the 90's.

"You call roll the stone
To the top of the hill
You can carry that weight
With an iron will

You can drive those wheels
To the end of the road
You can try to deny
The weight of the load"

And there you have it. 11 more tracks added to the Rush collective. Some stellar performances, deeply moving lyrics and tight production values makes Test for Echo an album Rush can be proud of.

Have a listen, you won't be disappointed.

As always, thanks for reading.


---
|Back to Test For Echo Album Info|
---
|Read More Reviews on Test For Echo|
---