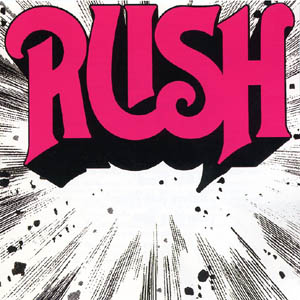 There are 11 active users currently online.
---
---
RUSH
Album Review
---
All reviews are (c) Patuto Enterprises and originally appeared at Epinions.Com
---



Rush's Debut Album - Finding Their Way...



Pros: Raw introduction to the legend of Rush

Cons: Not for today's glam-rock scene - but that's Good :)

The Bottom Line: Rush fans delight in this raw and untamed experience that will always rock.
---
In celebration of the release of 'Vapor Trails', Rush's 17th and latest studio album, I've decided to revisit my review on their first album and offer up a complete re-write. In ways, I'll be comparing how Rush has changed over their 28 year recording history, but for the most part I'll be focusing in on how Rush burst onto the scene with this raw, energetic and power-filled self-titled debut album back in 1974.

So, back in 1974, after playing countless small venues throughout Canada, the power-trio that would change it all finally broke into the U.S. recording market with Rush; a collection of 8 tracks that revealed something different, something special, something unexpected from these 3 men from the great white north.

Rush, at this time, consisted on Geddy Lee on bass and vocals, Alex Lifeson on Guitar and John Rutsey on the drums. After this album was released, Rutsey would leave the band due to health and other personal issues. As many fans know, his replacement - Neil Peart - became the heart of Rush, their music, their message, ever since. But that's another story.

Back when Rush was preparing their 'sound', they were heavily influenced by Led Zeppelin, Cream, The Who and other notable bands. But rather than simply copy the sounds that were already on the airwaves of the world, they began the process of carving out their own niche.

With Rush, the songs have an energy all their own, and a clear feel of raw, unadulterated passion that began the definitive ride this Canadian Power trio would take beyond the 70's, roaring into the 80's, cruising into the 90's and now, finally, into the 21st century.

"Rush" contains the following songs:

1. Finding My Way
A nice melody behind Geddy Lee's powerful vocals helps get the ball rolling with this track. Nice guitar work from Lifeson, apt percussion work from Rutsey, and the driving bass line that quickly became a Lee trademark all work wonderfully with this song. A great way to open up the disc, er, album.

2. Need Some Love
Rush takes their first stab at a fast paced, hard rocking 'Love Song'. While the lyrics don't stand up to the polished efforts of later-day Peart scribe, they're simplicity behind the powerful playing of this trio hold up nicely nonetheless.

"I'm runnin' here
I'm runnin' there
I'm lookin' for a girl
Cause there's nothing I need
there's nothing I want more
In the whole wide world."

3. Take A Friend
An interesting track that slowly builds in volume and force, but relies on deep(er) lyrics and messages about friendship - even if you're forced to be your own. This is what many fans consider to be Mellow Rush, but the underlying guitar licks rip through this song and give it a life of their own. Still, the message is one that holds true even today.

"Yes you need some advice
Well let me put it to you nice
I said you need a friend
Someone who'll stick with you to the end."

4. Here Again
The longest song of the album, clocking in at 7:34 is largely due to the solemn opening chords that establish a dark, moody feeling that perfectly match the lyrics. Lee's often criticized vocals, especially during this era, are surprisingly tame and yet robust, showing how versatile his range truly is. One of the early best from Rush.

5. What You're Doing
An early fan favorite due to its powerful and instantly recognizable opening chords, here's Rush wailing at their early best. Lee's vocals screech in all their glory and Lifeson's guitar simply sings. We're even treated to a mini drum solo that proves that, while he's no Neil Peart, Rutsey could play the skins with competence. This song is bred for the 10 setting on the volume knob.

6. In the Mood
Early we had Rush's first attempt at a 'Love Song'. Here, with In the Mood, we have the influence of the 70's providing what can only be described as a Lust/Sex song. And for good reason, this became Rush's first bona-fide hit - a song they would continue to play in concert well into the 90's. It's a fun, upbeat song with great guitar and percussion work that's sure to get your feet tapping. Yes, this is Rush :)

7. Before and After
A nice minute-long introduction with delicate acoustic guitars simply hints at the power of this song. Here we truly begin to see the range and talent that Rush as maintained musically during their long career. Complex time changes, layered effects and vocals and touching melodies - all behind Lee's falsetto vocals makes for pure Rush magic.

8. Working Man
Without question, this was the song that got Rush on the airwaves in the U.S.A. Working Man is a song about just that - a working man and the perils he must face day in and day out. Ingenious lines such as:

"It seems to me
I could live my life
a lot better than I think I am
I guess that's why they call me,
they call me the working man."


breath life not only into the songs by Rush, but the up-hill battle they had been facing since they formed in the late 60's. But the song also treats us to a great guitar solo from Lifeson - almost as to signify that Rush had arrived - and the world would never be the same.

And so ends the beginning of their career. Rush is not as polished, not as poignant as other later albums from this Canadian Power Trio, but it was their beginning, their genesis, and the world is truly a better place because of it.

At least it is in my little corner of the globe.

Thanks, as always, for reading.


---
|Back to Rush Album Info|
---
|Read More Reviews on (the album) Rush |
---