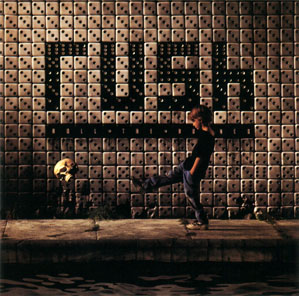 There are 12 active users currently online.
---
---
ROLL THE BONES
Album Review
---
All reviews are (c) Patuto Enterprises and originally appeared at Epinions.Com
---



Back to basics with a 90's flare.



Pros: More thought provoking lyrics behind increasing musical talent.

Cons: Some may interpret the rap session incorrectly.

The Bottom Line: Rush enters their third decade with some great music that takes a few gambles...
---
Enter the 90's and enter the continuing evolution of the progressive power trio from Canada known as Rush.

Wanting to begin their third decade of music making with a bang, Rush took a look to their past to include something on their latest album that hadn't been present in 10 years - an instrumental. In addition to that nice surprise, Rush began their 'Back to Basics' motto that would be clearly evident in their forthcoming album Counterparts.

Roll The Bones is a great example of a rock group clearly having fun and enjoying what they're doing. Rush have always taken their music making very seriously which has resulted in masterpieces of modern-day rock. They're still very serious about making good music, as is evident with this album, but they're also relaxing their style, simplifying (for them) some of their production values, and poking harmless fun, as they've been known to do, at the music industry in general.

So get ready for a spirited, energetic and immensely enjoyable addition to the ever-growing Rush catalog.

The 10 songs on Roll the Bones are:

1. Dreamline
Since its release, Dreamline has been the opening song in all of Rush's concerts - and for good reason. It's a powerful, guitar driven classic that has picturesque lyrics with great driving sounds. As good a song as Rush has ever produced, despite its limited radio time today, Dreamline immediately grabs your attention and holds on for the ride.

"When we are young
Wandering the face of the Earth
Wondering what our dreams might be worth
Learning that we're only immortal
For a limited time... "

2. Bravado
The next track slows the pace down a little with some moving guitar work and some typical thought-provoking Neil Peart lyrics. Geddy Lee's vocals, particularly in the third segment of this song, are stellar. With age, Geddy has certainly refined his trademark sound, and no song shows that more than Bravado.

3. Roll the Bones
No song in Rush history has caused more fan reaction, both positive and negative, than the title track to this album. And for one reason alone. Rush performs a rap song. Actually, only two segments within the body of this track are rap-related, but that was enough to draw the praise and jeers from fans and non-fans alike. Personally, I love the ironic twist to the rap segment in this song. While some accused Rush of selling out to become more popular, others knew that they were actually poking fun at the growing popularity of the rap sound. Perfectly placed, and extremely witty, this entire song sets a great tone for the remainder of the album. The message behind this song? Relax.

"Why are we here?
Because we're here
Roll the bones
Why does it happen?
Because it happens
Roll the bones "

4. Face Up
There is a recurring gambling theme within many of the tracks on this album. Face Up follows along that theme nicely with dynamic and fast-paced melodies. A nice time change towards the end of the song really highlights the lyrics Neil Peart created, but the song ends on a high note as it revs up the speed again and finishes with a bang. Great stuff.

"Face up, face up or you can only back down
Face up, hit the target, or you better hit the ground
Face up, there's still time to turn the game around
Face up, turn it up
Or turn that wild card down
Face up, turn it up "


5. Where's My Thing (Part IV of the Gangster of Boat's Trilogy)
Does Rush know how to show off their musical talents? You bet they do. This instrumental, which was nominated for a Grammy (whoo hoo - not) is a perfect showcase for the trio's musical expertise. And, as witnessed by the title, they're just having fun doing what they love to do.

6. The Big Wheel
The Way the Big Wheel Spins is the recurring lyric in this song - an analogy for the luck of the draw in life. This is a steady-paced song with good lyrics and interesting guitar work from Alex Lifeson. Some consider this one filler, but it has enough nuances to it to make it another good Rush song.

7. Heresy
Political Rush. They've done powerful, moving songs before, and Heresy fits nicely in the mix. I sound like a broken record in saying that their songs all have great lyrics - because they do :) Beautifully produced with powerful and layered vocals and excellent percussions, this is a song that touches you in a way that many later-day Rush songs do.

"All around that dull grey world
From Moscow to Berlin
People storm the barricades
Walls go tumbling in

The counter-revolution
People smiling through their tears
Who can give them back their lives
And all those wasted years?
All those precious wasted years
Who will pay? "

8. Ghost of the Chance
Once again, Rush proves that they can produce a love song that doesn't sway from their musical stylings. Ghost of a Chance takes a somewhat pessimistic look at the world, but a highly optimistic look at love. Alex's guitar work is stellar on this track, which marry nicely with such lyrics as:

"I don't believe in destiny
Or the guiding hand of fate
I don't believe in forever
Or love as a mystical state
I don't believe in the stars or the planets
Or angels watching from above
But I believe there's a ghost of a chance
We can find someone to love
And make it last"


9. Neurotica
Filled with jazzy time changes and more great guitar and percussion work, Neurotica takes a look at the problems with relationships. An interesting follow-up to a love song, wouldn't you say? Geddy's vocals are once again put to the test here with wide-ranging pitches, but he passes the test. Interesting, if not cryptic, lyrics abound in this track - but when combined with the music, it all seems to come together.

"Snap
Hide in your shell, let the world go to hell
It's like Russian roulette to you
Snap
Sweat running cold, you can't face growing old
It's a personal threat to you
Snap
The world is a cage for your impotent rage
But don't let it get to you
Snap "


10. You Bet Your Life
A great, and yet surprisingly underrated song. This one's difficult to explain in words because so much happens in the song musically and vocally. Suffice to say that, once again, Rush pushes the envelope to create more new sounds that would remain fresh and timeless through the years to come. You can bet your life you'll like this track.

And there you have it. The first 10 tracks to be released by Rush in the 90's. This album sets the stage for the next two and final studio albums of the 90's, but it also shows fans and critics alike that Rush can have fun and still put out quality music that all can enjoy.

So don't worry about gambling on this one. Roll the Bones and you'll always come up with a lucky seven with Rush.

Enjoy the ride and thanks for reading...


---
|Back to Roll The Bones Album Info|
---
|Read More Reviews on Roll The Bones|
---