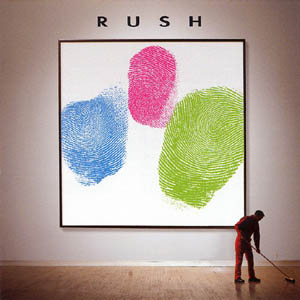 There are 11 active users currently online.
---
RETROSPECTIVE II (1981-1987)
Album Review
---
---
All reviews are (c) Patuto Enterprises and originally appeared at Epinions.Com



The definitive collection of 80's Rush Music...



Pros: Solid collection of 80's Rush Music. Digital remastering lends some help to a few tracks.

Cons: None.

The Bottom Line: Digital remastered compilation of Rush's finest works from 1981 - 1987. Another must have for any rock fan.
---
Retrospective II: (1981 - 1987) marks the second of two compilation albums (CDs) that were put out in conjunction with the digital remastering of all of Rush's albums that we released prior to 1988.

With 'Retrospective I: (1974 - 1980)', the digital remastering effect was beautifully obvious on some of the older, less professionally produced tracks from the early days of Rush. In some cases, it was truly like hearing the songs for the first time again.

With Retrospective II, the digital remastering had less of an obvious impact, clearly due to the recent release dates of the original music, but while less obvious, the impact is still apparent, just on a more subtle level.

Nonetheless, Mercury Records decided to put out a separate 2 CD compilation CD highlighting the career of one of the most prolific rock groups in all of music history.

With Retrospective II: (1981 - 1987), we are treated to the 80's style of Rush music. Edgier, more electronic at times, and wildly popular, you can get a sense of the evolution that Rush music goes through on its way to the 90s and next millennium as well.

Retrospective II: (1981 - 1987)

1. The Big Money
Originally from 'Power Windows', this track, along with the entire album, always had a crisp, clean sound to it. Incredible production values were always in place, but now somehow the individual instruments seem to stand out even more. A great, powerful lively song that's reborn again. Great rockin' stuff.

2. Red Barchetta
Originally from 'Moving Pictures', this is one of my favorite tracks that sound better than ever. The heavy bass lines and pressing guitar licks stand out better than before in this timeless driving classic.

3. Subdivisions
Originally from 'Signals', an album that suffered from some less than perfect production values, this song is given new breath by cleaning up the background noise and brightening up the entire musical track. Always a popular song, just call it Subdivisions Plus.

4. Time Stand Still
Originally from 'Hold Your Fire', I'm hard pressed to find any real difference in the digitally remastered version of this song over its original counterpart. Still, this is a fantastic tune that deserves to be on any compilation listing of Rush music. One of their best.

5. Mystic Rhythms
Originally from 'Power Windows', as with The Big Money, this is a crisp, clear song that had wonderful production values when it was originally released, and now it just seems to have just a little more flair to it that lends to its already magical and mystical appeal.

6. The Analog Kid
Originally from 'Signals', this too suffered from some poor production values, but its been nicely cleaned up and given new like. A song more popular today that when it was first released, this is classic 80's Rush.

7. Distant Early Warnings
Originally from 'Grace Under Pressure', this song had some obvious (or was it) production flaws at the beginning of the track. Essentially, it sounded like static. Everyone assumed something went seriously wrong during the pressing of the albums and subsequent CDs, but no one is certain. The remastered version still contains the same static, but its less apparent than before. To me, this is one of Rush's finest 80's songs, static or no static.

8. Marathon
Originally from 'Power Windows', this is another classic song that gets a minor face lift and deservedly obtains a spot on this collection. Wonderfully performed live, and still spirited for a studio track, Marathon can certainly go the distance with any other Rush song of the era.

9. The Body Electric
Originally from 'Grace Under Pressure', this song, with its pounding percussions, comes off sounding even more crystal clear that its original. The bass on this track is exceptional, and the guitars, superb. Great, great music making...

10. Mission
Originally from 'Hold Your Fire', as with Time Stand Still, the remastered effects seem insignificant and subtle on this track, but this song is still a powerful, thought-provoking tune that deserves more credit than its received. Its great to see it included on this compilation list.

11. Limelight
Originally from 'Moving Pictures', an album that, for its day, has near-perfect production qualities, Limelight sounds as good as ever after its little face lift. Alex's guitars still blow their way through the song, and Geddy's vocals never sounded better.

12. Red Sector A
Originally from 'Grace Under Pressure', Red Sector A is another powerful, moving song from the boys up north. Receiving critical acclaim when first released, and always a fan favorite, this track remains essential the same after the remastering process, but sometimes perfection is hard to improve on.

13. New World Man
Originally from 'Signals', this is another track that fared well after the remastering process. Geddy's opening bass and his vocals stand out far better in this version. Another great song that almost became Rush's first (and only) #1. It was close. It did hit the top 10.

14. Tom Sawyer
Originally from 'Moving Pictures', the quintessential Rush song still sounds as powerful and rocking after the digital remastering process as it did before. And good thing, too. I doubt many fans would have appreciated hearing a new sound to this Rush staple.

15. Force Ten
Originally from 'Hold Your Fire', this track actually does sound crisper and cleaner than its counterpart. A catchy Rush tune from the later 80's, this was the beginning of a new direction for Rush...one that has essentially stayed with them since.

And there you have it. Another great collection of Rush songs - all from the 80's. A little taste of different styles and a definite glance into the evolution of their music.

Along with 'Retrospective I', this 2 CD set puts together a fine example of the quality, drive and power of the music of Rush.

Enjoy the ride and thanks, as always for reading...
---
|Back to Retrospective II (1981-1987) Album Info|
---
|Read More Reviews on Retrospective II (1981-1987)|
---