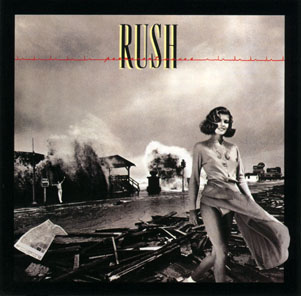 There are 14 active users currently online.
---
---
PERMANENT WAVES
Album Review
---
All reviews are (c) Patuto Enterprises and originally appeared at Epinions.Com
---



Permanent Waves - Rush rides the wave of success.



Pros: Outstanding Lyrics and Music. Catchy and thought-provoking songs. Near-perfection.

Cons: None.

The Bottom Line: Tight and concise. This Rush album stands among the best rock albums of all time.
---

Dateline: January 1st, 1980.

The first new album of the new decade is released.

Rush's Permanent Waves.

What a way to set the tone for Rush's entry into their second decade of creating music commercially.

Up until this point, we've been treated to epic works of art from the likes of the breakthrough concept albums 'Caress of Steel' and '2112' to the magical and inhuman musical efforts displayed on 'A Farewell to Kings' and 'Hemispheres'. Now, Rush crosses the bridge from the seventies where they developed their own style of opus-like musical pieces to the eighties where they infuse their style into more commercially accessible tunes.

Was Rush selling out their ideals? Absolutely not. They were refining them; tightening them. And the results would rocket them to the top of the Rock world.

Permanent Waves was the launch pad for this success. And with good reason.

This powerhouse of an album contains but 6 tracks. But 6 near-perfect tracks is what you get - no filler here. Just pure energetic fun.

1. The Spirit of Radio
Starting off with their mega-hit The Spirit of Radio - arguably one of their finest songs both lyrically and musically - Rush launches into a fast paced and tight romp that is instantly recognizable and instantly loved. This is the song that non-fans can't help but love. It's that good. It's that powerful. It's Rush.

2. Freewill
A great one-two combination is had on this album as Freewill picks up where Spirit... leaves off. Great time changes and powerful lyrics make this another classic and important Rush tune. Lyricist Neil Peart was now getting into the habit of revealing lessons and thoughts to ponder in his songs. Such was the case with Freewill which taught us that all decisions have ramifications in our lives. One of classic lines If you choose not to decide you still have made a choice... rings so true and powerful that it drives not only this track, but the rest of the album.

3. Jacob's Ladder
Next up is the dark and brooding Jacob's Ladder that's really a strong instrumental behind some very ingenious and short lyrics. Akin to The Trees from their previous album Hemispheres, this track talks of the battle between light and clouds. But the underlining meaning behind the song is what grabs my attention with the final line...

"All at once, the clouds are parted. Light streams down in bright unbroken beams...Follow men's eyes as they look to the skies. The shifting shafts of shining weave the fabric of their dreams."

No one, before or after, creates lyrics like this. No one.

4. Entre Nous / 5. Different Strings
Next up are two tracks that intertwine with one another, forming a complex and moving love song. Entre Nous and the grossly under-rated Different Strings begin with the differences and likeness of two people, with two different backgrounds, finding commonality in themselves. Hence the magic of love is formed.

"We are secrets to each other. Each one's life a novel no-one else has read. Even joined in bonds of love .We're linked to one another by such slender threads."

And while Entre Nous is a faster-paced and catchy tune, Different Strings slows down the pace and tugs at one's heart with lines like...

"What happened to our innocence, did it go out of style? Along with our naivete', no longer a child..."

Rush shows how times change but one thing remains - love.

Not what many would expect from the likes of Rush, but it is a common theme in many of their songs. People just fail to see them.

6. Natural Science
Closing out Permanent Waves is the epic 9-minute track Natural Science. Considered one of their finest studio works of all time, Rush once again weaves a complex array of music and lyrics to form a magical piece of art. This track is made up of 3 smaller pieces, all combined together in perfect harmony. The album gets its name from the third and final chapter of Natural Science and shows, once again, the genius behind Neil Peart's writings with the final verse...

"Wave after wave will flow with the tide and bury the world as it does. Tide after tide will flow and recede leaving life to go on as it was."

During their last tour (Test For Echo), Rush played this song live for the first time - to the disbelief and delight of the crowd. It's one of those songs that you would never expect anyone to attempt live.

But then again, we are talking about Rush here.

Rush set the stage for the 80's with Permanent Waves. Not only for themselves, but for many other rock groups alike.

But perhaps the biggest stage that was set up was the lead in to their next studio album - 'Moving Pictures'. But that's another Epinion...


---
|Back to Permanent Waves Album Info|
---
|Read More Reviews on Permanent Waves|
---