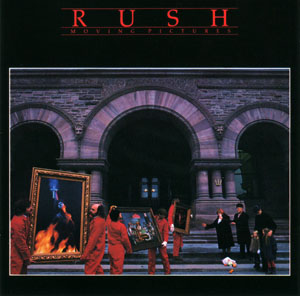 There are 13 active users currently online.
---
---
MOVING PICTURES
Album Review
---
All reviews are (c) Patuto Enterprises and originally appeared at Epinions.Com
---



Rush enters the Limelight with Moving Pictures



Pros: Powerful and timeless songs. A musical and lyrical masterpiece.

Cons: Not a single one.

The Bottom Line: There is perhaps no finer example of the intensity, quality and drive of the music behind Rush. An incredible progressive Rock album for the ages.
---

Riding on the coattails of their wildly successful album, 'Permanent Waves' which opened up the decade of the 80s for Rush, the power trio extraordinaire put together what is now considered one of the finest progressive rock albums of all time - by any artist.

Moving Pictures

Released in early 1981, Moving Pictures picks up where 'Permanent Waves' left off. Rush weaves together 7 near-perfect tracks to further silent critics and explode their ever-increasing fan base. This is by far the bands tightest album with superior production values. Every note is well thought out. Every lyric intense and thought provoking. Every nuance an experience in and of itself.

This isn't just another progressive rock album from the early 80s. This truly is a masterpiece.

And while Moving Pictures marks the end of an era for Rush, as it contains their last epic song The Camera Eye, it also opens up a new era for them; one of undisputed success.

1. Tom Sawyer
The album starts off with Rush's most popular tune, the rebellious and bass-pounding Tom Sawyer. From its patented and immediately recognizable opening bass line and lyrics A modern day warrior, mean, mean stride. Today's Tom Sawyer, mean, mean pride. to its warp-speed guitar riffs, its easy to see how Tom Sawyer remains as fresh sounding today as when it first appeared on the scene some 20 years ago.

2. Red Barchetta
Next up is one of my personal favorites. The all-time best song to play while driving - fast. The short-epic and intensely written Red Barchetta. Starting off slow with some simple guitar and bass work, and then building faster and faster as the story of a midnight race envelopes you, Red Barchetta is classic Rush at its best. Great story telling, excellent and intense music; timeless. I never get tired of listening to this song. It's that good. Try not to get goosebumps when you hear Geddy's flawless vocals sing the lines Well-weathered leather. Hot metal and oil. The scented country air. Sunlight on chrome, the blur of the landscape...Every nerve aware which then leads into a fantastic mini-instrumental. You can't help but hit the throttle harder when listening to this song. You just can't.

3. YYZ
The third track is perhaps one of the finest rock instrumentals of all time. YYZ taken from the Toronto airport code, is a prime example of the inhuman musical abilities of this power trio. Never muddled, never overpowering, Rush shows how they work so well together, flawlessly mixing guitar, bass, percussions and synthesizers to form a perfect union of intense sounds and emotions. And if you think the studio version of this song is good, take a listen to the live version on Rush's next live album 'Exit...Stage Left'. Imagine the perfection of YYZ with an added bonus. A Neil Peart jaw-dropping drum solo. Absolutely out of this world (but more on that in an upcoming Epinion).

4. Limelight
Track 4, and the end of a perfect side 1, is another wildly popular and recognizable song called Limelight. Another personal favorite, Limelight is Rush's reflection on playing live before an audience. It's a great follow-up to The Spirit of Radio from their last album 'Permanent Waves'. Fantastic guitar work here highlights the song along with the ever present great lyrics from Neil Peart. How can you not love a song with lines such as All the world's indeed a stage. And we are merely players, performers and portrayers. Each another's audience outside the gilded cage. Another fresh and timeless classic.

5. The Camera Eye
Moving on to the "B" side of the album, we come across the aforementioned end of a Rush era. Their last epic venture with The Camera Eye. Clocking in at almost 11 minutes, with an fantastic 3+ minute introduction, The Camera Eye really explores Rush's use of synthesizers, which would play a large part in their next studio album Signals. Abound with Rush's patented time changes, this is certainly a different step for Rush. Less mystic and more industrial, it's not a song for everyone, but it's still classic Rush.

6. Witch Hunt
Next up is one of the trio's darkest songs ever written. Witch Hunt sub-titled Part III of Fear is a song about just that - a Salem-based witch hunt. Turn off the lights when listening to this song, experiencing the screaming mania of Neil Peart's first official vocals (Yes, that's him in the opening chaotic rant) and you'll get the sense that you're actually experiencing a movie rather than a song. It's that powerful, especially with such opening lyrics as The night is black without a moon. The air is thick, and still. The vigilantes gather on the lonely torch-lit hill. Spine-tingling to say the least. And again, flawlessly executed from this trio from the Great White North.

7. Vital Signs
Closing out Moving Pictures is another directional turn for Rush. Vital Signs is a guitar and synth-based jazzy tune that you initially wouldn't expect from a band like Rush. But it works so well that it has become a fan favorite. If only they would play it live... This is just a plain fun tune to listen to at high volumes. The lyrics are somewhat different from the norm for Neil Peart, but they're still fun to sing and listen to. All and all, a great way to end a great album.

When you look at the collective work of Rush to this date, you see a band that has put out 8 quality and enormously popular studio albums along with a raw and intense live offering. You see before you what most bands would call a career. But Rush is just getting started as they soar through the 80s with more classic rock, jump into the 90s with refinement and look to the new millennium with something as of yet unknown.

Not to get off on a rant, but Rush has never been considered for induction into the Rock and Roll Hall of Fame. In fact, it has been suggested that they will never be inducted - period.

It's a sad state of affairs when a band that has brought so much diversity and uniqueness to the Rock and Roll scene can be purposely segregated from receiving the recognition and rewards they are so worthy of receiving.

Fortunately, Rush doesn't crave recognition or wild popularity. With them, it's always been about their music and their fans. Perhaps that's why they have the loyal following that they do. We know how influential Rush is. Who cares if others don't.

I hope that by your reading of this, and my other reviews on the collective works of Rush, that you too might find some level of appreciation for this Canadian Power Trio.

Ok - I'm off my soap box. Sorry - it was bound to happen eventually :)

Thanks, as always, for reading.


---
|Back to Moving Pictures Album Info|
---
|Read More Reviews on Moving Pictures|
---