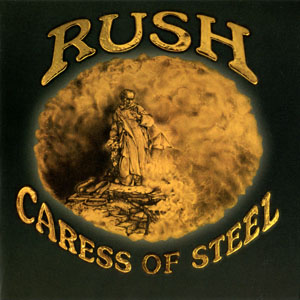 There are 24 active users currently online.
---
Review: THE TOP 10 RUSH ALBUMS

---
---
All reviews are (c) Patuto Enterprises and originally appeared at Epinions.Com

The Top 10 Rush albums of all time...
---
Note: This review was written prior to the release of Vapor Trails.

Before we get to the list, let's have a little history lesson, shall we?

Rush was formed in the very late 60's as a bar-band. Members back then included Bassist and vocalist Geddy Lee, Guitarist Alex Lifeson and Percussionist John Rutsey. In 1973, Rush released their self-titled studio album. After that, drummer John Rutsey departed the band, percussionist and lyricist extraordinaire Neil Peart joined the band and the rest, as they say, is history.

Since that time, Rush has released 20 albums in total - 16 studio albums and 4 live albums. My 'Top 10' will deal solely with the studio album variety. That's not to say the live versions aren't worthy of making anyone's top 10 list - they are - I just want to focus on Rush's original works of art.

And works of art they are.

One other note: I'm currently writing complete Epinions on each of Rush's albums, videos and accessories. So I don't embellish on past Epinions, I ask that you read those reviews should you want more in-depth information on any particular Rush album.

Thank you and on to the list...

10. Counterparts
Rush gets back to basics with hard-driven guitar/bass/drum sounds that had be missing for several years. That, coupled with some great tunes and catchy lyrics make this a standout Rush album.

9. Signals
It's hard to follow such genius as Rush created with Moving Pictures, but Rush did a bang-up job with this release. Featuring some strong songs that took the band in new directions, this is one of the most enjoyable albums of the early 80s by any band.

8. Fly By Night
A stronger collection of powerful guitar-based songs you will never find. As the freshman release under lyricist Neil Peart, the band established their sound and style. As fresh and poignant today as it was 25 years ago. A great listen.

7. Permanent Waves
Rush enters the mainstream while maintaining their values and musical stylings. Great tracks abound in this collection include The Spirit of Radio, Freewill and Different Strings. Classic Rush and Classic Rock and Roll.

6. Hemispheres
Concept albums are one of the many things that Rush do so very well, and Hemispheres is a concept album like no other. Just 4 tracks are here for your listening pleasure. But 4 near-perfect tracks as you'll ever find.

5. Moving Pictures
It made my top 5, so don't blast me for not making it #2 or #1. This is mainstream Rush at their finest. Crisp, concise and thought-provoking lyrics, incredible music to back it and ageless songs to listen to. If you don't appreciate the talent that went into making Moving Pictures, then you weren't listening closely enough. A true masterpiece.

4. Grace Under Pressure
Another concept album under the disguise of progressive 80's rock. Rush creates a whole new sound, but one that's familiar, with this work of art. More imaginative and dark lyrics from Peart makes this an album to experience, not just listen to .

3. A Farewell to Kings
Graceful, majestic Rush. When you listen to this album, you'll realize that Rush is like no other band. Music that was crafted in 1977 will remain as ageless as the mythology is mirrors. Add to this one of the most powerful sci-fi epics since 2112 in the form of Cygnus X-1: Book I: The Voyage and you have a near perfect compilation of masterful songs.

2. 2112
The concept album that started it all. It rocketed Rush to fame in 1976. It tagged them with an appropriate Sci-Fi rock band label. Unfortunately, it also tagged them as satanists based on the ignorance of some reviewers who thought the red star logo used was in actuality a satanic pentagraph. It was and isn't. But aside from that, this is the perfect blend of music, science fiction and fantasy. A stellar performance that still boggles the mind today.

And now, if you will Mr. Peart, a drum roll please...

My pick as the #1 Rush album of all time...

1. Caress of Steel
Scoff if you will. This was considered a flop when it was released. It's now considered to be one of the bands most insightful works. Breathtaking and epics songs will capture your spirit, capture your heart and intrigue your mind. Powerful and diverse in some sections, soft and melodic in others, Rush's trademark time changes are bountiful to be sure, and they all work beautifully. Caress of Steel weaves an intricate story - one that will not be soon forgotten. Impressive - especially considering this was created in 1975.

So there's my Top 10 list of Rush albums.

I can't find any significant flaw in any of the works of these 3 musical geniuses. But if I were to rate their other 6 studio albums, I'd probably put them in this order...

16. Rush- Their first effort is a raw and raunchy entry. Fun to listen to, but somewhat unpolished.

15. Presto- Great songs, light hearted lyrics and some powerful vocals from Geddy Lee. A must-listen to for any Rock fan.

14. Hold Your Fire - somewhat maligned by die-hard Rush fans, this one's appeal has grown over time. Touching lyrics and great guitar work are the stand outs here.

13. Power Windows - 80's Progressive Rock at its finest. Beautiful and intricate, Power Windows will reveal something new upon every listen. A gem.

12. Roll The Bones - Rush raps. Poking fun at the music industry in their own way, they put together some powerful songs on this collection. Interesting to note is that this was the highest ranking Rush album of all time - reaching #2 on the Billboard charts...

11. Test For Echo - The most recent (and hopefully not last) release by the trio, T4E gives a fresh new sound to Rush that works well with the ever-present poetic lyrics created by Neil Peart. Progressive rock never sounded cleaner, harder or better.

And there you have it.

As always, thanks for indulging me in my Rush induced ramblings. Take a listen and you'll see what all (my) hype is about.

Take care and Rush on...


---
|Back to Rush Reviews Menu|
---