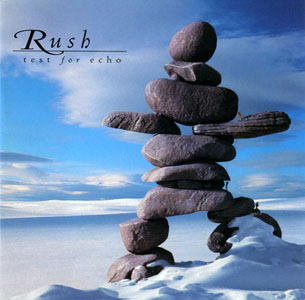 There are 12 active users currently online.
---
Review: TEST FOR ECHO TOUR

---
---
All reviews are (c) Patuto Enterprises and originally appeared at Epinions.Com

An evening with three legends...
---
It didn't take long for us to hit the traffic jam. Making our way down the Garden State Parkway one glorious summer evening in 1997, my brother and I were somewhat silent - knowing that, perhaps, we would be seeing the last concert performed by our musical heroes. Rush.

Some 15 years earlier, after we both became overwhelmed by the musical talents, aspirations and imagination of these three seemingly ordinary musicians from Canada, my brother and I attended our first Rush concert, a tour behind their Grace Under Pressure album. What a night, what a concert, what a tour it was. Rush was soundly into the 1980s with monstrous hits backing up their recent catalog of music. Concert after concert was immediately selling out, and the 'buzz' of Rush was soundly in place, but across the country and world, and certainly within my own being.

Since that night, each and every time Rush released an album and subsequently toured behind it, you could bet that my brother and I were ready and waiting with tickets in hand as our favorite Canadian power trio made their way into the New Jersey area.

But this time, it was different. Rush was touring behind their last studio album to date - Test For Echo - and the common word was that, barring a miracle, this would be it. Rush was going to retire and focus on other opportunities. And as the traffic eased as we made our final approach towards the PNC Arts Center, our excitement began to build as we put aside the notion that this, truly, was it.

After spending another 20 minutes being shuffled from parking lot to parking lot, we finally escaped our mechanized confines and began our trek towards the arena, swarms of other fans coming from all directions.

There was a sense of magic in the air, even far before the first note was struck. People bumping into each other, but happily smiling to strangers and saying 'excuse me'. It was like Christmas time in the city - everyone was happy, everyone was anxious. Everyone was a Rush fan. Of all the concerts (non-Rush) that I've been to in my life, there's never been a stronger sense of camaraderie that you feel then when you attend a concert by Rush.

The weather was perfect, the mood was electric, the lights began to dim and then, before us as the crowd erupted with cheer, 3 humble men from the Great White North strutted on stage and performed their own style of magic.

Song after song, hit after hit, perfectly executed, perfectly arranged with lasers, smoke, fire and a multitude of television screens. This wasn't just an evening with Rush, this was a lifetime with Rush as they performed songs from their collection that few, if any, would have ever guessed they would play live.

Not only did they perform a complete rendition of their masterpiece 2112, a feat they had never attempted in the song's 21+ year history, but they touched upon many other songs that perfectly captured that multitude of nuances that typically make up a Rush song.

It's hard to believe that 3 hours could pass by so quickly. It's hard to believe that 15 years of watching this band tour could pass by so quickly. It's hard to believe that we were, perhaps, seeing Rush for the very last time. They say that all good things must come to an end...

But for lead singer, keyboardist and bassist extraordinaire Geddy Lee, who has earned the respect of countless other musicians, who has one of the most distinct voices in all of Rock, who defies comparison, the end was something that he wasn't quite ready for.

And for lead guitarist Alex Lifeson, the man who created so many powerful guitar riffs that instantly spell out Rush, the man who effortless changed from classical guitar to electric and back again, all on the same song, the end for him too was something that he wasn't quite ready for.

And for percussionist and main lyricist Neil Peart, arguably the finest drummer to ever play the skins, the man with imagination that crafted some of the most thought-provoking lyrics of his, or any time, the man that would aspire countless musicians to never stop reaching for the top, the end was something he, too, wasn't quite ready for.

Yes, all good things must come to an end, but thankfully, Rush hasn't reached that end yet.

Despite the tremendous hardship that Rush has suffered since 1997, specifically the loss of Neil Peart's wife and daughter within a year, Rush is on the verge of soaring back into the limelight for the 21st century.

Spring 2002 will reveal the first new Rush album in 5 years.
Summer/Fall 2002 will, hopefully, reveal the first new Rush tour of the century.

And all will be right with the world.

Fan or not, we're all being given another chance to witness musical perfection in concert. When Rush begins their tour behind their upcoming 17th studio album, make sure to take notice.

You'll thank me after you do.

Thanks, as always for reading.
Thanks, as always, for indulging my Rush-specific tendencies.

Thanks, as always, for the Rush...



---
|Back to Rush Reviews Menu|
---