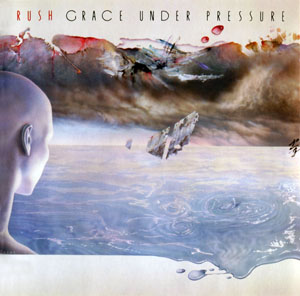 There are 11 active users currently online.
---
---
GRACE UNDER PRESSURE
Album Review
---
All reviews are (c) Patuto Enterprises and originally appeared at Epinions.Com
---



Another Graceful Highlight for Rush



Pros: Better combination of synths and guitars. Powerful, if not dark, lyrics.

Cons: Some static on the first track.

The Bottom Line: Rush refines their 80's sound once again with a clean and crisp effort that combines 8 songs into an interesting concept album.
---

In the cold-war era of the mid-1980's, bands such as U-2, Depeche Mode and Rush (to name a few) were putting out albums reflecting their concern and take on this volatile era. The songs were dark and pessimistic which sometimes led to more of a self-indulgent exercise rather than an attempt at entertainment.

Fortunately, this era was exceptionally and expertly handled in the hands of poetic lyricist Neil Peart when he crafted what can be considered Rush's best concept album since '2112'.

Aptly named, Rush's tenth studio album Grace Under Pressure reveals how a seasoned band can work so well together for over 13 years, introduce a new producer for the first time ever and still come through with a crisp sounding effort that further solidified their stance as a power trio extraordinaire.

1. Distant Early Warning
Grace Under Pressure or p/g as it's known in the inner-Rush circles, starts off with a bang - literally - with Rush's powerful reflection of a nuclear war. Distant Early Warning re-introduces the power of Alex Lifeson's guitar work which was somewhat muddled and put in the background on their last studio album Signals. Still present are the synths that Geddy Lee is becoming more and more proficient on, but now there's even more musical harmony between synths, guitars and percussions. With Distant Early Warning, a perfect synergy of lyrics and music make for a powerful listening experience - especially when performed live.

2. Afterimage
The second track pays homage to the death of a friend. With haunting opening lyrics; Suddenly, you were gone. From all the lives you left your mark upon..., Afterimage takes a heart-felt look at the pains of losing someone close to you, and not appreciating everything they meant to you - until it's too late. This song becomes even more haunting some 15 years later when it's forced to pay homage to the death of lyricist Neil Peart's daughter and wife - both within a year of each other - as referred to on the live album Different Stages.

3. Red Sector A
The third track is another powerful and dark song portraying the horrors of WWII concentration camps. Red Sector A is another classic hit for Rush that received critical acclaim for its moving lyrics and musical composition. With lines like...

"Ragged lines of ragged gray
Skeletons, they shuffle away
Shouting guards and smoking guns
Will cut down the unlucky ones

I clutch the wire fence until my fingers bleed
A wound that will not heal -- a heart that cannot feel --
Hoping that the horror will recede
Hoping that tomorrow, we'll all be freed... "

...you'd think that Neil Peart actually experienced the atrocities of this dark time in our world's history. But as dark as it is, Rush masterfully puts it together to create a very energetic song. This is definitely one of the highlights not only on the album, for in all of Rush's catalogue of music.

4. The Enemy Within
The fourth track is one of my personal favorites. The Enemy Within concludes the Fear trilogy which began with Witch hunt on 'Moving Pictures' and continued with The Weapon on Signals. This is a favorite for two reasons. First, it has a fast-paced catchy tune that anyone can appreciate. Secondly, the lyrics uncover an interesting view into the mind of a troubled soul. The Enemy Within ones self is typically their darker side (as detailed in the original Star Trek episode of the same name). Geddy Lee's vocals do an exceptional job to convey the inner torment behind the lyrics...

"Pounding in your temples
And a surge of adrenaline.
Every muscle tense - to fence the enemy within. "

Another great tune for p/g.

5. The Body Electric
This song starts off with some great drums and bass lines. Added in as the vocals chime in are some great guitar tracks laid down by Alex Lifeson. This song has interesting lyrics portraying the story of an android that develops human feelings and realizes that it is but a slave to its human creators and masters. A great science fiction twist to pounding Rush music. Perfect musical symmetry if ever there was one.

6. Kid Gloves
This song is my take as a follow up to Subdivisions on the previous 'Signals' album. Lyrics reflecting the trials of growing up with lessons to be learned. And while it's cool to be so tough we eventually learn that it's also tough to be so cool. Most great time changes and powerful guitar solos make Kid Gloves another very enjoyable tune that fits nicely with the rest of the songs on p/g.

7. Red Lenses
Up next is Red Lenses which highlights Neil Pearts percussion capabilities and sounds interestingly like a song that U2 might play. A interesting look about communism (if that's how you choose to interpret the lyrics) is really over shadowed by the musically left turn that Rush takes on this track. Thoroughly enjoyable and moving, it's either a love it or hate it track for fans and non-fans alike.

I love it.

8. Between the Wheels
Grace Under Pressure finishes up with a fitting tune called Between the Wheels - a retrospective look at ones life and the inability to stop time from passing by. You might want to grasp on to the past - especially when the future looks bleak, but there's little you can do. Holding the good time - holding on to yesterdays... More heavy synths which marry well with the guitar tracks here make for another interesting sound. All in all, a good way to end a great album.

Of special note, and a topic that I haven't covered in my other reviews of the albums of Rush, is the album cover for p/g. Artist Hugh Syme painted the scene for this remarkable album cover. The original painting, according to rumor, hangs in the home of Neil Peart. It's one of those paintings that can't really be described by words, but it has been the subject of much speculation as to the meaning behind the work. For me, it's simple. It's the perfect representation of the songs within. Grace Under Pressure is not only a collection of songs and lyrics. It's a complete work of art.


---
|Back to Grace Under Pressure Album Info|
---
|Read More Reviews on Grace Under Pressure|
---