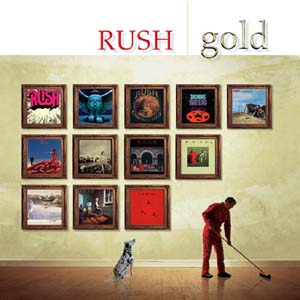 There are 12 active users currently online.
---
GOLD
Album Review
---
---
All reviews are (c) Patuto Enterprises and originally appeared at Epinions.Com



Rush Gold...A repackaging of early compilation albums



Pros: On its own, this is a great compilation of Rush's first two decades of work.

Cons: For the true Rush fan, this is largely useless.

The Bottom Line: If you're looking to get introduced into the music of Rush, Gold is a great way to do so...
---
Back in 1997, the record label company formerly known as Mercury/Polygram Records decided to introduce a "Greatest Hits of Rush" set of CDs. The result was Retrospective I: (1974 - 1980) and Retrospective II (1981-1987). As Rush had switched labels in 1990, Mercury was looking for a way to cash in on Rush's past success. What made the Retrospective set of CD's worthy of purchase back then was the fact that each of the songs were digitally remastered for optimal sonic pleasure.

Though Rush themselves had little input into the packaging and compilation of the songs, the offerings were fairly popular among the base, but no where near as popular as the initial "Rush Greatest Hits" collection called "Chronicles". Chronicles, which was released in 1990 went double Platinum and reached #51 on Billboard's Top 200 list. Neither Retrospective offerings even met Gold status not did either chart on Billboard's list.

But Mercury (now known as The Island Def Jam Music Group) didn't give up on the re-hashing of past Rush music. In 2003, they released The Spirit of Radio: Greatest Hits (1974-1987) which included a DVD of Rush videos. It garnered some success as it charted at 62 on the Billboard Top 200 list though it too failed to reach gold status (yet).

Though most fans thought Mercury was done re-releasing Rush compilations, all were caught off guard when Rush: GOLD was announced. It was an almost mirror image of the two Retrospective CDs released nearly a decade earlier. All the songs, save for one, were the same on Disc 1. All the songs on Disc 2 perfectly mirrored those of Retrospective II.

Some new art work and repackaging and, apparently, some slight audio enhancements to the songs and Mercury, er The Island Def Jam Music Group had once again exploited their past association with Rush.

Now, as a stand-along package, Gold is actually very well done. It's a great way for the casual Rush listener to gain an appreciation for the music of this Canadian Power Trio. But for most Rush fans, this is a nearly pointless exercise in studio-self indulgence.

The real shame is that Atlantic Records (Rush's current Record Label) has failed to introduce even one "Greatest Hits" compilation of the works of Rush past 1990. But I digress.

Let's have a look at the track listing that Gold has to offer.

Disc 1

1. The Spirit of Radio
Originally from 'Permanent Waves' this is the quintessential way to start off any Rush compilation - with one of their most recognizable songs. Remastering efforts changed very little here - but it was (and is) perfect to begin with.

2. The Trees
Originally from Hemispheres', an album which suffered from some unfortunate background noise, this track in its polished form is now even more of a joy to absorb. Classic early Rush - reborn.

3. Freewill
Originally from 'Permanent Waves', this track also experienced very little change from its original counterpart, but its a must have for any Rush compilation disc.

4. Xanadu
Originally from 'Farewell to Kings', this track sparkles more now than ever before. Cleaner percussions, more emphasized bass and stellar vocals come shining through on this epic track.

5. Bastille Day
Originally from 'Caress of Steel', this track has a lot going on in it, but it came from an album that always sounded tight and crystal clear. The entire Caress of Steel album was probably better off being left alone since it was (and is) one of those masterpieces that you simply don't mess with. Powerful early Rush at their best on this track.

6. By-Tor and the Snow Dog
Originally from 'Fly By Night', Rush's second album, this song suffered from some obvious background noise in its original incarnation, but now it sounds more magical than before. Alex's guitar never sounded so good.

7. Anthem
Also from 'Fly By Night', this track was Rush's staple opener for many, many years. Now you can hear more than ever how crisp the musical talent of these three Canadians really is.

8. Closer to the Heart
Originally from 'Farewell to Kings', this is another Rush classic that improved slightly through the remastering process - generally in the noise reduction. A great song for any music fan to enjoy.

9. 2112: Overture and 10. 2112: The Temples of Syrinx
Both originally from '2112', the noise reduction and clarity of the guitars has opened up a new level to the concept album of the 20th century. For the full effect, get the entire album. No serious rock fan should be without it.

11. La Villa Strangiato
Originally from 'Hemispheres', no other track on any album so desperately needed to be remastered. The background noise, especially on the original vinyl album, was so bad on this track that is almost - almost made it un-listenable. The first CD release of Hemispheres corrected the problem - to an point, but the remastered version lets this truly masterful instrumental soar.

12. Fly By Night
Originally from the album of the same name, this track now has zero background noise, clearer guitar riffs and stronger percussions. An early classic that sounds brand new!

13. Finding My Way
Originally from 'Rush', this track went through a lot to get remastered, and the results sound great. That's to be expected when you take a song from 1974 with poor production values and bang it up against 1997 technology. Rush (the band and the album) sound raw and powerful and crystal clear.

14. Working Man
Also originally from 'Rush', Working Man is credited as being not only Rush's first major radio hit, but the song that introduced the band to the United States. This track is the epitomy of early, raw Rush but it's still considered on the band's best tunes. The clarity of the song through the remastering efforts has only made it that much better. A great way to end Disc 1 of 'Gold'.

Disc 2

1. The Big Money
Originally from 'Power Windows', this track, along with the entire album, always had a crisp, clean sound to it. Incredible production values were always in place, but now somehow the individual instruments seem to stand out even more. A great, powerful lively song that's reborn again. Great rockin' stuff.

2. Red Barchetta
Originally from 'Moving Pictures', this is one of my favorite tracks that sound better than ever. The heavy bass lines and pressing guitar licks stand out better than before in this timeless driving classic.

3. Subdivisions
Originally from 'Signals', an album that suffered from some less than perfect production values, this song is given new breath by cleaning up the background noise and brightening up the entire musical track. Always a popular song, just call it Subdivisions Plus.

4. Time Stand Still
Originally from 'Hold Your Fire', I'm hard pressed to find any real difference in the digitally remastered version of this song over its original counterpart. Still, this is a fantastic tune that deserves to be on any compilation listing of Rush music. One of their best.

5. Mystic Rhythms
Originally from 'Power Windows', as with The Big Money, this is a crisp, clear song that had wonderful production values when it was originally released, and now it just seems to have just a little more flair to it that lends to its already magical and mystical appeal.

6. The Analog Kid
Originally from 'Signals', this too suffered from some poor production values, but its been nicely cleaned up and given new like. A song more popular today that when it was first released, this is classic 80's Rush.

7. Distant Early Warnings
Originally from 'Grace Under Pressure', this song had some obvious (or was it) production flaws at the beginning of the track. Essentially, it sounded like static. Everyone assumed something went seriously wrong during the pressing of the albums and subsequent CDs, but no one is certain. The remastered version still contains the same static, but its less apparent than before. To me, this is one of Rush's finest 80's songs, static or no static.

8. Marathon
Originally from 'Power Windows', this is another classic song that gets a minor face lift and deservedly obtains a spot on this collection. Wonderfully performed live, and still spirited for a studio track, Marathon can certainly go the distance with any other Rush song of the era.

9. The Body Electric
Originally from 'Grace Under Pressure', this song, with its pounding percussions, comes off sounding even more crystal clear that its original. The bass on this track is exceptional, and the guitars, superb. Great, great music making...

10. Mission
Originally from 'Hold Your Fire', as with Time Stand Still, the remastered effects seem insignificant and subtle on this track, but this song is still a powerful, thought-provoking tune that deserves more credit than its received. Its great to see it included on this compilation list.

11. Limelight
Originally from 'Moving Pictures', an album that, for its day, has near-perfect production qualities, Limelight sounds as good as ever after its little face lift. Alex's guitars still blow their way through the song, and Geddy's vocals never sounded better.

12. Red Sector A
Originally from 'Grace Under Pressure', Red Sector A is another powerful, moving song from the boys up north. Receiving critical acclaim when first released, and always a fan favorite, this track remains essential the same after the remastering process, but sometimes perfection is hard to improve on.

13. New World Man
Originally from 'Signals', this is another track that fared well after the remastering process. Geddy's opening bass and his vocals stand out far better in this version. Another great song that almost became Rush's first (and only) #1. It was close. It did hit the top 10.

14. Tom Sawyer
Originally from 'Moving Pictures', the quintessential Rush song still sounds as powerful and rocking after the digital remastering process as it did before. And good thing, too. I doubt many fans would have appreciated hearing a new sound to this Rush staple.

15. Force Ten
Originally from 'Hold Your Fire', this track actually does sound crisper and cleaner than its counterpart. A catchy Rush tune from the later 80's, this was the beginning of a new direction for Rush...one that has essentially stayed with them since.

And there you have it. A repacking of the earlier Retrospective Compilation albums with a few twists thrown in for good measure. Gold is clearly a great introduction into the first two decades of Rush. If you already have both Retrospective offerings, there's no need to get Gold unless your a Rush completist like yours truly. But if you passed up the Retrospective offerings, Gold is a great way to add to your Rush catalogue.

Thanks, as always, for reading.

-John
---
|Back to Gold Album Info|
---
|Read More Reviews on Gold|
---