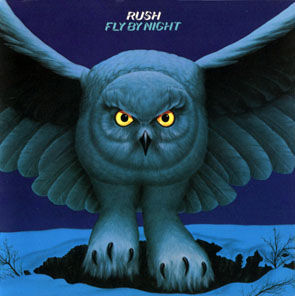 There are 17 active users currently online.
---
---
FLY BY NIGHT
Album Review
---
All reviews are (c) Patuto Enterprises and originally appeared at Epinions.Com
---



Rush's Fly By Night - Don't Fly By this one...



Pros: Great guitar licks, Solid Bass, Neil Peart Arrives!

Cons: None. Absolutely None.

The Bottom Line: Rush prove themselves more than a Fly By Night operation with this exceptional, and often over-looked, masterpiece.
---

It's not that John Rutsey wasn't a decent percussionist, but neither he, nor anyone else in the Rock world of the 70's (or 80's or 90's or today) could compare to the masterful execution of a Neil Peart. Add to that the poetic, thought-provoking lyrics that Neil now infused into this trio, and you have the makings of a legendary combination.

Fly By Night is a power-house, solid Rock & Roll album that truly showcases what these three boys from Canada can do together. Strongly guitar driven, experimental in theme, and very much a sign of the times for Rush, this album set the true stage for their upcoming success.

1. Anthem
This fast-paced, hard-edged introduction to the album turned out to be a immensely popular song for the band, especially when touring. Infused with guitar riffs galore and some positive lyrics, Anthem nicely sets the stage for the rest of the album. The classic line...

"Live for yourself
There's no one else more worth living for
Begging hands and bleeding hearts
Will only cry out for more..."

was a definite window into the type of lyrics that Neil Peart would be producing for Rush for many years to come. A great start.

2. Best I Can
This track has a great jazzy feel to it - a sound that Rush didn't experiment too much with in their early days, but certain did so more often later in the 80's. We're also treated to some superb percussions here - another window into the genius of Neil Peart. Vocally dynamic, as most songs sung by Geddy Lee are, Best I Can really showcases Geddy's ability to instill a strong sense of emotion - or defiance in this case - in his performance.

3. Beneath, Between and Behind
Another solid entry that showcases some of the more thought-provoking and sometimes cryptic lyrics produced by Peart. More solid guitar work - which fills this album - along with great bass lines and percussions sends this song soaring into the stratosphere. Great early Rush.

4. By-Tor and the Snowdog
A Rush first. An epic science fiction/fantasy laden song that would become a trademark of Rush for many years to come. The mythical battle between By-Tor and his foe, the SnowDog is a masterfully treat to behold. This goes beyond music. This becomes art. You've heard of dueling banjo's, well here you're treated to an all-out war of guitars. Broken into 4 segments, I. At The Tobes of Hades, II. Across the Styx, III. Of The Battle and IV. Epilogue, By-Tor and the Snowdog is Rush's first song that truly grabs hold of you and never lets go. It's absolute rock-magic that reveals why Rush is considered one of the most musically superior bands of any time.

5. Fly By Night
Unquestionably, this is Rush's first big hit - one that's still played regularly today, some 25 years later. The title track has that perfect combination of a solid and enjoyable melody coupled with superb guitar riffs and energetic, if sometimes unintelligible, vocals. Beautiful time changes that flow perfect, Fly By Night likely turned a lot of listeners into first-time fans. No doubt they've been hooked ever since.

6. Making Memories
Here's a simple, yet elegant song that slows the pace down a little as the lyrics actually seem to reflect the state of flux that Rush was in at the time. Would they be successful, or would they be another one of the countless rock and roll bands that faded into non-existence? We all know the answer, and it seems clear that Rush suspected as much as well. Check out this passage from the song and you'll see why:

"You know we're havin' good days
And we hope they're gonna last
Our future still looks brighter than our past
We feel no need to worry
No reason to be sad
Our mem'ries remind us, maybe road life's not so bad..."

7. Rivendell
This is Rush's first true ballad, and it's arguably one of their slowest-pace songs ever recorded. Backed simply by a classical guitar, Geddy Lee's vocals have never sounded better or ever emoted such feelings before. A truly touching, mystical song that must be heard to be appreciated, this song - largely ignored by fans and the general listening population - is one that highlights what Rush truly is all about. Great, great stuff.

8. In the End
The album closes with a nice combination of slow, ballad like passages accelerating into a hard-rocking song. In the End is somewhat experimental for Rush, but clearly shows how they can project their music in a variety of formats - each one working beautifully alone, but working masterfully together. This may have been the end of the album, but it signaled the beginning of their continuing success.

Rush was now truly on their way - and they were excited about it. Only a short 10 months later, they released their 3rd studio album - 'Caress of Steel' - one of their most dynamic releases ever. But that's another Epinion :)

Power up your system, drop in Fly By Night in your CD player, scratch on an '11' on your volume knob, and prepare to launch into Rush.

Enjoy the flight!


---
|Back to Fly By Night Album Info|
---
|Read More Reviews on Fly By Night|
---