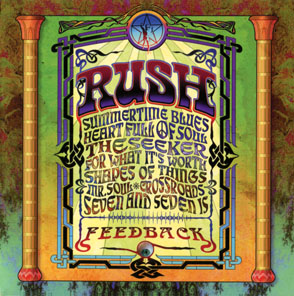 There are 2 active users currently online.
---
---
FEEDBACK
Album Review
---
All reviews are (c) Patuto Enterprises and originally appeared at Epinions.Com
---



Rush reflects on their 30-year career with Feedback



Pros: Sixties classics with a Rush edge. "Heart Full of Soul" a true stand out.

Cons: Only 8 tracks.

The Bottom Line: When Rush plays, people listen. So when Rush pays homage to other artists, all should take notice...
---
In preparation for their 30th Anniversary World tour, Rush surprised all of their fans by releasing an EP record that saluted their roots. And where you might think Rush would pay homage to Led Zeppelin or the Stones for which they have previously cited as early influences, they instead went a slightly different route. The result? Rush turns sixties-psychedelic with eight tracks that couldn't be farther away from the neo-progressive rock genre that this Canadian trio has showcased throughout their career.

And you know what? It's fantastic. Rush scorches through eight rock classics from 1965-70.: Two come from Yardbirds tunes, two by Buffalo Springfield, and one each from The Who, Cream, Blue Cheer and Love. In the nearly 40 years since these tracks were originally released by their owners, they have been covered ad naseum by a plethora of bands who always seemed to try and capture the essence of the original.

Rush took a different direction by injecting their versions with seething energy, thus producing a perfect homage to the originals while clearly adding a Rush-like edge to them. And best of all, you can feel the sense of enjoyment Rush had when producing this record. There is a levity to their playing that's refreshing and new, despite the age of these tracks.

The tracks included on this disc are:

1. Summertime Blues
Opening with some guitar feedback, hence the name of this collection, Summertime Blues shows how expertly Rush can play a 'simple' song and make it their own. It's easy to hear why this version is far superior to the original and countless clones, but that's not the point of this, or any other track on this collection. True, Rush can play just about any band into the ground, but they'll never take such a pretentious position with their music. This is a tribute collection and Summertime Blues is a fantastic way to open the floodgates of sonic sixties Rush.

2. Heart Full of Soul
Think Geddy Lee can't sing? Listen to this track and understand just what type of singer he really is. This is a beautiful, soft rendition that was absolutely amazing in concert. Again, another simple, elegant song that Rush beautifully portrays.

3. For What It's Worth
One of the many, if not all, tracks that is instantly recognizable. Alex Lifeson's light acoustic guitar and Geddy Lee's soft, harmonic vocals provide the backdrop for most of the song with Neil Peart softly beating away on his percussion set. Perfectly paced and another one that easily betters the original (ok, I'll stop making that comparison now...maybe.)

4. The Seeker
The Who's The Seeker is perhaps the most powerful track on this collection with Lifeson's screaming riffs and Lee's vocal are both inspired in their version of this song. Better than the original? To each his own, but clearly this one stays true and does the original justice.

5. Mr. Soul
The 'dark' track of the collection reflects a bit back on Rush's last studio release 'Vapor Trails' with the trio pursuing a direction that was unmatched in any other their earlier offerings. Perfectly layered vocals and Vapor Trails-ish riffs from Lifeson show how Rush can take a classic and morph it into their own. A superb track.

6. Seven And Seven Is
Perhaps the weakest track of the collection with its southern rock-like sound (Hey, their Canadians...what do they know of southern Rock?) this one shines from Lifeson's point of view, but ultimately just isn't as catchy as the rest of the collection.

7. Shapes Of Things
Taking the original version and twisting in a slightly metallic edge, this is the one track that truly highlights Peart's mastery of the drums. His interaction with Lifeson's guitar work and Lee's bass lines breathes further proof that 30+ years of playing together makes for an incredible band.

8. Crossroads
The closing track is perhaps the most famous of all of the offerings thanks to Eric Clapton's famous rendition and Rush certainly holds it own with their reproduction of the rock favorite. Great on this collection, superb live, this is another song that highlights the talents of their three long-time rock aficionados.

I believe drummer and primary lyricists Neil Peart sums up what this collection means to Rush in his liner notes on the CD:

"It was April of 2004, but Geddy, Alex, and I were channeling back to 1966 and 1967, when we were thirteen- and fourteen-year-old beginners. We thought it would be a fitting symbol to commemorate our thirty years together if we returned to our roots and paid tribute to those we had learned from and were inspired by. We thought we might record some of the songs we used to listen to, the ones we painstakingly learned the chords, notes, and drum parts for, and even played in our earliest bands. The tracks on this collection are songs we liked from the era that we thought we could 'cover' effectively (meaning not too many backing vocals), and have some fun with. The music celebrates a good time in our lives, and we had a good time celebrating it."

Well said, Neil. And thanks for the 'memories'.

And thank you for reading.


---
|Back to Feedback Album Info|
---
|Read More Reviews on Feedback|
---