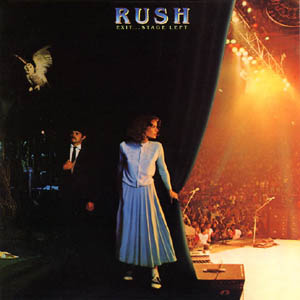 There are 18 active users currently online.
---
EXIT...STAGE LEFT (LIVE)
Album Review
---
---
All reviews are (c) Patuto Enterprises and originally appeared at Epinions.Com
---



Rush takes the stage for their next offering...



Pros: Powerful live renditions of their studio classics. Inhuman drum solo.

Cons: Would have liked more of an offering from their (very) early works...

The Bottom Line: There is no finer live band out there - period. Want to know why? Listen to this album.
---
True to their form, Rush released their second LIVE offering following 4 studio albums - a pattern they established after releasing 'All the World's a Stage', their first LIVE album which came on the heals of their break-through concept album '2112'.

And while 'All the World's a Stage' was a fantastic, raw and energetic romp for this Canadian trio, it was also clearly played before a small(er) audience. Rush, at that point in their career, was just establishing themselves as a power trio extraordinaire, so it's understandable that they were playing smaller venues.

Not so with Exit...Stage Left. After such power-house releases like 'A Farewell to Kings', 'Hemispheres', 'Permanent Waves' and 'Moving Pictures', Rush had established themselves as a force to be reckoned with. Dubbed the best rock band in the galaxy, Rush would show exactly how and why they were hit with such a label. And Exit...Stage Left was how they did it.

1. The Spirit of Radio
Like most of their concerts of the day, this album opens up with one of Rush's staples - The Spirit of Radio from their 'Permanent Waves' disc. Immediately you sense the power and precision that has always been attributed with Rush. This isn't just some studio-only band that pales in comparison when playing live. Many would say that Rush is a far superior live group than they are a studio group. I tend to disagree on that point, accepting that Rush is equally magnificent whether playing live or in the studio - they're that talented and remarkable musicians.

2. Red Barchetta
Track 2, one of my personal favorites from their 'Moving Pictures' album is Red Barchetta. All the build-up of power and excitement that the original captures is perfectly remastered here in their live offering. You can hear and sense the crowd getting into this song - and it is a contagious feeling.

3. YYZ
Up next is one of the highlights of this album - YYZ - the incredible instrumental from 'Moving Pictures'. What makes this track superb isn't just the incredible detail and recreation of the song. No, what really stands this apart is the awe-inspiring drum-solo seamlessly inserted into the middle of the song. You've likely heard that Neil Peart is considered to be one of this era's finest rock drummers - if not the best of all time. Listening to this song and drum solo is a perfect argument for that case. It's not just a drum solo with random wailings. It's a carefully orchestrated masterpiece that must be heard to be appreciated.

4. A Passage to Bangkok
This song, which is only available on the original vinyl album or the remastered CD, was taken from the 1976 album '2112'. A fan favorite, A Passage to Bangkok takes on a slightly different spin on the live version - one that perks it up a bit and gives it a new flare. Another example of how Rush has timeless songs...

5. Closer to the Heart
Next up is a great example of the crowd getting right into a song. Closer to the Heart breaks out the lighters (you can just sense them) and the wanna-bee singers in the crowd with a great rendition to the original. Surprisingly, the crowd singing along to this tune really adds a spark to it. Both Geddy and crowd are powerful.

6. Beneath, Between & Behind / 7. Jacob's Ladder
The next two tracks, Beneath, Between & Behind and Jacob's Ladder form somewhat of a one-two punch. Both lyrically intense and filled with long instrumental pieces, these two tracks further showcase the talents and performing plane that Rush is typically on. If it weren't for the crowd cheering, you'd never know this was a live performance. As precise as their songs are on their studio counterparts, Rush comes that close to reproducing that quality of sound live. These boys can play. Amazing that there are only 3 of them up on that stage :)

8. Broon's Bane
This track is something you won't find on any other live Rush album - a song that never appeared on any one of their studio releases. Broon's Bane, which is somewhat of a homage piece to Rush's long-time producer Terry Brown, is an exceptional and elegant classical guitar instrumental which serves two purposes. First, it shows the range of Alex Lifeson's guitar capabilities, and second it acts as a perfect introduction to the next track on the album...

9. The Trees
Another gem live, The Trees really propels the audience into a frenzy as the power builds throughout the song. It's another 'goose bumps' song that Rush has so many of...

As The Trees fades out, it perfectly builds up again into the next track - and longest of the album...

10. Xanadu
One of Rush's classic epic offerings from 'A Farewell to Kings', Xanadu sets a mood on their stage that simply mesmerizes that listener (viewer). You can tell that Geddy, Alex and Neil take their work very seriously - and it shows. As complex and involved as Xanadu is, Rush actually make it look easy.

For them.

11. Freewill /12. Tom Sawyer
Two of the most powerful and fun tracks; Freewill especially so. And while Tom Sawyer isn't quite the powerhouse of a song that it soon will become for Rush, it still smacks of dark images and messages when you listen to this rendition of it.

13. La Villa Strangiato
Closing out one of the finest live albums by any group is another impossible instrumental. From their 'Hemispheres' album, La Villa Strangiato just shows off how talented these three Canadian icons are. Alex is superb on the guitars here - leading the way but never overpowering Geddy's smashing base line or Neil's god-like percussions. As good as this song was on the studio albums, it's that much better live. Another incredible performance.

So there you have it. Another incredible offering by one of the finest and most talented (and yet disturbingly under rated) bands of all time.

Experience Rush like never before - listen to Exit...Stage Left and you'll be a believer too.

Enjoy and, as always, thanks for reading.


---
|Back to Exit...Stage Left Album Info|
---
|Read More Reviews on Exit...Stage Left|
---