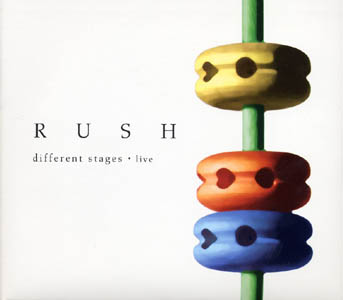 There are 13 active users currently online.
---
different stages · live
album review
---
---
All reviews are (c) Patuto Enterprises and originally appeared at Epinions.Com
---



The next best thing to being there live...



Pros: I don't mean to be vague, but everything is a PRO.

Cons: None.

The Bottom Line: An incredible retrospective on the 25+ year career of Rush.
---
It was a miserable morning. Cold, dreary and raining. The kind of rain that sinks into your soul and makes you wonder why you're not still in your warm, cozy bed sleeping in the Saturday morning.

Few things could make me interrupt my Saturday morning slumber - especially in weather like this. But the weather was the furthest thing from my mind as I stood in line, anxiously awaiting to purchase my tickets for the concert event of the 1997 season - An Evening with Rush.

15 years earlier, I witnessed my first Rush concert - the 'Signals' tour. Since then, I had seen each concert run in conjunction with each studio release. Rush outdid themselves each time - consistently. Never putting on a bad show, always amazing the crowd and always playing at their peak, I knew we were in store for the show of shows with their latest, and potentially final concert tour behind their 'Test for Echo' release.

And let me tell you, it was as close to a perfect concert as I have ever witnessed - by any performer. They were and are that good.

After the tour ended, and I basked in the glory of seeing them in two different venues (Continental Airlines Arena, Rutherford NJ and the PNC Bank Arts Center of NJ), I sat back and anxiously awaited the coming release of their fourth live compilation. Knowing full well that this may be 'it' for Rush, I expected to see something beyond special.

Different Stages was the result and beyond special doesn't even come close to describing it.

Not only does this live double CD beautifully recapture the energy, excitement and spirit of actually being there, watching these three geniuses of rock perform their hearts out it also acts as a time machine, sprinting you back in time to the end of the 70's, when Rush was just a step away from being considered one of the best Rock & Roll groups the world over. To do so, a third CD is included which contains the concert recordings from a show performed at the England's legendary Hammersmith Odeon concert hall. This was a treat to behold for all Rush fans as this CD captured many songs that had never been officially released before in a live format. What a kick it was to listen to the likes of Cygnus X-1, Cinderella Man and Bastille Day come to life and take on a whole new meaning.

Adding to the entire package, the 'box set' that is Different Stages includes a lot of little goodies inside - including a montage of Rush paraphernalia that's existed over the years. And with the Japanese import, you even get miniature tour books that correspond to the included music. Sadly, yet appropriately, homage is paid to Neil Peart's wife and daughter who both tragically lost their lives within the last year before the release of this box set.

The make up of the three CDs are:

Disc 1

1. Dreamline
An opening staple for the band during the last few tours, this is a powerhouse song that truly sets the mood for the rest of the evening. Great guitars, great rhythm. Classic Rush.

2. Limelight
One of my personal favorites of all time by Rush, including this fan favorite so early in the set list really sparked the crowd - and it shows on this version.

3. Driven
Great, great bass work by Geddy who embellishes on the live version. He's not Rock's top bassist for nothing. Few live tracks are better than their studio counterpart (no pun intended), but Driven likely is.

4. Bravado
One of my favorite songs from their 'Roll the Bones' album, I was thrilled to hear them play this live again. And the version on DS is as tight and powerful as the original.

5. Animate
Seeing this track live adds more to it with the added visuals, but the translation on this disc is still superb. An all around great song that deserves far more attention than it ever receives.

6. Show Don't Tell
From their 'Presto' album, this song still has a lot of energy behind it making it a continuing fan favorite. Expertly performed and vocally better than the original, this is another prime example of Rush doing what they do best - playing live.

7. The Trees
Another one of my personal favorites, I can't get enough of this song. The live version on their 'Exit...Stage Left' album from 16 years prior was a gem, especially since it was linked to Broon's Bane - a classical guitar solo by Alex Lifeson. This time around, there's a little more energy behind the song which casts a new shadow, if you'll pardon the pun, on this song.

8. Nobody's Hero
Thought provoking and deeply moving, this song captures a lot of the spirit that Rush has inside. The live version does a beautiful job of conveying that spirit and the emotions of all three members to the audience.

9. Closer to the Heart
Somewhat of a tradition that I'd like to see repeated on Rush's 5th live album (to be released sometime in 2007), Closer to the Heart makes another appearance - marking its third live showing - and its better than ever. After playing this song for nearly 20 years, Rush has a tremendous amount of fun and flexibility with it - and it shows. Nothing short of perfection.

10. 2112
What can you say. For the first time - ever - Rush performed 2112 in its entirety. And just thinking about it now as I type these words still brings on the goose bumps. Nothing could recreate the magic of seeing Rush live while they re-crafted this 20 year old masterpiece. But the recorded live version here does a fair job of revealing the added intricacies that Rush put into this work. Re-inventing a classic - only Rush could do it and do it so well.

Disc 2

1. Test for Echo
The intermission of the concert, which coincides with the split between the first and second cd in this set, ends with the first and title track from their latest studio album. It's always a pleasure to see Rush play live, but after you've seen them as many times as I have, you take special pleasure in seeing them play something new live. T4E is performed flawlessly but is still clearly a live rendition. Great stuff.

2. Analog Kid
From their latest offering to a time warp 14 years prior. AK has received more air play, more concert play and more attention now than it ever did when it was released on 'Signals'. A great song finally gets its just reward - and we reap the benefits.

3. Freewill
Geddy shows that he can still hit those high notes that could break glass. Freewill - a radio favorite - is as fresh sounding and electric live as it has ever been through the last 20 years. Classic Rush done in classic style.

4. Roll the Bones
No groans here - everyone was pumped to hear this comedic and scorching song by Rush. The 'rap' session is perfectly reproduced (and likely pre-recorded) and the rest of the song follows suit. The crowd dances in the aisles to this one, and somehow you can feel that energy when listening to this track.

5. Stick it Out
From their 'Counterparts' album, SiO is another fast-paced classic rock song that really exploits the talents of these three Canadian icons. Alex Lifeson's guitars have never sounded better.

6. Resist
Surprising to me when I saw them live was the performance of Resist - something of a ballad by Rush. They've recently recorded several slower songs along this line in previous albums - most notably Available Light from their 'Presto' album and Ghost of a Chance from their 'Roll the Bones' album. But they're rarely, if ever, included in their set list. It was exciting to see them play this song live and even more so to see it included on this live box set. As powerful and moving as the original, Resist is hard to resist. (Now I had to say that...)

7. Leave That Thing Alone
It's instrumental time, and LTTA is Rush at their collective best. It's amazing that 3 men can produce so much music simultaneously - yet never letting the musical instruments intrude or interfere with one another. Their playing is a compositional dream. Listen to this track and you'll hear why Rush is so revered among other artists.

8. Rhythm Method
Some might consider the inclusion of a drum solo as a separate track on a live album as being a bit pretentious or self indulgent. But when you consider Neil Peart's percussionary perfection, it's hard to imagine a Rush live album without one. And this one is just awe-inspiring. Words can not do it justice. Listen and you too will appreciate the genius of Neil Peart.

9. Natural Science
Another first for Rush was the performance of Natural Science live. Often thought to complex to play live, Rush nevertheless attempted the impossible. Of course, they succeeded with all of the magic and nuances that the original offers. This is great stuff that is one of the many added treats for the fans.

10. Force Ten
Another crowd pleaser, Force Ten is pop-like Rush that's still fresh today. Energetic and fast paced, this is a fine rendition of the studio counterpart. Note: This track is only available on the Japanese import.

11. Spirit of Radio
What's a Rush concert without Spirit of Radio? Another timeless song that's as popular today as it was when it was released back in 1980, SoR is a guaranteed hit among all concert goers, and Rush always adds a little something special to it to do just that - make it special and unique. Now that's Rush.

12. Tom Sawyer
A little-known Rush song that's received little to no attention at all actually makes it to a live offering. (Just seeing if you're paying attention). Of course, Tom Sawyer is (arguably) the 'best known/most popular' Rush song of all time and this live rendition is still a lot of rocking fun.

13. YYZ
And so we reach the end of Disc 2 and the end of the concert with another instrumental. Still considered one of the best rock instrumentals of all time, this version lacks the drum solo from its 'Exit...Stage Left' live counterpart, but it does include a few exciting moments from Cygnus X-1: Book I: The Voyage - which had me (and the rest of the crowd I think) cheering for more.

But that's always the case at a Rush concert. You always want more. Fortunately, with Different Stages you can have all the live Rush you want - day or night.

Disc 3 - Bonus Disc

1. Bastille Day
This bonus disc opens up with a bang with Rush's powerful Bastille Day from their 'Caress of Steel' album. You're immediately treated to a more raw and less refined Rush from this track, but that doesn't make it any less enjoyable.

2. By-Tor & The Snow Dog
From their 'Fly By Night' album, this is one of Rush's first epic songs - and it's masterfully reproduced live here. According to Geddy Lee, he had a cold during this performance which resulted in sub-par vocals (in his view). But you would never know it from this track. Exceptional song does exceptionally well.

3. Xanadu
A 'new' song for Rush on this tour, and an extremely complex one, you can feel Rush moving their way through this song with a little trepidation. But it's not warranted as their early rendition is still magically to behold, despite the fact that it's reproduced with greater precision in the years to come.

4. A Farewell to Kings
There are some songs that make me wish I had seen Rush in concert in their earlier days. A Farewell to Kings is one of them. A masterpiece from their album of the same name, the live rendition does the original justice. What a treat it was to see and then listen to this live version!

5. Something for Nothing
From their '2112' album, this track is packed full of time changes that Rush pulls off without a hitch. As enjoyable as the original with a little extra energy thrown in for good measure.

6. Cygnus X-1: Book I: The Voyage
I would give my right arm to hear Rush play this song live. Had this 3-disc set cost 10 times what it did, I would have still immediately purchased it for the sole reason of having this track. Different and yet the same from the studio counterpart, Rush re-invents what was then a new song to them. And they couldn't have done a better job on it. Talk about goose bumps...

7. Anthem
Another track from their 'Fly By Night' album, Anthem is 'raw' Rush at their best. Geddy's vocals strain here a little, understandable from the cold he was suffering from, but the song in its entirety is rock at its best.

8. Working Man
The first song from Rush's first album that was a bona-fide hit in America, Working Man continued to be a concert staple for the Canadian trio years later. Guitar and percussion work here is exceptional.

9. Fly By Night
A crowd favorite, and still a popular song today, Fly By Night is one of the songs that non-fans instantly recognize as Rush. Great 'Rush' sound, great 'Rush' lyrics, great 'Rush' performance - all of which make for a great live 'Rush' song.

10. In The Mood
Another track from their sophomore release, one that they played live for many more years to come, this one is just a joy-ride of a song about love - and some of the benefits of being in love. Great fun to listen to and to experience live.

11. Cinderella Man
An interesting way to end the show and CD, Rush picks one of their lesser known songs from their 'A Farewell to Kings' album. Cinderella Man, which I consider to be part 2 of their more popular Closer to the Heart track is magically reproduced in this live offering. It's another one of those unexpected treats that's spread throughout this 3-cd box set.

And there you have it.

An exceptional look at the quantitative work of the Canadian Power Trio known as Rush - all nicely summed up in 3 CDs.

Few rock groups have consistently performed and released work at the quality level that Rush has over the last quarter century. Few could create such genius on the stage and then somehow capture that magic on a CD.

But then again, few groups are on the caliber of Rush. Pick up Different Stages and you'll see why.

On a personal note, this review is the last album review in my Rush series. I thank everyone who has taken the time to read these reviews - especially those who are not familiar or interested in the topic of choice. And while I still have some Rush-related reviews to cover, I will now be focusing more of my attention on other items that may have a more general appeal to the vast Epinions community.

Again and always, thank you for visiting and thank you for reading.


---
|Back to Different Stages Album Info|
---
|Read More Reviews on Different Stages|
---