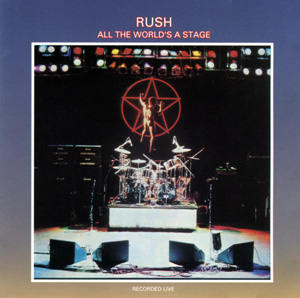 There are 2 active users currently online.
---
ALL THE WORLD'S A STAGE (LIVE)
Album Review
---
---
All reviews are (c) Patuto Enterprises and originally appeared at Epinions.Com
---



All the World's A Stage - The Quintessential Power Trio Performance



Pros: Powerful and intense rock that few can match.

Cons: Your arms get tired from air-drumming.

The Bottom Line: Visit an earlier time in Rush's history by learning what it means to be a Power Trio...
---

And so, Rush completed their first four studio albums, highlighting the first phase of their musical career with the powerful and awe-inspiring '2112'. The past 4+ years saw them either continuously touring city after city, or working in the studio on their next release.

But now it was time to 'rest' for a bit and gather together some of the highlights from their most recent 2112-promoting tour. The result was a (then) double-live album that delivered the power and dynamics that Rush was already becoming famous for.

'All the World's a Stage' set the stage to legitimately describe Rush as the premiere Power Trio of the time. Even at this early stage in their career, people were noticing the intensity and overwhelming abilities of these three soon-to-be Canadian Icons. Listening (or watching) them play live with your eyes closed, you would swear that their had to be 5 or 6 musicians up on the stage wailing away.

But perhaps that's one of the mysticism of Rush - how they're able to create so much music in a live setting without the assistance of back-up musicians.

But I'm digressing...slightly :)

For those not fortunate enough to witness Rush live at this early stage of their career, 'All the World's A Stage' gives you an excellent glimpse into the raw power, exceptional talent and awe-inspiring performance that, truly, only Rush could deliver.

This album covers some of the bands finest works from 'Rush', 'Fly By Night', 'Caress of Steel' and, of course, '2112'.

1. Bastille Day
The album blasts off with a powerful rendition of Bastille Day where Geddy's impossible vocals, Alex's warp-speed guitar playing and Neil's perfect-percussion-pounding hook you in and thrusts you to your own front row seat.

2./3./4. Anthem, Fly By Night and In The Mood
The concert set, er, album continues with a strong rendition of Anthem from their 'Fly By Night' album. And speaking of 'Fly By Night', we are then treated to a combination of the title track from that album, mixed in with the just plain fun In the Mood from their first album 'Rush'.

5. Something for Nothing
All of this has been going non stop, but don't put down your air drums/guitars just yet. The next track is their first from '2112' - Something for Nothing which starts out slow, builds up speed and then shifts into high gear. Intense time-changes - one of many trademarks that Rush has become famous for.

6. Lakeside Park
Rush finishes off this part of the concert with the slower paced Lakeside Park from their 'Caress of Steel' album. An interesting choice to slightly subdue the mood of the audience before launching into the 20 minute live masterpiece of 2112.

7. 2112
The studio version is an array of complex sounds, lyrics and instrument combinations. You listen to the studio album knowing full well that even Rush couldn't likely pull this song off live.

But then you remember who you're talking about.

They can and do pull it off live - with all the power and dynamics that the studio version offers - plus more. The audience really gets into the track, whistling and cheering along the way.

If you'll excuse the pun, this performance is best described as a serious rush. But it doesn't stop there. Our Power Trio finishes 2112 and then launches into one of their early favorites from 'Fly By Night'...

8. By-Tor and the Snow Dog
Once again, Rush goes beyond human capabilities and recreates the studio version of this song, but with even more power. The 'battle' scene is an intense interlude between Alex's firing guitars and Geddy's abusive bass. It's magic worthy of cranking up the volume to deafening levels.

As this track ends and you catch your breath, Rush continues their onslaught with another time-changing masterpiece...

9. In the End
Do these guys ever get tired? Apparently not as this track exemplifies with its lightning-fast guitar licks and powerful percussions courtesy of Mr. Peart.

10./11. Working Man / Finding My Way
Up next is a nicely done mixture of a fan-favorite Working Man along with Finding My Way, both from their sophomore release 'Rush'. You'd swear that this was just one song the way they make it fit together seamlessly.

12. What You're Doing
But alas, all good things must come to an end, and 'All the World's A Stage' does so with grace as the Boys complete their whirlwind tour with What You're Doing, also from 'Rush'. Note: This track is only available on either the original vinyl album, or the Remastered re-release of the CD. The original CD copy didn't include this song.

And there you have it. The first of 4 officially released live efforts. Without a doubt, 'All the World's A Stage' delivers a more raw and powerful version of Rush. Perhaps not as refined as their later works. But the power and intensity that their early concerts must have been like is perfectly captured in this offering.

So fire up your receiver and amp, flex your arms a little bit, and get ready for 75 minutes of heart-pounding air-guitaring/drumming euphoria.


---
|Back to All The World's A Stage Album Info|
---
|Read More Reviews on All The World's A Stage|
---