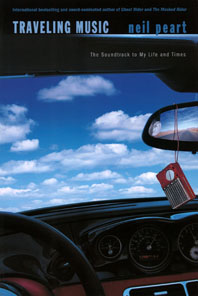 There are 14 active users currently online.
---
---
TRAVELING MUSIC
The Soundtrack to My Life and Times
(Preview)

by Neil Peart

© 2004
---

Click Any of the Following Images to Enlarge
---
Synopsis:

In March 2003, Neil Peart, the international bestselling author of Ghost Rider: Travels on the Healing Road, a haunting, critically acclaimed, and award-nominated memoir, was thinking about life's eternal "Now what?" questions.

The previous year, Peart, the lyricist and Hall of Fame drummer of the legendary rock band Rush, and his bandmates, Alex and Geddy, had released a bestselling album, Vapor Trails, and toured North, Central, and South America. Now he was enjoying some time at home in California with his wife, Carrie, but at the same time feeling an author's creative urge to write a new book, without knowing yet what it should be.

Needing time to think about book ideas and other "Now what?" questions, Peart decided to drive his new dream sports car, a BMW Z-8, on a six-day, 2,500-mile roundtrip journey to Big Bend National Park, in southwest Texas, and listen to "traveling music" all the way, by artists ranging from Frank Sinatra to Linkin Park, Miles Davis to Radiohead, Patsy Cline to Madonna.

As he drove and listened, he experienced the traveling essence of music itself, and the songs took him on voyages of memory, imagination, emotion, sensation - and when he reached Big Bend Park on the third day, creative inspiration: "A story could be written just around the music I've listened to on this trip."

Written with the most resonant distillation of words and rhythm, in the poetic sense of being suggestive of meaning, but allowing the reader's own music to create the soundtrack, Traveling Music is Peart's exhilarating, inspiring, appreciative celebration of excellence in the artists who inspired his own creative odyssey, from childhood to maturity - growing up in Ontario, Canada, living in London and the United States, and a near-lifetime of constant world travel as an adventurer, including a characteristic, month-long bicycle trip through West Africa and drumming with an African master. Through the power of his storytelling, all of the past and present comes alive, in music and memory, songs and stories.

NEIL PEART is an international bestselling author, and the lyricist and drummer for Rush, the most successful band in the history of Canadian rock music.

His previous book, Ghost Rider: Travels on the Healing Road (2002), was chosen by The Writers' Trust of Canada as a Drainie-Taylor Biography Prize Finalist, because of its "exceptional merit" as one of the five best biographies of the year.

Peart's first book, The Masked Rider: Cycling in West Africa (1996), is a tale of high adventure and enormous stamina, one of the most memorable and demanding of his journeys to eleven African countries - his first bicycle tour through Cameroon.

For their achievements in music, Peart and his Rush bandmates have received the Order of Canada, the country's highest civilian award.

---
Forward:

For this music lover, the concept of "traveling music" evokes several responses. Listening to music while traveling, by one means or another, is the obvious association, and my life has provided plenty of that, in cars, airplanes, boats, bullet trains, subways, and tour buses.

Then there's the "inner radio," when every song I know seems to play in my head, as I perch on the saddle of a bicycle or motorcycle for long, long hours.

"Traveling music" can also be a job description. For thirty years I have made my living as a touring musician, playing drums with Rush in North America, South America, Europe, and Asia, and that has made for a lot of traveling, and a lot of music.

In my other job description with Rush, writing lyrics, I have used many references to modes of travel, from bicycle to boat, sports car to spaceship, airplane to astral projection. My lyrics for our song "The Spirit of Radio" celebrate the simple pleasure of listening to the radio while driving, and inspirations have also come from journeys, and places both exotic and everyday: East Africa in "Scars," West Africa in "Hand Over Fist," China in "Tai Shan," London and Manhattan in "The Camera Eye," small-town Canada and America in "Middletown Dreams."

Most of all, though, I think of "traveling music" as the essence of the music itself - where it takes me, in memory, imagination, and the realm of pure abstract sensation, washing over me in waves of emotion.

Since childhood, music has had the power to carry me away, and this is a song about some of the places it has carried me.


---
Traveling Music

Driving away to the east, and into the past
History recedes in my rear-view mirror
Carried on a wave of music down a desert road
Memory drumming at the heart of a factory town

Diving down into the wreck, searching for treasure
Skeletons and ghosts among the scattered diamonds
Buried with the songs and stories of a restless life
Memory drumming at the heart of a moving picture

All my life
I've been workin' them angels overtime
Riding and driving and working
So close to the edge
Workin' them angels -
Workin' them angels -
Workin' them angels -
Overtime

Memory drumming at the heart of an English winter
Memory drumming at the heart of an English winter

Filling my spirit with the wildest wish to fly
Taking the high road, into the Range of Light

Driving down the razor's edge between past and future
I turn up the music and smile, eyes on the road ahead
Carried on the songs and stories of vanished times
Memory drumming at the heart of an African village

All this time
I've been living like there's no tomorrow
Running and jumping and flying
With my imaginary net
Workin' them angels -
Workin' them angels -
Workin' them angels -
Overtime

Riding through the Range of Light to the wounded city

Taking the high road -
Into the Range of Light
Taking the high road -
Into the Range of Light

Repeat to fade ...

---
Table of Contents


Intro - "Play through the changes / pick up the tempo"
Verse One - "Driving away to the east, and into the past"
Chorus One - "Drumming at the heart of a factory town"
Verse Two - "Diving into the wreck, searching for treasure"
Chorus Two - "Drumming at the heart of a moving picture"
Verse Three - "Workin' them angels overtime"
Chorus Three - "Drumming at the heart of an English winter"

Middle Eight - "Filling my spirit with the wildest wish to fly"
Verse Four - "Driving down the razor's edge between past and future"
Chorus Four - "Drumming at the heart of an African village"
Verse Five - "Riding through the Range of Light to the wounded city"
Rideout - Repeat to fade ...
---
Without music, life would be a mistake
- Friedrich Nietzsche

The music I have written is
nothing compared to the music I have heard
- Ludwig van Beethoven

"Ooh, look at me, I'm Dave, I'm writing a book!
With all my thoughts in it! La la la!"
- Dave Eggers
---
Intro - Play through the changes / pick up the tempo

"Now what?"

All my life, those two little words have sparked me with curiosity, restlessness, and desire - an irresistible drive to do things, learn things, go places, seek more and always more, of everything there is to do and see and try. My need for action, exertion, challenge, for something to get excited about, in turn inspired my ambition to try to capture those experiences, in songs and stories, and share them.

When I was a teenager, sitting around the family dinner table with Mom, Dad, younger brother Danny and sisters Judy and Nancy, I would chafe inside my skin, wishing I just had something exciting to say - something I had done, or was going to do.

I guess I spent the rest of my life making sure I always had something to talk about at the family dinner table ... only I wouldn't be at the family dinner table. I'd be on tour with the band, or away making a record, or bicycling in China, or motorcycling in Tunisia. Then writing a book about it.

My daughter Selena seemed to have inherited some of that itch, for right up to her last summer, at age nineteen, she would climb out of the lake all sleek like a seal, flop on the dock beside me, splash some cold water over my sun-warmed back, look me in the eyes and say,

"Now what?"

I could only laugh, recognizing her own need for diversion, action, something to get excited about - something to talk about at the dinner table. However, in that summer of 1997, those little words came to bear an ominous weight, the menace of imminent tragedy. Selena would not live to find out "now what?"

For a while there, in 1997 and 1998, when everything was being taken away from me - my daughter, my wife, my dog, my best friend, everything I loved and believed in - my own "now what?" became less of an itch and more of a hemorrhage, more like Dorothy Parker's, "What fresh hell is this?"

But on I went, down that healing road, thinking, "something will come up," and as life would have it, something did. In fact, a lot of things came up: a journey to new love with Carrie, new home in California, and because of those unexpected miracles, a new lease on life and work. Back on the high road.

By 2001 I was writing lyrics and playing drums on a new record, Vapor Trails, with Rush, writing a book about that terrible part of my life, Ghost Rider, and spending most of 2002 traveling and performing in Rush's 66-show tour of North America, Mexico, and Brazil, culminating with a final concert in Rio de Janeiro, in front of 40,000 people, that was filmed for a DVD called Rush in Rio.

Early in 2003, all that was behind me, and I was relieved to be taking a break at home, enjoying time with Carrie, relaxed and content in the rhythms of domestic life. I had no ambition to tackle anything more creative or demanding than cooking dinner.

That tranquility lasted for a serene couple of months, until early March, when Carrie started making plans to attend an all-female surf camp in Mexico (a Christmas present from her thoughtful husband). She was going to be away for five or six days, and wheels started turning in my brain about how I might use that solitary time. Before I knew it (literally, as so often happens, before I realized my creative unconscious had started spinning its daydreams), every aspect of my life was orbiting into a clockwork vortex around that eternal question:

"Now what?"


---
Verse One - Driving away to the east, and into the past

The Santa Ana winds came hissing back into the Los Angeles Basin that week, breathing their hot, dry rasp through what had once been the fishing village of Santa-Monica-by-the-Sea. The streets around us were littered with dry palm fronds and eucalyptus leaves, and the view from our upstairs terrace reached the distant blue Pacific through the line of California fan palms down along Ocean Boulevard. The incoming waves battled the contrary wind, as dotted whitecaps receded clear back to the long dark shadow of Santa Catalina Island, bisected horizontally by a brownish haze of smog.

More than three hundred years ago, the Yang-Na natives called the Los Angeles Basin "the valley of the smokes," referring to the fog trapped by those thermal inversions. And even then, wildfires sometimes raged across the savanna grasses in the dry season, creating prehistoric smog. Then and now, the air was usually clearer by the ocean, ruled and cooled by the prevailing sea breeze, but the Santa Ana's invaded from inland, carrying hot desert air over the San Gabriel Mountains, through the San Fernando Valley, all the while gathering airborne irritants from the whole metropolis and driving them right through Santa Monica, and on out to Catalina.

The Cahuilla Indians believed the Santa Ana's originated in a giant cave in the Mojave Desert that led directly to the lair of the Devil himself, and early Spanish arrivals picked up on that story and named those hot, dry winds the Vientos de Sanatanas, or Satan's winds. Later arrivals to Southern California were more concerned with Christian propriety and boosting real estate values in this earthly paradise, and the Chamber of Commerce issued a press release in the early 1900s: "In the interest of community, please refer to the winds as 'The Santa Ana Winds' in any and all subsequent publications."

Still, the devil winds were blamed by longtime Angelenos for effects both physical and psychological: Raymond Chandler wrote in Red Wind that when the Santa Ana's blow, "meek little wives feel the edge of their carving knife and study their husbands' necks." Modern-day urban myths associate the Santa Ana's with rising crime rates, freeway gun battles, wildfires, actors entering rehab, Hollywood couples divorcing, bands breaking up, irritated sinuses, and bad tempers all around.

As a recent immigrant from Canada, I had thought all that was local folklore (or just a regular day in L.A.), but I had only lived in Santa Monica for three years, and spent much of that time working with Rush in Toronto or touring in other cities. Now, though, in late March of 2003, I was feeling the effects of those abrasive winds on my sinuses, and my mood. Along with the brownish haze over the sea and my itchy nose, tension was in the air.

For one thing, there was a war on. The United States and Britain were just into the second week of the attack on Iraq, and no one knew what might happen. The smoke and mirrors of propaganda and the phantom menace of "weapons of mass destruction" had been paraded before us so much that a kind of contagious anxiety had been sown. Dire possibilities seemed to be on everyone's mind, and in every conversation. The chance of a chemical attack on Los Angeles seemed ... at least worth worrying about. When the war began, I had said to my wife, Carrie, "Let's go to Canada," where I still owned the house on the lake in Quebec, and still had friends and family in Toronto. However, now some mysterious disease called SARS was spreading from Asia to Canada, and people were dying, hospitals were closing, there was a travel advisory against Toronto; it was a bad scene there too.

Then there were the interior battles, and internal "travel advisories" - the "don't go there" areas. I had some serious personal and professional issues weighing on my mind - big questions and big choices to make.

Work, for one thing. After only a couple of months at home, and spending most of 2002 on the Vapor Trails tour, and all of 2001 writing and recording that album, I felt I was just catching my breath. But plans had to be made so far in advance. Recently the band's manager, Ray, had been entertaining (or torturing) me with various scenarios of recording and touring possibilities for the upcoming years, and I would have to give some answers soon. In 2004, the band would celebrate our thirtieth anniversary together, so we'd probably want to do something to commemorate that. A party, a cake, a fifty-city tour?

What about prose writing? With a stretch of free time ahead of me in 2003, I felt I wanted to get started on a writing project of some kind again, and friends were encouraging me to write more. But what did I want to write? (Now what?) Maybe try something different from the travel-writing style of my first two published books, The Masked Rider: Cycling in West Africa (1996) and Ghost Rider: Travels on the Healing Road(2002). Some fiction? History?

I didn't know, but I was thinking about it.

There were a few half-finished traveling books in my files, narratives of journeys I'd taken through the early '90s and never had the time or drive to complete: the third of my African bicycle tours, of Mali, Senegal, and the Gambia; several motorcycle explorations around Newfoundland, Mexico, and North Africa; perhaps I should look at them again. Or, back in the fateful summer of '97, I had abandoned a narrative recounting the Rush Test for Echo tour, called American Echoes: Landscape with Drums, when my life was suddenly pulled out from under me by tragedy and loss. But I wasn't sure I wanted to take up that story again, or any of the old ones. Something new would be good, it seemed to me.

In another area of my mind (I picture little, self-contained clockwork mechanisms, slowly grinding through their particular subject of cogitation until they produce the answer, the "right thing to do"), I was thinking about the house on the lake, up in Quebec. Having lived in California for over three years now, I didn't get there much anymore, and yet when I did visit, it remained ineffably haunted to me, after the tragedies. (Selena and I would stand right there in the kitchen, arms over each other's shoulders. That terrible night Jackie and I got the news in this hallway, and Jackie fell to the floor right there. These were not happy memories to continually relive.) The Quebec property was large and the upkeep was high, and maybe I didn't need it anymore. Maybe it was time to say goodbye to that place, and to that time.

Another little clockwork mechanism in my head was working on the problem of our California home, which was feeling increasingly too small, especially in its lack of a writing space for me. A two-bedroom townhouse, with Carrie taking one of the bedrooms as an office to run her photography business as well as most of our lives, left only the loft above the kitchen, open to the rest of the house. I would find myself trying to write against the clatter and chatter of our Guatemalan housekeeper, Rosa, and one or another of her cousin-assistants, vacuum cleaner and dishwasher, ringing telephones, and our cheerfully-mad assistant, Jennifer, running upstairs, all apologetic, to use the fax and copy machine.

It seemed that my years of training at reading in a crowded dressing room had made me able to concentrate no matter what was going on, and it had already served me well in writing - much of Ghost Rider had been written and revised in a recording studio lounge, with Vapor Trails being mixed on the other side of the window, the other guys coming and going, talking, laughing, watching TV, and occasional breaks to approve final mixes. The work could certainly be done, it just took longer.

There were other things on my mind, too. So much percolating around my poor little brain; I needed some time to think.

It seemed like a good time to get out of town.

In early March, knowing Carrie was going to be away for those six days later in the month, I started browsing through the road atlas (the Book of Dreams), thinking of where I might go. My favorite destinations always tended to be the national parks of the American West, where I could combine the journey with some hiking, bird-watching, and general communing with nature. While living in California (and not away working), I often made overnight motorcycle trips to Kings Canyon and Sequoia National Parks in summer, or to Big Sur or Death Valley in winter, exploring the myriad of Southern California's backroads with my restless curiosity and love of motion (and giving Carrie some time to herself, too). With a little more time and the opportunity to cover more distance this time, my first inspiration had been to ride my motorcycle to Utah, and wander around the wonderful national parks in the southern-part of that state, Zion, Bryce Canyon, Arches, and Canyonlands.

However, a look at the online weather reports tarnished that idea. The overnight temperatures in Bryce Canyon and Moab were still in the twenties, Fahrenheit, and that meant icy roads. No good on a two-wheeler. Even Yosemite was still in the grip of winter, and the only national park in the American Southwest I could think of that might not be under snow was Big Bend. So, I thought, "go there."

I had passed through that area of Southwest Texas once before, by motorcycle, during the Rush Test for Echo tour, in late 1996, with my best friend and frequent riding partner, Brutus. That tour was the first time I attempted that novel method of traveling from show to show, with my own bus and a trailer full of motorcycles. During the previous two years, my friendship with Brutus had grown strong as we both became interested in long-distance motorcycling. Exploring the pleasures and excitements of motorcycle touring, and learning that we traveled well together, Brutus and I had ridden tens of thousands of miles around Eastern Canada, Western Canada, Mexico, and across Southern Europe, from Munich down through Austria, Italy, and by ferry to Sicily, and across the Mediterranean to Tunisia and the Sahara.

We developed a comfortable rhythm between us, of tight formation, lane position, relative speed, and overall pace. Apart from being an entertaining dinner companion, Brutus always wanted to get the most out of a day - he could carpe that diem like few people I ever met. On an early ride together, we were motorcycling from Quebec to Toronto, normally a six-hour journey on the four-lane highway. Brutus convinced me to try one of his "adventurous" routes across Central Ontario, along county roads and country lanes that constantly changed number or direction. When we finally arrived in Toronto, I mentioned to Brutus that it had taken us nine hours instead of six, and he said, "Yeah, but would you rather have fun for nine hours, or be bored for six?"

Elementary, my dear Brutus, and a lesson was learned that reinforced my own tendency to seek out the back roads. From then on, if there was a chance to make a journey I had to make into a journey I wanted to take, I would seek out the high road, the winding road, and make the most of that traveling time.

So, when I was making plans to take my motorcycle on the Test for Echo tour, I convinced Brutus to come along too, as my official "riding companion"(he didn't take much convincing). Credited in the tour book as "navigator," a big part of Brutus's job really did become the plotting of the routes every day, as we moved around the country. He made it his mission to seek out the most interesting roads and roadside attractions, and while I was onstage, thrashing and sweating under the lights, Brutus sat in the front lounge of the bus surrounded by maps, magnifying glass, tour books, and calculator. He worked out the most complicated, round about, scenic, untraveled routes possible - that would still get us to soundcheck on time.(From the beginning, I warned Brutus that I tended to get "anxious" on show days, especially about the time, and that if we did not arrive at the venue at least an hour early, we were late. To his credit, we never were.)

As the bus roared down the interstates of America, Brutus would tell Dave where to stop for the night, usually a rest area or truck stop near the back road he had chosen for the morning. Sometimes I would go to sleep as Dave sped through the night, then wake to my alarm clock and the steady drone of the generator, in a wonderfully stationary bus. There was never enough sleep, but we were determined to make the most of the day, and sometimes I crawled into my riding gear, unloaded the bikes and rode away - without even knowing where we were. If it happened to be my turn to lead (we alternated every fuel stop), Brutus would point me in the right direction, and give me a sheet of hand-written notes on road numbers, mileages, and town names. Riding off into the morning, I followed Brutus's clear directions on the map case in front of me, and gradually discovered my place in the world.

After a show in El Paso, Brutus and I slept on the bus while Dave drove us to a truck-stop near Marfa, Texas. We got up early the next morning, unloaded the bikes from the trailer, rode south to Presidio, and followed the Rio Grande to Lajitas for breakfast. (It's a measure of how Brutus and I lived on that tour, making the most of every minute and every mile, that so much could happen before breakfast. Especially on a day off, with no schedule, no soundcheck, and no anxious drummer to worry about.)

Just after Lajitas and Study Butte ("Stoody Beaut"), we entered Big Bend National Park, and crossed through a tiny fraction of it, on the fly. We cut north to Marathon, east to Langtry (made famous by Judge Roy Bean, "The Law West of the Pecos"), Comstock, and Del Rio, and north to Sonora. There we met up with Dave and the bus again, and wheeled the bikes back into the trailer in the gathering dark. (We always tried to avoid riding at night - it was more dangerous, and we couldn't see the point of riding through scenery we couldn't see.) I remember falling asleep almost immediately on the couch in the front lounge, as Dave drove us on to the hotel in Austin, for the next night's show. Music played quietly from the Soul Train Hall of Fame CD (introduced to me by Selena, as it happened, in her teenage taste for "old school" R&B, echoing one of my own "first loves" in music).

On that tour, Brutus and I were up early every morning and rode a lotof miles, often 500 or so on a day off, and maybe 300 on a show day. In40,000 miles of motorcycling on that tour alone, through forty-seven states and several Canadian provinces, Brutus and I had many adventures together, in every kind of weather, from blistering heat to bitter cold and torrential rain, even snow and ice. A certain amount of pain and suffering kept things interesting, and made for good stories, but one thing we were constantly short of was sleep. On show days I used to squeeze in naps whenever I could, sometimes even setting my alarm clock for twenty minutes between dinner and pre-show warm-up.

So often our brief, rapid travels between shows were a kind of "research," checking out places that might be worth a later, more leisurely visit. Even that small taste of the Big Bend area had been impressive, as part of a continent-wide tour in which we had seen so much of America's scenic beauty. I retained a vague memory of majestic rock formations and wide desert spaces, canyons, bluffs, and mountains enclosed in a wide arc of the Rio Grande.

However, Big Bend National Park was 1,200 miles away from Los Angeles, on a fairly tedious, familiar interstate all the way (no time to take the high and winding road all that way). There were some areas of dodgy weather out that way too. Even by freeway, I'd have to ride two and a half long days to get to Big Bend, spend a day there, then turn around and make the same long slog home again. It didn't sound like a very appealing motorcycle trip, but it might be fun by car.

And not just any car. Early in 2003, I had become the proud owner of my longtime "dream car," a BMW Z-8, black with red interior (always my favorite combination). Driving that sleek, powerful two-seater through the Santa Monica Mountains, up Old Topanga Canyon to Mulholland Drive, and a longer trip up to Big Sur and back, revived the thrill I used to feel driving an open sports car (usually with music playing). Taken seriously, on a challenging road, driving could really feel like a sport,comparable to riding a motorcycle with adrenaline-fueled urgency.

Motorcycles had dominated my garage and travels for the past seven years, and bicycles before that, but I had loved cars since childhood. Mom says my first word was "car," and there's a photograph of me as a baby sitting behind the wheel of our '48 Pontiac, my tiny hands reaching up to the steering wheel and a beaming smile on my chubby little face. In my teenage years, drums and music had attracted all my attention (and all my money), so it was not until my early twenties that I bothered to get my driver's license - and only then after I'd already bought my first car. It was a 1969 MGB, an English roadster of traditional character (meaning it leaked oil and had an unreliable electrical system).

I had it painted purple (always celebrating my individuality), and I loved that car, even as it drained its oil, its battery, its radiator, my patience, and my meager wallet. After that came a Lotus Europa (a tiny, very low fiberglass "roller skate," about which my dad once asked, "You really prefer that to a real car?"), another MGB, and - once I became a little more successful- a couple of Mercedes SLS, two different Ferraris, a 308 GTS and a 365 GTB/4 Daytona, an MGA, and a 1947 MG-TC. At one point in the early'80s I had four cars at once, and decided that having too many cars, especially old ones, was more trouble than pleasure. I trimmed down to running just two, more "practical" machines, including a series of Audi Quattro GTS (the first all-wheel-drive sports car, a real bonus in Canadian winters), and a trio of successive Porsche 911S through the '90s.

I had always loved driving, and listening to music while I drove, especially on a long journey. In the unique zen-state of driving for hour after hour, music didn't just pass the time, it filled the time, with pleasure, stimulation, discovery, and memories. So, all things considered, the decision was made - I would drive to Big Bend. And listen to music all the way.

After dropping Carrie at the airport in the Audi wagon, I drove home and threw a small bag and my album of CDS in the trunk of the Z-8,checked the oil level and the tire pressures, then drove through Santa Monica to the freeway. Merging with the four lanes of eastbound traffic on Interstate 10, dense as always, I headed toward the towers of downtown Los Angeles.

Eastward and upwind, the view tended to be clearer than usual during the Santa Ana's, and behind the city, the San Gabriel's and the snowy peak of Mount San Antonio (commonly called Old Baldy Peak) dominated the background against the scoured blue sky. The "steel forest" of antennas high on Mount Wilson, near the observatory, was finely etched and glittering.

Early one morning, a year or two before, I had ridden my motorcycle up the Angeles Crest Highway from Pasadena and stood looking down from Mount Wilson just after sunrise. The morning was clear all the way out to the Pacific, and the landscape of the Los Angeles Basin seemed dominated by green, even though I knew those valleys were actually floored in wall-to-wall carpets of suburbs and freeways, broken only by occasional clusters of tall buildings. From my high vantage point, I looked south and west and tried to identify the major crossroads of the city, from San Bernardino to the San Fernando Valley, from the Downtown to Century City. Overlooking it all from that high vantage, I had the sense that human history was thin and brief, and no matter what we tacked onto the land, it was nature that still ruled. This Basin could endure another ten thousand years, or it could shake to pieces in a few hours - that was an omnipresent dread that seemed to bother immigrants more than natives, for at least once a week I imagined the coming of the Big One, "What if it happened now? In this house? This office tower? This elevator?"

Most residents of Southern California seemed to be insulated by the "geological denial" described by geologist Eldridge Moore in John McPhee's Assembling California:
People look upon the natural world as if all motions of the past had set the stage for us and were now frozen. They look out on a scene like this and think, It was all made for us - even if the San Andreas Fault is at their feet. To imagine that turmoil is in the past and somehow we are now in a more stable time seems to be a psychological need.
In Elna Bakker's natural history of the state, An Island Called California, she gave a wry twist to describing the action along the San Andreas Fault (one of dozens that riddle California),
The land west of the fault is moving north at a generalized rate of more than an inch a year, and at some time in the future Los Angeles will be where San Francisco is now, a thought not happily received by most residents of that city.
Standing by the observatories at Mount Wilson that morning, I looked down at the constellations of life below me, and tried to imagine the great megalopolis of Los Angeles, what it had been, and how it had grown into today's sprawling mass of humanity, and the place I was now trying to call "home." In 1781, a Spanish supply station for Alta California was established down there, with almost more words in its name than people: El Pueblo de Nuestra Señora de Los Angeles del Rio de Porciuncula - The Town of Our Lady the Queen of the Angels by the River of a Little Portion. Whatever it was a little portion of, it was not lotus-land, but an arid chaparral surrounded by mountains, with no harbor, an unreliable river, and a climate that ranged from Mediterranean to monsoon. According to historian Marc Reisner in A Dangerous Place,during the brief rainy season, the nether reaches of the basin - now Long Beach, Culver City, Torrance, Carson, the South Bay cities - were vast marshlands covered with ducks and prowled by bears. (The last California brown bear, the state's symbol, was shot in 1922.)

By 1791 the pueblo boasted 139 settlers living in 29 adobes, surrounded by vast ranchos, like the Rancho Malibu and Rancho San Vicente y Santa Monica (owned by Francisco Sepulveda), that gave their names to modern communities and boulevards (including my adopted home of Santa Monica). The Rancho Rodeo de las Aguas became Beverly Hills; the Mission San Fernando became the warren of communities in the San Fernando Valley; the Rancho Paso de Bartolo Viejo would become the Quaker settlement of Whittier, Carrie's home town. (Richard Nixon's too, and one of Carrie's first jobs as a student was at his one-time law office.)

By the 1840s, EI Pueblo de Nuestra Senora de Los Angeles del Rio de Porciuncula had swollen into a rough cow-town, violent and deadly (averaging a killing a day), a place Reisner described as "a filthy, drowsy, suppurating dunghole, a social meltdown of Mexicans, Indians, Americans, various Europeans, Hawaiians, and a respectable number of freed or escaped slaves. Among its vernacular street names were..." words this sensitive soul blushes to write: the N-word Alley, and the female-Cword Lane. In any case, when the gold rush struck Northern California in1849, the population of Los Angeles declined from 6,000 to 1,600 in just one year, as everyone who felt able went north in search of instant riches.

(Interesting to note that by the end of the Civil War, $785 million in gold had been mined in California, making the crucial difference by delivering five or six million dollars a month to the money men of New York and keeping the Union solvent.)

By 1884 the population of Los Angeles had rebounded to 12,000, and it was then that the great land rush began, with boosterism, speculation, development, and outright fraud swelling the population to 100,000 in less than three years, and multiplying land values beyond all reason. The banks eventually pulled the plug, and the boom collapsed; suddenly the trains were arriving empty, and leaving full.

The famed naturalist John Muir visited in 1887, and wrote in his journal, "An hour's ride over stretches of bare, brown plain, and through cornfields and orange groves, brought me to the handsome, conceited little town of Los Angeles, where one finds Spanish adobes and Yankee shingles overlapping in very curious antagonism." (Plus ça change...)

The population declined (for the last time) to 50,000 by 1890, butre-bounded to 100,000 by 1900, then took off again and never looked back. Tripled by 1910, doubled again by 1920, and by the time I drove through Greater Los Angeles in March, 2003, I passed through a population approaching ten million.

Like history, geology came alive when it was felt to be true, and as I continued driving east on 1-10, I took in the macro-view. In late March, the rainy season was just tapering off, and the hills and mountains were unusually lush and verdant. To the north and east, the Hollywood Hillsamong the Santa Monica Mountains, and the lower foothills of the San Gabriels by Pasadena and Glendale, were all folds and peaks of green, villa-studded clarity. The white letters of the Hollywood sign glowed against Mount Lee, and I thought of how a little knowledge deepened my appreciation of what I was seeing.

As a recent Junior Geologist, I had been doing some reading in a subject that had once been opaque to me, and starting to build a few elementary facts into some kind of mental picture of how the actual Earth grew and changed, globally, and in the Western United States particularly. The curiosity seemed to have been inspired by traveling so much in the American Southwest, with all that naked geology, and as I so often did, I found books that educated me, by writers who entertained me. John McPhee was especially adept at combining geological information that hurt my brain with images and ideas that delighted it. Titles like Basin and Range and Assembling California had originally been written as serial articles for The New Yorker, and thus were perfectly targeted at the intelligent lay reader - or one who was willing to read the books two or three times until he could begin to apprehend, or at least approach, the concept of geological time, and to interpret the world around him as a whole new, truly fundamental, paradigm.

How could anyone ever be bored in this world, when there was so much to be interested in, to learn, to contemplate? It seemed to me that knowledge was actually fun, in the sense of being entertaining, and I had loved learning that the hills and peaks I was driving by, the ones supporting that famous Hollywood sign, were all part of the Coastal Ranges, and I had begun to understand how they were created by plate tectonics. The Pacific Plate crunched slowly against the North American Plate to push up the Sierra Nevada where they met, and, like a snow shovel, piled up the Coastal Ranges behind. Somehow, understanding how the earth beneath my feet - or wheels - was created, helped to make me feel more at home there.

Although, those were still difficult words for me to put together, "home" and "Los Angeles." When strangers asked me where I was from, I was more likely to say, "Canada," which conveyed a completely different message, and - true or not - a "friendlier" stereotype.

It is no secret that many people claim to dislike Los Angeles, and no doubt some of them have actually been there. For myself, I imagine life always depends on how big your city is - how big your world is. My Los Angeles had come to include favorite restaurants and bookstores, the County Museum of Art, the hiking trails in Temescal Canyon and Topanga State Park, and the rock formations at EI Matador beach. My Los Angeles included the Mojave Desert, the Sierra Nevada, the Pacific Ocean, the Angeles Crest Highway, Highway 33 north out of Ojai, and Mulholland Highway out past Topanga Canyon.

Within a day's motorcycle ride, my Los Angeles stretched north on the coast highway to majestic Big Sur, the Sierra Nevada national parks of Yosemite, Kings Canyon, and Sequoia, across the enchanting Mojave Desert to Death Valley, or south to the Anza-Borrego desert and all the way into Baja. Indeed, I happened to know that an early start and a fast ride could put you on the South Rim of the Grand Canyon for a late lunch. If Los Angeles was not exactly a "moveable feast," it was certainly a reachable feast. And now I was stretching my Los Angeles a little farther yet- all the way to Texas.

Moving slowly eastward in the usual thick traffic on Interstate 10,through the endless suburbs of East L.A., everything blended into a flow of malls, car dealers, warehouse stores, in sta-home subdivisions, and fast food outlets (after reading Fast Food Nation, only "In 'n' Out Burger" would ever get my business again). It was difficult to imagine this land had all once been cattle ranchos, then irrigated citrus groves built around separate villages like Pasadena, Whittier, and the Mormon outpost at San Bernardino. During that late 19th-century real estate boom, the developers had soon run out of names for their invented projects, and one of them, Azusa (said to be the smoggiest city in the country these days),whose name seemed to echo native names like Cucamonga, Cahuenga, or Topanga, was actually named for "A to Z in the USA."

All those real place names ended in the "nga" suffix, meaning water, which always seemed to be the most common derivation of place names. (Every ancient place name in Canada, for example, seemed to mean either "swift-moving water," or "gathering of huts near water.") Topanga Canyon, which led from the San Fernando Valley to the Pacific, meant "place that leads to water," while Cahuenga, near a natural spring, meant "place of water." The people who gave these names were called the Yang-na, which could well have meant "people of the water."

Some of the names on the exit signs resonated for me in different ways, and at different stages of my life. Trawling back for my earliest impressions of California while growing up in Ontario, Canada, the first must have been seeing Disneyland on television, and TV shows like "77 Sunset Strip," "Highway Patrol," and "The Beverly Hillbillies." Then there would have been the "beach movies," with Frankie and Annette, at the Saturday afternoon matinees - Beach Blanket Bingo, Bikini Beach, all those, introducing me to the exotic world of surfing, sidewalk-surfing (I built my own skateboard with a piece of plywood and old roller-skate wheels), and inevitably, surf music: the Beach Boys, Jan and Dean, and the hot-rod and motorbike songs too. In later years I learned that some of those, like "Go Little Honda" and "Little GTO," were actually created and paid for by ad agencies, the latter to promote a Pontiac model (named after a legendary Ferrari) marketed by John DeLorean, who wasn't a Californian, but perhaps should have been. (His dream of building his own sports car ended in 1979 when he was arrested at a Los Angeles airport hotel trying to sell a suitcase full of cocaine to save his failing company.)

As an adolescent car nut, those songs resonated with me more than love songs did, reflecting my love for building car models and papering the walls of my room with centers pre ads from Hot Rod and Car Craftmagazines. California place names like Pomona, Riverside, and even Bakersfield were legendary to me, the homes of the Southern California drag strips. There were also drag races in a place called Ontario, California, which I had always wondered about, since I lived in the Canadian province of Ontario. I had learned, through reading some California history, that the California Ontario was actually named after the Canadian one. A self-taught engineer named George Chaffey came down from Canada in 1880 to visit, and ended up staying to become a visionary developer. He installed innovative irrigation systems, telephone lines, and a hydroelectric generator, lighting his home with the first incandescent lights west of the Rockies, and organized the Los Angeles Electric Company to make L.A. the first electrically lit city in America. So impressive was Chaffey's design for the community of Ontario that in 1903, U.S. government engineers erected a scale panorama of it at the St. Louis World's Fair.

Just after San Bernardino, I passed the exit for the road up to Lake Arrowhead and Big Bear Lake, high in the San Bernardino Mountains. In September of 2000, just before Carrie and I were married, my younger brother Danny (my best man) and I hiked a section of the Pacific Crest Trail up there, camping overnight for my "bachelor party." Each of us carried at least fifty pounds of gear in our backpacks, and as we set out on the trail we met another hiker coming from the opposite direction. Seeing our heavy packs, she asked if we were hiking the entire trail from Mexico to Canada, and we had to laugh. We were only starting a one-night hike, but included in our provisions were the ingredients for a fine dinner, including a flask of The Macallan, a bottle of chardonnay, a coffee pot, and a decadent dessert.

That Rim of the World Highway was also one of my favorite summer motorcycle routes, climbing up and winding around the mountain lakes to the west, linking with the legendary Angeles Crest Highway through miles of looping road and high pine forests, coming out above Pasadena in La Cafiada, where my friend Mark Riebling had grown up. So many connections in the grid of greater Los Angeles.

That Angeles Crest Highway was another memory, for in November of 1996, on the Test for Echo tour, Brutus and I rode our motorcycles west on that road over the San Gabriels on our way to the Los Angeles Forum for a pair of concerts. I came around a corner behind Brutus to experience the novel sight of my friend sliding down the road on his back at 50 miles-per-hour. Beside him, his fallen motorcycle was spinning slowly on its side, trailing sparks, the bright headlight rotating toward me and then away. The bike came to rest on one side of the road, Brutus on the other. Fortunately he had been wearing an armored leather suit, as we always did, and his only injury resulted from the bike's luggage case landing on his foot on the way down.

Seeing that probably saved me from a similar tumble, as I backed off the throttle and, heart pounding, held the bike straight up and down over that icy patch. I coasted to a stop beside Brutus, relieved to see him struggling to his hands and knees, shaking his helmeted head. He seemed to be all right, though well shaken up, and we picked up' his bike, which also seemed to be all right, scraped but undamaged, and carried on. Later, backstage at the Forum, Brutus was limping around and telling people how he'd "sacrificed" himself to save me, all for the sake of the show addressing a crew member with a slowly wagging finger, "To save your job, my friend!"

Brutus' foot was sore for the next couple of days, but he was able to stay and rest at the Newport Beach hotel while the band played two nights at the Los Angeles Forum. After the second show, I saw that he was still limping and feeling tender, so I suggested an alternative to us riding to Phoenix the next day: we could spend that day off resting in Newport Beach, then ride the bus overnight to Phoenix, arriving in the early morning. As part of the research I wanted to do for that book I was planning,American Echoes: Landscape with Drums, I thought it would be good to watch the whole process of assembling the show, hang around all day and take notes, and Brutus decided to video the highlights.

The crew members and truck drivers were very surprised to see Brutus and me walking in at 7:00 in the morning, and spending the whole day watching them at work. I sat out in the arena's spectator seats with my journal, writing down the progress of erecting the show, while Brutus limped around with the video camera.

Back in 2003, driving east on Interstate 10, the skyline ahead gradually came to be dominated by the high snowy dome of San Gorgonio Mountain (11,490') to the north, and to the south, its twin, snow-covered sentinel, San Jacinto Peak (10,804'). Between them, in the San Gorgonio Pass, hundreds of giant propellers on the wind farms churned in the strong Santa Ana's, accelerated through the narrowing pass by the Bernoulli effect.

I sped past a solid wall of green tamarisk trees waving in the gusts, then the view opened wide to the Coachella Valley. To the south, Palm Springs lay tucked under the San Jacintos, and to the north, the furrowed, naked brown slopes of the Little San Bernardino Mountains. Cutting west to east, Interstate 10 made an unnatural, but fairly accurate division between the lower Colorado Desert to the south and the first few Joshua trees, emblematic of the higher Mojave Desert to the north: 29 Palms, Joshua Tree National Park, and away over the creosote sea and jagged brown islands to Baker, Barstow, Death Valley, and Las Vegas.

When people asked how I liked living in Los Angeles, I usually answered that while it had its negatives - traffic, smog, crime, racial tensions, earthquakes, wildfires, mudslides, the general disregard for pedestrians, cyclists, or turn indicators (a recent favorite bumper sticker: "World Peace Begins with Turn Signals"), the shallow fixation on appearance among many Angelenos, the botox-collagen-silicone-facelift, chrome-rimmed-suv-and spa culture - it certainly had its compensations. Chief among those was Carrie, of course, who wanted to live near her friends and family, and keep up her blossoming photographic career, especially when I was away so much, but there was also the great variety of nature that abounded in Southern California - the ocean, the mountains, the desert.

I came to appreciate, and glory in, the fabulous variety of trees and plants, native and introduced, and the birds and animals: Joshua tree and creosote, redwood and sequoia, eucalyptus and live-oak, manzanita and bristlecone pine, bright orange poppies and yellow desert senna, blackbear, white-tailed deer, golden eagle, Steller's jay, and the emblem of the Southwest, coyote, the Trickster. In the holy trinity for travelers, as I had defined it in Ghost Rider, Southern California was prodigal with landscapes, highways, and wildlife.

Carrie's father, Don, a recently-retired history professor, had introduced me to many books of Californian history, from the 1840 account by William Henry Dana Jr., Two Years Before the Mast, to Carey McWilliams's pioneering examination, a century later, California: The Great Exception,from 1949. Most comprehensive of all was Kevin Starr's six-volume (so far) series documenting the "California dream" through the 20th Century. (One telling quote described Southern California by the 1950s as a place "where men who had arrived did not feel it, and those who had failed felt it too much.")

Starr's fifth volume, The Dream Endures, was the book I was carrying with me on this Big Bend journey, to be my restaurant companion. California history had come alive for me as an endlessly amazing variety of stories, of human drama, achievement, artistry, corruption, cruelty, and nobility. What Balzac called La Comédie Humaine had played out in Southern California in hyperbolic fashion, then and now, and proved the truth of Wallace Stegner's remark, "California is like the rest of America - only more so."

As the freeway descended into the valley and the traffic began to thin out at last, I relaxed a little and turned on the CD player. The first disc was the soundtrack from the movie Frida, with its evocative use of traditional Mexican instruments and melodies. The lush textures and exotic mood were working for me, casting the right atmosphere for the desert crossing, and for the journey. Not that I was headed for Mexico, but literally the next thing to it, the Big Bend of the Rio Grande River also describing the Mexican-American border.

As I started across the Mojave Desert on the long climb to Chiriaco Summit (home of the General George Patton Museum, near where he had trained his troops in the desert to prepare them for the North African campaign against Rommel in World War II), traffic began to bog down again. Generally, I hate passing on the right, but driving habits in North America are such that it is often the only way. Carefully watching my mirrors, and using my turn signals - no matter how unfamiliar that custom had become - I threaded between the gas-gulping SUVs and asthmatic Japanese compacts clumping in the left lane, and the roaring, straining semis in the right.

Next up on the CD player was Sinatra at the Sands, with Count Basie's band. As always, not only did the music I listened to accompany my journey, but it also took me on side trips, through memory and fractals of associations, threads reaching back through my whole life in ways I had forgotten, or had never suspected.

The American writer Ralph Ellison began as a musician, and wrote passionately on the subject throughout his life. In a collection of essays called Living with Music, he wrote about the power of music as a part of one's life, and even of one's culture.
Perhaps in the swift change of American society in which the meanings of one's origins are so quickly lost, one of the chief values of living with music lies in its power to give us an orientation in time. In doing so, it gives significance to all those indefinable aspects of experience which nevertheless help to make us what we are. In the swift whirl of time, music is a constant, reminding us of what we were and of that toward which we aspire. Art thou troubled? Music will not only calm, it will ennoble thee.
Sinatra at the Sands was released in 1966, when I was fourteen, and it was one of the records I remembered my father playing on his console stereo. It seemed there was always music playing in our house, and it had to have an influence on me. Dad was the kind of music lover who turned on the radio when he woke up in the morning, and listened to music every waking moment, while he shaved, ate breakfast, in the car, at work, and at home, inside or out. Always there was music.

I had been playing drums for a year or so back then, and as a fan of The Who, Jimi Hendrix and the like, I didn't have much use for "old people's music," but at the same time I was so obsessed with drums and drummers that I would even watch "The Lawrence Welk Show" with my grandmother, hoping for an occasional glimpse of the drummer's champagnes par Ide drums in the background.

Obviously I didn't have much choice about hearing my dad's music, and even back then I couldn't help appreciating Sinatra at the Sands, especially the fiery arrangements (by a young Quincy Jones), and the energetic, exciting drummer, Sonny Payne. (Sonny was known for his showmanship, twirling sticks, tossing them in the air and catching them between beats. There's a story about Buddy Rich, certainly the greatest jazz drummer ever, but an intense man who preferred to dazzle with his playing rather than his juggling. Buddy appreciated Sonny's drumming, but when sticks were twirling and flying in the air, Buddy commented dryly to a friend, "He'd better watch out - he might hit something.")

A few years later, in the early '70s, when I lived in a London bed-sitter with my childhood friend Brad, I rediscovered my father's music, the big band stuff like Duke Ellington, Count Basie, and Frank, and I bought my own LP versions of them. I remember listening to Sinatra at the Sands on headphones many times (because our speakers were so poor - because we were so poor), and after that kind of intimate listening, even more than thirty years later I still knew every word and every note of that album. As I drove eastward across the high desert and into late afternoon, I was humming and nodding and drumming on the steering wheel as Frank and the band worked through all those great standards: "Come Fly with Me," "I've Got You Under My Skin," "Fly Me to the Moon," "Angel Eyes."

A couple of times Frank paused to deliver a "monologue," and in one of them he mentioned having recently turned 50. I had passed that milestone myself the previous September (behind my drums, fittingly, playing a show in Calgary on the Vapor Trails tour), and my reactions had ranged from a sense of the "impossible" (the notion that I had survived half a century, and also thinking back to being 20, say, and what I thought then it would be like to be 50 - ancient and decrepit), to a sense of the number being "meaningless." In an interview with Modern Drummer magazine before the tour, I was asked about that upcoming birthday, and said, "I've read that everyone has an inner age that they think they are, regardless of their actual age. I really think of myself as being about thirty. In modern life it's a matter of keeping your prime going as long as you can."

Recently a photographer friend introduced me to his young assistant, saying to him, "Tell him when you were born, Ben!" Ben told me he was born in 1976, and my immediate reaction in thinking about that date, and starting life then, was not envy, but a kind of sympathy. I shook my head and said, "You've missed so much."

For me, to have grown up through the last half of the 20th century, to have been a boy in the '50s and '60s, a young musician in the '60s and '70s, and into the '80s, '90s, and now the 21st century, seemed more valuable than being merely young. Perhaps this reaction only marked a kind of turning point of true aging, when the past seemed more important than the future - because at a certain age you suddenly have more past than future - or maybe it was the vantage point of a half-century that allowed me to feel what Wallace Stegner called "the very richness of that past."

And listening to Sinatra at the Sands, it occurred to me how Frank's singing had spanned my whole life, from childhood on, in a way that no other artist had, and how his music continued to reach me on such a deep level.

Many theories had been spun to explain the appeal of Frank's singing through decades and generations (in my own family, from my father to me, then late one night a teenaged Selena and I were driving back to Toronto from visiting friends in western New York, and I was playing Sinatra and Company, and suddenly, half asleep, Selena got it - and soon actually bought that CD for herself).

In Why Sinatra Matters, Pete Hamill wrote, "As an artist, Sinatra had only one basic subject: loneliness. His ballads are all strategies for dealing with loneliness; his up-tempo performances are expressions of release from that loneliness."

Everybody can relate to loneliness. In a Canadian context, when the members of Rush were being presented with our Order of Canada medals (a kind of "good citizenship" award), the governor-general of Canada, Romeo LeBlanc, made an eloquent bilingual speech about the shared experience of being Canadian, "We all know what it's like to be alone in the snow." (When I complimented him on that line later, he shrugged and said, "I have a good speechwriter!")

I once read a comment that Frank's singing was felt so powerfully because he seemed to be singing "to you alone," while others opine that, like Billie Holliday, he was able to convey all the passion and heartbreak of his own life when he sang. It seemed to me that the key to Sinatra's magic was that when Frank sang, he meant it. As he said himself, "Whatever else has been said about me is unimportant. When I sing, I believe I'm honest."

Perhaps the key to any great performance is just that quality: sincerity.

Of course, many singers become phenomenally successful without that magic ingredient. A golden voice and good looks will often appeal, even when it's obvious to a caring listener that when that singer delivers a song, he or she (read "diva") doesn't mean a word of it. You'd think that difference would be apparent to the listener, but I guess that is the clearest difference between art and entertainment. If people only want to be diverted and distracted, rather than moved or inspired, then fakery will do just as well as the real thing. To the indiscriminate, or uncaring, listener, it just doesn't matter. Sometimes I have to face the reality that music can be part of people's lives, like wallpaper, without being the white-hot center of their lives, as it always seemed to be for me.

All my earliest memories were like pearls grown around a grain of music or traveling. When I was three years old, we lived in a duplex on Violet Street in St. Catharines, and I remember being pulled around the block on a sled in winter. I also remember Dad proudly setting up his new General Electric hi-fi record player in the living room, so I must have picked up on his excitement about it.

A big old house, it had sunken basement windows framed in concrete below ground level, and while riding my tricycle along the driveway, I somehow fell into one of those window cavities and broke through the glass. I remember hanging upside down and looking at my mom, as she looked up in shock from the wringer-type washing machine. My first travel adventure.

Mom worked in a restaurant called the Flamingo while I was still a toddler, and I remember its shiny, lighted jukebox, and in a corner, a floodlit diorama of a pink flamingo, a plastic palm tree, and a reflective chrome sphere on a pedestal. (Perhaps my first travel fantasy.) I also remember the beginning of another lifelong addiction: my first chocolate bar. When the owners went away on vacation and we stayed there to look after the place, after dinner I was given my choice of chocolate bars from the candy counter. What joy to be able to choose, but what sweet torment having to choose. I wanted them all. (I still do.)

A friend of Mom and Dad's worked for a company which serviced the jukeboxes, and he gave them a rack of old 45s which hung around our house for years. Among them was "Wheels" by Billy Vaughn and his orchestra (another traveling song), on the flip side of "Sail Along Silvery Moon" (and heaven knows why I remember that).

One Christmas, when I was about four, we traveled by car to Virginia, where my grandparents were living, on the first "road trip" I remember. Most of our vacations were car journeys, usually camping in a canvas tent with its evocative smells of baking in the sun or mildewing in the rain. Once we stopped for the night at a motel, and I can still remember the excitement of sleeping in a rollaway cot in an unfamiliar, temporary home. My first motel stay - and far from the last. Fortunately, my reaction was excitement rather than dread, for I would be spending a good portion of my life in temporary homes, like hotels, motels, and furnished apartments. Whenever I checked into a hotel room, I felt a kind of eager anticipation. Good or bad, expensive or cheap, I locked myself into a private, anonymous space, and it felt something like home, and something like freedom.

I first achieved musical freedom when I was about ten, and my mother gave me a small plastic transistor radio. She showed me where the "Hit Parade" station was on the dial, and I remember sitting on the front step of our split-level holding that radio in my hands like a holy relic, transfixed by the notion of my own private music. (Funny that I didn't know records were played on the radio, just like on the jukebox at the Flamingo, and I thought each song was being broadcast live from the studio, with the performers moving from station to station.)

For me, that was really the beginning of loving music. I listened to that little radio constantly, searching out all the Top-Forty AM stations, WKBW in Buffalo, New York, CHUM in Toronto, and CHOW in Welland, Ontario. I would even fall asleep with that little transistor playing faintly in my ear.

Also, now that I had my own music, I had an alternative to my father's music, and the division began. It would be another ten years until I learned to appreciate Dad's music on my own, but of course once I did, it would stay with me for the rest of my life.

Sinatra at the Sands also featured a couple of slow-tempoed Basie instrumentals, "All of Me" and "Makin' Whoopee!", which showcased the tight discipline of that great band. No session musicians or generic horn section could have duplicated that dynamic swell and punch and kick, the synchronized breathing you hear when Basie's or Ellington's band played, the sound of musicians who played together night after night and really lived that music, didn't just read it.

From all those years ago, right back to childhood, the repeated snatches of Basie's theme song, "One O'Clock Jump," had so ingrained themselves in my memory that when I was choosing material to play in a Buddy Rich tribute concert and, later, recording, one of my choices had to be Buddy's band's arrangement of "One O'Clock Jump," just so I would have the chance to play that great "shout chorus," the one that appeared repeatedly on the Sinatra record.

A little more traveling music.

Before Buddy's passing in 1987, one of his final requests to his daughter, Cathy, had been for her to try to keep his band working somehow, to keep the music alive, and to "give something back" to American music. Cathy established a memorial scholarship in Buddy's name, and began presenting concerts with well-known drummers "sitting in" with Buddy's band, to raise money for the musical education of deserving young drum students. In late 1990 Cathy approached me about taking part in one of those shows, and my reply to her described my thoughts and feelings about that challenge.
I am honored that you have asked me to be a part of the Buddy Rich Memorial Scholarship Concert. In the past I have always shied away from participating in events of this nature, partly out of shyness, partly out of overwork, and partly out of a sense of inadequacy. As a rule, I do my work with Rush, and hide behind a low profile otherwise.

But even my own rules are made to be broken, and this seems like a worthwhile occasion to come out of my self-imposed shell. Not only is it an opportunity to "give something back," but also an opportunity to fulfill a long-time ambition of my own - to play behind a big band.
Along with Basie's "One O'Clock Jump," I ended up choosing to perform Buddy's band's arrangement of Duke Ellington's "Cottontail," as a tribute to that giant of American music, and another tune with some nice drum breaks, called "Mexicali Nose." Through the early months of 1991, I practiced those three songs over and over (playing along with Buddy's recorded versions), and in April I drove from Toronto to New York City, and appeared with the Buddy Rich Big Band at a small theater (the Ritz, formerly Studio 54) as part of a concert featuring five other guest drummers.

Unfortunately, it turned out to be a difficult and disappointing experience for me. With minimal rehearsal time, there had been no opportunity to discover that the rest of the band was playing a different arrangement of "Mexicali Nose" than the one I had learned, and during the performance I was unable to hear the brass section at all. I struggled through it, and managed to hold it together, but after, I felt very let down by the experience I had so anticipated, and down on myself about it.

The following day I drove home to Toronto, about a 600-mile journey, and it turned out to be another occasion during which a long drive was a good opportunity to think. I left New York at dawn, feeling sad and disheartened, but as I drove, I found myself thinking about some lines from a song called "Bravado," which I had recently written for Rush's Roll the Bones album, recorded earlier in 1991. The song began, "If we burn our wings, flying too close to the sun," and resolved with the repeating line "We will pay the price, but we will not count the cost," which I borrowed from novelist John Barth, with his permission and approval. At least, I sent him a copy of the song, and he wrote back "it seems to work very well," which I chose to take as permission. And approval.

So, if I had "burned my wings" a little, taking on a challenge with all the circumstances against me, I was paying the price, but not even thinking about the cost. I just wanted to make myself feel better, and the only way to do that was to do it again, and get it right. (It also occurred to me that this was the first time I had ever been inspired by my own words!)

By the time I got back to Toronto, ten hours later, I had figured it all out. Someone was going to have to produce a Buddy Rich tribute album, so that I could play on it, and have a chance to play big-band music under more controlled conditions. Inevitably, of course, that "someone" was going to have to be me, though it took almost two more years to make that happen, between Rush recording projects and concert tours, and my own busy life of writing projects and bicycle tours to Africa.

In December, 1993, I finally wrote to Cathy and formally proposed the idea:
Recently I've been thinking about a little dream project, and I wanted to run it past you and see what you think. It seems to me it's high time for a Buddy Rich tribute album, with a number of top contemporary drummers playing the band charts - like the Scholarship videos, but with studio-quality recording. I would like to play on a track or two myself, of course, but more than that - I would like to produce the project.

Would you be agreeable to an idea like that? Without your blessing (and help), I will certainly not go ahead with it, but if, like me, you think it would be a positive thing, I would like to proceed with some plans. We could work together in choosing which drummers to involve, which tunes to feature, the cover artwork and so on. With a little good old-fashioned hard work, I think we could turn out a very nice package.
Cathy was equally excited about the idea, and together with her husband, Steve, and Rush's tour manager, Liam (sharing the executive producer credit with Cathy), we started working on organizing the project, co-ordinating a list of drummers and all the logistics of travel, equipment, accommodations, and studio time.

During two weeks in May, 1994, we did the actual recording at a studio in New York City. Working with a fourteen-piece band almost entirely composed of Buddy alumni, we averaged two "guest" drummers a day, each of them recording two or three songs, mostly from Buddy's "songbook." It was a monumental undertaking, but eventually resulted in a two-volume CD called Burning for Buddy, which sold modestly (though I still enjoy listening to it - reward enough!), and even a set of videos documenting the "making of" process.

Every day I walked the ten blocks from the hotel to the studio, through midtown Manhattan and Broadway, taking different routes and enjoying the unmatched vitality of those streets. My feet raced over the pavement, so excited about what the day would bring, which drummers we would be recording with, and what new music we would be capturing. And apart from the day-to-day excitement of those sessions, and the pleasure of becoming friends with many of the drummers along the way, there was another unexpected benefit.

A few years before that project, I had worked with drummer Steve Smith on a recording with virtuoso bassist Jeff Berlin. Steve had always been a great drummer, but on the Buddy sessions I suddenly noticed a huge growth in his playing - in his technique, and, especially, his musicality. When I asked Steve what had happened to him, he smiled and gave me a one-word answer, "Freddie," referring to his teacher, Freddie Gruber.

Freddie was in his late 60s by then, and had been one of Buddy Rich's closest friends since the late '40s, when they'd met in the vibrant New York City jazz scene of those days. They stayed friends when the path of Freddie's life took him from the streets of New York out through Chicago and Las Vegas to Los Angeles, where he found his own natural calling as a teacher.

During the Burning for Buddy sessions, I met Freddie, a nonstop storyteller with a lively mind and ageless hipness, rarely without a cigarette in his hand, lit or not. I sat at dinner with him and some of the other drummers a couple of times, and in the following weeks, I became curious about what a teacher like Freddie might do for me. By that time I had been playing drums for thirty years, and was feeling as though I was playing "myself" about as well as I could - maybe it was time to, as Freddie would put it, "take this thing a little further."

The timing was certainly right, as Rush was on hiatus that year while Geddy and his wife Nancy awaited the birth of their daughter, Kyla, so in October of 1994, I arranged to spend a week working with Freddie in New York City. The first day, he watched me play for about one minute, then started talking - telling stories about Buddy and other drummers, anecdotes from his "misspent youth," encounters with Allen Ginsberg, Marlon Brando, Miles Davis, Malcolm X, Stanley Kubrick, abstract-expressionist painter Larry Rivers, and assorted hookers, junkies, and geniuses. Amid all that - look out, here comes the lesson! - he moved around the little rehearsal room, acting out the motions of soft-shoe dancers, pianists, violinists, and so on, showing me how those activities, like drumming, took place largely in the air, and ought to be more like a dance.

Also, he said, holding up a magisterial finger, "there are no straight lines in nature." Thus our movements should be circular, orbital, smooth and flowing. And, on the drums, we should pay more attention to what happens in the air, between the beats. Another of his finger-raised directives, delivered emphatically, with tall eyes, was, "Get out of the way. Let it happen! Or worse, don't prevent it from happening."

Freddie could best be compared to a tennis player's coach, always watching and correcting movement and physical technique. Freddie didn't try to teach you how to play the game - you were supposed to know that already - but he watched your "serve," or your cross-court backhand, and tried to get you moving better. So Freddie was not the kind of teacher you learned from and moved on; you could always use that kind of guidance, and Freddie had built a tight circle of faithful students for life, studio legends like Jim Keltner, recently drumming on the Simon and Garfunkel tour, and British journeyman Ian Wallace, and jazzy, rocky, so-called "fusion" (Freddie calls it "con-fusion") masters, like Steve Smith and Dave Weckl.

It was a dizzying week, full of more stories than lessons, it seemed to me, but at the end of it Freddie left me with a written list of exercises for my hands and feet, all designed to affect the motion of my entire body, eventually - though that "eventually" would require a lot of time and effort on my part. It was already clear to me that if I was going to surrender to Freddie's "vision," I would basically have to start all over again on the drums - changing the way I sat, held the drumsticks, set up the drums, and moved my hands and feet. Perhaps most daunting of all, I would have to find time to practice those exercises every day, in a busy life of work, home, and family. Practicing every day was easy and natural enough when I was thirteen and fourteen, but 30 years later, life had grown considerably more complicated.

However, I did find myself inspired and dedicated to the task, and every day I made time to go down to the basement of our Toronto house and practice on my little yellow set of Gretsch drums (seen in a drum shop window in the mid-'80s, I thought how I would have dreamed of those drums when I was sixteen - so I bought them, for the part of me that was still sixteen). As an old dog learning new tricks, I was even sitting in front of the television at night with sticks and practice pad, working on those exercises.

Over the passing weeks, I began to feel the benefits in the fluidity of my playing, and after six months, Freddie came to visit me in Toronto for another week, to "take this thing a little further," "start to put the pieces together."

"Get out of the way, let it happen."

He left me with more exercises to work on, and the practicing continued. Then again, six months later, in September of 1995, Freddie came to Quebec for another week (as a New Yorker living in Los Angeles, he loved it up there, smelling the air, floating around the lake together in my boat). More exercises, more practicing, until finally, I felt ready to actually apply those hard-won new techniques.

In early 1996, I started working with Geddy and Alex on what would be our Test for Echo album, and I could feel I had brought my playing to a whole new level, both technically and musically. Later that year, I expounded on these new directions, and on Freddie, in an instructional video, A Work in Progress.

Throughout this time, Freddie and I became close friends, and during the Test for Echo tour, he also met and became close to my best friend, Brutus. During my tragedies and subsequent "exile" in England, Brutus kept Freddie updated on my "condition," and· when I was wandering around on my motorcycle in the fall of 1998 and learned that Brutus had been arrested with a truckload of marijuana at the U.S. border in Buffalo, and was likely going "away" for awhile, Freddie understood better than anyone the weight of this latest loss. He said to me, "I thought you'd hit the very bottom of life already, but now you've hit lower than bottom - you've hit lead!"

Just after a five-day stay at Freddie's house in the San Fernando Valley in November of 1999, I started a letter to Brutus from my accommodations in Show Low, Arizona, to his at the Federal Detention Facility in Batavia, New York. Coincidentally, I was on my way to Big Bend that time too, though I never made it (for reasons that will be revealed), and that letter also happened to contain some "traveling music," and tell of a journey eastward on Interstate 10, near where I was driving in March of 2003.

As I closed in on Blythe, California, the Colorado River and the Arizona line, who should be up next on the CD changer but Buddy Rich, in a sweet coincidence, and a sublime recording with Buddy's band and Mel Tormé, called Together Again - For the First Time.

So many connections on this traveling roadshow.

From a letter to Brutus, dated November 15, 1999, telling about my stay with Freddie.
Anyway, every day there was sunny and warm, and every night was cool and clear. I would layout in his backyard at night in the one operable chaise longue, and look up at Orion, the Pleiades, the star I think is Arcturus, and all the rest.

Airplanes high and low, shooting stars, a fingernail moon. Eight cypress trees in the neighbor's yard, a shaggy, silhouetted palm. Radio station KGIL, "America's Best Music," plays from the Silvertone radio in the laundry closet, in the half-covered patio, and in the dark living room, coming on every afternoon at 4:00, on a timer. Their playlist could be sublime - an instrumental version of the Ellington-Strayhorn classic, "Don't Get Around Much Anymore," then "He'll Have to Go" ("Put your sweet lips, a little closer, to the phone"), "Cherish," "I Love How You Love Me," and "Maria," from West Side Story.

Or another set which included "Take Five," "Unchained Melody," "Only You," by the Platters, Dusty Springfield's "Wishing and Hoping," and Ed Ames doing a heartbreaker (for me) "Sunrise, Sunset" - "Is that the little girl I used to carry" .. . Ach. Other greats I hadn't known about: Errol Garner, Dick Haimes - or hadn't fully appreciated - Bobby Darin, Eydie Gorme (really!). Altogether, as before, Freddie's "pad" is a timeless oasis of sanctuary, a hideaway, but with the two of us in various "states," and me already a little "beat up" after ten days in L.A.

A bit much, but - that's the way it went down, and if Freddie needed me for a few days to "see him through," then of course I could do that for him. Late yesterday morning I finally got away from there ("Escape From Encino"), feeling pretty used up, groggy, weak, and tired. So I kept it simple - just angled my way over through Pasadena and Glendale to 1-10, and across the desert to Blythe, on the Colorado, which at that point was slow, muddy, and about 50 feet wide (as the early settlers used to say, "too thick to drink, too thin to plow").

It seemed I had a bit of sleep to catch up on, and today I didn't get on the road until about 10:00, still feeling groggy and fuzzy headed, though I "sharpened up" a little through the day. I needed to - though it started off flat and straight, on Highway 60 through creosote, cholla, palo verde, saguaro, ocotillo, and mesquite, you'll remember our ride up 89 to Prescott, and from there to Jerome and on to Payson. Dynamic, right? (And again, we were spoiled.) So that helped me to "straighten up and fly right," and also got me back into the riding groove. Why, lately my bike has been collecting more dust than road dirt. Shameful.

After Payson I stayed on 260, through the high pine forests and mostly gentle curves. All in all, a nice day's ride, and I'm feeling much more "myself" again. (Or should it be "ourselves?")

[A little later] Can't sleep, and tired of reading (halfway through another Saul Bellow epic, Humboldt's Gift). And speaking of epics, what a treat it was to pick up your two letters just as I was checking out of the Marquis. As soon as I got to Freddie's I started reading avidly, despite his constant interruptions and demands for attention, with a pile of photographs of him and his jazz buddies from a thousand years ago! You can imagine that it took a while to get through even the first letter amid all that - but I persevered, and then, the next day, when he was absent for awhile (like, out of it), I had the luxury of rereading them both, at leisure. (Annoying pen trouble today - even tried changing the refill, but it was still scratching and skipping. Maybe the Mendocino paper doesn't like Arizona? Hey man, I took it through Jerome [another "hippieish" sort of town, likely to have "good energy"]; it should be cool!)

Anyway, just let me say that you done some fine letter-writing there, boy. The world around you, and within. You do seem to be making the most of this opportunity for reflection, and it was certainly a pleasure (and privilege) to be the recipient of so much soul searching, and to feel the sincerity, clarity, and painful honesty of your reflections. Of course you're too hard on yourself, but the alternative is either blame-shifting, or the usual exculpatory rationalizing that you hear every day.

Reminds me of one night on the bus, when I was giving my performance a critical review, and you said, "You're too hard on yourself," and I said, "Hey man - it's my job!"

Somehow it still is, and I'm constantly tormenting myself over some dumb thing I said or did five, ten, or fifteen years ago. Actually flinching at the memory, and cursing myself. Like that helps. But maybe it does, at least, let us see ourselves closer to how we really are. Evil.

Or, as you put it, "special."

In answer to a couple of your on -the-fly questions:

o "Get It On (Bang a Gong)" was Marc Bolan and T. Rex, subtitled like that only in America because a group called Chase had a song called "Get It On."
o Keith Moon did indeed play on Tommy, and beautifully, at his absolute peak of inspired, sublime lunacy. And it still sounds great today.
o "Gaia" was the name of the earliest-known deity, a kind of earth goddess in Mesopotamia, I think it was.

Also, note the limitations of your Spellchecker, amigo - that which is "excepted" is not necessarily "accepted," even if the "censors" have "sensors." (Color me pedantic, but such solecisms can spoil a carefully drawn effect, sayin'?)
That letter continued from Tucson the following day, November 16, 1999, and it also happened that in March 2003, I would be passing through Tucson the following day, three and a half eventful years later.

As I drove across the Colorado River into Arizona, the wind remained strong, sending waves of sand drifting across the freeway, and occasional tumbleweeds (despite being emblems of the American West, they were actually Russian thistles, accidentally imported with Asian wheat seeds). The sun was sinking behind me, filling my mirrors, and the creosote, ocotillo, and palo verde trees began to cast long shadows to the east. Up ahead was Quartzsite, Arizona, the neon of truck stops and RV parks illuminating the oncoming night, then passing behind my speeding car, to leave only the red dash lights and pale sweep of headlights before me.

And the music played on. Buddy and Mel's album, Together Again - For the First Time, was originally made as a direct-to-disc recording in the late '70s, shortcutting the analog technology of those days. It had been considered an "audiophile" product, for there was no tape involved, and thus no tape noise, with the aim of producing the cleanest, most dynamic sound possible. The mix went straight to the cutting lathe, and no edits or overdubs were possible, so the band had to play an entire side of the LP in one take, as near perfect as humanly possible.

I once talked with a recording engineer who worked on the Buddy and Mel project, and he told me that when an error marred one of the tunes, the producer stopped the band and instructed them to go "back to the top." Some of the musicians went back to the top of the song, and some remembered to start at the top of the side, and this apparently caused a hilarious "train wreck." (A musician's term for when the players get out of sync with each other, especially terrifying when it happened onstage.)

Mel himself had written the intricate and accomplished arrangements for the album, with the exception of the tour-de-force on "Blues in the Night," arranged by Marty Paich (father of David Paich, from the band Toto), which featured a brief solo from Buddy that was blistering, highly technical, and yet sublimely musical - in short, a summation of Buddy himself. For anyone who thought Buddy was only about pyrotechnical solos and driving swing, they should listen to his sensitive performance with wire brushes on a lovely rendition of "Here's That Rainy Day," even mimicking the patter of raindrops in a kind of musical onomatopoeia, and showing yet another facet of his consummate musicianship.

Mel sang wonderfully well, too (I particularly love his delivery of my favorite Paul Williams song, "I Won't Last a Day without You"), and the guest soloist on alto sax, Phil Woods, was poetic and kinetic, like swallows in flight. When you listened to the overall performances, and considered that everyone of the musicians had to play perfectly through a whole side's worth of complicated material, you had to be impressed. Most importantly, though, it was great music, and a testament to Buddy's excellence as a musician.

As Buddy and Mel wound up their tribute to Ella Fitzgerald, "Lady Be Good," the next CD began with a rich female voice framed in exotic percussion and tight background harmonies, "Where love goes, I will go tool up twenty-nine flights of stairs." Ah yes, haven't heard this for awhile. The Mint Juleps, singing the first song on a favorite of mine from the mid-'90s, a side project by one of the Grateful Dead's drummers, called Mickey Hart's Mystery Box. He brought together some of the all-stars of "world music," American, African, and Latin, and composed a similarly international, percussion-based blend of musical styles, working with evocative lyrics by one of the Dead's frequent lyricists, Robert Hunter.

In 1990, Mickey had co-written a book (with Jay Stevens) on the history of drums and rhythm, artfully interwoven with his own autobiography and some of the Grateful Dead's history, called Drumming at the Edge of Magic. When Selena was looking for a topic for a junior high science project, I suggested something I had learned about from the book, the "Theory of Entrainment." The theory held that any two mechanisms, including humans, tended to synchronize their rhythms, to "prefer" them, as compared to beating against each other. Thus two analog clocks placed in proximity would eventually begin to tick in sync with each other, neighboring heart cells tended to pulse together, women living together often synchronized their menstrual cycles. And thus, thought Mickey, he and the other Grateful Dead drummer, Bill Kreutzmann, should (and did) link their arms before a concert, to try to synchronize their biorhythms with the Theory of Entrainment. Selena put two old-fashioned alarm clocks, with keys and springs and bells, beside two digital bedside clocks, and made a poster to describe the principle. I think she got a good mark.

For my part, I was so impressed with the scholarship and artistry in the book that I wrote Mickey a letter of appreciation, and we began to correspond a little. Later that year, in 1991, it happened that both our bands were playing at the Omni arena in Atlanta on successive nights, the Dead one night and Rush the next, and Mickey and I invited each other to our shows. On our night off I went to see the Dead play, accompanied by our tour manager, Liam, and what an experience that turned out to be.

Liam and I arrived just as the show was starting, and gave our names at the backstage door. One of their production crew gave us our guest passes and escorted us to our seats - right behind the two drum risers, in the middle of the stage! Liam and I looked at each other with raised eyebrows as we sat down, and noticed that right behind us was the production office, with telephones, fax machines, and long-haired, bearded staff dealing with communications and logistics (presumably, though the production office is normally a room backstage, where such work can go on apart from the concert), and we also heard there was a telephone line run through the crowd to the front-of-house mixing platform. Catering people walked across the oriental rugs that covered the stage, delivering salads and drinks to various musicians and technicians, even during songs, and meanwhile, the band played on. Lights swept the arena, reflecting off white, amorphous "sails" suspended above the stage, and clouds of marijuana smoke drifted through the beams and assailed our nostrils with the pungent, spicy aroma.

My familiarity with the Grateful Dead's music really began and ended with their first album, back in '67, when my first band, Mumblin' Sumpthin' (I'm not sure, but I think the name came from a "Li'l Abner" comic), used to play several of their songs, "Morning Dew," "New New Minglewood Blues," and "Good Morning, Little Schoolgirl." (Other gems in our repertoire included songs by Hendrix, The Who's "I Can't Explain," a couple by Moby Grape, the Byrds, the Animals, Cream, and Blue Cheer.) In later years, my musical taste and the Grateful Dead's music had drifted apart, but no one could be unaware of their immense popularity, and the subculture of "Deadheads" that followed them around the country. Now I was seeing that subculture in action, as the whole arena full of devotees raised their arms and waved in a kind of trance-like unison, or raised their voices and sang along with every song the band played.

And they played and sang really well, too, augmented by the soulful keyboards and accordion of Bruce Hornsby. The two drummers, Mickey and Bill, became an interlocking, mutually complementary rhythmic unit, right out of the Theory of Entrainment. Bands with two drummers emerged in
Ontario around the mid-'60s, just when I was starting to play, and later showed up in the "big time," with bands like the Allman Brothers, the Doobie Brothers, and the Dead. Very often they combined complementary styles, a solid, rooted drummer who laid down the time, and another whose approach was more "decorative," even flighty, adding counterpoints and percussive textures, then locking into a tight, compelling unison that was powerful and effective. (In later years, when Phil Collins took over the front-man position with Genesis, they featured some great double-drummer work with him and Bill Bruford, then later with Chester Thompson.)

Liam and I couldn't see much of the "front line" guys, the guitarists and vocalists, because of the wall of amplifiers, but occasionally, on the stage-left side, the spotlights caught an unmistakable bush of gray hair that could only have been the legendary Jerry Garcia.

During intermission, Mickey invited Liam and me to his dressing room in the familiar backstage corridors of the Omni (each band member had a separate room, which hinted at certain "divisions" among them; after Jerry Garcia's tragic death, I read a story asserting that he hadn't enjoyed touring very much, and when the others wanted to go on the road again, he responded, "What, they need more money?"). Mickey was a friendly, outgoing man, with an engaging smile and an intense, joyful enthusiasm for percussion. With all my African travels and interest in African percussion music, and Mickey's musical explorations in print and on records, we shared a few things we knew and cared about, and had a good conversation until they were called to the stage to begin their second set.

Liam and I returned to our center-stage reserved seats, and I noticed that not only did the band members have separate dressing rooms, but the wings of the stage were lined with small tents of black cloth, one for each of the musicians to retire to during the songs on which they didn't play, and have some privacy. During an acoustic number in the second part of the show, Mickey disappeared into his little tent, then motioned for me to join him. We talked for a few minutes about drums and drumming, and I told him how much I was enjoying their performance, then he went back up to the riser and started playing again.

Next night, the positions were reversed. That tour (probably Counterparts, in '93), we had a metal gridwork runway (dubbed the "chicken run" by the crew) about four feet high, running across the width of our stage behind my drum riser, where Geddy and Alex could wander while they played. During the show, I looked back and saw Mickey, under the chicken run, smiling out between its black curtains. He was just as close to me as I had been to him, and he seemed to be enjoying himself.

And now Mickey was playing in front of me once more, but in the speakers of my speeding car on dark Interstate 10 eastbound, and his divine backing vocalists, the Mint Juleps, sang in close harmony and tight phrasing, as night began to darken over Western Arizona, over creosote, ocotillo, and the trademark saguaro cactus. The driving part of my consciousness had settled into a speed of 90 mph, which seemed to suit the conditions, the traffic, the car, and its driver. The limit in Arizona was already a reasonable 75 mph, and you could generally count on a 10 mph buffer zone, so I was hoping the radar detector wouldn't be necessary. But I had it on anyway, just in case.

As Mickey's record came to an end, suitably, with "The Last Song," suddenly the speakers lit up with a series of loud, percussive smashes, then a crash of breaking glass that segued into a harsh, aggressive drum-machine rhythm. This major dynamic shift announced the new album by Linkin Park, Meteora, which I had just bought the day before.

Linkin Park's first record, The Hybrid Theory, in 2000, had been hugely successful commercially, and, for this listener, musically as well, bringing together heavy guitar riffing and rock rhythms, vocals ranging from pop melody to metal screaming, and an ultra-modern hip-hop influence of turntable scratching, sampling, and rap-style verses and backing vocals. One song on that first album, "In the End," was particularly emblematic of that "hybrid theory," and brought together all those influences in a dynamic, melodic, and powerful combination. A modern masterpiece, I felt.

Typically, that blend of influences had been a long time reaching the popular ear, going back to the early '90s and bands like Faith No More, Rage Against the Machine, and Cypress Hill. Those bands and others like them had certainly found an audience, but never the "mainstream," just as reggae had slowly made its way into pop music in the late '70s, but not through the original artists, and rap had appeared in Jamaican reggae long before it morphed into so-called "urban" music. Likewise, punk music seemed to be reborn every decade, and find its audience of pimply wannabe English boneracks with epoxied mohawks and bits of metal studding their anatomies. By early in the 2000s, though, the rock/rap hybrid had become mainstream rock, with Linkin Park among the best. My only reservation was that the style seemed to adhere to strict rules of rhythmic simplicity and repetition, so it wasn't really "drummer's music," in the sense of being active or adventurous. The great jazz drummer Tony Williams once remarked that rock drummers didn't play drums, they played beats, and that was too often true.

However, those simple, repetitious rhythms were certainly effective, and as I listened to Linkin Park's new album for the first time, my head was soon nodding in time, liking it. By the third track, "Somewhere I Belong," I knew they had beaten the sophomore blues, and had made another great, fresh record. Their chosen blend of influences and abilities seemed to reach a perfect balance in "Easier to Run," and as I rocked along with it, I smiled with the recognition of sincerity, youthful energy and excellence in action (thinking as I listened to the one vocalist who shredded his voice so alarmingly, "He won't be singing that part when he's 40" - but of course he wouldn't, and shouldn't, care about that now). The Real Thing. The Brave Thing.

Despite the formulaic cynicism of modern entertainment, real, brave music could still be made, and become successful, and it was obvious even from the cover art and liner notes on Meteora that Linkin Park were trying to make art, not just entertainment. Their previous album, Hybrid Theory, had played regularly on my bus after shows during the Vapor Trails tour, and that was another critical type of traveling music.

At the end of a show on the last two tours, when I was traveling with my own bus and motorcycles, at the end of the show I performed what is called "a bolt." After the burnout ending and final crash of the encore, I put down my sticks on the floor tom to my right, waved to the audience, then ran straight off the stage, through the backstage corridors and stairways, and into the bus. Dave the driver followed the police escort out of the congestion of the parking lot and onto the freeway, while I balanced against the wall of the rear stateroom, struggling out of my sweaty clothes and into dry ones, then returning to the front lounge to join Michael, my riding partner for that tour.

My riding partner from the Test for Echo tour, Brutus, had not only suffered through two years in various jails in the U.S. and Canada, but was now labeled as a "convicted felon," and banned for life from entering the United States (even while, as Brutus was released in 2001, dozens of soon-to-be terrorists were moving freely around the country, and taking their pilot training). When we started planning the Vapor Trails tour, I wondered what to do. I was certainly used to riding around America on my own by then, but on a concert tour, the risk of having a breakdown or flat tire that might make me late for the show (or even late for soundcheck) was too great - I needed a backup, a riding partner, if for no other reason than to "commandeer" his machine if necessary, and get to the show.

When I first moved to Los Angeles in early 2000, a friend recommended Michael to help me set up a "secure" home there, to protect my privacy from invasive fans, and to keep my address, phones, utility bills and such anonymous. In his early 30s, Michael was a private detective specializing in such security matters, as well as computer crimes, and he and I became friends. Michael had done a little motorcycling in past years, and was thinking about getting into it again. Seeing a possibility, I encouraged him to buy a BMW R1l50GS like mine (replacing the Ghost Rider bike, an R1100GS, which had passed 100,000 miles, and would serve as backup on the tour), and arranged for him to be hired for the Vapor Trails tour as the band's security director - and my riding partner.

That last job description was a difficult position to fill, in many ways. Not least, by the time I came running onto the bus, he should already have poured me a glass of The Macallan over three ice cubes. Dried off and changed, I would sip that glass of whiskey and light that first delicious cigarette, and slowly, as we roared down the highway, begin to come down from the adrenaline of the physical effort, the mental focus, and the sheer fatigue of the three-hour show. That's when the right music was really important. Sometimes I needed the soothing mood of one of Frank's records, other times I'd be all vibed up and want to hear Linkin Park, or Michael's and my official theme song on the Vapor Trails tour, Limp Bizkit's "Keep On Rollin'."

Michael and I also sometimes listened to a series of CDS of mixed tunes I had programmed to be played over the P.A. system in the venues before our shows, and during the intermission between sets. Called "walk-in" music, it was another very important kind of traveling music.

I started making those mixes back in the late '70s, mainly because we had a sound man with questionable taste, and after hearing our audiences assailed by mindless heavy rock every night (even before we went on!), I decided to do something about it. It is a measure of the passing decades that the "ShowTapes" were made on cassette at first, then DAT (digital audio tape), and for the most recent tour, on CDS (now I call them, with tongue in cheek, "ShowTunes"). Next tour, no doubt they'll play straight off a computer.

I always thought of that platform as my own private radio station, a chance to reach thousands of people with songs and artists I liked at the time, especially the more obscure ones an American audience wasn't likely to hear on their local mainstream rock station. I also tried to program the music to follow the dynamics of the evening, from the time the doors opened until the anticipation was building just before show time, or for the intermission between an opening act and our show, or on the last two tours - when we had stopped having an opening act, to give more time for our ever-growing songlist - between our two long sets.

On those first ShowTapes, in the late '70s, I was mixing in a lot of the so-called "new wave" music of the time, Talking Heads, Ultravox, Japan, Joe Jackson, and the Police. We were touring in Britain once around that time, and our sound engineer told me that when a song by the Police came over the P.A., the English audience actually booed. Hard to believe, but so it was.

The cassettes from the Signals tour, in 1982, neatly hand-labeled on the spine, "Rush Radio," and with my drawing of the fire-hydrant logo from the album cover, offered a selection of lesser-known songs from that era, by New Musik, Simple Minds, King Crimson, U2, Ultravox, Max Webster, Joe Jackson, Japan, Thinkman, Go, XTC, Talking Heads, Jimmy Cliff, a couple of Pete Townshend's solo songs, Bill Bruford's jazz-rock excursions, and the ponderously-named-but-ethereal-sounding Orchestral Maneouvres in the Dark.

Ten years later, on the Counterparts tour in 1993, I was broadcasting DAT tapes with that tour's bolt-and-nut logo drawn on the spine. These ones included songs by Nirvana, Alice in Chains, Pearl Jam, Soundgarden, the Tragically Hip, Faith No More, Urge Overkill, Smashing Pumpkins, Roger Waters, Gene Loves Jezebel, Tom Cochrane, Curve, Big Country, Chapterhouse, and Temple of the Dog.

For the Vapor Trails tour, in 2002, I changed my programming style (or what the radio programmers call "format"), for the first time. As much as I had always resisted any form of nostalgia, the prevalence and popularity of "classic rock" radio were undeniable (at least one in every city), and it had somehow become more than just nostalgia. At its best (say 25% of what such stations played), it was the heritage of rock music, and might even be called history. There was also the splintering of modem music into narrow factions, especially on the radio. Compared to the variety of pop music I used to listen to on my transistor radio in the '60s - when AM stations tried to be all things to all people, from teens to old folks, and you might hear Louis Armstrong, the 1910 Fruitgum Company, and the MC5 on the same station modem radio was fiercely segregated by demographics and "market segments." The gap between rock and hip-hop may have been invisible to a fan of Limp Bizkit or Linkin Park, but it remained vast between a fan of those bands and, say, Led Zeppelin, Radiohead, Madonna, and Frank Sinatra - you weren't likely ever to hear them on the same radio station.

Unless it was programmed by me. I wanted to juxtapose what I thought was the best of modem music with what I considered to be real classic rock - not just because I liked it in 1969, but because it sounded great to me now. This music was for a rock concert, and I left off the Sinatra and Madonna, but alternated The Who with Linkin Park and Radiohead, Led Zeppelin with Tool and the Tragically Hip, Jimi Hendrix with Vertical Horizon, and Pink Floyd with Coldplay. Once again, I was programming my own little radio station, to my own "format." Hopefully the audience appreciated the "ShowTunes" during the shows, and Michael and I certainly enjoyed them on the bus afterward.

As I drove toward the western suburbs of Phoenix, Linkin Park wound up their portion of the evening's entertainment, the last disc in the changer, and I decided I might as well stop for the night. It was getting late; I'd covered over 350 miles, and if I made an early start the next morning I could get through the congestion of Phoenix and make a good, long day.

On my "Ghost Rider" travels I had stayed at a tolerable Best Western in Goodyear, thirty miles west of Phoenix, but when I stopped there I learned their restaurant was closed. The man at the front desk said I could eat in the bar, but it was not inviting - a loud, busy place with lots of television screens blaring a basketball game.

I drove on to the next exit, saw the sign for a Ramada Inn, turned off and verified that it had a restaurant next door, and stopped there for the night. It was the kind of place where you park right in front of your room, which is always convenient, and I carried in my small bag and the CD case. As I relaxed and toasted the day with a glass of The Macallan from my well-traveled old flask, I removed the last six CDS from the cartridge and returned them to the album, flipping through and choosing the first six discs for the next day's ride.

Considering where I was, the lyrics to one song were already playing in my head:
"By the time -
I get to Phoenix ... "
---
Chorus One- Drumming at the heart of a factory town

My song really begins on the family dairy farm, near Hagersville, Ontario, in 1952. Mom tells me they used to wrap me in swaddling clothes and lay me in a manger, but this was no messiah story; they just wanted me out of the way for the milking. Still, the dimly lit barn, redolent of straw and cow manure, was an early imprint, and later in life a dairy farm always seemed to smell like "home." Wherever I traveled, from Switzerland to Senegal, my deepest memories were triggered by ... cow dung.

After a couple of years, our little family moved about 50 miles away to the "big city," St. Catharines, where my father became parts manager at the International Harvester farm equipment dealer. We settled briefly into an apartment on the east side, then into a duplex on Violet Street, in the Martindale area. Our '48 Pontiac had a circular chrome rim framing the plate-sized radio speaker in the middle of the dash, and I remember sitting in the front seat between Mom and Dad and "steering" the car with it.

In January of 1955, the stork brought my brother Danny, and sister Judy a year after that, and soon we moved to a brand-new split-level in the lakeside suburb of Port Dalhousie. (Youngest sister Nancy was a later arrival, and apparently something of a "surprise," born April of 1964, when I was eleven.)

St. Catharines is on the northern edge of the Niagara Peninsula, on the shore of Lake Ontario, with Lake Erie to the south, and the Niagara River to the east. The weather was tempered by all that water, creating a microclimate around the fertile alluvial soils, a "banana belt" of orchards and vineyards. Its proximity to power and transportation also created an industrial belt, and many St. Catharines men carried their lunchpails to factories like General Motors, Hayes-Dana, Stelco, or Thompson Products, then, at the end of their shifts, drove their Chevies and Fords home to the ever-expanding suburbs of the postwar years.

Because of that common level of relative income, our subdivisions allowed more-or-less classless societies, in which most of the kids I went to school with had similar, modest homes, durable clothing, and simple, inexpensive toys. Of the two other classes, the relatively wealthy lived mostly in the privileged enclaves at the south end of St. Catharines, called Glenridge, while one of the poorer areas of town was a part of Port Dalhousie called "the Avenues," a warren of streets crowded with tiny, ramshackle houses that had once been summer cottages. Although most of us were part of the same blue-collar socioeconomic class, there did seem to be some kind of distinction; I once brought home a boy named Brian Jayhen, from the Avenues, ragged-looking and unkempt, and sensed that my mother seemed cool toward him, while welcoming other friends of mine, like Tommy Corbett, whose father was a traveling salesman, and Doug Putman, whose dad was a postman.

(One memory that demonstrates our economic status was the time my Dad gave Mom a choice of a vacation in Bermuda or an automatic dishwasher, and she chose the dishwasher.)

As my new hometown of Santa Monica was to Los Angeles, so my old hometown of Port Dalhousie was to St. Catharines (given fractions of scale of about a hundredth, as St. Catharines had a population of fewer than 100,000 in those days). Like Santa Monica, Port Dalhousie had grown as a waterside village, though for shipping rather than fishing. The Welland Canal was built in 1829 to allow sailing ships to travel between Lake Erie and Lake Ontario, bypassing Niagara Falls on the eastern end of the Peninsula, and the canal opened into Lake Ontario at Port Dalhousie. In the 1930s, the canal was made deeper and wider to handle larger ships, and moved eastward, bypassing Port Dalhousie. In 1961 Port Dalhousie was absorbed into St. Catharines, just as Santa Monica had been overtaken by Los Angeles.

For those hundred years, though, Port Dalhousie's small business area had catered to the needs of ships and sailors, and even when they were gone, some of the rough character survived. The bars in the hotels - the Austin, the Port, and the Lion House - were not frequented by the respectable citizens of Port Dalhousie, those who raised their families in the new housing tracts spreading to the west.

Our block had formerly been an orchard, and four pear trees remained at the end of our yard. We ate so many of those pears I have never been able to eat them since. Just behind us was Middleton's cornfield, a few acres in the middle of the block which, in late summer, became a cool green labyrinth, wonderful for hide-and-seek in the long twilight hours, or stealing through in the dark when we slept out in a tent in the backyard. My dad built us a swing set and a sandbox (painted International Harvester red), and with those pear trees to climb and the cornfield to run through, our yard was nearly perfect. We needed a pool and a trampoline, and maybe a roller coaster. But life was pretty good in our single-digit years.

In those days we didn't know about daycare centers or nursery schools, but Grandma Peart moved from the family farm in Hagersville to a house on Bayview, right across the cornfield, and she often looked after us, especially when Mom started working at Lincoln Hosiery, when we were still small. Grandma played hymns on the pedal organ, baked amazing pies and buns, taught me all about birds, made quilts with her friends from the United Church Ladies' Auxiliary, and wore her long gray hair tucked in flat waves under a net. She was a classic Puritan grandmother: wiry and iron-hard, a stern disciplinarian. Her chosen instrument was the wooden spoon, applied to my backside with enough force to break more than a few of them, but I also remember a thousand acts of kindness. And if she believed the injunction against sparing the rod, she could still "spoil the child" in other ways, and we also knew her innate softness, her pure gentleness of heart.

I remember staying at Grandma's house on the farm when I was very young, three or four, and at bedtime she would emerge from the bathroom totally transformed: leaving behind the severe cotton dress, the hard black shoes, and the strict hairnet, she tiptoed into the dark room on bare feet, wearing a long white nightgown, her hair down in a rope of gray braid, and the smell of Noxzema skin cream on her face. She seemed so frail and girlish as we knelt beside the big wooden bed to say our prayers: "Now I lay me down to sleep ... "

I started kindergarten at McArthur School, under the gentle tutelage of Miss Olive Ball, and the class photograph shows me sitting in the front row scowling resentfully at the camera. My mother says I was upset because I wasn't allowed to stand beside Miss Ball, and when Carrie saw that old photograph, she claimed that exact same expression still darkened my face whenever I felt slighted by the world. (Yeah, so?)

The first time the school had a fire drill, and all the bells started ringing, I ran straight out of there, right past the ranks of students lined up in the playground. The older kids were waving and shouting at me to stop, but I kept running, speeding through the gate, and I didn't stop until I got home.

At the age of six or seven, I remember pushing my little red wagon down the street, one knee in the box and steering with the tongue as I pushed with the other foot (the way you do), pretending to go visit Brad when I had actually been infatuated with his sister, Pam, since kindergarten. I was singing "Tell Laura I Love Her," which was one of that strange genre of late-'50s "death songs," like "The Last Kiss," about a guy who doesn't have enough money to marry his girlfriend, so he enters a stockcar race with a "thousand-dollar prize," but alas, he is killed, and his last words are ... "tell Laura not to cry, my love for her, will never die."

That same summer, my dad worked on the pit crew for a neighbor, Jordie, who raced a stock car at the local dirt track, Merrittville Speedway (with its big sign promising "Thrills! Chills! Spills!"). Our family went to the races at Merrittville every weekend that summer, arid I loved the noise, the dust, and the spectacle of the brightly-painted jalopies racing around under the lights. The neighborhood kids used to gather in Jordie's driveway and watch the men work on the racing car, and make fun of Jordie's low-riding pants, pushing our own pants halfway down our hips to reveal our little butt-cracks and giggling, "Look at me, I'm Jordie!"

From Grades 1 to 5 I attended Gracefield School, just two blocks from our house. Gracefield's playing fields were still surrounded by farmlands and orchards in those far-off days, and a copse of trees which we called, poetically, "Littlewoods." Once I fell out of one of those trees, landing on a broken branch and tearing a gash in my inner arm, big enough that I could see the white bone. An older boy from down the street, Bryan Burke, had the presence-of-mind to rip off his T-shirt, wrap it around my arm and get me home to my shocked mother. Once Mom got me to the hospital and had it stitched up, the only permanent damage to my future drumming limb was a long, ragged scar.

My earliest effort at versifying was written in Grade 2, a four-page epic poem about a fox hunt, "The Little Red Fox." It hung on the wall of Gracefield School for years after that, on display mainly because it was so long, I always thought; it didn't seem to have any other special merit. I remember it began, "Once there was a little fox/ And he had the chickenpox/ He was covered with red spots/ And all he ate was pans and pots." Acceptably lame for a seven-year-old, I suppose, though there was one line I still admire, "The fox woke up in the early morn/ You would too if you heard that horn!"

Reading became a big part of my childhood, and I would devour anything put in front of me - cereal boxes, comic books, Hardy Boys and Enid Blyton adventures (a good example of a Canadian childhood's blend of American and British influences), Mad magazine (which encouraged me to learn how to laugh at people and popular culture), Nancy Drew books borrowed from girl cousins, my parents' Readers Digest (always reading the jokes first, "Laughter Is the Best Medicine" and "Life's Like That," though life-patterns were also established by "Quotable Quotes," and "It Pays to Increase Your Word Power"). Our skimpy home bookshelves contained a set of Collier's "children's classics" that came with our encyclopedia, including fairy tales, King Arthur, and Greek myths, and I liked some of those.

One summer we shared a cottage on Lake Erie for a couple of weeks with some of my parents' friends, and one of the women left out a paperback called something like Doctors' Wives. Of course, I picked it up and started reading - an eight-year-old trying to comprehend why a woman named Grace would be looking at her breasts in the mirror and saying to her husband, "Mine are better than hers." Mom caught me reading it, and had words with the other woman who had accidentally left it out for me to find.

During that same vacation, I found what I thought was a bar of chocolate squares in a bathroom cabinet. I had never heard of a chocolate bar called Ex-Lax, but I ate it all, with predictable results. I learned another lesson about how all was not as it appeared in the grown-up world.

My grandmother started buying me the Thornton W. Burgess books about Paddy the Beaver, Danny Meadow Mouse, Reddy the Fox, and the rest, and I also remember loving some animal stories that were set in the ravines of nearby Toronto: Wild Animals I Have Known, by Ernest Thompson Seton. Again, lifelong enthusiasms started so early, and you can never tell which influences are going to be important - in Grade 8 I won a public-speaking medal with a speech about General Douglas MacArthur (opening with "Old soldiers never die"), which had been adapted from a comic book of stories about World War II.

Every Tuesday I visited the little Port Dalhousie library, where I discovered and read through a series of books about Freddy the Pig, a bumbling detective and excruciatingly bad poet created by Walter Brooks (who also gave us, more famously, Mr. Ed, the talking horse). Freddie's humorous adventures were told with wit, irony, and sympathy, and I learned from those too. (After not hearing anything about Freddy the pig for forty years, and never hearing anybody else mention him, I had almost begun to think I'd imagined Freddy and the other characters on the Bean farm, like his human friend whose name also stuck with me all those years, Mr. Camphor. Then around Christmas of 2002, I found a reissued collection of Freddy stories, and bought a copy for my niece, Nancy's daughter, eleven-year-old Hannah. And one for me, too. They were still good.)

All in all, Port Dalhousie in the late '50s seemed like a magical time and place, perfect for boyhood. Quiet streets for ball hockey, the lake for swimming, skating on Martindale Pond, the library, and hordes of other baby boomer kids around to share it all. We measured our lives not by the seasons, but by the ancient festivals - children are natural pagans. Winter was centered by Christmas; spring was Easter, and autumn was the magic of Halloween: dressing up as Zorro, or a pirate, or a hobo (I doubt that's an acceptable costume these days), and wandering the cold, dark streets with flickering pumpkins at the doorways and people filling our bags with loot. Whispered words passed among the ghosts and goblins about which houses were giving out fudge or candy apples (no fear of needles or poison in those innocent days - so tragic, and so mysterious, that it changed).

Summer, of course, was a long pagan festival all its own, triggered each year by the change from flannelette sheets and pajamas to cotton ones, and by going to Gus the barber for our summer crew cuts. When school was out, I would get together with a friend or my brother Danny, and we would hike or ride our bikes to Paradise Valley, out by Ninth Street Louth, or farther, to Rockway and Ball's Falls. Somehow nothing was more attractive than "the woods" - a bit of leafy forest, a stretch of running water, maybe a shallow cave in the ancient rocks of the Niagara Escarpment. This was Romance and Adventure.

Sometimes we would ride to the railway crossing at Third Street Louth, and just sit in the culvert all day with the smell of damp concrete and earth, listening for trains and running out to watch them go by. Perhaps that sounds as exciting as watching grass grow, except for those apocalyptic seconds when we stood by the track and felt that power speeding by so close, so loud, and so mighty that the earth shook and the wind roared.

We could explore along the wilder parts of the lakeshore, the steep, eroded brushy banks, and maybe sneak into old man Colesy's orchard to pilfer some apples or cherries (risking his fabled pepper gun), or just spend our days messing around down by the old canal and the Henley Regatta grandstand, or over by the sandpiles and the lighthouse. We would often see old mad Helen walking fast across the bridges, a blade of nose, protruding teeth, and a thatch of gray hair racing ahead of her old overcoat and blocky shoes. Helen was always muttering to herself as she stalked along, and adolescent boys, hiding under the bridge to listen, could imagine as much profanity in her gibberish as we did in the lyrics to "Louie Louie."

Then there was riding in the back seat of the red '55 Buick hardtop, squirming against Danny and Judy, all of us excited to be on the way to a drive-in movie. One time I remember we were allowed to watch the first movie of the double feature, but had to lie down on the car seats and go to sleep for the second movie, which was "only for grown-ups": it was Splendor in the Grass, starring Natalie Wood and Warren Beatty - which came out in 1961, so I would have been eight.

We were unrestrained by then -unknown seatbelts or car seats, and if we were driving home from visiting relatives or the drive-in, Danny, Judy, and I used to stretch out in the back: one on the floor, one on the seat, and one on the parcel shelf. Even if we woke up when the car pulled into the gravel driveway, we would feign sleep so Dad would carry us all to our beds.

But the rarest, most exciting luxury was going out for dinner at the Niagara Frontier House, a diner on Ontario Street which was modest enough, but seemed like the Ritz to me. Red upholstered booths, lights glinting on wood, Formica, and stainless steel, the Hamilton Beach milkshake machine, the multilevel tray of pies and cakes on the counter, and the chrome jukebox beside each booth, with those metal pages you could flip through to read the songs. Although the highest luxury of all was being allowed to choose from a menu, I think I always ordered the same thing: a hot hamburg sandwich and a chocolate milkshake, and nothing has ever tasted so good.

Simple joys, and simple sorrows, yet felt as deeply as they will ever be. Like the old Animals song, "When I was young it was more important/Pain more painful, laughter much louder, yeah."

Perhaps the greatest "pain" for me early on was the Canadian institution of hockey, for my skinny little ankles bent right over in ice skates, I couldn't skate backwards, and I never made a hockey team. A Canadian boy who couldn't play hockey, or any sport, was already beyond the pale. Still, I always had a friend or two: Tommy Corbett, Rick Caton, Brian Unger, Doug Putman. The real pariah at Gracefield was a poor little second-grader named Betty-Jane Prytula. For no reason other than childish cruelty, it had been decided by consensus that she "smelled," and every day she had to endure being the Untouchable, and witness the schoolyard game of passing around "B.J. germs." I still remember her sad, uncomprehending little face.

I did manage to get into a few schoolyard fights in my first couple of years at Gracefield - of the "Oh yeah?" "Yeah!" variety - all of which I lost. My very last fist fight ever was in Grade 3, under the tall, gloomy spruce trees (filled with grackle nests) near Gracefield School. With a crowd of kids around us yelling, "Fight! Fight!" I went at David Carson with my arms flailing until, in seconds, I was exhausted, and he pinned me down. When he let me up, I trudged home, tearful and ashamed.

Around that time I stayed home from school one day with a stomach ache, which became severe enough that my mom took me to the hospital. They wheeled me straight into surgery for acute appendicitis, my mom crying above me as she told me I had to have an operation (when I reminded her of that in recent years, she shook her head and said, "I thought I'd killed ya!"). However, for me to learn that in another hour or two my appendix might have burst and I would have been dead somehow made me feel important. The few days I had to spend recovering in that hospital were lonely and frightening, and I remember the bell tolling from the college across the valley, and calling my dad at work (Mutual-55091).

The man in the bed beside me was campaigning for a Canadian political party called Social Credit (a depression-era theory of governmental control of the economy), and he showed me a trick cartoon of a smiling man who had voted Social Credit, then turned it upside-down to reveal a sad-faced man who hadn't. For some reason I became enthused with his cause, and though I failed in convincing my parents to vote Social Credit (I couldn't understand why they wouldn't vote for his party - he was my friend), a few weeks later I listened eagerly to the election results on the earpiece of my little homemade crystal radio (a revelation when I put it together and it actually worked), and was disappointed when my friend's party lost.

Then there was television, in the days when we only got five channels, three American and two Canadian, all in glorious black-and-white. I remember Jackie Gleason's catch phrase, bellowed across the stage to his bandleader, Sammy Spear: "A little traveling music, Sammy!" Then spreading his arms and singing out, "And awaaaay, we go-a-a!" (The morning after his show, or Red Skelton's, all the kids at school would be acting out their skits.)

On "Ozzie and Harriet," I always hoped the episode would end, as it sometimes did, with Ricky Nelson singing in front of an audience of screaming girls, him looking all glamorously shadowy, in dramatic black-and-white (like a prototypical rock video), with stage lighting making it a magical fantasy. I especially used to love the song, "Travelin' Man," and though I haven't heard it since, in over forty years, some of the lyrics come back to me yet: "My pretty Polynesian baby, over the sea." Watching that performance, I was galvanized, and somehow I felt I wanted that - to be on that stage, in those lights, singing songs about traveling while girls screamed. That was 1961, I was nine years old, and, in the fullness of time, it all came true. (Except for the singing part.) (And the screaming girls.)

My mom was a big Elvis fan, and sometimes took me to see his movies (because my father wouldn't go), but I never wanted to be Elvis - especially the movie Elvis. Around that time I was taking piano lessons, first from our teenage neighbor, Donna Pirie, then from big old scary Miss Latcham, who lived in a big old scary mansion at the other end of town (in later years our family lived in what had once been the coach house for the Latcham mansion). I didn't enjoy the piano lessons much, and eventually started calling in sick and spending the lesson money on chocolate bars, but I still absorbed a grounding in basic theory that served me well in later years, especially after the mid-'70s, when I began to dabble in keyboard percussion with Rush.

When that magical little transistor radio came into my life, I began to hear "modern" music, mostly the pre-Beatles white pop music of 1962 and 1963. Danny Gould, next door, was a year older than me, and he talked me into my first record purchase - going halves with him on a Four Seasons LP, a greatest hits collection with "Sherry," "Big Girls Don't Cry," and all that.

In another early response to music that presaged my interest in the words, right from the beginning I began copying down the lyrics to my favorite songs from the radio, keeping pen and paper handy and waiting for a certain song to come on the air so I could catch another verse or chorus and scribble it down. Rhythmically, among my first impressions was the pure, physical compulsion in the response I felt listening on my transistor radio to the shuffle beat of a song called "Chains," by an early '60s girl group called the Cookies.

From music back to traveling, from transistor to bicycle, it was Danny Gould who taught me to ride a two-wheeler, running behind and pushing me across the lawn of his backyard, then letting me go on my own before I knew it. I'll never forget that feeling (though I couldn't know how much of my life I would spend balanced on two wheels).

It was also Danny Gould who imparted to me the mysteries of life, from a book his father had given him (maybe called "The Mysteries of Life"). He would have been twelve, and I was eleven, and in those innocent "Ozzie and Harriet," "Leave It to Beaver" days, I had no clue about sex. Thus I was shocked and appalled at the things he was telling me, all in such dry, anatomical words. ("Our minister does that? Our teachers? Our parents? Impossible.")

One summer, when I was eleven or twelve, Mom and Dad talked about getting me a summer job. Dad and I drove out Lakeshore Road and up the lane to Mr. Houtby's farm, and Dad got out to talk to him. In retrospect, I have to wonder if Mr. Houtby had some grudge against my Dad's farm equipment business, for next morning, when Dad dropped me off at the farm on his way to work, I found myself sent out to weed a potato field - by hand. After three days of crawling through the dirt on my hands and knees under the baking sun, I received the princely sum of ... three dollars. Even in 1964, that wasn't very much, and I didn't go back.

Next I tried a morning paper route, for the Toronto Globe and Mail, which I took over from a local boy, and kept for two years or so, until I handed it down to Danny. In the pre-dawn darkness of frigid winter, or the early promise of a summer day, I carried my heavy bag of papers through the alley and into the open beside Lakeside Park, exposed to the north wind in winter, or the rising sun in summer. Passing the huge fans outside the bars that expelled the night's collection of sour beer and stale tobacco smoke, I left the folded papers in the hotels, whose upstairs rooms had become musty-smelling residences for silent old men. When I told my mom that one of them, old Archie, had come to the door naked, she looked worried, but whether it was from innocence or intuition, I knew Archie was okay. Then to the rough-looking little diners, and Latcham's grocery store, then up the steep hill behind the bank to Mayor Johnston's house.

The Johnstons were the minor aristocracy of Port Dalhousie, with several branches of the family prominent in the town. Farther down Main Street was the home of the kid I probably envied most when I was seven or eight. Colin Johnston lived in a big house (no mansion, just a little grander than our bungalows and split-levels), rode in his mother's white Cadillac convertible (the classic '59 with the big tailfins and rocket taillights), and sailed in his father's motor yacht out of the Dalhousie Yacht Club, over on the "Michigan side" (so-called because many cottages on the east side of the old canal had once been owned by Americans from Michigan). One time Colin had showed me around that cabin cruiser, taking me aboard where it was tied up along the old canal.

The cabin of varnished wood and polished trim seemed like the ultimate luxury, a self-contained house inside a boat, and seemed to promise such fun and adventure that I was overcome with the desire to be part of that experience. I knew Colin was best friends with Bobby Lyons, but I couldn't resist asking if I could be his best friend. He must have sensed my shallowness, and stayed friends with Bobby Lyons. Colin's older brother, Roger, eventually took over their father's insurance and real estate business, and forty years later, still handled my Canadian insurance needs from the same little office on Main Street.

On Bayview Avenue, overlooking the lake, a modern ranch house on a large, open lot was owned by another Johnston, a legendary character called Captain Johnston, who was said to be retired from the big Great Lakes freighters. That was a job of unimaginable grandeur to us Port kids, who sometimes watched the huge ships go through the locks of the canal, feeling that strange sensation that the ships were stationary, while the ground beneath us was moving. Out on the lake in front of Captain Johnston's house, a few hundred yards offshore, a wooden raft had been moored.

We had all learned to swim at Mrs. Stewart's classes on the beach, and even in summer, the waters of Lake Ontario could be chilly on a breezy, overcast morning. Among a crowd of bony little kids, I stood shivering as rafts of green algae and rotting silver fish brushed my trembling knees. The lake was a toxic mess in those days, but nobody seemed to "know" yet. Bigger kids were taught to dive and swim off the pier, gradually moving out from First Lamppost to Second Lamppost to Third Lamppost. There was still a tall white lighthouse on the Michigan side, and in the corner where the beach met the pier, the water heaved with a solid mass of algae ("seaweed," we called it), dead fish, and pale, rubber tubes the older kids snickered at and called "Port Dalhousie whitefish."

The word "pollution" hadn't passed into common parlance yet in the early '60s, and it was only later in the decade when signs suddenly appeared on the beach, stern and scary messages warning swimmers that the water was polluted, and swimming was prohibited. Back then, everybody seemed to take for granted that the cause was industrial, from the steel mills in Hamilton, on the western end of the lake, or the paper mills in Thorold, but of course the problem was sewage, as it still is when the Great Lakes beaches have to be closed in hot weather.

On summer afternoons, some of the bigger kids used to swim out to that big raft off Captain Johnston's house, and one day, at the age of ten or so, I decided to brave the chilly waters and try to make it. I had done it once before that summer, but I was not a strong swimmer, and as I dogpaddled out from shore, shivering added to the exertion. Choppy waves broke in my face, and I choked a couple of times on mouthfuls of water. Finally I made it, and I paddled up to the raft, gasping, arms aching.

A bunch of the neighborhood bullies was playing there, boys from McArthur who were a couple of years older than me, wrestling and throwing each other into the water. They thought it was a good joke not to let me on the raft, and, exhausted, I paddled around it, from side to side. They would only taunt me, laugh, and push me away. I gave up and started to swim back to shore, while they lost interest and turned away again, back to their rough play.

It was too far. About halfway I ran out of strength, and in a panic realized I was going to drown. I couldn't move my arms and legs anymore, and I felt myself sinking. While I was going down that last time, I actually experienced the old myth: I saw my life pass before my eyes. I was so young there wasn't much to replay, but episodes, still vignettes like a slideshow, flashed in sequence through my mind.

I suppose I must have struggled and called out, as the next thing I knew I was lying in the sand at the water's edge. Two other kids I went to school with, Kit Jarvis and Margaret Clare, were standing over me, and I guess they must have pulled me out; I never really knew.

As for those bullies who nearly killed me, l owe them a different kind of debt, for that episode left a deep, lasting scar. For a long time, I thought I had all but forgotten about the experience, but years later, in my 20s, when the pressure and demands of touring with Rush began to weigh me down, I learned how the pathogen of stress attacked the weakest areas, physically (heart arrhythmia, tooth and ear infections, lowered immunity), and psychologically. In airplanes, and even onstage, I would be overwhelmed by a sudden wave of anxiety, a morbid sense of being trapped, isolated, and unable to escape, and it would take me straight back to the memory of that traumatic episode. I would simply feel "too far from shore.'!

An obvious response was being uncomfortable swimming in open water without a boat nearby, but the association also materialized whenever my freedom of movement felt restricted. It was irrational, but irresistible, and the only good thing was that it forced me to learn to minimize stress and learn to control it for the rest of my life, as the only way to prevent those waves of anxiety from ruling me.

More anxiety was sown in my ten-year-old soul later that year, in the fall of 1962, when I began to hear about missiles in Cuba, our black-and-white television screen suddenly filled with deadly-serious speeches, threats, and warnings. The whole world seemed to have gone crazy. The grown-ups around me, parents and neighbors, were talking about the likelihood of a Russian attack on our neighborhood, because we were near Niagara Falls, which supplied hydroelectric power to much of the Eastern Seaboard. "They'd hit that for sure," I remember the man next door saying, and the image of bombs falling on Niagara Falls seared into my memory forever.

Movies about World War II were constantly shown on late-night television and Saturday afternoon matinees, as they were so much a legacy of the postwar era, but they tended to be bloodless and heroic, more propaganda than documentary. Up to that dramatic fall of 1962, the scariest thing I had ever seen was the flying monkeys in The Wizard of Oz. But I felt something different in the air, as I watched my father making preparations that now seem so touchingly futile: filling a corner of the basement in our split-level house with sleeping bags, canned foods, water, flashlights, batteries, and radio, as he tried to make preparations for his family to survive a nuclear bomb exploding 30 miles away.

The documentary film, The Atomic Cafe, gave a humorous spin on the early nuclear age, and on growing up in the '50s and early '60s with school drills to prepare for nuclear attacks ("Duck and Cover"), but I can now imagine how it must have felt to be a husband and father at that time, responsible for defending and protecting your family; it must have been serious.

And for those of us who were children then, we were surely scarred by that memory, by our introduction to that level of pervasive fear and incomprehensible threat. We couldn't understand it, but we certainly felt it, even the wordless vibrations, as only children can.

Similarly, I was standing on the steps of McArthur school when I heard about President Kennedy's assassination, in November of 1963. Although we were all proudly Canadian, and had even begun singing "O Canada" instead of "God Save the Queen," JFK's youth and charisma had impressed us too. I had made a project for school, a folder of words and photographs called "My Favourite President" (using the British spelling we were taught back then), and when my Mom asked why he was my favorite, I could only shrug - of course he was the only president in my memory.

So the thought that someone would, and could, kill the president of the United States was confusing, frightening, and terrible. After school, we watched it all on television, again and again, and a dark pall seemed to cover the world through the days leading up to the funeral, the black caisson, and John-John's salute to his dead father.

There was fear and darkness even in the idyllic small town of Port Dalhousie, and even in the schoolyard at McArthur. Anytime I hear sentimental nonsense about the innocence of childhood, I think of not only my own near-drowning, but the same gang of adolescent boys marauding through McArthur schoolyard, seizing some poor unfortunate victim and carrying him, spread-eagle (as the cry went up, "The pole! The pole!"), to ram him, crotch first, into the basketball upright. (Still makes me wince to think about that.)

Inevitably, that climate of fear in the schoolyard would influence my lifelong worldview, and brutes like that would color my impression of humanity forever.

Around that time, though, other events were about to transform the world, mine and everybody else's. I saw an 8" x 10" glossy photo of a group called the Beatles behind the counter of the Music Fair record store in the Fairview Mall (the first indoor mall in St. Catharines, greeted with excitement and novelty, it was even a new destination for hikes). The Beatles photo showed the Fab Four all cute and smiling, in their collarless suits and Beatle boots and "long hair," but it didn't look to me like a revolution - not until I watched the hysteria on television when they arrived at the New York airport (disillusioned later to learn the event was orchestrated from behind-the-scenes), and then on "The Ed Sullivan Show," in February of 1964. Then came the subsequent flood of British and American groups, introduced by Ed each week as "something for you youngsters out there." I was too young to be really enthralled by the music, but I was certainly impressed by the excitement.

In our little town of Port Dalhousie, the Catholic, Anglican, and United churches took turns holding dances for the teenagers and preteens, playing the pop records of the time, and providing a wholesome outlet for adolescent energies. I remember scraping up my nerve to ask Doris Beedling to dance, and I guess my childhood ornithophilia made me too "inventive" in my dance moves - at school the next day, the cool guys made fun of me, calling me "Birdman." As a general thing, I had learned to keep quiet and try to slip below the radar around the schoolyard, but the cool guys made a lot of sport out of me, even that early in my career as a misfit. For one thing, I had accelerated through two grades of elementary school, from four into five, then from five into six, and thus was two years younger than my peers, at that all-important cusp-of-adolescence phase, so fragile and insecure. I was definitely two years too young to be starting high school, a week short of my thirteenth birthday, and immature even for my true age. Not to mention self-conscious, uncoordinated at sports, and not equipped with the proper wardrobe.

A new style of teenage fashion, called "hellcats," was spreading from the teenagers down to the adolescents. The necessary uniform included madras shirts, white jeans, penny loafers (or high-top versions called British Walkers), hooded parkas, and certain "right" colors for sweaters and socks: bottle green, whisky, and cranberry. Expensive, fashionable clothes were not in our family's household budget, but one evening my mom traipsed all over downtown St. Catharines with me, searching for the holy grail of a pair of cranberry socks, so I could be cool. Eventually we settled on the closest we could find, but typically, they were not quite right.

On Saturday afternoons, preteens were allowed to attend the Castle (a "Knight Club for Teenagers"), where we danced to records - if a boy were brave enough to ask a girl, and if a girl were asked - and they sometimes had bands playing. (My reading habits paid off one afternoon when I won a door prize, a movie pass, for knowing the name of James Bond's American friend: Felix Leiter.) My mom made vests out of fake fur, like Sonny and Cher wore, for me and my friend Mike Lowe, and we wore them proudly to the Castle. Somehow, though, I knew that Mike looked cool, but I only looked like I was trying to look cool.

Educational theory has changed since those days, at least, and school boards no longer push kids ahead just because they are bored (wearing that "now what?" expression, no doubt), but they did have one enlightened idea: one afternoon a week a group of seventh and eighth graders, one from each school, it seemed like, took the bus to another school for a Major Achievement Class, where we were taught Shakespeare, French, and more advanced literature and poetry. The biggest advantage for me was being exposed to these other bright misfits, in the sense of affirmation, as well as being inspired by their relative sophistication. I learned from their talk about B-movies, apartheid, schoolyard references to the American presidential candidate, Barry Goldwater, as "Au-H20," and my first dirty jokes.

With some other neighborhood kids, I spent a Saturday trying to sell subscriptions for the Toronto Globe and Mail, and sold enough to win two 45 records, one the Beatles' "And I Love Her," backed with "If I Fell," the other "World without Love" by Chad and Jeremy, and I played them anytime I was allowed near Dad's hi-fi. Even then, I was attracted by the dreamy sentimentality of the songs, the vocal harmonies, and their plaintive, wistful earnestness, but I seemed to feel the melodies more than the rhythm. As yet the drumming did not impress itself on me - I don't remember wanting to be Ringo; I think I still wanted to be Ricky Nelson.

The first time I was inspired with the idea of playing the drums was from watching The Gene Krupa Story on late-night television, at the age of eleven or twelve. The film's dramatization of Krupa's life (though far from factual) and Sal Mineo's convincing portrayal (coached by Gene himself) managed to make the idea of being a drummer seem exciting, glamorous, elegant, and dangerous. Even better than being Ricky Nelson.

My uncle Richard was only a year older than me, by some trick of familial timing, and I got all his hand-me-downs that smelled of my grandfather's cigars - but he was also a drumming inspiration. Richard played drums in a band called The Outcasts, young white guys playing Sam and Dave, Wilson Pickett, Otis Redding, and James Brown songs, in the "blue-eyed soul" style that was popular in Southern Ontario in the mid-'60s. Most of the "big" Toronto bands that we saw play in our high schools and dance halls, the Ugly Ducklings, the Mandala, Dee and the Yeomen, Jon, Lee, and the Checkmates, and a few years later, Nucleus and Leigh Ashford, combined Hammond organs, funky guitar players, bass players, and drummers, and James Brown-influenced singers.

Perhaps a certain Motown influence had spread up Highway 401 from Detroit, just as it had affected white rockers there like Mitch Ryder, Rare Earth, and Bob Seger. In any case, it might be said that for those of us raised on the painfully white pop music of the late '50s and early '60s, R&B music was the underground music, the alternative music of the times. I didn't think of it as listening to "black music"; I just knew I liked the rhythms, the intense, passionate vocals, and the way my pulse rate increased when I heard that horn line in "Hold On, I'm Coming," even played by a teenage white boy and a Fender Telecaster in my uncle's band.

R&B was definitely my "roots" music, the first music I responded to that way, and the music I played in many of my first bands. Interesting that my first favorite band, The Who, billed themselves early on as "Maximum R&B," and included a couple of James Brown songs on their first album.

But for me, the fire was definitely lit by The Gene Krupa Story, and there's often a clear difference in the playing and musical values of drummers who traced their inspiration to Gene Krupa or Buddy Rich, compared with those who set their childhood sights on emulating a simple rock drummer, like Ringo Starr, and stopped there. A matter of taste, perhaps, but also a matter of ambition - an accomplished drummer can play simply if he chooses, but it's quite a different thing from playing simply because that's all you know. As a young person attracted to the idea of being a musician, do you want to play the role, or do you want to play the instrument?

Obviously quality is not a popularity contest, and I often think of how Buddy Rich must have felt during the '60s and '70s, looking at the various musician polls and seeing himself way down the list behind so many callow beat-keepers, even as he struggled to keep his big band working. John Bonham, on tour with Led Zeppelin during the '70s, bewailed his own ranking in the Playboy polls behind Karen Carpenter (who, may she rest in peace, didn't even play on the Carpenters' records; it was Hal Blaine, a legendary session drummer, who, after playing on so many hit records that sold millions and millions for Phil Spector, the Beach Boys, the Byrds, the Mamas and the Papas, Frank Sinatra, Simon and Garfunkel, John Denver, and so many more, now lives on social security in a small town in the California desert).

The summer I was eleven, about to turn twelve, our family camped for a month or so at Morgans Point on Lake Erie, my Dad commuting the thirty miles back to St. Catharines for work. That's when I saw my first rock band play, through the raised shutters of a dance pavilion. Called the Morticians, they wore long-tailed, funereal suits, and traveled in an old hearse. I was too young to go inside the "teen dance," but I remember wondering why the drums sounded so metallic - I didn't know what cymbals were, but the drummer must have been heavy on them.

In any case, the seed had been planted by The Gene Krupa Story, and I started beating on the furniture and my baby sister Nancy's playpen with a pair of chopsticks (great attack on those plastic-covered rails). After all that, and my constant talk about wanting drums, on my thirteenth birthday my parents gave me drum lessons, a practice pad, and a pair of drumsticks. They said they wouldn't buy me real drums until I showed I was going to be serious about it for at least a year.

Every Saturday morning I took the bus uptown to the Peninsula Conservatory of Music (a rather grandiose name for a few paneled rooms above St. Paul Street). Taught by Don George, I practiced my rudiments and my sight reading, and at home, I arranged magazines across my bed to make fantasy arrays of drums and cymbals, then beat the covers off them.

One of Don George's other students was Kit Jarvis, the kid who saved me from drowning, and with whom I attended grade school and Cub Scouts (his father was "Bagheera," one of the leaders). After I had studied with Don for about six months, he told me that of all his students, only Kit and I would ever be drummers. That encouragement meant more to me than any I ever received.

Some of these memories were revived for me when I wrote a story for my hometown paper, The St. Catharines Standard, in the mid-'90s, called "Memories of a Port Boy." I included the near-drowning episode, and my rescuers, Kit and Margaret, and Kit wrote to me through the Standard. He had ended up working as an officer at the Fort Erie-Buffalo border, but still played drums part-time in local bands, though he had recently had to sell his drumset. I was glad to be able to show my appreciation to him by sending him a brand-new set of Ludwig drums. I wish I had found a way to thank Margaret Clare some way as well.

For my fourteenth birthday, after I had demonstrated my "seriousness" about playing the drums with a year of lessons with Don and non-stop beating on magazines and practice pad, my first set of drums arrived at our house. It was a three-piece, red-sparkle Stewart outfit (I still remember it cost $150), bass drum, snare drum, and tom-tom, with one small cymbal. It was one of those unbearably exciting days in life, waiting for them to arrive, then setting them up in the front room and playing and playing the only two songs I knew, "Land of a Thousand Dances" (as played by the number-one local band, the British Modbeats) and "Wipeout" (a young drummer's necessary calling-card in those days - the first thing other kids asked was, "Can you play 'Wipeout?"').

I rattled the house for a few days (and made my parents reconsider the wisdom of their supportiveness, I'm sure), then moved the drums up to my room, setting them up beside the pink-spackle plastic AM radio on top of the steam radiator. From then on I came home from school every afternoon and played along with whatever song came on (probably a good enough course of study, really, to build versatility, and to understand song construction), playing until Mom and Dad couldn't stand it anymore. (Though when any neighbors commented, they took my part, which felt good.)

I continued my lessons with Don George every Saturday morning upstairs at the Peninsula Conservatory of Music, and my Gene Krupa inspiration, using Slingerland Gene Krupa model drumsticks. When I broke the tips off them by playing too hard, and couldn't afford new ones, I would turn them around and use the so-called "butt-end," giving me the advantage of a heavy impact from lighter sticks. That became part of my playing style for the next thirty years, until, while working with Freddie Gruber in '94 and '95, I eventually switched back to the "proper" end of the sticks, as I developed a more subtle technique. (Plus, they were giving me drumsticks by that time, with my name on them.)

By far the most important experience I had at Lakeport Secondary School was my first public performance on drums, playing in a variety show trio called the Eternal Triangle, with Don Brunt on piano and Don Tees on saxophone. I was fifteen, with my red-sparkle Stewart drums (though I had a hi-hat and floor tom by then), two Ajax cymbals perched way up high, and a "racing stripe" down one side of the front of the bass drum, made with electrical tape. We practiced evenings in a room at the high school, picked up and driven home by Don Brunt in his father's '65 Pontiac (often with a detour out to Middle Road, where he could get it up to a hundred and give us all a dangerous thrill), and then we performed in the annual variety show.

The atmosphere backstage was chaotic and electric, a bustle of people in makeup and costumes for the skits, everybody nervous and excited. In retrospect, I realize even that "backstage" feeling was addictive. One friend of mine from the MAC classes of Grades 7 and 8, Paul Kennedy, performed in a skit with Barbara Budd, and both of them ended up in show business too, broadcasting for CBC radio.

When the Eternal Triangle took the stage, one of our songs was an original number entitled "LSD Forever" (as if we had any idea), and I performed my first public drum solo. This changed everything. As a miserable failure at sports and "coolness," I had felt inferior, like a complete outsider, but for the first time I did something that actually impressed people, especially my parents and some of the other kids, and that experience illuminated something inside me for the first time.

When I told Paul Kennedy that I was auditioning for a group in his neighborhood called Mumblin' Sumpthin', he said, "They should audition for you," another encouragement I never forgot.

After the variety show triumph, when I had joined a "real band," I was able to convince my parents that I needed a new set of drums. I used the usual family strategy in such matters - I talked to Mom, and she talked to Dad. One Saturday, Dad met me at the Peninsula Conservatory of Music to look at a small set of Rogers drums, in a gray ripple finish. They were so beautiful, but they cost a fortune: $750. Dad agreed to sign for the loan if I would make the payments, $35 a month, and of course I agreed immediately. I still had the paper route, mowed neighbors' lawns, worked for Dad at the farm equipment dealership on Saturdays and holidays, and played with Mumblin' Sumpthin' every week or two at YMCA dances or Legion halls (our equipment often transported in Dad's pickup), so I managed to make most of those payments.

These days people sometimes ask me if I ever dreamed that one day I'd be playing in big arenas in front of thousands of people, and the answer is, "of course not." Sitting at the family dinner table, I was excited just to be able to announce that Mumblin' Sump thin' was going to be playing at the roller rink in a couple of weeks, or a Battle of the Bands at the YMCA -- that was "big time" enough for me. The way I thought the world worked, I just had to get good, and success would come, pretty much automatically.

I stopped taking formal lessons around then, when Don George quit teaching at the Peninsula Conservatory. His replacement didn't seem as "inspiring" to me, except for the day he showed me an album by a group called the Jimi Hendrix Experience, and said, "This changes everything."

Don had given me a good foundation for all I needed to know, and I carried on practicing and learning from all the great drummers I heard on records, and even in local bands. Moving into the late '60s, rock music was growing, progressing, and there were so many good players to learn from, especially in the Toronto bands, who all seemed to have drummers who were light-years beyond me.

Having started drum lessons just as I started high school, the two paths began to diverge radically. In the wake of my near monomania about drums and rock music, my academic career went straight down at the beginning of high school, from effortlessly being at the top of my classes, to the bottom - with the same amount of effort. I squeaked through Grade 9, but failed Grade 10, then squeaked into Grade 11, then failed it (though at least I was finally the same age as my classmates). I had stopped reading, except Hullabaloo magazine (later called Circus), my rock "bible," which I picked up the day it arrived at Mrs. Thompson's store every month. I had no interest in school, books, birds, or even cars, just drums and rock music. Mom and Dad were perplexed, but kept hoping I would "adjust."

I dutifully continued to attend Lakeport Secondary School, but I was always thinking about drums, drawing pictures of drums, and playing drums on my desk. I did have a few teachers who could make English or history interesting, and one English teacher, Miss McLaughlin, seemed delighted that I cared enough to argue that Mark Antony was the bad guy in Julius Caesar, not Brutus. That was an important lesson - it was okay to disagree.

But there were others, like Mr. Adams, a science teacher and self-important martinet who used to roam the hallways in a quest to eliminate the evil of untucked shirt-tails. Mr. Adams was disturbed by my tapping on the desk in class (as more than a few people were, including fellow students; a girl named Donna once threw a book at me), and when I told him that I really couldn't help it, it just "happened," he said, "You must be some kind of retard." He sentenced me to a detention in which I had to sit for an hour and drum on the desk. Some punishment. I had fun playing the whole of Tommy from memory; he had to leave the room.

I would also be unexpectedly rewarded by two subjects I chose as "options" in Grade 10, mainly because they sounded easy: Latin and typing. Later in life, when I began traveling the world, a rudimentary knowledge of Latin gave me a boost into the Romance languages of French, Spanish, and Italian, and when the world of computers and w0rd processors dawned, I became forever grateful for that one year of typing instruction (the only boy in the class, I think, in those days).

I collaborated with one of the other "freaks," Joel Rempel, a Grade 10 classmate (who later began calling himself Iggy Stooge), on a music review column called "Sound System" for the school newspaper. We championed our favorites and pilloried the rest as bubblegum merchants or mercenaries, and I remember one of the members of our little smoking area gang, Margaret Ashukian, saying she was surprised to learn that I had "principles" - one of those back-handed compliments that can leave you wondering, "What did she think of me, and why?" When I met Margaret again, years later, as a successful musician, she didn't remember saying that.

Another important setting in my childhood and early teens was Lakeside Park, in Port Dalhousie. By the piers of the old canal, overlooked by the white and red lighthouse, amid lofty weeping willows and poplars, picnic grounds and pavilions, the black asphalt midway ran between dense rows of ten-cent games and rides. A merry-go-round, bumper cars, bingo, catch-a-fish, catch-a-bubble, little wooden airplanes spinning out from slender cables, trampolines, the "Caterpillar" ride, the "Hey Dey," the "Tilt-a-Whirl."

When I was fourteen and fifteen, I worked summers at Lakeside Park as a barker ("Catch a bubble, prize every time," all day and night), and for the old English couple who ran the catering for the picnic pavilions, scrubbing out huge urns of coffee and tea, hating the smell of both, and setting them up for family reunions, company picnics, and most dramatic of all, "Emancipation Day," a strange tradition when every summer the African-American families from Buffalo and Niagara Falls, New York, thronged to Lakeside Park.

There were no black people (African-Canadians?) in Port Dalhousie then, and only one or two families in all of St. Catharines. As John Steinbeck wrote in East of Eden about his hometown of Salinas, California, we were all more proud of them than otherwise, but we small-town kids were a little wide-eyed and curious at these "aliens" (as much because they were Americans as because they were "colored," as some people still referred to them, for despite being only about twenty miles from the American border, and growing up with American television and radio, we still considered Americans to be different, the "other," louder, brasher, richer, and - just maybe - cooler). We peeked at the crowded tables of black people from a distance, hearing the music and laughter, and were a little afraid, but there was never any trouble, except occasionally among themselves, with the odd fist fight and once, we heard about a knifing.

One summer I ran the bumper cars, which was exciting, but best of all was being part of the community of teenagers working there; for the first time I felt almost part of a "group" of friends. Even if I was on the fringes, and not accepted as one of the "cool" ones, I was still allowed to hang around with them. And there was music: some of the kids brought transistor radios to work, and the music of that summer of 1966 played up and down the midway. Bob Dylan's "Like a Rolling Stone" stands out as emblematic of that summer to me, and that song still comes up on my mental transistor radio sometimes. It was the longest single ever released at that time, more than six minutes, and was glued together so well by AI Kooper's rolling organ part and the elegant, enigmatic lyrics in Dylan's abrasive sneer, "Ah, how does it feel?" (What an influence Dylan had on everybody, though it often seems underrated now; the uncompromising intelligence, the poetic sophistication he brought to popular music, the pioneering use of electric instruments in so-called "folk music," and even the famous story of him turning the Beatles on to marijuana.)

We worked barefoot all day, walking around on that sun-baked asphalt until we could stub out our Export A cigarettes with the calluses on our bare feet. At night, when the midway closed, we gathered around a fire on the beach, singing along with red-haired Arthur's acoustic guitar, and - interesting to note - without drugs or alcohol. It was just before "all that," drug-wise, and the drinking age in Ontario was still twenty-one (though we could buy our Export N.s freely from stores and vending machines).

The Lincoln Curling Centre was another social magnet in the mid-'60s, becoming the "roller rink" in summer, catering to younger kids on week end afternoons, older teens at night. We skated to records, racing around the rink to fast songs for "Boys Only," or skated backwards to slow songs for "Couples Only" or "Ladies' Choice" (again, if you were chosen), and the roller rink also had live bands on weekends.

Once I was walking home from the roller rink, my skates around my neck, and I stopped at the A & W for Coney fries and a root beer. A carful of guys pulled up and one of them called me over to the passenger-side window, then punched me in the face. It was a glancing blow, but still: what was that for?

The Lincoln Curling Centre was owned and ruled by Jack Johnson, a steam-driven Armenian tyrant. With a short, powerful physique, fearsome temper, loud voice, and red-veined forehead, he cursed out hooligans and troublemakers in a hoarse bellow of profanities. All of us in Mumblin' Sump thin' were so excited to play our first Friday night at the Roller Rink, but after the first set Jack Johnson came into the dressing room (the ice-making room with leftover benches from the rink) and gave us a memorable lecture.

He bellowed out a monologue about how we needed to play more familiar music, and when our guitar player, Eddie, said that we played the music we liked, Jack proceeded to explain why we should forget about doing what we wanted. He illustrated this intended life-lesson to us sixteen-year-olds with a loud, colorful parable about a prostitute he said he knew. "She says to me, 'Jack, I love to fuck, but I have to keep my tits and ass nice, so I can only do it when I get paid.'"

We looked at each other, bewildered by both the advice and the story.

Jack Johnson pointed at our bass player, Mike, and his fraternity jacket, and growled, "I was talkin' to one of your brothers out there. That guy shook his head and said, 'Jack, the guy's in our frat, but get yourself another band.'"

When the once-proud members of Mumblin' Sumpthin' climbed up onto that stage to play our final set, the crowd had dwindled to a few friends, and we were discouraged, dismayed, and crestfallen.

Unknown to me, though, a guitar player from Niagara Falls, Felix Elia, had seen me play that night, and called a few weeks later, just as Mumblin' Sump thin' was drifting apart. He said that his band, Wayne and the Younger Generation, was looking for a new drummer, and they played a lot of the R&B music I liked: "In the Midnight Hour," "Knock on Wood," "I Feel Good," "My Girl." My mom drove me and my drums the 30 miles to Niagara Falls and back for the audition, and then sometimes after that for band practices.

The band's name was soon changed to the Majority, and thanks to the keyboard player's father, a Niagara Falls policeman, we had a Hammond organ and obligatory Leslie speaker, a P.A. system and small light show, and not one, but two vans painted in the stars and stripes "Join the Majority" logo, to carry us and our equipment to high school dances in small Ontario towns.

The old dance pavilion in Lakeside Park had been closed since the days of the big bands, in the late ' 40s, when steamers used to cross from Toronto on summer weekends, but it was reopened for awhile in the summer of 1967, when I was almost fifteen, as the Beach Ball. Graeme and the Waifers, a band that had moved to St. Catharines from the Prairies, used to rehearse there in the afternoons, and they didn't seem to mind if the local kids watched.

They were a "mod" group, and played the music that would become mine. Through them, I first heard the songs of The Who, the Hollies, the Small Faces, the Yardbirds, and others of that mid-'60s era, the "second wave" of the British Invasion that reached me in a way the Beatles and Stones hadn't. Graeme and the Waifers particularly emulated The Who, and played some of their great early singles like "Substitute," "I'm a Boy," "The Kids Are Alright," and "My Generation." Sometimes they even kicked over their equipment at the end, though carefully, I imagine, not wanting to break anything they couldn't afford to replace. (Even The Who didn't make money on tour for years on that account.)

One afternoon I watched Graeme and the Waifers work through an original piece of music, conducted by the singer, Graeme (who seemed to be authentically English, with an accent and everything, which gave him great local credibility). This music was apparently going to be a dramatic opening theme for their shows, and again and again, Graeme counted the band through a series of tight, staccato punches and into a muted eighth note bass part with guitar and drum accents, and I was forever impressed by the idea of creating your own music like that, and by how many times they repeated it until Graeme was satisfied they had it right (and until I could remember it to this day).

On April 7th, 1968, when I was fifteen, my parents drove me to Toronto and dropped me off at the Coliseum arena. I had wanted to get there in the morning, so I could buy my ticket (I think it cost $9), then wait all day and run in to get as close to the stage as I could for my first big-time concert. A local Toronto band called Rajah opened, combining East Indian members and influences, with electric sitar and such. Next up was the outrageous Detroit band the MC5 (Motor City 5), and they wailed with a kind of hysterical energy, sweat and noise and cool clothes, wild hair (especially Rob Tyner's proto-Afro), the scarecrow figure of "Brother Wayne Kramer," and at the end, a saxophonist with a mic stuffed down the bell of his horn.

Today the MC5 are considered a prototypical punk band, and their first album (which I bought when it came out later in 1968), Kick Out the Jams, is still celebrated as a kind of garage-band classic. At first the MC5 were all tied up in some political nonsense about the "White Panthers," dreamed up by their manager, John Sinclair, and I was proud to have the early "uncensored" version of the LP, which had "Kick Out the Jams" introduced by a yell of "It's time to - it's time to - kick out the jams, motherfuckers!" Later that was censored to "brothers and sisters."

The CD package for the MC5's Kick Out the Jams reissue, in the early '90s, included a radio chart from February 20th, 1969, for a Detroit AM station, which said much about the musical climate of those days. The playlist ranged from the bubblegum music of "Dizzy" by Tommy Roe and "Indian Giver" by the 1910 Fruitgum Company (the "teenybopper" songs my friends and I despised so much), the old-people's - music like Glen Campbell, Frankie Laine, and Dionne Warwick, to the "cool stuff" like "Hot Smoke and Sassafras" by Bubble Puppy, the Zombies, and Steppenwolf. In the middle of all that, number two in fact (after "Dizzy"), was "Kick Out the Jams" by the MCS. Strange days.

The Troggs seemed relatively tame after the MCS, even playing the bump-and-grind anthem, "Wild Thing." They had nice, matching pinstripe suits and neatly-trimmed hair, unlike the wild animals of the MCS, but of course they still moved the audience, especially with their summer-of-love anthem, "Love Is All Around," when the guitar player switched to an electric twelve-string, probably the first I ever saw.

Then came The Who, dressed in Late Mod, Keith Moon with the exquisite "Pictures of Lily" drum kit, black lacquer with artful psychedelic panels around each drum, including one reading "Patent British Exploding Drummer," and with the Victorian-circus-style logo on the bass drum heads. He played like a demon, making lunatic faces and throwing sticks and drums around, while Roger Daltrey lassoed his microphone, Pete Townshend wind-milled his white Stratocaster, and John Entwistle just stood there and played. Pete Townshend did the talking between songs, opening with, co ere we are in this ... gawbage can," and introducing "I Can't Explain," "Substitute" (cheekily calling it "Prostitute," making the audience titter), "I'm a Boy," and still more R&B classics, like "Young Man Blues," "Shakin' All Over," and "Summertime Blues."

Then the climax, "My Generation," with Townshend silhouetted atop his tower of Hiwatt amps and smashing the white Stratocaster until the neck broke off, Keith Moon kicking his drums all over the stage as smoke bombs exploded and feedback roared. At that age I had never experienced any mind-altering drugs, or even been drunk, but when the houselights came up and I walked out of that arena, past the tiled fountain in the lobby and out to find my parents, my consciousness was altered.

Maximum R&B, indeed. (And that's one band that was never asked to do encores.)

So much I learned from The Who, from Pete Townshend's sense of song construction, the way he put together verses and choruses and his excellent "middle eights" (an interlude set apart from .the rest of the song, so-called because it often consisted of eight bars), and his grand thematic ambitions and intellectual approach to life and music - he smashed guitars and read books! - to Keith Moon's way of framing the vocal parts with his manic, yet instinctively musical drumming. The sheer, unrestrained energy he introduced to rock drumming was stunningly different from anything that came before.

But perhaps the most valuable lesson came to me when I started to play Who songs in cover bands in my early teens, and discovered that I didn't like playing like Keith Moon. His style simply didn't suit my temperament, my sense of organization and precision, and although I loved the action and unpredictability of his playing, I didn't like the chaos. This would start me on the road to playing like myself.

As I approached my sixteenth birthday, I was the proud owner of ten LPS, lined up cover outward on a shelf in my room, alternating the one on display in front: the first three Who albums, My Generation, Happy Jack, and The Who Sell Out; two by Jimi Hendrix, Are You Experienced and Axis; Bold as Love; Cream's Disraeli Gears; Blue Cheer's Vincebus Eruptum; Traffic's Reaping; and the eponymous debut albums by the Grateful Dead and Moby Grape (I could reproduce their loopy, psychedelic logo perfectly, and did, along with the other bands', all over my schoolbooks).

Certainly I love music now, as an adult and professional musician, but these days music is only part of an active, busy life, filled with wide-ranging interests and activities. When I was a teenager, music was all there was. Recently I went back and listened to The Who Sell Out, after something like thirty years, and everything about that record reminded me how I used to love music - from the inside out, every note, every beat, every word, every sound. Beyond the melodies and rhythms, the actual sonic textures of the music had an effect on me that was transcendent - sensory, emotional, cerebral, physical. While I listened, it was the whole universe to me, and listening to that album again, I felt a connection to me then, what I loved and why, and how central that music was to my very existence. Some things are diminished by time, and by greater knowledge and sophistication, but not the memory of that love.

My walls were covered with posters of The Who, and drawings and mobiles I made of them, and I drew pictures of Keith Moon's drumkit on my schoolbooks, listened to their records constantly, and was as fanatical as a "fan" could be. I went to see them again in May of 1969, with a guitarist I played with in the Majority, Terry Walsh, and his wife Jill (with whom I also watched the moon landing that July), at the Masonic Temple in Toronto (called the Rockpile, for concerts). We arrived early in the day, then went running in when the doors opened, thrilled to be so close to the stage we were actually squeezed up against it by the crowd behind us. Later that year, in October, I saw The Who again, back at the Coliseum, when they launched the Tommy tour.

My fellow music reviewer and Who fan, Joel "Iggy Stooge" Rempel, was there too, and after the equipment-smashing finale, he managed to get a piece of one of Keith Moon's cymbals off the stage. Heroically, he broke it into three pieces, gave one to another "freak," Kevin Hoare, and one to me. I wore that jagged little piece of bronze around my neck for years.

In later life, when I complained aloud about young fans invading my privacy and upsetting my life (knowing no one ever wants to hear about that, but desperate for someone to understand how I felt), or about parents driving up to the door of my family home on a Sunday morning and dropping off their kids to get my autograph, thoughtless and uncomprehending people would ask, "Oh come on now, weren't you ever a fan?" Obviously, I was, even in the true sense of fan as "fanatic," but I never imagined trying to approach my heroes, never even dreamed of hanging around a backstage door, or trying to find their hotel. It was about the music and the image and the magic of it all, not about trying to invade their lives. So no, sorry, I don't understand.

Another life-altering experience occurred when I was about seventeen, and my Dad gave me an old minibike that had been kicking around his shop for a few years. I had my first adventures on a motorized two-wheeler, but alas, it ended badly. Riding along the sidewalk (wearing no helmet, gloves, or anything protective) down to Lakeside Park and along the deserted midway, still closed for the season (the Port kids all kept watch and passed the word when the rides were being prepared for opening day - you could get free rides as the mechanics checked them out), I rode that little orange minibike to where the asphalt ended at the pier. I saw that a few cars were parked there, as I went to turn around and go back, but I hit a patch of drifted sand and slid sideways, my wheels rolling right across the side of a Volkswagen Beetle and dumping me on the beach (sand rather than pavement, luckily). As I traversed the Beetle's door, I had seen a young man through the window, reading a newspaper, then looking up in shock. I stood up, unhurt, he got out, disgruntled, and we regarded the damage: a bent strip of chrome hanging off the vestigial running board.

Fortunately I had a little money from my paper route and the occasional high-school gig with the Majority, and I was able to arrange to keep it secret, meet the guy the following week and pay for it myself. Forty dollars, I think it was. In any case, that episode had the result of making me afraid of motorized two-wheelers for the next 25 years.

Lakeside Park resonated in my life in so many deep ways, especially those fundamental exposures to music that would be forever important, and scaring me away from a mode of travel that would also figure so largely in my future.

It's all gone now. All that's left, apart from memories, is the old merry-go-round, the brightly-painted horses still cranking up and down to wobbly organ music, still giving five-cent rides of traveling music to new generations of children.



-=><=-


Certain species of birds, like cuckoos and cowbirds, are called "parasitic nesters," and lay their eggs in the nests of other birds. Human sympathy tends to go to the hapless parent birds who exhaust themselves trying to feed the overgrown nestling. But what of the misfit young bird itself, growing up so different from all the birds around it? The old "Ugly Duckling" story, I guess.

(When I first brought Carrie to Toronto to introduce her to my friends and family, she had afternoon tea with my Mom, and asked her what I had been like as a boy. Mom sighed and said, "He was always weird.") Being a "cuckoo" in that atmosphere made me turn even more rebellious, more of a non-conformist and contrarian, firing in me a combination of native willfulness and an angry response to that stifling environment.

In those high school hallways in the mid-'60s, the conformity was stifling. Everyone dressed the same, in a uniform-of-choice -- Sta-Prest slacks, penny loafers, and V-neck pullover vests over Oxford shirts - and at Lakeport High, the jocks and frat-boys were king. To be both a jock and in a fraternity was the ideal, to be neither, unthinkable. Even by 1967 and '68, when I was fifteen and sixteen, in our whole school there were only about three guys who dared to have long hair (below the ears, that is - though I combed mine up and pushed it behind my ears when I was around my disapproving dad). I was starting to wear bright-colored "hippie" style clothes, long-sleeved striped T-shirts, floor-dragging flared jeans, and in the hallways we endured constant verbal abuse: "Is that a girl?" "Hey sweetheart!" "Let's give it a haircut!" and other intelligent remarks. (For a while they called me "Scarecrow," I guess because of my bony frame, mismatched wardrobe, and scruffy hair.) Outside in the parking-lot smoking area, it was worse, feeling tense and watchful as the frat boys passed, with bullying threats and casual elbows and punches thrown at us. All because we were "freaks,"

Conformity seemed to be everywhere in the St. Catharines of those days. Until I was in my late teens I didn't know a single black person (even then it was one guy our age, Ralph, who made everybody laugh by making jokes like, "Quick, get me some chocolate milk, I'm fading!"), and there was one Chinese boy at Lakeport, Ron Wong, and one Japanese guy, Ernie Morimoto (who I bonded with, as another "different" kid - he sat behind me in one class, and I made him laugh by wiggling my ears, while he could make his nostrils quiver). I didn't know what it meant to be "Jewish," and didn't think I knew any of them either (turns out I did, of course, but their Jewishness apparently wasn't considered "significant," or blameworthy). The Catholics were different somehow, with the Star of the Sea church so much more ornate than the plain Protestant churches, and I wondered why their kids were kept apart in a "Separate School," behind the chain-link fence I walked past on my way to McArthur, but it didn't seem to mean much; we all played together in the streets. A half-Chinese family lived across from us, and my mom once warned us never to tease their kids with remarks like (she whispered) "chinky chinky Chinaman." We had never thought of anything like that, but she must have heard other kids teasing them and wanted to make sure her children wouldn't. Well done Ma! But really, I never knew about racism or homophobia or anything antagonistic like that; there was simply no one to fasten it on, because nearly everyone was the same. Or pretended to be ...

Like the town of Gopher Prairie in Sinclair Lewis's Main Street, people in St. Catharines in those days were nearly all decent, kind, and friendly as long as you filled your part of the "social contract" by fitting in; as long as you weren't willfully different. It wasn't just the high school kids who made fun of me; as my hair got longer and my "get-up" wilder (running shoes painted in psychedelic designs with fluorescent paint, purple bell bottoms, a long black cape) I was stared at, laughed at, and jeered at by people all the time on the streets of St. Catharines. Nonconformity seemed to be taken as some kind of personal reproach by those willing conformists, and they would close ranks against you, and shun the "mutant." As Nietzsche wrote, "The surest way to corrupt a youth is to instruct him to hold in higher esteem those who think alike than those who think differently."

One cold winter afternoon I went into the Three Star Restaurant, across from the courthouse bus stop in downtown St. Catharines. When I sat down, the waitress said she couldn't serve me, and gestured toward the owner. I stood up and confronted him, a balding man with a European accent, and he said he didn't want any "longhairs" (again, below the ears) in his restaurant. Being naive and idealistic, I couldn't believe what I was hearing, and I stood up and made a scene, called them Nazis, went and complained to the police and everything. Rebel without a clue.

Of course, other small towns were equally "intolerant," and when the Majority traveled out of town to play high schools in Mitchell, Seaforth, Elmira, even as far as North Bay and Timmins, we sometimes ran into trouble with the local "greaseballs" (also referred to by us junior hippies as "lardheads," or "auger-bits," after their coiled and oily forelocks). Late one night, after stopping at an all-night restaurant along the highway just north of Toronto, we had to get a police escort to escape from a gang of such atavistic thugs waiting outside for us.

After a couple of years playing in various versions of the Majority, the band self-destructed for the last time, and I evolved a new strategy. I thought the best musicians in the area were in a band called J.R. Flood, but I didn't think the drummer was as good as the rest of them (I didn't think I was either, but that didn't affect what I wanted). I began urging the other members of J.R. Flood to give me a try, and finally we gathered in guitar player Paul Dickinson's basement and played together, and we really clicked. Not wanting to kick the other drummer out of the band, they decided to tell him they were going to break up, then later get back together again - only with me. Perfect!

Keith Moon joined The Who in a similar fashion, the story goes, though typically more flamboyantly than my quiet scheming. Apparently he went dancing up to the bandstand of a club in London dressed all in red, with hair dyed to match, and shouted to the band that he could do a better job than "that bloke," so they gave him a try. He bashed away madly, making a mess of the drummer's kit, but made enough of an impression on the other members to get the job.

I had started "skipping out" from school whenever I could get away with it, riding the bus uptown to hang around Ostanek's music store, talking with other would-be musicians about equipment, our favorite musicians, and the brilliant careers ahead of us. One time the conversation turned to drugs, at a time when hashish and LSD were just starting to circulate a little, and a prominent local singer named Alex Piccirillo, a little older and more experienced than the rest of us, told us how he had tried heroin once, and would never take it again, because "It was too good," I never forgot the power of those words, so much more effective than an adult saying it was "bad," and he scared me away from that vicious drug forever.

And around then, at seventeen, I was old enough to consider leaving school. J.R. Flood was working most every weekend, and the other members had quit school to be full-time musicians, so I began lobbying my parents to let me try being a full-time musician, "just for a year." If it didn't work out, I promised I would go back to school (looking back on that time, I can see how hard it must have been for Mom and Dad to deal with this latest weirdness). One day they came to the school for a meeting with the vice principal, Mr. Higgins, who was feared as a stern disciplinarian. I was nervous and inarticulate, but to my amazement, Mr. Higgins came out and said that I wasn't accomplishing anything there - wasn't "living up to my potential" - and he said that maybe I should be allowed to follow my own path.

Whoa! Yeah! Right on! I am out of here! Bye Bye!

And so my career as a professional musician began, with my bandmates in J.R. Flood, and we did work hard, practicing every day and playing weekends at high schools and small arenas. To get to band practice at Paul Dickinson's house, I had to take two buses, and the one over to Western Hill, a tough part of town, always had some charming characters - greasy-haired thugs with football-pad shoulders and shoe-size IQs. By then I was roaming around with a frizzy Hendrix: perm, long black cape, and purple shoes - but I wasn't hurting anybody. I was just different, and they didn't like it.

To make matters worse, at a time when I was just starting to gain some confidence, virulent acne afflicted me for the next four years (what J.R. Flood's organist, Bob, jokingly referred to as my "adolescent complexion problem"). This only reinforced my self-consciousness and insecurity, and, I suppose, the Ugly Duckling story.

We began writing our own songs: intricate, quirky, often extended excursions in the Hammond organ, funky guitar style that was coming out of Toronto in the late' 60s, growing out of the earlier "blue-eyed soul." Returning to my second-grade roots in versifying ("The Little Red Fox"), I tried writing some lyrics, and was thrilled to hear my words being sung for the first time. "Gypsy" was a slow song about a magical heart-healer ("Gypsy comes, Gypsy goes, wandering near and far, healing wounds, patching the scars"), and the other, up-tempo number was called "Retribution" (when I showed it to my always down-to-earth mom, she said, "what are you trying to do, write songs for college professors?"). That one was about a karmic afterlife, I suppose ("Retribution comes slowly, while death is so swift/ On a sea of retribution, my soul is adrift").

J.R. Flood had a fairly slick and ambitious manager, Brian O'Mara, who managed to arrange "demo sessions" for us with a couple of Canadian record companies in 1970. It was certainly exciting to be in a real recording studio (first at Toronto Sound Studios - coincidentally, where I would later work with Rush on our first three albums together - the other at RCA, later called McClear Place, where so many of our later albums would be recorded and mixed), but nothing came of that - the record companies "didn't hear a single."

Recently I dug out those ancient reel-to-reel mono tapes and had them "resurrected" by an archival specialist. How funny to hear myself at eighteen, with more ideas than skill, more energy than control, and more influences than originality - a raw blend of Keith Moon, Mitch Mitchell, Michael Giles, and Toronto drummers Dave Cairns from Leigh Ashford and Danny Taylor from Nucleus. The band was actually pretty good for its time, with complex, ambitious arrangements, and epics like the eight-minute "You Don't Have To Be a Polar Bear To Live in Canada."

Through the late '60s, FM radio had become a major influence on the music we heard at that time, but not yet on the music we could expect to sell. It was usually the big, successful AM stations that owned the obscure little FM stations, and apparently they used them largely as a tax write-off, and thus didn't interfere in whatever weirdness the FM jocks got up to - and they got up to plenty. The jocks tended to be individualists and "characters," and there was no such thing as "programming" or "format," they just played what they wanted, usually obscure album tracks and bizarre, "trippy" music, from Pink Floyd and the Moody Blues to Frank Zappa and Captain Beefueart. It was a strange and wonderful time for radio, and. for music.

Gradually the FM audiences grew to where the advertisers caught on, then the programmers, then finally the record companies (always last to know what's really going on, and to jump on the wagon of bands as it passed by), and a new "formula" was born in the mid-'70s: "Album Oriented Rock," or AOR. This, at least, would give more bands a shot at precious airplay, without having to fit into the two-minute-and-thirty-second, widest-possible-common-denominator, keep-it-simple-stupid parameters of AM radio.

Not yet, though, in Canada in 1970, and the lack of a perceived "single" spelled the end of any larger opportunities for J.R. Flood. Local popularity wasn't enough to get a record contract, though that September we did play for 10,000 people at a rock festival at Brock University in St. Catharines, with headliners the Guess Who and Mashmakhan, the top Canadian bands at the time (they had hit singles). After my drum solo in Santana's "Soul Sacrifice," I was told there was a standing ovation (typically, I didn't notice - I was busy playing!). Later in the day, the bass player from one of my favorite bands, Leigh Ashford (a Toronto band who had been one of the opening acts for The Who the second time I saw them, in May of '69), stuck his finger in my chest and said, "You ... were great." That felt good.

But, now what?

Nothing seemed to be happening for the band, and the other guys didn't seem to share my aching ambition. By early in 1971, we had built a local following who trailed us from gig to gig, but eventually what seemed like half of those "fans," boys and girls, were hanging around in our dressing room before the show. Even at eighteen, I thought that was unprofessional and distracting. When I suggested that we ought to do something, move to Toronto, or New York - hell, even England - no one took me seriously, or wanted to actually make plans.

At that time I was still under the naive misapprehension that all I had to do was get good and I would be successful, but I began to think all that wasn't going to happen in St. Catharines, not with this band. Nobody else seemed to want to go places, do things, to escape that narrow world.

As Brian Wilson sang so poignantly on "I Just Wasn't Made for These Times" (a fitting title for the soundtrack to my teenage years), "No one wants to help me look for places, where new things might be found."

No one wanted to help me look for those places either, and if I wanted to take that high road, I would have to go alone.

---
Verse Two - Diving into the wreck, searching for treasure

"By the Time I Get to Phoenix" was the day's opening song, but not just any version would do for this drive. I wanted none other than the eighteen-minute-and-forty-second, totally-over-the-top, horns and strings to the max, over-arranged, overproduced, Mack Daddy, Isaac Hayes and the BarKays, deep-voke-rapping, Hot Buttered Soul version.

I pulled onto the dark highway and accelerated gently, warming up the car's vital fluids, shifted up to sixth gear, then pushed the button to start the CD and bumped it forward to track four. A low, bubbling organ chord and a slow dirge of drums and bass introduced Ike's rich, evangelical voice, and he began telling the sad story of a young man "from the hills of Tennessee," who moved to the West Coast and married a lying, cheating woman. As Ike tells it, "She tripped out on him." He came home early from work one day, and, "I don't have to tell you what he found - oh it hurt him so!" Seven times he caught that evil woman cheating, and seven times he left her, and came back again. This time, though, he says he's going for good.

When I was an adolescent, riding to work at the farm equipment dealership with my dad driving the red and white International pickup, I remember hearing that song on the radio (probably Glen Campbell's version) and thinking that at the end, it ought to be revealed that the guy was on his way back to her. I guess I thought that would have been an ironic twist, but at that age I wouldn't have understood that she was a bad woman. But even then, long before I ever thought of writing lyrics myself, I seem to have been fairly critical - I remember telling my dad I thought it was dumb when Perry Como sang, "And I love her sol The people ask me why l I tell them I don't know." (I still think that's pretty lame.)

By the timetable implicit in the verses of "By the Time I Get to Phoenix" (written by one of the great American songwriters, Jimmy Webb), our hero from the hills of Tennessee, now living in California, was going to get to Phoenix when she was rising, Albuquerque when she was stopping work for lunch, and Oklahoma by the time she was sleeping. So he must have left Los Angeles about midnight, and he might have been trying to get through Phoenix at the same time I was, about 5:30 in the morning, only to find himself in bumper-to-bumper traffic crawling through the darkness toward the city. I had thought I was leaving early enough to beat the morning rush hour, but apparently Phoenicians started their morning commute exceptionally early.

I passed the exit for the Desert Sky Amphitheater, where we had played the previous summer on the Vapor Trails tour. The show before had been in San Diego, with a day off between, and I had wanted to try to get to the Grand Canyon and spend the night there, then ride down to Phoenix on the show day. Michael and I slept on the bus in a truck stop near Yuma, then got up and rode north toward Lake Havasu.

On a desolate stretch of two-lane highway, surrounded by the brown dirt of the cactus desert, Michael suddenly signaled, slowed, then pulled well off the road, behind a barrier of cactus and mesquite. He parked his bike on its side-stand and motioned to me to follow him. I was feeling tired and stiff that morning after a long, difficult show the night before, and I just wanted to sit on that bike and ride, so I was not very interested in whatever else Michael had in mind. He started walking into the desert, smiling and saying, "Come on - let's go shoot up a dead tree or something," and though I followed, I was downright crabby, sullen, and grumbling as my tired body trudged through the dry, heavy dirt.

"Don't be so enthusiastic," Michael said.

As a licenced private investigator, Michael was also licenced to carry a handgun, and I knew he always kept it with him, though I rarely saw it, and never touched it. I had never owned a gun, and had always had a healthy fear of them (like I used to have for motorized two-wheelers, though not because of any traumatic experience - they just scared me). But I must admit it was a kind of solace, traveling around well-armed America, to know that even if I didn't have a gun, I was traveling with a friend who did.

A hundred yards from the road, screened by ranks of saguaro, mesquite, palo verde, and cholla, Michael bent down and uncased his Glock, then began filling the clips with bullets. We agreed on a dead mesquite tree about fifty feet away, and took turns trying to plug it.

The elemental, boyish fun of it, and the sheer American-ness of it began to make me smile, and I fired away at that dirty, rotten, no-good dead tree. A year or two before, Michael had taken me to a shooting range in Los Angeles, my first real experience with a handgun, and had shown me how to hold the weapon, how to aim it, and how to squeeze the trigger and let the gun rise with the powerful kick as it fired. During a couple of early-'90s Rush tours I had carried around a hunting bow and a portable, straw-filled target, and show-day afternoons (riding into the arena by bicycle, so purposefully always early) I would find a back hallway or empty dressing room and shoot arrows for an hour or so, a relaxing and enjoyable pastime that helped to calm my pre-show anxiety. The shooting range had been like that, engrossing and challenging, only more explosive, less "zen." Being outdoors, in the desert, shooting that dirty, rotten, mother-raping villain of a dead mesquite tree was boyishly enjoyable.

Farther up the highway, in the pretentiously (or wishfully) named strip mall called Lake Havasu City, I led Michael across the reconstructed arches of the original London Bridge, and when we paused at the far end to put our feet down astride the bikes and take in this monumental anomaly, Michael turned to me and said, with good-or -boy enthusiasm, "Kin we shoot it?"

I shook my head sadly. "We ought to be able to."

Picking up Old Route 66 near Needles, we followed that storied "Mother Road" through Oatman and Kingman and Seligman, then cut north to the Grand Canyon. So late in the summer season, we were able to get rooms at the Bright Angel Lodge, right on the South Rim, and enjoyed our post-ride cocktails sitting on the canyon's edge and watching the sunset over that breathtaking view, the impossibly vast, luminous maw of brown and pink strata seeming to gather light and radiate it back, like heat-waves.

John Muir described it like this:
In the supreme flaming glory of sunset the whole canyon is transfigured, as if the life and light of centuries of sunshine stored up in the rocks was now being poured forth as from one glorious fountain, flooding both earth and sky.
The sheer majesty of its size, depth, and range of colors hit my senses in a way I can only compare to a deafening, monster power chord, so vertiginous and overwhelming that I almost reeled backwards. Its sheer magnitude seemed to rise up at me, not like a chasm, but a sea of light, and "grand" seemed the proper word (though it was actually named after the original name of the Colorado, the Grand River).

Visiting that fabled scenery for the second time (the first had been with Brutus, on the Test for Echo tour, in late '96), I realized that my memory of its scale had diminished, as if mere memory couldn't hope to retain what the senses could hardly contain, for it was bigger, grander, and more spectacular than I had remembered.

The following morning, Michael and I made an early start, so we would have time to ride along the South Rim, then south through Flagstaff to a winding route through the mountains from Jerome to Prescott. We spent the last hour bogged down in the far-reaching suburbs of Phoenix, which always seem to sprawl over an unbelievable distance. In Ghost Rider I quoted Edward Abbey about Phoenix, "the blob that ate Arizona."

He was speaking as an adopted Arizonan, but I too have long had issues with Phoenix. One reason stems from a concert we played at the arena there in the mid-'80s. It was early in the show, and we had just started the song "Distant Early Warning," when I noticed that Geddy had stopped playing. I looked over and saw him staggering back on the stage, his hands hanging at his sides. Puzzled, I played on for a few seconds, thinking maybe it was equipment failure, but the fast-thinking Alex ran over to Geddy and guided him to a chair at the side of the stage. I stopped then too, and went around the amp line to stage left and learned that Geddy had been struck in the middle of the forehead by a disposable lighter, thrown by someone in the audience. Fortunately he was okay, just stunned, and after a few minutes he collected himself, we restarted the song, and finished the show. Some other audience members turned in the idiot who had thrown the lighter, and he was held backstage until after the show, when Geddy was asked what he wanted to do.

A moral dilemma, because of course you just want to have the guy killed, but if stupidity were a capital offence ...

Over 30 years of touring, many things have been thrown onto our stages: tapes, letters, flowers, glow-sticks, CDS, a brassiere (once, at Alex), and worst of all, bottles. One of my drums used to wear a deep dent from where a heavy, square-edged Jack Daniel's bottle had been hurled out of the audience - imagine what that would have done to one of our heads. The weirdest thing is that these were all "friendly fire"; not thrown by enemies or critics, but by fans. It has been theorized that these demented individuals are motivated by a warped idea that such an act will bring them closer to their "heroes" - help them make some kind of contact. More insidiously, though, I believe it's an act of too-excited vandalism, and they don't really believe those figures onstage are actually human, and could be hurt. To the unthinking perpetrators, it's more like throwing a bottle at a billboard, say, or a distant streetlight.

In the end, Geddy just told the security people to let the guy go. He would have liked to confront him and perhaps share a few choice words, but therein lay another dilemma - it would have given the guy the satisfaction of actually meeting Geddy, a twisted reward for his idiocy, and a story to tell his friends. Best just try to forget about it. Only, as this story demonstrates, you never do.

Starting with the Grace Under Pressure tour, in the mid-'80s, I began to carry a bicycle with me on the tour bus, and enjoyed getting away from "the touring machine" and out into the countryside on days off, or even around the different cities on a show day. Having never been athletic as a boy, I had found that the stamina I had built up as a drummer suited me to endurance sports, like cross-country skiing, long-distance swimming, and bicycling. On that tour I accomplished my first Century (a hundred miles in one day), finally learned to repair a flat tire (a big confidence builder), and started to ride from city to city sometimes on days off, if they were within a hundred miles or so, or hop off the bus at sunrise and ride the rest of the way into whatever city we were approaching (all-time favorite: Evanston, Wyoming, to Salt Lake City, by the "back way," Highway 150 to Guardsman Pass and Cottonwood Canyon, with two ten-thousand-
foot passes over the Wasatch Mountains - a grueling day's ride, but so memorable I did it twice, on two separate tours). I especially liked having the whole entourage drive off to the next city after a show and leave me behind to make my own way. On the Power Windows tour in 1986, we had a day off between Phoenix and Tucson, about a hundred miles away, so I decided to stay behind and ride it.

It must have been late in the year, maybe November, because the streets of Phoenix were still dark when I set out from the hotel, around 6 a.m. And of all things, it was raining. That's one thing I hadn't expected, but I was prepared, and wore my rainsuit. However, the streets were slick, and when I had to cross some railway tracks, my wheels went right out from under me, and boom! - I was lying in the dark, wet street. Fortunately I was wearing long pants and a sweatshirt under the rainsuit, so I wasn't hurt, and there was no other traffic to run over me, but I was rattled, and it was a bad beginning.

I had thought there would be plenty of light from the city streetlights, but the way the south side of Phoenix was splayed among hills 'and mesas, there were some pitch-dark stretches where I could barely see the road, and could only hope the few approaching cars could see me. In the graying dawn, I finally made it to the other side of Phoenix, and onto the "back road" to Tucson, the Pinal Pioneer Parkway, a lonely two-lane through a desert of tall saguaro cactus. It might have been a lovely ride, except it was raining and cold, and everything seemed to go wrong. I got a flat tire, and crouched in a culvert under the road, out of the rain, to fix that, then the rain turned to sleet, and even snow. Though I had the rainsuit, I only had short-fingered gloves, and my hands became so cold and stiff that if I wanted to move them to a different position on the handlebars, I had to stop and painfully lift one hand with the other hand and physically move it. When I eventually reached the hotel in Tucson, I was as tired and miserable as I have ever felt.

Almost twenty years later, as I drove through that region, I thought I would retrace that route, this time in the comfort of my warm car. It had already occurred to me how different this was from two-wheeled, al fresco traveling of the bicycle or motorcycle kind; for one thing, I didn't watch the Weather Channel half the night trying to figure out what I was in for and how to dress for it. If it was cold, I turned the knob one way; if it was warm I turned it the other way, and if it rained, I turned on the wipers. All in the same wardrobe.

By the time I got out of Phoenix, the rest of Ike's Hot Buttered Soul had played through. I started back at the opening track, a lush, twelve-minute arrangement of another great song, "Walk on By," and the equally over-the-top, though less enduring song called, "Hyperbolicsyllabicsesquedalymystic." (The poor back-up singers actually had to sing that.)

Selena once told me about a black friend at high school telling her he liked Isaac Hayes, and when she told him her father liked him too, the friend said (with ebonic gusto), "Your pops knows what's happenin'!" One of my proudest testimonials.

Now came a rolling, synthesized bass line with drum machine, and a crooning female voice mixed over keyboard pad, turntable scratching, samples, and proto-rap backing vocals. As ultramodern as all that might sound, the record was from 1991, Blue Lines, by Massive Attack. (Interesting to note it was released in America during the first Gulf War, and out of record company nervousness, the band's name was briefly changed to simply "Massive.") The credits have a telling list under the heading "inspired by."

Isaac Hayes is on that list, coincidentally, as are less likely musical influences such as the Mahavishnu Orchestra, a '70s jazz-fusion group, their virtuoso drummer Billy Cobham (a big influence on me around that time), Herbie Hancock, John Lennon, the Neville Brothers, and Johnny Rotten's post-Sex Pistols group, Public Image Limited. Then there are the cinematic "inspirations," like Martin Scorsese and movies like Taxi Driver, Blood Simple, Dog Day Afternoon, and Body Double.

In any case, Blue Lines was a rare, cutting-edge piece of work that still sounded fresh and satisfying twelve years later, and I particularly loved their remake of the '70s R&B hit, "Be Thankful for What You've Got," opening with the line, "You may not drivel a great big Cadillac," and the backing vocals chiming in, "Diamond in the back, sunroof down, diggin' the scene with gasoline, ooh, ooh, ooh." That wonderful slice of urban America "back in the day" always put a smile on my face.

There were a couple of other minor masterpieces too, like that opening track, "Safe from Harm" (the wailing chorus sung by Shara Nelson, "If you hurt what's mine/ I surely will retaliate"), and the same great singer on the haunting tour-de-force, "Unfinished Sympathy." (The word "haunting" seems apt, for some time in the late '90s I was walking down a London street near Hyde Park, and heard a few seconds of that song blaring from a passing car. It was one of those moments where I knew I knew that song, and liked it, but I just couldn't place it, and those few seconds of music played in my head for months before I finally identified it.)

The Pinal Pioneer Parkway, on a sunny day this time (compared to the cold, rain, sleet, and snow of the time I'd bicycled it), was a scenic delight, with little traffic. I cruised south at a moderate speed, taking in the wide views of saguaro cactus jutting up from the creosote bushes in tall, rounded spears, and thinking about that long-ago bicycle ride. I was also thinking about breakfast, for I had left the Ramada Inn without eating, wanting to get through Phoenix as early as I could, so I was on the lookout for a likely-looking place. I stopped at "Sunny Side Up," in Oracle Junction (near Oracle, where Edward Abbey had spent his last years, and where the Biosphere 2 project was centered, which I had visited late on my "Ghost Rider" travels).

The little restaurant was fairly busy on this Friday morning, with a few tables of tradesmen in work clothes, businessmen in short-sleeved white shirts, some older couples, a couple of rancher-types in bolo ties and cowboy boots, and a pair of cyclists in bright, road-racing outfits and cleated shoes. I sat at a small table and enjoyed what the menu described as the specialty of the Sunny Side Up - not fried eggs at all, but blueberry pancakes. Orange juice, coffee, and friendly service, and I was on my way again.

A jagged, ambient drum fill settled into a rhythm-section groove and eccentric guitar part: a Canadian group called the Philosopher Kings, another "old favorite," from the mid-'90s. Lots of great songs, interesting lyrics ("Now, she moved like a liquid/ through the boys of Mason City"), soulful vocals, some nice playing (like any music this listener is going to enjoy, the drumming is fine, solid and dynamic), intricate arrangements, good sound; it had it all. The Philosopher Kings (clever Platonic name, too) had been a serendipitous discovery for me; around 1996 I saw their video for "Charmed" as a between-show filler on the cable TV channel, Bravo. Immediately charmed myself, I took note of the group's name and bought their self-titled CD.

I don't know how it is for other music lovers, but it's rare for me to have a "committed relationship" with a piece of music. So many times I become briefly infatuated with a record, listen to it regularly for a few months, then grow tired of it, and never feel like listening to it again. Of course, I have a long list of "timeless classics," those I will always appreciate and speak well of, but even with many of those, once I come to know them by heart, I don't necessarily feel compelled to listen to them again. They are held in memory, complete in every detail of song and sound, like digital recordings. The exceptions seem to be the "aural feasts," the Philosopher Kings, Massive Attack, Isaac Hayes, all that stuff, where the recordings simply sound so good, musically and sonically, that they are a pleasure to hear repeatedly, just as a sensual experience. And more, it's when the actual construction of the music - the composing, arranging, performances, and recording - is artful and subtle enough to bear repeated listening. Perhaps the difference is that you can't get to know such music "by heart," because it brings your heart, and your ears, something different every time, in line with the saying that you can't step into the same river twice.

Insights I gained from books on art criticism by E. H. Gombrich have served me well in deciding how I feel about artists of any kind. Professor Gombrich suggested judging a piece of art by two basic criteria: "What are they trying to do?" and "How well did they do it?" Simple, yet so profound, and the starting point for a reasonable assessment of any artist's work.

In music, the same principles apply, and the same two questions are asked. Expert listeners, appreciative but objective, respond to and assess the particular forms and expressions of music they are knowledgeable about and often love, and come to their best and most objective conclusion, which can range from "a masterpiece" to "a failure in almost every respect."

For expert music critics, well-informed and passionate fans, and those who love music as much as I do, as the old saying goes, "Taste is an acquired luxury." You have to care enough to learn to judge those qualities with some intelligence and discrimination. Early in my career I found it frustrating, and often hurtful, to be judged, misunderstood, and insulted by people who, if they were going to help me, ought to know more than I did about the music I wanted to make. Sadly, they did not.

In 1990, I wrote to the novelist Tom Robbins (Even Cowgirls Get the Blues, Still Life with Woodpecker, Jitterbug Perfume, etc.), to tell him I had enjoyed his latest novel, Skinny Legs and All, and hoped he hadn't been bothered by an idiotic review I had seen in the New York Times. He wrote back saying that he had long ago stopped reading reviews, and I understood. There were so few good, helpful reviews, that it was better not to read them at all than to spend too many hours sorting through the ignorant and nasty ones. I decided to do the same, and I've been spared a lot of grief since then.

The most objective, and perhaps useful, review I've ever read said simply, "People who like this sort of thing will find this the sort of thing they like." The most succinct was, "Nothing - well done."

Approaching Tucson, I cut back over to the interstate to try to take the quickest way through the city, but found myself bound up in a solid mass of slow-moving traffic again. Though Tucson had only a quarter of the population of Greater Phoenix, it was still a sizeable city of a half million people, and growing fast. Among its growing pains was highway construction, which slowed me to a claustrophobic crawl, surrounded by the hot brassy glare of cars and trucks. Not the ideal listening environment for Pink Floyd's mid-'70s epic, Wish You Were Here, with its long, textural movements that seemed to breathe open space and menacing skies.

The title song, and two of the album's longest pieces, "Shine On You Crazy Diamond" (Parts One and Two), were apparently addressed to one of the band's founding members, Syd Barrett, who had left early on, after becoming mentally unstable as a result of his over-enthusiastic use of LSD. Other songs, like "Welcome to the Machine" and "Have a Cigar," reflected Roger Waters's increasing cynicism about the music industry ("You gotta get an album out, you owe it to the people/ we're so happy we can hardly count"). These themes would eventually grow into Pink Floyd's, and Roger Waters's, greatest work, The Wall.

As a musician who lived through the kind of touring life Waters used as background in The Wall, I knew too well the combination of exhaustion, confusion, alienation, and fragility he described so masterfully (even the "swollen hand blues" he writes into one song, so symptomatic of the touring musician's version of repetitive stress syndrome). Great lyrics and songwriting, wrenching vocals, and David Gilmour's sublime guitar work all came together on that one, and are certainly evident on their earlier records, too, notably their all-time best-selling classic, Dark Side of the Moon.

A show from that tour which I attended in Toronto in 1970 or '71 stands as one of my greatest concert experiences, along with another Pink Floyd show at the Rainbow Theatre in London in 1972. The chart-busting popularity of Dark Side of the Moon, and the subsequent arena and stadium tours, were the proximate causes of many of the responses described in "Welcome to the Machine" and "Have a Cigar" on Wish You Were Here, and later, The Wall.

At any rate (a slow one, crawling through Tucson), I had time to think about previous visits to Tucson, which in recent years had so often been a hub for different journeys. Back in 1999, I had been attempting my first return to Big Bend, on my "Ghost Rider" wanderings, working my way across Northern Arizona. One morning I rode out of Show Low (named for the poker game in which ownership of the town was won and lost, the story goes, and the main street was named after the winning card, "Deuce of Clubs"), riding south through pine-forested mountains, on a clear, cool day, following the fantastically curvy Coronado Trail Scenic Road, or Highway 191.

Then suddenly - I wasn't riding anymore, I was coasting. The clutch had failed (no fault of the bike's, it turned out, but a mechanic's error during a recent service in Montreal), and I was a long way from anywhere. Amazingly, my emergency cell phone worked way out there, and after a fruitless attempt to use the AAA service, I was able to reach the friendly service manager at the BMW dealer in Tucson, where I had stopped for oil changes a couple of times. When I told him my story, he responded cheerily, "Well, that sucks!" Then he gave me the number of a local "recovery service," who would come to the rescue and carry the bike and me to Tucson. Though not for a while. While I waited, I continued that letter to Brutus I had started in Show Low.


Nov. 16, '99
somewhere on U.S. 191

Dude-

We done broke down! A Brutus-in-the-Sahara type of dead clutch thing. All of a sudden, the bike was dead, the engine still running, but the driveline just making some nasty scraping sounds, and goin' nowhere. Up till then this had been one of the best roads ever, winding and winding through high pine woods (6-9,000 feet), with amazing views, and clean, fresh pavement. I was loving it, riding a smooth groove, thinking of our future recommendations, and - now this.

Bless the cell phone, but not AAA - who, I learn now, "don't cover motorcycles!" The number they give me for local towing rings off the hook. Thanks for nothing. My buddies at Iron Horse in Tucson come through, and somebody's on the way. But it's pretty far, so, while I'm waitin' here - on a very lonely road, ten miles north of Morenci (apparently - back a long way I passed a sign "Next Services 90 Miles," which would be about ten miles from here. Another sign said "Sharp Curves and Mountain Grades Next 90 Miles," and so it was. And in all those glorious 80 miles, I passed one car).

You can nearly always say, "It could have been worse" (nearly always), and this is no exception. Two o'clock on a sunny Tuesday, when the dealer is open, unlike, say, yesterday when I was riding into Show Low in the cold late afternoon, with darkness coming on [many dealers are closed Mondays J. Or - lots of other times, of course.

And there are worse places than Tucson to be stuck for a few days too, and hey - I've been wanting to see more of that town. Here comes my opportunity.

Sun falling behind a ridge, half moon in the east, occasional train horn in the distance, heavy machines working what appears to be an open pit mine way over there, and - you're with me, no? I've been here an hour now, and two vehicles have passed. We are, like, out there. And will be a while yet, I reckon. Wind picking up, time to dig out a sweatshirt. (And some whisky?)

Sure, why not. I'm not going to be riding! It's the good stuff, too, from the Gelson's market near Freddie's, in Tarzana (named after Edgar Rice Burroughs's ranch, which lay under the endless stores, restaurants, and services along Ventura Boulevard - impossible to imagine now). Freddie is banned from that Gelson's because he once bought a bottle of booze for some underage guys! What a character ... Fortunately there's another Gelson's nearby, for it's way better than the other choice, Ralph's.

A couple of questions left over from your letter: tell me more about the Quiet Room. You haven't explained that to me, only that you were waiting for your "turn." What is it - the can? (I loved the way you described the Window, by the way, and your various "special moments" in the Yard. Funny they don't let you out when the weather is bad - afraid you'll get sick?)



-=><=-

Nov. 17, '99
Tucson

Well, three hours I waited out there, darkness coming on by 5:00, my cell phone battery dead by then. I was actually starting to look around for a place to set up my tent, when Chris with his little pickup and trailer showed up. "Am I glad to see you," I said, and he said, "I bet you are - I didn't know you were so far out there." I saw what he meant after we loaded up the bike and drove back - in the dark now - over about another 20 miles of very twisty road (fortunately my guess had been accurate; I was exactly 10 miles north of Morenci - the massive open-pit mine I mentioned - so he could find me, with my phone gone dead), then down out of the mountains to 1-10, and still 90 miles to Tucson. About 180 miles altogether.

Since I'd always wanted to have a look at the real Tucson, I decided to stay at the downtown Holiday Inn, but I needn't have bothered. "Downtown" is nice enough, but there's nothing here. Banks, state and federal buildings (saw a "con-bus" at the courthouse, ach!), coffee bars to serve the bureaucrats, bus terminal, Amtrak station, a couple of music stores, piercing and tattoo parlors, and Walgreen's the only actual store, among a bunch of boarded-up windows. A little park nearby has yet another equestrian statue of our old buddy Doroteo Arango, a.k.a. Francisco [Pancho I Villa, which was apparently a present to Arizona from a former Mexican president.

Um - why?

In memory of his famous cry, "Let's go kill some gringos?" Or maybe because apparently he then bravely stayed away from that attack on Columbus, New Mexico, and ran away and hid from General Pershing's pursuing army?

Anyway, never mind that - I just learned that it looks like I'm going to be stuck here until at least Saturday (it's now Wednesday), and that's kind of scary. However, they offered to lend me a bike, so maybe I'll go to the Desert Museum, and up to Oracle to check out "Biosphere 2," and ... read Moby-Dick.

In any case, I want to get this mailed to you, so you'll know whassup with me. Longadioso for now, amigo.

Down and out in Tucson
Ghost Rider


During my three days in Tucson, I had plenty of time to explore the city. I rented a car and visited the Saguaro National Park, the two historical museums at the university, and did some book shopping to keep me busy in the evenings (Tom Wolfe's A Man in Full, which I could hardly put down), and even found an unexpected treat on the wasteland of television, the three final episodes of the excellent documentary, "New York." The third one culminated in some great old black-and-white footage of the construction of the Empire State Building, which was part of my own family saga.

My maternal grandfather, Alec, emigrated from Ontario to New York in the late '20s in search of work, and ended up working as a rivet-tosser on that project, throwing red-hot rivets with a pair of tongs through the empty air between the girders to the catcher, his brother, who had to catch them in a bucket - all of that hundreds of feet above the ground. Gramps never talked about that much, though he never talked about anything much; from childhood I remember him calling me "Noyle," calling their dog, Toby, "Bunghole," and when he was irritated with my uncle (one year older than me, he was more like a cousin), he'd say, "Kee-ripes Richard!"). Years later, I bought Gramps the book of Lewis Hine photographs of his fellow builders, and when I visited New York City on the "Ghost Rider" trip, just a few months before his death (aged 93), I sent him a postcard of the Empire State Building. I wrote that they were looking for someone to do a few repairs on it, and were still paying $4 a day.

After being stuck in Tucson for three days in November of '99, I had some family commitments in California closing in, and I realized I was running out of time, and would have to give up on making it to Big Bend, and head back west. Things were also getting serious with Carrie at that time, and I soon found myself back in Los Angeles to spend some time with her. Then I was off again, riding back to Tucson to meet up with brother-in-law Steven, in his father-in-Iaw's Hummer, and head down to Baja California. He and I had decided to kill off the dreaded Christmas season by four-wheeling around Baja for a couple of weeks.

During that Baja trip, and after, when I flew to Quebec to host Carrie for the Millennium New Year, I stored my motorcycle at the BMW dealer's shop in Tucson. In January of 2000, I moved to Santa Monica, first staying in Carrie's small rent-control apartment, then, until we could find a bigger place to live in together, I moved into a tiny furnished apartment near the Santa Monica Pier (so often seen in movies and TV shows), beside the Hotel California (one of them, anyway). I could just glimpse the ocean from my kitchen window, and I could walk to the stores, to the Y, to Carrie's apartment. It was as simple as my life has ever been, and my possessions were simple too; apart from a few clothes, all I had were a portable stereo and a yellow mountain bike. (Two constants in my life, again: music and motion.)

My whole life had changed so miraculously ("Oh, sweet miracle"), and later that month I flew to Tucson once again, from my new home in Santa Monica, to pick up my motorcycle and ride it ... home.

New home, new love, new life, and now, new car, and in March of 2003, I headed into a long stretch of open desert through eastern Arizona and New Mexico. Settling into a comfortable cruising speed of around 90 (with the radar detector on guard, though rarely needed), it was time for some more Big Frank, this time Sinatra in Paris, recorded live in 1962 with a small, six-piece group.

The liner notes tell the history of this show, which was part of an international tour for children's charities, apparently designed to restore Frank's public reputation after a "snub" by President John Kennedy, during Kennedy's visit to Palm Springs, California. Instead of staying at the home of his friend Frank Sinatra, a lifelong Democrat, highly effective fund-raiser for the presidential campaign, and Master of Ceremonies for the inaugural celebration (who was said to have built a new guest house and helipad in expectation of the visit), Kennedy stayed at the home of Bing Crosby, a Republican. Apparently this was advised by the president's brother, Attorney General Robert Kennedy, who disapproved of Frank's alleged links to organized crime. More realistically, perhaps he disapproved of the public's disapproval - there are enough stories of the Kennedy family mob connections, starting with the patriarch himself, Joe, who is said to have made his fortune on "liquor futures" during Prohibition, and rigged the Chicago vote in JFK'S election (one quote of the day: "They stole it fair and square"). It also seems well enough documented that the Kennedy brothers contracted with mobster Sam Giancana, who also shared a girlfriend with JFK, to assassinate Castro.

In any case, even with Frank's small, charity-sized sextette (though not small in talent; they were all great musicians, including his longtime drummer, the solid and impeccable Irv Kottler, and the celebrated guitarist, Al Viola), Sinatra in Paris must be his finest live recording. All the classic songwriters are represented: Cole Porter, the Gershwins, Cahn and Van Heusen, Rogers and Hart, Johnny Mercer, and on and on. Songs I hadn't even known I liked, such as "Moonlight in Vermont," become radiant, lyrical gems, and proof again of Frank's ability to make any song his own, because he doesn't just sing it, he lives it. I think of another song I used to hear on my Dad's radio station that I thought was "dumb," "Little Green Apples," but when I heard Frank sing it, it was suddenly transformed into a sensitive, moving tribute to American family life. An even more striking example is the version of "01' Man River" on Sinatra in Paris, where Frank becomes the first-person storyteller of a black stevedore on the Mississippi, and wrenches the listener's heart as if he were.

The renditions of "My Funny Valentine," "Night and Day," and (of course) "April in Paris," are superb as well, and when I hear a live recording like that, even with its technical flaws (like Frank's microphone not turned up yet for the first few words of the opening song), or the occasional voice break, I am always amazed to think that this performance occurred just that once, just that night, and happened to be captured on tape. Pure magic. There is also something about it being recorded in Paris, that most magical of cities, back in 1962, that gives it a special patina of romance.

As Dean Martin once said, "It's Frank's world; we just live in it." For most of his life Frank Sinatra was the living epitome of "cool," and he even died cool, buried with a bottle of Jack Daniel's, a pack of Camels, a Zippo lighter, and ten dimes (his daughter Tina said, "He never wanted to get caught not able to make a phone call").

Cruising along, cruising along. There's the exit for Sonoita, where I turned off one time on my motorcycle when I had been intending to ride north, but was advised by the Tucson BMW people that the weather was cold and snowy up there. Then the exit for Tombstone, where I had ended up riding instead, and Bisbee, where I had spent a night and written part of a letter to my friend, Brutus.

Other memories were tormenting me that day, too. (And again I have to cite the Spanish word for storm: tormenta.) Sometimes when I was driving along a highway like that, I couldn't help but think of another highway, in Canada, on August 10, 1997, when Selena had been driving home from the house on the lake to Toronto. Something had gone wrong, and her Cherokee had veered into the median, and rolled and rolled. I had never wanted to know too many details about the accident, but that didn't stop my mind from imagining it, and for months after I had been tortured by endless replays of it every day, seeing that car rolling and rolling. From time to time it still happened (especially if I had to pass an accident scene - oh god), even after more than five years of grieving and healing, and I would have to try to shake myself out of it, steer my mind in some other direction.

During that journey I was also wondering whether I could ever stand to be a parent again, which Carrie and I had been considering. I knew it was the right thing to do, on every level, but I was still tangled in conflict over the fears, the anxieties, the fear of fears, the imagination of facing all that without my former faith that life was going to be nice to me. Normally a parent's natural fear is buffered by the equally natural reflex of disbelief - "It won't happen to me" - but I was no longer protected by that spurious defence.

As always, I could only try to Do the Right Thing, the criterion I tried to apply to every knotty decision, and I have yet to find any problem that wouldn't eventually yield to that process (though it might sometimes require a lot of thought). Certainly Carrie should never have to live with regret, not if I could help it. John Barth again, as quoted in the song, "Bravado," "We will pay the price, but we will not count the cost."

And alas, continuing that dark storm of imagination and memory, a cloud of sorrow loomed ahead of me on the calendar in late March of 2003. Selena's birthday was only a few weeks away, April 22nd, and I knew it was going to be an especially bad one (not that such desolate anniversaries are ever any good). She would have turned 25 that year, and it felt unaccountably different. She had died at nineteen, so the distance was increasing between the young woman, girl, child, and baby I remembered, and the full-fledged (ready to take flight), independent woman she would have become. I had always been able to picture her as she had been that last day, but now she would have grown beyond that, and I was tormented by how different that "imaginary reality" would be. I could no longer even imagine how she would be now, and that somehow took me down to a new level of grief.

The music helped lift me out of this abyss. It was "rock time" again on my CD changer, and guitars and drums lit up the speakers with another of my enduring favorites, Fully Completely, by the Tragically Hip. I remember the first time I heard them; it must have been 1989, September I think, and I was staying at my old log cabin in Quebec, working on the narrative of a bicycle trip over the Canadian Rockies from earlier that summer, taken with my brother, Danny, and some other good friends. Raindance over the Rockies was one of many privately-published travel-writing projects in my apprenticeship since about 1985, each more-or-Iess an "experiment" (this one pushing the limits of description - too far, but it was also the last step on that learning curve). Just a month later, in October of 1989, I would take the Cameroon bicycle trip that resulted in my first published book (though not until 1996), The Masked Rider.

Rush had just released Presto, and someone from the office told me CHOM -FM in Montreal was playing one of the songs, "Show Don't Tell," on a "Top Ten at Ten" feature, where listeners called in to vote for their current favorites. I turned on the radio one night to listen to the countdown, and I think we were number three that night, but it was number four that struck me: a Canadian band I'd never heard of, the Tragically Hip, and a live recording of a song called "New Orleans Is Sinking." As the band played a slow groove, the singer, Gord Downie, told a long, rambling tale that was thoroughly weird and bizarre - about throwing bodies out of his girlfriend's apartment window or something - and yet riveting.

Through the '90s the Hip became very successful in Canada, but never seemed to find the audience they deserved in the United States. That remained a mystery to this listener, for their music seemed accessible enough, smart and yet deceptively simple in construction, rhythmically straight-ahead, and lots of guitars; it certainly rocked, but regrettably, the Hip remained largely a Canadian phenomenon.

I think it was for our Roll the Bones tour in '91 that I lobbied our manager, Ray, to book the Hip as our opening act on a major tour of the U.S. and Canada, a tour that would have put them in front of more than a million potential fans. However, their manager turned the offer down, saying there was a "buzz" starting for the band in Europe, and the record company wanted them to go there. I don't know, but that may have been a missed opportunity for them.

The Hip's music was especially admirable because it had so much Canada in it, in Gord Downie's excellent lyrics, unique, intriguing, and sometimes obscure. Probably my overall favorite record of theirs, Fully Completely, from 1992, had some classic examples, from the opening track, "Looking For a Place to Happen," with references to the French explorer, Jacques Cartier, who visited Canada in 1534 ("Jacques Cartier, right this way/ I'll put your coat up on the bed/ Hey man, you've got a real bum's eye for clothes"), to the verse in "Fifty Mission Cap" about Bill Barilko, a hockey player with the Toronto Maple Leafs in the early '50s, down through "Wheat Kings" ("Sundown in the Paris of the Prairies"), and the song title "Courage (for Hugh MacLennan)" (MacLennan was the Canadian author of great novels like Barometer Rising and The Watch That Ends the Night). The Tragically Hip were as Canadian as ... hockey and beer. And donuts.

In Wilcox, Arizona, I stopped for gas and refilled the CD changer, then carried on eastward, past the exits for Fort Bowie National Historic Site, and the Chiricahua National Monument, both of which were on my endless mental list of places to explore one day. Right now, though, I was making some miles, wanting to get well into Texas before that day was through. "Miles to go before I sleep," as Robert Frost put it in one of my favorite poems.

Time for another musical interlude with an old favorite, Roxy Music's Avalon, from the early '80s. It had been a long time since I had listened to that one, and again, it was unusual for a piece of music to endure so long for me. But, once in a while Avalon could still weave just the right spell, as much for its overall texture as the songs or performances (though they were good too, of course). I knew from people in the recording world who had worked on that project that infinite care had been taken in the making of it, in the sound and blending of instrumentation, muted guitars and mellow keyboards, soft-edged percussion, the warm drum sound and solid playing of Andy Newmark, and the velvety crooning of Bryan Ferry, in his mature transformation from "lounge lizard" into the ultimate "jaded sophisticate,"

The easy groove of "More Than This" and "The Space Between," and the gentle, Latin trance of "Avalon," carried me into New Mexico, past Lordsburg, where I had spent a sad, lonely night after leaving Alex's place in Santa Fe, back in November of '99, and Deming, where I had spent a night earlier that same year, after riding up from Mexico. Both places had been datelined in "letters to Brutus," and he was on my mind that day too, for I was approaching his old territory, around Las Cruces and EI Paso.

I had never wanted to know too much about Brutus's former enterprises (nor did he seem particularly keen to tell me, perhaps for my own protection), but I had gathered that his ill-fated choice of "career paths" had begun way back in his college days, in Newfoundland. Early on he had decided to confine his activities to moving the "herbal" product, and stay away from the guns, gangsters, and overall nastiness of the heroin and cocaine trades, so whatever he was up to seemed innocent enough to me. Brutus had also let on that while plying that particular trade, and arranging shipments from Mexico to Canada through the United States, he used to spend large periods of time in the El Paso area.

Since Brutus's long, harrowing incarceration that was part of the series of tragedies recounted in Ghost Rider, he had turned his talents to other, more legitimate fields, like carpentry, cabinet work? and building sets for photographic shoots, and became fairly successful at what Freddie would call "straight life." But during the years before, when we traveled together so much and became so close, Brutus had gradually revealed some of his past life, coming out in stories about his adventures and the other characters he'd worked with. When the band played El Paso on the Test for Echo tour, he took me on a tour of his old haunts, and to me, that netherworld - truly, the underworld - was kind of fascinating, and kind of frightening too.

Strange how I had ended up with no fewer than three friends who are convicted felons. None of them for violent crimes, but two for various kinds of corporate fraud, and Brutus with his "victimless crime" of organizing shipments of marijuana. In each case, they were my friends before they were convicted felons, but still, there must be some "fascination" there, some shared sense of being "outlaws," of rebelling against authority, conformity, and what used to be called the Establishment.

And how easily one can be led astray in youth. My childhood was littered with the usual puerile peccadilloes: throwing snowballs at buses, blowing up anthills with firecrackers, spending my Boy Scout dues on cigarillos (with my friend, Rick Caton, on a winter night, hiding behind a frozen tree and shivering as we puffed away and got dizzy), maybe pilfering a little money from my paper route, but nothing too hurtful or "delinquent." As a teenager, I was mostly a Serious Young Man, devoted only to drums and music. I never drank alcohol ("uncool" to us, anyway, in the late '60s), and my experience with drugs was limited to smoking lousy hash a couple of times, and pretending to be stoned (though I didn't know how you were supposed to act if you were stoned, so I just acted goofy, like everybody else was doing).

However, when I was about sixteen, I played in a band with a singer who was, I realize now, about the worst influence in my young life. He was a good singer, in the "blue-eyed soul" fashion of the day, charismatic, attractive to the girls, both conceited and deeply insecure, vain, a snappy dresser (an agent once remarked that he could wear jeans and a T-shirt and make them look like a thousand-dollar suit), and funny (though mostly in a cruel way). Also, he was pure evil. Or at least, he was a true sociopath, completely amoral- he had no sense of right or wrong.

He had endured a knockabout childhood, moving from Toronto to small Ontario towns with his divorced mother, and had ended up living in Niagara Falls. His mother's suitor at the time tried to win his approval by buying him an old MGA sports car, and one winter night he drove me around Niagara Falls on his "rounds." First he stopped for gas at Ralph Sauder's gas station, made fun of the poor guy's cleft palate, then drove off without paying. He parked at a church hall, in a lot full of frost-rimmed cars, where a week-night meeting must have been going on. He told me to come inside with him, and to my horror, he went along the line of winter coats in the cloakroom, rifling the pockets for wallets, and told me to start at the other end. Jesus! I was terrified and appalled, knowing this was really, really wrong, but such was his power that I pretended to do it, glad he didn't find anything. Later in the night he parked on a suburban street, and told me to follow him, only to start jimmying the lock of a basement door. What?

He led me into a low room crammed with musical equipment, and told me it was the home of another local musician, whom he called "Pizza Face," because of his severe acne scars. Striking a match, he looked around, then shook out the match and unscrewed a couple of Electrovoice microphones (ironically, the kind that had often been stolen from high school auditoriums by young musicians), and stuck them in his pocket. We heard a noise from upstairs, and beat it out of there, but man - was I scared! And lucky not to be caught, unlike another mutual friend of ours, who was arrested with him for stealing change out of a newspaper box. I never let myself be roped into one of his "adventures" again, but I never forgot what it was like to be influenced by evil, and even attracted by it.

I have also never forgotten a chilling vision I once had in his room in his mother's house in Niagara Falls. He turned to the little record player that sat on his dresser, maybe changing Mandala's Soul Crusade to the first Led Zeppelin album, and as I looked at his back, I had a vision of a knife planted in it. I didn't know what to make of that, but it scared me.

Girls were certainly attracted to that sociopathic lead singer, which puzzled me then as similar "bad boy" attractions do now. Despite women often claiming to be smarter and less shallow than males, when sexual attraction is involved, they are obviously no better at judging character.

In the early '90s, a particularly beastly criminal was captured in St. Catharines, after a horrific spree of kidnapping, raping, torturing, and killing young girls, and one of his former girlfriends was interviewed on television, saying, "It couldn't have been him, he wasn't like that." She was certain of his innocence because, as she said, she "would have known." That scenario has been played out many times, "when good girls fall for bad boys."

At one time in our teens, that evil singer went out with my girlfriend's best friend, who went all starry-eyed when he wrote maudlin, vacuous love songs for her ("I worship Melinda, she is my way of life," and who could ever forget the verse ending, "You will surely lose your mind, on some strange anvil block"); then when they had a fight, he actually kicked her between the legs. Unbelievable. And of course, she went back with him after that. Even more unbelievable.

Typically, he was also the first to start bringing drugs around. First it was marijuana, though I don't remember it having any effect other than feeling "naughty," but he also turned me on to LSD for the first time, when I was sixteen or seventeen. The two of us spent a whole June night on the open deck above the porch of an old house on Duke Street in St. Catharines, and it was a powerful experience. The world dissolving into patterns, my face touched by gentle rain, wide eyes enraptured by droplets on a perfect rose growing out of the vines on the wall, hearing the sounds of the night, the thoughts coming out of our mouths, all of it seeming alive in a whole new way.

But then, next morning I had to go to school and face a math exam. That is what is popularly called "a bummer." I failed miserably (though I always did at math).

When I last saw him, in the mid-'70s, I was playing in Austin, Texas, with Rush. I was easy to reach in those days, still staying in hotel rooms under my own name, and he called me. He was living in Austin then, still trying to get his singing career going, though supporting his girlfriend and her young child by driving carloads of pot between Florida and Texas. About fifteen years later, in the early '90s, I received a phone message from him, through the office, and, out of some twisted confusion of honor, guilt, and - I suppose - fascination, I called him back. He was still trying to launch his career, which had been his real motive for contacting me, it seemed, to send me his video and management information and see if I could help him get "discovered." I had to watch the video, just out of curiosity, and he was still playing the Jaggeresque, Jim Morrison (his idol) "bad boy" role.

Of all the so-called criminals I've known personally, he was the only one who was truly evil. You could see it in his eyes, even in photographs, a cold, dispassionate, reptilian glaze (maybe he was the Lizard King), and he was always the kind who wouldn't hesitate to hurt somebody else, if it served his desires, or even got a laugh. The others were all "loveable rogues," who just happened to live by different rules. Nobody would get hurt, except maybe some faceless corporation (in the case of the two convicted of fraud), and as human beings, and as friends, they remained as good as anybody, or better. Not the way I would choose to be, but I didn't feel the need to judge them. (Society took care of that, for they all did time behind bars - with the ironic exception of the sociopathic singer, as far as I knew. Maybe he eventually got that knife in the back I had envisioned.)

At a truck stop near Las Cruces, New Mexico, I stopped for a sandwich and a Coke to go, and carried on driving, crossing the Rio Grande as it flowed south from its headwaters in Colorado, through the middle of New Mexico, then curved southeasterly between Texas and Old Mexico, forming the Big Bend I was on my way to see.

Driving past Las Cruces brought back some touring memories too, as we had often played there in past years, in the university arena. Las Cruces also summoned the memory of an unpleasant fan encounter, and though it had occurred in the mid-'80s, it still made me feel ... uncomfortable. After a long night's bus ride, I had dragged myself into the motel room around dawn, only to be awakened, what seemed like a minute later, by a knock at the door. I looked out through the peephole, saw no one, and opened the door a crack. There was a brown paper bag sitting there, with my name on it, and when I brought it inside I saw it contained a half dozen bottles of beer, and a note. As I unfolded the note, the phone rang, and a male voice said, "You got my present."

How did he know that unless he was watching my door? How did he get my room number, when I'm staying under a phony name? (One of a series of esoteric aliases I used over the years, mostly from old televisions shows: Larry Tate, Darren's boss in "Bewitched," Hank Kimball, the endlessly tangential agricultural agent on "Green Acres," Johnny Gilbert, the faceless announcer on "Jeopardy," Waylon Smithers, Mr. Burns's abused and adoring manservant on "The Simpsons" - that sort of pop culture icon.)

"Oh ... yes. Urn, thank you." (Alarms already going off in my head.)

"How do you like the beer?"

"Well, I haven't tried it. You know - it's early in the morning, I was sleeping, and I have to work tonight." (How should I handle this one?)

"I thought maybe we could get together today," (Why did he think that?)

"Oh? Well, no, thanks. I need to rest."

His voice cracked with emotion as he said, "But I gave you a present. I ... I'm your friend. I can't believe you're treating me like this!" (Oh-oh.)

"I don't know you, do I?"

"Your, your songs, they're about me. And I know you! And I gave you a present." He was almost in tears now, and I was getting nervous.

"Well," I said carefully, trying to improvise a polite-but-stern brushoff, "I said thank you, and if you had left me alone, like you should have, I would have written you a nice note, like I always do. You gave me your address."

"But I bought you that beer."

I breathed a soft "Jesus," and tried to steer this away from me, a little angry now (or at least tired and crabby). "Look, to tell you the truth, I don't really like beer. I guess a 'friend' of mine would know that, but never mind - you can have it back if you want. I'll leave it outside the door." And I hung up and put the brown paper bag outside again, then tried to get some more sleep.

But all that day I felt nervous and watched, spied on - targeted, as it were, by an obviously unbalanced, deluded person. (John Lennon was killed by a fan, after all, who was unhappy with the autograph Lennon had signed for him.)

When I carried my bicycle out of the motel and rode to the university arena, I felt tense and wary, the kind of helpless paranoia that wears at a sensitive soul. I hated the feeling of being "under siege" by strangers, especially on tour, when I was conspicuous and such people could figure out where to find me. Again, as a young fan myself, I had never dreamed of chasing after my own heroes, but as Rush became more successful, there were more and more young males lurking around hotels and backstage, waiting to pounce on me with feverish eyes, embarrassing adulation, and vague "expectations" that a forced encounter with me was somehow meaningful.

During our first years of touring in the '70s, our dressing-room door was always open to anyone who wanted to talk to us - we had no security guards or barriers around us. We still joke about the time a guy came to the door and said, "Is this Rush's dressing room?", and when we said it was, he marched in and said, "Well, I gotta piss!"

As our popularity gradually increased, it still felt wrong to ourselves to start putting up barricades, literal and metaphorical, between us and our fans. For three suburban Canadian kids, it seemed a self-important, elitist way to behave, alienating and unnatural, and we resisted that decision as long as we could, until the situation became impossible - until our audiences contained thousands instead of hundreds, and they all seemed to want to be in our dressing room. As I wrote in the liner notes for one of our early live albums, "We didn't change, everybody else did!"

Sometimes the encounters were scary like that, or like the time in Minneapolis when I arrived at the arena by bicycle, and I was alone in the dressing room in the afternoon, changing out of my riding clothes and getting ready to take a shower. A catering worker, a young man in his twenties, came into the dressing room with a tub of ice or something, and when he spied me, he froze and stared at me, silent and wide-eyed. I felt vulnerable enough, standing there in my socks and underwear, and then he said, "Apparently psychic powers run in my family."

He just stood there, staring at me, and again, the mental, "Uh-oh." I was all alone, and this guy was weird.

I struggled into my pants, as he went on, "I have always felt a psychic connection with you."

Slipping on my shoes, I got the hell out of there.

Sometimes, though, the encounters with strangers could be amusing. During my "Ghost Rider" travels, I had visited a BMW repair shop in Vancouver a couple of times without any fuss, when the third time one of the mechanics looked carefully at my name on the work order, and made the "connection."

He moved in closer, staring at me. "Say, are you who I think you are?"

Up until that moment, he had been a normal, pleasant young man to deal with, but now, I knew, things were going to change. I felt that strange combination of embarrassment and wariness, looking down and shuffling my feet, mumbling something like, "Oh, well, I guess so."

I could see his excitement growing, until he was all wide-eyed, tense, and shaking, "Oh my god, I can't believe I didn't recognize you! Oh my god!"

"Well ... you know, it's no big deal. I'm just a regular guy."

He was trembling, his head shaking from side to side. "You might be just a regular guy, but ... you rock, and..." He paused for a second, trying to think of something even more profound, but failed, "And ... you rock!"

That made me laugh, and was a good story to recount later. When I traveled from Vancouver down to Los Angeles to visit my Canadian expatriate friends, a bunch of us were sitting around comedian Dave Foley's kitchen table one night, and he turned it into a catchphrase, turning to me at perfectly-timed moments and deadpanning, "You know, you rock... and ... and you rock!"

On the eve of my 50th birthday, Michael and I were staying at the Chateau Lake Louise, having a drink after dinner, when the waiter said, "Are you who I think you are?" With a wave of my hand, I said, "I'm not even who I think I am!"

Other such encounters could be innocent and friendly, like when someone came up on the street, stuck out his hand and said, "I don't want to bother you, but I love your work." Pleasant enough, and not at all "freaky," so it was simple to shake the guy's hand, say "Thank you," and move on.

For the most part, though, I preferred to simply avoid the whole issue - remain anonymous, if I could. Easier in a truck stop or small-town motel, or inside a motorcycle helmet, than backstage at a rock concert, and it was only on the Test for Echo tour, in 1996-97, that I started to evolve a touring style which allowed me both privacy and freedom. For a few years Geddy and Alex had been wanting to stop traveling by bus and start flying, which I had resisted, but if I had my own bus with a trailer for my motorcycle, the other guys could travel by airplane, and everyone would be happier. I could stay completely apart from the "circus," except during the actual show, then leave straight off the stage and drive away from the rest of the band and entourage, and the ever-widening ripples of hangers-on, to sleep in a truck stop or rest area, maybe with a day off ahead for Brutus and me, or Michael and me, to explore some back roads and off-beat destinations, like Punxsutawny, Pennsylvania; Deals Gap, North Carolina; or Teec Nos Pas, Arizona (the hot spots).

From Las Cruces it was only another forty miles to "the West Texas town of EI Paso," where Marty Robbins sang about falling in love "with a Mexican girl," which somehow cost him his life, I forget why. Rush hadn't played EI Paso on the Vapor Trails tour, but on the one before, Test for Echo, Brutus and Dave and I had eaten great barbecued ribs on the bus after the show, riding to Marfa to sleep and then motorcycle through the bit of Big Bend that would make me want to return someday to explore and enjoy it more fully.

Cruising through El Paso this time, the freeway ran along the Rio Grande and the Mexican border for a few miles. I passed a tall, glittering American city on my left, and a squat Mexican shanty town, Ciudad Juarez, tumbling down to the river on my right. The shabby little boxes crowded up against the border like a flood against a dam, against an artificial barrier to life's natural desire to move. The border as condom, controlling the passing of an unwanted population.

As I continued on Interstate 10 into the plains of West Texas, the final mellow chords of Avalon drifted away into the humming of the tires and the rushing wind. Back to guitars and drums now, and something a little more recent: Everything You Want, by Vertical Horizon. I had first heard the single of the same name on the radio back when I moved to Santa Monica, in January of 2000. I had just started to listen to modern music again, on the pop station in Los Angeles, KYSR, and one day I heard "Everything You Want," and immediately liked it - the music, the lyrics, the vocals, and the all-important "sound." I bought the CD, and discovered a variety of different songs, all good, and all with the same compelling quality of sincerity.

Years later, there would be an unexpected connection between that band and the car I was driving. At the time of first hearing them, I had told our manager, Ray, about this band I liked called Vertical Horizon, and not long afterward he happened to meet their singer and songwriter, Matt Scannell, at an industry function. Ray told me later that when he commented to Matt that I liked their music, "he was very pleased." Then he concluded the story in inimitable Ray-style, "You'd think I'd told him Pamela Anderson liked him!" Not long after that, the guys from Vertical Horizon had a dinner meeting with our Alex, to discuss the possibility of working together, because Alex was interested in producing other artists while we weren't working. In the end, that hadn't worked out, probably because the three of us were back together and working through 2001 and 2002 (thanks to Carrie helping to put my life back together). But I knew Matt had attended a couple of our shows on the 2002 Vapor Trails tour, and had said hello to the other guys afterward, when I was already on the bus and gone.

The automotive connection came about early in 2003, when I bought my Z-8 (through eBay) from a BMW dealer in Texas, who agreed to take my Porsche 911 Speedster in trade. The sales manager asked if he could send a Los Angeles photographer over to take some pictures of my car for their advertising, and a couple of days later a woman called to make an appointment for the photo shoot. She asked if it would be all right if she brought her boyfriend, saying that I knew him; he was Matt, from Vertical Horizon. Well, I didn't actually know him, I said, but sure, I would be pleased to meet him, so Leah and Matt showed up at our house one afternoon.

Assuming she was a professional photographer, I suggested we use the back alley, where the light was better at that time of day, and said they could bring the equipment through the walkway. Matt held up a tiny digital camera, and said, "Here's the equipment," and I had to laugh. It turned out Leah was actually an actress (considering Ray's comment, ironic that at the time she was working on a show called "VIP," with Pamela Anderson), a friend of the owner of the Texas BMW dealership, who had called her and asked if they could do this as a favor. Matt, a fellow car-lover, took the photographs, while Carrie, who is a professional photographer, came out to say hello, and she and Leah were soon talking together.

I noticed the Rolex Submariner on Matt's wrist, and showed him the Patek Philippe I was wearing (my ultimate "dream watch," and a 50th birthday present from Carrie), and we learned that the first things each of us had bought after achieving a little success were a good car and a good watch. Leah wondered what it was about "musicians and mechanical things," and Carrie pointed out, perhaps correctly, that we just "liked toys."

Matt and his band were going through the follow-up blues, after having a successful record (their third) and touring for a couple of years behind it. They were trying to assemble a new album, but in the interim, Matt explained, their record company had been through two changes of "regimes." All the people they had established working relationships with were gone, and the band found themselves being micromanaged by the latest president, Clive Davis, through his "minions" - as the great mogul would never deign to meet with Matt personally.

For this listener, and perhaps for many others who made Everything You Want a multi-million-selling album and number one single, they had straddled the perfect line between rock and pop, both in Matt's songwriting and singing, and in the band's performances. However, now they found themselves being urged to be more "pop," to conform to the current state of pop radio - which, by 2003, perhaps reflecting the increasing tension in the "real world," had cycled into a saccharine, almost Muzak, state of blandness. (Driving along and first hearing a slow, pseudo-jazz ditty by Norah Jones, for example, I looked down at the radio, thinking I had accidentally switched to an easy-listening station. Nothing wrong with the music, if that's what she wanted to do, but it said something about a youth-oriented pop station's audience, and the times.)

At the record company's urging, Matt kept writing new songs, but Davis's yes-men kept sending him back to write more, saying they needed another "money track" (meaning the kind of simple, catchy, easily-accessible songs that were the staple of pop radio). As a listener, I had been struck by my first hearing of the song "Everything You Want" precisely because it wasn't the usual pop fodder, but was simply a great song, with a great sound, that happened to accidentally fit the radio format of the day, and was part of a well-rounded album of good songs. I was tempted to say these things to Matt, but I didn't feel it was my place to interfere. I sensed that perhaps he was trapped by being a genuinely nice and agreeable person, who wanted to please everybody, and would likely resist making demands or insisting on doing things his way.

As Carrie and I stood in the alley talking with Matt and Leah, each of us thought of inviting them into the house for a drink, but didn't like extending invitations without consulting the other, so we let them go. However, when Matt was thoughtful enough to send me digital copies of the Porsche photographs, I let him know that Carrie and I would like to get together with the two of them sometime. It took a while to synchronize all of our complicated schedules, but finally in March, not long before my journey, Matt and Leah invited us to Leah's house high in the Hills of Beverly. We had an enjoyable evening of good conversation, an excellent meal cooked by Leah, and red wine (when I e-mailed Matt about "what color wine" we could bring, he answered, "the preferred color of wine in this house is red!").

After another close listen to the Vertical Horizon CD on that driving trip, through Las Cruces and EI Paso and into the plains of West Texas, I felt I had to speak out to Matt, and I sent him an e-mail about it.
Speaking of art and music, I must confess that in our previous conversations, when you've been telling me about your troubles with the record company, the "new boss," and the constant dictates to go back and redo things in search of "another money track," I've had to bite my tongue a few times to stop myself from suggesting that you tell the record company to shut up and let you make your own record.

Of course, it was right for me to bite my tongue - it's not my place to offer that kind of advice --:- but on the other hand, I like you and your music, so please accept these as thoughts from someone who cares.

It seems to me that if anyone is going to decide what you should release to your audience, it's you (and the band, of course). And equally, if anyone is going to screw up your career, it should be you!

All this meddling just seems dangerous to me, flying in the face of the obvious sincerity of your previous record, when it seems like you just made the best record you could, then hoped people would like it. I was listening to Everything You Want on my way across New Mexico and Texas, and it remains a really fine piece of work, with lots of great songs. For my money, they're all "money tracks."

Maybe you're just too nice a guy, and want everyone to be happy? I can understand that, and again, it's not my place to judge or dole out unwanted advice. Forgive me if this seems presumptuous - I almost deleted it, but it has been on my mind quite a lot since we met, and it demonstrates the kind of meddling of the "business" in the "music" that always bugs me. But if this bugs you, please forget I ever said anything!
Fortunately, Matt took my thoughts in the spirit in which they were intended, and his answer expressed a healthy, creative response to the situation:
Let me first say that I sincerely appreciate your thoughts on my current situation and in no way am I offended by your "two cents." In fact, I'm grateful for your insight. You're absolutely right - I do indeed find myself at times wanting to please everyone else, leaving me to be the unhappy one. I am constantly aware of how fortunate I am to be able to make music for a living, which sometimes keeps me from asserting myself as much as I could, or perhaps should. That's not to say that I haven't voiced my objections to this "record-making by committee" method. Indeed I have, and I find it incredibly frustrating to have my music become such a product. And yet that product is the very thing that sustains me. What a strange balancing act. I absolutely agree with you that if anyone screws up our career it should be us! We recorded a new song last week called "I'm Still Here" that is getting some passionate responses from The Powers That Be at RCA, and it may indeed become the first single. It's ironic that many of the lyrics were written out of distaste for this whole process.

It means a lot to me that you would care enough to write down your thoughts on the matter, and I will keep your words in mind as I continue to deal with this complicated situation. Thanks.
What Matt said about the lyrics for "I'm Still Here" being inspired by resistance to the record company's meddling sounded a chord with me that was hopeful for their future, and echoed my own experience too. Early in Rush's career, in the summer of 1975, we made our second record together (the band's first, self-titled album, with another drummer, had been released just before I joined, in the summer of '74, then six months later we made Fly by Night together). Our second record was called Caress of Steel, and we loved that record so much we were sure everyone else was going to love it too. Only, they didn't.

In retrospect, I can see that Caress of Steel was opaque and obtuse, bizarre and esoteric, experimental and stylistically "all over the shop," as the English would say, and its sincerity was perhaps its only real virtue. We believed in it with all our hearts, and blamed the record company, whose people seemed completely apathetic, for its lack of success. We had a meeting with them to try to figure out why there had been so little response in radio play and sales, and I remember one of the "promo guys" saying, "Maybe it's just not in the grooves." We were outraged at such a lack of faith.

The tour that followed Caress of Steel was the lowest point in our career, a string of club dates and small-time opening slots across the U.S. and Canada that, even at the time, we dubbed the "Down-the-Tubes Tour." By the fall of 1975 we were unable to pay our crew's salaries, or our own, and as we convened to start work on our next album, things were grim. I was sharing a house in the country with some friends, driving a borrowed car to the studio in Toronto, and sleeping on friends' sofas between sessions. Management was grumbling that "We might have to talk about material," and we learned later that the American record company, Mercury, had written us off - literally. We did not figure at all in their financial projections for the following year. The fact that they didn't simply "drop" us, terminate our contract, was not an act of generosity or faith, but simple disorganization in the company.

Up to that point we had stubbornly resisted any compromise in our music, naively trusting that if only we could make it good enough, people would like it. We were certainly aware that other bands tried to mold their songs to the lowest common denominator, to make their music more radio-friendly, but we were idealistic and innocent, unable to imagine being so mercenary or cynical. We hated it when the business people called our music "product," talked about selling "units," and referred to a city as a "market." When other bands picked up that attitude, and even that language, we called it "the sickness." I remember hearing a "musician" we were touring with being interviewed on a local radio station before a show, and actually saying, "We haven't played this market for a while, and we have some new product."

In the face of all that negativity, our faith and determination were shaken. If something didn't happen soon, our careers could well have been over, and we didn't know what to do. However, instead of caving in and trying to make our music more "commercial," we got mad and decided to fight. That anger and rebellion went directly into our next record, implicitly and explicitly, and 2112 became our first real success. The lyrics of the side-long title track told a story about individual resistance to oppression (I remember management warning us, "The record company doesn't want a concept album," and thinking sardonically, "Oh, well then"), and the music was so imbued with that emotion of angry rebellion, it seemed to communicate itself to a young audience in a way no other theme (except sex) can do.

We had decided to stay on the high road, and fortunately, 2112 took off, selling more than 500,000 copies in the United States, earning us our first gold record. Now we had the foundation of an audience that was large, and loyal, enough, to insulate us from corporate interference, and allow us to keep recording and touring for at least another 27 years. Unconcerned about why we were successful, or how we could be more successful, we were driven by musical ambition and creative synergy, and the only question we worried about, as always, was "Now what?"

I could only wish the same for Matt and his band, who were now winding up on my CD player with a melodic, mid-tempo rocker, "Shackled." The traffic around EI Paso had slowed me down a little, but now I was on the open road again, still pushing eastward. It was late afternoon, cool, windy, and overcast, and I had covered 500 miles since morning. The next major junction on the map looked to be Van Horn, Texas, which might be a good stopping place for the night. I'd have a choice of routes for the morning, and a relatively short run of maybe 300 miles south to my destination, Big Bend National Park.

Once again, I selected my current favorite CD, Linkin Park's Meteora, nodding my head to its insistent rhythms and enjoying it more with every listen. I set the cruise control on 90, radar detector on guard, and its sudden series of warning beeps saved me once, as I slowed and another car went racing past me - only to be pulled over a few miles later. When you're committing an innocent offence, it's good to have a good defence!

Cruising the I-10 "business loop" through Van Horn, I checked out the motel possibilities. A couple of Best Westerns at one end, and at the other, one of the old-fashioned, independent motels called The Sands. It had the requisite restaurant next door, and I thought, "What the heck," I'd give it a try.

When I stepped into the lobby, I saw that it was attached to the living room, with a television playing, and an old couple on the sofa. It wasn't a Mom and Pop place so much as a Grandma and Grandpa place, and Grandma came out to greet me. Well, "greet" was a stretch, for she just stood behind the counter and looked at me, without a word or a smile. When I asked if she had a room available, she said "twenty-nine dollars," and pushed the registration card toward me.

While a little concerned this rate sounded maybe too cheap, I decided to take the chance, and nodded okay. I went out to the car to get my reading glasses to fill in the card, and when I returned I tried to joke with her, saying, "When you get to be my age you'll find you need glasses for everything."

She only frowned, and growled, "Don't talk to me about age."

I tried to protest, "But - I was making me older than you," but the moment was lost. She didn't want to joke.

I parked in front of the room and shifted my stuff inside, noticing that the room was a little scruffy, but clean enough, and I decided I could endure the soft, springy bed for one night.

I turned on CNN to see if anything unthinkable had happened in Iraq, or anywhere else, and saw the usual bombs over Baghdad and succession of war experts and "embedded reporters" giving their opinions. The visual image of this war seemed to be through night-vision lenses. One general commented, "We need to attrit the Iraqi forces." The meteorology department gave a "Battlefield Forecast."

The reports were anchored by Aaron Brown, who, like all CNN "personalities," had risen to prominence during a crisis - in his case, the days following September 11, 2001. His on-camera presence came across as sincere, sympathetic, and down-to-earth, but what most impressed me was that he wasn't afraid to think out loud, rather than speak verbatim off the TelePrompTer, like most network news robots.

A political insider commented on the White House's reaction to all the second-guessing these experts brought to the day-to-day conduct of the war, saying they were greeted with "words you can't say on television."

Brown remarked that "The notion of 'words you can't say on television' is slightly ironic, when we're showing a war." Final analysis from this "embedded reporter": WAR IS MADNESS.

Brown also commented on the ever-growing SARS story, centered in Asia and, lately, Toronto, and how it would have been a "huge story" in other times.

I turned off the TV and went back to ask the cheery lady for some ice, then enjoyed a plastic cup of The Macallan while I cleaned the bugs off my windshield, then emptied the CD cartridge and thought about my music for the following day's drive. Those seemed to be the important priorities: a clean windshield and a full CD player. Music, and a clear view of the road ahead.

And The Macallan.

And dinner.


---
Puchase
Traveling Music: The Soundtrack to My Life and Times at Amazon.Com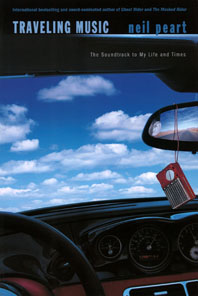 ---