There are 14 active users currently online.
---
---
Soloing In The Shadows Of Giants
Anatomy Building
Practicing The Rhythm Method

Modern Drummer Magazine

by Neil Peart / by Joe Bergamini

April 2006

---

Click Any Image to Enlarge
---
Soloing In The Shadows Of Giants
Rush's Neil Peart is the most celebrated drummer of the modern age. And Neil's command of the solo is a major reason.
In this exclusive first-person account, Peart tells the tale of his latest attempt to preserve his methods for history.

by Neil Peart
Photos by Brian Brodeur
---
Four score years ago (give or take), our forefathers brought forth the drum solo. The people watched and listened, danced and cheered, and it was good.
Prophets and pioneers like Baby Dodds, Chick Webb, and Big Sid Catlett passed the sticks down to Gene Krupa, and his showmanship and rhythmic grace brought the spotlight to the drum solo as a popular performance piece. Gene Krupa was the first and only drummer to have a movie based on his life, and more than forty years ago, before I ever touched a pair of drumsticks or knew what a snare drum was, I saw The Gene Krupa Story on latenight TV. To the boy I was then, the notion of being a drummer seemed exciting, glamorous, elegant, and dangerous, and my eyes must have been shining with inspiration and desire. I remember thinking, "I wanna do that!"
A few years later, when I did get a pair of drumsticks, and learned what a snare drum was, I began to get a sense of how much I had to learn. By the mid-'60s, so many giants had come before, pushing the frontiers of what had come to be known as jazz music. Buddy Rich's amazing technique and musicality had raised the drum solo to an even higher level of artistry and popular appreciation, and other inspired soloists like Louie Bellson, Max Roach, Joe Morello, Sonny Payne, Roy Haynes, Art Blakey, and Jack DeJohnette took the form in fresh, exciting directions.
And at the same time as I was starting out, drum solos began to bloom in rock music too, in concerts and recordings. Ginger Baker, Mitch Mitchell, Carmine Appice, John Bonham, Carl Palmer, and Michael Shrieve brought audiences to their feet in theaters, arenas, stadiums, and festivals, and fired me with more inspiration and desire - "I wanna do that!"
Through the '60s and '70s, jazz remained vital and constantly changing. Its various mutations produced brilliant innovators like Billy Cobham and Tony Williams, who built a bridge between jazz and rock-a bridge that would later be crossed in both directions by Steve Gadd, Steve Smith, Peter Erskine, Bill Bruford, Terry Bozzio, Dave WeckI, and many others, all traveling with their own musical mastery and unbounded imagination.
The drum solo is a tradition handed down to us, our heritage, as it were, and it is a heritage worth celebrating. Giants have come before us, and giants will come after, but even while we mere mortals play in their shadows, we can be inspired to aim just a little higher every day-or every night.
Drum solos are not for everyone, of course, whether they're drummers or music lovers. But even drummers who choose not to perform drum solos can still enjoy and benefit from a private indulgence. Exploring and experimenting freely, and even just that kind of practicing on your own, can only nourish and improve your playing.
Go forth into the musical wilderness, and play well!
---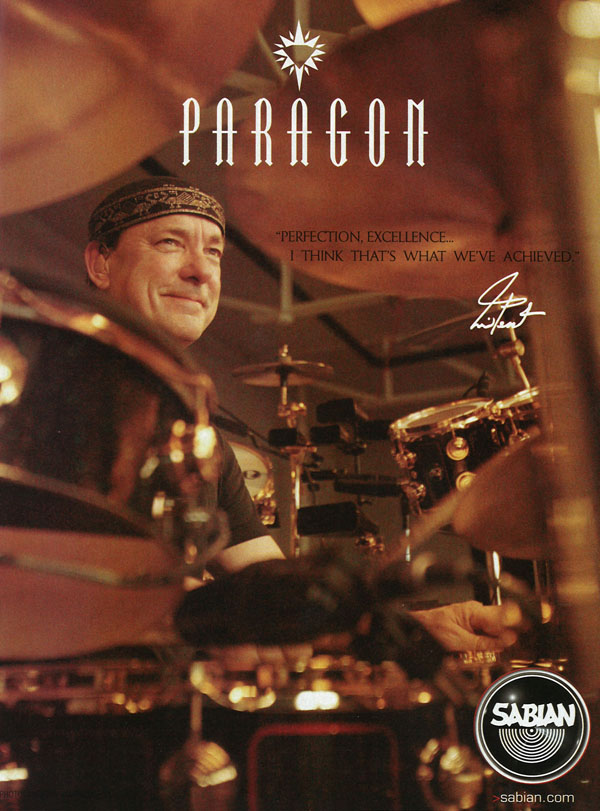 ---
Anatomy Building
by Neil Peart

---
My first instructional video, A Work In Progress (1996), described how I created drum parts for new songs, then demonstrated the recording process. My directors and collaborators on that project, Paul Siegel and Rob Wallis, had already become friends of mine, first when we met at the Buddy Rich Memorial Scholarship Concert in 1991, and even more so in 1994, when they filmed the recording of the two volume Buddy Rich tribute, Burning For Buddy.
In the weeks leading up to the May, 1996 shoot for A Work In Progress, at Bearsville Studios in upstate New York, Paul and Rob and I forged a close working relationship. The three of us exchanged ideas almost daily (by fax-so last century!), and together we developed and refined our program into points for discussion and demonstration in the show. I love that kind of collaboration: working with creative, dedicated partners to build a piece of work that grows into something I could never have imagined, let alone made, on my own.
For thirty years I have worked that way with my bandmates in Rush, Alex and Geddy, and their reactions and suggestions for my lyric writing and drumming not only elevate the result, they also elevate the process-the pleasure of doing business.
In the years following that first instructional video, Paul, Rob, and I discussed doing another project together, but I wasn't sure what it should be about. A Work In Progress had covered my approach to composing and recording drum parts, so the next obvious theme seemed to be live performance - but that was such a big one. I decided to start with something a little more modest (if that's the right word!), by making an instructional DVD about my thoughts and methods regarding drum soloing.
Anatomy Of A Drum Solo is centered around a solo from Rush's thirtieth-anniversary tour, "R30,' filmed and recorded in Frankfurt, Germany on September 24, 2004.
Our Rush In Rio DVD, recorded in 2002 on the tour for Vapor Trails, was (perhaps obviously) filmed in Rio de Janeiro. So I had titled that solo "O Baterista! " Portuguese for "The Drummer." (Can't you just hear those words said so many different ways? A foreign movie with a terrified, goggle-eyed man backing away and screaming, "O Baterista!" Or a woman's soft, sexy whisper in the darkness , "O Baterista!" Yeah...in our dreams....)
Anyway, because the centerpiece of Anatomy Of A Drum Solo was filmed in Germany, I called it "Der Trommler." (You'll guess what that means.) It's a good example of my approach to soloing, which has built gradually over forty years of playing and performing. At the beginning of a tour, I like to build a framework, like any other piece of music, an architecture that will give me a certain level of consistency every night, but still allow me to experiment and express myself.
"Der Trommler" was composed from many of the same pieces as "O Baterista!" elements, or "movements," woven together to tell a story that is historical, autobiographical, textural, and sometimes humorous. However, every tour I insist on rearranging the structure of my solo fairly comprehensively, making room for the natural, organic process of internally experimenting with new "fields of study" (as described in the DVD). Thus, over the course of a fifty-seven-show tour, the solo will always be a "nine-minute tour de force" (as Paul and Rob describe it on the DVD package), and hopefully always be entertaining and satisfying as a performance, but also remain an inspiring and creative vehicle for my own explorations.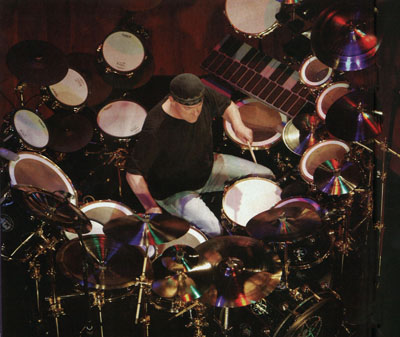 Among a few other "bonus" solos in the program, there is one from Hamburg, Germany, performed a few nights after the Frankfurt show. We included that one to demonstrate that even though my solos are tightly composed and arranged, they can still vary significantly from night to night. I gave that one the title "Ieh Bin Ein Hamburger," or, "I Am A Hamburger." This title owes something to Popeye's friend Wimpy, and also echoes JFK's famous statement in the early '60s, when he visited the newly divided city of Berlin and announced to the Berliners, and to the world, "Ich Bin Ein Berliner."
During the "R30" tour, Paul and Rob and I got together a few times and discussed the notion of doing another project. Being in the middle of a long, hard tour, I wasn't very interested in thinking about another major undertaking, but Paul visited me before our show in Saratoga Springs, New York, and the next week both of them ganged up on me backstage at Radio City Music Hall. Unwilling to commit to anything, I did agree to let them arrange for some special "drum cams" for the Frankfurt show, which the band was already planning to film for a concert DVD.
Once the tour was behind me, the conversations among Paul, Rob, and me picked up in frequency and intensity. In early 2005, slowly, gradually, we began to circle around actually doing it. Plans were made, people were chosen for cameras and technical crews, audio recording , and photography, and the studio was booked. Finally, my plane flight was booked, and I was on my way. (Hey-wait a minute! I'm not ready....)
In mid-July, it would have been an enjoyable adventure to motorcycle or drive from my California home to New York, but there was not time. Instead, I sent my car ahead by truck to Rob's house in rural New York. I would be able to drive the Z8 from there to the studio, then after the shoot, drive north through the Adirondacks to my house in Quebec, and to visit family and friends in Ontario. The expense was easy to justify, trading all those airfares, taxis, airport limos- and the sheer nastiness of air travel-for a beautiful drive.
And sure enough, after flying five hours to Newark and sitting in an airport limo for almost two hours from there to Rob's house, I was very pleased to be following Rob and the jovial Alfonse through the dark little roads of the Catskills. Allaire Studios is located atop a mountain near Bearsville, New York, where Paul and Rob and I had shot the previous video at Bearsville Studios; nine years before.
Allaire's excellent recording facilities and cozy accommodations are built into a vast estate from the 1920s, once a summer residence for the family who owned Pittsburgh Plate Glass. The studio's Web site showed spectacular views in every direction, but I never saw them- the weather was foggy and/or rainy all through our three-day shoot.
But never mind; most of our business was indoors anyway. We tried to get outside between rain showers for some of my introductory, spoken pieces, and during one of those, I felt a few fat, heavy raindrops. I kept talking, Carlos kept filming, and even as the rain's tempo increased into a Buddy Rich single-stroke roll, no one wanted to say "cut." Then all at once everybody seemed to realize it was absurdly hopeless, and we made a comical run for cover.
In actuality, I was wet more from sweat than from rain, sitting behind the drums and working through the solo. Each part of "Der Trommler" was dissected (even "vivisected," hence Anatomy), and I discussed themes, textures, and techniques, while demonstrating the pieces individually.
I have to say, it was the hardest three days of work I've ever done.
Starting in the early morning, each day I stood or sat in front of the cameras for ten or twelve hours, either talking or drumming. There's a joke among comedians: "Dying is easy; comedy is hard." I would amend that to, "Drumming is easy; talking is hard."
Wanting most of the spoken parts to be unscripted and spontaneous, I had to exert all my powers of concentration to try to speak articulately, comprehensively, and smoothly-without drooling . That is a challenge for any drummer. (You know the jokes.) I found it demanded so much mental energy to remember what I wanted to say, in the order I wanted to say it, and not deliver it like a robot or a zombie.
At the end of each day I felt empty and drained, and at the end of three days, I felt truly exhausted- and yet, exalted, in the afterglow of all that creative and performing energy. The next day I drove from the studio to my house in Quebec, speeding north over the back roads of the Adirondacks in my Z8, and it was one of the great drives of my life. I felt ragged and fatigued, yet elevated, elated.
A few weeks later, after I had steeled myself to watch the first edit (fearing embarrassment and shame), I was talking on the phone to my wife, Carrie, and grumbled, "I guess it's going to be okay." She knew that meant I was very pleased.
Working with Paul and Rob and our excellent crew of artists, technicians, and assistants had been truly collaborative, with everyone contributing his or her bit of expertise and imagination. As each shot was being set up, Paul and Rob and I gathered in the kitchen to exchange ideas for talking points and demonstrations, roughing out a basic "script." Then off I went again- into the lights to try to do all that in front of the cameras.
Though difficult, the process was exciting and rewarding, truly inspiring. In those brief and fast-moving three days, all of us had forged a united team of people who worked toward a common goal-making the best show we could.
That being the case, of course we hope people are going to like it!
---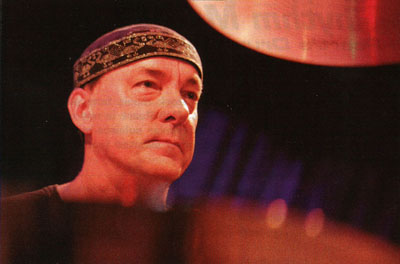 ---
Practicing The Rhythm Method
A Discussion Of Neil Peart's Drum Solos

by Joe Bergamini



---
"Ladies and gentlemen: The Professor on the drumkit!" Rock music fans all over the world have delighted at these words for thirty years. Neil Peart is not only one of the best-loved drummers of all time, he is also one of the premier soloists on the instrument. Few other drummers enjoy having their solos so eagerly awaited [some would say demanded) by his or her audience.
---
Neil's approach to soloing is that of a composer. Each of his solos is constructed into an arrangement that stays fairly consistent from night to night. This is in contrast to soloists in the jazz realm, who typically improvise solos based on the melody of the song. But most drummers would agree that Neil Peart is one of the masters of the composed drum solo.

In this article we're going to take a tour of Neil's solos that appear on various live Rush recordings, stopping along the way to dissect some of The Professor's signature licks.

All The World's A Stage, "Working Man" (1976)

Although the solo that appears on this live record is from an early stage in Rush's musical life, some of the signature elements of Neil's soloing are present. The solo opens with some impressive snare work, demonstrating that Neil's rudimental chops have been strong since his earliest days in Rush. Although the arrangement of this solo isn't as complex as his later work would be, it's still very musical. Some of Neil's signature licks appear in this solo, including his proprietary cowbell melody, and 32nd notes and triplets between his hands and feet.

Exit ... Stage Left, "YYZ" (1981)

After the success of their album Moving Pictures, Rush had become a rock supergroup, and Neil had attained kingly status among rock drummers. Exit ... Stage Left was released shortly after Moving Pictures, and it contains one of rock's most legendary drum solos. The hard-to-find video version of Exit ... Stage Left is also a wonderful document of Neil's drumming at this time.

At this stage of his career, Neil placed his solos within one of Rush's songs. For the Exit ... Stage Left tour, the solo is perfectly placed in the middle of the tune "YYZ." Many Rush fans still expect to hear a drum solo at this spot.

Neil begins the solo, as he tends to do, with high-energy rudimental snare work. It's interesting to note that even though Neil is known for playing a huge kit, his snare drum technique is a featured highlight of all his solos.

At 3:15, Neil executes one of his signature hi-hat bark licks. From there, he moves to the concert toms (3:30), and then mixes in the timbales (3:44). The interplay between these high-pitched voices provides contrast to the more powerful sounds of the kit.

At 4:00, Neil plays a descending roll down the toms and launches into a memorable cowbell riff that has reappeared in most of his later solos.

Here's Neil's famous cowbell melody, as it appears on Exit ... Stage Left.

Click to Enlarge


At 5:00, Neil plays a few splash cymbal licks. The Professor is a master at choosing the most effective cymbal voices. They are never used randomly.

The solo concludes with sextuplets and 32nd notes between toms and bass drums before returning to "YYZ."

A Show Of Hands, "The Rhythm Method" (1989)

"The Rhythm Method" is the title of Neil's unaccompanied solo that first appeared on A Show Of Hands. By this time, Neil had become quite adept at using electronics, and regularly incorporated them within his solos.

The solo fades in as Neil plays the cowbell melody. At 0:50, he reaches a climax with a crossover lick between the snare and floor tom. In Example 2, R/L indicates that the right arm crosses over the left to play the snare drum, and L/R indicates that the left arm crosses over the right to play the floor tom. (A good visual display of this lick can be seen on the Rush In Rio DVD during the song "O Baterista.")

Click to Enlarge


This version of "The Rhythm Method" continues with snare drum work played over a quarter-note bass drum pattern. At 1:29, the bass drum stops, and Neil displays his chops and dynamic control with some intricate snare patterns. Most of what you are hearing during this section is played using single strokes.

At 2:12, Neil's "Pieces Of Eight" marimba melody appears. This melody remains in Neil's solos today.

After a string of intense rock licks, Neil begins triggering horn/brass samples and playing between the hits (3:00).

The solo ends with a gong-drum roll and a sampled gong hit.

Different Stages, "The Rhythm Method" (1998)

Different Stages is a compilation of live cuts recorded during the Farewell To Kings, Counterparts, and Test For Echo tours. The version of "The Rhythm Method" that appears on this release is taken from the Test For Echo tour.

At the time of this performance, Neil was studying with famed educator Freddie Gruber. As a result, he had switched to traditional grip and had revamped his setup. Neil's new setup featured the ride cymbal now in a traditional jazz position over the bass drum, which led him to eliminate a tom. (Neil's modified approach during this period is well documented on his A Work In Progress DVD from Warner Bros.)

The beginning of "The Rhythm Method" on Different Stages reflects the changes that occurred in Neil's playing, as the introductory snare patterns are more subdued and swinging than on past solos. Neil also mixes electronic samples into the snare work. Again you can hear Neil seamlessly integrating electronics into a composition.

At 0:58, Neil performs Max Roach's classic solo drum piece "The Drum Also Waltzes;' which lasts for nearly a full minute. Then Neil's traditional snare drum licks with bass drum underpinning return at 2:13, followed by the "Pieces Of Eight" marimba theme. From 3:08 to 3:28 , there's much more extensive use of double bass figures than in past solos.

Neil launches into a strong tribal groove at 4: 10. He gradually expands on this by triggering sampled African tom voices. Neil then adds a snare drum sample on "2" and "4" with his left foot and begins to solo. During this section, he incorporates melodic ideas on the MIDI marimba.

At 5:56, Neil progresses into another signature lick: the "Scars" groove. This beat was written for the song "Scars" on the album Presto. Notice the double-stroke sticking and the lateral spread across the kit that is required for this groove. (You can see Neil playing this pattern on the Rush In Rio DVD at 1:58:29.)

Click to Enlarge
Rush In Rio, "O Baterista" (2003)
The Rush In Rio CD and DVD contain Neil's Grammy-nominated solo, "O Baterista." This freestanding solo is a synthesis of some of the drummer's most memorable ideas. The solo opens with driving single- and double-stroke riffs on the snare drum.

Click to Enlarge


At 1:53 :32 on the DVD, Neil again shifts into Max Roach's "The Drum Also Waltzes." This particular take on the piece includes a tambourine sample played with the left foot instead of the hi-hat. (See Example 5.)

Click to Enlarge


Many of Neil's classic solo elements are present in "O Baterista;' albeit in a new arrangement. Go to 1 :56:48 to see Neil apply two of the most standard licks in the rock drumming vocabulary - sextuplets and 32nd-note quads between the hands and feet.

Example 6 contains Neil's sextuplet licks as they appear in "O Baterista." And Example 7 shows how Neil voices "quads" around his kit.

Click to Enlarge


After a revamped horn-hit section, Neil takes this solo to an entirely different place by playing along to the shout chorus of Count Basie's "One O' Clock Jump ." Neil played this piece during his appearance at the Buddy Rich Memorial Scholarship Concerts and on the Burning For Buddy CD.

No recording can take the place of experiencing music as it's being made before your eyes and ears. Neil Peart is a drummer whose place in the pantheon of drumming greats is secure. So if you get an opportunity to watch him play, don't miss it!

---



Modern Drummer Selects the Top 25 Drum Solos of All Time
by Mike Haid



17) Neil Peart: "Working Man/Finding My Way"
Rush, All The World's A Stage (1976)

The first (solo) cut is the deepest for Neil Peart. Rush's drummer became a household name with rock drummers after the Rush epic 2112 recording. The first Rush live recording that followed, All The World's A Stage, gave drummers what they were craving- an extended solo from prog metal's new-found king.

Aptly introduced as "The Professor," Peart created a well-structured, lengthy, and diverse solo incorporating a traditional rudimental snare drum display, moving into a fast four-on-the-floor drumkit workout laced with tuned cowbell melodies leading to dense double bass "quads." The drummer also dropped in choked cymbal accents that highlighted the quick triplet and 16th note combination fills around his massive kit. This first live solo from Neil culminates with an oriental musical phrase on the cowbells. Peart's live solos in time became even more structured and stylistically diverse. But longtime Neil fans remember this solo as a grand opening statement.
---
Home
---