There are 22 active users currently online.
---
---
It's A Modern Rush:
Bombast, Humor, & Excellence

Good Times Magazine

August 2010
Issue No. 1048

by David J. Criblez
---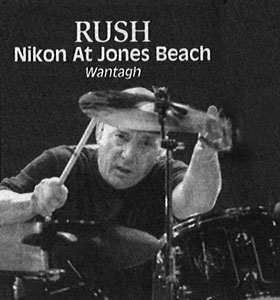 Click Any Image to Enlarge
---
"Rush: New Attitude, Same Excellence"
---
Rush enjoys a huge Long Island fan base, so when the band performs here it's usually a sold-out extravaganza. When the band hit this waterfront venue on July 24, sparks flew from the stage - and in the crowd - as the "Holy Trinity" performed a three-hour set that included the entire 1981 Moving Pictures album.
The band has developed an incredible sense of humor in recent years, and now show comedic mini-films shown prior to taking the stage. This time around, they used the "Time Machine" tour theme which showed the band in a fictional depiction of their early days as "Rash." Bassist Geddy Lee, drummer Neil Peart, and guitarist Alex Lifeson portrayed various characters outside of the band, moving the story along as they traveled through the years until they reached current times - and that's when the real Rush emerges on stage, performing "The Spirit of Radio" followed by "Time Stand Still."
"Thanks for coming out and enduring the heat. We're gonna sweat tonight," said Lee, who quickly shot into "Presto" and "Stick It Out." The act, now in its fifth decade, has not lost its edge. Its tight chemistry is alive and well, with the members' spirit fully intact. Colorful renditions of "Workin' Them Angels" and "Leave That Thing Alone" were enough of a tease to excite fans about what was to come.
After "Faithless" from Snakes & Arrows, Rush debuted a new song, "BU2B (Brought Up To Believe)" from their upcoming new album, which was greatly appreciated. The crowd sang along to "Freewill," while "Marathon" and "Subdivisions" closed out the first set.
Another film clip showed the band playing characters; Lifeson was as an overweight manager and Lee portrayed a video director as they grow in popularity through the years. During a video shoot, Lee asks a pack of St. Pauli Girls carrying beer to "Stop moving pitchers!" The live band then performed Moving Pictures in its entirety. The crowd exploded with sheer glee as the sounds of "Tom Sawyer" filled the amphitheater.
The performance of the band's best-known album was stellar. From "Red Barchetta" to "YYZ" to "Limelight" to "The Camera Eye" to "Witch Hunt" to "Vital Signs," it was all perfect, note-for-note. Hearing the album live in its entirety worked for Rush, while it's a concept that other bands have tried and failed with.
After the band debuted another new tune, "Caravan," Peart performed his infamous 10-minute drum solo. Captured on the big screens from various angles, the fury of Peart's unique abilities was to be marveled. Even at age 57, he is still one of the quickest and most skilled drummers on the planet.
Lifeson pulled out his acoustic 12-string for "Closer To The Heart" and Lee sounded as strong vocally as he did on the original record. The best was yet to come: A performance of "2112: Part I - Overture" and "2112: Part II - The Temples Of Syrinx" before closing the show with "Far Cry" sent many fans into a frenzy. Lee shouted, "You guys have been awesome! It's been a great celebration."
The audience clamored for more, and Rush delivered; the instrumental "La Villa Strangiato" got the encore started, while one of their oldest songs, "Working Man," closed the show. As [a] cap on the evening, the band played another movie clip - this time starring Jason Segel and Paul Rudd portraying their characters from I Love You, Man, a bromantic comedy about two guys who bond over Rush music. The film was hilarious, and fans ate it up - putting a cherry on top of a perfect evening of Rushgasms.
---
---
-| Click HERE for more Rush Biographies and Articles |-
---