There are 15 active users currently online.
---
---

- Holiday Rush Contest -


Rush Lyric Randomizer - Reload this page for a randomly selected lyric

---
Follow Cygnus-X1.Net


---
Welcome to the fifth annual Cygnus-X1.Net Holiday Rush Contest!
---

In what has become a tradition around these parts, Cygnus-X1.Net is proud to celebrate the successes of Rush - and their fans - from the past year by sponsoring its fifth annual Holiday Rush contest.

2011 has been another year to remember for Rush; from the continuation of their wildly popular, critically acclaimed Time Machine Tour during the first half of the year, to the recent release of their Time Machine 2011: Live in Cleveland concert movie and CD to their on-going work on the forthcoming album Clockwork Angels, the Rush community has certainly had a lot to cheer about.

2011 also heralded the release of the very first Rush Box Sets dubbed "Sectors" which took a retrospective look back at Rush's studio and live releases during their years with Mercury records.

Both the Time Machine Tour and the Sectors Box Set are the theme for this year's contest. So, for 2011, the prize package includes:


The Complete Rush "Sectors" Box Set (Sector One - Sector Two - Sector Three)


The Time Machine 2011: Live in Cleveland Concert DVD


The 2012 Rush "Signals" Wall Calendar


And One Cygnus-X1.Net Inspired Mystery Gift


---
---
The 2011 Holiday Rush Contest is now over.
Congratulations go out to Robert M. from Seattle, WA for being this year's big winner!
Thanks to everyone who entered this year. Happy Holidays!
---
Latest Poll Results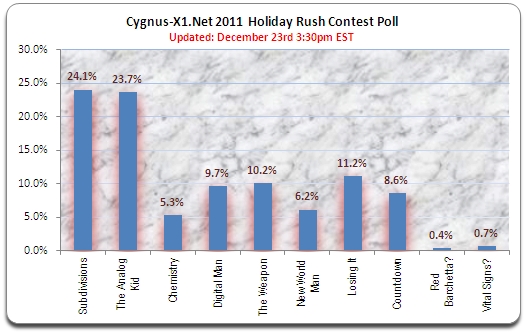 ---
Good Luck, Everyone and Happy Holidays from Cygnus-X1.Net!