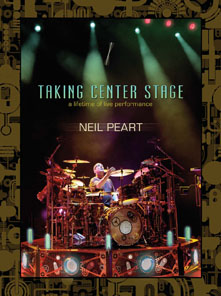 There are 25 active users currently online.
---
---

Neil Peart: Taking Center Stage
A Lifetime of Performance Retrospective Book
- CONTEST -


---
Update: (October 15th, 2012): The 'Taking Center Stage' Retrospective Book Contest is now over. Below is a message from author Joe Bergamini along with the correct responses to the three trivia questions:
Thanks to everyone who entered the contest and I hope you all enjoy the book. Here are the correct answers to the quesions:

1. What percussion instrument did Neil use only on the Counterparts tour, and then remove from his kit (The acoustic instrument; not including digital samples of its sound)?

Answer: A tambourine

2. How many bass drums did Neil use on the Roll the Bones tour?

Answer: 2 (Although there's only 1 on the front kit, the rear kit had one as well!) I know this may have seemed like a trick question because I wrote about Neil going from two bass drums on the front kit to one, but from the diagram you can clearly see there was a total of two bass drums: one for the front kit and one for the rear. It seems that some folks answered "3," counting the Gong Bass Drum, so we are accepting that answer, although despite its name, drummers consider this basically a huge tom, and wouldn't count it as a bass drum. But because of this confusion, we accepted 2 or 3 as correct answers here.

3. What was the color of Neil's drumset for the Counterparts tour?

Answer: Dark Cherry or Black Cherry - both are correct answers.

-Joe Bergamini

---


And the winners are:

Sam Olson - Autographed Coffee Mug
Mark Gausel - Autograped Far & Away Novel
Doug Sadowski - Framed Autographed Statement from Taking Center Stage DVD
Rich Ranus - Autographed Anatomy of a Drum Solo Poster
Joseph Pesch - Autographed Anatomy of a Drum Solo Poster
Congratulations to all the winners and thanks to everyone else who participated!
---
In celebration of the upcoming October 15th release of Hudson's Music's new book, Neil Peart: Taking Center Stage by Joe Bergamini, Hudson Music and Cygnus-X1.Net are sponsoring a fantastic contest where five lucky winners will receive an autographed item from Neil Peart himself.

This companion book to last year's instructional DVD of the same name includes:
Fifteen chapters devoted to Neil's musical approach and equipment on every Rush tour since 1975.
Note-for-note drum transcriptions of 17 songs taken from the Taking Center Stage: A Lifetime of Live Performance DVD, including Rush classics like "Tom Sawyer," "YYZ," "The Spirit of Radio," "Free Will," "Subdivisions," "Time Stand Still," "Marathon," "La Villa Strangiato," and many others.
Detailed text from both Neil and author Joe Bergamini, explaining his equipment and his approach to the songs.
Exclusive photos, some never before published, showing Neil and his drums in vibrant detail.
Detailed diagrams and explanations of all of Neil's drum sets.
Other interesting images, such as Neil's Modern DrummerŪ magazine covers and print advertisements from DW, Tama, Sabian, Ludwig, Pro-Mark, and Zildjian.
A sample edition of the new book is available at this LINK. For more information on the release of the book, please click HERE.

The available prizes include:

A "Bubbas" Coffee Mug.


Neil Peart's novel Far and Away: A Prize Every Time.


The closing statement Neil wrote for the Taking Center Stage DVD, printed on parchment paper and framed.


Two large posters of the Anatomy of a Drum Solo DVD cover.

All Prizes Have Been Autographed by Neil Peart!
---
In order to enter the contest, you must fill out the entry form below and correctly answer three trivia questions about Neil. Winners will be selected at random from all successfully completed entries. Some additional contest guidelines:
1. Contest is open to Rush fans and non-fans alike the world over.
2. Only one entry per email address will be accepted.
3. Any incomplete entries will be discarded.
4. Contest ends on October 15th, 2012

---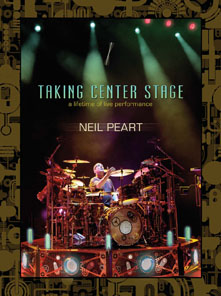 ---
Thanks To Everyone Who Participated!