There are 12 active users currently online.
---
---
RŒSH
CLOCKWORK ANGELS TOŒR
Concert Pictures

Target Center - Minneapolis, Minnesota
September 24th, 2012

---
The "Clockwork Angels" Tour spanned from:
September 7th through December 2nd, 2012 and April 18th through August 4th, 2013
---
|Tour Dates| --- |Set List|
---
Nearly Four Decades Later, Rush Is Still Proving It Matters
Rush will not go quietly. Yes, the Toronto trio released its first album 38 years ago, and some may regard progressive rock full of long-form storytelling and quick-changing rhythms to be so '70s. But the band has stayed true to its style, and is still doing some very impressive things with it.
In fact, the songs from the band's latest album, this year's "Clockwork Angels," were the most exciting thing about Rush's three-hour show at Minneapolis' Target Center Monday night, Sept. 24. They certainly got a strong response from the 8,000 or so fans in the arena, and they deserved it, for they were played with a passion that was missing from most of the older songs that filled the first of the band's two sets.
Not that the performances of those songs lacked for energy, but there was a relentlessness that grew wearying after a while in the '80s-era songs that made up most of the first set, the breakneck tempos a tad too unvarying, the intensity level pushing the red line for perhaps a little too long. And this wasn't a set for the casual Rush fan, for few of the songs have ever found their way onto a radio station. They were deep cuts like "The Analog Kid" and "Bravado," "Force Ten" and "Territories." While Rush's erratic rhythms and unpredictable riffs don't make them ideal for dancing or even head-bobbing, the bulk of the crowd stood stiff and staring through most of the set, seemingly hypnotized by the animated films adorning the big screen behind the band.
But, as the evening went on, the crowd's enthusiasm grew with the band's. The second set opened with nine straight songs from "Clockwork Angels," and, at most concerts by bands of this vintage, that would mean losing an audience to beer lines and rest rooms. But these were such strong songs that a kind of marvelous momentum built. It helped that the textures were interwoven with the sound of an eight-piece string section, but also that the trio didn't seem as concerned with showing off its unimpeachable musicianship as early in the evening.
And make no mistake: Guitarist Alex Lifeson, bassist Geddy Lee and drummer Neil Peart are all exceptional players. And they've honed a remarkable collaboration over the decades, Lee singing Peart's almost invariably intriguing lyrics in his distinctive high tenor while Lifeson chimes in with soaring solos. On Monday, they still seemed to be having quite a good time together, especially during clearly-jam-born instrumentals like "Where's My Thing?' and "YYZ."
While the band's longtime devotees were no doubt thrilled by the extended excerpt from 1976's "2112" that closed the evening, and the energy level was at fever pitch during a second-set finale of "The Spirit of Radio" and an opening encore of "Tom Sawyer" -- both of which sounded as good as they did back in the day -- it was the new material that surprisingly stole the show. "The Anarchist" rocked with thunderous abandon, "The Wreckers" was a lovely melodic power ballad, and "Halo Effect" let loose Lifeson's acoustic inclinations while allowing the band members to indulge their affection for one of their early influences, Led Zeppelin.
But the standout among the new tunes was "The Garden," a song that had the feel of an anthem, swirling with a kind of wistful melancholy seldom found in this band's music. Yes, Rush can still rock, but age and experience is evidently inspiring them to bring more beauty into their music. So, rather than a fond look back, Monday's concert felt like the beginning of a fascinating new chapter in this band's admirably lengthy history.
-Rob Hubbard
---
The following spectacular pictures are courtesy of Petie Lee Guerrero. Thanks Petie!
---
---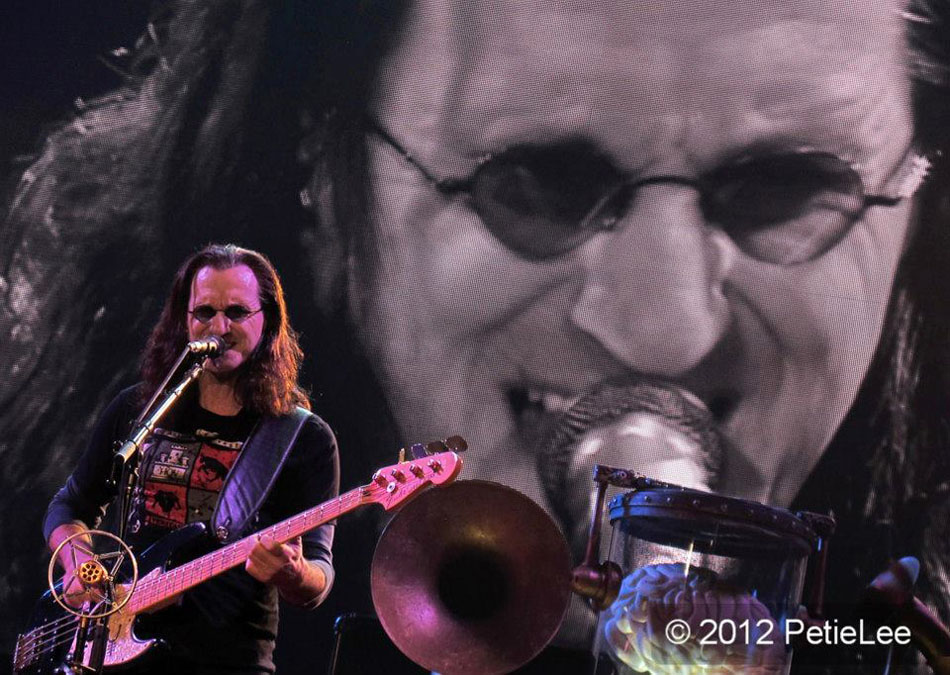 ---
---
---
---
---
---
---
---
---
---
---
---
---
---
---
---
---
---
---
---
---
---
---
---
---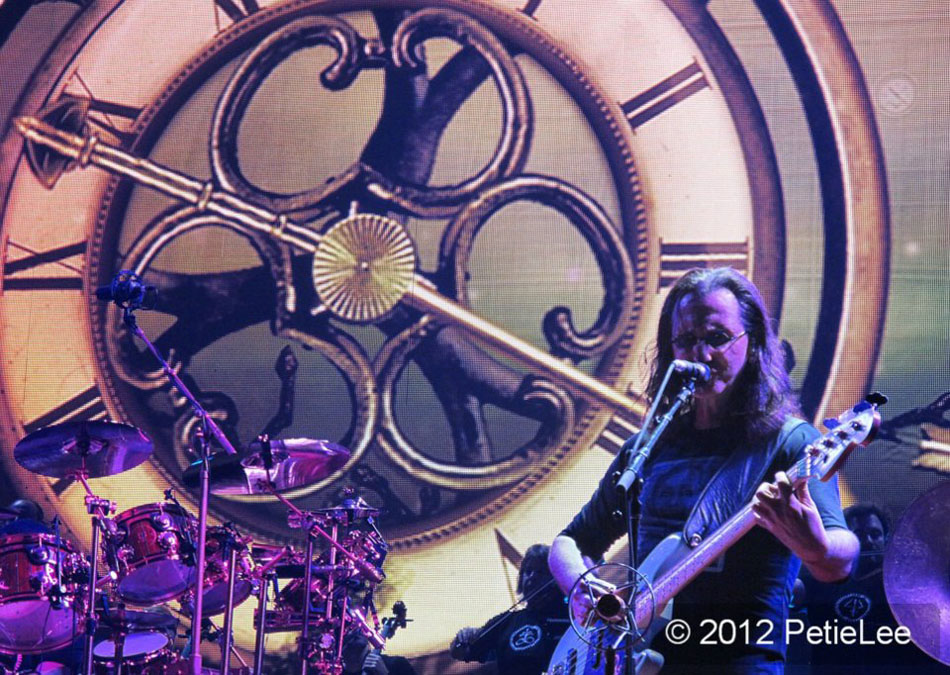 ---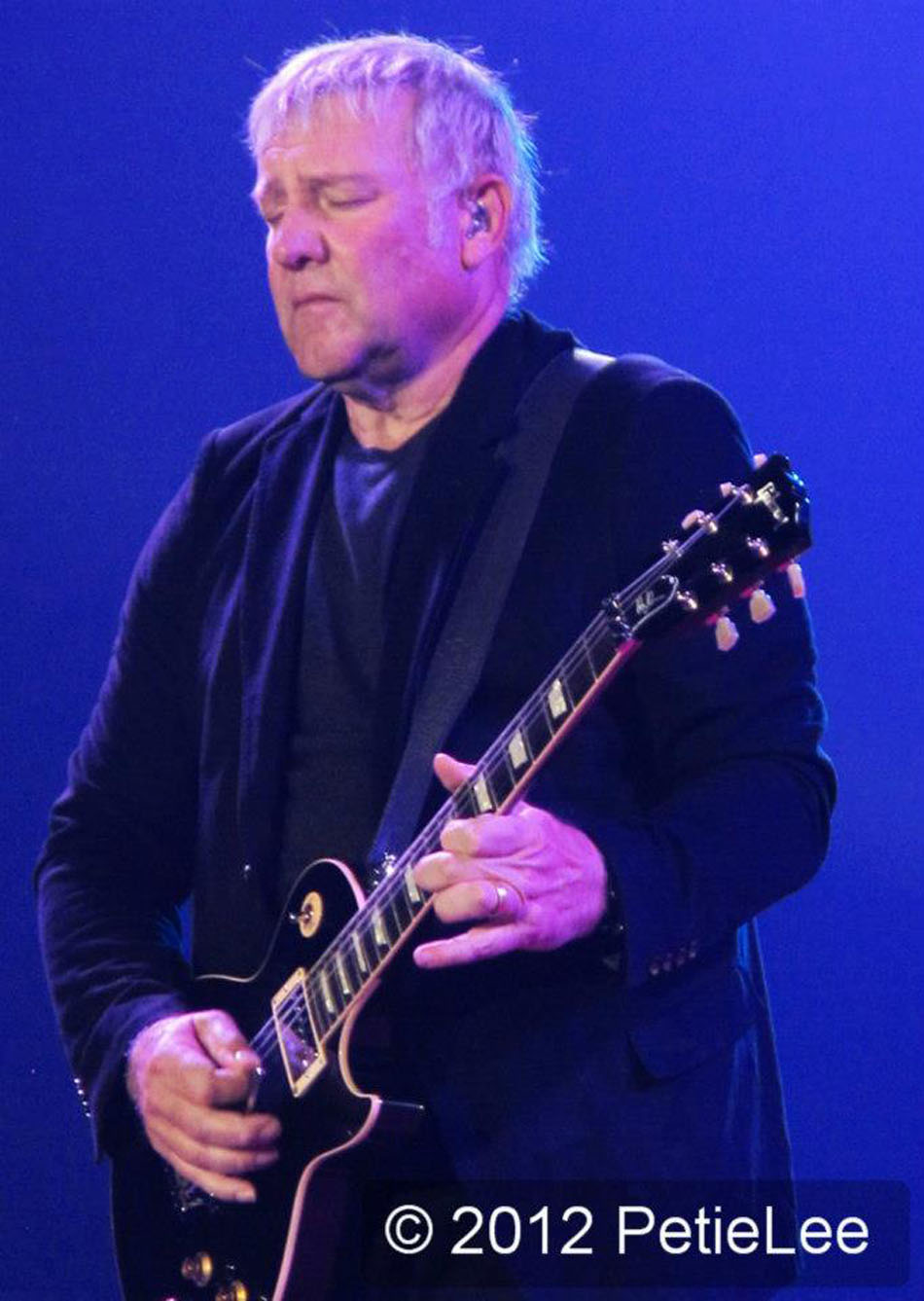 ---
---
---
---
---
---
---
---
---
---
---
---
---
---
---
---
---
---
|Back to Top|
---