There are 17 active users currently online.
---
---
Rush: Changing Hemispheres

by James McCarthy

December 2011


Click Any Image to Enlarge
---
'This is certainly one band for whom time does not stand still' Geddy Lee.

This is the true story of Rush from humble Canadian beginnings through to international super stardom.

Featuring a masterful and comprehensive text packed with great photographs of the band this unique production also includes
four documentary DVDs packed with candid audio interviews with the band members compared and contrasted with the views
of a leading team of music journalists, insiders and musicologists.

This uncensored and independent title has not been viewed or approved by the band or its management
and is completely free to tell the unvarnished story of Rush as it really happened.

The contents of this amazing book and DVD combination are completely essential reading and viewing for Rush fans everywhere.

---
Contents
Introduction
Who are Rush?
The Genre of Prog Rock and What is Rush's Actual Musical Style?
Awards and Recognition
The Early Years 1968-1976
The Prog Rock Era 1977-1981
Back to Their Original Style, Goodbye Synthesisers 1989-1997
The 5 Year Hiatus and the Comeback Album 1997-2005
Snakes and Arrows and Tours 2005-2010
The Future of the Band
Discography 1974-1981
Discography: Post 1982 to the Modern Era
---
Introduction
"The rock band at Madison Square Garden on Monday night was a trio that got together in the 1970s and has been selling out arena dates on a world tour this year. It has a bass-playing, reedy-voiced lead singer, a briskly virtuosic drummer and a guitarist who spills a variety of echoed chords over their riffs. Its songs contemplate the state of the world. No, it wasn't the Police, The Stones or the Who - it was Rush, the stalwart Canadian band that didn't have to reunite.
Without a string of pop hits or much that's even remotely glamorous, Rush has maintained one of rock's biggest cult followings. Rush has improbable ingredients for popularity. The music is grounded in progressive rock, with odd-meter riffs from Geddy Lee on bass and Neil Peart on drums below the guitarist Alex Lifeson's power chords and pealing arpeggios. Once scorned, progressive rock has started a comeback and Rush are at the forefront of that movement"
That review from the New York Times in 2007, perhaps sums up the longevity and significance of the band which is being examined in the next few pages and on these DVDs. Despite them forming over 40 years ago in 1968, the Canadian rock music trio Rush are still selling out huge venues and having chart hits to this day. In this book we are going to discover who they are and chart their progress from an elementary school band of mates, into a global phenomenon.
Rush are considered to be one of the founding members of the 1970s prog rock movement in music. It developed from the almost psychedelic rock from the 1960s and incorporated heavier guitar riffs and drum beats. The movement sold massively worldwide and I will discuss the impact of Rush on the genre of Progressive Rock later.
Rush had several significant hits throughout the world but noticeably in America where they dominated the Billboard 200 charts in the entirety of the 1970s and even in the decades since. Arguably their biggest hit was their 1982 song New World Man which reached number one in the American Rock chart as well as the top 20 in the Billboard charts and the UK Top 40. Other notable number one hits were Dreamline, Show Don't Tell, Stick it Out and Test for Echo. In the UK they are probably best known for the hits The Spirit of Radio which reached number 13 in 1980 and Tom Sawyer which reached number 25 in 1981 and again in 1982.
The band have sold millions of records worldwide and as a group, Rush possesses 24 gold records and 14 platinum records, placing them fourth behind the Beatles, Rolling Stones and Kiss for the most gold and platinum albums by a band in music history. Rush's sales statistics also place them third behind The Beatles, and The Rolling Stones for the most consecutive gold or platinum albums by a rock band. Rush also ranks 79th in U.S. album sales with 25 million units, although total worldwide album sales are not calculated by any single entity, as of 2004 several industry sources estimated Rush's total worldwide album sales at over 40 million units.
Rush have also become known for their outstanding and at times eccentric live stage performances and tours to promote their albums. They are always able to sell out huge venues like Madison Square Garden in Times Square and despite not releasing much material in recent years they still get extensive airplay on radio stations in the United States. They have also become known for their ability to constantly change instruments, never appearing on stage with the same guitar as the previous gig during the 1970s. To this day they have still become known for endorsing numerous musical brands and even creating their own range of guitars.
The band are currently preparing to release a new album in 2011 which will be titled Clockwork Angels and will also feature another World Tour to promote the album in 2011. Ticket sales for the tour indicate the huge popularity of the band to this date. They have also received their own star on the Hollywood Walk of Fame in Los Angeles in recognition of their long serving contribution to music. They have been named in the Classic Rock Hall of Fame and look set to continue their sales into a fifth decade in the music industry.
Even the band themselves are surprised at how well they have lasted in the business. When Alex Lifeson was asked by Guitar Player Magazine, 'Think back 30 years did you ever think you'd be talking to us now?' his response summed up the modern music industry:
"I was surprised to even be around that long. I remember saying in 1974, when we started our first American tour, that if we could get five years out of this thing it would be quite remarkable. That was about the extent of a band's longevity at the time. Now we're 25 years beyond that. A lot of great bands have come and gone in that time. Are there any bands out now that can last 30 years, I don't know if they'll get a chance. Based on talent, there are bands that probably could, but the way record companies work is completely different than it was 30 years ago. Record companies have become speculators, rather than developers. Nowadays, you have to come in with a completed record, and it's released on spec. If it instantly does okay, you might get a deal. If it doesn't, you'll get dropped. When we got our deal in '74, it was for five records. We were a young, unknown band. The record company looked at it like, "Let them work their stuff out for the first couple of records, and, hopefully, when the third record hits and is successful, then we've got two more records to capitalize on that success." Opportunities like ours just don't seem to be around anymore."
So it's clear to see that even in modern times Rush are still an incredibly influential band capable of selling millions of records. This book to accompany the DVDs will try to give some insights into who the band are, their significance in music, the history of their style and development and the discography of some of their more famous and interesting hits.
---
Who Are Rush
GEDDY LEE

Geddy Lee is best known as the band's lead vocalist, bassist and also keyboard player. He was born in Ontario in 1953 and joined the group towards the end of 1968 as a replacement for the band's previous and short-term lead singer Jeff Jones. Lee was a childhood friend of fellow band member Alex Lifeson and the two had even gone to school together and stayed at each other's houses.
Geddy Lee was born Gary Lee Weinrib but his stage name, Geddy, was inspired by his mother's heavily-accented pronunciation of his given first name, Gary, and it later became his high school nickname before he adopted it as his stage name. Lee's parents were Jewish refugees from Poland who had been survivors of Nazi concentration camps Dachau and Bergen-Belsen during World War II. In 2004, Canadian Jewish News featured Lee's reflections on his mother's experiences as a refugee, and of his own Jewish heritage. He married Nancy Young in 1976 and they have two children, a son called Julian and a daughter called Kyla.
In addition to his composing, arranging, and performing duties for Rush, Lee has produced for various other bands, including Rocket Science. Lee's first solo effort, My Favourite Headache, was released in 2000. Along with his Rush band mates - guitarist Alex Lifeson and drummer Neil Peart - Lee was made an Officer of the Order of Canada on May 9, 1996. The trio was the first rock band to be so honoured, as a group. Lee is ranked 13th by Hit Parade Magazine on their list of the 100 Greatest Heavy Metal vocalists of all time.
Geddy Lee is arguably best known for his use of gadgetry and equipment and has become synonymous with weird and wonderful musical instruments. He has pioneered new keyboards and bass guitars and has inspired some of the finest musicians of modern times. He is renowned for constantly touring with a different bass guitar as this article from the band's official website explains:
For his first local gigs in the early 1970s and Rush's debut album, Lee used a Fender Precision Bass. From Fly By Night onward, Lee favoured Rickenbacker basses, particularly the 4001 model, and a Fender Jazz Bass which is heard on Permanent Waves, Moving Pictures, Signals and the supporting tours. In 1981, Lee began using the compact, headless Steinberger bass, which he occasionally used on the supporting tour for Signals and for several tracks on Grace Under Pressure. From 1985 to 1992, Lee used British Wal basses. He switched back to Fender Jazz Basses for the recording of Counterparts in 1993, and has been using them virtually exclusively since, heard on albums Test For Echo, Vapor Trails, Feedback and Snakes & Arrows. However, he used a Fender Jaco Pastorius Tribute fretless replica bass for the song "Malignant Narcissism" on Snakes & Arrows, and a Fender Custom Shop Jazz with an Alder Body and a Flamed Maple top in Transparent Red for songs in an alternate tuning during the last several tours. In 1998, Fender released the Geddy Lee Jazz Bass, available in Black and 3-Colour Sunburst. This signature model is a recreation of Lee's favourite bass, a 1972 Fender Jazz that he bought in a pawn shop in Kalamazoo, Michigan. On all of his basses, Lee uses Rotosound Swing Bass 66 Stainless Steel round-wound strings (RS66LA). Lee once again used his Rickenbacker 4001 for the performance of "A Passage To Bangkok" on the 2007 and 2008 Snakes & Arrows Tour. For the 2010 Time Machine Tour Lee added the alchemical symbol for "Amalgamation" to the body of his Fender Jazz Bass guitar.
However since 1996, as well as varying his bass guitars regularly he has also begun to shun traditional amplifiers and keyboards preferring instead to use a venue's own sound system and plug his guitar into the microphone system. This has led to him having a huge space on his side of the stage where amplifiers and equipment would traditionally be positioned. Lee has filled this gap with a wide range of items from a full size commercial fridge freezer to coin operated tumble dryers.
Geddy Lee is also a huge advocate of charity work and a fan of baseball. In June 2008, he donated a collection of 200 rare signed baseballs which he had cherished since his childhood to a museum in Kansas City. They were from the Negro Leagues set up in the 1930s and bore a huge significance to the Negro Leagues Museum that had been recently set up there to commemorate the racial separation in the United States.
Lee's high-register vocal style has always been a signature of the band - and sometimes a focal point for criticism, especially during the early years of Rush's career when Lee's vocals were high-pitched, with a strong likeness to other singers like Robert Plant of Led Zeppelin. Although his voice has softened over the years, it is often described as a "wail". His instrumental abilities, on the other hand, are rarely criticized. An award-winning musician, Lee's style, technique, and ability on the bass guitar have proven influential in the rock and heavy metal genres, inspiring such players as Steve Harris of Iron Maiden and Cliff Burton of Metallica among others.
The bulk of Lee's work in music has been with Rush. However, Lee has also contributed to a body of work outside of his involvement with the band through guest appearances and album production. In 1981, Lee was the featured guest for the hit song "Take Off" and its included comedic commentary with Bob and Doug McKenzie played by Rick Moranis, who Lee actually went to school with, and Dave Thomas, for the McKenzie Brothers' comedy album Great White North. The following year, Lee produced the debut album from Toronto new wave band Boys Brigade. On the 1985 album We Are the World, by humanitarian consortium USA for Africa, Lee recorded guest vocals for the song "Tears Are Not Enough".
Apart from band contributions, Lee sang the Canadian National Anthem in front of a full crowd at Camden Yards for the 1993 All-Star Game. Another version of "O Canada" in rock format was recorded by Lee and Lifeson on the accompanying soundtrack CD for the Trey Parker and Matt Stone film South Park: Bigger, Longer, and Uncut released in 1999.
My Favourite Headache, Lee's first solo album, was released in November 2000 while Rush was on a hiatus due to tragedies in drummer Neil Peart's life. Lee appeared in Broken Social Scene's music video for their 2006 single "Fire Eye'd Boy", judging the band while they perform various musical tasks, and in 2006, Lee joined Lifeson's super group the Big Dirty Band, to provide songs accompanying Trailer Park Boys: The Movie.
Lee's life has seen him win a number of famous awards including Best Rock Guitarist and Best Bass Guitarist from Guitar Player Magazine. He was inducted into the Canadian Music Hall of Fame in 1994 and is seen as an ambassador for Canadian music worldwide.
ALEX LIFESON

Alex Lifeson is best known as the group's guitarist and one of their founder members. In the summer of 1968, Lifeson founded the band that would become Rush with friend and original drummer John Rutsey. He has been an integral member of the three-piece band ever since. Lifeson was born Aleksandar Zivojinovic in Fernie, British Columbia to Serbian immigrants, Nenad and Milka. He was raised in Toronto, Ontario where he would meet his fellow band members at secondary school. His assumed stage name of "Lifeson" is a semi-literal translation of the name "Zivojinovic': which means "son of life" in Serbian.
Lifeson's first girlfriend, Charlene, gave birth to their eldest son, Justin, in October 1970, and they married in 1975. Their second son, Adrian, who is also involved in music, performed on two tracks from Lifeson's 1996 solo project, Victor. His first exposure to formal music training came in the form of the viola, which he renounced for the guitar at the age of 12. His first guitar was a Christmas gift from his father, a six-string Kent classical acoustic which was later upgraded to an electric Japanese model. During his adolescent years, he was influenced primarily by Jimi Hendrix, Pete Townshend, Jeff Beck, Eric Clapton and Jimmy Page. In 1963 Lifeson met future Rush drummer John Rutsey in school. Both interested in music, they decided to form a band. Lifeson was primarily a self-taught guitarist with the only formal instruction coming from a high school friend in 1971 who taught classical guitar lessons. This training lasted for roughly a year and a half.
Instrumentally, Lifeson is regarded as a guitarist whose strengths and notability rely primarily on signature riffing, electronic effects and processing, unorthodox chord structures, and a copious arsenal of equipment used over the years. Despite his esteem, however, Lifeson is often regarded as being overshadowed by his band mates due to their on stage eccentricity, in comparison to his more calm and composed style.
Unlike many of the other members of Rush, past and present, Lifeson has also developed a fairly active media career and is well respected as a solo artist, television presenter and actor. This began in 1972 when he appeared in a Canadian documentary film called Come on Children. He then left acting to focus on his music career before returning during Rush's hiatus in the late 1990s. His return to television came in 2003 when, in an episode of the Canadian mockumentary Trailer Park Boys, titled "Closer to the Heart", Lifeson plays a partly-fictional version of himself. In the story, he is kidnapped by Ricky and held as punishment for his inability to provide the main characters with free tickets to a Rush concert. In the end of the episode, Alex reconciles with the characters, and performs a duet of "Closer to the Heart" with Bubbles at the trailer park.
He would later go on to be instrumental in the band's 2008 appearance on hit television comedy show The Colbert Report, which is sort of like a mick-take of the week's news. The entire band played the full version of "Tom Sawyer" which according to the host was the entire band's first television appearance in 33 years. Lifeson appeared in Trailer Park Boys: The Movie, as a traffic cop in the opening scene and then again in Trailer Park Boys: Countdown to Liquor Day but this time in drag as an undercover vice cop. In 2009, he and the rest of the band appeared as themselves in the hit comedy I Love You, Man.
In 2010, Lifeson also appeared in The Drunk and On Drugs Happy Fun Time Hour, a new series from the Trailer Park Boys team.
However Alex Lifeson's career and musical life haven't been without controversy much like the life of most rock musicians. In what fans and critics alike refer to as the Naples Incident; Alex managed to get himself arrested at the Ritz Hotel in Naples Florida. He was in the hotel on New Year's Eve with his son and daughter in law and was accused of assaulting a sheriff whilst trying to break up a fight between his son and another youth. On April 21, 2005, Lifeson and his son agreed to a plea deal with the local prosecutor for the State's Attorney office to avoid jail time by pleading no contest to a first-degree misdemeanour charge of resisting arrest without violence. As part of the plea agreement Lifeson and his son were each sentenced to 12 months of probation with the adjudication of that probation suspended.
Lifeson is also known for his wide range of guitars and other musical instruments which he constantly varies much like Lee. For most of the group's early career and throughout the 70s, Lifeson was more understated and stuck to a Gibson ES-535. However it was during the 80s and 90s that he decided to become more experimental. By 1982 Lifeson's primary guitar was a modified Fender Stratocaster with a Bill Lawrence high-output L-500 in the bridge position and a Floyd Rose vibrato bridge. Lifeson increasingly relied on a selection of four identically modified Stratocasters from 1980 to 1986, all of them equipped with the Floyd Rose bridge.
He is also regularly involved in charity and has launched his own range of guitars in association with the music company Hughes and Kettner with the proceeds from sales going to the children's charity Unicef. He has also been named the Best Rock Guitarist by Guitar Player Magazine on 4 occasions in addition to receiving the Order of Canada in 1996.
NEIL PEART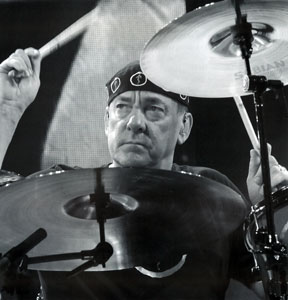 Neil Peart is the leader of the band, the iconic face of Rush and the band's chief songwriter and percussionist. He was born in September 1952 in Port Dalhousie in Ontario, Canada. However Peart wasn't in the band's original line-up and was only drafted in after John Rutsey had to leave the band due to health issues. He soon became one of the iconic images and characters of 1970s and 80s Progressive Rock.
Peart currently resides in Santa Monica, California with his wife, photographer Carrie Nuttall, and daughter, Olivia Louise. He also has a home in the Laurentian Mountains of Quebec, and a home in Toronto which he uses for recording with Rush. He had another daughter Selena who died when she was 19 in a car accident which will be discussed later. He was also previously married to Jacqueline Taylor from 1975 until 1997 when she died from cancer shortly after the death of their daughter.
During adolescence, he floated from regional band to regional band in pursuit of a career as a full-time drummer. At eighteen years of age, after struggling to achieve success as a drummer in Canada, Peart travelled to London, England hoping to further his career as a professional musician. Despite playing in several bands and picking up occasional session work, he was forced to support himself by selling trinkets to tourists in a souvenir shop on Carnaby Street in the capital.
While in London he came across the writings of novelist and objectivist Ayn Rand. Rand's writings became a significant philosophical influence on Peart, as he found many of her treatises to individualism and objectivism inspiring. References to Rand's philosophy can be found in his lyrics, most notably in the songs "Anthem" and "2012" [sic].
After eighteen months of dead-end musical gigs, and disillusioned by his lack of progress in the music business, Peart placed his aspiration of becoming a professional musician on hold and returned to Canada where he worked for his father selling tractor parts. After that discouraging stint in England to concentrate on his music, Peart returned home, where he joined a then little known local band called Hush. They would play a few gigs at small local venues and in each other's garages whilst Peart would help fund his music career through his job with his father. He was then asked to audition for Toronto based band Rush as a replacement for their then drummer, John Rutsey. His future band mates describe his arrival that day as somewhat humorous, as he arrived in shorts, driving a battered old car with his drums stored in trashcans. Peart himself described the audition in a later interview with Rolling Stone as "I felt that my entire audition was a complete disaster, I was shocked when they chose me". Lee and Peart would hit it off instantly, sharing similar interests - but Lifeson wasn't convinced. After some discussion between management and band members, Lifeson accepted Peart's maniacal British style of drumming, reminiscent of The Who's Keith Moon.
Early in his career, Peart's performance style was deeply rooted in hard rock. He drew most of his inspiration from drummers such as Keith Moon and John Bonham, players who were at the forefront of the British hard rock scene. After a few years with Rush, Peart had begun to style himself as the leader of the band and had also taken a great interest in writing and recording lyrics. With Rush he felt that he could start to experiment with new styles of music and how he can incorporate more thought and emotions into the group's lyrics.
Peart soon settled into his new position, also becoming the band's primary lyricist. Before joining Rush, he had written few songs, but, with the other members largely uninterested in writing lyrics, Peart's previously underutilized writing became as noticed as his musicianship. The band was still finding its feet as a recording act, and Peart, along with the rest of the band, now had to learn to live from a suitcase.
In 1977, Peart would finally return to England for their European Tour, he remarked in an interview at the time that "It's ironic to be back after almost dismissing my time in England as a failure. It's nice to come back with the band as a success."
After the band started to wind down in the 1980s and became focused on synthesised beats, Peart didn't want to continue with his current style of musicianship. He started to explore ways of becoming more unique throughout the 80s and 90s. In 1994, Peart became a friend and pupil of jazz instructor Freddie Gruber. It was during this time that Peart decided to revamp his playing style by incorporating jazz and swing components. Gruber was also responsible for introducing him to the products of Drum Workshop, the company whose products Peart currently endorses. He also started to adopt the style of Big Band leaders like Buddy Rich when in 1992 he was asked to play at the Buddy Rich Memorial Scholarship Concert by Rich's daughter Cathy. Peart had begun to become the figure who would dominate the modern era of Rush, the big band leader, oozing charisma, passion and style.
In 1997 the band decided to take a hiatus from music in part down to a huge family tragedy suffered by Neil Peart. His first, and at the time only, daughter Selena was killed in a car accident. This was then followed by the death of his first wife Jacqueline Taylor from cancer. The pair had been married for 22 years but Peart to this day says she died of "a broken heart, her death was a slow suicide caused by apathy, she couldn't care anymore". After this Peart had no interest to return to music in the near future as he felt he couldn't emotionally detach himself from the situation with his family life. It took four years before Peart felt ready for any sort of return, which started while he was visiting long-time Rush photographer Andrew MacNaughtan in Los Angeles. MacNaughtan introduced Peart to his future wife, photographer Carrie Nuttall. They married on September 9, 2000. In early 2001, Peart announced to his band mates that he was ready to return to recording and performing. The product of the band's return was the 2002 album Vapor Trails. At the start of the ensuing tour in support of the album, it was decided amongst the band members that Peart would not take part in the daily grind of press interviews and "Meet and Greet" sessions upon their arrival in a new city that typically monopolize a touring band's daily schedule. While Peart has always shied away from these types of in-person encounters, it was decided that having to needlessly expose him to an endless stream of questions about the tragic events of his life was quite unnecessary.
Like many modern rock musicians, Peart hasn't shied away from any controversy, but unlike Lifeson and Lee, Peart's controversy comes from the influence of politics as opposed to alcohol or drugs and even in some cases minor criminal activity. This article concerning the political views of both Rush and Neil Peart was written by Chris Mathew Schiabara in the book Rand, Rush and Rock:
"Peart has never publicly identified with any political party or organization in Canada or the United States. Even so, his political and philosophical views have often been analysed through his work with Rush and through other sources. Peart is often categorized as an Objectivist and an admirer of Ayn Rand. Most of this is based on his work with Rush in the 1970s, particularly the song "Anthem" and the album 2112, the latter specifically credited to "the genius of Ayn Rand" However, in a 1994 interview, while contending the "individual is paramount in matters of justice and liberty," Peart specifically distanced himself from a strictly Objectivist line, stating he was "no one's disciple." Although Peart is sometimes regarded as a "conservative" and "Republican" rock star, in 2005 Peart described himself as a "left-leaning libertarian," and is often cited as a libertarian celebrity. He also speaks of Fox News Channel being biased towards conservatives and rebuts British accusations that he and Rush are a "right wing" rock band in his own book Road Show: Landscape with Drums: A Concert Tour by Motorcycle."
Peart himself has also been heavily involved in writing and has had several works published by respected publishing houses. He has published four non-fiction books most recently in September 2006, with the previously mentioned Landscape with Drums book which some have said is Peart's attack on the right wing media and those who stereotype him as a right-wing supporter.
However his overall growth as an author predates the published work by several years, not including his work as Rush's primary lyricist, through private letters and short travelogues sent out to a small circle of friends and family. Peart has taken a particular interest in writing books about his travels, his touring and locations he has visited in the past. He is well regarded by critics who have compared him to a simplified Bill Bryson.
Peart's first book, titled The Masked Rider: Cycling in West Africa, was written in 1996 about a month-long bicycling tour through Cameroon in November 1988. The book details Peart's travels through towns and villages with four fellow riders. The original had a limited print run, but after the critical and commercial success of Peart's second book, Masked Rider was re-issued and remains in print as of 2010.
Although Peart had written lyrics and short stories before, his major interest in writing was sparked by the family tragedies of 1997. Peart decided to return to his passion for both motorbikes and travel and hopped on his bike, as he said he was "unable to simply sit about the house and absorb the bad memories which affected his sanity". He wrote the novel Ghost Rider: Travels on the Healing Road about his journey both physically and metaphorically through painful times. Ghost Rider is a first-person narrative of Peart on the road, on a BMW R1100GS motorcycle; in an effort to put his life back together as he embarked on an extensive journey across North America. Kathryn Lively of Literary Magazine Resident Scholar said, "The book was a huge success and very moving and poignant. Through narratives about his trips, flashbacks to happier times, and letters written to an incarcerated friend, the reader is given the whole picture of Peart's journey toward healing his emotions."
Peart continued to pursue his side-line in writing and a literary career despite finally being ready to return to the music business with his band mates in Rush. He decided that he enjoyed travel writing and this time took a road trip by car where he felt he could write and reflect about his life, his career, his family and music. This journey and the reflections he draws are covered in Peart's third book Traveling Music: The Soundtrack of My Life and Times. It follows Peart still carrying emotional scars, but building a new life. As with his previous two books, it is a first person narrative. It too was a commercial success in the United States and still remains in print.
Thirty years after Peart joined Rush, the band found itself on its 30th anniversary tour. Released in September 2006, Roadshow: Landscape With Drums, A Concert Tour By Motorcycle details the tour both from behind Neil's drum-kit and on his BMW R1150GS and R1200GS motorcycles. One critic said "It's a must read for any Rush fan as it gives a true insight account of life on tour whilst also exploring the thoughts and emotions of an interesting individual."
Neil Peart continues to write music for Rush and will be instrumental in both the band's 2011 album and future world Tour. It's believed he will also write another book detailing the 2011 Tour and album release and that Rush will continue to perform as a threesome for the foreseeable future.
OTHER NOTABLE MEMBERS
John Rutsey
John Rutsey was one of the band's founder members and lasted from August of 1968 right the way through till the middle of 1974. During that time Rutsey was the band's drummer and percussionist as well as singing backing vocals on a number of early hits. In 1963 Rutsey met future Rush guitarist Alex Lifeson in school. Both interested in music, they decided to form a band. Rutsey played drums in Rush from summer 1968 until July 1974. It was during this time that he played on the "Not Fade Away" / "You Can't Fight It" single and the band's eponymous debut LP.
According to the Rush biography Contents Under Pressure: 30 Years of Rush at Home & Away written by Martin Popoff, Lee and Lifeson both acknowledged that during the writing and recording sessions for the band's debut album Rutsey was given the role of chief lyricist; however, come time to record the songs Rutsey did not deliver any lyrics. In interviews, Lee and Lifeson have both said that Rutsey was dissatisfied with what he had written and tore up the lyric sheets. Rutsey was said to have left the band following a diagnosis with diabetes which would have posed potential problems with extended tours. His final performance with the group was on July 25, 1974 at Centennial Hall in London, Ontario. He was eventually replaced in the band by Neil Peart. Rutsey died in May 2008 following complications with his heart relating to his diabetes, his former band mates Lee and Lifeson released a statement praising Rutsey's role in the band saying "Those years spent in our teens dreaming of one day doing what we continue to do decades later are special. Although our paths diverged many years ago, we smile today, thinking back on those exciting times and remembering John's wonderful sense of humour and impeccable timing."
Jeff Jones
Jeff Jones was the band's original bass guitarist but he only lasted for a short period in 1968. He went on to become hugely famous as a member of the band Ocean. For Rush he served as the primary bassist and also lead singer before he was replaced by Geddy Lee just a few months after the band formed. With Ocean he was hugely successful and their million-selling 1971 single "Put Your Hand in the Hand" received a gold disc awarded by the Recording Industry Association of America on 3 May 1971. The group disbanded in 1975.
Lindy Young
A short term session and recording artist, Young played keyboards, rhythm guitar and sang backing vocals between December 1968 and July 1969.
Mitch Bossi
A short term album and tour artist who played rhythm guitar and sang backing vocals between February 1971 and May 1971.
Joe Perna
A short term bass guitar player, who also sang some lead vocals, he was only with the band for a couple of months between May and July of 1969.
---
The Genre of Prog Rock and What is Rush's Actual Musical Style?
Rush's musical style has changed substantially over the years. Their debut album was strongly influenced by British blues rock: an amalgam of sounds and styles from such rock bands as Cream, Led Zeppelin, and Deep Purple. Over the first few albums their style remained essentially hard rock, with heavy influences from The Who and Led Zeppelin but also became increasingly influenced by bands of the British progressive rock movement.
In the tradition of progressive rock, Rush wrote protracted songs with irregular and multiple time signatures combined with fantasy/science fiction inspired lyrics; however, they did not soften their sound. This fusion of hard and progressive rock continued until the end of the 1970s. Progressive rock's popularity peaked in the mid-1970s, when prog artists regularly topped reader polls in mainstream popular music magazines in Britain and America, and albums like Mike Oldfield's Tubular Bells topped the charts. By this time, several North American progressive rock bands had been formed. Kansas, which had actually existed in one form or another since 1971, became one of the most commercially successful of all progressive rock bands.
Likewise, Electric Light Orchestra, who formed in 1970 as a progressive offshoot of "The Beatles sound", saw their greatest success during the mid-1970s. It was during this period that Rush became a major band, with a string of hit albums extending from the mid-1970s to the present day. The band themselves began to make a huge contribution to the genre and development of progressive rock style.
Beyond instrument additions, the band kept in stride with the progressive rock movement by continuing to compose long, conceptual songs with science fiction and fantasy overtones. However, as the new decade approached, Rush gradually began to dispose of their older styles of music in favour of shorter, and sometimes softer, arrangements. The lyrics up to this point, most of them written by Peart, were heavily influenced by classical poetry, fantasy literature, science fiction, and the writings of novelist Ayn Rand, as exhibited most prominently by their 1975 song "Anthem" from Fly By Night and a specifically acknowledged derivation in 1976's "2112".
The advent of punk rock and disco music in the late 1970s helped move critical opinion and popular support in the UK and the US towards a simpler and more aggressive style of rock, with progressive bands increasingly dismissed as pretentious and overblown, ending progressive rock's reign as a leading style in rock. However, established progressive bands still had a strong fan base; Rush, Genesis, ELP, Yes, Queen, and Pink Floyd all regularly scored Top Ten albums with massive accompanying tours, the largest yet for some of them, particularly Rush who actually became more popular as time went by. Overall, however, prog rock was losing its relevance, becoming largely associated with, in the words of Dr. Feelgood's Wilko Johnson "men in dresses singing about Mars, Science Fiction, Love and Fantasy".
Rush began to realise that in order to maintain their fan base they would have to adapt their style to incorporate this New Wave of disco, pop music and synthesisers, hence the band's move in the early 80s from the progressive rock style in a fusion of reggae, pop, rock and electro-synthesiser. Rush successfully merged their sound with the trends of this period, experimenting with New Wave, reggae and pop rock. This period included the band's most extensive use of instruments such as synthesizers, sequencers and electronic percussion. Although a hard progressive rock style was still evident, more and more synthesizers were introduced throughout the 1980s. Moreover, because of the limited airplay Rush's previous extended-length songs received, their new album Permanent Waves included shorter, more radio-friendly songs such as "The Spirit of Radio" and "Freewill", two songs which helped Permanent Waves become Rush's first U.S. Top 5 album. Peart's lyrics also shifted toward an expository tone with subject matter that dwelled less on fantastical or allegorical story-telling and more heavily on topics that explored humanistic, social and emotional elements.
With the approach of the early 90s and Rush's character sound still intact, the band transformed their style once again to harmonize with the alternative rock movement. They started to return to their roots of music with incorporations of blues rock and some progressive rock beats and rhythms into their 1990s albums before their hiatus in 1997. The 1993 album Counterparts began to see the return of guitars to replace synthesisers. This theme continued into the 1996 album Test for Echo and both albums have been called "Rush's most guitar led albums of their 40 year career in music, perhaps the band were deliberately trying to move away from synthesisers and electro-pop."
The new millennium has seen them return to a more rock and roll roots sound, albeit with modern production. The band has tried to incorporate more electronics and better amplification of their music. But the lyrics and style have returned to the early stages blues rock and some progressive rock mixed with heavy metal. It seems the band have gone full circle and tried to appeal to their original fan base. Perhaps this is a commercial decision, maybe it's simply for style and ease of creativity but it's definitely proved popular with the fans.
So I suppose it's difficult to define a single generic musical style to Rush. How can a group that has exhibited so many different styles and type of songs be attributed to just prog rock, or heavy metal or blues rock or synthesised pop. It's difficult to assess where they had made their greatest contribution and impact, however the majority of critics view them as one of the most influential progressive rock bands of all time and hence they are commonly fitted into this musical style. Perhaps Rush's musical style is best summed up by the words of online music critic "Prog rock is my life" he argues that Rush are progressive rock in some sense but that they have so much more than one dimension.
"First off they are progressive rock in the sense that they have the necessary albums to merit their inclusion (Caress of Steel through to Moving Pictures). I am more concerned about the later years (Signals to Vapor Trails). It has been said that these albums are not progressive albums but have progressive songs, but I disagree. The 1980s Rush output is just as Prog rock as the 70s output.
For example, these albums may not have long songs with extended pieces in them but they do have a theme about them. It is not a concept album but rather an album that has one singular theme in all the songs. Grace Under Pressure as the album title suggests is about despair and troubled times. Signals is about signals sent out in society its views of what is popular and makes you "cool". Chemistry is about the signals sent in the body and Power Windows is about how power can be and is corrupted.
At this point in time Rush decided to move on and progress away from the synthesizer period. Most people consider the synthesizer period as a pop side of Rush but pop means what was popular at that time and does not have connotations that it is not progressive rock music, it is just progressive rock that happens to be popular much like Pink Floyd. If Rush was concerned about popularity they would have done what the public would want from them at that time, more synthesizer music. But, being a progressive rock band, they decided to once again go in a different direction. It marks another section of Rush. The music changed but the theme based albums did not. Roll the Bones is about chances and Counterparts is about, well, counterparts to life. Rush may have returned to their roots, but this is not regressing. They decided to make music that was more guitar oriented that included mainstream style (a bit). But it was not mostly mainstream style. They took what was popular at that time and made it their own. They even strayed away a bit (with the instrumental tracks on Roll the Bones and Counterparts).
Clearly Rush is a progressive rock band by the way they changed musical style and by their album content. If they stayed in the same style this would not be progressive rock since they would not be moving their music in different directions. And the fact that they have made many albums with theme based lyrics suggests that this is the work of a progressive rock band."
---
Awards and Recognition
Rush have been widely recognised as one of the most successful bands of all time winning countless awards ranging from Grammys[sic] to Stars on the Hollywood Walk of Fame. In this section we will explore the nominations and triumphs for the Canadian rock band that have made them who they are.
JUNO AWARDS
In 1975, the band won their first ever award at the Juno music awards. The Juno Awards are presented annually to Canadian musical artists and bands to acknowledge their artistic and technical achievements in all aspects of music. New members of the Canadian Music Hall of Fame are also inducted as part of the award ceremonies. They won the Most Promising Group of the Year Award in 1975. This was followed by their first major title when they won Group of the Year in 1978. Rush then became one of the first groups ever to win Group of the Year twice in a row when they won in 1979. They were given a special award in 1990 in recognition of their achievements throughout the 1980s. They were given the title of Canadian Artist of the 1980s, a huge accolade for the band.
Even in modern times they have continued to win Juno Awards for their more modern stylings. In 1991 they won the Best Rock or Metal Album for Presto and again in 1992 for the album Roll the Bones. Their most recent Juno win came in 2004 when they won the Music DVD of the Year title for their tour DVD Rush in Rio. This win marked 39 years since their first win in the competition.
GRAMMY AWARDS
Despite being nominated for Grammy Awards on six separate occasions since 1981 when they first received a nomination Rush have never won a Grammy Award. Some of the band's fans have called this "a disgrace, Rush should be recognised for their contribution to the last 30 years of American Music and quite how the Grammy judges haven't realised that is stupid" The band have since been nominated for a seventh award in 2011 for Best Music Video for their long version of Rush: Beyond the Lighted Stage.
In 1981 the band received the first nomination for Best Rock Performance for the song YYZ, however this was beaten by the Police song Behind My Camel. In 1992 they were again nominated for Best Rock Performance for Where's My Thing losing this time to Eric Johnson's song Cliffs of Dover, anyone remember that?
They received further nominations for Best Rock Performance in 1995 for Leave That Thing Alone which lost to Pink Floyd's Marooned and in 2004 for O Baterista after their hiatus which ended up losing to Brian Wilson's song Mrs O Leary's Cow, another memorable classic!
In 2008 the band were nominated for the song Malignant Narcissism and were widely tipped to win after being overlooked so many times before. In fact some bookmakers made them such overwhelming favourites that they stopped taking bets. However the award that year went to Bruce Springsteen's Once Upon a Time in the West.
Their most recent nomination for Best Rock Performance came in 2009 when their contribution to a charity album called Songs for Tibet was nominated. Hope (Live for the Art of Peace) was beaten to the award by Zappa's Peaches in Regalia.
OTHER AWARDS
However, the band have been successful in achieving other awards outside of the music industry. This list of miscellaneous awards is taken from their official website.
December 1990 - Rush wins Mayor's Award at the Toronto Music Awards.

October 1992 - Rush is a recipient of the Harold Moon Award by the Society of Composers, Authors, and Music Publishers of Canada (SOCAN).

May 1993 - Rush is inducted into the Harvard Lampoon and named "Musicians Of The Millennium"

October 1993 - Rush is a recipient of the Toronto Arts Award.

March 1994 - Rush inducted into the Canadian Music Hall of Fame

May 1996 - Lee, Lifeson, and Peart are made Officers of the Order of Canada, the first rock musicians so honoured.

December 1996 - Performance magazine, a publication for the touring industry, nominated Rush as "Rock Act of the Year" for their 1996 Performance Readers' Poll Awards.

May 1997 - The Foundation Forum and F Musicfest announced Rush as this year's recipient of the "Concrete/Foundations Outstanding Contribution to Music Award. Rush joins a distinguished list of receipts including Van Halen, Kiss, Ozzy Osbourne and Alice Cooper."

May 1999 - Rush inducted into Canada's Walk Of Fame in Toronto.

January 2000 - Rush top JAM! Music's online poll, which awards them the title of "Best Canadian Musicians of All Time".

2003 - Inducted into the CMW Canadian Music Industry Hall of Fame.

June 2008 - Selected by the Hollywood Chamber of Commerce to receive a star on the Hollywood Walk of Fame.

2009 - The song "Tom Sawyer" ranked number 19 on VH-l's "100 Greatest Hard Rock Songs"

March 28, 2010 - Rush inducted into the Canadian Songwriter's Hall of Fame.

June 25, 2010 - Rush receive a star on the Hollywood Walk of Fame, located at 6752 Hollywood Boulevard.
INDIVIDUAL TITLES FROM MAGAZINES
Rush have always been popular with music magazine writers and editors and often feature in the poll for greatest guitarist of the year or even of all time. Geddy Lee has been named Best Bass Player by Guitar Player Magazine no less than 6 times. In addition he has also won the Best Rock Bass Player of the decade for the 1990s from Bass Player Magazine and is in Guitar Player Magazine's Bass Hall of Fame.
Alex Lifeson is a two time winner of Best Rock Guitarist from Guitar Player Magazine, winning in both 1984 and 2008. He holds the record for the widest gap between victories showing the success of the band in modern times. He has also been named runner up in the competition on no less than 4 occasions in 1982, 1983, 1985 and 1986. Neil Peart was inducted into the Rock and Roll Hall of Fame in 1983; he is also a nine times winner of Modern Drummer Magazine's drummer of the year award. He won the award in 1980, 1981, 1982, 1983, 1984, 1985, 1986, 2006 and 2008. He has also been named as the Best Drummer of the 1980s by the same magazine.
---
The Early Years 1968-1976
The original line-up of the group Rush was formed in the neighbourhood of Willowdale in Toronto, Ontario, by Alex Lifeson, bassist and front man Jeff Jones, and drummer John Rutsey. Within a couple of weeks of forming, and before their second performance, bassist and lead vocalist Jones was replaced by Geddy Lee, a schoolmate of Lifeson. Jones would later become successful with other bands like Ocean. After several line-up reformations, Rush's official incarnation was formed in May 1971 consisting of Lee, Lifeson and Rutsey.

The band also appointed their first manager in 1971, who also happened to be a regular attendee. Ray Daniels became the band's first manager on the back of making himself known to the band at early shows. He represented the band for a long period of time and became friends with the group's members.
After gaining stability in the line-up and honing their skills on the local bar/high school dance circuit, the band came to release their first single "Not Fade Away", a cover of the Buddy Holly song, in 1973. Side B contained an original composition, "You Can't Fight It", credited to Lee and Rutsey. The single generated little reaction and, because of record company indifference, the band formed their own independent record label, Moon Records. With the aid of Ray Daniels and the newly enlisted engineer Terry Brown, the band released their self-titled debut album in 1974, which was considered highly derivative of Led Zeppelin.
The album was named after themselves and became called Rush, it peaked at number 105 in the American Billboard 200 charts. It sold over half a million records in America alone. However it was to become the only album to feature Rutsey before he left the band for health reasons and was replaced by Neil Peart. Rutsey wrote some lyrics for the debut, but never submitted them to the band and some new lyrics had to be thrown together.
The album began to become successful after a radio station called WMMS in Cleveland Ohio decided to give the band a chance. Up to this point their own label Moon Records had only sold 3,500 copies but once it received airtime on the Donna Halper show the station was inundated with phone calls asking how to purchase the album. In response to the demand the band agreed a deal with Mercury Records in The United States to re-release the album.
Immediately after the release of the debut album in 1974, Rutsey resigned due to health difficulties stemming from diabetes and a general distaste for touring. His last performance with the band was on July 25, 1974 at Centennial Hall in London, Ontario. Rush held auditions and eventually selected Neil Peart as Rutsey's replacement. Peart officially joined the band on July 29, 1974, two weeks before the group's first U.S. tour. They performed their first concert together, opening for Uriah Heep and Manfred Mann with an attendance of over 11,000 people at the Civic Arena in Pittsburgh, Pennsylvania. In addition to becoming the band's drummer, Peart assumed the role of principal lyricist from Lee, who had very little interest in writing, despite penning the lyrics of the band's first album. Instead, Lee, along with Lifeson, focused primarily on the musical aspects of Rush.
Fly by Night, Rush's first album after recruiting Peart, saw the inclusion of the band's first epic minitale "By-Tor and the Snow Dog". Lyrical themes also underwent dramatic changes after the addition of Peart because of his love for fantasy and science-fiction literature. However, despite these many differences some of the music and songs still closely mirrored the blues style found on Rush's debut. The album <>Fly by the Night[sic] was undoubtedly the most successful album the band had released so far and started to become recognised on a wider scale. However, despite this it only peaked at number 113 in the American Billboard 200 charts and was actually less popular with local radio playlists. Critics rated the album an average of 3.5 stars out of 5 stars. All Music reviewer Greg Prato said "the album may not be one of Rush's finest albums, but it is one of their most important - it showed that the young band was leaving their Zep-isms behind in favor of a more challenging and original direction."
Following on from the limited success heels of Fly By Night, the band released 1975's Caress of Steel, a five track hard rock album featuring two extended multi-chapter songs, "The Necromancer" and "The Fountain of Lamneth". Some critics said Caress of Steel was "unfocused and an audacious move for the band because of the placement of two back-to-back protracted songs, as well as a heavier reliance on atmospherics and story-telling, a large deviation from Fly by Night." Intended to be the band's first "break-through" album, Caress of Steel sold below expectations and the promotional tour consisted of small venues which led to the moniker the "Down the Tubes Tour". They actually only reached number 148 in the Billboard charts. However it did achieve gold certification and sold in excess of 500 thousand copies in the U.S.A alone.
In light of these events, Rush's record label pressured them into moulding their next album in a more commercially friendly and accessible fashion. However, the band ignored the requests and developed their next album, 2112 with a 20-minute title track divided into seven sections. Despite this, the album was the band's first taste of commercial success and their first platinum album in Canada. The album itself was supported by a hugely successful tour which featured sell-out dates across Canada. It sold well in excess of 3 million copies worldwide and made it to a peak of number 61 in the American Charts.
---
The Prog Rock Era 1977-1981
After 2112, Rush retreated to the United Kingdom to record 1977's A Farewell to Kings and 1978's Hemispheres at Rockfield Studios in Wales. These albums saw the band members expanding their use of progressive elements in their music.
"As our tastes got more obscure," Geddy Lee said in a recent interview, "we discovered more progressive rock-based bands like Yes, Van der Graaf Generator and King Crimson, and we were very inspired by those bands. They made us want to make our music more interesting and more complex and we tried to blend that with our own personalities to see what we could come up with that was indisputably us."
Trademarks such as increased synthesizer usage, extended-length concept songs, and highly dynamic playing featuring complex time signature changes became a staple of Rush's compositions. To achieve a broader, more progressive palette of sound, Alex Lifeson began to experiment with classical and twelve-string guitars, and Geddy Lee added basspedal synthesizers. Likewise, Peart's percussion became diversified in the form of triangles, glockenspiel, wood blocks, cowbells, timpani, gong and chimes. Beyond instrument additions, the band kept in stride with the progressive rock movement by continuing to compose long, conceptual songs with science fiction and fantasy overtones. However, as the new decade approached, Rush gradually began to dispose of their older styles of music in favour of shorter, and sometimes softer, arrangements. The lyrics up to this point, mostly written by Neil Peart, were heavily influenced by classical poetry, fantasy literature, science fiction, and the writings of novelist Ayn Rand.
Permanent Waves, which was released in 1980, represented the first dramatic shift in Rush's style of music via the introduction of reggae and new wave elements. Although a hard rock style was still evident, more and more synthesizers were introduced. Moreover, because of the limited airplay Rush's previous extended-length songs received, Permanent Waves included shorter, more radio-friendly songs such as "The Spirit of Radio" and "Freewill", two songs which helped Permanent Waves become Rush's first U.S. Top 5 album; both songs continue to make appearances on classic rock radio stations in Canada and the United States to this day.
The album was recorded at Le Studio, Morin Heights, Quebec, and was mixed at Trident Studios in London, UK. Permanent Waves became Rush's first US Top 5 album hitting number 4 in Billboard charts and was the band's fifth Gold and eventually Platinum selling album.
Whilst the musical style and composition had shifted to a more radio friendly and reggae style, Peart's lyrics shifted toward an expository tone with subject matter that dwelled less on fantastical or allegorical story-telling and more heavily on topics that explored humanistic, social and emotional elements. He had shifted away from his background with more science fiction and fantasy overtones being replaces by an almost philosophical tone.
The band's popularity reached its pinnacle with the release of Moving Pictures in 1981. The album Moving Pictures essentially continued where Permanent Waves left off, extending the trend of highly accessible and commercially friendly pop-progressive rock that helped thrust them into the spotlight. It also featured a blend of the new age reggae and synthesised music mixed with their traditional blues rock. The lead track, "Tom Sawyer", is probably the band's best-known song and as a result it received significant amounts of airplay and good responses from listeners and radio stations. Moving Pictures reached number 3 on the Billboard 200 album chart. It also made platinum grading four times over, meaning it sold in excess of 4 million copies.
Tom Sawyer was one of the band's most popular and commercially successful singles of all time. The song relies heavily on Geddy Lee's synthesizer playing and the techniques of drummer Neil Peart. Geddy Lee has referred to the track as the band's "defining piece of music and a great example of music from the early '80s". It is a staple of classic rock radio and reached 25 in the UK singles chart in October 1981. The track also peaked at number 44 on the Billboard Hot 100 and at 8 on the Billboard Mainstream Rock chart. In 2009 it was named the 19th greatest hard rock song of all time by music television channel VH-1. "Tom Sawyer" was one of five Rush songs inducted into the Canadian Songwriters Hall of Fame on March 28, 2010.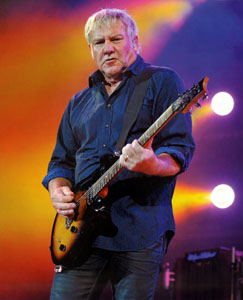 In the December 1985 Rush newsletter, drummer and lyricist Neil Peart said: "Tom Sawyer was a collaboration between myself and Pye Dubois, an excellent lyricist who wrote the lyrics for Max Webster. His original lyrics were kind of a portrait of a modern day rebel, a free-spirited individualist striding through the world wide-eyed and purposeful. I added the themes of reconciling the boy and man in myself, and the difference between what people are and what others perceive them to be - namely me I guess."
Moving Pictures was Rush's last album to feature an extended song, the eleven-minute "The Camera Eye". The song also contained the band's heaviest usage of synthesizers up to that point, hinting that Rush's music was shifting direction once more. The band was now hugely famous and after the huge commercial success of Moving Pictures had helped to lift the band to a global phenomenon, they were now well known worldwide. However the members themselves had become disillusioned with their traditional style of music in favour of a more electronic and radio friendly style. The band signaled their latest style change and new mentality with the release of Signals in 1982.
Signals also represented a drastic stylistic transformation apart from instrumental changes. The album contained Rush's only U.S. top-40 pop hit, "New World Man," while other more experimental songs such as "Digital Man", "The Weapon" and "Chemistry" expanded the band's use of ska, reggae, and funk. Although the band members consciously decided to move in this overall direction, they felt dissatisfied with long-time producer Terry Brown's studio treatment of Signals and parted ways with him in 1983. However the band's newfound diverse styles would come into further play on their next studio album.
The album itself was fairly well received and it reached number 10 in the American Albums chart, a notable achievement for the band being its impact on pop music sales. It also was certified double platinum after selling in excess of a million copies.
Peart had started to experiment with a wider variety of percussion instruments and began to experiment in Electronic and Synthesised drums. He began to incorporate Simmons Electronic Drums beginning with 1984's Grace Under Pressure, in some songs even replacing traditional drums all together. The style and production of Signals were augmented and taken to new heights on Grace Under Pressure. It was Peart who named the album, as he borrowed the words of Ernest Hemingway to describe what the band had to go through after making the decision to leave Terry Brown. Musically, although Lee's use of sequencers and synthesizers remained the band's cornerstone, his focus on new technology was complemented by Peart's adaptation of Simmons electronic drums and percussion. Lifeson's contributions on the album were decidedly enhanced to act as an overreaction to the minimalistic role he played on Signals. Still, many of his trademark guitar textures remained intact in the form of open reggae chords and funk and new-wave rhythms.
The Grace Under Pressure album was arguably Rush's most artistic and different from anything else they ever released. The album artwork itself featured a symbol with the letter "p" above a line with the letter "g" below (p/g).
Grace Under Pressure reached number 10 on The Billboard 200 and went Platinum in the United States upon its 1984 release. On the back cover is a band portrait by the photographer Yousuf Karsh. The original vinyl pressing also featured a photo depicting an egg being held in a C-clamp. Also, the cover art was painted by Hugh Syme, a long-time contributor to Rush's music ever since he performed as a guest musician on the song "Tears" from the 2112 album.
Producer Steve Lillywhite, who gleaned fame with successful productions of Simple Minds and U2, was enlisted by Rush to produce Grace Under Pressure. However, after receiving another offer he backed out at the last moment, much to the ire of Lee, Lifeson and Peart. Lee said "Steve Lillywhite is really not a man of his word ... after agreeing to do our record, he got an offer from Simple Minds, changed his mind, blew us off, so it put us in a horrible position." Rush eventually hired Peter Henderson to co-produce and engineer the album instead of Lillywhite.
In 1985 the band released the album Power Windows and in 1987 they followed this up with the similarly styled Hold Your Fire. The music on these two albums gives far more emphasis and prominence to Lee's multi-layered synthesizer work. However the album marked a far less important role for Alex Lifeson who had begun to experiment with short bursts of sound and punchy, echoey guitar riffs. Hold Your Fire only went gold in November 1987, although it managed to peak at number 13 on the Billboard 200. Power Windows was more or less a disaster commercially and critics said "It has shown that Rush have taken their experiments with style too far and no longer care about their commerciality and radio airplay."
Rolling Stone Magazine's music critic Michael Azerrad dismissed the albums as "musical muscle with little point, I give it 1.5 stars, and an insult to Rush fans who had viewed their favourite power trio as "the holy trinity but now see them as something of a sell-out."
Nevertheless, their 1989 album A Show of Hands managed to surpass the gold album mark, reaching number 21 on the Billboard 200. At this point, the group decided to change record labels from Mercury, who had worked with them since 1975 to Atlantic Records. After Rush's departure in 1989, Mercury released a double platinum two-volume compilation of their Rush catalogue but it proved largely unpopular as most of the fans had moved on.
---
Back to Their Original Style, Goodbye Synthesisers 1989-1997
During the late 80s and early 90s Rush began to enter another transitional period in their musical style and taste. Up to this point the changes had been well received by critics and fans alike. However when on the 1989 album Presto, the band began to experiment with their style yet again, some fans thought that they had experimented too much and should return to their roots.
The band eventually started to notice the fans' response and to some extent the 90s albums reverted back to the blues rock and prog rock that had made them successful. They started to deviate from their 1980s synthesiser style with the albums Presto and Roll the Bones.
Produced by record engineer and musician Rupert Hine, these two albums saw Rush shedding much of their keyboard-saturated sound. Beginning with 1989's Presto, the band opted for arrangements that were notably more guitar-centric than the previous two studio albums. Although synthesizers were still used in many songs, the instrument was no longer featured as the centrepiece of Rush's compositions.
Continuing this trend, 1991's Roll the Bones extended the use of the standard three-instrument approach with even less focus on synthesizers than its predecessor. While musically these albums do not deviate significantly from a general pop-rock sound, Rush incorporated traces of other musical styles. "Roll the Bones", for instance, exhibits funk and hip hop elements, and the instrumental track "Where's My Thing?" features several jazz components.
The album won the 1992 Juno Award for best album cover design. Roll the Bones became Rush's first US Top 5 album since 1981's Moving Pictures, peaking at number 3 on the Billboard 200. The album went Double Platinum selling well in excess of 1 million copies. Roll the Bones marks further transition from the band's 1980s style to their sound in the 1990s. The roles of the instruments have generally been reversed; guitar is beginning to creep to the front of the song arrangements, while bursts of keyboard and organ are played in the background. "Dreamline" and "Roll the Bones" were popular radio staples of the early 90s, with the former reaching #1 on the Album Rock Tracks chart, while "Where's My Thing?" became the band's third instrumental and was their second song to be nominated for a Grammy, in 1991, losing to Eric Johnson's "Cliffs of Dover".
This trend to move away from the synthesisers was even more noticeable in both the 1993 album Counterparts and the 1996 album Test for Echo. Critics have described these as "two of Rush's most guitar driven albums allowing Lifeson to truly showcase his talent which had been hidden through the late 80s."
Counterparts was to become Rush's highest ever charting album in America where it reached number 2 on the Billboard 200 chart. The album went platinum and sold over half a million copies in the USA and almost 150 thousand in Canada. The lyrics of Counterparts continue the trends of Roll the Bones with dark and emotional themes being the primary focus. Throughout the album, there is a distinct alternative rock influence, showcased through "heavy" sounding tracks like "Animate" and "Stick it Out". The song topped the Mainstream Rock Tracks chart for four weeks in late 1993, becoming the band's fifth single to do so. "Leave That Thing Alone" earned a Grammy nomination for "Best Instrumental".
As for Test for Echo, this marked a further return to the band's more traditional rock roots. The band also chose to promote this album with a highly successful world tour. The album marks the final Rush work prior to the events in Neil Peart's life that put the band on hiatus for several years. Peart recorded a majority of his drum tracks for the album using traditional grip, after receiving drum lessons from jazz instructor Freddie Gruber.
The cover denotes the Inukshuk which is a stone figure in the shape of a human used to mark a food cache or hunting ground. The word is taken from Inuk meaning human and Shuk meaning substitute. The album reached number 5 in the Billboard 200 charts and sold over half a million copies.
Rush's Test for Echo Tour in support of the studio album was the band's first tour without an opening act, and was billed as "An Evening With Rush." The tour kicked off October 19, 1996 at the Knickerbocker Arena in Albany, New York and culminated on July 4, 1997 at the Corel Centre in Ottawa, Ontario. This was the only concert tour in which Rush played the epic song "2112" in its entirety. The tour covered almost the entirety of the United States and Canada but was yet to impact on the rest of the World.
---
The 5 Year Hiatus and the Comeback Album 1997-2005
After finishing the Test for Echo Tour in 1997, Neil Peart received some terrible news which would change the next five years for the band. His eldest daughter had been killed in a car crash in California at the age of just 19. Just a few months later his wife died of cancer, but Peart always maintained it was because of the grief of losing their daughter and that his wife had simply given up the fight.
Rush were forced into taking a five year hiatus during which time Peart decided to return to travelling and writing. He took a hiatus to mourn and reflect, during which time he travelled extensively throughout North America on his BMW motorcycle, covering over 50 thousand miles. It was whilst on his journey across North America that Peart overcame his traumas and decided to return to the band. Peart wrote Ghost Rider: Travels on the Healing Road as a chronicle of his geographical and emotional journey. In this book he writes of how he had told his band mates at Selena's funeral, "consider me retired."
On November 10, 1998 a triple CD live album entitled Different Stages was released, dedicated to the memory of Selena and Jacqueline. Mixed by producer Paul Northfield and engineered by Terry Brown, it contained three discs packed with recorded performances from the band's Counterparts, Test For Echo, and A Farewell to Kings tours, marking the fourth officially released live album by the band.
After taking time to grieve and reassemble the pieces of his life, and while visiting long-time Rush photographer Andrew MacNaughtan in Los Angeles, Peart was introduced to his future wife, photographer Carrie Nuttall. Peart married Nuttall on September 9, 2000. In early 2001 he announced to his band mates that he was ready to once again enter the studio and get back into the business of making music. With the help of producer Paul Northfield the band returned in May 2002 with Vapor Trails, written and recorded in Toronto. To herald the band's comeback, the single and lead track from the album, "One Little Victory" was designed to grab the attention of listeners with its rapid guitar and drum tempos.
Vapor Trails marked the first studio recording not to include a single synthesizer, organ or keyboard part since the early 1970s. While the album is almost completely guitar-driven, it is mostly devoid of any conventional sounding guitar solos, a conscious decision made by Lifeson during the writing process. The album was also the first non-compilation album to be released by the group in six years. Amazingly it was a huge success and reached number 6 on the Billboard 200 as well as number 3 in Canada. According to the band, the entire developmental process for Vapor Trails was extremely taxing and took approximately 14 months to finish, by far the longest the band had ever spent writing and recording a studio album. The album was supported by the band's first tour in six years, including first ever concerts in Mexico City and Brazil, where they played to some of the largest crowds of their career.
To celebrate their 30th anniversary, June 2004 saw the release of Feedback, a studio EP recorded in suburban Toronto featuring eight covers of such artists as Cream, The Who and The Yard Birds, bands that the members of Rush cite as inspiration around the time of their inception. The album was a commercial success and was supported by a 30th anniversary tour which I will mention later.
Feedback was an interesting album because of the band's decision to finally record an album of covers for the first time in their 40 year career in music. The album was praised by Rhapsody Magazine who called it one of their ten favourite albums of all time. The album also charted well, reaching number 19 in the Billboard 200. In the Summer of 2004 Rush hit the road again for their 30th Anniversary Tour, playing dates in the United States, Canada, the United Kingdom, Germany, Italy, Sweden, the Czech Republic, and the Netherlands. The tour was a huge success with demand for tickets leading to most venues selling out within hours.
---
Snakes and Arrows and Tours 2005-2010
After their 30th anniversary tour and the release of the covers album, the band revealed their intention to begin writing new material in early 2006. Lifeson and Lee began to write some songs from their studio in Toronto whilst Peart, who was settling into his newly married life, simultaneously assumed his role of lyric writing while residing in California.
The following September, Rush chose to hire American producer Nick Raskulinecz to co-produce the album. The band officially entered Allaire Studios, in Shokan, New York in November 2006 in order to record the bulk of the material. Taking the band five weeks, the sessions ended in December. On February 14, 2007, an announcement was made on the official Rush web site that the title of the new album would be Snakes & Arrows. The first single, entitled "Far Cry," was released to North American radio stations on March 12, 2007 and reached number two on the Media Base Mainstream and Radio and Records Charts.
Snakes & Arrows was released May 1, 2007 in North America, where it debuted at number 3 in the Billboard 200 with approximately 93,000 units sold in its first week. It would go on to sell an estimated 611,000 copies worldwide, making it the latest in a series of Rush albums to go platinum. The most popular track "Malignant Narcissism" was nominated for a Grammy Award under the category Best Rock Instrumental Performance. The album was named as one of Classic Rock's 10 essential progressive rock albums of the decade.
The Rush website, which was relaunched in March of 2007 in order support the new album, also announced that the band would embark on a tour to begin in the summer.
Rush began the Snakes & Arrows Tour to promote the album, in Atlanta, Georgia. The 2007 tour came to a close in October at Hartwall Arena in Helsinki, Finland. The 2008 portion of the tour started on April in San Juan, Puerto Rico at Jose Miguel Agrelot Coliseum and ended on July in Noblesville, Indiana at the Verizon Wireless Amphitheatre. The tour was Rush's most successful to date, grossing nearly $65 million. At 113 shows, it became the second longest tour Rush had ever done. It was the band's most successful world tour and in the second part of 2008 it took in countries including Scotland, England, Netherlands, Germany, Italy, Norway, Sweden and Finland.
As the band neared the conclusion of their Snakes & Arrows tour, they announced their first appearance on American television in over 30 years. Rush was interviewed by Stephen Colbert and they performed "Tom Sawyer" on The Colbert Report on July 16, 2008. Continuing to ride what one movie reviewer has called a "pop cultural wave" they also appeared at a live show in April 2009 for the comedy film I Love You, Man. They have started to become more media savvy and high profile again and have since appeared in hit comedy shows. The song Tom Sawyer was also spoofed on an episode of the legendary comedy South Park.
---
The Future of the Band
It wasn't until February 2009, that Rush next considered a new album. Despite their raised media profile and the success of Snakes and Arrows the band seemed to be more inclined to rest after their previous tour. However during a magazine interview in February Alex Lifeson remarked that the band may begin working on a new album towards the end of 2009 with Nick Raskulinecz, who had produced Snakes and Arrows once again producing.
The next news of the album came during their induction into the Canadian Music Hall of Fame. Lee and Lifeson touched on future material during the interview, and Lee was quoted as saying "Just about a month and a half ago we had no songs. And now we've been writing and now we've got about 6 songs that we just love."
Shortly after this interview Lifeson reconfirmed on the band's official website that they had already written a half-dozen songs and that there was the potential for two supporting tours, one planned for summer 2010 and a more extensive tour planned for summer 2011.
On April 8, 2010 both the official Rush website and PR Newswire announced that the band would embark on the Rush Time Machine Tour. The first leg of the tour began on June 29 in Albuquerque, New Mexico and finished October 17 in Santiago, Chile at the National stadium. It featured the album Moving Pictures played in its entirety, as well as the single "Caravan" and its B-side "BU2B". These songs will be featured on the band's upcoming studio album, Clockwork Angels. The "Caravan" single was announced May 25, 2010 and was released June 1 to radio stations and made available for digital download. It was suggested that Rush would return to the studio after the completion of the Time Machine Tour with plans to release Clockwork Angels in 2011. However, Rush confirmed on November 19, 2010 that they will be extending the Time Machine Tour for a second leg. They are scheduled to play Europe in spring 2011 and return to North America for dates between March and July.
It would seem as if the future of the band is fairly secure for the time being at least and with tours continuing to sell out and the 2011 album already in the pipeline it would appear that one of the finest servants to Canadian music will continue to sell for the foreseeable future.
---
Discography 1974-1981
In 1973 Rush had originally recorded a single, Not Fade Away b/w You Can't Fight It. The single was released on the band's own label Moon Records but it only sold a few copies around Toronto. The A-side was the Buddy Holly classic, while the b-side was a joint composition by Geddy Lee and drummer John Rutsey. Despite the failure of the single to attract any record deals they boldly decided to finance a complete album. To keep costs to a minimum the group took the option of the cheapest recording time available, which meant recording through the night at Eastern Sound Studios in Toronto and the band would go into the studio straight from a gig to spend a few hours each night laying down the songs.
Initially drummer Rutsey was going to focus on the lyrics, as he had expressed his disappointment at previous attempts they had come up with. However Rutsey was also struggling with his own views on what he wanted the band to do and eventually he tore up all the lyrics he had written and consequently never showed them to Lee and Lifeson. As if the schedule of recording between gigs wasn't hectic enough, it fell upon Geddy Lee to then add his own lyrics to the tunes they were working on. Because of the pressure they were under to record so quickly, the band had taken one eye off the production angle but eventually decided they were unhappy with the work that original engineer David Stock had done. With the management able to muster up additional funds, Terry Brown, a Brit living in Canada with his own recording facility was brought in and given two days to improve the recordings. Four tracks were remixed and two re-recorded entirely at Brown's Toronto Sound studios, whilst the single 'Not Fade Away,' originally earmarked for the album was replaced with a new song 'Finding My Way' giving the album a greater punch in the process. Because of the tight financial constraints the band had made the album under, no thought had really been given to holding any money back for the artwork, which it has to be said does look like something of an afterthought. Moon Records originally pressed up only 3,500 copies of the album, which sold very quickly but before long Mercury Records signed the band and re-issued the record.
1. FINDING MY WAY
(LEE/LIFESON)
It's hard to imagine the album's opening song nearly didn't make the album as it has proved to be a true Rush evergreen. The song is also highly typical of the band's early work, and in particular the heavy influence that Led Zeppelin had on the Canadian trio throughout the entire album. Both Lee's vocals and Lifeson's guitar were strongly compared to Plant and Page respectively, but all bands have to start somewhere. Finding My Way is still one of the strongest tracks on the album with some powerful driving guitar from Lifeson.
2. NEED SOME LOVE
(LEE/LlFESON)
Time hasn't been so kind to this track, an extremely basic lyric from Lee and more Page inspired riffs from Lifeson don't leave a particularly lasting impression on the listener.
3. TAKE A FRIEND
(LEE/LlFESON)
A more adventurous track with its unusual guitar fade in at the beginning and some excellent solo work from Lifeson, which is offset by the song's middle-eight that gives a more commercial edge to the rest of the song's, more progressive leanings.
4. HERE AGAIN
(LEE/LIFESON)
One of the album's strongest tracks is this slow-paced number with a slightly bluesy feel to it. Geddy Lee's vocals are amongst his best work on the album and the whole thing is superbly rounded off by Lifeson's best solo on the record. At seven and a half minutes long it was also the longest track on the album, and the forerunner of lengthier tracks the band would subsequently record on later albums.
5. WHAT YOU'RE DOING
(LEE/LIFESON)
Despite being another song that sounds like it could have been an outtake from Led Zeppelin's second or fourth album, What You're Doing is a good slice of early raw Rush and proved to be a popular live track. John Rutsey's drumming is particularly noteworthy on the instrumental middle-eight.
6. IN THE MOOD
(LEE)
Not to be confused with the Glenn Miller tune, the only track on the album written solely by Geddy Lee, it has become something of a Rush standard, and has served the band well in concert throughout its entire career. A straightforward rock riff with very basic lyrics it would in time prove to be at odds with what Rush would become synonymous with. However it is a perfect illustration of how simplicity can be the key to popularity and longevity.
7. BEFORE AND AFTER
(LEE/LIFESON)
One of the most fascinating numbers on the album with its lengthy, guitar intro, and the tempo changes throughout are an indication of where Rush would take its music on future recordings.
8. WORKING MAN
(LEE/LIFESON)
Similar observations can be made about the album's closing track, but unlike Before And After, Working Man was another track that would become a hugely popular live track, and the band even played it on the 2004 thirtieth anniversary tour. Although lyrically it sent out a message extolling the virtues of the bluecollar worker, it wasn't a stance that Rush necessarily tried to cultivate in any way. Alex Lifeson's powerful guitar work is amongst his best on the album.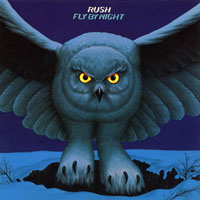 FLY BY NIGHT
15th FEBRUARY 1975
Having enjoyed working with Terry Brown who had helped the band 'rescue' the first album, the group returned to Brown's Toronto Sound for the second album. The most noticeable change that the engineer encountered was in the fact that Rush now had a new drummer. Rutsey had been at odds with Lee and Lifeson's desire to shift the band into a more progressive direction and his departure resulted in Neil Peart taking over the drum stool. The band had tried out several drummers before Peart arrived to audition, none of whom had really impressed them. Peart's major influence at the time was Keith Moon and as soon as he started playing on his small Rogers kit, Lee and Lifeson knew he was different to most other guys they had heard. As Lifeson said, "he played like a maniac. He was a really intense drummer." Geddy Lee was totally won over by Peart's audition, "after I heard Neil play I was convinced that he was the drummer for the band." An added bonus was Peart's literary interest, and because neither Geddy Lee nor Alex Lifeson had much enthusiasm for lyrics they were happy for Peart to devote his attentions to the words.
As with the first album, the band was expected to deliver a finished product in a very short space of time with only ten days allocated for recording. As Terry Brown said of the sessions, "In those days it was strange because you had nothing really to judge it by. All we knew were the tunes and the direction we wanted. So it was just a question of working ridiculous hours. I mean you just start with day one and make it to day two, and so on. There was no discussion of "is it okay, do we need to remix anything?" or "would you have rather done this or that?" When it was done, that was it. There was no time for discussion when the album was finished." Made in the days of glorious vinyl, the album was very much an album of two sides, with the first four tracks acting as an all out power blast, contrasting with the more melodic and laid back numbers that made up the flip side.
1. ANTHEM
(LEE/LIFESON/PEART)
The changes that Neil Peart brought to the band were hugely evident in the opening song. His drumming prowess was clearly evident for all to hear but equally as important, he gave Rush compositions so much more vitality with his lyrics. The words here are clearly influenced by Ayn Rand, one of the major literary figures who made a profound affect on Peart around this time. The lyrics would win no sympathy with the "bleeding hearts" they attacked and the band made no apologies for its right wing stance, something they would be criticised for as time went on. Musically it showed the direction Lee and Lifeson clearly wanted to go, and its stop start riffs became a huge trademark for the band.
2. BEST I CAN
(LEE)
One of the few tracks where Geddy Lee handled the lyrics, a stark comparison to Peart's efforts, though Lee's words are ideally suited to this ballsy rocker.
3. BENEATH, BETWEEN AND BEHIND
(LIFESON/PEART)
Another snappy fast rock number driven on by Peart's frenetic drumming and augmented by Lifeson's power chords and Lee's punchy bass lines. Peart's fanciful but thought provoking lyrics once again show how much he had changed the band for the better.
4. BY-TOR AND THE SNOWDOG
(i. At The Tobes Of Hades, ii. Across The Styx, iii. Of The Battle) (LEE/LIFESON/PEART)
The first number in the Rush canon that can be referred to as an 'epic'. Musically it was the most adventurous song to date, and at nine minutes long the lengthiest. Divided into four parts it also gave Alex Lifeson the opportunity to stretch out, particularly on the dramatic 'battle' section. Lyrically it was inspired by Rush's manager's dogs, one of which, a German Shepherd, bit tour manager Howard Ungerleider causing him to refer to it as a "biter" (by-tor, get it?) Peart turned it into a mini fantasy adventure of good over bad.
5. FLY BY NIGHT
(LEE/PEART)
Kicking off side two of the original vinyl, the title track is one of Rush's most melodic and accessible numbers. Although potential single material, in keeping with the climate of the day, Rush was very much an album band with little concern for the short-term popularity that singles could bring. Rush wanted to be in the business for the long haul journey that the song's lyrics allude to.
6. MAKING MEMORIES
(LEE/LlFESON/PEART)
An even more melodic number with good use of acoustic guitars, the first of many times the band would incorporate the acoustic sound over the ensuing albums.
7. RIVENDELL
(LEE/PEART)
Rush unplugged, with Geddy and Alex providing the gentle acoustic sounds throughout and not a drum to be heard anywhere! Peart's lyrics are once again inspired by a notable literary figure, this time Tolkein and his world famous 'Lord Of The Rings.'
8.IN THE END
(LEE/LIFESON)
Continuing the softly, softly approach with its acoustic intro, Lifeson then crashes in with some great power chords that along with Peart's powerful drumming push the song on, concluding the album with the same gusto it opened with.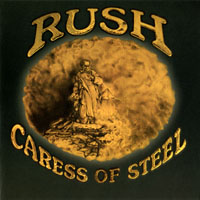 CARESS OF STEEL
SEPTEMBER 1975
When Rush returned to Toronto Sound in July 1975, Terry Brown was fully established as an integral part of the band's recorded output. Having moved a step forward with 'Fly By Night' the band fully intended to move things on again with the third album. With the additional exuberance and solid platform that Neil Peart had brought to the group they felt confident enough of expanding and experimenting further with their compositions. Peart had a lyrical idea that he wanted to see expanded over several songs, all brought together on one side of an album that could be experienced by the listener as separate songs or as one long piece. With all three in agreement in developing longer, more progressive songs, it was arguably Rush's attempt at a concept of sorts.
However once again they were under pressure from the word go as they were only given twelve days to record and mix the album. To do so with a bunch of straightforward rock songs is one thing but with the band deliberately steering the music into more challenging and complicated directions it was always going to be tough in such a short space of time. Expecting so much from themselves in so little time clearly affected the results and Caress Of Steel is generally regarded by Rush aficionados as the weakest album the band has ever done. It did however see the start of the collaboration with graphic designer Hugh Syme that continues to the present day. His artwork that adorns the cover is arguably the best thing about the whole album!
1. BASTILLE DAY
(LEE/LlFESON/PEART)
Coming from a country with a strong French connection, it is no surprise the band tackled a song about the French Revolution. The heavy riff-laden
song helps to illustrate the bloody struggle that changed the course of French history, but sadly the flat production diminishes the potential impact.
2. I THINK I'M GOING BALD
(LEE/LlFESON/PEART)
The band definitely had a bad hair day when they came up with this one! Though the opening riff is in a similar vein to 'Anthem' the comparisons end there, and lyrically this won't be remembered as one of Peart's finest moments: The worst ever Rush song? You'd be hard pushed to argue the case for the defence.
3. LAKESIDE PARK
(LEE/LlFESON/PEART)
Possibly the strongest number on the album sees the band romantically portraying a local beauty spot in their hometown of Toronto.
4. THE NECROMANCER (i. Into Darkness, ii. Under The Shadow, iii. Return Of The Prince)
(LEE/LIFESON/PEART)
The first of two long compositions that close the album, The Necromancer was divided into three sections; Into Darkness, Under The Shadow and Return Of The Prince and whilst it has all the typical Rush hallmarks of numerous chord and tempo changes the piece is very much the product of a band who know what they want to do but have yet to fully execute it in a successful way: that would come on the follow-up. Lyrically the fantasy story is once again influenced by Tolkein and also continues the adventures of By-Tor but without the same bite! The Necromancer is another example of why Caress Of Steel is largely accepted as the weakest of all Rush's albums.
5. THE FOUNTAIN OF LAMNETH (i. In The Valley, ii. Didacts And Narpets, iii. No One At The Bridge, iv. Panacea, v. Bacchus Plateau, vi. The Fountain)
(LEE/LlFESON/PEART)
In the days when long tracks were the order of the day the album's closer clocks in at twenty minutes. The Fountain Of Lamneth appears to be partly influenced in its structure by Genesis' 'Supper's Ready' though sadly it never attains the same levels of excitement or drama as the English band's twenty-minute masterpiece. Essentially it is five separate songs held together by the same lyrical theme. Whilst it does have its moments, such as Lifeson's solos in No One At The Bridge and Bacchus Plateau, and a drum solo in Didacts And Narpets, it is another example of a band still developing its craft but that hasn't yet fully reached fruition.

Partly due to the limited time frame the band had in producing 'Caress Of Steel' the end results were not only disappointing but were greeted with very little enthusiasm from fans and critics alike. The album sold poorly and the band was at its lowest ebb and even considered calling it a day. The record company clearly felt the group's desire to move into a more progressive direction was the wrong course to take. With a difficult decision to make, years later Alex Lifeson commented, "after 'Caress' there was that lack of support ... we had to decide whether we were going to say ... okay, we give up. We either break up, or we try to make another first album, or we say fuck it and do whatever we want. We decided on the third choice. We talked about the whole thing, and got really fired up between the three of us to really push on and not worry about what anyone else thought."
The fire in their bellies and the self-belief they shared paid dividends with 2112. If Caress Of Steel had been the prototype of a new Rush model, 2112 would prove to be the showroom version. Much of the album had been written during a six month period as the band toured in promotion of Caress Of Steel. Furthermore, for the first time the band managed to get the sort of studio time they knew was required to do justice to the complex arrangements envisaged, and spent a full month at Toronto Sound. The result was an album that was not only full of ideas but also benefited from a much stronger production and mix. Hugh Syme's simple but effective red star image that adorned the cover became an enduring Rush emblem and within a month the album had sold more then the first three combined. Despite external pressures, the three guys had stuck to their guns and from this point on the band would never have cause to look back or question their own instincts ever again.
1. 2112 (i. Overture, ii. Temples Of Syrinx, iii. Discovery, iv. Presentation, v. Oracle: The Dream, vi. Soliloquy, vii. Grand Finale)
(LEE/LIFESON/PEART)
From the synthesizer opening it was apparent that Rush had produced something way in excess of previous works. The use of synthesizers was a unique turning point in the group's career, with Geddy Lee and graphic designer Hugh Syme jointly tackling the keyboard effects. From herein, with Lifeson's power chords setting the scene, right through to the dramatic finale, in 2112 Rush had managed to produce its first truly conceptual and progressive masterpiece and the music is far more inspired and dynamic than the longer tracks on 'Caress Of Steel.' It is also one of the first songs in the Rush canon where Lifeson really gets to portray his six-string prowess to the full.
Lyrically, whilst at first glance it appears to be nothing more than a sci-fi fantasy, the obvious disapproval of oppressive regimes and collectives dominating and ignoring the skill and thoughts of the individual was very much the band's philosophy which they championed without shame.
2. A PASSAGE TO BANGKOK
(LEE/LIFESON/PEART)
In stark contrast to the drama and intensity of side one's title track, the opening number on side two is a rather plodding riff, though it proved to be a popular live number. Having produced his best lyrics to date on the title track, Peart's homage to cannabis is not only highly uncharacteristic of his work in general but doesn't stand the test of time particularly well, coming across as a rather 'cheesy' effort in the process.
3. THE TWILIGHT ZONE
(LEE/LIFESON/PEART)
Another sci-fi tinged lyric from Peart fits perfectly with the rather dreamy style of the music. Good use of Lee's vocal overdubs and a tasty solo from Lifeson are all perfect illustrations of how superior the production was to any previous Rush album.
4. LESSONS
(LIFESON)
A rare solo composition from Alex Lifeson has shades of his sixties upbringing in its delivery. Taking Geddy Lee's unique vocal style aside, there is evidence of many of the bands that Lifeson listened to in his youth such as The Who and The Yardbirds.
5. TEARS
(LEE)
Geddy Lee also gets a self-penned number to his name in this atypical romantic ballad. This style is not something the band is really renowned for, and it would also prove to be one of the last lyrics Lee would write for the band. Hugh Syme's keyboards augment the song well.
6. SOMETHING FOR NOTHING
(LEE/PEART)
Another example of Peart's Ayn Rand inspired philosophy is represented with the self-explanatory lyrics. But whatever criticisms the band received from a generally 'left-wing' music press, they certainly practised what they preached and the album was ample proof of the band's desire to chose their own destiny. It's a fitting way to conclude a record that showcased the self-belief and determination of three young but highly talented young men.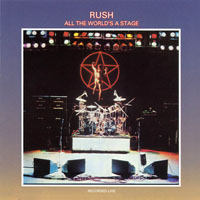 ALL THE WORLD'S A STAGE
29th SEPTEMBER 1976
Having made their most successful studio album to date, the band's next move wasn't to immediately follow it up with another studio effort but instead they took stock of the situation and plumped for a live recording that would showcase the best of the material from the first four studio recordings. In a way it made sense as undoubtedly the hordes of new fans they had attracted with 2112 could be introduced with what was in effect an anthology collection and as a consequence most certainly increase sales of the back catalogue. As Neil Peart put it, "we look at a live album as taking the place of an anthology or greatest hits. To me it's a nicer way of doing that. It offers the high points of our material in a group of records, a span of our career, without just taking them off the albums." Although by now Rush's popularity was increasing rapidly through the United States it was still decided they would make the recording in their homeland and three consecutive nights at Massey Hall, Toronto, were recorded on June 11, 12 & 13, 1976. The band's general belief that in any three night stint they normally produce their most fiery performance on the final night are backed up by the fact that the bulk of the album comes from the last of the three gigs. Given the band's reputation as perfectionists it's no surprise they ended up spending a month selecting the best recordings and mixing the album. According to Alex Lifeson they remixed the entire album three times! Also despite Geddy Lee's admission that there were some overdubs 'All The World's A Stage' comes across as a very raw and accurate portrayal of Rush in concert from this particular era in the band's career.
1. BASTILLE DAY
(LEE/LIFESON/PEART)
This live performance perfectly illustrates how suppressed the studio version of this song was as a result of the flat production on 'Caress Of Steel'. Here it bristles with energy and is the perfect show opener.
2. ANTHEM
(LEE/LIFESON/PEART)
Another short snappy number it was ideal to kick off the show with tracks such as these and, not letting up for a moment, Anthem keeps up the tempo and intensity before the gig would build into some of the longer tracks.
3. FLY BY NIGHT
(LEE/PEART)
This, the title track, is one of four songs from the second album featured on this live collection. Although it was one of the more gentle and melodic tracks from the band up to that point, here it is 'beefed' up a little by stripping away the middle eight and segueing straight into the next track.
4.IN THE MOOD
(LEE)
Another Rush classic that has regularly been in the live set throughout the past thirty years and one that's guaranteed to get the audience up off its feet.
5. SOMETHING FOR NOTHING
(LEE/PEART)
As one of the newer tracks in the stage act there was little to distinguish it from its studio counterpart, except that in keeping with the recordings throughout, the venue's acoustics give a different edge to the overall sound.
6. LAKESIDE PARK
(LEE/LIFESON/PEART)
Given its more relaxed nature compared to the tracks that precede it on this record, it certainly adds some colour and variety to a Rush gig that was in general a feast of power chords, thunderous drums and soaring vocals.
7. 2112 (i. Overture, ii. Temples Of Syrinx, iii. Presentation, iv. Soliloquy, v. Grand Finale)
(LEE/LIFESON/PEART)
One of the undoubted highlights of any Rush gig is this epic track that really helped to put Rush on the map. The live performance captured on the album eliminates two parts of the song, Discovery and Oracle: The Dream. This had initially been done for shows where they were still a support act playing a condensed set. However, stripping out the more gentle pieces of the composition does benefit by raising the intensity of the piece.
8. BY-TOR AND THE SNOW DOG
(LEE/LIFESON/PEART)
If 2112 had been condensed for the stage, 'By-Tor' was expanded to give Alex Lifeson the chance to stretch out with a lengthy solo depicting the battle between the two characters of the song that was very much the highlight of the show for many fans.
9. IN THE END
(LEE/LIFESON)
A perfect illustration of how the band adapted studio versions to the stage, Geddy Lee's bass filling out some of the overdubbed guitar parts Lifeson was clearly unable to replicate in the live environment.
10. WORKING MAN
(LEE/LIFESON)
From the first album, one of the fans' favourites was used to great effect as the main set's closing number. No Rush show would be complete without a drum solo from the man they call "The Professor." There are very few drummers in rock who can hold the attention of an audience with a solo. It's normally the time for most people to dash out to the bar or for a call of nature but Peart is no ordinary drummer. In fact, put simply he is without doubt the finest rock drummer of his generation.
11. FINDING MY WAY
(LEE/LIFESON)
As one of the standout tracks from the first album, an inevitable choice for an encore, and live the power of the song is emphasised to a greater extent.
12. WHAT YOU'RE DOING
(LEE/LIFESON)
Perhaps something of a surprise choice to close the show but with the benefits of the Massey Hall acoustics and the band's sheer dynamism it's given a new lease of life.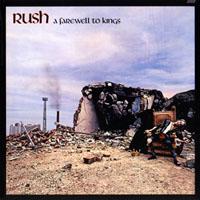 A FAREWELL TO KINGS
SEPTEMBER 1977
Because of the intermission that was the double live album, it would be a year and a half before the next studio album was ready to be recorded: but due to the continued rise in success it also resulted in a change of environment. Not only had 2112 kicked off a mass of additional interest in North America, but also the double live set, always a popular format with rock fans, helped to introduce Rush to European audiences. As it was, Rush ventured across the Atlantic in the summer of '77 for its first ever European tour consisting of a fortnight of shows in the UK and Sweden. After finishing with a show at the Liverpool Empire the band went into Rockfield Studios, tucked away deep in the wilds of Wales. As Neil Peart said, "We found the seclusion and the mellow atmosphere at Rockfield very conducive to work, (there's little else to do!) and we made good use of the varied facilities, including a huge acoustic room, and the unique opportunity to record outdoors." Three weeks were spent in the leafy remote studio, followed by a couple of weeks at Advision in London where they mixed the recordings down.
The band had in their own words seen the live album as "the end of the beginning, a milestone to mark the close of chapter one in the annals of Rush."
Born out by the relatively lengthy gap between albums this was also seen as a positive in Peart's eyes; "we have had a year and a half between studio albums, a very welcome creative hiatus, and a chance for the three of us to concentrate on our individual instruments, and the mastery of new ones to keep the music growing." This is perfectly illustrated by Peart's ever expanding use of various percussion instruments, Lee's continued development with synthesizers and Lifeson's numerous electric and acoustic six and twelve string guitars that were put to great use on the recording.
With Terry Brown once again involved as engineer and co-producer, the recording also saw the band further its artistic bent and production skills, and was a natural step forward from '2112'. Hugh Syme's cover art was also the most accomplished to adorn a Rush album up to that point.
1. A FAREWELL TO KINGS
(LEE/LIFESON/PEART)
Peart's comment about recording outdoors is reflected in the title track's intro best described by Peart himself; "The birds of Rockfield can be heard out on the Elizabethan-jazz flavoured introduction. This song is one of our favourites on the album, as it seems to encapsulate everything that we want Rush to represent."
2. XANADU
(LEE/LIFESON/PEART)
"Certainly the most complex and multi-textured piece we have ever attempted" wrote Peart shortly after the album's release, going on to add; "it also contains one of Alex's most emotive and lyrical guitar solos, as well as a very dramatic vocal from Geddy." This epic eleven-minute tour-de-force became a huge concert favourite and is another example of the development of Rush's improved compositional skills.
3. CLOSER TO THE HEART
(LEE/LIFESON/PEART/TALBOT)
Rush has never been a band that sets out to write hit singles but by accident rather than design this was clearly the band's most accessible song to date, and with countless albums since, it still remains one of the most instant and unforgettable songs in the entire Rush catalogue. Peart's development as a lyricist is also evident with his intelligent use of word play throughout.
4. CINDERELLA MAN
(LEE/LlFESON)
Another more melodic and laid-back number, it marked, by now, a rare lyrical contribution by Geddy Lee. From hereon Peart would almost exclusively handle the lyric writing. Ironic perhaps, given it's one of Lee's better efforts with the pen.
5. MADRIGAL
(LEE/LIFESON/PEART)
One of the most beautifully melodic pieces the band ever wrote. Despite the 'heavy metal' tag the band received, songs such as this are a perfect example of why Rush should never be labelled in such a banal way.
6. CYGNUS X-1
(LEE/LIFESON/PEART)
By now Rush had fully mastered the extended and grandiose style of composition as perfectly illustrated on this classic track. From the haunting, eerie intro to the climactic ending it's Rush at their very 'progressive' best. It's full of time changes and intricate structures, which was Rush's forte at the time. No one did it better that Rush, and Rush didn't do it better than on Cygnus X-1. The band's obvious enthusiasm for the piece was reflected with the ambitious footnote "to be continued."

With the band having enjoyed the experience of recording at Rockfield Studios in Wales, and pleased with the results, they returned there for the following album. 'A Farewell To Kings' had been a relatively easy album to make, but Hemispheres was a much tougher album to create. Coming straight off the back of a lengthy bout of touring, with just a week's break before going to Wales the guys were pretty exhausted.
They initially spent two weeks at a house a mile from the studio, where they rehearsed and wrote. In essence two weeks wasn't enough and as they moved into the studio to start recording not all the material had been written but they were still confident everything would be done in time, and that a few days holiday around Europe could be tagged on at the end of recording. Alas things took longer than expected, and even after running over time on the recordings at Rockfield, Geddy Lee still needed to add some vocals at Advision during the mixing process, where the band spent the next ten days. To compound matters Terry Brown was unhappy with the results but without being able to pinpoint the precise reasons why, he took the tapes to various other studios. It was at Trident Studios in London where he was finally able to nail down the problems, resulting in the entire album being remixed there. Because of the pressure the band was under, it's not an album they look back on as fondly as the previous couple of efforts. In particular, Alex Lifeson recalled, "We'd had a lot of really good fortune with 'A Farewell To Kings' at Advision. 'Hemispheres' had a different feel to it, and it was just not happening. By the end of it we were happy to go. It's a dark album for me to listen to. I suppose I associate the whole tenseness and frustration and really hard work that went into that."
Later, Geddy Lee summed up his feelings as well, "With every album, we want it to be that much more perfect. With 'Hemispheres' the material changed and the approach to recording the material had to change to a certain degree because the music called for a different tone."
1. CYGNUS X-1 BOOK II: HEMISPHERES (i. Prelude, ii. Apollo: Bringer Of Wisdom, iii. Dionysus: Bringer Of Love, iv. Armageddon: The Battle Of Heart And Mind, v. Cygnus: Bringer Of Balance, vi. The Sphere: A Kind Of Dream)
(LEE/LIFESON/PEART)
Having made the bold decision to continue the story of Cygnus X-1, the band decided to honour its promise with this eighteen-minute opus that occupied the first side of the original vinyl release and was divided into six parts. Generally it was received less favourably although the idea of two sides of the brain at odds with each other, and the battle between heart and mind, was a fascinating concept to construct a song around. Generally it lacks the dynamics of its counterpart from 'A Farewell To Kings' but despite that it does have its moments, and the final two parts of the saga are particularly noteworthy, but it proved to be the last time Rush would tackle such a lengthy and ambitious composition.
2. CIRCUMSTANCES
(LEE/LIFESON/PEART)
In contrast to the epic title track, Circumstances is a short, snappy number that would prove to set the foundation for the band's future direction. For the trio from a country with strong French connections it was also only a matter of time before they incorporated the French language into their lyrics, as is the case here.
3. THE TREES
(LEE/LIFESON/PEART)
A track that clearly resonates with the fans from the band's homeland due to Peart's lyrics about the oppression of maple trees by the bigger and mightier oaks; a thinly disguised comment on Canada's treatment by its more powerful neighbour the USA, as seen through the drummer's eyes.
4. LA VILLA STRANGIATO (An exercise in self-indulgence)
(LEE/LIFESON/PEART)
The subtitle of this nine-minute instrumental might seem apt to the band's detractors but in reality the piece is superbly constructed and is anything but a self-rambling, over indulgent exercise. The subtitle appears to primarily be directed at critics, much to the amusement of the band. The fact that they chose to present it as a piece with twelve parts, with such titles as 'Danforth And Pape' and 'Never Turn Your Back On A Monster' was clearly a sign of a band taking the piss out of both themselves and their critics. Given that it is still a hugely popular and dramatic part of Rush concerts proves what a great track it is.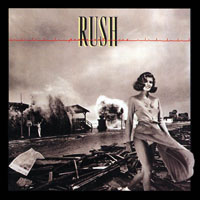 PERMANENT WAVES
1st JANUARY 1980
Having made the previous two albums in the UK, Rush was back on familiar territory for Permanent Waves and decamped to Le Studio in Morin Heights, Quebec in September 1979. Not just because 'Hemispheres' had proved to be a difficult album to make but in light of the changing musical climates of the late seventies, Rush opted to take a fresh approach for this album. The new wave of music that had taken a stronghold in the late seventies, although appearing to attack and dislodge the old guard also offered a band of Rush's intelligence an opportunity to embrace the new sounds. The group was more than happy to open their ears and minds to new styles and were also fully aware that to continue along the same musical path could potentially spell a recipe for disaster.
Whilst their inevitable compulsion for intricate and demanding song construction continued, the ability to do it with new sounds and incorporating other musical styles insured Rush would keep one step ahead of most other bands that fell into the trap of repeating a previously successful winning formula. The one thing that the New Wave had brought to the attention of the band was that shorter well-constructed songs could have as much impact on the listener as lengthy complex numbers. It's not that Rush abandoned their prowess for skilful and technical playing, but more the fact that from now on, greater emphasis was placed on the composition first and foremost. Although blinkered fans saw it as the start of a downhill slope, in truth Rush's music became more compact, but crafted to a greater degree, and in general Peart's lyrics became both more mature and challenging in equal measures. Three of the songs also benefited from being written long before they went into the studio and had been played regularly as Neil Peart explained, "we were able to play 'The Spirit Of Radio', 'Freewi1l', and 'Jacob's Ladder' during our sound check every day, and the former two we had worked into the new show."
On its release the album divided fans and even the cover met with controversy. A joint concept by Peart and Hugh Syme, it originally showed the Chicago Tribune headline 'Dewey Defeats Truman' that was originally, prematurely published during the 1948 Presidential election. The embarrassed paper objected to the reproduction of its headline and the artwork was withdrawn and re-done with the heading blanked out, making the original version a sought after collector's artefact.
1. THE SPIRIT OF RADIO
(LEE/LIFESON/PEART)
Rush's decision to shift the emphasis towards shorter and punchier tracks was well rewarded, with 'Spirit' becoming a relatively big commercial single for the group. The reggae-flavoured middle eight may have come as something of a shock for many Rush fans but if those fans missed the point Peart's lyrics drove home the message that it was perfectly possible to attain success and popularity without compromising the art form, and Rush was one-step ahead of the opposition regarding that. It was probably also the first song that inspired a whole generation of fans to indulge in a spot of 'air drumming' at the gigs!
2. FREE WILL
(LEE/LIFESON/PEART)
For Neil Peart the very notion that our destiny was pre-defined was utter poppycock as conveyed on this excellent track. It's also a good example of the band's greater use of keyboards to fill the sound out, something that would become a familiar pattern on the band's early eighties albums.
3. JACOB'S LADDER
(LEE/LIFESON/PEART)
Although, the band had produced part two of Cygnus X-I on 'Hemispheres' from a musical perspective, with its dark, brooding style, this track could have been ideally suited to fill that role. It's also one of the few tracks on the album to carryon in a similar vein to the previous record. Once again the keyboards play a big part in the song, but in doing so it alienated some fans that craved more Alex Lifeson power chords and guitar solos.
4. ENTRE NOUS
(LEE/LlFESON/PEART)
Very much a song that illustrates Rush's desire to construct 'songs' rather than grand musical opuses. It's almost accessible enough by Rush's standards to be considered mainstream!
5. DIFFERENT STRINGS
(LEE/LIFESON)
The one and only ballad on the album is another short but sweet song, rounded off with a great burst of guitar by Lifeson, though sadly just as it looks like potentially developing into something special, it just fades out. It is also fascinating to listen to for its relative simplicity: a rarity with Rush tracks up to this point. Geddy Lee spoke about the song during an interview for Guitar Player magazine, "harmonics become quite an integral part of the piece. The bass part is very simple - a punctuating sort of rhythm - but in between the notes I popped a couple of harmonics on two (different) strings at the fifth fret."
6. NATURAL SCIENCE (i. Tide Pools, ii. Hyperspace, iii. Permanent Waves)
(LEE/LIFESON/PEART)
Rush hadn't totally abandoned the longer more progressive numbers and closed the album with this nine and a half minute piece that is constructed in three parts. It flows seamlessly from a gentle, acoustic beginning and graduates into a swirling sea of progressive rock guaranteed to keep the older Rush fans happy in the process. Even greater attention was focused on the production as Neil Peart explained, "Alex and I splashed oars in the lake with shivering hands to record the 'Tide Pool' effects, voices and guitar sounds were sent out over the lake to make use of it's natural echo, the tympani was recorded outdoors, guitar amps were strung all over the building to take advantage of as many different sounds as possible."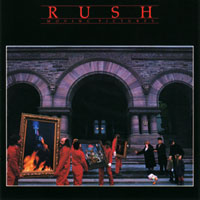 MOVING PICTURES
12th FEBRUARY 1981
When the band recorded 'Permanent Waves' Neil Peart spoke highly of Le Studio, which was used for the first time with that album: "Le Studio is a wonderful place, nestled in a valley of the Laurentian Mountains about sixty miles north of Montreal. It is situated on 250 acres of hilly, wooded land, surrounding a private lake. At one end of the lake is the studio, with the luxurious and comfortable guesthouse situated at the other, about a mile away. The recording facilities are, of course, nothing less than excellent in every way. The room itself features one whole wall of glass, overlooking a spectacular view of the lake and the mountains. This is in direct contrast to most studios, which are more in the way of being isolated, timeless vaults, which in that respect of course, are not necessarily bad."
It was therefore no surprise that they went back to Le Studio for the follow-up in October 1980. The same team, with Terry Brown at the controls, set out to continue the style they had produced to great effect with 'Permanent Waves'. Two of the songs had been played in concert and again this meant that by the time they were ready to record, both the band and engineer were very familiar with the compositions and this helped the recording process no end.
As far as Terry Brown was concerned, with the team's own skills improving and the technology of the day, they created what he considered to be the best drum sound they had ever produced. However the technology also proved to present the band with some serious problems as Peart recalled, "the digital mastering machine, the mixdown computer, and one of the multi-track machines, gave up their collective ghosts one after the other, driving poor Terry Brown to distraction, and setting us two weeks behind in the end. After much technical tearing of hair and gnashing of teeth, the machine maladies were finally put right."
Despite the problems Rush produced an album that today is generally regarded as amongst their best work. Alex Lifeson in particular rates the album highly and several of the tracks have become an integral part of Rush gigs.
1. TOM SAWYER
(LEE/LIFESON/PEART/DUBOIS)
Considered an absolute Rush classic by many fans, it combined good use of synthesizers with Lifeson's fiery guitar, and driven on with great power by the rhythm section. The lyrics were a rare collaboration with Max Webster's Pye Dubois who gave his original idea called 'Louis The Warrior' to Peart, who adapted it to the well know literary character.
2. RED BARCHETTA
(LEE/LIFESON/PEART)
Another hugely popular track in the Rush canon sees Lifeson's punchy guitar work take preference to the keyboard sounds, whilst Peart dabbles in a bit of automotive nostalgia with lyrics that most young men could identify with. As males make up the vast majority of Rush's fan base there wasn't likely to be too much complaining about that.
3. YYZ
(LEE/LIFESON/PEART)
This instrumental not only showcases the musical virtuosity of all three-band members but also illustrates the open-minded approach and willingness to embrace musical areas most other 'heavy' bands would ignore with its funky rhythms and guitar chops.
4. LIMELIGHT
(LEE/LIFESON/PEART)
To most Rush fans Limelight is the stand out track on the album. Lifeson's power chords are the driving force behind what is an excellent example of a power trio at its best. Peart's lyrics deal honestly about the drawbacks of fame and there can't be many bands that are as truthful as Rush, as encapsulated in the line "I can't pretend a stranger is a long-awaited friend."
5. THE CAMERA EYE
(LEE/LIFESON/PEART)
In keeping with the previous record the band threw in one lengthy number and this eleven-minute piece saw Rush pushing their newfound enthusiasm for keyboards to a greater extent. Much of the song's rhythm is played through a combination of drums and synth but Lifeson also gets to put in a cracking solo and the combination of guitar and keyboard compliment each other extremely well.
6. WITCH HUNT (PART III OF FEAR)
(LEE/LIFEESON/PEART)
By far and away one of the darkest and most eerie pieces Rush has ever written, Witch Hunt is a superb observation of human prejudices, augmented by some very heavy Lifeson riffs, and with the keyboards once again adding to the overall production as opposed to dominating it. Parts two and one would subsequently appear on the next two studio releases.
7. VITAL SIGNS
(LEE/LIFESON/PEART)
The band had already showed a willingness to incorporate new styles with the 'reggae style' vamp in 'Spirit Of Radio' but with Vital Signs funk and reggae rhythms dominated the song's structure which wasn't well received by all fans with many considering it as something of a 'filler track: The music however, with its strong use of synths yet again, was perfect for the 'digital-age' inspired lyrics.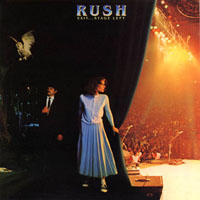 EXIT...STAGE LEFT
29th OCTOBER 1981
With another four studio albums under their belts, Rush once again opted for a collection of live performances to showcase the group's development. Whether or not it was pure coincidence is open to conjecture but the band was keen to change direction again with the next studio album, so another live anthology seemed highly appropriate at this particular juncture. However there was a second reason as well as Geddy Lee explained, "we felt our live sound had changed so much that we figured we needed to up-date it on record. I mean, All The World's A Stage was a whole lot different. But doing a live record is also a great device to get a sort of hiatus between albums and we really wanted that. We wanted to have a longer gap before going back in the studio so that we could do some writing on our own."
Unlike 'All The World's A Stage' whereby they had just set up to record three gigs on the fly, plans for the second live recording were planned much more in advance. Shows from both the Permanent Waves and Moving Pictures tours were recorded and eventually the album was comprised from UK and Canadian gigs. Although the bulk of the material was taken from a homeland show in Montreal, what was side two of the original vinyl was recorded at the Glasgow Apollo. Given the band's general hands on approach they had less to do with the live album than they had with All The World's A Stage and generally left it in the hands of their erstwhile producer and engineer Terry Brown, as Alex Lifeson commented, "It was really his baby ... we would just kind of drop in now and again, make a few suggestions and wander out again. Of course there was a lot of thought put into the selection of tracks. There were some things we didn't really want to hear again and there were others that had already been included on 'All The World's A Stage'. But finally I think we came up with something pretty satisfying."
Although the album captured Rush at a time when their live performances had been greatly honed, when originally released it suffered from a poor, rather 'muddy' mix that generally tended to stifle the songs and took away some of the live feel. Even Geddy Lee's song introductions, whilst hardly essential listening, sounded like he was a million miles away! Coincidentally it turned out to be the last album the band did with Terry Brown.
The cover is another good piece of work from Hugh Syme, who cleverly wove all the imagery from every studio album in, though needless to say not every album is represented on this live collection. For instance there was nothing from 'Caress Of Steel' but that really was no surprise.
1. THE SPIRIT OF RADIO
(LEE/LIFESON/PEART)
Not only had 'Spirit' furnished Rush with a hit single of sorts but it was also an instant success in the concert arena, where the song really was at home: particularly when Geddy screamed out the line "concert hall," which on the studio version used an over-dubbed concert audience to enhance it. Rush crowds never needed any prompting to supply the roar and consequently we get the real thing on this recording.
2. RED BARCHETTA
(LEE/LIFESON/PEART)
With Rush's penchant for highly visible shows Red Barchetta was an ideal number that could be illustrated with the video back screens that Rush was by now employing on their tours. The car and road imagery designed to represent the song was put to great use on the back projectors and always guaranteed a warm response from the crowds.
3. YYZ
(LEE/PEART)
During the Moving Pictures tour this instrumental was conveniently used as the launch pad for Peart's drum solo but in doing so the grandeur of the original piece was somewhat lost as only a part of it was performed. The solo itself was of Peart's usual high standard though quite brief compared to the lengthier solos performed on later tours.
4. A PASSAGE TO BANGKOK
(LEE/LIFESON/PEART)
One of only two tracks from the earlier albums that made it onto this live collection, 'Bangkok' was always a popular concert favourite and the version here is given a new lease of life thanks to Lifeson's approach to the guitar parts.
5. CLOSER TO THE HEART
(LEE/LIFESON/PEART/TALBOT)
As one of Rush's most popular and accessible tunes Closer To The Heart had become the ideal platform for audience participation sing-along. Such an example is superbly captured on the version used on the album recorded in Scotland at the Glasgow Apollo, with due credit being given to the audience on the album's sleeve notes.
6. BENEATH, BETWEEN AND BEHIND
(LIFESON/PEART)
One of the surprise choices on the album was this track from the band's second album but with the extra years of playing and developing of their skills it was delivered with more punch than on the Fly By Night album it came from.
7. JACOB'S LADDER
(LEE/LIFESON/PEART)
A nice little improvised ditty acts as a prelude to what Lee describes as "an old song written a long time ago." Although this live album was heavily criticised for its 'muddy' mix, Jacob's Ladder does benefit from a very bass heavy sound that adds to the dark and brooding ambience of the track.
8. BROON'S BANE
(LIFESON)
This title was new to Rush fans, but in essence this acoustic guitar piece was merely a prelude to The Trees though it at least gave fans the chance to hear a bit more of Lifeson's skill on the unplugged six-string instrument.
9. THE TREES
(LEE/LIFESON/PEART)
Instead of opting for a recording from the Glasgow Apollo, it made sense to use a version that was recorded in Canada because the lyrics resonated with the Canadian fans much more than those from other places. This version here also has a slightly longer ending to the studio counterpart with Lee's synth work neatly segueing into the next song.
10. XANADU
(LEE/LIFESON/PEART)
The lengthy intro benefits from the live environment and concert hall acoustics. Neil Peart's drums and percussion sounds are brought to life much more than any studio can offer. With Rush's stage set now comprising of relatively shorter songs, Xanadu was always going to be a stand out part of the show for the hordes of Rush fans weaned on such epic compositions as this and when mixed with the visual aspects of Rush's show made for some spectacular moments.
11. FREEWILL
(LEE/LIFESON/PEART)
Freewill has always been a firm favourite amongst the fans, though this track as much as any suffered from the poor mix on the album that had a tendency to stifle what in concert was a bright and bristling Rush track of the highest order.
12. TOM SAWYER
(LEE/LIFESON/PEART/DUBOIS)
Although Rush had fully embraced the synthesizers by the time of the Moving Pictures album, with a sympathetic sound balance, they had been cleverly woven into the song structures so as not to dominate the sound. But sadly this live version suffers from a mix that accentuates the keyboards at the expense of the guitar.
13. LA VILLA STRANGIATO
(LEE/LIFESON/PEART)
Proof if ever it was needed that this certainly wasn't an exercise in self-indulgence as the band quipped on the sleeve notes for the studio version. La Villa was, and still is an epic piece of music to be heard at a Rush gig. During this particular time period the 'Danforth And Pape' section was augmented with some improvised vocal lines from Geddy Lee. Although Rush has never been hugely renowned for masses of improvisation, this one number has tended to allow the band to stretch out a little as more recent versions of the piece certainly testify. Also of note is that live versions dispensed with the acoustic guitar parts with Lifeson playing the entire thing on electric only.
---
Discography: Post 1982 to the Modern Era
Signals was a hugely successful album released in 1982. It sold in excess of one million copies and peaked at number 10 on the American Billboard Album Chart. The writing of the album began in 1981, during sound checks on the Moving Pictures Tour, which they taped. Coincidentally, parts of "Chemistry" were written by the band at once while they were separated from each other. Lee wrote the keyboard melody for the bridge section, Lifeson wrote the guitar riff for the verse, and Peart wrote the drum beat for the chorus, and in a move unusual for Rush, Lee and Lifeson came up with the concept and title for the song and presented rough lyrics for Peart to polish.
SUBDIVISIONS
The song is a perennial fan favourite and a staple of live performances, it remains a staple on classicrock radio, and appears on several greatest-hits compilations. It was released as a single in 1982, and despite limited success in the UK charts, the song gained a lot of radio airplay in Britain at the time.
THE WEAPON
This was Part II of the Fear series of songs, the other two Parts are The Enemy Within and Witch Hunt. They later added a fourth part Freeze from the 2002 album Vapor Trails.
NEW WORLD MAN
New World Man was fairly successful in the United Kingdom charts peaking at number 36 in late 1983. The song was the most quickly composed and was written in a matter of hours. The song essentially follows a standard verse-chorus-verse-chorus pattern in the absence of a guitar solo.
COUNTDOWN
This song was one of the most synthesizer heavy tracks on the album. It was released to describe the launch of the Space Shuttle Columbia and STS-1. The song was later used as a wake-up song during the last successful flight of Columbia.
Other tracks on the album:
The Analog Kid, Chemistry, Digital Man, Losing It

Grace Under Pressure reached #10 on The Billboard 200 and went Platinum in the United States upon its 1984 release. During the tour supporting their previous album, Signals, the members of Rush began by meeting with producer Terry Brown in Miami, calmly informing him that they wanted to move on. They'd become increasingly unhappy with the sound of the Signals album, and they were also keen to see how they would work with someone other than Brown. Despite their decision to part ways with Brown, Rush decided to include a small tribute to him in the liner notes of Grace Under Pressure, which states, "et toujours notre bon vieil ami - Broon." The quote translates to "and always our good old friend."
DISTANT EARLY WARNING
This is probably one of Rush's most well-known songs due to its prominence on several compilation albums and live tours. Despite this it never charted significantly in the United States.
AFTERIMAGE
The track was dedicated to Robbie Whelan, a friend of the band who worked as an assistant engineer on some of Rush's earlier albums, most notably Moving Pictures and Signals. The track deals with the loss of a friend and the emotional aftermath that follows. However the song was only ever released as a single in Japan.
RED SECTOR A
This is a song by Rush that provides a first-person account of a nameless protagonist living in an unspecified prison camp setting. Neil Peart has revealed that the song contains deliberately placed overtones of the Holocaust. Geddy Lee also revealed in a latter interview that it was also based on his mother's survival of the Holocaust.
THE ENEMY WITHIN
This is Part I of the Fear Trilogy that I mentioned previously and also features Witch Hunt, Freeze and The Weapon. The songs all deal with the emotion and expression of fear.
Other tracks on the album:
The Body Electric, Kid Gloves, Red Lenses, Between the Wheels

Power Windows was the first Rush album to be produced by Peter Collins, the album was recorded at The Manor in England, Air Studios in Montserrat and at Sarm East Studios in London. The album again sold in excess of 1 million copies and peaked at number 10 in the American Album charts.
THE BIG MONEY
Released as the album's debut single, it reached number 45 in the American Billboard singles chart. The song marks the first signs of a possible move away from synthesisers and back to progressive rock. The lyrics, written by drummer Neil Peart, reflect on the power of "big money" and the sheer magnitude of trade in the modern global economy, particularly during the 1980s.
MANHATTAN PROJECT
It is one of Rush's more popular songs and often features in live performances. It was named after the famous project which created the first atomic bomb during World War Two. It's rather long at just over 5 minutes.
MYSTIC RHYTHMS
A decent success for the band when it charted at number 21 in the American singles charts, making it one of the group's most commercially successful releases to date. It was also released as a single in Japan and was used in popular culture when it became the opening song for NBC's News during the late 1980s.
Other Tracks on the album:
Grand Designs, Marathon, Territories, Middletown Dreams, Emotion Detector

Like Power Windows before it, Hold Your Fire was also mostly recorded in England. In terms of songwriting, Rush continued to explore new territory with Hold Your Fire. The song "Tai Shan", for example, has significant Eastern influences, and is a reference to Mount Tai, in the Shandong province.
'Til Tuesday bassist and vocalist Aimee Mann contributed the first vocals from an artist outside of Rush to "Time Stand Still" The album reached number 13 in the charts but became the first Rush album not to make the top 10 since the 1978 release Hemispheres.
TIME STAND STILL
This became the first ever Rush song to feature an outside vocalist as Peart and Lee felt the lyrics would benefit from a female vocalist. They chose Aimee Mann from 'Til Tuesday for the lead vocals. "Time Stand Still" was also a minor hit single in the United Kingdom, peaking at number 41 in the U.K. Singles Chart. The song has also been covered by Canadian female singer, Nelly Furtado.
MISSION
The song features prominent keyboard parts played by Geddy Lee. Mission was most recently played live during the band's 2007/2008 tour for the album Snakes & Arrows. The opening lyrics of Mission are "Hold your fire, keep it burning bright." incorporating the name of the album the song is taken from. The song is rumoured to be included in the planned set for the 2011 Tour.
TAI SHAN
Tai Shan is a reference to an Asian Mountain and with a strong musical style which features Asian influences and gong. The song itself is said to be one of the group's most experimental.
Other tracks on the album:
Force Ten, Open Secrets, Second Nature, Prime Mover, Lock and Key, Turn the Page, High Water

A relatively successful album given that both singles charted highly on the singles charts in America. The album is generally held by fans to have marked the beginning of a transition period, wherein the synthesizer-heavy songwriting of the 1980s began to give way to a more guitar-oriented sound in later releases. It reached number 16 on the album charts.
SHOW DON'T TELL
This became Rush's first ever mainstream chart number one in the United States. The song illustrates Rush's move away from synthesizer in favour of a more guitar-oriented approach; the band favoured a more funk/groove style of play and away from the 1980s style of music typical in the two preceding albums Power Windows and Hold Your Fire.
THE PASS
This song proved controversial as it deals directly with the topic of teenage suicide. The lyrics are quite dark and also feature references from the Oscar Wilde play Lady Windermere's Fan.
Other tracks on the album:
Chain Lightning, War Paint, Scars, Presto, Superconductor, Anagram, Red Tide, Hand Over Fist, Available Light

Roll the Bones became the group's first Top 5 album since the release of Moving Pictures in 1981. It peaked at number 3 in the American Billboard 200 album chart. Roll the Bones marks further transition from the band's 1980s style to their sound in the 1990s. The roles of the instruments have generally been reversed; guitar is beginning to creep to the front of the song arrangements, while bursts of keyboard and organ are played in the background.
DREAMLINE
One of the most popular Rush songs of all time and even reached number one in the American Rock Music Charts in 1991. It has been performed on every tour since until it was dropped from the set in 2010. It features the first of Alex Lifeson's extended solo riffs.
ROLL THE BONES
The title track from the album, it features extensive use of electric guitars and keyboards, continuing to highlight the band's change in style. The song peaked at number 9 in the American Rock Chart.
WHERE'S MYTHING
This was Part IV of the Gangster of Boats Trilogy and was Grammy nominated in 1991 for Best Rock Performance, losing to Eric Johnson's Cliffs of Dover.
HERESY
This song is about the fall of Communism in Russia and the impact it had on the Western World. The song asked the question of who will pay for the fall of totalitarian government and what the future would be for its citizens.
GHOST OF A CHANCE
Despite the single charting at number 2 on the U.S. Mainstream Rock Chart, a video has never been made for this song. The lyrics focus on finding love, and its strength over any other force. Despite its relative success, the song has rarely been played in live shows; it was most recently featured on the 2008 leg of the Snakes & Arrows Tour.
Other tracks on the album:
Bravado, Face Up, The Big Wheel, Neurotica, You Bet Your Life

A hugely successful album which peaked at number 2 in the Billboard 200 losing out on the number one spot to Pearl Jam's album V. The lyrics continue the trend from Roll the Bones with dark emotional themes being explored.
NOBODY'S HERO
This song deals with the controversial issue of AIDS and HIV. It follows the death of a man called Ellis from the disease. He was a friend of Neil Peart's and as such the lyrics are very powerful. The second part of the song is also dark following the murder of a girl in Peart's hometown in Canada. The girl is believed to have been based on the murder of Peart's childhood friend Kristen French.
COLD FIRE
This song was relatively successful and peaked at number 3 on the Mainstream Rock Charts. Despite this the song is fairly unknown and hasn't featured in live sets.
Other tracks on the album:
Stick it Out, Animate, Leave That Thing Alone, Cut to the Chase, Between Sun and Moon, Alien Shore, Speed of Love, Double Agent, Everyday Glory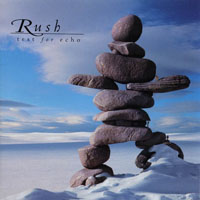 TEST FOR ECHO
1996
The album marks the final Rush work prior to the events in Neil Peart's life that put the band on hiatus for several years. Peart recorded a majority of his drum tracks for the album using traditional grip, after receiving drum lessons from jazz instructor Freddie Gruber. The album itself sold in excess of half a million copies and reached number 5 on the main Billboard 200 chart.
TEST FOR ECHO
The album's title track and the fourth single to go to number one for Rush from their last four albums. The lyrics were a collaboration between Peart and Pye Dubois.
DRIVEN
This was the third of five singles released from Test For Echo and reached number 3 on the US Mainstream Rock chart. When played live, Geddy Lee would often insert a short bass solo. The song still occasionally features in live shows.
HALF THE WORLD
This song peaked at number 6 in the Mainstream Rock Charts, but has more or less disappeared from live sets.
VIRTUALITY
The lyrics deal with the rise of the new internet technology and the song itself reached number 16 in the charts.
Other tracks on the album:
The Colour of Right, Time and Motion, Totem, Dog Years, Limbo, Resist, Carve Away the Stone

Vapor Trails was the first album released by the band in 6 years after the tragic occurrences that happened to Neil Peart. According to the band, the entire developmental process for Vapor Trails was extremely taxing and took approximately 14 months to finish, by far the longest the band had ever spent writing and recording a studio album.
ONE LITTLE VICTORY
The first single released by the band from the new album, it debuted to relative success and good reviews from critics. The song has featured in the video game Need for Speed 2.
SECRET TOUCH
Geddy Lee named this as his favourite track from the album and it was also fairly successful reaching number 25 on the Mainstream Rock Chart.
FREEZE
This was the final part of the Fear series of songs and explored the line between standing up to your fears or running away from them.
GHOST RIDER
The song "Ghost Rider" appeared on the album and was written by Peart as a tribute to his travels around America after his tragic loss. It was never released as a single.
Other tracks on the album:
Ceiling Unlimited, Peaceable Kingdom, The Stars Look Down, How It Is, Vapor Trail, Earthshine, Sweet Miracle, Nocturne, Out of the Cradle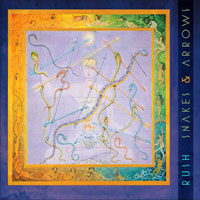 SNAKES & ARROWS
2007
Although it was one of the band's more modern albums it was arguably one of their most successful of all time with the band gaining a worldwide chart presence. The album was originally announced in March through the band's own website and released in May. It sold brilliantly well and reached number one in the Mainstream Rock Chart in addition to reaching number 3 in the general Billboard 200 album chart.
The album also charted in the top 10 in Sweden, Canada and Finland and reached number 13 in the UK. According to drummer and lyricist Neil Peart, inspiration for the title of the album was conceived after considerable research from several sources; the 2000-year-old Buddhist game called "Leela, the Game of Self Knowledge," the related children's game Snakes and Ladders (also known as Chutes and Ladders), and Hamlet's quote "slings and arrows." This information helped convince bassist Geddy Lee and guitarist Alex Lifeson to adopt the original painting of the age old game board as the cover for the new album.
FAR CRY
The song peaked at number 22 in the Mainstream Rock Charts which was rather disappointing given the success of the album itself. The song evolved from a studio jam session between Alex Lifeson and Geddy Lee. Neil Peart unexpectedly left lyrics he had just finished on the table with the chorus highlighted. Lee began singing the chorus along with a section of the jam and, according to him, it seemed to fit.
THE LARGER BOWL
The lyrics were written by the drummer and primary lyricist, Neil Peart. The title was inspired by a "dysentery dream" he had while touring West Africa on his bicycle in 1988. The song is also written in the style of a pantoum which is a form of poetry where the second and fourth lines of each verse are repeated as the first and third lines of the next.
SPINDRIFT
Spindrift became the second single released from the album after the band decided it was a better release at this point that The Larger Bowl. The lyrics are said to be about a lovers' quarrel.
MALIGNANT NARCISSISM
The band's most recent song to be nominated for a Grammy award when it lost out for the award of Best Rock Performance. The song has become a staple of the band's recent live shows.
Other tracks on the album:
Armour and Sword, Workin' them Angels, Hope, The Main Monkey Business, The Way The Wind Blows, Faithless, Bravest Face, Good News First, We Hold On
---