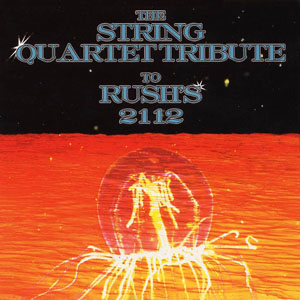 There are 13 active users currently online.
---
---
THE
STRING QUARTET TRIBUTE
TO RUSH'S 2112
Released: March 8th, 2005

Highest Billboard Chart Position: Did Not Chart
---
|

| --- |Tracks| --- |Liner Notes| --- |Album Artwork| --- |Purchase| --- |

|
---
LINER NOTES

Based on Ayn Rand's novel, Anthem, Rush's 2112 is a composition masterpiece honoring one of the most brilliant writers of our day. And as far as progressive rock, Rush bears the crown as one of the most suited bands to take on such a colossal project. Side 1 of the amazing 2112 features a dark medley of seven songs, interwoven with eerie precision. Side 2 boasts the triumphant "A Passage to Bangkok" and "The Twilight Zone," both of them a perfect compliment to a powerful beginning. The result is a magnificent journey through complex musical passages that will stir your imagination many times over.

The String Quartet Tribute to Rush's 2112 is a scenic trek through uncharted musical territory. The viola, violin and cello unearth a melancholy and ethereally delicate aspect of of Rush's creation, infusing it with an unearthly classical mien. The adventure of listening to The String Quartet Tribute to Rush's 2112 will leave you breathless with admiration.

Arranged, Produced, Mixed & Mastered by Todd Mark Rubenstein at TMR Productions.

1st Violin - David Davidson
All Remaining Instrumentation - Todd Mark Rubenstein

Except for "Passage to Bangkok" which includes the following performers:

Todd Mark Rubenstein - cello, bass
Paul Tobias - violin, viola
Patricia Tobias - violin, viola
Andre Janovich - cello
Barry Sines - violin
Dan Furmanik - violin
Thomas Saunders - bass

Todd Mark Rubenstein would like to thank Neil Peart, Geddy Lee & Alex Lifeson for a lifetime of musical genius and the gift of great songs with brilliant performances that will be an inspiration to musicians of all genres for generations to come. He would also like to thank David Davidson and the rest of the musicians who appear on this tribute for their excellent work, the entire staff at Vitamin Records for their continued support and The String Tribute Street Team members.
---
Track Listing

1. 2112: Overture (4:26)
2. 2112: The Temples of Syrinx (2:20)
3. 2112: Discovery (3:01)
4. 2112: Presentation (4:05)
5. 2112: Oracle: The Dream (1:59)
6. 2112: Soliloquy (2:29)
7. 2112: Grand Finale (2:44)
8. A Passage to Bangkok (3:32)
9. The Twilight Zone (3:12)
10. Lessons (3:10)
11. Tears (3:50)
12. Something for Nothing (3:34)

---