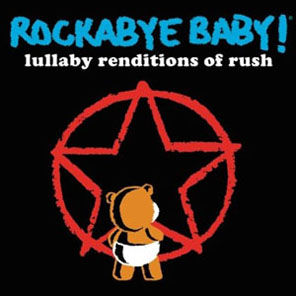 There are 17 active users currently online.
---
---
Rockabye Baby!
Lullaby Renditions of Rush


Released: January 29th, 2013


Highest Billboard Chart Position: N/A
---
|

| --- |Tracks| --- |Liner Notes| --- |Album Artwork| --- |Album Review| --- |Purchase|
---
Liner Notes

Rockabye Baby transforms rock favorites into beautiful instrumental lullabies. Guitars and drums are traded for xylophones and bells, and the volume is turned down from an eleven to a two. Tonight, the cradle will rock.

Do you have a modern day warrior putting up a fight at bedtime? Looking for a reliable way to put baby to sleep and not some fly by night sandman? Try Rockabye Baby's tender lullaby versions of Rush's hard rock hits. This magic music will bring your baby closer to the heart of slumberland.

Performed & Produced By Andrew Bissell
Executive Producer: Lisa Roth
A&R/Product Management: James Curtiss
Illustration and Design by Jennifer Cuellar
Mastered by Paul Du Gre

---
A Farewell to Peas
For Babies 6 Months & Up
Yields approximately 24 Tablespoons

INGREDIENTS:

1 cup freshly peeled and diced carrots

2 cups fresh or frozen early peas

1 pinch garlic powder (optional)

DIRECTIONS:


Place carrots in a pan with a steamer basket. Add enough water so that it just comes to the bottom of the basket. Bring to a slow boil, cover and steam for 5 minutes. Add peas and steam for 10 to 12 minutes more. Reserve the steaming liquid.

Transfer vegetables and garlic powder (optional) to a blender with a 1/2 cup of reserved liquid; puree until smooth and desired consistency, adding more liquid if necessary. If desired, push through a mesh strainer. Set aside to cool.

Divide into ice cube trays, cover with plastic wrap and freeze. When frozen, transfer to a freezer bag for storage.

Recipes created by Jeff Parker
Owner & Executive Chef of Food Crew, Inc. * www.FoodCrew.com
---
www.rockabyebabymusic.com
© 2013 Rockabye Baby! All Rights Reserved.
---
Track Listing



1. 2112: Overture (3:28)
2. Limelight (3:09)
3. Fly By Night (2:07)
4. The Spirit of Radio (3:46)
5. Freewill (2:53)
6. Tom Sawyer (3:19)
7. Working Man (2:17)
8. A Farewell to Kings (3:39)
9. The Trees (2:45)
10. Red Barchetta (3:38)
11. Subdivisions (2:56)
12. Closer to the Heart (2:10)

---