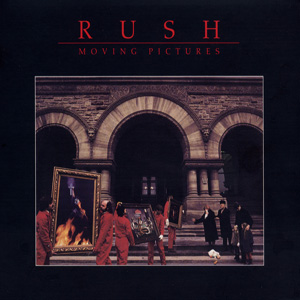 There are 12 active users currently online.
---
MOVING PICTURES 5.1


Re-Released: April 5th, 2011. Originally Released February 12th, 1981


Certified Gold by RIAA: April 13, 1981 -- Certified Platinum by RIAA: April 27, 1981 -- Certified 2x Platinum by RIAA: October 12, 1984 --
Certified 4x Platinum by RIAA: January 27, 1995
View All Album Certifications

Highest Billboard Chart Position: 3
---
---
|Lyrics| -- |Liner Notes| -- |Articles| -- |Album Artwork| -- |Album Review| -- |Tour Dates| -- |Purchase|
---
Liner Notes

Geddy Lee - Bass guitars, Oberheim polyphonic; OB-X; Mini-Moog; and Taurus pedal Synthesizers, vocals
Alex Lifeson - Six and twelve string electric and acoustic guitars, Taurus Pedals
Neil Peart - Drums kit, timbales, gong bass drums, orchestra bells, glockenspiel, wind chimes, bell tree, crotales, cowbells, plywood
---

he interview was nearly over, and the album track spinning on the studio turntable at CHOM-FM, the top album-rock station in Montreal, started to fade out. The DJ desperately rifled through a pile of Rush albums at his feet, flipping past copies of 2112, A Farewell to Kings, Hemispheres and what was then the band's brand new release, Permanent Waves. Finally, he turned to his guest that late-winter afternoon in 1980, Rush's singer-bassist Geddy Lee. "Let's go out with a hit," the jock said with a helpless smile, waiting for suggestions.

"A hit?" Lee replied with honest shock. "We don't have any hits."

That is a true story - I was there. A year later, in March, 1981, I was riding shotgun in a black Mercedes with Lee in the back seat and drummer-lyricist Neil Peart at the wheel as we zoomed from one sold-out arena gig in Montreal to another in Ottawa and they talked about what it was like to finally have a real hit on their hands: Rush's eighth studio album, Moving Pictures. The record - only out for a month - was already gold, nearing platinum and had gone to Number Three in Billboard, a personal best for the Canadian trio. Older records such as Rush's 1976 breakthrough, 2112, and the live follow-up, All the World's a Stage, were going platinum as well.

But as far as Lee, Peart and guitarist Alex Lifeson were concerned, nothing was different, except the numbers. "If something has our name on it, we try to make it as good as we can," Peart said as we passed over the Quebec-Ontario border. "We always think of the ideal Rush fan. When I'm writing lyrics or when I'm playing onstage, this ideal fan is watching every move I make to see if I make a mistake or if something is not as good as it should be. You just can't escape that judgment."

Lee remembered an earlier crossroads: Rush's third album, 1975's Caress of Steel. An audacious leap beyond their progressive-blues beginnings, dominated by two extended suites, Caress of Steel was battered by negative reviews and sold so poorly the band nearly lost its record deal. "Then we realized how stupid we were," Lee said. "Because of all these people putting pressure on us, we were looking at ourselves through their eyes. From then on, we knew exactly what our direction was going to be, and we were determined to have success strictly on our own terms." The band responded with 2112 - a creative and commercial rebound that was concept-driven on one side, shorter power-trio fury on the other and, as Lifeson put it recently, "the first record where we sounded like Rush." "You'd have to be a fool to ignore constructive criticism," Lee said as the Mercedes pulled up backstage at the Ottawa Civic Centre. "We've changed things in our music that were pointed out to us some years ago, things about feel or a tendency to sometimes sound forced."

Still, Lee insisted, "We know we're doing well when we can sit back and say, 'That's a good record - the audience applauds for it, they like it.' To make records people enjoy and that we enjoy playing - that's our measure of success."

Moving Pictures is Rush's biggest album, selling four million copies in the U.S. alone. But by the band's original standards, Moving Pictures was, back in '81, already Rush's most important and beloved album. "It's a deep, deep record," Lee confirmed, talking about it again last year.

Nothing was different. But everything had changed.

When you have lethal chops and the will to wow, sometimes the most extreme thing you can do is hang fire - play it cool and straight. That is what Rush did in the first minutes of "Tom Sawyer": the wet wind of electronics blowing over Peart's stern beat, like a funk strut with metal backbone; the long growl of Lee's bass-pedal synthesizer and the low menace of his voice, a shocking U-turn from his usual alpine register. There were fireworks soon enough - Lifeson's slashes of Jeff Beck-like fusion and anguished-treble screams; Lee's high familiar aggression. But then the singer dropped down to that prayer-like pitch for the benediction: "The world is, the world is/Love and life are deep."

"Tom Sawyer" was a rare example of outside collaboration. Peart wrote the words with Canadian lyricist Pye Dubois (an associate of the band Max Webster), reimagining Mark Twain 's tearaway as a contemporary rogue with no fixed politics but a hunger for wonder. "1 added the themes of reconciling the boy and man in myself," Peart later recalled, "and the difference between what people are and what we perceive them to be - namely me, I guess."

Peart was, in effect, writing about the whole band - the difference between Rush as their fans and foes knew them and the one actually coming out of a decade of hard labor, rough learning and early victories, on the verge of a new prime. Founded by Lee (born Gary Lee Weinrib) and Lifeson (born Alex Zivojinovich) in Toronto, shortly after they met in junior high school in 1967, Rush were outsiders from the start, fighting fools and sneers in Ontario bars and Canadian record-company offices. The 1974 debut, Rush, with original drummer John Rutsey, was issued on the band's own label after every major label in the country rejected it - twice.

When Rutsey (who died in 2008) quit on the eve of Rush's first U.S. tour, Lee and Lifeson took off with Peart, an Ontario native who played with the precise combined fury of Led Zeppelin's John Bonham and jazzmen Gene Krupa and Buddy Rich and wrote lyrics charged by the prophetic fiction and philosophies of Samuel L. Delaney, Ayn Rand and George Orwell, among others. Lee and Lifeson embraced a fitting complexity in their composing - "By-Tor and the Snow Dog" on 1975's Fly By Night was Rush's first recorded suite - while the band did a slow climb up America's hard-rock marquees. Lifeson once recalled a road trip which involved lying to a rental car agency about where they were taking the vehicle and for how long, then hauling ass to the States for several weeks of opening for Kiss and Aerosmith. "We brought the car back with 11,000 miles on it. It didn't have any hubcaps left, the radio was smashed, the mirror was gone." Lifeson grinned. "They were quite surprised."

"We're unfashionable, we're not trendy and we do things people think are pretentious," Lee told me with a soft satisfied laugh in 1978, after the release of Hemispheres. "There may be ways of becoming bigger than we are, but we're not complaining."

Rush planned to take a break after Permanent Waves, issuing a live album from that tour. Instead, Lee, Lifeson and Peart convened at a rented house in Stony Lake, Ontario in the late summer of 1980 - two months after coming off the road - and began to write. The chronology is murky, even to them. The first song out of the chute was either "Tom Sawyer" or "The Camera Eye," a two-part piece (relatively concise at eleven minutes) about city life, past and future - utopia, struggle and surveillance.

There were also demos at one point, done at a studio in Toronto, while the action-packed instrumental "YYZ" (named after the Toronto airport code) came out of a Lee-Peart jam during the formal sessions at Le Studio, in Morin Heights, Quebec. Rush may have started as children of Cream, but in "YYZ" they hit the gas like a fusion Batmobile, sleek and hard with a surprising armory of moving parts: that main stuttering riff (inspired by the Morse-code rhythm for YYZ); Lee's Rickenbacker-bass eruptions; the elegaic-synth bridge, like a deep sigh of '73 Genesis. "YYZ" is "always a challenge to play," Lifeson has admitted. "For that reason alone, this is a favorite of ours."

"Red Barchetta" was literally about motion, named after Peart's favorite set of wheels - the Ferrari 166 or Barchetta (pronounced with a hard "c") - and inspired by "A Nice Morning Drive" by Richard S. Foster, a short story published in Road and Track magazine in 1973. The setting was a future where velocity and escape are dangerous pleasures; cars, and the freedoms they imply, are outlawed. But this time the hero outruns authority ("I leave the giants stranded/At the riverside") with extra pictorial effect: Lifeson soloing through a delay unit, like he's burning rubber in a mountain tunnel.

In Peart's continuing examinations of free will and collective responsibility, Moving Pictures was pure Rush. "Witch Hunt," a roiling portrait of vigilante rule in barking-dog guitars and death-march rhythm, was pulled from a longer song cycle, "Fear," that the band ended up recording out of order. (The other sections later appeared on the Eighties albums Signals and Grace Under Pressure and 2002's Vapor Trails.) And in "Vital Signs," Moving Pictures' closing track, you could hear the Internet Century two decades ahead of schedule - "Signals get crossed/ And the balance distorted/By internal incoherence" - with a striking buoyance in the chrome-reggae chorus.

Permanent Waves had shown Rush to be keen listeners, turning the electronics and terse dynamics in New Wave rock to their own ends. But Moving Pictures, co-produced with old hand Terry Brown, had a concentrated urgency and black-steel sheen that sounded like Rush were charging forward and coming full circle at the same time - going back to the direct impact of their first albums, via the progressive-metal adventures on everything in-between. "The difference is in the organization of the music," Lee claimed during our 1981 car ride. "It's not just that the songs are four minutes long so they can get on the radio. It's the quality of those four minutes."

That is the meat of "Limelight," a song that is suspicious of success, on an album that delivered it in aces and spades: "Ill-equipped to act/With insufficient tact .. . I can't pretend a stranger/ Is a long awaited friend," Peart wrote, and Lee sang. But " Limelight" is also about the wisdom of stardom - that it is a privilege, not a right, and you take it for granted at your peril. One afternoon in January, 1979, Lee stood in the wings at the Pittsburgh Civic Arena while Rush's crew set up the lights, sound and pyro for a show there. "The first time we played here," he said, "we only had three feet of space from the front of the stage with no special effects. Just the basics. But those kids who saw us and liked it will come back, and when they do, they expect to see what the saw the first time.

"Only," Lee added, smiling, "we give them a little bit more."

So it goes, long after Moving Pictures. Rush have an entire history - on record, on stage, in their personal lives and friendships - since then. There's even a movie about the whole wild ride: the 2010 documentary, Rush: Beyond the Lighted Stage (note the paraphrase from "Limelight"). "Independence is the key." Peart told me only a few months before Rush started making Moving Pictures. "Everything we wanted to do in life, we're able to do."

Nothing is different. Everything changes. And that DJ can now go out with a hit.

Here's seven of 'em.

David Fricke February, 2011
---

Produced by Rush and Terry Brown
Arrangements by Rush and Terry Brown
Recorded and original stereo mixes mixed at Le Studio, Morin Heights, Quebec, during October and November of 1980
Engineered by Paul Northfield

Assisted by Robbie Whelan, and our computerized companions: Albert, Huey. Dewey, and Louie
Digital mastering engineered by Peter Jensen
Hugh Syme is the featured guest performer once again, playing synthesizers on 'Witch Hunt'

Art direction, graphics and cover concept by Hugh Syme
Photography by Deborah Samuel

Management: Ray Danniels at SRO Management, Inc., Toronto
Executive Productions: Moon Records

Road Manager and Lighting Director: Howard Ungerleider
Concert Sound Engineer: Ian Grandy
Stage Manager: Michael Hirsh
Stage Right Technician, and Crew Chief: Liam Birt
Stage Left Technician : Skip Gildersleeve
Centre Stage Technician: Larry Allen
Guitar and synthesizer Maintenance: Tony Geranios
Stage Monitor Mixer : Greg Connolly
Projectionist: Lee Tenner
Personal Shreve and Factotum : Kevin Flewitt

Concert Sound by National Sound
All-Stars: Tom Linthicum, Fuzzy Frazer, Dave Berman
Concert Lighting by Sea Factor International
Easy Co.: Nick Kotos, George Guido, Bob Kniffen, Bob Cross
Concert Rigging: the daring Bill Collins
Transportation expertly guided by Tom Whittaker, Billy Barlow, Kim Varney, Arthur Maclear, Pat Lines, Bill Fuquay, Mike and Linda Burnham

Fabulous Persons: at Le Studio; Andre, Yael, Pam, Paul, Robbie, Roger, Harry, Claude & Gisele, Andre et Le Bouffe en Broche, Ted (Theo) McDonnld, Irv Zuckerman & Associates (The Beords), Brian (Vings) Laski, George Vis, Ted Veneman, Max Lobstors, Saga & crew, .38 Special & crew (27-24), Drexel, Gerry Griffin & Family, Terri at the Hawkins farm, Asteroids, volleyball (the Retardos & the Frantics 21- 8!), the Greenie (you must be drinking!), Bill Ward, Loveman, LoveWoman, & The Lovemachine, Scar & The Ignorant Wildfire Game, Top Secret, the MontreAl Canadiens, Steve Shutt, Screvato, Robin & Phase One, Bill Elson, Cliff Burnstein, Jim Sotet, Sherry Levy, and the Oak Manorians.

Specia1 British Supplement: Wild Horses; Jimmy & Sophie, Brian & Dee, Clive, Dirk (no relation), Mr. & Mrs. Robinson, Fin Costello, Bill Churchman, Alan Philips, Barry Murfet, Tex Yodell, Loft & Stage Crew, Steve Tuck, Robbie Gilchrist

Dept. of Above-And-Beyond: Ray, Rhonda, L.B., Dear Olde Broon (a great mind thinks alike), Happy Birthday Ms. Broon (wrong again, eh, Hovis!)

Featuring Daisy as "Ski-Bane"

Our continuing appreciation to the people and products of Tama, Avedis Zildjian, and Rickenbacker

Coolidge Dog Painting from the Archives of Brown & Bigelow, St. Paul, Minnesota.

DELUXE EDITION CREDITS

5.1 Surround Sound mixed by Richard Chycki at Mixland, Ontario
Mastered by Andy VanDette at Masterdisk, New York.
Reissue Supervised by Jeff Fura and Pegi Cecconi

Blu-Ray Production Facility: The Post Group
Menu Design: David Lange
Authoring: Marcus Ionis
Audio Resync: Chris Holden at Music2Film

Art Direction and Design: Hugh Syme
Photo Coordination: Ryan Null and Jo Almeida
Photos: Finn Costello, Phillip Kamen, Yael Brandeis Perry and Deborah Samuel
Production Manager: Shannon Steckloff and Monique McGuffin
Legal Clearances: Andrew Labarrere
Product Manager: Rob Jacobs


Correspondance: P.O. Box 640, Thornhill, Ontario, Canada L3T 4A5

Red Barchetta inspired by "A Nice Morning Drive" by Richard S. Foster

© 1981 Mercury Records © 1981 Anthem Entertainment

---
Videos directed by Bruce Gowers

Audio Options: DTS-HD Mater Audio 5.1. PCM 5.1 Surround and Stereo

With this disc you are now able to hear at home what we hear in the studio. This disc contains all 7 tracks from Moving Pictures in high resolution 96K 24-bit PCM stereo, PCM 5.1 surround sound and DTS-HD Master Audio 5.1 surround sound. It is primarily an audio-only disc with basic navigation and song information displayed on screen. The 96K 24-bit audio on this disc has 256 times more resolution than a CD, providing greater detail and reproducing the music's full dynamic range, from the softest to the loudest sounds.

Please ensure your Blu-ray player firmware is up to date or certain aspects of this Blu-ray disc may not playback properly. Please consult your Blu-ray player manual and/or manufacturer for firmware update options and process.

© 2011 The Island Def Jam Music Group. 825 Eighth Avenue. New York, NY 10019 U.S.A.
Distributed by Universal Music Distribution. All rights reserved. 80015361·00 www.ilovethatsong.com


---
Articles
Moving Pictures 5.1 (Review) - Record Collector Magazine, June 2011
Moving Pictures 5.1 (Review) - Guitar Techniques Magazine, August 2011
---
Track Listing

(click on any track for the lyrics)

CD
1. Tom Sawyer (4:36)
2. Red Barchetta (6:10)
3. YYZ (4:25)
4. Limelight (4:19)
5. The Camera Eye (10:58)
6. Witch Hunt (Part III of Fear) (4:45)
7. Vital Signs (4:46)
- - - - - - - - - - - -
DVD/BD
1. Tom Sawyer (4:36)
2. Red Barchetta (6:10)
3. YYZ (4:25)
4. Limelight (4:19)
5. The Camera Eye (10:58)
6. Witch Hunt (Part III of Fear) (4:45)
7. Vital Signs (4:46)

Bonus Videos
Tom Sawyer -- Limelight -- Vital Signs (previously unreleased)

---

Tom Sawyer
Music: Geddy Lee and Alex Lifeson / Lyrics: Neil Peart and Pye Dubois

A modern-day warrior
Mean mean stride
Today's Tom Sawyer
Mean mean pride

Though his mind is not for rent
Don't put him down as arrogant
His reserve, a quiet defense
Riding out the day's events -
The river

What you say about his company
Is what you say about society
-Catch the mist - Catch the myth
-Catch the mystery - Catch the drift

The world is the world is
Love and life are deep
Maybe as his skies are wide

Today's Tom Sawyer
He gets high on you
And the space he invades
He gets by on you

No, his mind is not for rent
To any god or government.
Always hopeful, yet discontent
He knows changes aren't permanent -
But change is

What you say about his company
Is what you say about society
-Catch the witness - Catch the wit
-Catch the spirit - Catch the spit

The world is the world is
Love and life are deep
Maybe as his eyes are wide

Exit the warrior
Today's Tom Sawyer
He gets high on you
And the energy you trade
He gets right on to
The friction of the day

---

Red Barchetta
Music: Geddy Lee and Alex Lifeson / Lyrics: Neil Peart

My uncle has a country place, that no-one knows about
He says it used to be a farm, before the Motor Law
Sundays I elude the 'Eyes', and hop the Turbine Freight
To far outside the Wire, where my white-haired uncle waits
Jump to the ground
As the Turbo slows to cross the borderline
Run like the wind
As excitement shivers up and down my spine
Down in his barn
My uncle preserved for me an old machine -
For fifty-odd years
To keep it as new has been his dearest dream
I strip away the old debris, that hides a shining car
A brilliant red Barchetta, from a better, vanished time
Fire up the willing engine, responding with a roar!
Tires spitting gravel, I commit my weekly crime...
Wind in my hair -
Shifting and drifting -
Mechanical music
Adrenalin surge -

Well-weathered leather
Hot metal and oil
The scented country air
Sunlight on chrome
The blur of the landscape
Every nerve aware
Suddenly ahead of me, across the mountainside
A gleaming alloy air-car shoots towards me, two lanes wide
I spin around with shrieking tires, to run the deadly race
Go screaming through the valley as another joins the chase
Drive like the wind
Straining the limits of machine and man
Laughing out loud
With fear and hope, I've got a desperate plan
At the one-lane bridge
I leave the giants stranded
At the riverside
Race back to the farm
To dream with my uncle
At the fireside...
---
YYZ

Music: Geddy Lee and Neil Peart


Instrumental
---

Limelight
Music: Geddy Lee and Alex Lifeson / Lyrics: Neil Peart

Living on a lighted stage
Approaches the unreal
For those who think and feel
In touch with some reality
Beyond the gilded cage

Cast in this unlikely role,
Ill-equipped to act
With insufficient tact
One must put up barriers
To keep oneself intact
Living in the Limelight
The universal dream
For those who wish to seem

Those who wish to be
Must put aside the alienation
Get on with the fascination
The real relation
The underlying theme
Living in a fisheye lens
Caught in the camera eye
I have no heart to lie
I can't pretend a stranger
Is a long-awaited friend

All the world's indeed a stage
And we are merely players
Performers and portrayers
Each another's audience
Outside the gilded cage

---

The Camera Eye
Music: Geddy Lee and Alex Lifeson / Lyrics: Neil Peart

I
Grim-faced and forbidding
Their faces closed tight
An angular mass of New Yorkers
Pacing in rhythm
Race the oncoming night
They chase through the streets of Manhattan
Head-first humanity
Pause at a light
Then flow through the streets of the city
They seem oblivious
To a soft spring rain
Like an English rain
So light, yet endless
From a leaden sky

The buildings are lost
In their limitless rise
My feet catch the pulse
And the purposeful stride
I feel the sense of possibilities
I feel the wrench of hard realities
The focus is sharp in the city

II
Wide-angle watcher
On life's ancient tales
Steeped in the history of London

Green and grey washes
In a wispy white veil
Mist in the streets of Westminster
Wistful and weathered
The pride still prevails
Alive in the streets of the city
Are they oblivious
To this quality?
A quality of light
Unique to every city's streets.

Pavements may teem
With intense energy
But the city is calm
In this violent sea
---
Witch Hunt
(Part III of Fear)

Music: Geddy Lee and Alex Lifeson / Lyrics: Neil Peart
The night is black
Without a moon
The air is thick and still

The vigilantes gather on
The lonely torchlit hill
Features distorted in the flickering light
The faces are twisted and grotesque
Silent and stern in the sweltering night
The mob moves like demons possessed
Quiet in conscience, calm in their right
Confident their ways are best
The righteous rise
With burning eyes
Of hatred and ill-will

Madmen fed on fear and lies
To beat, and burn, and kill
They say there are strangers, who threaten us
In our immigrants and infidels
They say there is strangeness, too dangerous
In our theatres and bookstore shelves
That those who know what's best for us -
Must rise and save us from ourselves
Quick to judge,
Quick to anger
Slow to understand

Ignorance and prejudice
And fear
Walk hand in hand
---

Vital Signs
Music: Geddy Lee and Alex Lifeson / Lyrics: Neil Peart

Unstable condition:
A symptom of life,
In mental,
And environmental change

Atmospheric disturbance -
The feverish flux,
Of human interface
And interchange
The impulse is pure -
Sometimes our circuits get shorted,
By external interference

Signals get crossed -
And the balance distorted
By internal incoherence
A tired mind become a shape-shifter
Everybody need a mood lifter
Everybody need reverse polarity

Everybody got mixed feelings
About the function and the form.
Everybody got to deviate
From the norm

An ounce of perception -
A pound of obscure
Process information
At half speed

Pause:
Rewind - replay -
Warm memory chip
Random-sample -
Hold the one you need
Leave out the fiction
The fact is;
This friction
Will only be worn by persistence

Leave out conditions
Courageous convictions
Will drag the dream into existence
A tired mind become a shape-shifter
Everybody need a soft filter
Everybody need reverse polarity

Everybody got mixed feelings
About the function and the form
Everybody got to elevate
From the norm...

---