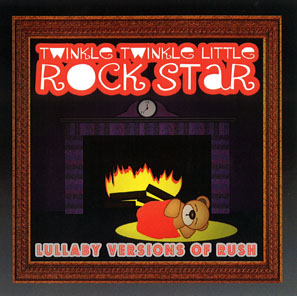 There are 19 active users currently online.
---
---
Twinkle Twinkle Little Rock Star:
Lullaby Versions of Rush


Released: May 10th, 2011


Highest Billboard Chart Position: N/A
---
|

| --- |Tracks| --- |Liner Notes| --- |Album Artwork| --- |Purchase| --- |

|
---
Liner Notes

LULLABIES FOR ALL AGES! Twinkle Twinkle Little Rock Star creates beautiful lullaby versions of your favorite artists! Perfect for babies and parents, yoga, massage or relaxation.

The TTLRS lullaby line fills a vacant musical niche. There are other lines of pop music lullabies but we decided to take the approach of being high end musically rather than simply doing these as novelty. After all, just because the music is intended for a baby it doesn't have to sound unsophisticated. We feel we owe it to the artists that we are covering to do their music justice and our standard of quality transcends the lullaby genre. In fact, in addition to soothing babies our fans use our music for yoga, massage and sleep therapy or just general relaxation. We like to call them "lullabies for all ages" and the diversity of use is testament to that.

Roma Music Group, producers of TTLRS, is proud to be a green company. We offer CDs "on demand" through Amazon.com and digitally everywhere! No waste, just good taste (in music)!

We offer parents our high quality products at an affordable price which we know from experience is important.

TTLRS is the largest line of pop music lullabies in the world, with an incredibly diverse catalog of genres that includes Pop, Rock (classic and modern), Soundtracks, Country, Alternative, Metal, New Wave, Indie, Reggae/Ska, and Singer Songwriter.


---
Track Listing



1. The Spirit of Radio (4:35)
2. Tom Sawyer (4:48)
3. Closer to the Heart (4:33)
4. Freewill (4:54)
5. Limelight (4:59)
6. Working Man (4:45)
7. Fly By Night (4:45)
8. The Trees (3:53)
9. Red Barchetta (4:31)
10. Subdivisions (4:07)
11. YYZ (4:02)


---
---