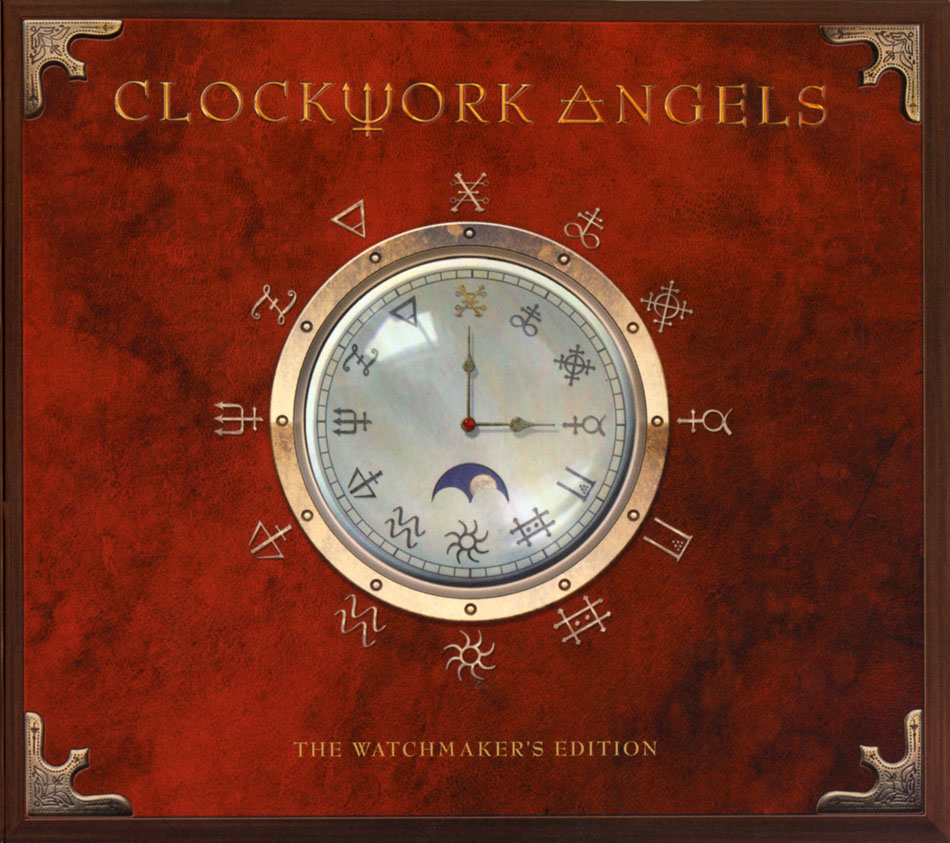 There are 11 active users currently online.
---
---
CLOCKWORK ANGELS
The Watchmaker's Edition
Audio Book


Released: March 5th 2013

---
|Tracks| -- |Liner Notes| -- |Audiobook Artwork| -- |Novel Preview| -- |Tour Dates| -- |Purchase|
---
Liner Notes

Based on the lyrics of Neil Peart from the multi-platinum music group Rush, international bestselling author Kevin J. Anderson expands the story set out in Clockwork Angels, the Prog Awards 2012 Album of Year and Billboard #2 CD by the legendary rock band. The story follows the journey of one man to understand the grandiose forces of order and chaos, and the truth behind the clockwork wonders of his world and the terrifyingly benevolent Watchmaker himself.

Brilliance Audio Presents the Unabridged Audiobook Edition of Clockwork Angels: The Watchmaker's Edition

Written by Kevin J. Anderson
From a story and lyrics by Neil Peart
Narration performed by Neil Peart
Illustrations and package design by Hugh Syme

This BRILLIANCE AUDIO ON COMPACT DISC recording of the book, Clockwork Angels, by Kevin J. Anderson, © 2012 by Core Music Publishing, a division of The Anthem Entertainment Group Inc., is ® 2012 Brilliance Audio, all rights reserved. This recording may not be reproduced or played for an audience without permission from Brilliance Audio, P.O. Box 887, Grand Haven, MI 49417.

Illustrations and Package design © 2012 by Core Music Publishing, a division of The Anthem Entertainment Group Inc.

Call our toll free number for assistance or information about available titles, 1-800-222-3225 or visit, www.brillianceaudio.com

CONTAINS:
7 compact discs / final run time: 8 hours : 38 minutes
32-page booklet
Timeline Poster
UNABRIDGED / ADULT FICTION

$99.99
BrillianceAudio
Produced by Brilliance Audio, Grand Haven, Michigan 49417
© 2012 Brilliance Audio, Inc. All rights reserved. Brilliance Audio(TM) is a trademark of Brilliance Audio, Inc.


---
THINKING BIG

Kevin J. Anderson



"I can't stop thinking big ..."

That's a line from "Caravan," the first single from Rush's album Clockwork Angels - and I think they're definitely words to live by.

I've always drawn writing inspiration from music, and in particular from the music of Rush. My first novel Resurrection, Inc. (1988) was closely inspired by their album Grace Under Pressure, and that novel also led to a long-standing friendship with Rush drummer and lyricist Neil Peart. Over more than twenty years, I can point to dozens of my novels and stories that bear a clear Rush influence (and even, occasionally, a little bit of lyrical inspiration in the other direction).

Neil and I wrote an original dark-fantasy short story together, "Drumbeats," but we have always wanted to collaborate on something MAJOR, find a way we could tie together our imaginations, throw our ideas into the magic creative machine - and at last we got the chance to do it right with Clockwork Angels: The Novel.

The music in the Clockwork Angels album tells a wonderful steampunk story, perfect for fleshing out as a full novel, with intriguing characters, fantastic settings, and a world so big that our optimistic and intrepid main character, Owen Hardy, just can't help feeling small.

Neil started talking to me about the story several years ago while he was in the early planning stages of the album. We discussed the plot and the songs as they developed. One day when we met for lunch in Santa Monica, Neil's enthusiasm was plain as he described how he envisioned artwork and sets, Broadway shows, ice ballets and even a novel. My wife Rebecca, herself a bestselling author, immediately asked, "Who would write the novel?" Neil gave her a surprised look. "Well, Kevin of course ."

It took a while for all the pieces of the story and album to come together, with Rush touring, and my book tours; Neil and I finally got down to serious business in August 2010, when the two of us climbed a 14,000-ft mountain peak in Colorado and brainstormed all the way (in between heaving breaths). There may not have been much oxygen at that altitude, but there was certainly enough inspiration.

After that hike-in between two shows of the Rush Time Machine tour-I collated the notes we had talked about, and Neil continued to work on the songs. The blueprint had been sketched; now we just needed to add the details and do the construction.

We built the characters, the adventures, the ideas, sometimes with a dozen e-mail exchanges per day. (Neil is himself an accomplished writer, with books such as Ghost Rider, Traveling Music, Roadshow, and Far and Away.) As the album came together and I was armed with the lyrics for all the songs, I wrote more detailed outlines.

But it wasn't until I got the rough tracks of the songs-with Neil's drums, Geddy's vocals and bass, Alex's guitars-that the story really came alive in my head, like Dorothy opening her black-and-white farmhouse door to reveal the Technicolor Oz. Suddenly, Clockwork Angels became real.

Then I actually started writing the novel, with Neil's careful feedback, scene by scene, chapter by chapter. We also had input from artist Hugh Syme, whose beautiful illustrations added even more ingredients to the mix. As Neil read each draft I sent him, he came up with insightful suggestions and additions, new characters, new twists. My knee-jerk reaction was usually to balk at the extra work, the rearrangement, the new chapters or scenes and then, usually less than five minutes later, I would realize that what Neil suggested was indeed an excellent addition, and the way the story should be.

Clockwork Angels: The Novel was an immensely satisfying experience for both of us. We did our best to bring our "A" game to this book, and I hope you fall in love with the story as much as I did.

After all, we can't stop thinking big ...


---

The story in Clockwork Angels is about a small-town dreamer who embarks on a journey across a colorful steampunk world; the character adventures in ways that I never had as a kid, but I can still relate deeply. I feel a very close connection to him, especially in the album's key line:



"In a world where I feel so small, I can't stop thinking big."



- Kevin J. Anderson

---
TIMELINE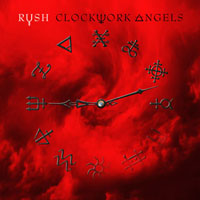 November, 2012
Clockwork Angels: The Watchmaker's Edition hits the stores.

September 1, 2012 [sic]
Rush's Clockwork Angels Tour begins in Pittsburgh, PA. [sic]

September, 2012
The Clockwork Angels audiobook, read by Neil Peart, is released by Brilliance Audio.

September 7 2012
Clockwork Angels is awarded Album of the Year at the 2012 Prog Awards.

September 4, 2012
Clockwork Angels, by Kevin J. Anderson, is released by ECW Press.

February 9, 2012
Kevin J. Anderson announces he will be writing a novelization based on Neil Peart's concepts and lyrics for Clockwork Angels.

June 18, 2012
A Rolling Stone review of Clockwork Angels by Jon Dolan read, in part: "But the first Rush album in five years isn't just one of the band's Rushiest; it's also very good - frenetic and heavy, low on prog thought puzzles, high on power-trio interplay that could put guys half their age in the burn ward."

June 12,2012
Clockwork Angels is released in the US and Canada and makes its debut at #2 on the Billboard 200. The clock on the cover of Clockwork Angels is fixed at 9:12 pm, or 21:12, a reference to the classic Rush album of the same name.

April 2010
Recording of Clockwork Angels begins in Nashville and continues in Toronto through October-December 2011.

October 2005
Neil Peart writes in his Bubba's Book Club: "Verisimilitude: 'having the appearance of truth: Kevin's characters always seem to do what those characters would do, if things like that happened to them."

"I can worship Nature, and that fulfills my need for miracles and beauty. Art gives a spiritual depth to existence - I can find worlds bigger and deeper than my own in music, paintings, and books. And from my friends and family I receive the highest benediction, emotional contact, and personal affirmation. I can bow before the works of Man, from buildings to babies, and that fulfills my need for wonder. I can believe in the sanctity of life, and that becomes the Revealed Word, to live my life as I believe it should be, not as I'm told to by self-appointed guides."
- Neil Peart, The Masked Rider: Cycling in West Africa

1996
Neil Peart's first book, The Masked Rider: Cycling in West Africa, is published by Pottersfield Press.

"My first novel, Resurrection, Inc., was entirely inspired by the Rush album Grace Under Pressure, a fact that I mentioned in the acknowledgments when it was eventually published by Signet Books. Neil Peart read it and wrote me a letter in 1989, and we've been in touch ever since."
- Kevin J. Anderson

July 5, 1988
Resurrection, Inc., the first novel by Kevin J. Anderson, is published by Signet Books.

"My town was so small it didn't have a record store, so I had to resort to the Columbia Record Club to get my music when I hit my high school years. Fifteen albums for a dollar and you made your selections from a big sheet of tiny stamps showing various album covers. Being a science fiction fan, I was intrigued by a futuristic looking album called 2112 by a group I'd never heard of: Rush. And there was a fantasy-looking cover for A Farewell to Kings. Since I had fifteen slots to fill, why not? As soon as I listened to the epic lyrics, the majestic music that was light years away from the "ooh baby, my girlfriend left me" songs on the radio, I was enthralled. (And as a nerdy kid in high school, I didn't have a lot of experience with girlfriends anyway.) The music of Rush spoke to me, inspired me, and I was off to the typewriter (yes, it was a typewriter in those days) to incorporate those visions into my own fiction."
- Kevin J. Anderson

April 1,1976
Rush's breakout album 2112 is released.

July 1974
Neil Peart joins Rush, replacing original drummer John Rutsey.

August 1968
Rush is formed in Toronto, Canada ... and rock music will never be the same.

"Now that I look back on the finished Clockwork Angels novel, I realize that I've been preparing for this book most of my life, even though at the time it didn't feel like "research." Our hero, Owen Hardy, is drawn to great extent on many of my own experiences growing up in a sleepy, very small farming town in Wisconsin. I was always fascinated by adventure stories, science fiction, fantasy, horror, swashbucklers - anything to make the humdrum Midwestern existence more exciting."
- Kevin J. Anderson

September 12, 1966
Neil Peart receives his first drum set as a gift from his parents on his fourteenth birthday.

"My childhood in the quiet rural setting was a cross between Norman Rockwell and Norman Bates - charming and wholesome, but at the same time very repressive and unsympathetic to a kid who liked to dream of alien planets and slavering monsters. I would make up my own stories, find adventures that could take me away from the mundane life."
- Kevin J. Anderson

March 27 1962
Kevin J. Anderson is born in Racine, Wisconsin, USA.

September 12, 1952
Neil Peart is born in Hamilton, Ontario, Canada.



All the Journeys of that great adventure - It didn't always feel that way.





---
Track Listing



On COMPACT DISC

Disc 1
Tracks 1-2 ..... Prologue
Tracks 3-5 ..... Chapter 1
Tracks 6-8 ..... Chapter 2
Tracks 9-10 ..... Chapter 3
Tracks 11-12 ...... Chapter 4
Tracks 13-15 ...... Chapter 5

Disc 2
Tracks 1-2 ..... Chapter 5
Tracks 3-5 ..... Chapter 6
Tracks 6-8 ..... Interlude: The Watchmaker
Tracks 9-10 ..... Chapter 7
Tracks 11-13 ..... Chapter 8
Tracks 14-16 ..... Chapter 9

Disc 3
Tracks 1-2 ..... Chapter 9
Tracks 3-4 ..... Chapter 10
Tracks 5-6 ..... Interlude: The Anarchist
Tracks 7-9 ..... Chapter 11
Tracks 10-12 ..... Chapter 12
Tracks 13-14 ..... Chapter 13
Tracks 15-16 ..... Chapter 14

Disc 4
Tracks 1-3 ..... Chapter 14
Tracks 4-6 ..... Interlude: The Watchmaker
Tracks 7-9 ..... Chapter 15
Tracks 10-11 ..... Chapter 16
Tracks 12-14 ..... Interlude: The Anarchist

Disc 5
Tracks 1-3 ..... Interlude: The Anarchist
Tracks 4-6 ..... Chapter 17
Tracks 7-8 ..... Chapter 18
Tracks 9-11 ..... Chapter 19
Tracks 12-13 ..... Chapter 20
Tracks 14-16 ...... Chapter 21

Disc 6
Tracks 1-3 ..... Chapter 21
Tracks 4-5 ..... Chapter 22
Tracks 6-8 ..... Chapter 23
Tracks 9-10 ..... Chapter 24
Tracks 11-12 ..... Chapter 25
Tracks 13-14 ..... Chapter 26

Disc 7
Tracks 1-3 ..... Chapter 26
Track 4 ..... Chapter 27
Tracks 5-7 ..... Chapter 28
Tracks 8-9 ..... Epilogue
Tracks 10-11 ..... Afterword by Neil Peart
Tracks 12-13 ..... Afterword by Kevin J. Anderson

On MP3-CD

Track 1 ...... Prologue
Track 2 ...... Chapter 1
Track 3 ...... Chapter 2
Track 4 ...... Chapter 3
Track 5 ...... Chapter 4
Track 6 ...... Chapter 5
Track 7 ...... Chapter 6
Track 8 ...... Interlude: The Watchmaker
Track 9 ...... Chapter 7
Track 10 .... Chapter 8
Track 11 .... Chapter 9
Track 12 .... Chapter 10
Track 13 .... Interlude: The Anarchist
Track 14 .... Chapter 11
Track 15 .... Chapter 12
Track 16 .... Chapter 13
Track 17 .... Chapter 14
Track 18 .... Interlude: The Watchmaker
Track 19 .... Chapter 15
Track 20 .... Chapter 16
Track 21 .... Interlude: The Anarchist
Track 22 .... Chapter 17
Track 23 .... Chapter 18
Track 24 .... Chapter 19
Track 25 .... Chapter 20
Track 26 .... Chapter 21
Track 27 .... Chapter 22
Track 28 .... Chapter 23
Track 29 .... Chapter 24
Track 30 .... Chapter 25
Track 31 .... Chapter 26
Track 32 .... Chapter 27
Track 33 .... Chapter 28
Track 34 .... Epilogue
Track 35 .... Afterword by Neil Peart
Track 36 .... Afterword by Kevin J. Anderson


---