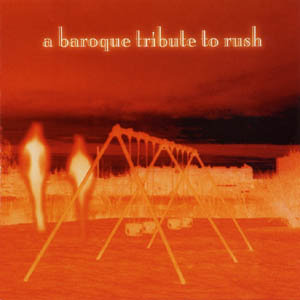 There are 12 active users currently online.
---
---
a baroque tribute to rush
Released: October 5th, 2004

Highest Billboard Chart Position: Did Not Chart
---
|

| --- |Tracks| --- |Liner Notes| --- |Album Artwork| --- |Purchase| --- |

|
---
LINER NOTES

Holding the title of Canada's leading rock attraction for three decades, Rush's enduring masterpieces continue to enjoy immense success world-wide. Rush's music is a mixture of hard rock and melodic rhythms and is bound together by themes of science fiction and fantasy.

It is only fitting that Rush's grand, opus-like concept pieces be recreated in the baroque fashion. The Baroque Tribute to Rush revives the strength and unity that was produced in some of the Bands best work such as 'Madrigal' and 'Tom Sawyer'. The enigmatic atmosphere of this album will haunt listeners in the true Rush fashion.
---
Track Listing

1. Tom Sawyer (4:10)
2. Limelight (3:23)
3. Fly By Night (4:02)
4. Witch Hunt (5:56)
5. The Trees (4:42)
6. Madrigal (5:50)
7. Force Ten (3:48)
8. Distant Early Warning (4:04)
9. Closer to the Heart (3:48)
10. Flickering [Original Composition] (6:12)

---